SEC:

2011 summer player rankings
June, 21, 2011
6/21/11
11:30
AM ET
We thought ranking the running backs was hard -- then the linebackers came along.
It shouldn't come as much of a shock that we had trouble getting our rankings in order with all of the talent out there in the SEC, but it's pretty hard to go wrong with this list.
Here's what we came up with:
[+] Enlarge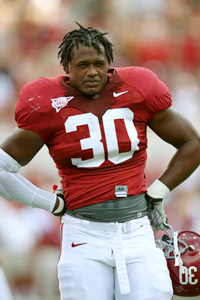 Marvin Gentry/US PresswireDont'a Hightower edged out teammate Courtney Upshaw for the top spot in the SEC linebacker rankings.
1. Dont'a Hightower, Alabama, Jr.:
He was never truly 100 percent last season after that devastating knee injury in 2009. However, the pain is finally gone and Hightower is looking to really take off in 2011. When he's healthy, he's as exciting to watch as any linebacker out there. He'll start in the middle, but moves outside the "Jack" position and plays in different spots on passing downs. Even though he was hobbled last year, he was second on the team with 69 tackles.
2. Courtney Upshaw, Alabama, Sr.:
Upshaw is back to full health after dealing with a nagging ankle injury in 2010. This spring, he was flying around practice and should be one of the top pass-rushers on the outside. He's another one of those Jacks who might start on the outside, but Upshaw will make plays all over the field this fall. He ended last season with some mighty playing momentum, registering five sacks in the final two games.
3. Jerry Franklin, Arkansas, Sr.:
Franklin has been an absolute beast for the Razorbacks. He's lead Arkansas in tackles the last three seasons, and there's no reason for us not to think he won't do it again. Franklin is also pretty quick on his feet and has a nose for the ball. He has five career interceptions and five forced fumbles.
4. Danny Trevathan, Kentucky, Sr.:
Talk about being the hardest working man on the field. Trevathan led the SEC with 144 tackles a year ago and was third with 16 of them behind the line of scrimmage. He's Kentucky's most trusted defender and was the first Kentucky linebacker to ever earn any sort of All-America first-team honors.
5. Chris Marve, Vanderbilt, Sr.:
Marve is arguably Vanderbilt's best overall player. If not for a knee injury that cost him one game in 2011, Marve might have made it three straight years with 100 or more tackles. He played the entire last season in some sort of pain and was still able to cover a lot of ground over the middle of the field.
6. Ryan Baker, LSU, Sr.:
One thing that makes Baker so imposing against offenses is his speed. He has tremendous closing speed and his play could be the key to the functionality of LSU's young but very athletic defense. Kelvin Sheppard is gone, so the defense will be leaning on Baker for not only his play but his leadership skills. Baker had 87 tackles last year and led the team with seven sacks.
7. Jelani Jenkins, Florida, So.:
Jenkins developed as last season went on, but he was inconsistent at times. He showed he's got wheels and somehow found the ball a ton, finishing second on the team with 76 tackles. Jenkins really took to Dan Quinn's multiple defense this spring and will be called on to be one of the voices on defense. He'll line up outside in the 4-3 and will be inside when Florida is in the 3-4.
8. Ronald Powell, Florida, So.:
Powell could have made this list as a defensive end, but with him playing the hybrid Buck and primarily playing linebacker last year, we stuck him here. After struggling through his first year, Powell was a changed man this spring and from all accounts finally looked like what the No. 1 high school prospect should look like. The defensive staff has complete trust in Powell and with his freakish athleticism and ability, he immediately becomes Florida's top pass-rusher.
9. DeVonte Holloman, South Carolina, Jr.:
Holloman made the switch form safety and will now be the Gamecocks' hybrid linebacker known as the Spur. With defensive back speed and weighing 230 pounds, he should be just fine at his new position. The question is whether the staff will keep him there. The strong safety spot was never filled this spring, so Holloman could move back. As long as he's here, he's going to add a quality roving weapon to the Gamecocks' defense.
10. Jarvis Jones, Georgia, So.:
He finally gets on the field after sitting out a year because of his transfer from USC. He'll line up on the weak side, so he's not exactly Justin Houston, but the coaches at Georgia think he might be a more complete player at linebacker. He can rush the passer and stop the run. Jones should have a big year in his new conference.
June, 21, 2011
6/21/11
10:20
AM ET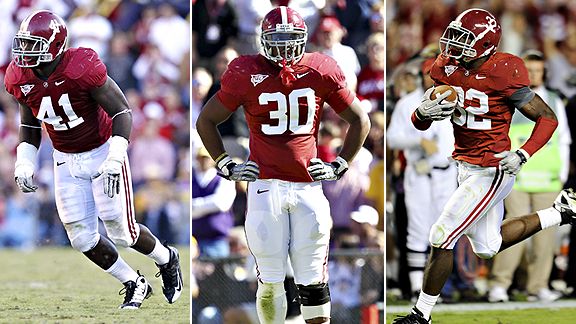 US PresswireCourtney Upshaw, Dont'a Hightower and C.J. Mosley are part of what could be the best linebacker corps in the conference.
Today we take a look at the SEC linebackers. The front sevens in this league are always good and 2011 shouldn't be any different.
Here's how the teams stacked up:
1. Alabama:
There are a lot of strengths on this Alabama team, but the linebackers should be very fun to watch this fall. Courtney Upshaw and Dont'a Hightower are back to full speed and are considered top players at their positions. With them back, the Tide should have a much more aggressive pass rush. Nico Johnson and C.J. Mosley improved even more this spring and will get time in the middle when Hightower is outside at the "Jack" position. Mosely blossomed as a freshman and could be a star in the making. Jarrell Harris seems to finally be coming around and Chris Jordan gives them another body in the front seven.
2. Florida:
This group struggled to stay consistent at times last fall, but the new coaching staff was pleased with the progress it made this spring. There is a lot talent out there and now there are two distinct leaders in Jelani Jenkins and Jon Bostic, who should occupy the middle when the Gators go to the 3-4. Both are tremendous athletes and should be a solid duo this fall. Florida also has former No. 1 high school prospect Ronald Powell playing that linebacker/defensive end hybrid spot called the Buck. He'll stand up a lot this season and should elevate himself near the top of the SEC pass-rushing list. Cal transfer Chris Martin earned a ton of praise last year on the practice squad and will be a hybrid as well. Converted safety Dee Finley will play outside and there is some good, but young, depth in the wings.
3. Arkansas:
This area of the team improved a lot during the season and this spring. It's headlined by Jerry Franklin, who has led the Razorbacks in tackles the last three seasons. He has 271, including 21.5 for loss in his career. Strongside hybrid Jerico Nelson was second on the team in tackles and has the speed to get all over the field. Nelson will occasional drop back and play safety as well. This linebacker tandem will be one of the best out there this fall. The major plus for the Razorbacks is that there is finally some really good depth at the position. Bret Harris, Jarrett Lake and Terrell Williams came on strong on the outside this spring, while Ross Rasner was making strides until he was arrested and suspended indefinitely this spring.
4. Georgia:
There is no shortage of athleticism in Georgia's linebacker corps. Alec Ogletree moved down from safety and while he's bulked up, he's still got tremendous closing speed and will make a ton of plays at middle linebacker. Next to him is defensive leader Christian Robinson, who left spring as one of Georgia's most consistent linebackers. On the outside, USC transfer Jarvis Jones will occupy the weak side and the coaches feel he might be more of a complete player than Justin Houston. On the other end, Cornelius Washington might not be getting a ton of publicity, but he's no slouch and can run with the best of them.
5. LSU:
Like most of the Tigers' positions, this one might not have a ton of in-game experience, but the athleticism is too good not to praise. LSU lost leading tackler and monster in the middle Kelvin Sheppard, but there should be enough able bodies to make this unit one of the tops in the league this fall. Ryan Baker is now the leader out there and can keep up with some of the best offensive weapons out there. He'll play on the weak side, while converted safety Karnell Hatcher moved down from safety and took reps at middle linebacker, but could find his home outside. Sophomore Kevin Minter spent his spring trying to fill Sheppard's void and has made vast improvements. Senior Stefoin Francois provides veteran depth for the Tigers on the outside, while there are a few young, able bodies ready to contribute as well.
[+] Enlarge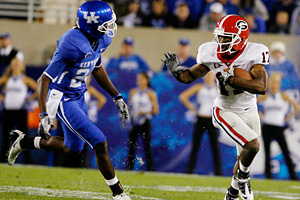 Mark Zerof/US PresswireKentucky's Danny Trevathan, left, led the league with 144 total tackles.
6. Kentucky:
Things start with one of the nation's best in Danny Trevathan. He led the SEC with 144 tackles a year ago and the word out of Lexington is that he's looking to be even better this fall and wants to move around the field a lot more. Ronnie Sneed returns as the starter in the middle, after grabbing 61 tackles a year ago. He made some nice improvements this spring. Ridge Wilson will be another hybrid on the outside, and will occasionally lineup as a rush end for the Wildcats. The talented Winston Guy, who has played just about everywhere on Kentucky's defense has finally settled into his home at linebacker and should play closer to the line of scrimmage and be a nickel linebacker.
7. South Carolina:
The Gamecocks got an immediate upgrade to this position with the return of Shaq Wilson, after he missed last year with a hamstring injury. Wilson is known as the quarterback of the defense and led South Carolina in tackles in 2009. The player that could really make noise in this unit is DeVonte Holloman, who is moving from safety to the hybrid Spur position. He'll drop back into coverage and rush from the outside to give the Gamecocks another weapon in the pass rush. Upperclassmen Reggie Bowens and Rodney Paulk will get some reps in the middle this fall, while Damario Jeffery and Quinn Smith will compete for time outside.
8. Tennessee:
The Volunteers are still trying to find out what this group is made of. Junior Herman Lathers will be back after he heals from an ankle injury this spring and he's the most experienced player at the position. He had 75 tackles last season and will man the weak side for the Vols when he returns. Senior Daryl Vereen should get time at strong side, but he still has some developing to do. Senior Austin Johnson, a converted fullback, will get time in the middle with All-SEC freshman pick John Propst. The jury is still out on this unit and youngsters like A.J. Johnson, Curt Maggitt and Christian Harris will have to develop quickly.
9. Auburn:
The Tigers are almost back to the drawing board at linebacker. Both Josh Bynes and Craig Stevens are gone, leaving Daren Bates as the lone returning starter. Bates is a converted safety, but settled nicely into the linebacker position well last fall. Inexperience looms after that as sophomore Jake Holland is a projected starter in the middle and junior Jonathan Evans will get time at weakside. Former junior college standout Eltoro Freeman, has the potential to be a menace, but has yet to truly step up for the Tigers. They'll need that light bulb to go on this year.
10. Mississippi State:
First thing's first -- the Bulldogs must replace three starting linebackers this season. That won't be easy or fun in Starkville. But help could be on the way in Clemson transfer Brandon Maye, who was a three-year starter with the Tigers. Coach Dan Mullen said he's a player they expect to come in and take one of those openings at linebacker. Mississippi State still has senior leader Brandon Wilson, who players fed off of this spring. Chris Hughes and Cam Lawrence also made strides, but expect a lot of rotation from new defensive coordinator Chris Wilson.
11. Vanderbilt:
Chris Marve is one of the top linebackers in the nation. He's got great field instincts and matches his skill with the best of them. Just having him on the field makes this group better. But after him, the Commodores have a lot of questions. Vanderbilt must replace outside linebackers John Stokes and Nate Campbell, and though there are six candidates, they have just start among them. Coming out of spring, juniors Tristan Strong and Archibald Barnes and sophomore Chase Garnham are the leading candidates to see valuable playing time.
12. Ole Miss:
Losing D.T. Shackelford was an enormous blow to the Rebels. Not only was he Ole Miss' best defensive player but he was the emotional leader of the team. He was going to carry this team as far as he could go. Now, the Rebels have a wealth of inexperience to deal with. Things got even worse when sophomore linebacker Clarence Jackson was dismissed following his arrest for public drunkenness. The pressure is now on incoming freshman C.J. Johnson, who was the top prospect coming out of the state of Mississippi. He could jump right into Shackelford's spot. Mike Marry and Ralph Williams worked in Shackelford's spot this spring and Joel Knight returns as a starter outside.
June, 20, 2011
6/20/11
10:30
AM ET
We've divided the defensive line into two categories -- ends and tackles. The more rankings the merrier, right?
First, we'll start with the defensive ends. The pass-rushers in the SEC are scary. You have to feel for the league quarterbacks when you look at the enormous talent flying off the edge in this conference.
It wasn't easy ranking these backfield harassers, but here goes:
1. Devin Taylor, South Carolina, Jr.:
Taylor was a first-team All-SEC performer last season after leading the Gamecocks' defensive linemen with 46 tackles and 12 for loss. He was fourth in the league with 7.5 sacks. Taylor is one of the more athletic ends in the league and his pass-rushing ability is just plain scary.
[+] Enlarge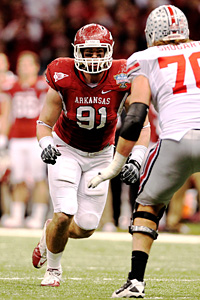 Matthew Emmons/US PRESSWIREJake Bequette finished with 7.0 sacks for Arkansas last season.
2. Jake Bequette, Arkansas, Sr.:
He returns as Arkansas' sack leader, after registering seven in 2010. Bequette harassed quarterbacks all last year, totaling five quarterback hurries and three pass breakups. He's the heart of Arkansas' defense and was one of the more unheralded defensive ends in 2010. Most in Fayetteville think he could be even better this fall.
3. Kentrell Lockett, Ole Miss, Sr.:
Ole Miss got great news this spring when the NCAA granted Lockett a sixth year of eligibility for the fall. Even though he missed spring while recovering from his knee injury, he is already the Rebels' best pass-rusher and will be leaned on to be Ole Miss' emotional leader since D.T. Shackelford is out for the season.
4. Sam Montgomery, LSU, So.:
He hasn't played a ton at LSU, but the feeling coming out of Baton Rouge is that he has the talent to be one of the top ends in the SEC. A knee injury shortened his first year, but he regains his starting spot and is on a mission to show just how disruptive he can be this fall.
5. Melvin Ingram, South Carolina, Sr.:
Ingram is someone who will frustrate opposing linemen with not only his tremendous skill but because he moves all over the place. He's the inside man on passing downs, but he primarily plays outside. Still, he was third in the league and first for the Gamecocks with nine sacks last season.
6. Tenarius Wright, Arkansas, Jr.:
Wright was Bequette's partner in crime a year ago. He had 36 tackles, including eight for loss and six sacks in 2010. Oh, and he did all that without starting a game last season. Wright entered spring as the starter opposite Bequette and should make the Hogs' pass rush one of the most intimidating in the league.
7. Corey Lemonier, Auburn, So.:
Lemonier isn't even a returning starter, but there is a ton of buzz surrounding him this offseason. He was one of the top end prospects coming out of high school a year ago and saw action in every game last fall, earning SEC All-Freshman honors. He'll become more unpopular among SEC quarterbacks this fall.
8. Jadeveon Clowney, South Carolina, Fr.:
Clowney makes our list as a true freshman because he's got all the tools to be an immediate star in this league. Some feel he can start right away in Columbia and with his freakish ability, he could make an instant impact on the league. The No. 1 high school player in the country has everything needed to be a pain for tackles, but handling the hype is his first hurdle.
9. Damion Square, Alabama, Jr.:
Square is two years removed from a severe knee injury, but he came back strong in 2010. The athletic lineman played in 13 games, making six starts and accumulating 27 tackles and three sacks. In Alabama's 3-4, he'll line up as an end and could have the makings for a breakout year.
10. DeAngelo Tyson, Georgia, Sr.:
He's moving from noseguard back to his natural position at end and should do fine in Todd Grantham's 3-4. He was a little too small to be in the middle, but has nice quickness to be a nuisance for offensive linemen in his new home.
June, 20, 2011
6/20/11
9:50
AM ET
Today we look at the big uglies that cause all the mayhem in the trenches. The SEC consistently spits out nasty defensive linemen and this year has more of an athletic feel.
Here's how the teams stacked up:
1. South Carolina:
The Gamecocks return a defensive line that would make any offensive line shutter. Plus, incoming freshman Jadeveon Clowney comes in as the top high school player in the country and could be one of the best ends in the league this fall. Devin Taylor leads the group at end and was second on the team with 7.5 sacks as a sophomore. Helping on the outside is Melvin Ingram, who plays inside on passing downs, and led South Carolina with nine sacks a year ago. Senior Travian Robertson, who came off injury to get four sacks last year, is solid in the middle as well.
[+] Enlarge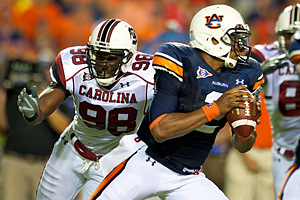 Dale Zanine/US PresswireDevin Taylor made a habit of harassing quarterbacks last season.
2. Arkansas:
The Razorbacks might have the best pass-rushing group Arkansas has seen in a while. Things revolve around defensive end Jake Bequette, who was one of the more unheralded players in the league last year, despite having seven sacks. On the other side of the line is Tenarius Wright, who will make up the second part of a formidable outside duo in Fayetteville with his speed and athleticism. In the middle, there are plenty of options. Byran Jones and DeQuinta Jones missed spring due to injury, but will be back this fall and there's a wealth of depth behind them. Junior college transfer Robert Thomas might be the best and most athletic option in the middle is primed to break out.
3. LSU:
There are some questions about the experience the Tigers bring back, but no one will question the talent and athleticism in Baton Rouge. Sam Montgomery is back at defensive end, after suffering a serious knee injury. He hasn't played much, but the coaches believe he's got what it takes to be a top end in this league. Kendrick Adams started 11 games last year at end, while Lavar Edwards filled in for Montgomery. Ego Ferguson redshirted last year, but should get a ton of playing time in the middle this fall. He is already one of the most athletic tackles in the SEC. Don't forget about five-star early enrollee Anthony Johnson, who made very strong impressions on his coaches this spring and will be in the rotation inside.
4. Florida:
This unit was criticized for lacking toughness last season, but will be full of that and even more athleticism in 2011. Jaye Howard is returning from spring ankle surgery and is already considered a top defensive tackle prospect in next year's NFL draft. Alongside him are youngsters Sharrif Floyd and Dominique Easley. Floyd was the most consistent of the much-ballyhooed freshman class last fall, while Easley struggled with attitude problems. Easley has rebounded and both excelled this spring. Omar Hunter is finally healthy and will share time with Floyd at noseguard and senior William Green will occupy an end spot. This group is even better when Ronald Powell lines up at end in the 4-3.
5. Alabama:
On paper, there are a few questions with this group, but it's hard to drop Alabama very far on this list. The 3-4 scheme will have senior Josh Chapman at noseguard. Chapman started 12 games in the middle last fall, totaling 31 tackles, including 3.5 for loss. Damion Square will compete for time on the outside, and since returning from his ACL injury, he's gained a lot more playing confidence and could be a budding star in the league. Junior college transfers Quinton Dial and Jesse Williams will compete for time on the line as well, while sophomore Ed Stinson will stay at end after starting last season at Jack linebacker.
6. Mississippi State:
The Bulldogs have arguably the top returning tackle tandem in the SEC. Fletcher Cox and Josh Boyd are the behemoths in the middle who combined for 53 tackles, 13 for loss and five sacks last year. Finding any sort of inside running game against Mississippi State will be extremely tough. Developing a pass-rusher is the next step for the Bulldogs' staff. Sean Ferguson occupies one side, but the other is still up for grabs. Trevor Stigers and Shane McCardell battled for the spot this spring, but neither has really pushed ahead.
7. Georgia:
There is a lot of talent in Athens, but there could be a lot of movement on the line. JUCO transfer John Jenkins is the big -- and we mean big -- name up front and he's yet to play a down in the SEC. He arrives with a ton of hype, but is perfect at noseguard in Todd Grantham's 3-4. DeAngelo Tyson moves to his natural position outside after playing noseguard last year. Kwame Geathers played in the middle this spring, but could be usurped for Jenkins this fall and move outside. Abry Jones is still maturing after moving to end and recording 34 tackles including 3.5 for loss last season and had a 16-tackle performance against Georgia Tech.
8. Auburn:
The Tigers must replace three starters this season. Inside, Auburn is talented but inexperienced with Kenneth Carter and Jeffrey Whitaker having 13 combined tackles from a year ago. There's less concern on the outside with lone returning starter Nosa Eguae on one side and sophomore Corey Lemonier on the other. Eguae might have more experience with 11 starts, but Lemonier appears to be more athletic and should be near the top of the defensive end pool this year. After that, the Tigers are young across the board.
9. Tennessee:
The Volunteers' line will grow with senior Malik Jackson running things in the middle. He had 48 tackles and five sacks a year ago and some think he'll be even better this fall. A lot will also be expected from incoming JUCO transfer Maurice Couch. He's pretty athletic at 6-foot-4, 327 pounds and he'll be greatly needed, considering the dismissal of Montori Hughes. Jacques Smith has All-SEC potential and will hold one of the end spots. After that, Tennessee has some young, but encouragingly talented bodies at each position.
10. Ole Miss:
Some of the best news of the spring coming out of Oxford was the return of Kentrell Lockett at defensive end. Lockett was granted an extra year of eligibility by the NCAA and will not only be the Rebels' top lineman but possibly their best defensive player. After that, the questions roll in with four tackles gone and youth coming in. Tackle Justin Smith has yet to really emerge as the All-SEC talent he was expected to be and Ole Miss is smaller up front. JUCO transfer Gilbert Pena could add some size in the middle. Gerald Rivers returns to get time at end, but has played in just 15 career games in two years.
11. Vanderbilt:
This was supposed to be a strength for the Commodores last year until injuries hit. Still, Vanderbilt returns three starters. Experience is there, but this unit has to continue to improve, especially in the pass-rushing department where the Commodores had just 20 sacks in 2010. Rob Lohr led Vanderbilt with four sacks a year ago and had 35 tackles. T.J. Greenstone is coming off of injury and will line up inside. Tim Fugger was one of the Commodores' most consistent players at end, playing in every game and registering three sacks and four forced fumbles.
12. Kentucky:
End Collins Ukwu and tackle Luke McDermott return with the most experience on Kentucky's line. Ukwu improved not only on the field but in the weight room this spring and is expected to be a more consistent pass-rusher. McDermott is a walk-on currently ahead of Donte Rumph, who has the talent to be one of Kentucky's top defenders, but has yet to fully buy in to the program. The coaches are also waiting for tackle Mister Cobble to finally break out of his funk and be a regular contributor. The rest of Kentucky's linemen have some developing to do and are inexperienced.
June, 17, 2011
6/17/11
10:30
AM ET
In a league that is won and lost at the line of scrimmage, teams have to have quality big men up front. The SEC doesn't lack talent – or size and intimidation – in this category and returns a handful of quality linemen.

The thing about his league is that the youngsters and veterans seem to play at an equally high level up front at times. It feels like the talent around the SEC is maturing at much younger ages on the offensive line.

Here are some of the top performers we came up with on the offensive side the SEC trenches:

1. Barrett Jones, Alabama, Jr.: The junior has started 25 games at right guard for the Crimson Tide and is arguably the best run-blocker in the league. He's also one of the team's top leaders. The coaches trust him so much that with the vacancy left by James Carpenter at left tackle, Jones took snaps there this spring and could end up playing there permanently this fall.

2. Cordy Glenn, Georgia, Sr.: Glenn moved from guard and was competing with Trinton Sturdivant at both tackle spots. Even before Sturdivant's devastating knee injury, he was poised to take the left tackle spot. The 6-foot-5, 320-pounder enters the season with 36 starts under his belt.

3. Bradley Sowell, Ole Miss, Sr.: Sowell looks primed to be an All-SEC performer this season. He's started 24 of 25 games and has been an instrumental part in both Ole Miss' passing and rushing game. He's one of the more athletic tackles in the league and shouldn't have an issue protecting the blind side of Ole Miss' new quarterback.

4. Larry Warford, Kentucky, Jr.: He's the best of a veteran group in Lexington. Warford, who was an All-SEC second team selection in 2010, has ideal athleticism to play inside and started every game for the Wildcats at right guard. He also led the team with 43 knockdowns.

5. William Vlachos, Alabama, Sr.: Vlachos is not only tops at the center position in the SEC, but he's one of the best in the nation. He's become one of the most vocal leaders for the Tide and brings a bit of an edge to the offensive line. He has started 27 straight games at center and could be a leading candidate for the Rimington Trophy.

6. Bobby Massie, Ole Miss, Jr.: He's another candidate for All-SEC honors this fall. The athletic lineman has started 17 games at right tackle and should continue to be a chore for defensive ends and linebackers to get by. He's starting to develop as more of a leader, which will be key for the Rebels as they break in a new quarterback.

7. Josh Dworaczky, LSU, Sr.: He started in all 13 games last season at left guard for the Tigers and has competed in 752 plays with 53 knockdowns. Dworaczky also played every offensive snap in nine games in 2010. For his career, he's started in 26 of the 38 games he's played in.

8. Alvin Bailey, Arkansas, So.: Bailey was a hit for the Razorbacks very early. He started as a true freshman and showed that he'll be a star among the league's linemen because of the way he utilizes his size and strength. He's one of only two starters returning on Arkansas' line, but should be key in the Razorbacks' inside running game.

9. Ja'Wuan James, Tennessee, So.: He's another youngster who impressed during his first year on campus. The right tackle missed most of spring because of an illness, but he'll be back to normal this fall. James was one of 10 Volunteers to start in every game and one of just four to see action in every single quarter

10. Brandon Mosley, Auburn, Sr.: Mosley arrived last season with more experience at defensive end and tight end before moving to right tackle. He was solid for the Tigers after a stint in junior college, playing in 14 games and starting 11. He is Auburn's lone returning starter on the offensive line.
June, 17, 2011
6/17/11
9:30
AM ET
The big uglies up front on the offensive side are our focus today. There are some quality veterans out there, but teams all across the league are looking to replace some quality linemen in the trenches.
Here's how we see the league stacking up:
[+] Enlarge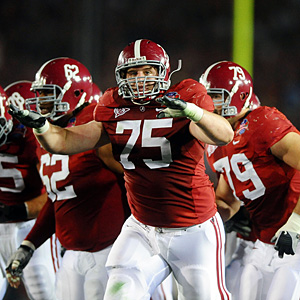 Mark J. Rebilas/US PresswireBarrett Jones has been one of the mainstays of Alabama's offensive line the past two seasons.
1. Alabama:
Four of Alabama's five linemen from a year ago return, making this one of the team's strongest units. The returners have combined for more than 70 starts at Alabama. Barrett Jones is the star of the show. The junior has been the Tide's starting right guard each of the past two seasons, but took reps at left tackle and could be asked to move. William Vlachos is back at center and could be the best at his position in the league. Fellow starters D.J. Fluker and Chance Warmack are back and took reps at left tackle this spring.
2. Ole Miss:
The Rebels' offense isn't getting much respect this offseason, but its offensive line returns All-SEC candidates in tackles Bradley Sowell and Bobby Massie. Seven of Ole Miss' linemen started two or more games each on the offensive line in 2010. Last season, the Rebels were first in the league in sacks allowed, giving up just 14. Alex Washington should stay at left guard after starting eight games there and A.J. Hawkins will likely get the nod at center after playing eight games there as well. Arkansas transfer Matt Hall will compete for time at center.
3. LSU:
Joseph Barksdale might be gone, but the Tigers have a very talented group of linemen returning. Tackle Alex Hurst seems primed to be a star in the league and senior Josh Dworaczky is arguably the Tigers' top lineman with 25 career starts. Patrick Lonergan is solid at center, while T-Bob Hebert is valuable at both center and guard. Sophomore Chris Faulk has the tough assignment of replacing Barksdale, but made quite the impression on his coaches this spring.
4. Kentucky:
The Wildcats return four starters on their line. Right guard Larry Warford headlines the group after gaining second-team All-SEC honors a year ago. Kentucky also returns two-year starter Stuart Hines at left guard and Matt Smith at center, who was solid in his first year there. Left tackle Chandler Burden missed spring practice, but is expected back by fall practice. Finding a suitable right tackle is the next step for Kentucky.
5. Tennessee:
This group could be one of the most impressive units for the Volunteers this season. It's deeper and more experienced in Derek Dooley's second year and he was very pleased with its performance this spring. Junior Dallas Thomas is solid at left tackle, and sophomore Ja'Wuan James really came on strong in his first year and is one of the top linemen in the SEC. James Stone also returns at center. The surprise of the group was true freshman Marcus Jackson, who held down the left guard spot for most of the spring.
6. Mississippi State:
The Bulldogs must replace All-American left tackle Derek Sherrod, but most of the line is somewhat on point. Center Quentin Saulsberry will anchor the line and is versatile enough to play just about every position on the line. Left guard Gabe Jackson and right tackle Addison Lawrence return and the Bulldogs will have junior Tobias Smith lining up at right guard. Blaine Clausell and James Carmon, who moved from defensive tackle, will compete at left tackle.
7. Georgia:
This was supposed to be one of the strongest offensive line units in the league, but the Bulldogs lost tackle Trinton Sturdivant to a season-ending knee injury this spring and fellow tackle A.J. Harmon transferred. Georgia's most-reliable options are Cordy Glenn, who moved from guard to left tackle and Ben Jones at center. Kenarious Gates is at left guard, but he's athletic enough to play tackle if needed. Former defensive lineman Justin Anderson will start off at right tackle. Right guard is the next area of business and the depth all around is a problem.
8. South Carolina:
The Gamecocks have questions here, but there is talent across the line. Rokevious Watkins is one of the most talented guards in the league and he'll be assisted by returning starter at center T.J. Johnson. Senior Kyle Nunn has made strides at left tackle and redshirt freshman A.J. Cann took over duties at left guard this spring. Still, the younger linemen will be counted on to contribute this fall.
9. Arkansas:
The Razorbacks must replace three starters on the offensive line. Center Travis Swanson and left guard Alvin Bailey are the only returning starters. Just a sophomore, Bailey impressed his coaches last season and will be one of the top linemen in the league this fall. After that, the Hogs will have to turn to youth for help. True freshman Brey Cook could be thrust into the starting role at right tackle, while sophomore Anthony Oden could get the job at left tackle.
10. Florida:
Florida's offensive line struggled throughout the 2010 season -- and that was with a senior-laden group. This fall, the Gators will start over with a ton of inexperience. Right guard Jon Halapio and right tackle Xavier Nixon are the only returning starters. Halapio struggled at times last season and Nixon battled injuries. Florida's line spent most of the spring in the infirmary, so little is known about the overall talent. Freshman Chaz Green left spring as the starter at left tackle, Jonotthan Harrison will battle former Notre Dame lineman Dan Wenger at center. He transferred in after spring, but has health concerns.
11. Auburn:
The Tigers will go from having one of the top offensive line groups in the country to having a major work in progress in 2011. Senior Brandon Mosley is the lone returning starter, and while he was solid on Auburn's line last season, he came from junior college as a defensive end/tight end. The good news is that tackle A.J. Greene should be fine this fall after sustaining a season-ending leg injury last year. The rest of Auburn's linemen are very young and inexperienced. Don't expect many redshirts from this group.
12. Vanderbilt:
The Commodores might return all five starters, but this unit had trouble keeping things together last year. The offense needs this group to improve mightily. Wesley Johnson is Vanderbilt's best option, despite only being a sophomore at left tackle. There will be size on the right side, with 300-plus pounders Kyle Fischer and Ryan Seymour over there. Simply put, this unit has the experience, but it requires a lot of improvement.
June, 16, 2011
6/16/11
11:15
AM ET
The tight end and H-back spots can be very important positions for teams. If you can find the right athlete, he can be a true mismatch for defenders -- too fast for linebackers and too strong for cornerbacks.
The fun thing about the H-back is that your more athletic tight ends can line up in the backfield to add yet another dimension to an offense.
This year's crop is a little younger, but could contain budding stars in the league.
Here's a look at some of the top players at these positions:
1. Orson Charles, Georgia, Jr.:
Charles has the nice combination of strength and speed to give defenders fits and could flex out to wide receiver if needed. He's elevated his game throughout each of his two seasons with the Bulldogs and should be a star in the league this fall. He's not as fast as receiver
Tavarres King
, but should eat into his production.
2. Brandon Barden, Vanderbilt, Sr.:
Barden was Vanderbilt's leading pass catcher a year ago. He hauled in 34 catches (nine more than the leading wide receiver) for 425 yards and three touchdowns. He's easily the best option in the passing game for the Commodores and should continue to put up solid numbers at the tight end position.
3. Philip Lutzenkirchen, Auburn, Jr.:
He didn't have the most exciting stats a year ago, but he'll be a major factor in the Tigers' offense this fall. He took over as a leader for the young offense this spring and will be used in and out of the backfield as an H-back. He'll be a very reliable target for whomever takes over at quarterback.
4. Jordan Reed, Florida, So.:
Reed did most of his damage last fall at quarterback, but people around Gainesville think he could be the Gators' most athletic offensive weapon now that he's back at tight end. He's a big target, at 6-3, 237 pounds and he doesn't lack speed. In fact, he used most of the offseason working on becoming more fleet-footed.
5. Deangelo Peterson, LSU, Sr.:
Like Charles, Peterson has the athleticism to flex out to wide receiver as well. He grabbed 16 passes for 198 yards in 2010, but had a solid spring and should get more attention in the offense this fall.
6. Chris Gragg, Arkansas, Jr.:
Gragg actually moved from receiver to tight end, so he's already a headache for linebackers with his speed. Backing up D.J. Williams, Gragg only caught eight passes last season, but one of them went 57 yards for a touchdown.
7. Trey Burton, Florida, So.:
Florida was short on offensive playmakers last year, but Burton definitely made that short list. He's no longer lining up at quarterback, but will be Florida's H-back. Burton caught 32 passes as a freshman and has good speed and a little elusiveness to continue to be a reliable target for quarterback
John Brantley
.
8. Marcus Green, Mississippi State, Sr.:
Injuries have been his downfall, but if he's healthy, he'll be a valuable weapon for quarterback
Chris Relf
. He was only healthy enough to catch three passes last year, but hauled in 27 catches for 306 yards in 2009, so the talent is there.
9. Mychal Rivera, Tennessee, Jr.:
There's no secret that Tennessee is going to air it out this fall. Rivera backed up Luke Stocker last season, so his numbers weren't great, but the staff is confident that he'll be a reliable target in the offense. He'll be a good third option with the talent at receiver.
10. Michael Williams, Alabama, Jr.:
Williams was overlooked because he was staring up at
Preston Dial
on the depth chart. But he's far from inexperienced. Williams has appeared in 27 games, making 14 starts. He's a good run blocker and is athletic enough to challenge most linebackers opposite him.
June, 16, 2011
6/16/11
10:30
AM ET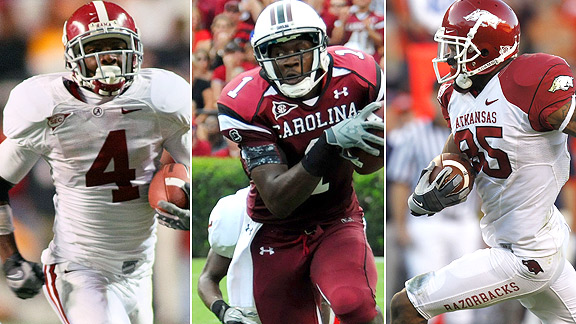 Icon SMI/Getty ImagesMarquis Maze, Alshon Jeffery and Greg Childs top the list of the SEC's best wideouts.
The SEC is stockpiled with receiving talent, but that should come to no one's surprise.
Unlike the team rankings, we decided to split up the wide receivers and tight ends. Remember, these rankings are based on season projections, skill level and body of work.
We sparked a lot of debate with the running backs Wednesday, so I image the receivers will get similar attention as well.
Here's what we came up with:
1. Alshon Jeffery, South Carolina, Jr.:
It would be hard to find a better receiver than Jeffery in the league. He might not be the fastest or most explosive player out there, but his 6-foot-4, 233-pound frame makes him tough for any defender to cover. He was nearly impossible to contain in one-on-one situations last year, and he led the SEC with 88 receptions for 1,517 yards and nine touchdowns.
2. Greg Childs, Arkansas, Sr.:
Assuming he's back to full health after his knee injury in 2010, Childs is the Razorbacks' best option at receiver. He's big, fast and tremendous after the catch. Before his season-ending injury during the eighth game of the season, Childs registered 46 catches for 659 yards and six touchdowns.
3. Marquis Maze, Alabama, Sr.:
Maze is no Julio Jones, but he's no slouch either. He'll be the Crimson Tide's top option at receiver this fall and caught 38 passes for 557 yards and three touchdowns last season. Maze has the speed to elude defenders and proved last year that he's got the strength to shed tackles as well.
[+] Enlarge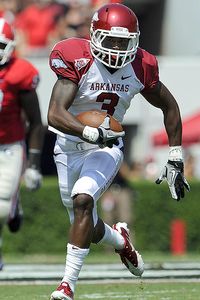 Paul Abell/US PresswireReceiver Joe Adams led the Bulldogs with 813 yards receiving in 2010.
4. Joe Adams, Arkansas, Sr.:
Adams made solid gains last year and was the Razorbacks' leading receiver. He's another physical wideout who is most dangerous after he catches the ball. Adams will man the slot and won't be intimidated by making plays over the middle of the field.
5. Jarius Wright, Arkansas, Sr.:
Another Arkansas receiver makes the list because this team thrives on the deep ball. Wright is the fastest of the Hogs' wideouts. He proved as much when he ran a sub-4.3 40 during the offseason. Wright has the potential to move up on this list if he can continue to show he can regularly shake tackles.
6. Chad Bumphis, Mississippi State, Jr.:
Bumphis should be higher on this list with the skill he possesses, but he's yet to put it all together. Bumphis is extremely athletic and will lineup all over the field, but he's got to be more consistent. Quarterback
Chris Relf
has improved his passing skills, so Bumphis will have plenty of opportunities to take his game to the next level.
7. Rueben Randle, LSU, Jr.:
The Tigers have a lot of talent at the position and Randle could be the one who takes over as LSU's top receiver. Last year, he caught 33 passes for 544 yards and three touchdowns and showed throughout the season that he can be a reliable playmaker in the offense. He's talented enough to go across the middle and be a deep threat.
8. Justin Hunter, Tennessee, So.:
Hunter only caught 16 passes in 2010, but seven of them went for touchdowns and he racked up more than 400 receiving yards. He's certainly got a nose for the end zone and should be quarterback Tyler Bray's top receiving option.
9. Tavarres King, Georgia, Jr.:
He's not A.J. Green, but he did a good job filling in for him at the flanker spot this spring. King not only had a solid spring, he is also no stranger to the offense, catching 27 passes for 504 yards last fall. He's got some burning ability as well.
10. Emory Blake, Auburn, Jr.:
If Auburn can find the right quarterback, Blake could move up this list. As a sophomore, he caught 33 passes for 554 yards and eight touchdowns. Blake also has the size to frustrate smaller corners around the league and should win more one-on-one battles.
June, 16, 2011
6/16/11
9:16
AM ET
Today we take a look at the wide receiver/tight end positions in the SEC. This one gets tricky since we're basing rankings on two different positions.
Let's take a look at what we came up with:
[+] Enlarge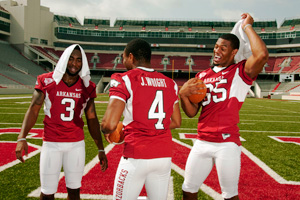 AP Photo/April L. BrownJoe Adams, Jarius Wright and Greg Childs combined for 2,260 yards last season.
1. Arkansas:
The Razorbacks could have the best wide receiver corps in the country. Making things even better for Arkansas is that each member of its tremendous trio is a senior. First, there's
Greg Childs
, who would have taken part in the NFL draft this year had he not suffered a knee injury late in the season. Childs is Arkansas' best receiver when he's healthy.
Joe Adams
really came on strong last year, especially after Childs went down. He's the best when he gets the ball in open space and will command the slot. Then there's
Jarius Wright
, who is the fastest of the three and got even stronger this spring as well. The three have 324 combined career receptions for 5,404 yards and 41 touchdowns.
2. LSU:
The Tigers might have lost
Terrence Toliver
, but they'll still have weapons at receiver. Junior
Rueben Randle
is expected to be the go-to guy in LSU's offense and is coming off a season where he caught 33 passes for 544 yards and three touchdowns.
Russell Shepard
was right behind him last season, catching the same amount of balls, but only totaled 254 yards and one touchdown. He looked sharper this spring and is looking to break out this fall. Tight end
Deangelo Peterson
should also get more attention this fall. He only caught 16 passes, but that number should increase.
3. South Carolina:
For starters, the Gamecocks have the league's best receiver in
Alshon Jeffery
. The 6-foot-4, 233-pound freak snatched just about everything that came his way last fall and registered 1,517 yards and nine touchdowns. He's nearly impossible to stop in one-on-one situations. Senior
Jason Barnes
didn't make a major impact in 2010, but he does have 60 career receptions under his belt. The smaller
Ace Sanders
should be even better after bursting onto the scene with 25 receptions for 316 yards and two touchdowns.
D.L. Moore
, who caught 17 passes in 2010, should have a more expanded role as well.
[+] Enlarge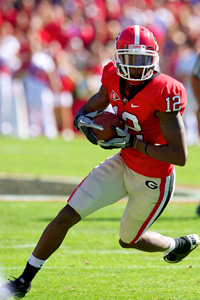 Dale Zanine/US PresswireWith A.J. Green in the NFL, Tavarres King should become the Bulldogs' main receiving threat.
4. Georgia:
The Bulldogs are still looking for a few playmakers at receiver, but there is definitely talent in Athens. Junior
Tavarres King
has moved into A.J. Green's flanker spot and while he's not Green, he proved this spring that he's ready to be the Bulldogs' main receiving threat. Tight end
Orson Charles
is the best at his position and can flex out to receiver if needed. His 26 catches for 422 yards should increase this upcoming season.
Marlon Brown
also made strides this spring and should be the No. 2 receiver.
5. Tennessee:
Neither
Justin Hunter
nor
Da'Rick Rogers
had a ton of catches last fall, but that will change with a strong passing game in 2011. Hunter caught 16 passes, but registered 415 yards and seven touchdowns in the process. He's a solid deep threat and playmaker. Rogers also only caught 16 passes, and while he didn't have the yardage Hunter had, he made tremendous strides this spring. Tight end
Mychal Rivera
caught 11 passes in 2010 and with Luke Stocker gone he takes over as the Vols' weapon at tight end.
6. Alabama:
There aren't a lot of questions surrounding the Crimson Tide, but receiver isn't Alabama's best area. Seniors
Marquis Maze
and
Darius Hanks
should get the brunt of the catches. They combined for 70 catches for 1,013 yards and six touchdowns last season. There is a long list of other inexperienced players who should grab some catches as well and former Ohio State receiver Duron Carter, who just transferred in, could be a factor this fall.
7. Florida:
The Gators have talent at wide receiver, and Florida should have a more pass-friendly offense, but the group is very unproven. Frankie Hammond Jr. could be Florida's best weapon at receiver with his speed and athleticism.
Omarius Hines
has the size and speed to be a major mismatch for defenders in the slot and on the outside. Freshman
Quinton Dunbar
was Florida's top deep threat this spring and should get ample playing time. At tight end,
Jordan Reed
was called Florida's best athlete and could end up being the Gators' top playmaker.
Trey Burton
should catch a few more passes as well.
[+] Enlarge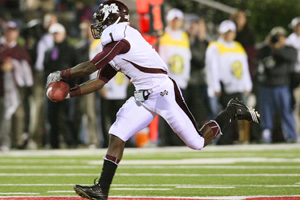 Marvin Gentry/US PresswireMississippi State's Chad Bumphis caught 44 passes for 634 yards and five touchdowns last season.
8. Mississippi State:
The Bulldogs have a ton of depth at receiver, starting with
Chad Bumphis
. The junior has yet to really break out, but this could be the year he finally puts it together. Alongside him, Mississippi State has
Chris Smith
,
Brandon Heavens
and Arceto Clark, who all had solid springs. Those four combined for 115 catches last fall. The Bulldogs also have a host of young receivers who appear ready to compete.
9. Auburn:
There is still some talent left on the Plains at receiver. Sure,
Darvin Adams
and
Terrell Zachery
are gone, but the Tigers will look to
Emory Blake
and
Trovon Reed
to make up for their departures. Blake is the leading returning receiver, while Reed will be used all over the field by Auburn's coaches. He can be a threat in the slot and on the outside.
Philip Lutzenkirchen
will be more of a staple in the offense as the Tigers' trusted H-back.
10. Ole Miss:
Athletically, the Rebels are fine. However, this group is very inexperienced and was inconsistent this spring. The incoming freshmen will have every opportunity to take a starting spot and Tobias Singleton could be the best option of Ole Miss' youngsters. Of the returners,
Melvin Harris
did the most in 2010, catching 30 passes for 408 yards and three touchdowns. Redshirt freshman
Vincent Sanders
will also get a chance to heavily contribute after making strong strides this spring.
11. Vanderbilt:
Four of Vanderbilt's five receiving leaders return, but the group wasn't tremendously productive last fall. The Commodores didn't have a receiver go over 320 yards last season and tight end
Brandon Barden
caught a team-high 34 passes for 425 yards. Vanderbilt's top two wideouts --
John Cole
and
Jonathan Krause
-- are back, but the Commodores might have to turn to their youngsters for help.
12. Kentucky:
The Wildcats lost a lot when do-everything Randall Cobb left early for the NFL and things didn't get any better by losing No. 2 wideout
Chris Matthews
. Now, it's back to the drawing board in Lexington.
La'Rod King
should be the top target for quarterback
Morgan Newton
, but he disappointed at times this spring.
Matt Roark
and
E.J. Fields
will compete for time, but both need vast improvement. The top athlete could be
Brian Adams
, but he spent spring playing for Kentucky's baseball team.
June, 15, 2011
6/15/11
9:35
AM ET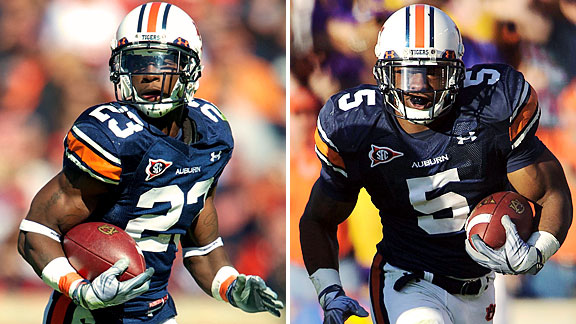 US PresswireMike Dyer (5) and Onterio McCalebb (23) give Auburn a powerful punch in the backfield.
We turn our attention today to the running back position in the SEC, which is always loaded.
The 2011 season will be no different:
1. Auburn:
Who do you put No. 1? How about the team with the best tandem in the league. Sophomore
Mike Dyer
can do it all -- run with power, run with speed and break tackles. He's coming off a 1,093-yard rushing season as a true freshman. The Tigers can also throw their version of "Lightning" at you in junior
Onterio McCalebb
, who's one of the SEC's best breakaway threats. He rushed for 810 yards last season, averaging 8.5 yards a pop, and his 70-yard touchdown run against LSU was the difference in that game.
2. Alabama:
Trent Richardson
alone gets the Crimson Tide into the No. 2 spot. He's that good and that dynamic, and he's going to make up for all those carries he didn't get the past two seasons while playing in the shadow of Mark Ingram. Simply, he's the kind of running back who can carry an offense. Sophomore
Eddie Lacy
would be a starter at a lot of places, and true freshman Dee Hart turned a lot of heads in the spring with his ability to make plays a number of different ways.
3. Arkansas:
The Hogs' depth is outstanding and would have been even better had the bruiser of the group,
Broderick Green
, not suffered a season-ending knee injury in the spring. Junior
Knile Davis
demonstrated just how special he was a year ago with 1,322 rushing yards. Bobby Petrino also thinks this might be the year that junior
Ronnie Wingo Jr
. truly blossoms after showing flashes the past two years, and do-it-all junior
Dennis Johnson
is back after missing all of last season with an injury.
4. South Carolina:
Sophomore
Marcus Lattimore
is right up there with Richardson when it comes to game-changing running backs who can carry a football team. Willing to tote it 35 and 40 times a game, Lattimore is an entire running back corps unto himself. But he will need some help, and that's where junior
Kenny Miles
comes in. Miles had an excellent spring, and it looks like junior
Eric Baker
is healthy again.
5. Florida:
From a pure speed standpoint, nobody can top Florida's backfield. The
Chris Rainey
-
Jeff Demps
combo figures to be a blur in 2011, and new offensive coordinator Charlie Weis is going to see to it that both players get plenty of work. Don't forget about junior
Mike Gillislee
, either, and sophomore
Mack Brown
was one of the highest-rated backs in the country when Florida signed him. The reason the Gators aren't ranked a little higher is that it remains to be seen if they have that power back who can get the tough yards in this league.
6. Mississippi State:
It's a crime to put the Bulldogs this low, but it goes to show you just how deep and talented the running position is in the SEC. Senior
Vick Ballard
just missed 1,000 yards last season and scored 20 touchdowns. Sophomore
LaDarius Perkins
has great speed and is also versatile. He had three receiving touchdowns in 2010. Senior
Robert Elliott
also returns, and coach Dan Mullen said freshman
Nick Griffin
might be the best of the bunch once he gets healthy.
7. LSU:
Losing a 1,000-yard rusher the caliber of Stevan Ridley is never ideal, but there's no shortage of returning talent in the LSU backfield. It starts with sophomore
Spencer Ware
, who's poised for a huge season. He was one of the best players on the field in last season's Cotton Bowl. Les Miles likes to use multiple backs, and sophomores
Michael Ford
and
Alfred Blue
will also be a big part of the rotation.
8. Ole Miss:
There's not a more versatile (or underrated) running back in the SEC than senior
Brandon Bolden
. The NFL scouts have had him in their sights for some time. He just missed 1,000 yards rushing a year ago and led the Rebels with 32 receptions. At 221 pounds, he also has a nose for the end zone and scored 17 touchdowns last season. The Rebels have a perfect complement to go with him, too, in speedy sophomore
Jeff Scott
, while senior
Enrique Davis
also returns.
9. Georgia:
Take Washaun Ealey out of the equation. He's decided to transfer. It's now or never for senior
Caleb King
, who's a more talented runner than he's shown to this point. Junior
Carlton Thomas
is still hanging around, and redshirt freshman
Ken Malcome
is one to keep an eye, too. But the running back everybody wants to see in Athens is incoming freshman Isaiah Crowell, who has all the tools to be a great one. He's going to get a chance to show what he can do right away and may get 15 to 20 carries in the opener.
10. Tennessee:
Despite
Tauren Poole
rushing for 1,034 yards last season, coach Derek Dooley came away saying the Vols left too many yards on the field. They finished last in the league in rushing. Nonetheless, Poole is a tough runner who's proved he can be productive in this league. Sophomore
Rajion Neal
came on in the spring, and the Vols hope incoming freshmen Marlin Lane and Tom Smith can help provide a few more explosive plays in the running game. Also, don't sleep on sophomore
Channing Fugate
, who's one of the better fullbacks in the league.
11. Vanderbilt:
The Commodores have the talent and the depth to really move up this list during the season. Of course, so much of what they do in their running game will hinge on how well the guys develop up front along the offensive line. Injuries derailed Warren Norman and Zac Stacy last season. Neither player topped the 500-yard mark. Both should be healthy in 2011, though, and first-year coach James Franklin was really impressed with sophomore Wesley Tate's blend of size, power and speed in the spring.
12. Kentucky:
Derrick Locke
had been the heart and soul of the Wildcats' running game the past couple of seasons, and now he's gone. The good news is that sophomore
Raymond Sanders
was one of the Wildcats' most-improved players in the spring and looks like he's more than capable of being their go-to back. Several other younger guys are also waiting for their chance, including redshirt freshman
Brandon Gainer
, and the Kentucky coaches are extremely high on incoming freshmen Marcus Caffey and Josh Clemons.