SEC:

2012 Chick-fil-A Bowl
December, 27, 2012
12/27/12
4:35
PM ET
There are finally two sides to this LSU story in 2012. When the Tigers ring in the new year in Atlanta against Clemson in the Chick-fil-A Bowl, they'll do so with a more complete attack than they had for most of the season.
For the better part of the 2012 season, most of the talk surrounding LSU's football team had to do with its extremely aggressive defense. The offense was mentioned in more of a negative light because of the slow development of starting quarterback
Zach Mettenberger
.
[+] Enlarge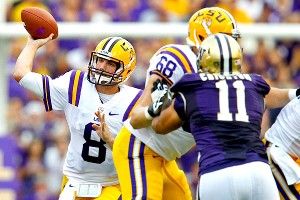 Derick E. Hingle/US PresswireAfter a slow start this season, Zach Mettenberger has invigorated LSU's passing attack.
Before the month of November, Mettenberger was averaging just 177 passing yards per game and threw seven touchdowns to four interceptions. He looked lost at times, especially when the pressure came from defenses. The skillful quarterback everyone expected to see directing the Tigers' offense was nowhere to be found. The good news for the Tigers was that the running game was still extremely stout and pushed the offense along when Mettenberger couldn't.
But after the bye week leading up to the Nov. 3 game with Alabama, Mettenberger turned into a different quarterback. After failing to go consecutive games with 200-yard passing performances, Mettenberger finished the season passing for 200-plus yards in all of LSU's final four games, including a career-high 298 in the loss to Alabama.
During that span, Mettenberger threw four touchdowns to two interceptions and completed more than 55 percent of his passes. He had failed to complete more than 48 percent of his throws in the three games prior to the Tigers' meeting with Alabama.
What this all means is that Clemson now has to worry about two solid attacks from the Bayou Bengals. This team isn't just about defense, which currently ranks eighth nationally. These Tigers have more offensive bite because of Mettenberger's improvement, and that doesn't bode well for a Clemson team that ranks 75th in total defense, giving up 411 yards per game.
Clemson has surrendered more than its current average on defense five times this season, including allowing 667 yards to Florida State and 597 to NC State. In those five games, Clemson allowed an average of 522 yards and 37 points per outing.
That's very good news for LSU -- and Mettenberger.
In nonconference games, Mettenberger completed at least half of his 15-yard passes, according to ESPN Stats & Information. On throws of 15 yards or more, he completed 66.7 percent of his passes in those games, averaged 18.6 yards per attempt, threw six 30-plus-yard passes, and tossed four touchdowns to zero interceptions.
Clemson's defense has allowed 13 touchdowns on passes thrown 15 yards or longer this season, tied for the sixth most among AQ schools, according to ESPN Stats & Information.
Clemson's defense was eaten alive in last year's Orange Bowl loss to West Virginia, and now this unit will have its hands full once again with a very balanced LSU offense. Clemson not only has to worry about LSU's top-notch defense, but it now has to worry about Mettenberger and an LSU offense that has just gotten better during the latter part of the season.
December, 20, 2012
12/20/12
3:00
PM ET
LSU will be without one of its most recognizable players when the Tigers take on Clemson in the Chick-fil-A Bowl on Dec. 31.

The school announced on Thursday that redshirt sophomore punter
Brad Wing
has been suspended for LSU's bowl game
after he violated team rules. Specifics weren't given about what Wing did to earn his suspension.
The Melbourne, Australia, native has been one of the nation's best punters over the past two seasons, and averaged 44.8 yards on 59 punts for the Tigers this year. Freshman
Jamie Keehn
of Miners Rest, Australia, will replace Wing. Keehn has averaged 41 yards on three punts this year and has a long of 51 yards.
Wing already missed the opener this season with what coach Les Miles said was a hamstring injury.
While Wing hasn't been as dominant booting the ball this year like he was last year, he still has the ability to change a game with his leg. He has tremendous power and accuracy and has gotten the Tigers out of plenty of jams over the past two years by blasting the ball deep into opposing teams' territory. When the Tigers have needed to completely change the field position game, Wing has been there countless times.
He has a long punt of 69 yards this year, has punted 21 inside opponents' 20-yard line and has 19 punts of 50 or more yards this season.
It's unusual for kickers or punters to leave early for the NFL draft, but with Wing being draft eligible, it wouldn't be out of the realm of possibility that he would heavily consider leaving school early. He's more than proved what he can do when the ball touches his foot and there has been word that he's at least contemplating it.
December, 19, 2012
12/19/12
1:00
PM ET
Here are some fun Next Level facts and figures from ESPN Stats & Information:
Zach Mettenberger
's completion percentage on passes thrown 15 yards or longer decreased by 33.9 percentage points in SEC games compared to non-conference games. Mettenberger completed at least half of his 15-yard passes in all four of his four non-conference games but in just one of eight SEC games. He will face a Clemson defense that allowed 13 touchdowns on passes thrown 15 yards or longer this season, tied for the sixth most among AQ schools.
Mettenberger on throws of 15-plus yards vs SEC teams:
Completion percentage: 32.8
Yards per attempt: 9.2
TD-INT: 4-2
30-plus-yard completions: 6
Mettenberger on throws of 15-plus yards vs nonconference teams:
Completions percentage: 66.7
Yards per attempt: 18.6
TD-INT: 4-0
30-plus-yard completions: 6
LSU has sent five or more pass rushers on 22.1 percent of its opponents' dropbacks this season. When blitzing, the Tigers have allowed eight passing touchdowns, including at least one touchdown in each of their last four games. When dropping seven into coverage, LSU has allowed just five pass touchdowns in 316 attempts.
LSU pass defense with the blitz:
Percent of dropbacks: 22.1
Yards per play: 5.8
TD-INT: 8-3
Sacks: 4
LSU pass defense without the blitz:
Percent of dropbacks: 77.9
Yards per play: 4.7
TD-INT: 5-15
Sacks: 26

(Dropbacks = sacks, passing attemtpts and scrambles)
Defensive ends
Barkevious Mingo
and
Sam Montgomery
are the main reasons LSU is able to drop seven into coverage. When rushing four, Mingo and Montgomery have combined for 33 of the Tigers' 65 quarterback hurries, including four hurries on passes that were intercepted. Additionally, they have combined for 10 sacks when LSU does not blitz.
Clemson quarterback
Tajh Boyd
increased his completion percentage on passes thrown 25 yards or longer by 19.3 percentage points this season. Boyd's improvement has been aided by
DeAndre Hopkins
who leads the nation with 10 touchdown receptions on passes thrown this distance. Boyd and Hopkins will face an LSU defense that has allowed multiple receptions on such passes in just two games over the past two seasons. Yet, those two games were their last two outings against Ole Miss and Arkansas.
Throws of 25-plus yards vs LSU defense:
Comp-Att: 21.2
Yards per attempt: 6.7
TD-INT: 2-4
Throws of 25-plus yards by Boyd:
Comp-Att: 54.3
Yards per attempt: 22.7
TD-INT: 14-4
Sammy Watkins
and Hopkins have combined for more than 125 receptions and close to 2,000 receiving yards this season despite Watkins missing three games. Hopkins has been effective stretching the field. He has 10 touchdown receptions on passes thrown 20 yards or longer, most in FBS. Watkins has been better with the ball, gaining 422 of his 708 receiving yards after the catch.
Clemson leads FBS with 22 touchdowns of 25 yards or longer. The Tigers have scored at least one touchdown of this distance in 11 straight games, including 10 such touchdowns in their last four games. Clemson will face an LSU defense that has given up 19 plays that have gained 25 yards or more this season, fifth fewest in FBS.
Clemson offense:
Points per game: 42.3 (sixth nationally)
25-plus-yard plays: 62 (second nationally)
25-plus-yard touchdowns: 22 (first nationally)
Touchdowns in two minutes or less: 34 (tied for fourth nationally)
December, 27, 2011
12/27/11
2:00
PM ET
We know the players everyone will being watching when SEC teams start postseason play.
You have
Jordan Jefferson
. Everyone wants to see
Trent Richardson
. People want to know how
John Brantley
really
ends things as a Gator.
But there are a few other players to keep an eye on as well during the heart of bowl season. Here's a look at a player from each SEC participant that we can't forget about this time of year:
ALABAMA
WR Marquis Maze:
Alabama didn't generate much of a passing game last time it met LSU's defense, but it'll have to this time around and Maze could be a major player here. He was seventh in the SEC in receiving and caught a game-high six passes during the first game, but also had that devastating interception on a trick play. He's no doubt looking to redeem himself in the national championship.
ARKANSAS
DE Tenarius Wright:
The Cotton Bowl figures to be a high-scoring affair with these two offenses going at it. But the best way to stop an offensive train is to get a lot of pressure in the backfield. That's where Wright comes into play. Jake Bequette will be manning one side, with Wright on the other. Wright has been hampered by a broken arm this year, but is all healed up and if he can apply some pressure to Kansas State's backfield it should slow down the Wildcats.
AUBURN
RB Tre Mason:
The Tigers lost their best offensive weapon for the Chick-fil-A Bowl when running back
Michael Dyer
was suspended. Mason will now have the opportunity to help
Onterio McCalebb
and should get a bunch of carries against a Virginia team that possesses a pretty good run defense. Mason has that big-back mentality and should complement McCalebb well.
FLORIDA
WR Deonte Thompson:
This is Thompson's last game in a Florida uniform. With Florida looking for one last offensive spark this season, maybe Thompson can provide that. Thompson caught just 19 passes during the regular season, but he has tremendous speed and has the ability to make one or two last plays for the Gators against Ohio State in the Gator Bowl.
GEORGIA
TE Aron White:
He's a player who can sneak up on defenses. With fellow tight end
Orson Charles
and receiver
Malcolm Mitchell
getting most of the attention in Georgia's passing game, White can slip right by and make a big play. Michigan State's defense is tough and talented, but it can't forget about someone who had four touchdowns on nine total catches.
LSU
RB Spencer Ware:
He's fallen under the radar since his midseason suspension. Running backs designated as backups have had more of an impact for the Tigers in recent weeks, but Ware is still a bruiser and he'll still need to show up against the Crimson Tide. For LSU to pound the ball against Alabama, it will need all of the components of that talented backfield and we could see the Ware of old in New Orleans.
MISSISSIPPI STATE
CB Corey Broomfield:
It's been a relatively quiet year for Broomfield. He's recorded a good bit of tackles, but has yet to snag an interception. What a perfect time to come alive for the Bulldogs. There has been more bend in Mississippi State's secondary than most expected this year, but there is still a lot of talent back there. Broomfield has the ability to be a game changer and his coverage skills could be an issue for Wake Forest in the Music City Bowl.
SOUTH CAROLINA
RB Brandon Wilds:
He surprised most of us with the way he played after
Marcus Lattimore
went down. He's certainly not as talented as Lattimore, but he works hard and he has become a major component to the Gamecocks' offense. For this offense to get going against Nebraska in the Capital One Bowl, Wilds needs to continue to play with that bulldog-like mentality between the tackles.
VANDERBILT
WR Chris Boyd:
The Commodores have a pretty good group of offensive playmakers, but Boyd could end up being really special. As a freshman, he leads Vandy with seven touchdown receptions. Cincinnati will likely key in on running back
Zac Stacy
and top receiver
Jordan Matthews
, meaning Boyd could have a big day. The Bearcats will have to monitor both Boyd and Matthews during the Liberty Bowl, which won't be easy.
December, 13, 2011
12/13/11
9:15
AM ET
ATLANTA — Distractions are nothing new to Auburn coach Gene Chizik.
During last year's national championship run, he was smothered by the off-field monster, but still came away with the Sears Trophy.
So, it only makes sense that right before Auburn's bowl game — the game that could generate the needed momentum for spring — Chizik and his Tigers are once again surrounded by distractions.
[+] Enlarge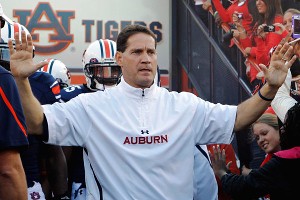 John Reed/US PresswireAuburn coach Gene Chizik says he has no qualms about keeping the program's detractors at bay.
There are coaching distractions with defensive coordinator Ted Roof leaving and rumors running rampant about the future of offensive coordinator Gus Malzahn. Things then took another disappointing step forward when star running back
Michael Dyer
was indefinitely suspended from the team for violating unspecified team rules.
Privately, these are probably headaches that keep Chizik tossing and turning at night, but he said he doesn't have time to consume himself with selfish players and he certainly won't waste his time with rumors floating around about his program.
"I don't pay any attention to the outside chatter," Chizik said. "I think that's what makes college football great that everyone has an opinion, and I appreciate it and respect it. But that's not how I proceed with my football team. We know what's going on within our four walls and that's all I concentrate on."
For now, Chizik is concentrating on not just preparing his team for Virginia in the Chick-fil-A Bowl but he's trying to get his defense back into shape, after taking over as defensive coordinator following Roof's departure. Chizik has 11 years experience as a defensive coordinator, so he has the credentials, but he expects the next couple of weeks to be a challenge with him pulling double duty.
"I did it for a lot of years," Chizik said of being a defensive coordinator. "I gotta get back on the horse and ride that horse again."
As far as hiring someone to take over as coordinator after the bowl game, despite the rumors swirling about who's up for the job, Chizik said he has no timetable for making a hire.
"Certainly, we've started the process," he said. "Once we find the right man, the one we feel is the best fit, then we'll hire him."
In the meantime, Chizik's focus is on improving a tremendously young team. A year removed from that national championship run, Auburn basically had to start over after losing just about every component to last year's special season.
Couple a boatload of youth with a pretty tough schedule, and Chizik expected growing pains and struggles.
He got both, as the Tigers head into their bowl with a 7-5 record.
Regardless of the season he and his team have had, Chizik refuses to make excuses and he refuses to say that expectations for this team should have been tempered. In fact, he thinks fans should have expected another championship push.
"In this conference, everyone who has allegiances to their schools have high expectations. That's not going to change and I don't think that's a bad thing," Chizik said. "People expect to win and at Auburn right now we're all about championships."
Two undefeated seasons in the last eight years will create that.
"That's the expectation that we've come to know and that's the expectation that everyone has -- that Auburn wins," Chizik said. "At the beginning of the year, we don't make excuses about how many guys we do have or don't have. We continue to move forward with the program and try to lay the foundation for a long time."
And to Chizik, that foundation looks pretty solid. This season wasn't always easy, but Chizik saw a young group that rallied behind its youth and remained strong. There were squabbles along the way, but underneath it all, Chizik found a group of talented youngsters who he believes will get this program back on track.
"I'm extremely excited about the future and what's going on," he said. "We have guys that want to win and guys that just had an unbelievable amount of exposure to a lot of things in this league and a lot of experience. It's going to be great carryover."