May, 15, 2012
5/15/12
12:20
PM ET
When it came to dishing out punishment from the running back position, Charles Alexander was one of the best of his time.

On Tuesday, Alexander, who played at LSU from 1975-78, was honored for his grueling play by being inducted into the College Football Hall of Fame.
During his famed LSU career, the bruising Alexander was selected as a two-time, first-team All-American (1977 and 1978) and finished his LSU career with nine SEC records, tied for another and held 27 school records. He still owns the LSU records for most rushes in a game (43), most yards in a season (1,686) and yards per game in a single season (153.3).
Even after a rough debut with the Tigers as a freshman in 1975, Alexander went on to total 1,177 rushing yards as a backup during his first two years, including 876 yards and seven touchdowns as a sophomore.
The next two years were stellar for Alexander, as he rushed for 2,858 yards on 592 carries. He averaged 28.3 and 25.5 carries per game, respectively, during those two years -- ˙˙˙the top two marks in LSU's record books.
He ranks third all time in school history in career rushing yards (4,035) and rushing touchdowns (40).
Alexander's record-breaking year in 1977, in which he ran away with LSU's single-season rushing record, was highlighted by four big individual performances in which he ran for 237 yards against Oregon, 231 against Wyoming, 199 against Tulane and 183 against Vanderbilt -- all LSU wins.
Alexander was later a first-round NFL draft pick by the Cincinnati Bengals in 1979 and played seven seasons in the league, starting Super Bowl XVI in 1982.
May, 15, 2012
5/15/12
12:15
PM ET
Once described by legendary broadcaster Keith Jackson as "Tennessee to the core," Phillip Fulmer spent more than 30 years at his alma mater as a player, assistant coach and head coach.
During his 16 full seasons as head coach from 1993-2008, he engineered one of the most successful runs in Tennessee football history. The Vols compiled a 45-5 record from 1995-98, which included a pair of SEC championships and an unbeaten national championship season in 1998.
Fulmer's 1997 and 1998 Tennessee teams still own the distinction of being the last to repeat as SEC champions.
[+] Enlarge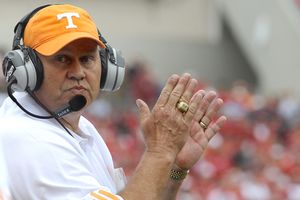 Al Messerschmidt/Getty ImagesPhillip Fulmer compiled a record of 152-52 over 16 seasons with the Vols.
One of the winningest coaches in SEC history, Fulmer was selected Tuesday into the College Football Hall of Fame. He ranks eighth all-time among SEC coaches with 152 overall wins, and he's tied for fifth all-time with 98 SEC regular-season wins. The only four coaches in history with more SEC wins are Bear Bryant, Steve Spurrier, John Vaught and Vince Dooley.
Fulmer took the Vols to dizzying heights in the 1990s and brought them their first national championship in 47 years. That 1998 season was a magical one and culminated with Tennessee knocking off Florida State in the Fiesta Bowl to finish 13-0 and take home the first BCS national championship trophy.
Al Wilson was an All-America linebacker and a captain on that team. He said Fulmer was masterful in the way he pressed all of the right buttons with players.
"I always admired the way he allowed guys to be themselves, but also the way he helped young men grow into not only great football players, but great men," Wilson said. "It's a tribute to him as a coach that he was able to manage so many personalities, from players to assistant coaches."
Despite an overall record of 152-52 (.745), Fulmer was forced out following the 2008 season, which marked his second losing season in the last four years. The year before, the Vols were in the SEC championship game and had the lead in the fourth quarter before losing 14-7 to eventual national champion LSU.
A big part of Fulmer's undoing were two straight lopsided losses to Alabama after Nick Saban took over in 2007 and four straight losses to Urban Meyer at Florida. The last two losses to the Gators were by a combined 63 points.
But even with the dip at the end, Fulmer was 85-41 with three SEC championship game appearances in his final 10 years. The Vols also never went more than two years without making it to the SEC championship game during that stretch.
Fulmer was 11-5 against Alabama and 11-6 against Georgia, but only 5-12 against Florida. He won 10 or more games nine times and wound up 44-37 against nationally ranked foes.
Known as a master recruiter, Fulmer signed 16 players at Tennessee who went on to become first-round NFL draft picks. Included in that bunch: Peyton Manning, Jamal Lewis, Shaun Ellis, Albert Haynesworth, Eric Berry, Jerod Mayo and Wilson.
"He put together a staff that knew how to go out and get players," Wilson said. "It was like bowling. His staff set him up, and Coach Fulmer went in there and knocked them down.
"The other thing is that when you're invested in a place the way Coach Fulmer and his coaches were, it's so easy to sell a school and make players feel like they want to play for you. He had a passion for Tennessee. It's so different nowadays with coaches going from school to school. There's very little loyalty in the college game. Coach Fulmer's one of the last coaches who really had that loyalty."
May, 15, 2012
5/15/12
12:15
PM ET
Texas A&M enjoyed its longest reign among the college football elite in the 1990s, thanks to head coach R.C. Slocum. In his 14 seasons (1989-2002) as head coach, Slocum went 123-47-2 (.721), won four conference titles and a division title, and proved that nice guys can finish first.

Slocum treated everyone as his friend, and once they got to know him, they usually stayed that way. The former McNeese State tight end served for seven years as the defensive coordinator to his predecessor, Jackie Sherrill. Slocum moved into the head coaching job in 1989.
Slocum's defenses, known annually as The Wrecking Crew, used speed, especially at linebacker, to shut down the Southwest Conference. The Aggies dominated the SWC as it withered away, winning 26 consecutive conference games from 1991-94. When the eight SWC schools helped form the Big 12 in 1996, the Aggies picked up where they left off, winning the South Division in 1997-98.
In the 1998 Big 12 Championship Game, No. 3 Kansas State, aware that No. 2 UCLA had lost earlier in the afternoon, needed only to hang onto a 27-12 fourth-quarter lead to secure a berth in the first BCS Championship Game. But the Aggies came back to win the game, 36-33, in double overtime.
As Texas and Oklahoma began to rule the Big 12 South under Mack Brown and Bob Stoops, respectively, Slocum bore the brunt of alumni dissatisfaction. Texas A&M fired him in 2002. Slocum, bitterly disappointed, held his tongue well enough to become a fundraiser and goodwill ambassador for the university.
When his successors, Dennis Franchione and Mike Sherman, failed to rise above mediocrity, Aggie fans looked at Slocum in a more favorable light. With the hiring of head coach Kevin Sumlin, a former Slocum assistant, Slocum is enjoying a renewed appreciation among Aggies for his achievements.