October, 24, 2014
Oct 24
10:00
AM ET
A look ahead to Saturday's games in the Southeastern Conference. All times Eastern:
Noon
UAB at Arkansas, SEC Network:
Bret Bielema will have to wait at least one more week before notching that first SEC victory, but after three straight losses, this Arkansas team needs a win in the worst way. It's not like the Razorbacks are playing poorly. Even Saturday, after falling apart in the first half, they didn't give up. They responded in the second half and outplayed Georgia the final 30 minutes. That first conference win is coming. In the meantime, Arkansas can't afford to overlook UAB. The Blazers put up 34 points on No. 1 Mississippi State earlier in the season, so they're at least capable of getting in the end zone.
[+] Enlarge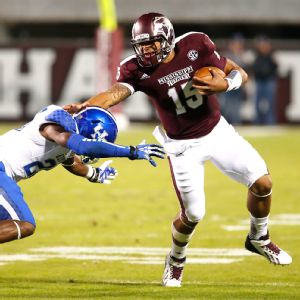 AP Photo/Rogelio V. SolisDak Prescott threw for 268 yards and ran for 33 last season in a 28-22 home victory over Kentucky.
3:30 p.m.
No. 1 Mississippi State at Kentucky, CBS:
What happened to Kentucky? This game was shaping up to be one of the biggest games in program history – a top-25 matchup, a chance to take down the No. 1 team in the country – and then it all fell apart at LSU on Saturday. Losing close is one thing, but the Wildcats were dominated in Death Valley. The good news is that they can still take down No. 1 this weekend as this will be Mississippi State's first game since taking over the top spot. For the Bulldogs, it's a chance to prove they're worthy of No. 1 and it's another opportunity for
Dak Prescott
to shine in front of a national audience.
4 p.m.
Vanderbilt at Missouri, SEC Network:
A week after everybody left Missouri for dead, the Tigers are back in the SEC East race and rolling after a 42-13 win at Florida. The defense feasted on the Gators' offense, forcing six turnovers and taking two back for touchdowns. That's bad news for Vanderbilt quarterback
Johnny McCrary
, who will be making his first start for the Commodores. In his first action since the season opener, McCrary went 10-of-16 for 169 yards with one touchdown and one interception Saturday against Charleston Southern. But that was Charleston Southern. This is Missouri. Good luck Mr. McCrary.
7:15 p.m.
No. 3 Ole Miss at No. 24 LSU, ESPN:
Don't assume that Ole Miss is going to just go to Baton Rouge and handle its business. Yes, the Rebels have arguably the top defense in the SEC. And yes, they're ranked No. 3 for a reason. But winning on the road at LSU is no easy task. Just ask Les Miles, who is 45-4 as LSU coach in night games at Tiger Stadium. There's something special about when the sun sets over Death Valley. So don't be surprised if this game is close in the fourth quarter, and it's up to Ole Miss quarterback
Bo Wallace
to make a play. Wallace did account for more than 350 yards and four touchdowns at LSU two years ago.
7:30 p.m.
No. 4 Alabama at Tennessee, ESPN2:
Thank you, Lane Kiffin, for infusing a little life back into this rivalry. He made it interesting back in 2009 when his Tennessee team nearly knocked off the eventual national champs, and he's doing it again this year with his return to Knoxville as Alabama's offensive coordinator. You can bet the fans will be a little more rowdy in welcoming Kiffin back to Neyland Stadium on Saturday. But despite all the hoopla surrounding Kiffin, there's still a game to be played. Alabama comes in as a heavy favorite, and the Vols could be in trouble if quarterback
Justin Worley
isn't able to play.
South Carolina at No. 5 Auburn, SEC Network:
Gus Malzahn admitted this week that he wears a visor every game because of Steve Spurrier. That's how much respect and admiration he has for the Head Ball Coach. On Saturday, Malzahn will face Spurrier for the first time as a head coach in a game that Auburn has to win for its playoff hopes. The Tigers are coming off a loss to Mississippi State, and this is their first of four SEC games in four weeks. Meanwhile, South Carolina has not delivered on the preseason hype. A top-10 team before the season, the Gamecocks are barely above water at 4-3.
February, 14, 2012
2/14/12
2:35
PM ET
We asked you to tell us what it is you love about your SEC teams and you guys didn't disappoint. Hey, it's not easy sharing your feelings, but you didn't hold back when it came to talking about your teams.
Here are some of the best from the unedited emails and tweets we received:
Baristagator in F-L-O-R-I-D-A writes:
The "love" of one's football team stretches from Columbia, MO to Gainesville, FL. From College Station, TX to the mountains of East Tennessee. Down on the Bayou and then up to the Bluegrass. It is that return trip to one's Alma Mater on a home game weekend to walk across the same grassy knolls, sidewalks and streets that you did when you were an undergrad. The jaunt in the rain across campus to your dorm after the library closes. To be able to jump across the street from campus to grab a brew and a basket of wings or to start the revelry on Thursday night 'cause we all know that's when the weekend starts, right? It's knowing you've spent the years studying at your school, to walk that stage, receive that diploma, and to be able to call yourself a ______ (insert SEC mascot). The wins feel just a notch better, the losses hurt just a notch worse. It's the combination of the loudest & largest stadiums, the passion of what football in "the south" means, and it's sending your friend, whose never been to your "home" stadium, home saying..."My God, that was awesome." Simply put--it is what the "other" conference yearn to be...The S.E.C.
Harry in Spartanburg, S.C., writes:
Football is not merely a sport at the University of South Carolina; it is more of a spiritual feeling that you get on Saturdays in Williams-Brice Stadium. The rising of goosebumps you get when 2001 plays. The adrenaline rush from Sandstorm. The hatred that boils in your blood when Clemson touches the field. And, the tears of joy of an 11 win season. That is why I love the Gamecocks.
Big Bill in Cordova, Tenn., writes:
I'ma Hog fan, and I'll tell you what I love about the Razorbacks. I am a sucker for all those goofy traditions that every school has. I get caught up in the moment of watching the band form the A, playing the 1812 Overture, and watching the student section do that same silly dance. And then I scream my fool-head off when the Hogs come charging through that A.
Brad in Crossville, Tenn., writes:
I had to show my love for the University of Alabama. I am 27 and I have bled Crimson since I was old enough to know what football was. The hard part is that I live just about 70 miles from Neyland Stadium. So I do take a lot of grief from about 98% of the people where I live. I am also proud to be a Bama fan because Bama fans are true fans. I can remember when Bama was having losing seasons, think I quit wearing my Bama hats and shirts? Not a chance. It is disappointing that so many fans can be fair weather fans when a team starts winning, I see it all the time here in Middle Tennessee. But as for me and my family, we will always bleed Crimson. Win, lose or draw. Roll Tide for Life!!!!
Dumbo in College Station, Texas, writes:
My relationship with Texas A&M is, in all honesty, a brutal one. It seems it does just enough for me every year to keep me hanging on for the next season, and then disappoints. In 2009, we came in with not much promise, starting a number of true freshman, planning for the future. Not our best season by any means, but we showed a lot of potential for the next few years. In 2010, we returned JJ, Von, and a number of other significant contributors on both sides of the ball. We had a three game losing streak. Granted we lost to quality teams during that run in games we easily could have won. Then the unthinkable happened. We beat OU, Baylor, Nebraska, and t.u. again giving hope for things to come next season. Moving forward to this past season, starting number eight in the country. Then came the second half in EVERY SINGLE GAME. Most disappointing season I've ever been a part of. But, we moved to the SEC, leaving me with mediocre expectations for the seasons to come. I love my school. I will continue to support my school through thick and thin. I just hope to not be let down for years to come.
Sam in Boston writes:
I LOVE that even during a tumultuous 7-6 season, our fan base is as optimistic as ever. I love Coach Boom's enthusiasm. I love game days on University Avenue, drinking at Swamp on Friday only to get up 4 hours later and do it all again. There's nothing like looking at the sea of Orange and Blue in Ben Hill Griffin Stadium...where only Gators get out alive. There ain't nothin' greater than bein' a Gator!!
Mike in Baton Rouge, La., writes:
What I love about LSU football: Great friends, great food, and great beer! Then, it's on to Saturday Night in Death Valley!! Favorite moment: October 11, 1997. #1 Florida vs. #14 LSU. You will always remember the first time #1 goes down in Death Valley!! Geaux Tigers!!
Joe in Columbia, Mo., writes:
In regards to Vday post. Dearest SEC, Words cannot describe my gratitude towards you. Understandably, some of your members do not believe I belong with you. But even if I believed them, I am still better off with you than our old flame the BIG XII. People like you more, you treat your partners better, and lets be honest, you're sexier too. You saved me from what will be a train-wreck. We got so desperate, I even took a look at the Mountain West! I'm ready to prove many of your members wrong with my product on the field, but regardless of that I am so happy to be with my new SEC brethren. Sincerely, Mizzou.
DRay in Tuscaloosa, Ala., writes:
Mark Barron
said it best, "the best thing about Alabama football...winning" plain and simple. I love Alabama because of the pageantry and tradition of winning.
Adam in Joplin, Mo., writes:
Mizzou. I love Mizzou. I love that I walk from Shakespeare's to 'The Zou' before the game and pass the columns. That when I get there I'll always be able to look beyond the north end zone and see the rock 'M' freshly painted by the freshmen. I love that our fans have a sense of entitlement. There is never a game we shouldn't win. A sense of pride that comes with sending four straight QBs to the NFL. And I love that we have the best mentor of young men in the nation. CGP does all the right things for his players, coaches and fans. I love my school...MIZ-ZOU, forever...
@JustChrisByrd from Twitter writes:
My love is for Miss St. much like a real relationship its for better & worse with the emphasis on worse.
@elbowpickle from Twitter writes:
What I love about the SEC-best football conf in the country. All other conf would cry if they had to play our sched! Gamecocks and their fans never lose hope - never give up.
@SirChristopherQ from Twitter writes:
I love my college football team because they are better than everyone else. Roll Tide Roll!
February, 14, 2012
2/14/12
11:45
AM ET
Even in the fiercely competitive SEC, it's good to spread a little love.
OK, maybe just once a year. And that one day is today … Valentine's Day.
So just as we did a year ago, we're going to set aside all the bitter rivalries, feuds and finger-pointing for a day and hand out some very deserving Valentine's Day cards.
Sit back and enjoy.
Dear …
Alabama coach Nick Saban,
Your football program is without peer right now, and I mean anywhere in college football. A lot of people were shocked when they heard that Alabama was paying you $32 million over eight years – a financial package that has since been sweetened. I'd say it's been money well spent when you look at the Crimson Tide's trophy case over the last few years. Everybody wonders what your secret is. Here's one: Great football players who are also high-character kids in the mold of
Trent Richardson
,
Barrett Jones
,
William Vlachos
,
Dont'a Hightower
and
Courtney Upshaw
.
Former Ole Miss coach Houston Nutt,
Hated to see you go out like that. But regardless of what anybody says, average coaches don't make it 14 years in this league at two different places. The same goes for your defensive coordinator Tyrone Nix. Both of you are better coaches than the last two seasons would suggest. There's an entire body of work out there that says so.
South Carolina running back Marcus Lattimore,
Can't wait to see you back on the field, and here's hoping you're as good as new. Your sense of team, combined with your incredible work ethic and awesome athletic ability, make you the kind of player coaches and fans dream about.
Arkansas running back Knile Davis,
Probably should have sent you and Marcus the same card. We're all keeping our fingers crossed that you're healthy again. Your unbreakable will to keep coming back from so many injuries is an inspiration to all of us, and we're eager to see the version of you run the ball again that we saw in 2010 when you led all SEC running backs in rushing.
LSU coach Les Miles,
I'm not one of those who writes off what you and your team did for the first 13 games this past season simply because of that one forgettable night in New Orleans. It was a remarkable run against a killer schedule. But do everybody on the Bayou a favor and trash that offensive game plan from the BCS national championship game.
Tennessee quarterback Tyler Bray,
Your arm strength and ability to make all of the throws is unquestioned. You're equally fearless in the pocket. But now it's time to become a true quarterback and raise the level of play of all the guys around you. The great quarterbacks take it upon themselves to lead their entire team, and they do so as much off the field as they do on the field.
Arkansas receiver/punt returner Joe Adams,
Do you really have eyes in the back of your head? We're still dying to know how you broke all of those tackles (somewhere around eight) on that 60-yard punt return for a touchdown against Tennessee? It's as good a punt return as I've ever seen.
Vanderbilt defensive end Tim Fugger,
There are a lot of underrated players in this league, but you were right there at or near the top this season. You were invaluable to that Vanderbilt defense with your 13.5 tackles for loss, including eight sacks, and three forced fumbles. It wasn't just your numbers that set you apart, but the way you played the game with precision, passion and grit on every snap.
Kentucky linebacker Danny Trevathan,
We're not supposed to have favorites in our business. But how can you not pull for a guy like Trevathan? Kentucky coach Joker Phillips used to joke that he found Trevathan up under a rock down in Florida during the recruiting process. Well, Trevathan turned out to be a rock, racking up nearly 300 total tackles during his last two seasons and playing the game the way it's supposed to be played no matter what the scoreboard said. We'll miss you, Danny.
Georgia defensive coordinator Todd Grantham,
The entire Bulldog Nation thanks you for bringing a mental toughness to that defense (and to the program) that was lacking at times in past seasons. Your defense was the backbone in Georgia's turnaround and 10-game winning streak this season, and even though your fire might have burned a little too brightly a couple of times, it's exactly what the Bulldogs needed.
Former Auburn running back Michael Dyer,
Not even the great Bo Jackson rushed for 1,000 yards each of his first two seasons on the Plains. It was a joy to watch you play. Just wished it didn't end on such a sour note.
Former Alabama offensive coordinator Jim McElwain,
Congrats on the new gig at Colorado State. You were destined to be a head coach, and I'll make sure everybody remembers that they did play a little offense at Alabama this past season, too. In fact, your Tide offense was the only one in the SEC to average more than 200 yards rushing and 200 yards passing per game. That's saying something when you consider the level of defense played in the SEC.
Florida coach Will Muschamp,
You made some tough decisions in Year 1, notably sending star cornerback Janoris Jenkins packing following his second drug arrest. You've also got your coaching staff more to your liking, and your players understand unequivocally now what you expect from them. The 2012 version of the Gators will more closely reflect you as a football coach, and I'd be surprised if the results weren't markedly better.
Mississippi State coach Dan Mullen,
I really like the way you've helped yourself with junior college talent. I also like the way your 2012 schedule looks through the middle of October. With five home games and two very winnable road dates, a 6-1 or even 7-0 start is very possible. I'm not trying to jinx you, Dan, but maybe Year No. 4 in Starkville is going to be that magical season everyone was predicting this past year. The bottom line is that you've led the Bulldogs to back-to-back winning seasons, and the last time that happened was 10 years ago.