July, 18, 2013
7/18/13
7:00
PM ET
HOOVER, Ala. -- While his uber-famous teammate was engulfed by dozens of reporters -- easily more than 50 -- on the opposite side of the main press conference room on the second floor of the Wynfrey Hotel, Texas A&M offensive tackle
Jake Matthews
fielded a question from a much smaller crowd about his quarterback
Johnny Manziel
.
The question had to do with Matthews' thoughts on Manziel's "Johnny Football" nickname.
"Y'all need to give me a nickname," Matthews joked.
[+] Enlarge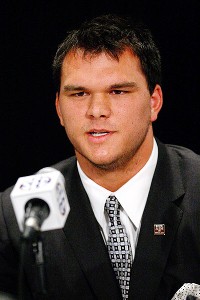 Marvin Gentry/USA TODAY SportsTexas A&M offensive tackle Jake Matthews, along with his Aggies teammates, have been inundated with Johnny Manziel questions.
Setting aside the fact that Matthews is probably right -- he is, after all, going to be in charge of protecting the reigning Heisman Trophy winner's blind side this fall, is part of the impressive Matthews football family and will be a possible first-round pick in the 2014 NFL draft -- it was a small glimpse into what SEC media day was like for Manziel's teammates: much talk about Johnny.
It could be argued that the offseason publicity that has followed Manziel has resulted into his Aggies' teammates being overshadowed. Even with attention Manziel receives, which might be unprecedented for a college football player, his teammates are focused on Manziel the football player, not Manziel the offseason celebrity.
"I try not to concern myself with [his off the field activities]," Matthews said. "He's a great guy. Especially after winning the Heisman. One thing I've noticed is that he's the same as he was before. He still treats all the players the same way he did before. He's still determined and I'm faithful and I have trust in him that he's going to be ready for this season and ready for what's coming."
On Sunday, senior defensive back
Toney Hurd Jr
. took to his Twitter account to give some public support to Manziel in the midst of the scrutiny Manziel received for leaving the Manning Passing Academy early. Hurd tweeted "My dawg just can't catch a break. @JManziel2 . Gotta let him live..."
On Wednesday, Hurd said that the team's perspective of its most popular star hasn't changed.
"The things that I know, being his teammate, I know our perception of him hasn't changed," Hurd said. "We know that he's out there grinding and working hard."
Hurd said Manziel's work ethic is still strong.
"He's been through a lot of ups and downs but at the end of the day, personally, I know that he's a very dedicated person," Hurd said. "I know that he wants to be
the
best quarterback in college football. He wants to be the premier quarterback. I know he's working hard, getting his mechanics down pat, so when it comes time to play Rice he'll be ready."
Texas A&M head coach Kevin Sumlin called it "an experience" to be asked about Manziel frequently. He acknowledged that Manziel's decision making has fallen on both sides of the spectrum.
"I think off the field, there's no question that he's made some mistakes," Sumlin said. "Is he perfect? No. I think he has done some things that he's not very proud of, has made some poor decisions. He's made some good decisions. Unfortunately, the poor decisions are the ones that are really publicized. It's a growing process. It's a learning process."
Might even Manziel's teammates be experiencing a little Johnny Fatigue?
"Yeah, maybe a little bit," Matthews said with a smile. "I wish you guys cared more about me."
July, 18, 2013
7/18/13
4:55
PM ET
HOOVER, Ala. -- Les Miles is convinced the LSU passing game will be better this season.

New offensive coordinator Cam Cameron is one of the reasons why, but the LSU players say it runs much deeper than that.
"It's the experience we have now. It's the consistency we're playing with. It's just everybody being on the same page," LSU receiver
Jarvis Landry
said.
In particular, the Tigers feel much better about being able to throw the ball down the field this season and hit some bigger plays in their passing game.
The truth is they're going to need to after finishing 11th in the SEC last season in passing offense. The Tigers finished with just 12 passing touchdowns. The only team finishing with fewer passing touchdowns a year ago was Auburn with eight.
"I think we just have a better feel for throwing the football and all that goes into throwing it well," Miles said. "We'll be a better throwing football team this year."
Senior quarterback
Zach Mettenberger
said Cameron hasn't changed is mechanics as much as he's driven him to learn at the pace of an NFL quarterback.
"It hasn't just been one thing," said Mettenberger, who ranked 13th in the SEC in passing efficiency last season. "There are a lot of things we can do better, whether it's me throwing with better balance or trusting my throws more, throwing it to the guy and not to the spot, just a lot of things we been working on.
"When we get those opportunities this season, we don't want to miss any of them."
Landry and
Odell Beckham
, Jr. are the main two cogs in the passing game and complement each other well. Senior
Kadron Boone
is also back, and Landry said redshirt freshman
Travin Dural
and true freshman
Quantavius Leslie
will both play big roles in helping the Tigers stretch the field.
"It's looking really good right now. We just have to be more consistent and trust each other," Landry said. "We've got to do our part in the passing game this year."
July, 17, 2013
7/17/13
8:00
AM ET
By
ESPN.com staff
| ESPN.com
Join our ESPN.com college football experts for a live blog from SEC media days. We'll have highlights, pictures, videos and interviews with SEC players and coaches from Texas A&M, Kentucky, Mississippi State, Tennessee, Auburn and Arkansas live from Hoover, Ala.
Join us beginning at 9:30 a.m. ET by submitting your comments and questions. See you there. You can also view all the action on ESPNU or
WatchESPN.com.
Here is our
live blog of Day 1
in case you missed it.
July, 16, 2013
7/16/13
11:00
AM ET
By
ESPN.com staff
| ESPN.com
Join our ESPN.com college football experts for a live blog from SEC media days. We'll have highlights, pictures, videos and live interviews with SEC players and coaches from Hoover, Ala.
Join us beginning at 1:30 p.m. ET by submitting your comments and questions. See you there.
July, 16, 2013
7/16/13
10:00
AM ET
HOOVER, Ala. -- Greetings from SEC media days here in Hoover, Ala.
In a couple of hours, the circus will truly begin inside the Wynfrey Hotel, as we get one step closer to the 2013 SEC season. SEC media days kicks off at 1:30 p.m. ET with opening statements from conference commissioner Mike Slive. Representatives from Florida, Missouri, Ole Miss and South Carolina will then follow Slive, with Florida and Mizzou kicking things off from 1-3:40 p.m. ET.
Ole Miss and South Carolina will follow, wrapping things up around 6:20 p.m. ET.
The headliners for Tuesday's festivities clearly hail from South Carolina with Steve Spurrier and Jadeveon Clowney going. Spurrier likely will entertain the heavy media contingent with some classic Spurrier lines that will fill up headlines and eat at opponents, while Clowney will face tons of questions about his chances at taking home the Heisman Trophy this fall.
Florida is trying to build off last year's 11-win season, and expect Will Muschamp and Jeff Driskel to field plenty of questions about the offense turning things around.
James Franklin and Gary Pinkel will have to address Missouri's chances of improving on offense, while Hugh Freeze tackles generating even more success at Ole Miss in Year 2.
We'll have you completely covered on the blog all day, so stay here for continuous updates, opinions, quotes, observations and videos today and throughout the week as we take on SEC media days.
If you want to watch SEC media days online, you can by
clicking here
.
Here's the TV coverage schedule for the entire week:
Tuesday
ESPNU -- SEC media days (1-7 p.m. ET)
ESPN -- "College Football Live" (3:30-4 p.m. ET)
Wednesday
ESPNU -- SEC media days (9:30 a.m. ET-5:30 p.m. ET)
ESPN -- "College Football Live" (3:30-4 p.m. ET)
Thursday
ESPNU -- SEC media days (9:30 a.m. ET-2:30 p.m. ET)
ESPN -- "College Football Live" (3:30-4 p.m. ET)