February, 17, 2014
Feb 17
2:00
PM ET
GAINESVILLE, Fla. -- In the last decade, more than any other time in its history, Florida's status as a recruiting juggernaut has been proven.
Once head coach Steve Spurrier established his alma mater among college football's elite, blue-chip talent started flocking to UF. The Gators also recruited well under Spurrier's replacement, Ron Zook. Then Florida won two national championships with coach Urban Meyer.
The fact that Florida has thrived on the recruiting trail despite Meyer's soap-opera departure and some sub-par seasons on the field is a testament to the strength of the brand.
This week we count down the
five most impactful UF recruiting classes in the last decade
, not including Florida's most recent class, which isn't even fully assembled on campus yet.
No. 5 on our list in order of impact is the Class of 2011, head coach Will Muschamp's first class, which was
ranked No. 12 by ESPN
.
[+] Enlarge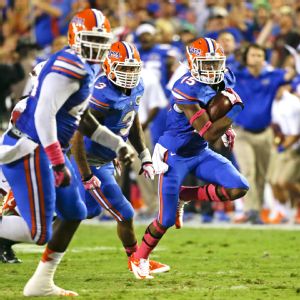 AP Photo/John RaouxLoucheiz Purifoy's big-play ability at cornerback allowed him to stand out in three seasons at Florida and should get him selected high in this year's NFL draft.
The stars:
This is easy.
Marcus Roberson
and
Loucheiz Purifoy
became lockdown cornerbacks and were the only three-and-done players from this 19-man class. Roberson made an instant impact, starting his first 10 games as a true freshman, and Purifoy first emerged as a special-teams terror. By the end of their college careers, the two clearly established NFL pedigree -- Roberson for his advanced technique, Purifoy for his supreme athleticism. They are expected to be picked no lower than the second round this May.
The contributors:
Several players stand out in this class, including a few starters. Among them, starting quarterback
Jeff Driskel
is the one who could still push his way into the star category if he improves during his final two seasons of eligibility. Other starters have carved out significant roles for themselves, including fullback
Hunter Joyer
, safety
Jabari Gorman
and tight ends
Clay Burton
and
Tevin Westbrook
.
Valdez Showers
successfully converted from safety to running back last season. And
Kyle Christy
was a record-setting punter who stumbled in 2013 and will fight to take his job back this year.
The letdowns:
Some of the top talents in this class never panned out at UF, as eight of the 19 players transferred and one quit football after injuries derailed his career. The biggest name to transfer was QB
Jacoby Brissett
, who started four games at Florida but left for NC State after losing the competition for the starting job to Driskel. WR
Ja'Juan Story
, TE
A.C. Leonard
, RB Mike Blakely and S
De'Ante Saunders
were four of the Gators' five highest-rated recruits in the class. Transfers Story, Blakely and WR
Javares McRoy
were recruited by Meyer for his spread-option offense and never quite fit Muschamp's pro-style scheme. Leonard and Saunders made strong impressions on the field, but both ran afoul of the law and transferred to Tennessee State.
The results:
There have been high points, such as an 11-win season in 2012 in which Florida was just one Notre Dame loss away from playing for the national championship. But there have been more low points, such as a 7-6 season in 2011 and a numbing 4-8 season in 2013. The results on the field have been uneven, but there's still time for this class to distinguish itself.
July, 24, 2012
7/24/12
11:00
AM ET
By now, I'm sure just about all of you have heard about the unprecedented sanctions the NCAA hit Penn State with Monday.
Outside of the vacated wins and the $60 million sanction, Penn State has been placed on a four-year bowl ban and must reduce 10 initial and 20 total scholarships each year for a four-year period.
This, plus everything else surrounding Penn State's program, will have a profound affect on the football program for years to come. Immediately, it could have a major affect on the Nittany Lions' current recruiting class.
ESPN.com's midwest recruiting analyst Jared Shanker took a closer look at Penn State's 2013 recruiting class and where each player stands with his commitment. He also listed other schools that might have interest in each prospect.
Here are some Penn State recruits and commits who could be interested in SEC schools:
DECOMMITTED
CB Ross Douglas (Avon, Ohio/Avon): He decommitted from Penn State on Monday and was recently offered by Ole Miss. The Rebels are looking to stock up on the defensive side of the ball, especially in its defensive backfield. Kentucky and Tennessee, who would also like to add depth to their secondaries, have offered as well.
COMMITTED
QB Christian Hackenberg (Fork Union, Va./Fork Union Military Academy): He's the nation's No. 1 quarterback prospect and he's currently waiting to see how things play out for Penn State. While he's currently committed to Penn State's staff, Alabama, Florida, Georgia South Carolina and Tennessee have all shown interest and offered. The thing is that they all have quarterbacks in their classes, but if there's a chance to re-recruit the nation's top quarterback, staffs will try.
OT Dorian Johnson (Belle Vernon, Pa./Belle Vernon): When he committed to Penn State, Johnson's final four didn't include any SEC schools, but he does hold offers from Alabama, Ole Miss and Tennessee. The nation's No. 2 offensive tackle could receive more attention from SEC schools between now and national signing day.
TE Adam Breneman (Camp Hill, Pa./Cedar Cliff): SEC schools have been very interested in the nation's top tight end. Alabama, Auburn, Florida, Georgia, Ole Miss, South Carolina and Tennessee have all offered and while he said Monday that he's still committed, a host of schools will go after him. Florida is an interesting school to look at because the Gators just parted ways with tight end A.C. Leonard last week.
OG Brendan Mahon (Randolph, N.J./Randolph): Florida and South Carolina have offered and you can never have too many quality offensive linemen in college football, especially in the SEC. He said on Monday that he's still committed to Penn State, but if SEC schools come calling, it'll be hard for him not to listen.
OT Andrew Nelson (Hershey, Pa./Hershey): Missouri has offered and the Tigers wouldn't mind adding some depth up front. Most of the schools that have showed strong interest in him are East Coast schools, so Missouri could be a nice change of scenery for Nelson if he decides to get out of his comfort zone.
DE Garrett Sickels (Little Silver, N.J./Red Bank): He said on Monday that he's still committed to Penn State and has been one of the more loyal commits in this class, but that won't stop SEC schools from going after Sickels this fall. Alabama, Florida, Georgia, Ole Miss, South Carolina and Tennessee have all offered.
WR Zach Bradshaw (Demascus, Md./Demascus): He isn't the most heralded receiver out there, but South Carolina has offered.
UNCOMMITTED
RB David Williams (Philadelphia, Pa./Imhotep Charter): He's an ESPN 150 member and is one of the biggest uncommitted players still on Penn State's board. He's a bigger back (6-1,192 pounds) and rushed for 1,950 yards and 20 touchdowns as a junior. Auburn, South Carolin and Tennessee have all offered.
May, 17, 2012
5/17/12
2:30
PM ET
ALPHARETTA, Ga. -- When Florida defensive tackle
Leon Orr
violated the terms of his deferred prosecution agreement for his misdemeanor marijuana possession charge by
being cited
for knowingly driving with a suspended license on Monday, he became the ninth Florida player arrested and the 11th overall arrest during Will Muschamp's short coaching tenure.
Though Orr wasn't taken into custody, his citation did count as an official arrest.
With that, there's a growing perception that Florida has an off-field discipline problem. The numbers are hard to ignore, but Muschamp isn't convinced there's a problem. He acknowledges the run-ins that have taken place since he officially took over for Urban Meyer in January of 2011, but insists that perception isn't his reality.
While he wouldn't comment on Orr's situation, he did say that increased media outlets have placed the microscope closer to college athletes.
[+] Enlarge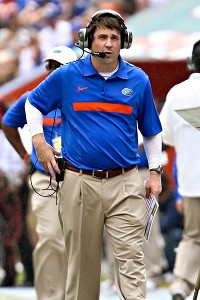 Rob Foldy/Icon SMIWill Muschamp insists discipline in his program is better now than it was when he first arrived.
"When you're dealing with young people, it's an ongoing educational process, especially in this day and age," Muschamp told ESPN.com shortly before he greeted the Atlanta Gator Club at The Metropolitan Club in Alpharetta Wednesday. "I'm not taking a shot at anyone in the media. It's your job to report and more things are being reported now than 15, 12, eight, five years ago. There's more social media outlets now where there's more information. There's a lot of misinformation out there, too."
Of the 11 arrests, only three have occurred during this calendar year, while five occurred during Muschamp's first spring.
You can see a summary of the arrests
here
.
The overall number is high for less than two years, but it's obvious the off-field incidents have steadily decreased and Muschamp said there's "no question" the discipline is better now than it was when he first arrived ... and he's right.
It hasn't been an overnight transformation, but the improvement is there. Muschamp took over a team that experienced 32 arrests during Meyer's six-year tenure and feels things are turning around. He especially sees it in the fact that during his first five months on the job he had five arrests on his hands. Since September, he's had three.
"At the end of the day, our players understand that there are consequences for their actions," Muschamp said. "They understand there's a certain accountability within the program. It's not a right to play at Florida, it's a privilege."
Though not all punishments have been made public, action has been taken by Muschamp. Star cornerback Janoris Jenkins was dismissed after his two marijuana-related arrests, while former linebacker Dee Finley didn't play against Tennessee last year following his arrest for driving with a suspended license and resisting arrest without violence. He later transferred to North Alabama last October.
Tight end
A.C. Leonard
, who was arrested for battery in February, was suspended for part of spring and Muschamp has said there will be further suspension this fall, meaning he could miss multiple games.
Three of the nine players arrested are no longer with the program.
With spring practice over with, Muschamp said the concerns of the offseason are on his mind. Players have less strict class schedules and more time on their hands. More time away from the coaches can be a dangerous time for programs.
Muschamp is putting the team in the hands of the players and strength coach Jeff Dillman. Muschamp said he isn't relying on a select group of players to lead the team, but expects everyone to hold each other accountable for workouts, off-field behavior and classroom work ethic. Muschamp said reports from Dillman have been positive.
Muschamp also said off-field issues haven't affected recruiting. He said conversations concerning that have gone over well with recruits and their parents and he's been able to promote Florida and its players well.
"We've got the right guys in our locker room," he said. "Are they all deacons in the church? No, but we've got a good locker room. I know one thing: My two young boys love being in the locker room."
March, 29, 2012
3/29/12
12:30
PM ET
Hitting the SEC links on a Thursday.
February, 22, 2012
2/22/12
12:30
PM ET
Checking out the SEC with some links.
February, 17, 2012
2/17/12
9:50
AM ET
Florida coach Will Muschamp didn't waste any time in disciplining
A.C. Leonard
and
suspending the freshman tight end Thursday evening
from all team activities.
Leonard was arrested Wednesday night and charged with simple domestic battery. According to a Gainesville Police Department arrest report, a woman Leonard had been dating for the past 17 months and living with for the past month said Leonard shoved her to the ground following an argument, causing her to hit her head on a dog cage. She said Leonard then told her to leave and grabbed her by the hair in the bedroom and tried to drag her out of the apartment. The report stated that when she resisted, Leonard grabbed her by the feet, pulled her out of the apartment and then locked her out of the apartment.
Leonard told police that he never hit the woman and just wanted her to leave.
In a statement, Muschamp said: "This behavior will not will be tolerated and A.C. has been suspended from team activities at this time. I certainly don't condone this type of behavior -- it is not what we expect from the University of Florida football program."
There have been 10 arrests of Florida players since Muschamp took over as head coach a little more than 13 months ago, although all but one of those players either signed or committed to the Gators under former coach Urban Meyer. Muschamp made a strong statement last year that he wasn't going to tolerate serious off-the-field issues when he dismissed his best player, cornerback Janoris Jenkins, following Jenkins' second drug arrest.
February, 16, 2012
2/16/12
11:46
AM ET
By
ESPN.com staff
| ESPN.com
In what's obviously an important offseason for Will Muschamp and his Florida football program, the
Gators have another arrest to deal with
after freshman tight end
A.C. Leonard
was taken to jail Wednesday night following a dispute with his girlfriend that allegedly turned physical.
Leonard was charged with domestic battery and made his first court appearance on Thursday morning. According to the Gainesville Police Department arrest report, the case involves a woman Leonard has been dating for the past 17 months and lived with for the past month. The report states that following an argument Leonard shoved the woman forcibly with both hands in her chest/neck area, knocking her down. She said she hit her head on a dog cage behind her.
The woman also claims in the report that Leonard grabbed her by the hair and tried to drag her out of the apartment after telling her to leave. When the woman resisted, she told police that Leonard dragged her by both feet and locked her out of the apartment.
Leonard told police that he never hit the woman and just wanted her to leave.
Muschamp has been outspoken that his players would do things the "Florida Way." He demonstrated last year that he meant what he said when he kicked his best player, cornerback Janoris Jenkins, off the team following Jenkins' second brush with the law involving drugs.
Leonard's arrest marks the 10th for a Florida football player since Muschamp took over as head coach a little more than 13 months ago.
August, 10, 2011
8/10/11
12:20
PM ET
Preseason practice is in full swing. Teams are partaking in scrimmages and injuries are popping up here and there. Here are some SEC links to keep you up-to-date with everything.
May, 12, 2011
5/12/11
10:00
AM ET
2010 overall record:
8-5
2010 conference record:
4-4

Returning starters
Offense: 7, defense: 4, kicker/punter: 1
Top returners
QB
John Brantley
, RB
Chris Rainey
, RB
Jeffrey Demps
, OT Xavier Nixon, WR
Deonte Thompson
, LB Jelani Jenkins, LB Jon Bostic, CB Jeremy Brown
Key losses
C Mike Pouncey, OT Marcus Gilbert, OG Maurice Hurt, LB A.J. Jones, DE Justin Trattou, CB Janoris Jenkins, S Ahmad Black, P Chas Henry
2010 statistical leaders (* returners)
Rushing:
Demps* (551 yards)
Passing:
Brantley* (2,061 yards)
Receiving:
Thompson* (570 yards)
Tackles:
Black (108)
Sacks:
Duke Lemmens (4)
Interceptions:
Janoris Jenkins, Brown* (3)
Spring answers
1. Disruptive defensive line:
The Gators will enter the fall with a more aggressive and athletic defensive line. Omar Hunter fought through injury to have a solid spring while freshmen Sharrif Floyd, Dominique Easley and Ronald Powell made tremendous strides this spring. Each under achieved last fall, but came out of spring as three of the most improved players for Florida. Powell will be a hybrid linebacker/defensive end known as the buck, while Floyd and Easley get solid time in interior of the line. Floyd will also share time at nose guard with Hunter in the 3-4. Senior Jaye Howard should also return just fine at tackle after recovering from ankle surgery this spring. Add William Green to end and the Gators should have a much improved pass rush.
2. The tight end is back:
After failing to get much out of the tight end spot last fall, Florida has moved
Jordan Reed
back to the position after a stint at quarterback in 2010. Reed's teammates think he might be the most versatile player on offense and is one of the most athletic players on the team. He increased his cardio this spring to improve his speed and was a favorite target of quarterback Brantley. Also, true freshman A.C. Leonard was one of the early enrollees to make a strong impression. Expect the Gators to actually use two tight end formations.
3. Muschamp approved:
Florida is breaking in a brand new coaching staff this season. New coach Will Muschamp brought in a staff loaded with NFL experience, but replacing Urban Meyer, who won two national titles in six years at Florida, is a tall order. The pressure has been on him since he officially took over after the Outback Bowl. Things started a little rocky with him closing spring practices, and the spring game wasn't exactly the most exciting first look at this new Florida team. However, the players have bought into Muschamp's new approach. He's also making sure the discipline issues from a year ago vanish. Booting All-SEC corner Janoris Jenkins was a powerful first step.
Fall questions
1. Offensive revival:
Florida's offense was hard to watch last year, and the spring game didn't make it any easier. While the spring game is just a glorified scrimmage, without seeing what happened during regular practices, no one is sure what Florida's offense will truly look like this fall. Offensive coordinator Charlie Weis is known for having a pass-friendly offense, but none of Florida's quarterbacks got into much of a rhythm during the game. It's hard to believe that was the offense we'll see from Florida, but without any other observations to go on everyone is left wondering.
2. Secondary strength:
Losing Janoris Jenkins was a major blow to Florida's defense. He was arguably Florida's best all-around player and he was one of the top cornerbacks in the country last season. None of Florida's current corners can truly replace his ability to completely take one side of the field away. Brown and Cody Riggs got a lot of playing time last year, but neither has Janoris Jenkins' experience. As for strong safety, Matt Elam is more athletically gifted than Ahmad Black, but replacing his leadership and football IQ will be tough. Figuring out the free safety spot is also a concern.
3. Offensive line woes:
The Gators lost four offensive linemen from a year ago and spent most of the spring just trying to field enough able bodies for practice. Florida returns sophomore Jon Halapio and junior Nixon, but the rest of the new faces are also very young. Freshman Chaz Green started at left tackle this spring, while fellow frosh Ian Silberman moved from tackle to guard. An injury to center Nick Alajajian forced Jonotthan Harrison to move from guard to center. The line was manhandled during the spring game, but most of that was because of injuries. Regardless, the inexperienced offensive line enters the offseason as one of the Florida's biggest concerns.
May, 5, 2011
5/05/11
9:20
AM ET
Every year it seems as though more and more high school prospects take the immediate plunge into college life by graduating from high school early.
Instead of getting fitted for prom tuxes, they're getting fitted for pads. Instead of kicking back after school, they're getting kicked around by seasoned vets daring them to even look at their practice field.
It's a major wake-up call for those who partake in such a transition, but it can really pay off for these young athletes. Getting a head start on college programs not only gets your game in better shape, but your mind and body go through complete overhauls as well.
Over the next two days we'll take a look at some SEC early enrollees and how they did this spring.
Today, we start in the East:

Florida
Jeff Driskel, QB --
He was the most heralded recruit in Florida's 2011 class and rightly so. Driskel was the top quarterback prospect in the nation. However, he struggled to pick up Charlie Weis' pro-style offense at first and played catch-up for most of the spring. He started to pick things up toward the end and finished the spring game with 58 yards on 3-of-8 passing.
A.C. Leonard, TE --
Florida really didn't use the tight end position last season, so getting Leonard on campus early was a major plus. He drew high praise from coaches and players and should complement
Jordan Reed
, who moved back to tight end from quarterback, nicely in the offense. He caught three passes for 18 yards in Florida's spring game.

Georgia
Christian LeMay, QB --
LeMay didn't play football during his senior year of high school, so it's understandable that he was a little rusty entering spring. LeMay has the tools to be a star in this league and seemed to steadily improve with every practice. However, Georgia's coaches seemed to have pegged
Hutson Mason
as the No. 2 quarterback behind
Aaron Murray
. LeMay looked pretty poised in the spring game, leading a 10-play, 75-yard comeback scoring drive.
Chris Conley, WR --
Outside of veteran
Tavarres King
, none of Georgia's receivers really seemed to make much of a statement this spring. Conley is a guy the staff will rely on, but it looks like he'll play the waiting game for now. His time was used to learn this spring and he didn't record a catch in Georgia's spring game.

Kentucky
Maxwell Smith, QB --
Smith's arrival this spring really helped the Wildcats as far as depth at the quarterback position. He not only added a body to the position but he was pretty tough competition for starter
Morgan Newton
. During Kentucky's spring game, Smith completed 10 of 21 passes for 99 yards and had a 54-yard touchdown pass.
Tim Patterson, LB –
He didn't have the best spring, but it looks as though he's immersed in learning mode at the moment. The advantage for him is that he can lean on veteran linebackers to help him get accustomed to the college game. Patterson has a lot of potential, but he's still got a ways to go exiting the spring.

South Carolina
Kelcy Quarles, DT --
Some thought he might take one of those defense tackle spots this spring, but he was listed on the Gamecocks' second team coming out of spring. Quarles, who was an All-American in high school, impressed his coaches this spring and should get playing time this fall. The next step in his maturation is being able to have that spring momentum roll over into summer workouts and fall practice.
Martay Mattox, DB –
Mattox started the spring at cornerback and then moved to free safety. He left spring moving back to cornerback. He was a quarterback in high school, so his defensive abilities are a bit raw, but he's a solid athlete. With that athleticism, the Gamecocks' staff will probably use him on special teams to start, but with time, he could grow into a solid contributor.

Tennessee
Marcus Jackson, OL --
It's not often that a true freshman offensive lineman comes in and makes an immediate impact. Enter Jackson, who worked most of the spring as the starting left guard for the Volunteers. Jackson, a high school All-American, was one of the more athletic linemen in his class and certainly impressed his coaches from Day 1. The thing about Jackson is he was demoted at one point this spring and fought his way back into the starting rotation.
Justin Coleman, CB --
Coleman also made the most of his early enrollment. It took him a little time to really get noticed out there, but after a solid spring game, in which he lined up opposite playmaker
Justin Hunter
at times, Coleman enters the offseason as co-starter at one of the corner spots.

Vanderbilt
Vanderbilt had no freshmen early enrollees this year.