February, 7, 2012
2/07/12
4:00
PM ET
The NFL has released its list of
invites to this years NFL combine
. Of the more than 300 prospects taking part in the pre-draft shenanigans starting Feb. 22, 62 are from the SEC (for fun we are including Missouri and Texas A&M).
Here are the SEC representatives:
Joe Adams, WR, Arkansas
Antonio Allen, S, South Carolina
Justin Anderson, OT, Georgia
Ryan Baker, LB, LSU
Vick Ballard, RB, Mississippi State
Mark Barron, LB, Alabama
Jake Bequette, DE, Arkansas
Brandon Bolden, RB, Ole Miss
Brandon Boykin, CB, Georgia
Michael Brockers, DT, LSU
Ron Brooks, CB, LSU
Randy Bullock, K, Texas A&M
Drew Butler, P, Georgia
Josh Chapman, DT, Alabama
Orson Charles, TE, Georgia
Greg Childs, WR, Arkansas
Morris Claiborne, CB, LSU
Fletcher Cox, DT, Mississippi State
Jeff Demps, RB, Florida (Demps decided earlier this year that he will not pursue a career in football and will focus on professional track)
Michael Egnew, TE, Missouri
Terrence Frederick, CB, Texas A&M
Jeff Fuller, WR, Texas A&M
Stephon Gilmore, CB, South Carolina
Cordy Glenn, OT, Georgia
Cyrus Gray, RB, Texas A&M
A.J. Greene, OT Auburn
Winston Guy, S, Kentucky
Dom Hamilton, DT, Missouri
Darius Hanks, WR, Alabama
Josh Harris, LS, Auburn
Casey Hayward, CB, Vanderbilt
Dont'a Hightower, LB, Alabama
Jaye Howard, DT, Florida
Melvin Ingram, DE, South Carolina
Jerrell Jackson, WR, Missouri
Malik Jackson, DT, Tennessee
Jordan Jefferson, QB, LSU
Alshon Jeffery, WR, South Carolina
Ben Jones, C, Georgia
Coryell Judie, CB, Texas A&M
Dre Kirkpatrick, CB, Alabama
Bobby Massie, OT, Ole Miss
Marquis Maze, WR, Alabama
Quan Menzie, CB, Alabama
Charles Mitchell, S, Mississippi State
Brandon Mosley, OT, Auburn
DeAngelo Peterson, TE, LSU
Tauren Poole, RB, Tennessee
Chris Rainey, RB, Florida
Rueben Randle, WR, LSU
Sean Richardson, S, Vanderbilt
Trent Richardson, RB, Alabama
Quentin Saulsberry, OG, Mississippi State
Jacquies Smith, DE, Missouri
Ryan Tannehill, QB, Texas A&M
Brandon Taylor, S, LSU
Danny Trevathan, LB, Kentucky
DeAngelo Tyson, DE, Georgia
Courtney Upshaw, LB, Alabama
Blair Walsh, K, Georgia
Rokevious Watkins, OT, South Carolina
Jarius Wright, WR, Arkansas
School breakdown:
Alabama: 9
Arkansas: 4
Auburn: 3
Florida: 3
Georgia: 8
Kentucky: 2
LSU: 8
Missouri: 4
Mississippi State: 4
Ole Miss: 2
South Carolina: 5
Tennessee: 2
Texas A&M: 6
Vanderbilt: 2
February, 6, 2012
2/06/12
3:30
PM ET
The first batch of big uglies are on the ranking slab Monday. No offense can operate without offensive linemen and the SEC has its share of talented big men.
Here's a look at our
preseason rankings
when it came to offensive lines. Let's just say we overestimated when it came to a couple of groups.
Here's what we though of after the 2011 season:
1. Alabama:
The Crimson Tide line pushed around its opponents all year long. Alabama was first in the SEC in rushing (and had the Doak Walker winner in Trent Richardson) and averaged 5.5 yards per carry. Alabama was equipped with Outland Trophy winner Barrett Jones, who played just about every position up front and the top SEC in William Vlachos. Alabama got tremendous play out of D.J. Fluker and got a pleasant surprise out of Alfred McCullough. Alabama ranked first in the league by allowing just 17 sacks.
2. LSU:
The Tigers' offense went as its running game went. And for 13 games the running game was great. The offensive line should take a lot of credit for that. With two Associated Press All-SEC members -- Will Blackwell and Chris Faulk -- LSU averaged 200.9 rushing yards against conference foes. Alex Hurst should also become a more familiar name in 2012. LSU allowed just 18 sacks and totaled only 234 negative rushing yards.
3: South Carolina:
South Carolina put only one player on the All-SEC list, in Rokevious Watkins, but the Gamecocks' line had a pretty good season. Even after losing top running back Marcus Lattimore midway through the season, South Carolina finished the season third in the SEC in total rushing and rushing against conference opponents. South Carolina had to deal with Kyle Nunn's absence for most of the year as well, but found a budding star in A.J. Cann. Pass protection dipped, as South Carolina allowed 30 sacks.
4. Georgia:
Before the season, the offensive line seemed to be held together by tape, but this line stayed together nicely through 14 games. The Bulldogs were fifth in the conference in rushing against SEC foes and had two All-SEC performers in Cordy Glenn, who might be a first-round draft pick, and center Ben Jones. Where Georgia's line came up short was in pass protection, as the Bulldogs were 11th in the league allowing 33 sacks.
5. Vanderbilt:
The Commodores didn't put anyone on the All-SEC teams, but there's no question that this was the most improved line in 2011. Wesley Johnson proved to be one of the most underrated linemen in the league and the Commodores' offense was much more explosive than past years. Vandy was sixth in the league in rushing and had the league's No. 3 rusher in Zac Stacy. The Commodores gave up 18 sacks in SEC games.
6. Arkansas:
The Razorbacks were dealing with a young line, but saw improvements as the season went on. Without Knile Davis in the lineup, the running backs were pretty inconsistent individually, but the Hogs averaged 134.3 yards in conference games. In each of Arkansas' two losses, the Razorbacks averaged just 32 rushing yards. Alvin Bailey was a second-team All-SEC member and should be star in 2012. Arkansas allowed 28 sacks, but also allowed quarterback Tyler Wilson take some punishing hits throughout the year.
7. Auburn:
The Tigers could run the ball for most of the year. Auburn was fourth in the league in rushing and averaged 4.1 yards per carry against SEC play. Michael Dyer finished the year second in the league with 1,242 yards. Brandon Mosley was the only returning starter, but the Tigers got solid play out of freshman center Reese Dismukes and saw the reemergence of A.J. Greene after injury cut his 2010 season short. However, Auburn's passing game and pass protection struggled. The Tigers gave up 32 sacks in 2011 and were overwhelmed by more athletic defensive lines.
8. Mississippi State:
The Bulldogs had to deal with a rash of injuries along their offensive line in 2011. Tobias Smith went out early and the Bulldogs watched as Quentin Saulsberry and James Carmon deal with injuries toward the beginning of the season. The Bulldogs were able to deliver a 1,000-yard running back in Vick Ballard, but ranked ninth in the league in rushing against SEC teams. Mississippi State gave up just under two sacks a game.
9. Tennessee:
This was supposed to be a strong point for the Vols last fall, but Tennessee struggled all year to run the ball. The Vols ranked 116th nationally in rushing and averaged just 63.5 yards per game in SEC play. While Tennessee never generated much of a running game last season, its pass protection was one of the best in the league. The Vols gave up just 18 sacks on the season, despite playing three different quarterbacks.
10. Florida:
The Gators experienced another year of sub par line play in 2011. With a relatively young group up front, Florida really struggled to provide much comfort in the pocket for its quarterbacks and rarely outplayed opposing SEC defensive lines. Florida's line was also flagged a bunch last fall. Florida gave up just 23 sacks, but 21 came in SEC play and Florida averaged just 3.8 yards per carry and scored nine rushing touchdowns against SEC defenses.
11. Kentucky:
Before the season, we thought the Wildcats would be much higher on this list, especially considering the fact that they returned four starters. However, injuries ruined Kentucky up front. Larry Warford was Kentucky's best lineman, but for the first part of the season, the Wildcats failed to play its five original starters because of injuries. Kentucky gave up 21 sacks through the first five games and gave up a league-high 35 sacks on the year. The Wildcats also ranked 11th in the league in rushing.

12. Ole Miss:
Here's another line that returned so much but did so little last fall. We look pretty silly now after ranking Ole Miss' line second in our preseason rankings because the Rebels' line didn't do much protecting all year. Ole Miss' line didn't have the injury issues that Kentucky had and was still 10th in the SEC in rushing and scored just four rushing touchdowns in league play. The Rebels also gave up 31 sacks on the season, with a league-high 26 coming against SEC defenses.
September, 10, 2011
9/10/11
12:24
PM ET
AUBURN, Ala. -- Kickoff is here on the Plains and we have some lineup changes for both teams.
AUBURN
A.J. Greene will start at right tackle this week. Last week, redshirt freshman Chad Slade started at right tackle. Greene's return is big for the Tigers. He missed most of last season with an injury and he's viewed as one of Auburn's most athletic offensive linemen.
With Greene starting at right tackle, Slade will move over and start at right guard in place of John Sullen.
Defensive back Jermaine Whitehead will wear No. 32 instead of No. 3 today.
MISSISSIPPI STATE
Wide receiver Chris Smith will start for Sam Williams this week. Williams had three catches for 27 yards, including a long of 17 last week.
SOME PREGAME NOTES
Spirit, the eagle that flies around the stadium before the game, went a little off course this morning. It almost flew into a window and got pretty close to some fans in the stands, but when it landed at midfield this place exploded. Really cool tradition.
There is some bad blood between these programs because of the whole Cam Newton fiasco last year, and the Auburn fans let the Bulldogs know it when they came out of the field. Boos rained down from all directions and the Bulldogs seemed to love it as they lifted their arms, calling for more.
July, 26, 2011
7/26/11
3:15
PM ET
Auburn is our next stop for the league's rebound players:
OFFENSE

A.J. Greene, OT, Sr.:
Greene started the first three games of last season before suffering a season-ending injury when he broke his left ankle against Clemson. Greene went through spring, and while he isn't completely healthy, he has progressed, and the coaching staff expects him to be fine this fall. Getting him back will be a major boost to an offensive line that lost four veteran starters from last season. At 6-foot-5, 309 pounds, Greene should return to left tackle for the Tigers and will have the job of protecting a an inexperienced quarterback. If Greene's mobility returns, he could be one of the tougher tackles in the league to get around this fall.
DEFENSE
Eltoro Freeman, LB, Sr.:
Freeman hasn't exactly been a slouch since his arrival, but the former junior college standout hasn't quite lived up to expectations. He has played in 22 games, starting 12 in his two seasons. Freeman has 68 tackles and two sacks to his name, but the Tigers' staff predicted more from the 5-foot-11, 226-pounder. There is some untapped potential brewing inside Freeman. Auburn lost two very valuable linebackers in Josh Bynes and Craig Stevens, so in his final season, Freeman has a chance to make a much-needed impact on the Tigers' defense. From all accounts, Freeman had a good spring, but he'll have to fend off some young talent during preseason camp.
June, 29, 2011
6/29/11
9:42
AM ET
By
ESPN.com staff
| ESPN.com
We turn our attention today to the Plains.
Coach:
Jeff Grimes
Position:
Offensive line

Experience:
He's entering his third season on Auburn's staff. Grimes was the assistant head coach/running game coordinator/offensive line coach at Colorado for two seasons prior to coming to Auburn. He's also served stints as offensive line coach at BYU, Arizona State, Boise State and Hardin-Simmons. An 18-year coaching veteran who started his career at Riverside High School in Texas, Grimes has coached a pair of Auburn offensive lines that paved the way for the country's fifth-rated rushing team last season (284.8 yards per game) and the country's 13th-rated rushing team in 2009 (212 yards per game).
Of note:
Grimes was wooed by Texas'
Mack Brown
during the offseason to coach the Longhorns' offensive line and interviewed for the job, but elected to stay at Auburn. He was rewarded with a raise and will make $400,000 this coming season. ... Grimes grew up in Texas and played offensive tackle collegiately at UTEP, earning four letters from 1987-90. ... The Tigers have set single-season school records for points scored and total offense each of the two years Grimes has coached the offensive line.
His challenge:
Nobody knew just how good Auburn's offensive line would be this time a year ago. As it turned out, the Tigers were as good as anybody in the country up front and have a national championship trophy to show for it. Gone, though, are four senior starters who combined for 165 starts. The one returning starter Grimes does get back (Brandon Mosley) was a tight end before moving to tackle last season. So in other words, Grimes is going to earn every penny of that sweet raise he got in the offseason. He's been down this road before and has consistently produced solid offensive lines. In his first year at Colorado in 2007, two true freshmen started most of the games for the first time in CU history. That line matured as the season progressed and wound up allowing only four sacks in the final five games. It might be tough sledding for the Tigers up front to begin the 2011 season as they settle on the right combination, but Grimes has some talented personnel to work with. He just doesn't have a lot of experience -- only 15 combined starts among the projected starters. Senior A.J. Greene, who opened last season as the starter at right tackle before suffering a season-ending leg injury the third week, has moved to left tackle to replace Lee Ziemba. Mosley will stay at right tackle, and junior John Sullen is the likely starter at right guard, although Sullen has also played some at tackle. True freshmen Reese Dismukes and Christian Westerman will be worth watching. Dismukes enrolled early and went through spring practice and will battle for a starting job at center. Westerman didn't go through the spring, but could factor in at left guard or provide depth at tackle.
June, 17, 2011
6/17/11
9:30
AM ET
The big uglies up front on the offensive side are our focus today. There are some quality veterans out there, but teams all across the league are looking to replace some quality linemen in the trenches.
Here's how we see the league stacking up:
[+] Enlarge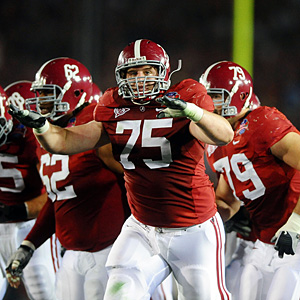 Mark J. Rebilas/US PresswireBarrett Jones has been one of the mainstays of Alabama's offensive line the past two seasons.
1. Alabama:
Four of Alabama's five linemen from a year ago return, making this one of the team's strongest units. The returners have combined for more than 70 starts at Alabama. Barrett Jones is the star of the show. The junior has been the Tide's starting right guard each of the past two seasons, but took reps at left tackle and could be asked to move. William Vlachos is back at center and could be the best at his position in the league. Fellow starters D.J. Fluker and Chance Warmack are back and took reps at left tackle this spring.
2. Ole Miss:
The Rebels' offense isn't getting much respect this offseason, but its offensive line returns All-SEC candidates in tackles Bradley Sowell and Bobby Massie. Seven of Ole Miss' linemen started two or more games each on the offensive line in 2010. Last season, the Rebels were first in the league in sacks allowed, giving up just 14. Alex Washington should stay at left guard after starting eight games there and A.J. Hawkins will likely get the nod at center after playing eight games there as well. Arkansas transfer Matt Hall will compete for time at center.
3. LSU:
Joseph Barksdale might be gone, but the Tigers have a very talented group of linemen returning. Tackle Alex Hurst seems primed to be a star in the league and senior Josh Dworaczky is arguably the Tigers' top lineman with 25 career starts. Patrick Lonergan is solid at center, while T-Bob Hebert is valuable at both center and guard. Sophomore Chris Faulk has the tough assignment of replacing Barksdale, but made quite the impression on his coaches this spring.
4. Kentucky:
The Wildcats return four starters on their line. Right guard Larry Warford headlines the group after gaining second-team All-SEC honors a year ago. Kentucky also returns two-year starter Stuart Hines at left guard and Matt Smith at center, who was solid in his first year there. Left tackle Chandler Burden missed spring practice, but is expected back by fall practice. Finding a suitable right tackle is the next step for Kentucky.
5. Tennessee:
This group could be one of the most impressive units for the Volunteers this season. It's deeper and more experienced in Derek Dooley's second year and he was very pleased with its performance this spring. Junior Dallas Thomas is solid at left tackle, and sophomore Ja'Wuan James really came on strong in his first year and is one of the top linemen in the SEC. James Stone also returns at center. The surprise of the group was true freshman Marcus Jackson, who held down the left guard spot for most of the spring.
6. Mississippi State:
The Bulldogs must replace All-American left tackle Derek Sherrod, but most of the line is somewhat on point. Center Quentin Saulsberry will anchor the line and is versatile enough to play just about every position on the line. Left guard Gabe Jackson and right tackle Addison Lawrence return and the Bulldogs will have junior Tobias Smith lining up at right guard. Blaine Clausell and James Carmon, who moved from defensive tackle, will compete at left tackle.
7. Georgia:
This was supposed to be one of the strongest offensive line units in the league, but the Bulldogs lost tackle Trinton Sturdivant to a season-ending knee injury this spring and fellow tackle A.J. Harmon transferred. Georgia's most-reliable options are Cordy Glenn, who moved from guard to left tackle and Ben Jones at center. Kenarious Gates is at left guard, but he's athletic enough to play tackle if needed. Former defensive lineman Justin Anderson will start off at right tackle. Right guard is the next area of business and the depth all around is a problem.
8. South Carolina:
The Gamecocks have questions here, but there is talent across the line. Rokevious Watkins is one of the most talented guards in the league and he'll be assisted by returning starter at center T.J. Johnson. Senior Kyle Nunn has made strides at left tackle and redshirt freshman A.J. Cann took over duties at left guard this spring. Still, the younger linemen will be counted on to contribute this fall.
9. Arkansas:
The Razorbacks must replace three starters on the offensive line. Center Travis Swanson and left guard Alvin Bailey are the only returning starters. Just a sophomore, Bailey impressed his coaches last season and will be one of the top linemen in the league this fall. After that, the Hogs will have to turn to youth for help. True freshman Brey Cook could be thrust into the starting role at right tackle, while sophomore Anthony Oden could get the job at left tackle.
10. Florida:
Florida's offensive line struggled throughout the 2010 season -- and that was with a senior-laden group. This fall, the Gators will start over with a ton of inexperience. Right guard Jon Halapio and right tackle Xavier Nixon are the only returning starters. Halapio struggled at times last season and Nixon battled injuries. Florida's line spent most of the spring in the infirmary, so little is known about the overall talent. Freshman Chaz Green left spring as the starter at left tackle, Jonotthan Harrison will battle former Notre Dame lineman Dan Wenger at center. He transferred in after spring, but has health concerns.
11. Auburn:
The Tigers will go from having one of the top offensive line groups in the country to having a major work in progress in 2011. Senior Brandon Mosley is the lone returning starter, and while he was solid on Auburn's line last season, he came from junior college as a defensive end/tight end. The good news is that tackle A.J. Greene should be fine this fall after sustaining a season-ending leg injury last year. The rest of Auburn's linemen are very young and inexperienced. Don't expect many redshirts from this group.
12. Vanderbilt:
The Commodores might return all five starters, but this unit had trouble keeping things together last year. The offense needs this group to improve mightily. Wesley Johnson is Vanderbilt's best option, despite only being a sophomore at left tackle. There will be size on the right side, with 300-plus pounders Kyle Fischer and Ryan Seymour over there. Simply put, this unit has the experience, but it requires a lot of improvement.
May, 12, 2011
5/12/11
10:30
AM ET
2010 overall record:
14-0, BCS national champions
2010 conference record:
8-0, SEC champions

Returning starters
Offense: 3; Defense: 3; Kicker/punter: 0
Top returners
RB
Michael Dyer
, RB
Onterio McCalebb
, FB/TE
Philip Lutzenkirchen
, OT Brandon Mosley, WR
Emory Blake
, DE Nosa Eguae, LB Daren Bates, CB Neiko Thorpe
Key losses
QB Cam Newton, OT Lee Ziemba, C Ryan Pugh, WR
Darvin Adams
, WR
Kodi Burns
, DT Nick Fairley, DT Zach Clayton, LB Josh Bynes, S Zac Etheridge
2010 statistical leaders (* returners)
Rushing:
Cam Newton (1,473 yards)
Passing:
Cam Newton (2,854 yards)
Receiving:
Darvin Adams (963 yards)
Tackles:
Josh Bynes (73)
Sacks:
Nick Fairley (11.5)
Interceptions:
Zac Etheridge*, Demond Washington, Josh Bynes (3)
Spring answers
1. Dangerous running game:
Despite losing Heisman Trophy winner Cam Newton, who was equally dangerous running and throwing the ball, the Tigers should be just fine in the rushing department. Michael Dyer stepped onto the scene as one of the most exciting freshmen in the league last fall and didn't appear to miss much of a beat this spring. No one expects him to be slowed by a sophomore slump, and with Newton gone he should get even more carries. His running mate, Onterio McCalebb, will continue to add yet another dimension to Auburn's running game. He'll be the home run threat, while Dyer pounds away at defenses. Auburn could have arguably the best two-running back threat in the SEC.
2. Receivers step up:
Newton and Darvin Adams left two huge holes in the playmaking department. Helping to ease those losses was the emergence of receivers Emory Blake and
Trovon Reed
. Blake is expected to step into Adams' shoes this fall, while Reed, who missed most of last season with a knee injury, will be moved all over the field. Blake had 554 yards and a team-high eight receiving touchdowns in 2010. Reed will start in the slot, but could also see action in the backfield and even play some wildcat quarterback if needed.
3. Greene is good:
Senior offensive lineman A.J. Greene went through spring practice after missing most of last season after he broke a bone in his ankle against Clemson last season. Greene was the starter at right tackle before the injury, but replaced departed senior Lee Ziemba at left tackle. Brandon Mosley, who took over for Greene last season will stay at right tackle. The coaches left spring having a lot of confidence in the way Greene performed. The ankle hasn't completely healed, but Greene is confident he'll be 100 percent by the start of the season. His return gives Auburn two solid returning starters at each tackle spot.
Fall questions
1. Replacing Fairley in the middle:
Nick Fairley proved to be one of the most dominating defensive players in the league last season, so replacing him isn't going to be easy. This spring, sophomores Ken Carter and Jeffrey Whitaker worked in the middle, but both have a ways to go before their presences will truly be felt. They showed flashes this spring, but with just 13 combined tackles between the two, it's unknown what kind of impact they'll have. As a whole, the Tigers have to replace three starters on the defensive line.
2. Quarterback mystery:
Replacing Fairley is one thing, but finding someone to fill the shoes Newton left behind will be the biggest task for Auburn. Newton transformed the Tigers' throwing and running game and neither of Auburn's current options have the physical tools to replicate what Newton did. But few around the country do. Auburn turned the position over to sophomore
Barrett Trotter
and freshman
Clint Moseley
. Both went through growing pains this spring and struggled at times. While both steadily improved, they still have a ways to go. Neither surpassed the other this spring and will welcome incoming freshman Kiehl Frazier into the mix when he arrives this summer. While all three are talented, experience is a glaring issue.
3. Filling all the holes:
The Tigers lost 18 starters (eight on offense and defense and two specialists) from last year's championship team. Not only will Auburn's coaches be looking to fill a handful of positions on both sides of the ball but new leaders must emerge. Having young quarterbacks doesn't help the situation. Coach Gene Chizik hasn't called this a rebuilding year, but he understands the tough task that is ahead of him. The good thing is that the cupboard isn't bare. There will just be a big learning curve for most of the athletes out there to begin the season.
April, 18, 2011
4/18/11
12:55
PM ET
By
ESPN.com staff
| ESPN.com
Mozying along in the SEC on a Monday:
April, 15, 2011
4/15/11
9:00
AM ET
Spring game:
3 p.m. ET on
ESPN3.com

Questions answered:
Auburn finally said so long to kicker
Wes Byrum
after last season. This spring, Cody Parkey did his part to somewhat ease that loss. He's been very solid on field goals and nailed kicks of 49 and 60 yards in a scrimmage. While quarterback
Cam Newton
was a major factor in the Tigers' running game in 2010, Auburn will again be well equipped in that department.
Michael Dyer
was tremendous as a freshman last year and doesn't appear to be headed for a sophomore slump after a productive spring. His running buddy
Onterio McCalebb
is as fast as ever and will be the Tigers home run threat out of the backfield. The Tigers didn't exactly replace receiver
Darvin Adams
, but junior
Emory Blake
, who had a team-high eight touchdown catches in 2010, looks to be the go-to-receiver.
Questions unanswered:
Filling Newton's quarterback shoes wasn't going to happen overnight and it wasn't going to happen after 15 spring practices.
Clint Moseley
and
Barrett Trotter
split reps with the first team, but both had a tough spring. Strides were made, but neither really separated himself. Things should get even more interesting for this duo when freshman
Kiehl Frazier
gets on campus this summer. Auburn also had the task of trying to replace potential top-10 pick, defensive tackle Nick Fairly. It would be hard for anyone to make a push like Fairly did, but sophomores Ken Carter and Jeffrey Whitaker have the responsibility of just that. As a whole, the Tigers will be young on defense, with only three returning starters.
Spring stars:
Redshirt freshman wide receiver
Travon Reed
, who missed most of last season with a knee injury, has been a guy the coaches have tried to get the ball to a bunch. He'll line up in the slot, as a wildcat quarterback and could help in the return game. He's a dynamic athlete and has bounced back this spring. Junior receiver
Quindarius Carr
had a solid spring. He didn't put up great numbers in 2010, but has really come along this spring, drawing high praise from his coaches. Defensive end Corey Lemonier has really made strides this spring as well.
Of note:
Senior Neiko Thorpe moved from cornerback to safety. … There was a lot of shuffling going around on the offensive line this spring. Senior A.J. Greene is the guy at left tackle, but redshirt freshman Chad Slade, junior Donnie Riggins and senior Bobby Ingalls all spent time there as well. Senior Brandon Mosley is at right tackle. … Redshirt freshman linebacker Jawara White returned to practice this spring after suffering a severe spinal cord injury last year. … Linebacker Jessel Curry and safety Ryan Smith are dealing with personal issues and missed the latter part of spring practices. …
Ladarious Phillips
worked at H-back. … Offensive tackle Shon Coleman, who signed as part of the 2010 class, didn't go through practice, but is on the roster after battling leukemia last year.
February, 22, 2011
2/22/11
9:00
AM ET
Mississippi State hits the practice field next Friday to kick off spring practice in the SEC, and several other teams will follow the next week.
Football is back, and here's a snapshot of what to watch this spring in the Western Division:

ALABAMA
Start of spring practice:
March 21
Spring game:
April 16
What to watch:
McCarron or Sims? If you're looking for one of the more intriguing position battles of the spring, it doesn't get much better than A.J. McCarron and Phillip Sims battling it out for the Alabama starting quarterback job. Both players are extremely talented and were highly rated coming out of high school, and they're vying to replace a guy who was the essence of precision, smarts and productivity all wrapped into one -- Greg McElroy. McCarron played a little bit last season as a redshirt freshman, while Sims redshirted. We'll see if one separates himself enough this spring for Nick Saban to name a starter.
Back in the SEC: In addition to settling on a starting quarterback, the other thing the Crimson Tide would like to determine this spring is who will be protecting that quarterback from the left tackle position. Junior college signee Aaron Douglas is probably the guy to beat. He's already on campus after attending Arizona Western College last year and drawing a wide array of interest from schools. He started his career at Tennessee, where he earned Freshman All-American honors in 2009 while playing right tackle for the Vols.
Rushing the passer: The Crimson Tide would like to amp up their pass rush next season, which means getting there without having to blitz all the time. Jack linebacker Courtney Upshaw finished last season on fire and lived in the opposing backfield his last two games. This is an important spring for middle linebacker Dont'a Hightower, who's also been used outside in pass-rushing situations. Hightower was coming off reconstructive knee surgery last season and didn't appear to be all the way back. He's eager to show this spring that he is all the way back and poised to be an All-SEC player again.
ARKANSAS

Start of spring practice:
March 15
Spring game:
April 16
What to watch:
Mr. Wilson: A year ago, Tyler Wilson got a chance to show what he could do with the first unit because Ryan Mallett broke a bone in his foot and missed the spring after undergoing surgery. This spring, it's Wilson's show again, although Mallett won't be coming back this time. Wilson, a sophomore, is the odds-on favorite to win Arkansas' starting quarterback job. He passed for 332 yards and four touchdowns against Auburn last season on the road after Mallett was knocked out of the game with a concussion. Arkansas coach Bobby Petrino said he thinks Wilson can be a terrific quarterback, but wants to see him beat out Brandon Mitchell and Jacoby Walker for the job before handing him the keys to the Hogs' offense.
Getting defensive: The Hogs' defense took the kind of step last season that was required to get them to 10 wins. They went from 89th in the country in total defense in 2009 to 36th in the country a year ago. The key figures from that defense return next season, and Petrino has said he thinks Arkansas will be even better on defense in 2011 than it was last season. Finding a replacement for Anthony Leon at one of the linebacker spots will be important this spring, and the Hogs could still use some more speed in the secondary.
Fourth-quarter blues: Special emphasis was placed on winning the close games last season and getting it done in the fourth quarter. That will be a familiar cry on the practice field again this spring. All three of Arkansas' losses last season came on the heels of fourth-quarter breakdowns. The Hogs couldn't hold a lead at home against Alabama, and the Crimson Tide rallied from two touchdowns down in the fourth quarter to win. At Auburn, the Hogs were snowed under by a 28-point Auburn avalanche in the fourth quarter. And in the Sugar Bowl, the Hogs couldn't capitalize in the final minutes despite blocking a punt and recovering inside the Ohio State 20.
AUBURN

Start of spring practice:
March 23
Spring game:
April 16
What to watch:
Playing with a target: Auburn emerged from the shadows last season to go 14-0 and win its first national championship since 1957. Nobody really saw the Tigers coming. Now, even though they lost great players the caliber of Cam Newton and Nick Fairley, everybody will be circling the Auburn game on their calendars. With so many new faces in key positions, this team will have to establish its own identity and be prepared to get everybody's best shot every weekend.
Rebuilding the O-line: It's hard to imagine Auburn playing a game without departed senior offensive line starters Lee Ziemba, Mike Berry, Byron Isom and Ryan Pugh. They were together so long and made so many career starts alongside each other. This spring, the Tigers start the process of replacing their four rocks up front. The lone holdover from the BCS National Championship Game is right tackle Brandon Mosley, although A.J. Greene was also a starter last season until he injured his ankle. Redshirt freshman Ed Christian is definitely somebody to watch at one of the guard spots, and don't forget about junior John Sullen, who can play guard or tackle.
Trotter in the race: Even as great as Newton turned out to be, coach Gene Chizik and offensive coordinator Gus Malzahn were careful to make sure Newton was clearly the guy before naming him the starter at the conclusion of spring practice and heading into the summer. Junior Barrett Trotter and sophomore Clint Moseley were two of the guys battling with Newton last spring. But this spring, they will be battling each other for the starting quarterback job, a battle that's likely to continue into preseason practice once heralded true freshman Kiehl Frazier arrives on campus this summer.
LSU

Start of spring practice:
March 11
Spring game:
April 9
What to watch:
Quarterback derby: Perhaps the most closely watched quarterback battle this spring will occur at LSU, where seniors Jordan Jefferson and Jarrett Lee will try and hold off talented junior college signee Zach Mettenberger. Jefferson played better toward the end of last season, but the Tigers' passing game was nonexistent for much of the 2010 season. The 6-foot-5, 250-pound Mettenberger put up huge numbers in junior college last season after starting his career at Georgia. He obviously didn't sign with LSU to sit and watch.
Kragthorpe to the rescue: Former Louisville head coach Steve Kragthorpe takes over as LSU's offensive coordinator and does so after the Tigers finished 11th in the SEC last season in total offense and last in the SEC in 2009. Kragthorpe wants to make sure LSU is getting the ball in the hands of its best playmakers, but he also wants to make sure the Tigers are balanced. Their running game improved dramatically last season. With Stevan Ridley leaving early for the NFL draft, Spencer Ware is next in line after rushing for 102 yards in the Cotton Bowl.
Special-teams makeover: The Tigers were gutted on special teams. Even special teams coordinator Joe Robinson left to take a job on North Carolina's staff. Also gone are All-SEC place-kicker Josh Jasper, All-SEC return specialist Patrick Peterson and punter Derek Helton, who was second in the SEC with a punting average of 45.7 yards per game. LSU will be looking to fill voids across the board this spring in its kicking game, which was a big reason the Tigers won 11 games last season.
MISSISSIPPI STATE

Start of spring practice:
March 4
Spring game:
April 9
End of spring practice:
April 11
What to watch:
New defensive chief: Manny Diaz was hired away by Texas to be the Longhorns' defensive coordinator, meaning co-defensive coordinator Chris Wilson is now the guy running things in Starkville. Diaz and Wilson worked together closely last season, so it's doubtful much will change. Dan Mullen did bring in Geoff Collins to serve as co-defensive coordinator to Wilson and also coach the Bulldogs' linebackers.
Lining up linebackers: The Bulldogs lost all three of their starting linebackers from last season, including their top two tacklers in Chris White and K.J. Wright. Emmanuel Gatling was the other starter, although he shared time with Cameron Lawrence at one of the outside spots. So while Lawrence might have first dibs on one of those three starting jobs this spring, the competition will be fierce. Redshirt freshmen Felando Bohanna and Christian Holmes are two to watch in the middle. Chris Hughes played some last season as a true freshman on the outside, and third-year sophomore Michael Hunt will also be in the mix for a starting job.
Relf's supporting cast: Chris Relf enters his senior season as one of the most experienced quarterbacks in the SEC, and he's also one of the league's most improved players. The Bulldogs' top threats in the running game return, but Relf will have several new guys he'll be hooking up with in the passing game. Junior receiver Chad Bumphis has been working out and is expected back this spring after missing the Gator Bowl with a broken collarbone. The Bulldogs also redshirted several receivers last season they have high hopes for, including Malcolm Johnson, Robert Johnson and Jameon Lewis. Getting a healthy Marcus Green back at tight end will also make Relf's life easier.
OLE MISS

Start of spring practice:
March 28
Spring game:
April 16
What to watch:
Lee to call plays: The last time Ole Miss coach Houston Nutt didn't call his own plays was 2007 when David Lee called them during Nutt's final season at Arkansas. Well, Lee has reunited with Nutt at Ole Miss for the 2011 season after coming over from the Miami Dolphins, and Nutt has again turned over the offensive play-calling duties to Lee in order to spend more time focusing on other areas of the team. Lee will build what the Rebels do offensively around an underrated stable of running backs, led by Brandon Bolden.
Quarterback questions: Jeremiah Masoli popped in at the last minute a year ago. But this time, it appears that the guy who separates himself this spring will be the Rebels' quarterback for the season. Junior Nathan Stanley has the edge in experience. Randall Mackey is probably the most athletic, but will be limited this spring after undergoing knee surgery. Junior college signee Zack Stoudt is already enrolled and also eyeing the starting job, while West Virginia transfer Barry Brunetti will be in the middle of the race as well if he receives a waiver from the NCAA and is allowed to play this coming season.
Building back the defense: After back-to-back seasons in 2008 and 2009 when Ole Miss' defense was outstanding, Tyrone Nix's unit came crashing down last season. More than anything, it's a group that needs to regain its confidence this spring and play with that same attacking mentality that made the Rebels so effective on defense the previous two seasons. Linebacker D.T. Shackelford is a leader and the kind of guy you win with in this league, but Nix & Co. need to find a few more like him this spring, especially in the secondary.
September, 20, 2010
9/20/10
9:45
AM ET
By
ESPN.com staff
| ESPN.com
Auburn will be without starting right offensive tackle A.J. Greene for the remainder of the season after he injured his left ankle in the fourth quarter of the Clemson game.
Greene had been one of the biggest success stories on Auburn's team, coming from seemingly nowhere to win the right tackle job. Sophomore John Sullen worked in Greene's place Sunday during practice and also filled in for the rest of the game this past Saturday. Junior college transfer Brandon Mosley is another possibility.
On the plus side for the Tigers, they're hopeful that freshman receiver
Trovon Reed
can add some more firepower to an offense that has had trouble getting started each of the past two games. Reed, who says he's only about 80 percent after bruising his kneecap, played against Clemson and got two carries out of the Wildcat formation. Reed missed the first two games.
Auburn quarterback
Cameron Newton
said the Tigers have been playing with fire the past two games offensively.
"We still haven't reached our capability," Newton said. "We can't continuously put ourselves in the situations we have been. Sooner or later, our luck will run out."
August, 27, 2010
8/27/10
9:30
AM ET
Maybe there's somebody else out there that I'm slighting, but Auburn's A.J. Greene has to be the runaway winner in the SEC as the player nobody even had on the radar to be a starter who's going to start this season.
The 6-5, 291-pound junior is a great story. He was named Thursday as Auburn's starter at right offensive tackle. He joins four other seniors who have a combined 108 starts in the offensive line.
According to Auburn's official web site, Greene has only played in two games during his career, last season against Mississippi State and Furman.
Don't expect to find much information on Greene in Auburn's media guide, either. He doesn't even have his own full-page bio like most of the veteran players.
Greene came to Auburn as a defensive lineman and redshirted his first year.
But with the right tackle job open, he emerged from the shadows this preseason to shoot past junior college newcomers Brandon Mosley and Roszell Gaydon and sophomore John Sullen and will be making his first career start next Saturday against Arkansas State.
"I don't think there's any question that he's one of the most improved on our team," Auburn coach Gene Chizik said of Greene. "He's learned a lot of things in the last year. It just appears to me that it meant a lot to him to win that job, and he did."
Also, Chizik announced Thursday that sophomore
Barrett Trotter
would be
Cameron Newton
's backup at quarterback. Trotter missed last season after tearing his ACL in the spring.
SEC SCOREBOARD
Saturday, 12/20
Monday, 12/22
Tuesday, 12/23
Wednesday, 12/24
Friday, 12/26
Saturday, 12/27
Monday, 12/29
Tuesday, 12/30
Wednesday, 12/31
Thursday, 1/1
Friday, 1/2
Saturday, 1/3
Sunday, 1/4
Monday, 1/12
Tweets from https://twitter.com/ESPNCFB/lists/sec