October, 11, 2013
10/11/13
11:30
AM ET
ATHENS, Ga. -- Say this much for
Aaron Murray
, he has had to learn how to adapt to personnel changes on the fly throughout his college career.
Since taking over as Georgia's quarterback in 2010, there has been a seemingly endless parade of skill players in and out of the Bulldogs' offensive lineup -- from A.J. Green's four-game absence to open Murray's freshman season, to regular tailback shuffling in 2011, to debilitating injuries at receiver last season, to considerable upheaval over the last two weeks of this season.
[+] Enlarge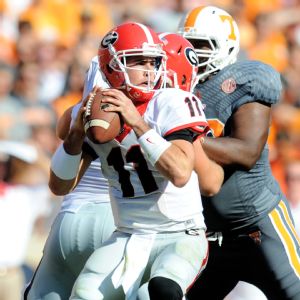 Randy Sartin/USA TODAY SportsAaron Murray and Georgia have adapted to lineup changes in the past and they'll have to do it again if the No. 7 Dawgs hope to beat No. 25 Missouri.
"He's used to it, then," Bulldogs offensive coordinator Mike Bobo deadpanned.
And he needs to be.
In Saturday's noon ET game against No. 25 Missouri (5-0, 1-0 SEC) Murray must deal with his biggest personnel challenge to date. With Georgia already without
Malcolm Mitchell
, who tore his ACL in the opener against Clemson, the Bulldogs lost two more key wideouts,
Justin Scott-Wesley
and
Michael Bennett
, last week against Tennessee. Tailback
Keith Marshall
also went down with a season-ending knee injury last Saturday, joining fellow star tailback
Todd Gurley
on the sidelines as the Bulldogs' high-scoring offense started to sputter without so many key pieces.
"I would say it affected not only the offense, but the team," fullback
Quayvon Hicks
said. "It was players that are not only playmakers on the field, but great teammates. Losing them and knowing that they're not going to be out there, it's something that you've got to just suck it up and keep going."
Murray and No. 7 Georgia (4-1, 3-0) barely salvaged the game, forcing overtime with a last-minute touchdown and winning 34-31 with a field goal in the extra session. The lone constant in Georgia's lineup over the last three-plus seasons, Murray's experience adjusting to the personnel around him might have been the difference in the outcome.
"You never really can truly practice everything that might happen in a game," Bobo said. "So I think it's been a lot of experience for Aaron, obviously, to have to go through that and the game plan altered in the middle of a game. And then obviously myself with calling plays. You've just got to adjust. That's football, and I think any time you've got experience to draw back from instead of maybe something that you practiced, it's always beneficial."
Injuries will force the Bulldogs to do some major adjusting over at least the next couple of weeks. Georgia coach Mark Richt said Gurley remains doubtful to play against Missouri and Bennett is probably out until at least the Nov. 2 game against Florida.
That leaves Bulldogs with little to no experience suddenly in the mix for playing time. Richt has mentioned walk-ons Kenny Towns and
Michael Erdman
as possible fill-ins at receiver, along with redshirt freshman
Blake Tibbs
, who has yet to appear in a game.
The running game could once again be in the hands of a group of true freshmen if Gurley is unable to go. It might even mean that
A.J. Turman
-- a clear redshirt candidate before Marshall's injury made that outcome less of a certainty -- joins fellow freshmen
J.J. Green
and
Brendan Douglas
in the backfield.
"[Turman] seems to be excited about getting reps with the ones or twos or whatever reps that he's getting right now," Richt said. "He doesn't look like a guy who's bummed out about an opportunity, a possible opportunity. He seems to be a guy who's kind of anxious for it, so that helps."
Georgia's running game could be a key factor in Saturday's game. The Bulldogs' still-developing defense will have its hands full with a Missouri offense that is one of only five in the country averaging at least 255 yards on the ground and 285 through the air. The UGA backs' ability to extend drives and keep the defense on the sideline will almost certainly be of major importance, and last year's game against the Tigers was not especially encouraging in that department.
Missouri actually outgained Georgia 371 yards to 355 last year and limited the Bulldogs' running game to just 113 yards -- 44 of which came on a single Gurley run. Georgia needs a more productive performance from Green, Douglas and the other backs if Gurley isn't there to power the Bulldogs' running game.
Otherwise, Georgia will lean more heavily on the injury-depleted receiving corps led by
Chris Conley
-- who would have redshirted in 2011 if not for injuries that led to his debut in the fourth game of that season.
In other words, Murray is far from the only offensive player on the roster who had to adapt on the fly because of personnel changes.
"It's definitely caused us to be mature," Conley said. "And for guys to learn how to play in that situation, it's something that you're not comfortable doing naturally. Over the last couple of years, we've had multiple guys who had to become comfortable doing that -- stepping up, learning things on the fly, going in on a Saturday like they've been doing it all along."
Georgia needs that trend to continue Saturday with some of the new faces in the lineup and old faces who will attempt new things. If they can handle this adjustment as capably as they have the others over the last couple of seasons, the Bulldogs still might be able to ride out their recent rash of debilitating injuries.
October, 8, 2013
10/08/13
7:00
AM ET
ATHENS, Ga. -- Mark Richt delivered the bad news on Sunday when he confirmed that tailback
Keith Marshall
and receiver
Justin Scott-Wesley
would join wideout
Malcolm Mitchell
on the season-ending injury list.
With receiver
Michael Bennett
(knee) out and All-SEC tailback
Todd Gurley
(ankle) questionable for Saturday's game against No. 25 Missouri (5-0, 1-0 SEC), No. 7 Georgia (4-1, 3-0) has little time to identify the personnel who must play larger roles in order to hang with a Tigers offense that ranks among the nation's most productive units.
Here are four groups/trends to watch as the Bulldogs move forward:
Freshman tailbacks:
With Georgia's two star backs both possibly out Saturday, it's certainly possible we will see another heavy dose of true freshmen
J.J. Green
-- who rushed for 129 yards last Saturday against Tennessee -- and
Brendan Douglas
at tailback.
[+] Enlarge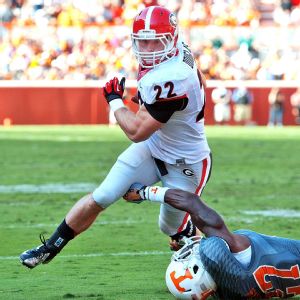 Jim Brown/USA TODAY SportsBrendan Douglas and fellow freshman J.J. Green likely will be asked to shoulder more of the load.
That isn't necessarily a scary proposition for the Bulldogs, who have seen the young duo perform well in practice and in spot duty up until last Saturday's overtime win.
"We see those guys in practice, and they do a great job of breaking tackles or shaking guys or breaking loose for touchdowns against a great defense," offensive guard
Chris Burnette
said. "Seeing them do that in practice, we know they're capable of doing that in a game."
The larger question is what happens if Gurley is unable to play Saturday. If one of the top running backs in the nation remains unable to go as the week progresses -- and he once again did not practice on Monday -- Georgia's coaches might have to take a longer look this week at freshman
A.J. Turman
.
He seemed like a certain redshirt candidate a week ago, but Richt's staff must determine whether the two freshmen who already have played and walk-ons
Kyle Karempelis
and
Brandon Harton
would be enough to carry the load without Gurley and Marshall.
"A lot may depend on how Gurley's doing," Richt said. "If Gurley comes back and you've got the other two, you don't normally have to go three backs. But if Gurley can't go, then we've got to try to figure out what we're going to do. We've got Harton and Karempelis that have played for us before, so those are possibilities. We've just got to kind of try to figure that out.
Wild cards:
Speaking of Turman, he's not the only newcomer who has not played yet and still might or might not make an impact this fall.
Receivers
Tramel Terry
and
Jonathon Rumph
-- Georgia's second- and sixth-highest-rated 2013 signees in ESPN's player rankings -- have not played to date but still could factor into offensive coordinator Mike Bobo's plans ... eventually.
Richt said "it's very doubtful that [Rumph would] be ready" for the Missouri game while still dealing with a left hamstring strain, but "after that, we're going to definitely try to get him ready."
Meanwhile, Terry struggled during preseason practice while still recovering from offseason ACL surgery and seemed set to redshirt this season. But because of the receiver attrition, the freshman might be someone the coaches eventually consider.
"I just think the longer he practices coming back from his injury, the better he'll be," Richt said. "Is he really ready for this type of competition? I don't know.
"And the fact that he hasn't had a lot of reps with our offensive unit, he's been working mainly scout team reps, and he's a freshman, so it's hard to really be ready in all the ways that you have to be ready -- not only physically, but knowing the game plan and just having experience running the routes and playing in games like that. So I'm not counting him out, but I really don't know the answer right now."
More tight ends:
Considering the level of in-game attrition that occurred at Tennessee, perhaps the most surprising statistic from that game was that neither
Arthur Lynch
nor
Jay Rome
made a reception.
Expect that to rank as a statistical anomaly moving forward.
When Georgia's receivers encountered a number of injury issues last season, Lynch and Rome were two of the top pass-catching beneficiaries. The two tight ends combined for 25 catches for 367 yards -- 251 by Lynch and 116 by Rome – over the final six games last season. In the first eight games of 2012, they combined for 10 catches and 216 yards.
Lynch and Rome have 212 yards -- 169 by Lynch and 43 by Rome -- this season.
[+] Enlarge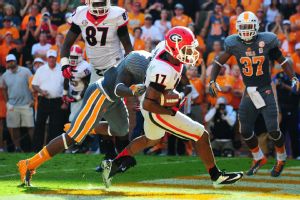 Scott Cunningham/Getty ImagesWith injuries mounting, senior Rantavious Wooten might be counted on to play a much larger role.
Replacement receivers:
Junior
Chris Conley
-- who led Georgia with 64 receiving yards and made a tremendous one-handed touchdown catch against Tennessee -- is nearly the only known quantity in the Bulldogs' receiving corps for the time being.
Yes, they have fifth-year seniors
Rhett McGowan
and
Rantavious Wooten
available, but both players have been role players throughout their careers. Beyond that, Georgia might need reserves like
Reggie Davis
,
Blake Tibbs
,
Michael Erdman
,
Kenny Townes
to pick up their production.
"We're deep in the receiver room," McGowan said. "A lot of people don't know that, because they haven't played, but they're at Georgia for a reason."
Bennett will undergo arthroscopic surgery today to determine the extent of his knee injury. Even if he receives positive news, the junior will certainly miss the Missouri game and possibly more time after that.
Since they have dealt with regular injuries over the last two seasons, the receivers believe they are well-prepared for their current situation and now must take advantage of this opportunity.
"[Receivers coach Tony] Ball always tells me, 'Prepare like you are the starter, and you never know, because you're one play away from [being] a starter,' " said Wooten, who caught two touchdowns against Tennessee. "So all the guys know that in the room, and I know that myself, and I always had that in the back of my head. Any guy could be the next man up. The coaches have the final decision on that, but at the end of the day, that's what we do, we practice, and we get ready for those types of situations."
October, 4, 2013
10/04/13
7:00
AM ET
ATHENS, Ga. -- When
Keith Marshall
originally signed with Georgia, most expected it to be only a matter of time until he emerged as the Bulldogs' top option at tailback.
[+] Enlarge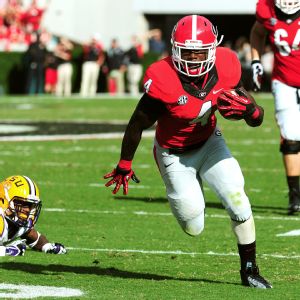 Scott Cunningham/Getty ImagesKeith Marshall had a career-best game against Tennessee a year ago.
It took 18 games, and it only happened because fellow sophomore
Todd Gurley
left last week's LSU game with an ankle sprain. But Marshall handled the No. 1 tailback duties well enough -- a career-high 20 carries for 96 yards -- that those around him feel he can handle the job capably for a full game if Gurley is unable to go Saturday against Tennessee.
"I think [Marshall] could easily carry it 15, 20, 25 times if he had to," Georgia coach Mark Richt said after Wednesday's practice.
Marshall -- the only five-star prospect in Georgia's 2012 recruiting class and the No. 5 overall prospect that year -- had never carried the ball more than 16 times in a game before the LSU game, but said he didn't feel any worse for the wear after the heavier workload against the Tigers.
"You're always sore after a game, especially a big-time, physical football [game], so you always get a little sore," Marshall said. "But I wasn't too bad."
In fact, he was dynamic against LSU immediately after taking over for Gurley. On the drive where Gurley suffered the ankle injury at the end of a 23-yard run, Marshall followed with four carries for 41 yards before
Marshall Morgan
kicked a field goal to put the Bulldogs ahead 17-14.
As the game progressed, however, Marshall grew less effective. He ran 13 times in the rest of the game, but picked up only 35 more yards.
He experienced similar results against Clemson while filling in for an injured Gurley. After Gurley missed nearly a quarter of action with a quadriceps strain following a 75-yard touchdown run, Marshall ran seven times before Gurley returned to the game, picking up only 11 yards.
He struggled picking up yards after contact in both outings -- a clear strength of Gurley's -- and said earlier this week that improving in that area is one of his biggest goals.
If Georgia's offensive line blocks against Tennessee on Saturday like it did a season ago, however, Marshall won't have to worry much about breaking tackles. He exploded through a number of big holes to rush for a career-high 164 yards and two touchdowns on just 10 carries in the Bulldogs' win against the Volunteers last fall.
"Last year, the whole offense had a great game," Marshall said of Georgia's 51-44 win. "I think the offensive line blocked well and did a good job opening up holes, so I just had a couple of big runs."
Gurley tested the ankle before practice on Wednesday, but was unable to take the field with his teammates. Richt didn't rule out the All-SEC star, who was leading the league in rushing entering the LSU game and now has a team-high 450 rushing yards, but it was apparent that the No. 6 Bulldogs (3-1, 2-0 SEC) are looking hard at other options in the event that Gurley does not play.
Behind Marshall (51 carries, 213 yards, 1 TD), those options begin with true freshmen
J.J. Green
(5-65, 1 TD) and
Brendan Douglas
(11-39).
"J.J. and Brendan had to spot play in the first four games, so they're paying attention this week. Their reps have gone up since Todd hadn't practiced the first two days," offensive coordinator Mike Bobo said after Tuesday's practice. "We've just got to get them ready. I'm glad we've got some depth there. It is young, but we've got to get those guys ready to play."
The Bulldogs also have walk-on
Kyle Karempelis
available along with another true freshman,
A.J. Turman
, although Richt said he does not plan to burn Turman's redshirt over what would likely be a short-term absence for Gurley.
Even if Gurley made enough of a last-minute recovery to play on Saturday, his workload would likely be reduced significantly with some combination of Marshall, Green and Douglas taking the bulk of the snaps. And that's not such a terrible problem with Tennessee's porous run defense -- the Vols rank 11
th
in the SEC in run defense, allowing 163.2 yards per game -- awaiting them on Saturday.
Nobody knew Gurley would become the force in Georgia's running game that he quickly became after joining the Bulldogs last summer, overshadowing the highest-profile recruit in his signing class, Marshall. The duo emerged as one of the nation's better rushing duos, however, with Marshall (759 yards, 8 TDs last season) playing the complementary role to leading man Gurley (1,385, 17 TDs).
It might very well be Marshall's time to shine alone on Saturday, but that hardly seemed to be a source of concern among the Bulldogs.
"It's awesome having a back like that, especially one who's considered, quotation mark, a backup," receiver
Chris Conley
said. "Keith's worked like a starter, he's practiced like a starter and to us he is a starter with Todd. It's good to have two backs who play like that."
August, 14, 2013
8/14/13
11:45
PM ET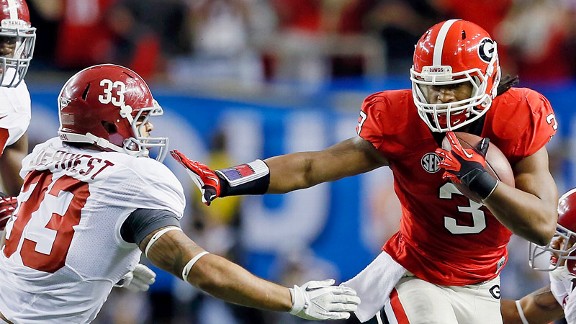 Kevin C. Cox/Getty ImagesTodd Gurley had 105 total yards and two touchdowns in Georgia's scrimmage Wednesday, part of a much more focused effort by the Bulldogs' offense.
ATHENS, Ga. -- Since his team will open the season at night against Clemson, Georgia coach Mark Richt wanted his team's final two scrimmages to be under the lights.
Richt got exactly the conditions and energy level from the team that he was hoping for in Wednesday's second scrimmage of the preseason -- a marked difference from the Bulldogs' listless effort a week ago.
"I thought it would be a good idea to do it this week because I just wanted it to be a nice, cool night, I wanted everybody to be well-rested and I just wanted to see a lot of energy out there," Richt said. "It was like night and day from the first scrimmage as far as just the energy level out there."
Georgia's coaches got what they expected from their starting units, as well, with those groups mostly having their way against the backups in traditional series and situational scenarios.
"When you scrimmage like this and you go ones versus twos, you hope that your number-one offense is going to have a pretty good go against your number-two defense and vice versa. And that's about how it's gone," Richt said. "If your second offense was just thrashing your number-one defense, then you've got a really, really serious problem. But that's not the case. I thought both number-one units played pretty good."
Several of Richt's assistant coaches said recently that they would begin narrowing the field of candidates for playing time after Wednesday's scrimmage so that they would have defined roles when they hold their third and final scrimmage next Wednesday. Richt said the coaches would grade film of the scrimmage within the next 24 hours, but their personnel decisions will likely take at least a few days.
"It'll be maybe a day or two before we start trying to figure out ... and it won't be exact until probably next Wednesday," Richt said. "I would think by next Wednesday when we have that practice game, we'll have a really good idea of our lineup."
As for statistics, there were no particularly eye-catching numbers on Wednesday -- unlike last week's scrimmage, when starting quarterback
Aaron Murray
threw three interceptions. Murray bounced back to go 14-for-18 for 173 yards, one touchdown and one interception on Wednesday, with backup
Hutson Mason
finishing 9-for-19 for 107 yards, one touchdown and one interception.
All-SEC tailback
Todd Gurley
was the offensive star of the evening, rushing five times for 33 yards and two touchdowns and adding three receptions for another 72 yards. Tailback
Keith Marshall
had six carries for 39 yards and freshman
Brendan Douglas
added seven rushes for 50 yards and two catches for another 31 yards.
"[Douglas] was very impressive today," Richt said. "He ran the ball well, he ran with power, he ran with some vision, he continued to pass [block] pretty good. He's not perfect in that area."
Blake Tibbs
and
Michael Bennett
caught the two touchdown passes and
Malcolm Mitchell
led the receivers with four catches for 58 yards.
Josh Harvey-Clemons
, suspended for the opener at Clemson, led the defense with seven tackles and three pass breakups.
Amarlo Herrera
had five tackles and two pass breakups, while
T.J. Stripling
,
Connor Norman
,
Garrison Smith
and
Leonard Floyd
all had four stops. Floyd also made a tackle for a loss and would have recorded a sack, Richt said, if not for being blatantly held by an offensive tackle.
Defensive end
Toby Johnson
recorded the one official sack.
Freshman cornerbacks
Shaq Wiggins
and
Brendan Langley
both made interceptions, with Langley returning his interception 48 yards for a touchdown. Richt said Langley also broke up a pass at the goal line to prevent a touchdown.
The two freshmen are not just competing to be the backups at cornerback, Richt said, they're competing with
Sheldon Dawson
to win a starting job alongside junior
Damian Swann
.
"I'd say they're all still competing, other than Swanny's going to be in there," Richt said. "But who the other starter will be, it's just a matter of watching what happened in this scrimmage and what happens between now and next Wednesday, probably."
Kennar Johnson
and
Lucas Redd
also intercepted passes.
The Bulldogs are still contending with a number of injuries, as 15 players appeared on Wednesday's injury report -- including safeties
Tray Matthews
(shoulder/hamstring),
Corey Moore
(knee sprain),
Shaquille Fluker
(illness),
Marc Deas
(elbow sprain) and
Paris Bostick
(foot surgery).
Nose guard
Chris Mayes
(concussion), linebackers
Tim Kimbrough
(knee sprain) and
Chase Vasser
(ankle sprain), receivers
Reggie Davis
(knee sprain),
Rhett McGowan
(ankle sprain) and
Rantavious Wooten
(hamstring strain), tailback
A.J. Turman
(knee/ankle) and tight end
Jay Rome
(ankle sprain) were also sidelined.
The good injury news, Richt said, was that he did not believe the team suffered any new injuries during the scrimmage.
"It was a good day. No one was banged up today," Richt said. "Sometimes the next day you hear something, but today Ron [Courson, Georgia's director of sports medicine] came to me and said everything looked good, so that's a blessing."
SEC SCOREBOARD
Saturday, 12/27
Saturday, 12/20
Monday, 12/22
Tuesday, 12/23
Wednesday, 12/24
Friday, 12/26
Monday, 12/29
Tuesday, 12/30
Wednesday, 12/31
Thursday, 1/1
Friday, 1/2
Saturday, 1/3
Sunday, 1/4
Monday, 1/12
Tweets from https://twitter.com/ESPNCFB/lists/sec