December, 19, 2012
12/19/12
11:00
AM ET
Kentucky is up next as we continue to look at the best and worst moments for all 14 SEC teams in 2012:
BEST

There weren't a lot of good moments for the Wildcats in 2012. In a year in which the head coach was fired and the team wins just two games, happy moments were hard to come by. But in Week 2, the Wildcats were at their strongest. In a year ravaged by injuries, Kentucky looked like an offensive juggernaut in its 47-14 win over Kent State. Yes, the same Kent State that was a win away from making a BCS bowl game. With starting quarterback
Maxwell Smith
still standing upright, the Wildcats churned out a season-high 539 yards of offense, including a career-high 354 passing yards and four touchdowns from Smith. Kentucky trailed 7-0 after the first quarter, but then took off, scoring 47 of the next 54 points. Running back
Raymond Sanders
ran for 115 yards and scored on a 67-yard touchdown run, while wide receiver
Aaron Boyd
set career highs in receptions (11) and receiving yards (100). He also had a touchdown catch. This was easily Kentucky's most complete game of the year.
WORST
You can point to all of the injuries, starting with Smith, but at the end of the day, the Wildcats just weren't getting better as the year went on. Kentucky watched as most players spent more time in the infirmary than on the football field, but the worst moment of the year for this team was its embarrassing 40-0 home loss to Vanderbilt. Commonwealth Stadium was hardly filled and the Commodores ran up and down the field at will against the wounded Wildcats. Vandy out-gained the Wildcats 447-260 and was up 27-0 by halftime. Freshmen quarterbacks
Jalen Whitlow
and
Patrick Towles
combined to complete just 13 of 35 passes for 159 yards against Vandy's stingy defense. To no one's surprise, coach Joker Phillips was fired the very next day. The results just weren't there, and even though the injuries mounted, the Wildcats didn't improve. To lose so handily to Vanderbilt was the final straw for athletic director Mitch Barnhart.
Prior best/worst:
March, 13, 2012
3/13/12
5:00
PM ET
Hugh Freeze enters his first spring at Ole Miss with a lot of questions surrounding his new football team.
The same team that won just two games last year, watched its head coach get shown the door and has lost 14 straight SEC games.
Talk about a project.
For starters, Ole Miss is breaking in a totally new spread offense for a team that isn't exactly built for it. Plus there are four scholarship quarterbacks competing this spring and the ones who played last year had a host of issues.

Don't be surprised if junior college transfer Bo Wallace turns some heads this spring at QB because he's more familiar with Freeze's offense. He spent 2010 with Freeze at Arkansas State before going the JUCO route. While he had a record-setting season at East Mississippi Community College in 2011, Wallace has zero experience at this level. He redshirted in 2010, so he has yet to take a snap at the FBS level.
The defense will also see quite a few changes, as defensive coordinator Dave Wommack has said he plans to move the Rebels all around the field. Ole Miss ran a 4-2-5 defense last year under Tyrone Nix, but will come out in multiple sets this time around. It's going to take some time for players to adjust. It also means the Rebels might have to rely more on its secondary again. The good thing for Ole Miss is that just about everyone from the secondary is back, including standouts
Charles Sawyer
and
Wesley Pendleton
.
Sawyer might have been Ole Miss' best defensive player last year, while Pendleton has a chance to be a very solid corner in the SEC next fall. Also, keep an eye on
Aaron Garbutt
, who transferred from the JUCO ranks last year and was sixth on the team in tackles. Getting more out of them this spring will go a long way to helping this defense adjust.
At linebacker, the Rebels return all four starters, but adjusting to the new defensive formations could be more of a chore for them. But having
Mike Marry
back will be big for the Rebels this spring, considering
D.T. Shackelford
won't go through the spring as he recovers from another surgery on his knee. Marry filled in nicely for Shackelford last season, leading the Rebels in tackles as just a sophomore.
Marry will be accompanied by rising sophomores
Serderius Bryant
and
C.J. Johnson
. Bryant was the better of the two former freshmen last season and was fourth on the team in tackles. For Johnson, the spring will be crucial for his maturation. He started to come on strong toward the end of the season, but he still needs to make strides in his game before the end of the summer. Johnson could also line up at defense end, a position that must replace former star
Kentrell Lockett
.
The defense has more positives, but there are still questions surrounding where guys will lineup and how they'll take to all the changes. Plus, this is practically the same group that ranked last in total defense, rushing defense and scoring defense in the SEC last year.
On offense, finding a quarterback is priority No. 1, with improving an offensive line that took more than a few steps back in 2011 as a close second. Two starters are gone from the line and Freeze has said that the linemen he has weren't recruited for a "more power-type offense."
Freeze has a lot on his plate, but he knew that coming in. He understands that there were locker room issues in the past and the field issues are well documented. This won't be a quick fix by any means, but this spring will be really interesting for Freeze because even he'll have a lot of questions of his own to sort through when the Rebels start digging deep into spring practice.
November, 19, 2011
11/19/11
9:59
PM ET
OXFORD, Miss. -- LSU just keeps rolling along after a
52-3 win
over Ole Miss.


This one was never in question and things spiraled out of control for Ole Miss (2-9, 0-7) less than a minute in, when LSU cornerback Ron Brooks took
Zack Stoudt
's pass 46 yards for a touchdown.
Ole Miss has now lost 13 straight conference games dating back to last season. This was the worst losssince a 49-0 loss to Georgia in 1974.
It was total dominance by No. 1 LSU (11-0, 7-0), who never looked ready for a letdown. It would be have been easy for the Tigers to get caught looking ahead to what should be an exciting game with rival Arkansas next week, but the Tigers came out focused and never looked sloppy.
LSU played with the attitude you'd expect a team to have against highly-ranked opponent. After a poor start against Western Kentucky last week, LSU bounced back in stellar form.
If not for a nifty 47-yard run by Ole Miss quarterback
Barry Brunetti
late in the second quarter, the Rebels wouldn't have come close to sniffing the end zone.
LSU is undeniably the country's best team and now Arkansas has the pleasure of trying to stop this crazy train.
Should be fun.
November, 11, 2011
11/11/11
6:25
PM ET
Jordan Rodgers
wants to get one thing straight.
The most accomplished quarterback in the family might be his older brother, Aaron, who also happens to be one of the best quarterbacks in the NFL and the reigning Super Bowl MVP.
[+] Enlarge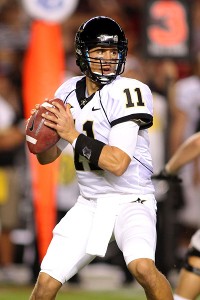 Jeremy Brevard/US PresswireQuarterback Jordan Rodgers and the 4-5 Commodores host the 4-5 Kentucky Wildcats on Saturday.
But when it comes to overall athleticism, Jordan says it's no contest.
"I will be steadfast in that I'm the best athlete in the family," trumpeted Jordan, who takes particular delight in making that proclamation. "Obviously, I'm trying to follow in his footsteps as a quarterback. But when we get on the basketball court and play a little one-on-one, it's a different story.
"I can say with confidence that I'm athletically dominant over him."
Something else Jordan can say with confidence is that he's seeing things on the football field faster and more instinctively than he ever has since stepping foot on Vanderbilt's campus last year.
And not coincidentally, the Commodores are putting up the kind of offensive numbers they haven't put up in a long time heading into Saturday's key matchup with Kentucky.
The winner keeps alive its hopes of qualifying for a bowl.
"It's just slowing down for me," said the younger Rodgers, who's set to make his fourth consecutive start. "I'm seeing defenses better. We're more in rhythm, and guys know what to expect from me.
"We're all learning how to play with confidence and use the abilities we know we have, and I think you're just going to see us keep getting better."
The Commodores are averaging 24.8 points, a touchdown more than a year ago. And even more noticeably, they're making the kind of explosive plays they haven't made in years.
Vanderbilt leads the SEC with 25 plays of 30 yards or more. The Commodores also lead the league with 13 plays of 40 yards or more.
Rodgers, whose ability to scramble and make plays with his legs has helped to open up more things for the Commodores, is tied for third in the SEC with 10 completions of at least 30 yards.
"I'm getting more comfortable staying with my reads and going through my full progressions," said Rodgers, who redshirted last season while recovering from shoulder surgery. "I'm learning to be more of a pocket passer, but still make plays outside the pocket. It's something I can go to when I need to."
Vanderbilt coach
James Franklin
was familiar with Rodgers because Franklin was on the Green Bay Packers' staff when they drafted Aaron Rodgers.
"I was impressed with his athleticism, but when I got here, he was a little bit limited early on because of the surgery," Franklin said. "This thing just kind of timed up good for him and good for our team as he got healthier and more comfortable with what we were doing offensively at the same time as our O-line started to come on as well as our receivers. Everything has kind of fallen into place from that perspective."
Indeed, junior running back
Zac Stacy
is making a run at a 1,000-yard season. He has 756 rushing yards and is averaging 6.9 yards per carry. And with Rodgers' emergence, sophomore receiver
Jordan Matthews
has really blossomed.
In the last two games, Matthews has 15 catches for 321 yards and two touchdowns.
"We feel as if we're on the cusp of being great and feel like we're the only ones stopping us the last couple of weeks," Rodgers said. "We're really close to putting together a full game and showing people the new Commodores and the new confidence that we have this year."
Aaron Rodgers was in Nashville to take in the Arkansas game two weeks ago, Jordan said, and has caught most of the other Vanderbilt games on television.
He'd been telling Jordan since last season to hang in there and that his opportunity was going to come.
"The important thing was for me to be ready," Jordan said. "Aaron was in that same position at Green Bay and Cal before that.
"You always have to prepare like you're the starter, and when your moment does come, you have to capitalize on it."
March, 25, 2010
3/25/10
5:10
PM ET
By
ESPN.com staff
| ESPN.com
The Vanderbilt starting quarterback job might be
Larry Smith
's to lose, but he's chosen to look at it a little differently.
It's his job to win … but he still has to win it.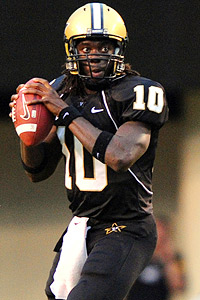 Don McPeak/US PresswireLarry Smith believes he's a better quarterback for having endured a 2-10 season.
"Competition makes everybody better," Smith said. "You have to go out there every day and compete. If you don't, you're not going to have a chance. You've got to get better every day."
Smith started every game last season as a sophomore until injuring his hamstring and missing the final three games.
It was a forgettable season all the way around for the Commodores on offense. That's what happens when you go 2-10 and finish 113
th
nationally in scoring offense.
Smith doesn't necessarily like to look back, but he's also quick to point out that he's a better quarterback for having gone through last season in the SEC.
"Reading defenses should be one of the most improved areas for me," Smith said. "Last year, I had started just one game heading into the season, and it showed. The main thing is experience and knowing how to react when something goes wrong."
Smith completed 46.7 percent of his passes last season for 1,126 yards four touchdowns and seven interceptions. The Commodores moved the ball well at times, but their issue was getting into the end zone.
In 36 red zone trips last season, they scored just 14 touchdowns. Go back and look at how that compares to the 2008 season when the Commodores won seven games. They had 35 red zone trips that season and scored 23 touchdowns.
Not surprisingly, the Commodores have gone heavy this spring on full-contact work in the red zone, and they've also emphasized third-down situations.
Smith shared the quarterback snaps with senior
Jared Funk
and redshirt freshman
Charlie Goro
during Tuesday's scrimmage. Junior college transfer Jordan Rodgers will likely be more of a factor as the spring progresses and he learns more of the playbook.
And while the Commodores certainly have to be better at quarterback next season if they're going to be more potent offensively, the guys around the quarterback also have to make more plays.
"We just have to go out there and catch the ball no matter who's throwing it to us," sophomore receiver
John Cole
said. "I think the experience factor will help us, having a year in this offense under our belts, but it still gets down to making enough plays to win and doing all the little things right.
"There's nothing we can do about last year. We'll move on and start over."
December, 22, 2009
12/22/09
1:53
PM ET
By
ESPN.com staff
| ESPN.com
Some SEC links to munch on:
SEC SCOREBOARD
Monday, 12/22
Saturday, 12/20
Tuesday, 12/23
Wednesday, 12/24
Friday, 12/26
Saturday, 12/27
Monday, 12/29
Tuesday, 12/30
Wednesday, 12/31
Thursday, 1/1
Friday, 1/2
Saturday, 1/3
Sunday, 1/4
Monday, 1/12
Tweets from https://twitter.com/ESPNCFB/lists/sec