September, 21, 2014
9/21/14
9:00
AM ET
Can you feel the drama building? We're just starting to get into the meat of the SEC schedule and already the league is spinning off its axis with excitement. Here are this week's best performances:

Blake Sims and Amari Cooper, Alabama:
Everyone suspected Cooper might be the nation's best receiver, but who saw this coming from Sims? The Crimson Tide
dismantled Florida 42-21
and Sims' 445 yards passing -- second best in the school's storied history -- was the biggest reason why. Equally unstoppable was Cooper, who caught 10 passes for 201 yards and three TDs. Much of Cooper's production came against the defense of UF cornerback
Vernon Hargreaves III
, thought to be one of the nation's finest.
Dak Prescott and Josh Robinson, Mississippi State:
Time after time this dynamic duo sliced through the heart of the LSU defense en route to the Bulldogs' first win in Baton Rouge in nearly 23 years. LSU's late rally made
the final score 34-29
, which diminished State's dominance for most of the game. Prescott passed for 268 yards and two TDs. He ran 22 times for 105 yards and another score in building MSU's 34-10 lead. Meanwhile, Robinson was a deadly efficient complement, running for a career-high 197 yards and a TD on 16 carries (12.3 yards per carry). The Bulldogs' offense was firing on all cylinders and racked up 570 yards with standouts all around. The empty seats in Death Valley were a testament to just how demoralizing Mississippi State's performance was for the No. 8 Tigers and their fans.
Auburn's run defense:
Holding a run-heavy team like Kansas State to 40 yards on the ground is exactly how you win huge nonconference road games. The Tigers did that in
Thursday's 20-14 win
in Manhattan, Kansas. The Wildcats came in averaging 236 yards a game on the ground, but Auburn defensive coordinator Ellis Johnson had his front seven ready. When called upon, safeties
Joshua Holsey
(11 tackles) and Rudy Ford (eight tackles) cleaned up the leftovers.
Arkansas' run game:
We might want to reserve a weekly spot for this unit, as it seems there is absolutely no slowing down
Alex Collins
,
Jonathan Williams
and their under-appreciated blockers. The Razorbacks were rolling once again in
their 52-14 rout
of Northern Illinois on Saturday. Collins, Williams and
Korliss Marshall
combined to rush for 188 yards on 36 carries. Right guard
Denver Kirkland
(6-foot-5, 330 pounds), left tackle
Dan Skipper
(6-10, 316) -- both sophomores -- and senior tight end
AJ Derby
(6-5, 255) had great success opening some gaping holes.
Sony Michel, Georgia:
We knew the heralded true freshman was good, but in garbage time against Troy he laid any doubt to rest. Michel needed just 10 carries to pile up 155 yards (15.5 yards per carry) and three touchdowns. Occasionally running out of the Wildcat, he's already proven to be more than a backup. The future is looking bright for a Bulldogs team that suffocated Troy in
a 66-0 romp
.
April, 25, 2014
4/25/14
11:00
AM ET
Bret Bielema had tried to convince
AJ Derby
to move ever since he was in grade school. Derby wanted to be a quarterback, which was fine, but Bielema saw another future for him, either at linebacker or tight end. He was going to be big and fast and strong, Bielema knew, and it felt like a waste to have him limiting those skills under center.
Patience,
Arkansas
' coach understood, would be the key. And nearly 20 years after first laying eyes on Derby the quarterback, he finally has Derby the tight end.
[+] Enlarge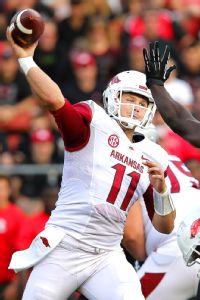 Rich Schultz /Getty ImagesAJ Derby was Arkansas' primary backup QB last season.
"AJ and I are very unique," Bielema told ESPN on Tuesday. "I've known him since he was under the age of 5. I played with his dad at the University of Iowa, so I've known him since he was a little guy and have watched him grow up. When he was a high school senior, we offered him a scholarship. I did tell him he could play quarterback, but I also told them he might either be a tight end or outside linebacker. So I've been trying to get him to do this for a little over 20 years.
"He didn't want to do it, and I appreciated his commitment to
I'm a quarterback, I'm a quarterback, I'm a quarterback
. But on the same account, with three weeks remaining in spring ball, I told him, 'AJ, just give me two weeks at the tight end position, and if I'm wrong you'll move back to quarterback and you won't miss a day, you won't miss your spot and we'll act like it never happened.
"He literally changed in the first practice. He made some catches where everybody was saying, 'Look at this!' It's blown me away."
It was a hard pill to swallow for Derby, who left Iowa after being asked by the staff to try linebacker. He instead transferred to a community college and then followed Bielema to Arkansas last season, where he was the primary backup at quarterback and started his first career game against Rutgers.
Only a few weeks ago he was competing with
Brandon Allen
for the starting job. But the 6-foot-5, 246-pound senior soon saw the writing on the wall. Allen quickly took control of the offense, showing better arm strength and poise than a season ago.
Rafe Peavey
, a highly recruited early enrollee freshman, wasn't going to be moved from quarterback, either.
It was only a matter of time before Bielema came around again asking about a position change. But this time it felt different.
"I was ready to help the team win and get on the field," Derby said. "I came in to a very good group of tight ends and I'm ready to compete with those guys.
"Coach left it up to me. It was my decision. But I wanted to help the team win as best I can, and I think being a leader is one of those things I can help with."
As it turns out, both Derby and Bielema's instincts were right. In full shoulder pads with his hand in the dirt, the lanky passer transformed from the first practice he trotted out to tight end. His knowledge as a quarterback has served him well, but so has his athleticism. At a scrimmage last weekend he made a one-handed touchdown reception and was immediately bombarded by his teammates in celebration.
"The adjustment has gone really well," Derby said. "Being a quarterback, I already knew what everyone is supposed to do. So the passing game has been easy. The big adjustment was the running game and getting my footwork down."
For now, Derby isn't putting too much pressure on himself. When asked if he expected to be a major part of the offense, he said he wasn't looking at it that way. In typical coachspeak, he said he wanted to take it one day at a time. And considering the sudden change of direction in his career, who can blame him?
But his actual coach wasn't so reserved. Bielema is already turning NFL scouts on to his new tight end.
"I truly think he's going to be rewarded," Bielema said of the position change, "and not just for the next several months. He's shown and showcased some things. I've already inquired to some of my guys in the profession that, 'Look, you need to talk to this guy about representing him at the next level.' The scouts as they come in are going to be impressed with what he's doing.
"He's a freak show. I've had this experience before," Bielema continued, citing
Travis Beckum
and
Dallas Clark
, both of whom he coached and had change positions to tight end, where they went on to have NFL careers. "I've seen this rodeo before. He's got the potential for some serious rewards down the line.
"He will put on 10 pounds, become faster, become stronger, become more athletic over the course of the next eight weeks. He'll be a 250-255 pound tight end in the fall that can catch two-hands, one-hand, behind the back, you name it. He's very, very gifted."
Paired with sophomores
Hunter Henry
and
Jeremy Sprinkle
, Derby could form a formidable triumvirate of tight ends at Arkansas.
The offense, which has been lacking in terms of playmakers in the passing game, could use all the help it can get.
"We really felt when we have one tight end, that's great," Bielema said. "But when you have two or three tight ends who can play on a championship level, we've got a good thing. Last year, all we had was Hunter. People could zone in on him, key in on him and take him out of the game. Now not only do you have the emergence of AJ and Hunter, but Jeremy Sprinkle has had a good spring.
"When you have one tight end, that's one thing. But when you have two that can vertically challenge a defense, you've got something special."
April, 11, 2014
4/11/14
9:00
AM ET
Brandon Allen
isn't shying away from the competition. Despite starting 11 games at quarterback for
Arkansas
last season, he knows nothing is guaranteed. There are others ready to take his spot at the drop of a hat:
AJ Derby
, who started one game and saw action in seven contests;
Rafe Peavey
, a four-star prospect who enrolled early so he could participate in spring practice; even Allen's younger brother,
Austin
, who redshirted last season.
When coach Bret Bielema
said prior to spring practice
that Allen would be with the first-team offense "in theory," he essentially threw down the gauntlet: "Who gives us the best chance to win next year's opener against Auburn will be at that position. If it's B.A. that's great. If it's not, hopefully that next person is ready."
[+] Enlarge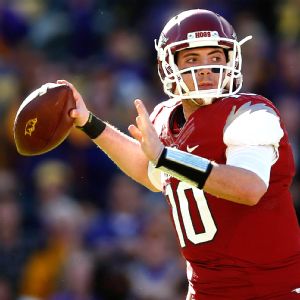 Chris Graythen/Getty ImagesBrandon Allen says he has a better grasp of Arkansas' scheme and how to be a leader.
Allen sounds ready to keep fighting for his job.
"My mindset is I'm the starter and I need to go out and prove to everyone that I'm still the starter," Allen told ESPN.com on Wednesday. "Obviously the competition fuels all of us, especially with me. It makes me want to perform better than everyone else."
Allen wasn't far and away better than everyone else last season. Though he started strong -- 388 yards, five touchdowns and one interception in Arkansas' first three games, all wins -- he didn't end that way, finishing with an underwhelming 13 touchdowns and 10 interceptions. His 49.6 completion percentage left something to be desired, falling well behind league leaders
Johnny Manziel
(69.9 percent),
Bo Wallace
(64.8 percent) and even Austin Carta-Samuels (68.7 percent).
The good news is Allen is only beginning to come into his own. Last spring he was a sophomore trying to learn an entirely new offense. This year he's much better prepared to execute what coaches ask of him.
"I have a lot more confidence," Allen said. "Playing that whole year, just getting the experience of SEC football and getting that under my belt, has been huge for me, especially coming into the spring and making myself more of a leader. I think that whole confidence level for me has been a huge boost."
Bielema has noticed. After Allen completed 17 of 20 passes for 247 yards, a touchdown and one interception in Arkansas' first scrimmage last Saturday, Bieliema told reporters he has seen a change in his quarterback ever since the start of spring practice.
"He looks different physically. He plays different. He has got so much composure," Bielema said. "What I love there -- not that I wanted to see it -- but when we had a couple of guys jump offsides he really let the huddle have an awareness of what we needed to do and what was expected. You like to have your quarterback step up in that fashion."
Allen said he's gotten bigger, faster and stronger in the weight room this offseason. And that has translated to more durability and better arm strength, he explained. But it becomes clear even in the briefest of conversations that he's more interested in control of a different kind. He wants to lead.
"As an offense, we need to be clicking on all cylinders," Allen said. "We can't be making little mistakes -- jumping offsides, doing little things that hurt ourselves. I think if we clean up those details and finish up the spring on track, we'll be a tough offense to stop. Really it's all about not hurting ourselves and doing the right things."
Allen knows that he had quite a bit to work on as well. He watched the film and saw where he could have done better.
"

I'm making myself more of a perfectionist, just not making many mistakes is what I'm trying to pride myself on.

"

-- Arkansas QB Brandon Allen
There were highs, he said, pointing to close games where it could have gone either way. There were lows, too, where he and the offense struggled to hold up their end of the bargain.
Proving he's ready to be the starter once again is about getting over the hump.
"I've taken things I've learned from last season and applying it, even to the new things we're installing," he said. "I'm making myself more of a perfectionist, just not making many mistakes is what I'm trying to pride myself on."
The starting job is ostensibly Allen's to lose. Just don't tell him that.
Derby didn't distinguish himself in limited time last season. There were plenty of opportunities for Bielema to pull the redshirt off of his two freshmen, but he didn't for a reason. And Peavey, talented though he may be, is still far too young to be expected to grasp an offense and run with it.
Allen thinks of himself as the starter, but at the same time he's not taking it for granted. As he said, "You can't make mistakes in a competition." When you do, someone is always there to take advantage.
"Everyone wants to be the top guy, but there can be only one," he said.
March, 14, 2014
3/14/14
1:00
PM ET
Schedule:
The Razorbacks open spring camp with their first practice on Sunday. They conclude with the Red-White Game on April 26 at Donald W. Reynolds Razorback Stadium in Fayetteville. The spring game is free to attend.

What's new:
Arkansas hired former Tampa Bay Buccaneers linebackers coach Robb Smith as defensive coordinator to replace Chris Ash, who left for Ohio State. Prior to working in the NFL, Smith was the defensive coordinator at Rutgers. The Razorbacks replaced defensive line coach Charlie Partridge with Rory Segrest, who coached the same position at Samford. They also hired Clay Jennings, who coached at TCU for the past six seasons, to replace defensive backs coach Taver Johnson, who went to Purdue. Linebackers coach Randy Shannon was promoted to senior associate head coach.
On the mend:
The Hogs are healthy heading into their first practice this weekend. Just one player is out for the spring, junior tight end
Mitchell Loewen
(torn ACL).
On the move:
Arkansas has a challenge in finding a replacement for center
Travis Swanson
, who started all 50 games of his career.
Luke Charpentier
was Swanson's top backup as a junior last season, but sophomore
Cordale Boyd
is moving from guard to compete for the job this spring. With the departure of senior fullback
Kiero Small
, the Razorbacks will move junior tailback
Kody Walker
and could also look to shift junior
Jonathan Williams
from tailback in order to stack the backfield. Williams has put on 15 pounds without sacrificing speed.
New faces:
There are eight early enrollees who will participate this spring: quarterback
Rafe Peavey
, wide receivers
Jared Cornelius
and
Cody Hollister
, cornerbacks
Chris Murphy
and
Cornelius Floyd
, linebacker
Khalia Hackett
, offensive lineman
Frank Ragnow
and defensive tackle
Armon Watts
.
Question marks:
There are a lot after the Razorbacks went 3-9 in Bret Bielema's first season. Arkansas was also winless in conference play for the first time since 1942. So, is the head coach's honeymoon over already? Clearly some of the luster has worn off of Bielema's star just a year after Arkansas was widely praised for its surprise hire. Another question concerns his
pace-of-play crusade
. Was the intent to deflect attention from his team's performance? Now that the 10-second rule has been shelved, the focus shifts back to making progress on the field. Bielema will be under more scrutiny from a restless fan base in Year 2.
The next question, therefore, is how much can the Hogs improve? They've got a lot of work to do on a defense that gave up an average of 6.1 yards per play last season and allowed more than 30 points a game for the second straight year. On offense, Arkansas averaged just over 20 points a game in 2013, their lowest production since 1997. There are pieces in place on both sides of the ball for Bielema to engineer a quick turnaround, however, and he'll spend this spring building his players' confidence.
[+] Enlarge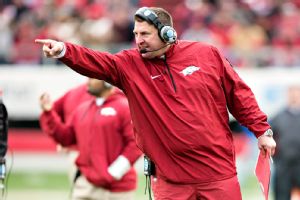 Wesley Hitt/Getty ImagesAlong with its improved communication, Bret Bielema said Arkansas can make strides by getting physical.
Key battle:
The competition at quarterback will be a classic case of an underperforming veteran trying to fend off some talented newcomers.
Brandon Allen
struggled as a sophomore in his first go-round as a full-time starter. He threw for just 1,552 yards with 13 touchdowns and 10 interceptions, but it was the 49.6 completion percentage that has Bielema looking for more. Last season, juco transfer
AJ Derby
got a start and some playing time but failed to impress. This spring Allen will be the favorite to keep his job, but he'll have to beat out his younger brother.
Austin Allen
was a four-star prospect who redshirted last season. One more challenger is Peavey, the true freshman. He's another four-star prospect whom ESPN ranked the No. 10 dual-threat QB prospect in the Class of 2014.
Breaking out:
Linebacker is the other big position battle this spring, as it was a sore spot in 2013. Five different players made starts at linebacker last season.
Braylon Mitchell
tied for second on the team with 77 tackles as a junior, and juco transfer
Martrell Spaight
will have to improve on his 22 tackles. But the player whom Bielema has the most praise for is Fayetteville's own
Brooks Ellis
, who started the last four games of 2013 at middle linebacker as a true freshman. Look for Ellis to pick up where he left off in November.
Don't forget about:
Arkansas' defensive line could be a strength and key the turnaround that is desperately needed on defense.
Trey Flowers
, who had a breakout season at defensive end in leading the team with 13.5 tackles for loss, resisted the lure of the NFL to return for his senior season. He's also put on 15 pounds and should play faster and more aggressively in Smith's defense. Defensive tackle
Darius Philon
was named to the SEC All-Freshman Team after recording 46 tackles and three sacks. He stepped into the starting lineup due to an injury and never looked back.
All eyes on:
Alex Collins
was the crown jewel of Bielema's first recruiting class and lived up to expectations with an SEC Freshman of the Year performance. He became the first true freshman in Arkansas history to eclipse 1,000 yards rushing. Making such a splash means that Collins is now the most visible Razorback and will be held to a higher standard. That's why Bielema suspended him from football activities and social media for a week in February. The head coach says Collins has responded well to the discipline, but Bielema is clearly keeping an eye on his star tailback.
September, 27, 2013
9/27/13
8:51
PM ET
Arkansas coach Bret Bielema tweeted Friday that the
Hogs would get starting quarterback Brandon Allen back
for Saturday's SEC opener against Texas A&M.
The question now: How effective can Allen be throwing the ball after missing last week with a bruised throwing shoulder, and is he ready to go the distance?
Backup
AJ Derby
, a junior college transfer, filled in for Allen last week in the 28-24 loss at Rutgers and threw the ball 26 times. He completed 14 of those passes for 137 yards and a touchdown and didn't throw an interception. The Razorbacks lost that game because they couldn't protect a 17-point lead, not because they couldn't throw the ball.
Against the Aggies and
Johnny Manziel
, the name of the game will be keeping the chains moving, making first downs and keeping Manziel off the field regardless of who's at quarterback. If the Hogs have to throw it 30 or 35 times, they're probably going to be in trouble.
At this point, they're simply not equipped to get into a scoring match with the Aggies, which is all the more reason that being able to line up and run the football on first and second down will be crucial.
It would certainly help if Allen's healthy enough to be a major factor throwing the ball. He's been limited ever since injuring his shoulder against Southern Miss in Week 3.
Either way, the Hogs have to get back to doing what they do best if they're going to win this game, and that's crank up that running game.
In the loss to Rutgers, the two running backs --
Alex Collins
and
Jonathan Williams
-- combined to average just 3.6 yards per carry. That's after averaging 6.7 yards per carry in the first three games.
September, 20, 2013
9/20/13
2:00
PM ET
Arkansas has turned things around in a hurry under the new leadership of coach Bret Bielema. Stability, Razorbacks center
Travis Swanson
explained, has been a huge benefit to a program that had very little of it a year ago.
Now, Arkansas is undefeated (3-0) heading into a pivotal matchup against Rutgers. Will Bielema's ground-and-pound style of offense hold up? Will
AJ Derby
be able to fill in under center with
Brandon Allen
questionable? And just how good does this team feel with momentum finally on its side?
Swanson, an All-SEC selection and one of Bielema's favorites on the team, was kind enough to answer those questions and more in an interview with ESPN.com this week.
How important was it to get off to a good start this season? What's the feeling like having this program undefeated heading into a big game against Rutgers?
Travis Swanson:
I think it's been a great start to us, obviously with the whole new coaching staff, a whole new kind of program that we have here at Arkansas. The whole team feels like it's just monumental for us to go undefeated, especially into this Rutgers game to have some good momentum to work with.
[+] Enlarge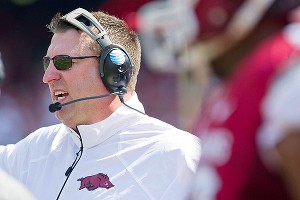 Beth Hall/USA TODAY SportsNew Arkansas coach Bret Bielema has brought stability to the 3-0 Razorbacks.
With Bielema coming in and the early success, can you quantify what the culture change has been like? It felt like it got really difficult toward the end of the year last season. Just how much have things changed?
TS:
A lot has been changed, obviously, with a whole new staff. Any time you have a coaching change, everything changes because each coach is different with their philosophy and everything. I think the biggest change from last year to this year is just that now we know who we have here and there are no questions about what's going to happen at the end of the season.
What have you seen on film on this Rutgers team you'll face Saturday?
TS:
The biggest thing you see on film when you look at them as a defense is they don't really pump out these big, hulking guys. They're just very athletic. They're very good at what they do. The thing that helps us is they run the same defense as Southern Miss did, which we played last week, so there's a lot of carryover. And things that we saw that we didn't do well against this style of defense that we could correct this week.
Are you at a point now where you feel like you have to manage expectations, though? Just how much progress does this team have to make before it can contend in SEC play?
TS:
You've got to make progress this week. If you plateau during the beginning of the season, you're going to have a pretty rough year. But I feel like week in and week out this team has come together and just gotten better and better, especially this week.
Tell me a little about the play of your two young tailbacks, Jonathan Williams and Alex Collins. Has their early success surprised you?
TS:
I wouldn't say surprised. We're obviously a different offense than we were last year, and we kind of knew the identity we wanted for ourselves early in the season and we've had success doing that.
Tell me about their styles: What makes them special? What makes them different?
TS:
Really all three of them, including
Kiero Small
, complements each other so well. They each bring something different to the table that just brings a lot of versatility to the offense. Jonathan is a little bit bigger than a back and a lot more downhill, and Alex is a little bit shiftier kind of guy we like to get out on the edge and whatnot. And when you throw Kiero in that equation lead blocking for them, it's a deadly combo.
I was going to ask about Kiero, but you beat me to it. How important has he been as that lead blocker and have you felt good about what the offensive line has been able to do opening holes in that same respect?
TS:
Kiero is such a huge asset to this offense. He can really do anything that you want to. All you have to do is ask him to do it and he'll line up and execute for you. He's just one of those guys. And as far as offensive line goes, we take, obviously, huge pride in the run game and keeping the quarterback upright and whatnot. So the early success the running backs have had has made us happy. We just want to continue that from here on out.
As an offensive lineman, you've got to love the ground-and-pound offense coach Bret Bielema has brought in, right?
TS:
The best part about it is that it keeps the defenses on their heels because when you can run the ball well it opens things up with play-action pass and whatnot.
Losing Brandon Allen last week was tough, but AJ Derby filled in admirably and helped secure the win over Southern Miss. What have you seen from him this week to feel good going into Saturday's game?
TS:
I feel great about all the quarterbacks that we have. No matter what coach decides and who he decides to put in there, I know that our entire team has the utmost faith with who is in there. The quarterbacks came to work this week because they really don't know the situation heading into the game, but we have all the confidence in who they put out there.
September, 18, 2013
9/18/13
12:00
PM ET
It's Hump Day, and, no, I'm not going to shout it like an overly eager camel in a crowded office. Instead, I'll just note that we're halfway to another exciting week of college football and only a day away from No. 3 Clemson going up against North Carolina State.