May, 12, 2014
May 12
12:40
PM ET
KNOXVILLE, Tenn. --
Dwayne Goodrich
was determined for his story to have a different ending.
He'd give anything if he could go back and rewrite the part of it that will haunt him -- not to mention several other grieving families -- for the rest of their lives, but that's not possible. The only thing he could do anything about was the way his story ended.
So last Saturday morning, with most of his family in town, Goodrich graduated from the University of Tennessee.
It was a momentous occasion for him, coming some 15 years after he made a play that will live in Tennessee football lore forever and coming up on three years after he was released from prison.
[+] Enlarge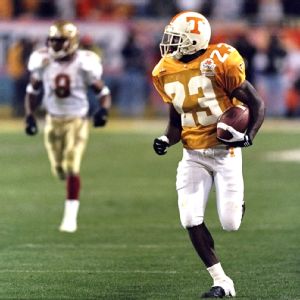 Tom Hauck/Getty ImagesDwayne Goodrich's interception return for a TD in the Fiesta Bowl helped the Vols win a national title, but 15 years later, he made an bigger play by getting his degree. A convicted felon, he now hopes to help others by sharing his story.
As a convicted felon, Goodrich was wrought with emotion.
"I got teary-eyed, for several different reasons," said Goodrich, now 35. "But most of all because I can't bring those young men back."
The young men he speaks of are Joseph Wood and Demont Matthews, two of three men who were trying to rescue an unconscious man in a burning car on a Dallas interstate in 2003 when they were struck by Goodrich's BMW and killed. A third man, Shuki Josef, had his left leg shattered.
Goodrich, then a third-year cornerback with the
Dallas Cowboys
, had been out drinking that night and going to clubs. He was convicted of criminally negligent homicide with a deadly weapon and failure to stop and render aid. He served six years in the Wallace Unit of the Texas Correctional System in Colorado City, Texas.
Not a day goes by that Goodrich doesn't think about all three men, although the terms of his parole stipulate that he's not allowed to contact the victims' families.
"We don't know why things happen and why I got a chance to go on with my life and Joseph Wood and Demont Matthews did not," Goodrich said. "But I do know that I want to be the best man I can be going forward.
"The careless decision I made to take those young men's lives ... I can't take that back. They were out there trying to help others. I can try and do the same thing with the rest of my life, to make a positive difference. I don't want to be known only as the Cowboys player that killed somebody. I want my story to have a different ending, and one of the first steps toward making a difference in people's lives was going back and getting my degree."
Goodrich was one of the heroes of Tennessee's 1998 national championship team. He intercepted a pass intended for Florida State's
Peter Warrick
and returned it 54 yards for a touchdown in the Fiesta Bowl to help the Vols win their first national title in nearly 50 years.
But when he returned to campus in January 2013, he wasn't sure how he would be received. He was readmitted as part of RAC (Renewing Academic Commitment), a program that allows Tennessee athletes to return to school and pays for their tuition, fees and books.
"A lot of people would have just given up and let what happened on that terrible night define them, but Dwayne wasn't going to let that happen," said
Al Wilson
, an All-American linebacker for the Vols and teammate of Goodrich's on that 1998 national championship team.
"I can see the growth," Wilson adds. "The Dwayne I see now is not the same Dwayne at the time of the accident. A lot of people talk about changing their life after they have things like this happen. Dwayne isn't just talking about it. He's going out and doing it, trying to make a difference in other people's lives. I'm proud of him, proud to know him and proud to call him a friend."
Goodrich earned his degree in sociology with a concentration in criminal justice. He had 54 hours to complete and went to school full time for the last year and a half. He moved in with former Tennessee teammate Fred White, who also returned to school and earned his degree.
Already active on the speaking circuit, Goodrich talks to teams and groups about choices and the consequences of those choices. Among the college teams he's spoken to are Tennessee, LSU, Florida State and Virginia Tech, and he's also spoken to the Cowboys and Lions in the NFL.
"I'd like to make that a career because I feel like I can touch people," Goodrich said. "My story is real and uncut, and I don't sugarcoat anything. I'm not going to preach to you, but I'm going to share my experience and hope it can help somebody else."
Goodrich has been moved by all the people from his past who didn't treat him like a pariah. In particular, he mentioned former Tennessee football administrators Brad Pendergrass and David Blackburn and current associate athletic director Carmen Tegano. Goodrich said Pendergrass wrote him twice monthly while he was in prison.
In addition, Goodrich said former Tennessee coach Phillip Fulmer has stayed in contact along with a long list of teammates. Donna Thomas, a senior associate athletic director at Tennessee, was also instrumental in making sure Goodrich got a chance to return to school when some at the university were leery about allowing a convicted felon to take part in the RAC program.
"Some people crawl into a hole and never want to see anybody they were associated with before when they go through what Dwayne has," Fulmer said. "Others drown themselves with alcohol and drugs, but Dwayne chose the correct path. Good for him."
Through it all, Goodrich had some extra motivation: his two kids, 11-year-old Jillian and 8-year-old Dylan.
"I realize that they're going to have people say to them, 'Your dad is the one who killed those two men,' and that's something I have to live with," Goodrich said. "But I also want them to be able to say, 'Yes, he is, but guess what my dad has done since.'"
April, 30, 2014
Apr 30
3:45
PM ET
Herschel Walker said recently that even at 50 he could still play in the NFL.
I'm not about to doubt him. Walker remains the greatest college football player I've ever seen play, and more than 30 years after he played his last game at Georgia, I'd still pay a lot of money to watch him play again.
[+] Enlarge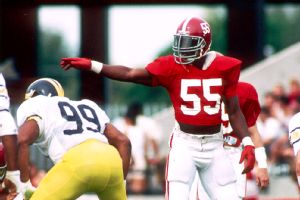 USA TODAY SportsDerrick Thomas set an NCAA single-season record for sacks while at Alabama.
In the immortal words of the late Larry Munson, "Oh, you Herschel Walker!"
But his comments got me to thinking: Other than Walker, who are those SEC players no longer playing that I'd most like to see play again?
Below are the five I came up with, and for clarification, they all played during my lifetime and I had a chance to see them play. I go back to the mid-to-late 1970s.
Here goes:
Eric Moulds, WR, Mississippi State:
I can still see No. 1 making a catch, shaking off a defender and exploding up the field with that imposing 6-2, 225-pound frame. Even though he didn't play in a pass-first offense, Moulds was tremendously productive and a nightmare matchup for opposing cornerbacks. In 1994, he averaged 21.7 yards per catch, and seven of his 39 catches that season went for touchdowns. He also led the country that season with a 32.8-yard kickoff return average. You just don't see receivers every day with his size, strength, speed and hands -- nor his sense of humor. He once had a pizza delivered to a Mississippi State practice.
David Palmer, WR/QB/RS, Alabama:
He was pure excitement no matter where he lined up and the ultimate ankle-breaker in the open field. A receiver by trade, "Deuce" was running the spread from the quarterback position before there really was a spread, and he was also a dynamic punt returner. He averaged 16.1 yards on punt returns in 1991 and 15.8 yards per catch for his career (1991-93). In 32 career games, he averaged 122.4 all-purpose yards, which is third all-time in Alabama history. He was a big part of Alabama's 1992 national championship team, finished third in the 1993 Heisman Trophy balloting and was easily one of the most entertaining players to play in the SEC in my lifetime.
[+] Enlarge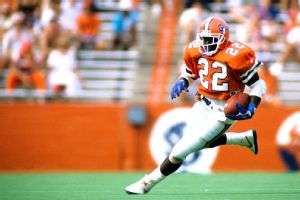 USA TODAY SportsEmmitt Smith twice led the SEC in rushing.
Emmitt Smith, RB, Florida:
Most people in thinking back to Smith's career remember his days with the Dallas Cowboys and all those Super Bowl championship teams he played on in Big D. But before he rose to fame in the NFL, Smith was a tackle-breaking machine with the Gators. Nobody ever seemed to be able to get a good shot in on him. Tackling the guy was like trying to tackle a beer keg, and he had deceptive acceleration. The coaches voted him SEC Player of the Year in 1989, and he set 58 Florida records. He led the SEC in rushing in 1987 and 1989, and in my mind, remains the standard in this league when it comes to getting the tough yards.
Derrick Thomas, OLB, Alabama:
Sadly, we lost Thomas in 2000 following a car accident. Those who saw him play with the Kansas City Chiefs know what a disruptive force he was coming off the edge. Seven sacks in one game speaks for itself. But before he carved out a Pro Football Hall of Fame career, Thomas was terrorizing SEC quarterbacks. He set an NCAA record in 1988 with 27 sacks and finished his career with 52 sacks. His pass-rushing ferocity was something to behold. Coaches throw around the term "unblockable" pretty freely these days, but Thomas was the essence of the term and one of the true measuring sticks in this league when it comes to rushing the passer.
Al Wilson, LB, Tennessee:
The heart and soul of Tennessee's 1998 national championship team, Wilson played every game as if it were his last. He almost single-handedly willed the Vols to their dramatic 20-17 win over Florida in 1998 with 12 tackles and a school-record three forced fumbles. It's no coincidence that in Wilson's three seasons as a starter at Tennessee that the Vols were 34-4 with a pair of SEC championships and a national championship. Wilson played the game with a fire that filtered down to his teammates and was at his best when it meant the most. He finished his career second all-time on Tennessee's tackles-for-loss list and remains one of the most revered players in school history.
September, 20, 2008
9/20/08
12:20
PM ET
By
ESPN.com staff
| ESPN.com
Posted by ESPN.com's Chris Low
KNOXVILLE, Tenn. -- The best thing for Tennessee would be for Al Wilson to suit up and take the field later Saturday.
Of course, that's not going to happen. But the Vols might have received the next best thing Friday afternoon when Wilson returned to campus and delivered one of his patented fire-and-brimstone speeches to the Tennessee players.
The timing probably couldn't have been any better, either. Florida linebacker Brandon Spikes said earlier this week that the Tennessee players quit last season in the Gators' 59-20 drubbing of the Vols at the Swamp.
A few of the people who were in the locker room Friday said the hair on their arm was standing up by the time Wilson finished. The former Tennessee All-America linebacker was the heart and soul of the Vols' 1998 national championship team and just recently retired from the NFL after going to the Pro Bowl five times with the Denver Broncos.
He forced a school-record three fumbles against Florida in the 1998 game, a 20-17 win in overtime for the Vols.
As great a player as Wilson was at Tennessee, he was an even better leader and willed the Vols to win several times during that 13-0 season in 1998. His speeches -- dripping with emotion -- have become legendary.
His teammates still marvel at the one he gave at halftime of the 1997 SEC championship game. The Vols hadn't played very well in the first half against Auburn and several of the players, including Peyton Manning, appeared tight. Wilson went ballistic at the half, wrecked the locker room and got up in teammates' faces and challenged their manhood.
To this day, players on that team say they've never played harder than they did in the second half of that game. The Vols went on to win 30-29, their first SEC title during the championship game era of the conference.
Wilson, who's now living in Atlanta, will be honored at halftime Saturday as the Vols' legend.