October, 12, 2014
Oct 12
8:48
AM ET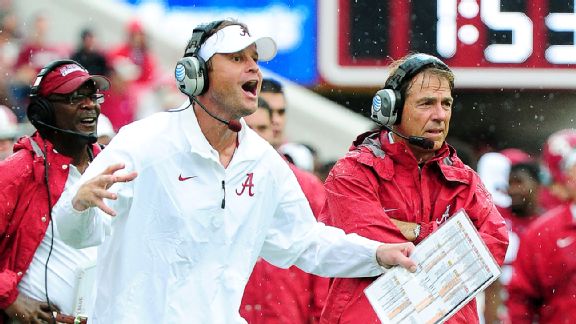 Scott Cunningham/Getty ImagesThe once-mighty Alabama offense has taken a step backward during the 2014 campaign.
Alabama isn't a top-10 team. It isn't a playoff contender. Let's face it: Alabama just isn't Alabama in 2014.
We pondered this through the first month of the season. We suspected it after Alabama's 23-17 loss at Ole Miss. Now we know it after a sluggish showing at Arkansas in which the Crimson Tide eked out a 14-13 victory Saturday.
The defense has holes in the secondary and is lacking a dominant pass-rusher. The offense has been turnover-prone and has lost its ability to go vertical. Things have been so bad on special teams that coordinator Bobby Williams might soon be a candidate for reassignment.
With each elapsing week, we learn -- and really wrap our minds around the fact -- that the SEC race goes through Mississippi.
Not
Alabama.
Anticipation of the Egg Bowl (Mississippi vs. Mississippi State) has passed, and is lapping, the Iron Bowl (Alabama vs. Auburn).
That's where the Week 7 Takeaways begin. Later: the wait for the rankings that matter,
Todd Gurley
's admirable understudy, our weekly look at breakout players and thoughts on Michigan and Florida.
Next week now
So how did this happen? How did Alabama slip?
It starts with the offense.
August, 23, 2013
8/23/13
12:00
PM ET
Just think, the next time you click on the SEC lunchtime links post it will be Monday of the first game week of the college football season. Ready or not, it's that time again.
August, 21, 2013
8/21/13
12:00
PM ET
Starters are being named, injuries are being assessed and coaches are seeking consistency. Yup, the season is drawing closer. Take a look around the SEC and see.
August, 20, 2013
8/20/13
2:45
PM ET
In the SEC, it's all about recruiting and player development. It's the big reason why the league has won seven straight BCS championships and produced more NFL players than any other conference. The two go hand-in-hand.
The Senior Bowl, which
released its 2014 Watch List
on Tuesday, further illustrated that fact, selecting nearly 20 percent (72) of its 400 candidates from the SEC. The ACC twas nearly lapped with 48 selections, followed by the Big 10 (46) and the Pac-12 (38).
And the team with the most players should come as no surprise as defending-champion Alabama had 10 make the list, including quarterback AJ McCarron and All-American linebacker C.J. Mosley. Florida, Mississippi State and Missouri tied for the second-most players taken from the SEC with six apiece.
Alabama:
WR Kenny Bell, CB Deion Belue, CB John Fulton, P Cody Mandell, QB AJ McCarron, LB C.J. Mosley, WR Kevin Norwood, RG Anthony Steen, S Nick Perry.
Arkansas:
WR Jevontee Herndon, DT Brian Jones, DE Chris Smith, C Travis Swanson, DT Robert Thomas.
Auburn:
P Steven Clark, DC Chris Davis, DE Nosa Eguae, DE Dee Ford, FB Jay Prosch, DT Jeffrey Whitaker
Florida:
WR Andre Debose, DE Dominique Easley, OG Jon Halapio, C Jonatthan Harrison, WR Soloman Patton, DC Jaylen Watkins.
Georgia:
OG Chris Burnett, OG Kernarious Gates, TE Arthur Lynch, QB Aaron Murray, OB Garrison Smith.
Kentucky:
IB Avery Williamson
LSU:
IB Lamin Barrow, RB Alfred Blue, FB JC Copeland, FS Craig Loston, QB Zach Mettenberger
Mississippi State:
DE Denico Autry, OG Gabe Jackson, RB LeDarious Perkins, QB Tyler Russell, OB Deontae Skinner, FS Nickoe Whitley
Missouri:
OT Justin Britt, QB James Franklin, DC EJ Gaines, WR Marcus Lucas, WR L'Damian Washington, IB Andrew Wilson
Ole Miss:
PT Tyler Campbell, IB Mike Marry, DC Charles Sawyer, RB Jeff Scott, IB DT Shackleford
South Carolina:
DC Jimmy Legree, QB Connor Shaw, DE Chaz Sutton
Tennessee:
OT Ju'Wuan James, DT Daniel McCuller, RB Rajon Neal, DE Jacques Smith, C James Stone
Texas A&M:
LB Steven Jenkins, RB Ben Malena, OT Jake Matthews
Vanderbilt:
IB Chase Garnham, DC Andre Hal, OT Wesley Johnson, FS Kenny Ladler, WR Jordan Matthews
December, 1, 2012
12/01/12
11:20
PM ET
By
ESPN Stats & Information
| ESPN.com
John David Mercer/USA TODAY SportsEddie Lacy ran for 181 yards for Alabama.
Alabama won its first SEC championship since 2009, handing Georgia an SEC championship game loss for the second straight season.
The Tide got it done on the ground. They ran for 350 rushing yards, the most in SEC championship game history.
Eddie Lacy
and
T.J. Yeldon
became the first teammates to each run for 100 yards in SEC championship game history. Lacy's 181 rushing yards are the third-most in the history of the SEC title game.
The Tide were committed to the run, as they ran the ball 51 times, two shy of the SEC championship game record of 53.
Two tight ends, too much
Alabama ran 36 times for a season-high 298 yards with two or more tight ends in the formation. The Tide ran out of this personnel package on 26 of their 34 second-half plays, gaining 199 yards and two touchdowns. Alabama averaged a season-high 5.5 yards before contact out of this formation.
AJ McCarron
completed 8 of 9 passes for 114 yards and a touchdown with two or more tight ends in the formation.
Getting it done inside the tackles
Alabama outrushed Georgia 304-72 inside the tackles. The Tide averaged 8.0 yards per carry on such runs, including a season-high 13 that gained 10 yards or more. Lacy (172) and Yeldon (125) led the way for Alabama, with both running backs gaining over 100 yards inside the tackles for the second time this season. They also did it against Missouri.
Strong run game leads to play action
McCarron completed 5 of 7 passes off play action for 116 yards and a touchdown. McCarron has 11 touchdown passes off a run fake this season, six more than he had all of last season. Eight of the 11 touchdowns have been on passes thrown 20 yards or longer, including Cooper's 45-yard touchdown against Georgia.
Georgia's defense allowed a season-high 512 total yards, just the second time the Bulldogs allowed 500 yards in the past seven seasons. For the first time since at least 2000, they've allowed 300 rushing yards in three straight games.
Alabama will most assuredly face Notre Dame in the BCS National Championship Game on January 7, as the SEC goes for its seventh straight BCS National Championship.
October, 31, 2012
10/31/12
3:00
PM ET
TUSCALOOSA, Ala. -- Kirby Smart came in with scruff on his face that looked less like a 5 o'clock shadow and more like a day-after cover. In fact, it was only midday on the University of Alabama campus and the Crimson Tide's defensive coordinator was in a hurry.
It's LSU week in the football offices and Smart has his work cut out for him. His young defense has been the best in the country this season, coming in first in all four major defensive categories, but on Saturday it will face a top-5 team that knows its strength: power football.
"They really run the ball well," Smart told ESPN's Samantha Steele. "You have to stop them."
Even when they do get bogged down, the Tigers don't give up.
"They're stubborn with the run and that's toughest to defend," Smart continued.
Alabama has the bodies to match up with LSU up front. Smart said that despite losing three-quarters of his starters from a year ago, he feels UA has more depth on the line, and possibly less in the secondary. When you're going up against a team with a sometimes shaky starter in
Zach Mettenberger
and a consistently bruising rushing attack, that's a good thing. Not that Smart is sleeping on the passing game.
"Zach throws a good deep ball," Smart explained. The lanky quarterback who transferred to LSU from Georgia has thrown for 1,419 yards, seven touchdowns and four interceptions this season.
Starting cornerbacks
Dee Milliner
and
Deion Belue
will be tasked with defending LSU's weapons on the outside. Milliner leads the country in passes defended, a stat that combines pass breakups with interceptions. Belue hasn't been much easier to throw on either. The junior college transfer stepped in as the starter opposite Milliner right away.
LSU coach Les Miles told ESPN on Tuesday that his team will have to throw the ball against Alabama, something the secondary is prepared for.
"We know they are going to run the ball and take shots down the field," UA safety
Robert Lester
said. The senior from southern Alabama has gone back-to-back weeks with an interception, his last coming in the end zone against then-undefeated Mississippi State. "As long as we're prepared for it and we know at least something that is coming, I think we'll be good."
Lester is one of the few returning starters from a year ago. Smart and head coach Nick Saban had to rebuild Alabama's defense this offseason, incorporating first-time starters such as Milliner and Belue, as well as sophomores such as
Trey DePriest
and
Vinnie Sunseri
who starred on special teams last season.
Smart said he's seen a more hungry, more coachable group of players this season. The latter might contribute to the scruffy beard.
"There's a lot of work, a lot of effort," Smart explained.
In Baton Rouge, the Crimson Tide will need all the effort they can muster. Only one team will leave Death Valley on the fast track to the SEC Championship Game, and the defense is likely to be the difference in who comes out on top.
October, 31, 2012
10/31/12
2:21
PM ET
TUSCALOOSA, Ala. -- At the University of Alabama, Goliath feels more like David. The team with the undisputed No. 1 defense in the country has a pair of stars playing with a chip on their shoulders.
"All we heard all summer is we wouldn't be good enough," UA linebacker
Nico Johnson
told ESPN's Samantha Steele.
Johnson said he didn't feel like the defense got the respect they deserved after losing seven starters to the NFL over the offseason. Those who returned came back during spring and fall practice ready to work hard to prove the doubters wrong, incorporating rookies like
Deion Belue
at cornerback,
Xzavier Dickson
at Jack linebacker and
Ha'Sean Clinton-Dix
at safety.
The transition, by all accounts, has been seamless. UA is No. 1 in the country in all four major defensive categories, giving up less than 9 points per game. In fact, the defense has actually gotten better at creating more big plays, coming in this week on pace to surpass last year's number of interceptions, fumble recoveries and sacks.
But there's a standard Alabama's defense is living up to, said fellow linebacker
C.J. Mosley
. The standard isn't about statistics or standings. It's about blocking out the hype and getting better every week. With LSU on tap Saturday, the challenge is bigger than ever. The Tigers have a physical running game unlike anything the Tide has seen this season.
"We know what kind of game it's going to be," Mosley told Steele.
Johnson said the defense is preparing as it does for every game: "Like it's our last."
Two years ago, LSU beat Alabama with a late touchdown in Baton Rouge. That season, Alabama fell to South Carolina and Auburn in dramatic fashion as well. Johnson said he felt like the defense let them down then and he's not ready for a repeat this season.
"We feel like this year we can't let that happen," Johnson said.
September, 10, 2012
9/10/12
4:35
PM ET
TUSCALOOSA, Ala. --
Jalston Fowler
,
who will likely miss the rest of the season recovering from knee surgery
, wasn't the leading rusher, the leading blocker or the leading receiver for the No. 1-ranked Crimson Tide. His name didn't appear first on any depth chart. In fact, he shared the distinction of being the No. 2 tailback with true freshman
T.J. Yeldon
.
But what Fowler lacked for in distinction on paper he made up for in usefulness on the field. His unique skill set -- a power runner with light feet and soft hands -- was put to use by the Alabama coaching staff. He was second on the team in yards rushing, but he was also a reason why the Alabama rushing game has been so effective this season in his role as a lead blocker at H-back.
[+] Enlarge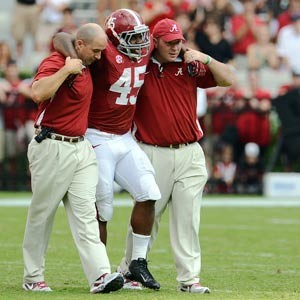 John David Mercer/US PresswireTide running back Jalston Fowler gets helped off the field during the fourth quarter against W. Kentucky.
Alabama coach Nick Saban said replacing Fowler's production will be a team effort. His loss at tailback hurts when considering starter
Eddie Lacy
's health concerns. He missed all of spring practice recovering from surgery to fix his battle with turf toe, only to sprain his ankle late in fall camp. He's been limited thus far, carrying the ball less than 10 times in each of the first two games.
The good news is Yeldon has emerged so quickly. The rookie was the first freshman in school history to rush for 100 yards in his debut. He followed up that performance by leading the team in receptions against Western Kentucky on Saturday. He and fellow freshmen
Dee Hart
and
Kenyan Drake
will take on more responsibility in Fowler's absence.
"I think we have what we have," Saban said. "We have backups at every one of the positions and roles that he filled. There may not be one particular guy. I think on special teams, there's a different guy on each special team that would take his place now. At running back, Dee Hart, Kenyan Drake will have a little more opportunity. Kelly [Johnson] was his backup at fullback, which is where he plays anyway. So we are going to miss him. It's going to take a number of people to replace him in various roles that he played on our team."
Junior receiver
Kevin Norwood
, who caught two touchdowns against Western Kentucky, said there's not much the team can do now other than move on.
"We're all going to pray for Jalston that hopefully he'll get back our there soon," Norwood said. "But the only thing we really can do is move on and make sure everybody is focused and preparing right for this team."
Guard
Chance Warmack
said he hasn't spoken to Fowler since the injury and hopes his recovery will happen swiftly. In the meantime, he said Alabama's lost a weapon on offense.
"Phenomenal player," Warmack explained. "Brought a lot to the offense. I don't want to count him out just yet. I don't know the specifics about how the injury is. Great guy, brought a lot to the offense. Very powerful back."
Fowler was one of three tailbacks in the SEC to average better than 6.9 yards per carry in 2011-12. He ran for 395 yards and four touchdowns on 56 carries.
Linebacker
Nico Johnson
went up against Fowler every day in practice. The 6-foot-1, 242-pound wrecking ball at tailback was routinely considered the most difficult man to bring down with the ball in his hands.
"He's more like a back like Trent (Richardson)," Johnson said. "He can run, catch out of the backfield, and he's tough to tackle. So, it's going to be real tough, but we've got enough guys and depth for somebody to step in and fill his role."
April, 16, 2012
4/16/12
11:11
AM ET
By
Bryan Mullen
| ESPN.com
TideNation has more on Alabama football.
Alex Scarborough writes
: For those who have seen freshman running back
T.J. Yeldon
up close this spring, his remarkable performance during Alabama's A-Day game came as no surprise.
Scarborough writes
: TideNation's Alex Scarborough was invited to be a coach during Saturday's A-Day game. He didn't call any plays, but was impressed with T.J. Yeldon's composure and Kirby Smart's endless energy.
Greg Ostendorf writes

: 2013 LB
Walker Jones
, brother of Alabama's
Barrett Jones
and
Harrison Jones
, attended A-Day and is considering playing for the Tide. But he also visited Tennessee, Mississippi State and Vanderbilt in the last week.
November, 3, 2011
11/03/11
10:48
AM ET
The price to see
No. 1 LSU vs. No. 2 Alabama
in person is growing alongside the hype for this weekend's matchup.
The average ticket price of $402 prior to the season is starting to look like a bargain, as fans are now looking at an average of $508 -- a 28% increase.
The cost is even more impressive when compared with ticket prices to the SEC Championship Game, annually college football's most financially successful conference championship game. A ticket to last year's game between Auburn and South Carolina went for an average of $460 on StubHub. Games in 2009 and 2008, which pitted Alabama against Florida, went for an average price of $573 and $488.
Glenn Lehrman of StubHub said this week's matchup has become the highest-demand ticket his company has seen for an Alabama home game. It's on pace to be the highest-selling college football game of the season and is only trailing the LSU-Oregon season opener. The highest-priced ticket Thursday morning was selling for about $5,000.
The hotel industry in Tuscaloosa is benefitting as well, although surprisingly there were still rooms available as of last week. A search last Thursday on Hotels.com indicated 22 hotels in Tuscaloosa ranging from $40 to $200 for the night of the game, and a search on Travelocity.com showed 20 hotels ranging from $40 to $215. Didn't buy then? You're out of luck -- the closest you'll get now is Birmingham, about 55 miles away.
Media members aren't faring much better in terms of trying to
cover the game
. Alabama expects approximately 600 credentialed media members. For an average game, roughly 350 credentials are granted.
SEC SCOREBOARD
Saturday, 12/20
Monday, 12/22
Tuesday, 12/23
Wednesday, 12/24
Friday, 12/26
Saturday, 12/27
Monday, 12/29
Tuesday, 12/30
Wednesday, 12/31
Thursday, 1/1
Friday, 1/2
Saturday, 1/3
Sunday, 1/4
Monday, 1/12
Tweets from https://twitter.com/ESPNCFB/lists/sec