December, 3, 2014
12/03/14
12:00
PM ET
Missouri didn't get to the SEC championship game for a second consecutive season by accident.
Contrary to how some might feel about the Tigers' deservedness, they simply did what they had to do – win the SEC East – and earned the right to square off against No. 1 Alabama on Saturday at the Georgia Dome.
It's also becoming a habit that the Tigers are here, again, in a conference championship game. This season marked the fifth time Missouri has won at least a share of a division title in the last eight seasons and it will be Missouri's fourth conference championship game appearance since 2007. Three of those division titles and two of the conference title game appearances occurred in the Big 12; the last two of each have been in the SEC.
Only two Power 5 conference teams can match Missouri's five division titles since 2007: Alabama and Florida State. The kicker is that they're still seeking their first conference championship since 1969.
[+] Enlarge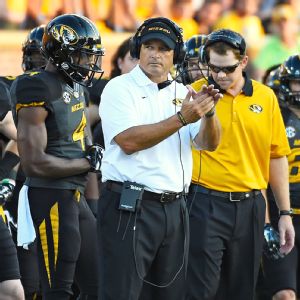 Jasen Vinlove/USA TODAY SportsContinuity has Gary Pinkel and Missouri in yet another conference championship game. Now the challenge is to win one.
"We haven't won a championship in the Big 12 or the SEC," Missouri coach Gary Pinkel said. "That's my responsibility. Hopefully we can play well and have an opportunity to do that."
How have the Tigers sustained success? There are several factors, but coaching stability means a lot to Missouri's ability to win divisions and punch tickets to conference title games.
Of Pinkel's nine full-time assistants, five have remained at Mizzou with Pinkel since he arrived in 2001: defensive coordinator Dave Steckel, cornerbacks coach Cornell Ford, quarterbacks coach Andy Hill, running backs coach Brian Jones and defensive line coach Craig Kuligowski. Ford, Jones and Kuligowski were also with Pinkel at Toledo and Hill was at Mizzou before Pinkel arrived and is in his 19th season in Columbia.
Only one of the other four assistants – offensive line coach A.J. Ricker – is in his first season with the Tigers. Offensive coordinator Josh Henson is in his sixth season, safeties coach Alex Grinch is in his third and receivers coach Pat Washington is in his second year at Missouri.
"I think it's been really important," Pinkel said of the staff stability. "I've had five coaches leave, one of which retired, in the years that I've been here. That's very, very unusual. I would say it's one of the least numbers in the country.
"Certainly the consistency of staff, the consistency of attention to detail, how we do things in our program -- we have certain ways we do absolutely everything. Having that continuity also in recruiting has been really important for us."
It also helps when the consistency starts at the top. Since 1991, Pinkel has coached at only two places: Toledo and Missouri. In an era when it's common to see coaches jump from job to job, climbing the ladder (or in some cases, getting fired for not living up to expectations), it's noteworthy to see a coach stay in one place as long as Pinkel stayed at Toledo and now, Missouri, where he is finishing his 14th season.
He has the sixth-most wins of any active FBS head coach with a 185-102-3 record. At Missouri, Pinkel is 112-65.
Notably, Pinkel has achieved that record without highly regarded recruiting classes. Since 2006, when ESPN began its recruiting rankings, the Tigers haven't had a signing class ranked in the top 25 nationally. Their last two classes, ranked 33rd in 2014 and 38th in 2013, were 12th and 14th in the SEC, respectively.
Conversely, Alabama is annually at or near the top of the rankings.
"I've never looked at a recruiting ranking since I've been coaching," Pinkel said. "We have an evaluation system we use. ... We never talked about stars on any player, ever.
"We do a thing called 'Mizzou Made' here. We think we've developed players as good as anybody in the country. We have a plan and infrastructure set in to do that -- professionally, personally, academically, player development. We have our system. It's a system that I learned from Don James when I was a coach with him at the University of Washington. We tweaked it a little bit. You always try to make it better. ... We just do what we do. I think it would be hard to say that we haven't had a little bit of success doing it our way."
The Tigers have been on an ongoing journey to earn respect in their new league, and Pinkel knows winning is the way to do it.
"It's a consistency of winning, winning at a high level, in a very, very difficult league, very competitive league; I've always sort of brought up [that] you earn respect; that's how you get it," Pinkel said. "Hopefully we've gained some respect. We'll see how it goes from here."
May, 24, 2012
5/24/12
2:30
PM ET
COLUMBIA, Mo. -- Gary Pinkel isn't naive. Missouri's coach understands a new recruiting game has to be played now that the Tigers are moving to the SEC.
The states of Missouri and Texas will continue to be recruiting priorities, but stretching out to southeastern states will now become very important.
"That makes sense," Pinkel said about generating more recruiting efforts in southeastern states.
[+] Enlarge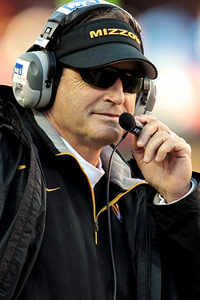 Jamie Squire/Getty ImagesCoach Gary Pinkel says he's confident that Missouri's recent track record will attract recruits from the southeast.
Pinkel said the main areas of importance outside of the Tigers' home state are Dallas and Atlanta. The good thing for Pinkel and his staff is that it's only about an hour longer drive to Atlanta compared to Dallas. It still accounts for 10-plus hours on the road, but if you're going to take the time to head to Dallas, you might as well make it out to the hub of the South.
And for Pinkel, it's well worth it.
"If you look at statistics and analysis of BCS players, they come out of the metroplex around Dallas and then you look at the greater Atlanta area," he said. "The parallels are staggering between those two cities. They produce a lot of athletes."
Currently, Missouri has just six players from SEC states -- three from Florida, two from Arkansas and one from Louisiana. Mizzou increased that number by two after signing two players from Florida in its 2012 class.
Pinkel said things are certainly different when it comes to the 2013 class. There's a lot more marketing in the South from the Tigers. Pinkel said the school is sending "thousands of pieces of information" about Mizzou to southeastern high school coaches and counselors each week. There are also Mizzou billboards in the states of Alabama, Florida, Georgia and Tennessee.
While Mizzou hasn't received any verbal commitments from southeastern prospects in its 2013 class, according to ESPN recruiting services, the coaches have issued scholarships to 19 of those prospects. Expect that number to grow as coaches get out on the road more.
While Pinkel wants to hit Atlanta hard, he doesn't have experience recruiting that area, but has recruited off and on in Florida. Here's a look at the coaches who will be patrolling the southeast:
Safeties coach Alex Grinch: Atlanta area
Running backs coach Brian Jones: Tampa and part of Orlando
Co-offensive line coach Josh Henson: Florida Panhandle, Jacksonville, Fla., and down toward Orlando
Defensive coordinator Dave Steckel: West Dallas
Co-offensive line coach Bruce Walker: East Dallas
Defensive line coach Craig Kullgowski: Houston area
Offensive coordinator David Yost: Missouri and Memphis, Tenn.
Pinkel understands that Mizzou is a foreign program to a lot of southeastern prospects, but slowly he expects that feeling to disappear. He experienced it recruiting the state of Texas as Toledo's coach and when he first arrived at Mizzou, but saw it turn around twice.
Pinkel said his first Mizzou roster had around 10 or 11 players from Texas and now has more than 30. Once southeastern players get to know his program, Pinkel insists Mizzou will be more appealing to recruits in this talent-rich part of the country.
"We've been here before," he said. "We understand it's a process.
"I also think we walk in the door with some credibility -- winning and success and graduating our players. In the last five years or six years -- I'm not sure what it is -- we're the eighth winningest BCS program in the country and we're graduating in the last six years 96 percent of our players. Those are facts."