April, 7, 2014
Apr 7
10:00
AM ET
GAINESVILLE, Fla. -- There's no doubt that Florida has played terrific defense under head coach Will Muschamp, but the Gators have done so with one important aspect largely missing -- a pass rush.
Muschamp thinks this is the year his Gators get to the quarterback, and his reason for optimism is the emergence of junior
Dante Fowler Jr.
"Dante Fowler continues to play extremely well, hard, tough," Muschamp said. "He's practicing with a purpose every day. He goes out there every day and competes."
The key to a good pass defense, Muschamp likes to say, is rushing the passer. Yet somehow his Gators have ranked among the nation's best against the pass without anything resembling a fierce rush.
It's been the great missing link on an otherwise sterling defense.
[+] Enlarge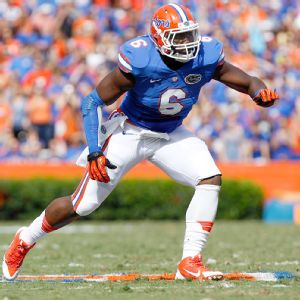 Kim Klement/USA TODAY SportsThe Gators believe Dante Fowler Jr. could be a special player when it comes to rushing the passer.
Since Muschamp's first season with the Gators in 2011, when a sophomore named
Ronald Powell
led the team with six sacks, the pass rush has been anemic.
Dominique Easley
led the team with four sacks in 2012. Powell led UF last season with four as well.
In that span, Florida has had the nation's No. 7 pass defense in 2011, No. 17 in 2012 and No. 7 last season.
Enough is enough. Muschamp wants more push up front.
He cites his past experiences building defenses around dominant pass rushers like Jason Taylor of the Miami Dolphins or Sergio Kindle and Brian Orakpo of the
Texas Longhorns
.
"I think we have a special rusher in Dante," Muschamp said. "There's no doubt about that. So you build off that. You find different ways to create some situations for him. …
"You find out where you're going to get the matchups on him, whether it's inside or outside. We started the latter part of the season, actually against Florida State we put him at nose guard to get him in a one-on-one matchup. Those are things you do with a special rusher and then you build off of that."
Throughout the spring, Fowler has menaced UF's offensive linemen and won a lot of believers.
"It's kind of starting to get freakish," senior defensive tackle
Darious Cummings
said last week. "He's a hell of an athlete. If he's on and everybody else is on too, it's kind of like the defensive line is hard to stop. That helps everybody else, the linebackers and the secondary."
Indeed, everyone is hoping Fowler breaks through with double-digit sacks in 2014, but there's only so much he can do without teammates dragging down a few QBs as well.
"We need a little more pass rush," Muschamp said. "Dante's a guy that can win a one-on-one rush on the edge right now. I don't feel totally comfortable that there's another guy out there. [Senior linebacker]
Neiron Ball
may be another guy that will figure into that, who has done those sort of things before.
"I think there's some potential, but potential can be a bad word there for you at times."
Unfortunately for Florida, Ball sprained his MCL in one of the early practices and will miss the rest of the spring. So who else is there?
Muschamp also cited
Alex McCalister
, a 6-foot-6, 245-pound sophomore, as a pass rusher with potential. But McCalister only played two years of high school football and is still raw.
"Alex McAlister is a guy that needs to continue to develop to be that, Muschamp said. "He's about on track time-wise of what we thought. … He's starting to understand about leverage. He's got natural pass-rush ability to flip his hips in the rush. So he has the things we saw. And we knew it was going to be a while. You never know in those situations how quickly they're going to take off and go."
The search for what Muschamp calls "some juice" continues. Lately he has turned his attention to junior defensive tackle
Jonathan Bullard
, who has moved inside from strong-side end in order to make room for
Bryan Cox Jr.
"Bryan Cox, I've been very pleased with his production," the coach said. "It's allowed us to do some different things with Jon Bullard to allow us to get our best players on the field. Jon can play end and tackle. It creates depth."
Like the coaches, Bullard has been impressed with Cox, a sophomore who is often pointed to as an example of relentless effort during film study.
"He's doing real good," Bullard said. "He embraces it. He works hard. He has a motor, so he's constantly running. Effort will get you a long ways right now, so he's doing it. He's doing what they're asking him to do. With me bumping inside we need somebody who can do that, and he's been the guy."
Cox knows a starting job won't be won in the spring, but he's pushing.
"I just try not to stop running no matter what," he said last week. "Sometimes I may bust something or do something like that, but I try to keep going and never give up on the play. It can always turn completely around. He could break back the other way. Anything could happen."
Anything, including a consistent pass rush by the Gators this season.
August, 16, 2013
8/16/13
9:30
AM ET
GAINESVILLE, Fla. -- Florida fans better get a good look at senior wide receiver
Solomon Patton
this season because guys like him are going to be hard to find around here from now on.
Small guys.
The 5-foot-9, 171-pound Patton doesn't really fit into coach Will Muschamp's philosophy that bigger is better. Not just on the line of scrimmage, either. Big receivers. Big defensive backs. Big linebackers.
[+] Enlarge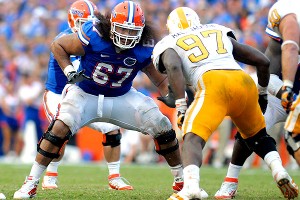 AP Photo/Phelan M. EbenhackGuard Jon Halapio, at 6 feet 3 and 321 pounds, meets Will Muschamp's size criteria to compete in the SEC.
Size does matter at Florida now. Muschamp believes it's the best way to have success in the Southeastern Conference.
"This is a big man's league," he said. "When you go pay to watch a boxing match, you don't go watch the featherweights fight. You go watch heavyweights fight. This is a heavyweight league.
"So we need have a big, physical team. You can still be really fast, but you better be big and physical if you want to win in this league right now."
Muschamp is in his third season and working on his fourth signing class, and he has certainly made the Gators a bigger, more physical team in that short period of time. To see the difference, look at UF's roster from 2009. The Gators had five starters or key contributors who were 5-9 or shorter: Jeff Demps, Chris Rainey, Ahmad Black, Markihe Anderson and Brandon James.
This year's team has only one starter that small: 5-9 safety
Cody Riggs
. Patton is a role player (he's the jet sweep guy) and the shortest player on scholarship is 5-7 freshman running back Adam Lane -- who weighs 222 pounds.
Muschamp's philosophy goes further than just the size of the players. He wants the bulk of his 85-man roster to be comprised of what he calls big-skill positions: offensive and defensive linemen, linebackers and tight ends. He wants 50. Right now he has 42 (see breakdown below).
Muschamp wants 15-17 offensive linemen, and the Gators are close to that number. They have five scholarship tight ends, too. The defensive line is where the problem is. The Gators are short on ends, especially speed rushers. There are eight scholarship defensive tackles, but only three have played in a game (
Dominique Easley
,
Leon Orr
and
Damien Jacobs
), and just two bucks (hybrid defensive end/linebacker).
It'll take at least a couple more signing classes for the Gators to be as stocked along the defensive line as Muschamp would like. Muschamp believes long-term success at Florida -- and therefore the SEC -- depends on beefing up those defensive numbers.
And not just to compete with Alabama and Nick Saban, either.
"When big guys run out of gas, they're done," Muschamp said. "We don't ever want our big guys up front to play more than six or eight snaps in a row and have the intensity you've got to play with to be successful in this league. So you can't ever have enough defensive linemen or pass rushers, especially the way the game's going.
"You look in our league at Missouri and Kentucky and Tennessee, a lot of schools are going to a little bit of a Big 12 model, like Texas A&M, where they're spreading the field, and you can't ever have enough guys that can play in space and rush the passer. The most exerting thing in football is rushing the passer. Those guys are battling against a 315-pound guy and trying to push the pocket, so you can't ever have enough of those guys."
Here's the breakdown of what Muschamp calls the big-skill players:
Offensive line
Ideal number:
15-17
Number on the roster:
14.
Tyler Moore
,
Quinteze Williams
, Rod Johnson, Octavius Jackson, Cameron Dillard,
Trip Thurman
,
Jon Halapio
,
D.J. Humphries
,
Jonotthan Harrison
,
Chaz Green
,
Max Garcia
,
Trenton Brown
,
Ian Silberman
,
Kyle Koehne
.
Comment:
The Gators will lose four players to graduation but have four offensive line commits for 2014, three of whom weigh more than 300 pounds. The line has gotten bigger, stronger and more physical since Muschamp called them soft at the end of his first season.
Defensive tackle
Ideal number:
8-10
Number on the roster:
8. Damien Jacobs,
Joey Ivie
, Leon Orr,
Darious Cummings
, Jay-nard Bostwick, Caleb Brantley, Antonio Riles, Dominique Easley.
Comment:
Not a lot of experience here, but the four freshmen (Ivie, Bostwick, Brantley and Riles) will gain valuable experience as part of the rotation this season.
Defensive ends
Ideal number:
6-8
Number on roster:
4.
Alex McCalister
,
Jonathan Bullard
, Jordan Sherit, Bryan Cox.
Comment:
Easley also can play end. This is perhaps the most flexible position, with several players having the ability to play inside on passing downs to get the best pass rushers on the field.
Bucks
Ideal number:
4-6
Number on roster:
2.
Dante Fowler
,
Ronald Powell
.
Comment:
This position also needs to be beefed up quickly, with Powell likely leaving after this year if he has a good season. Some flexibility here, too, because Cox and McCalister could spend time here.
Linebackers
Ideal number:
9-12
Number on roster:
9.
Michael Taylor
,
Matt Rolin
,
Jeremi Powell
, Jarrad Davis,
Neiron Ball
,
Darrin Kitchens
,
Daniel McMillian
,
Alex Anzalone
,
Antonio Morrison
.
Comment:
UF has one bona fide stud (Morrison) and a mix of veteran role players and freshmen. McMillian is a player to watch. He could become a starter by midseason. This is an important position group because it produces a lot of special teams players.
Tight ends
Ideal number:
3-5
Number on roster:
5.
Clay Burton
,
Tevin Westbrook
,
Kent Taylor
,
Colin Thompson
, Trevon Young.
Comment:
A lot of players, but little production so far. Burton, Westbrook and Thompson are mainly blockers, but there's optimism that Thompson can develop into someone who can work the middle of the field.
August, 9, 2013
8/09/13
10:00
AM ET
GAINESVILLE, Fla. -- Defensive line coach Brad Lawing couldn't bring
Jadeveon Clowney
with him when Florida coach Will Muschamp hired him away from South Carolina in January.
But Lawing did bring one of the things that helped Clowney become one of the country's most feared pass rushers.
[+] Enlarge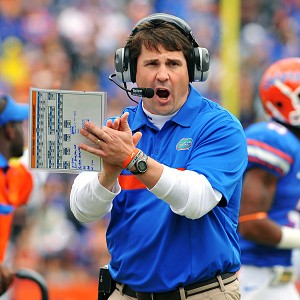 Al Messerschmidt/Getty ImagesWill Muschamp and his defensive staff are tinkering with the rabbits package, in hopes of improving the Gators' D-line pressure.
It's called the rabbits package, so named because it was designed to get as many speed rushers on the field as possible. Lawing and South Carolina defensive coordinator Lorenzo Ward developed it during spring 2012 and the Gamecocks used it successfully, racking up 40 sacks during the regular season.
Now Lawing, Muschamp and defensive coordinator D.J. Durkin are tinkering with it as the Gators continue their preseason practices.
"Who will that package be?" Muschamp said. "We're searching for the right guys. We think we have a pretty good handle on who they may be, but you never know. We've got to continue to search through those guys and find your best four rushers, and then who's five, who's six, who's seven?"
Even though Florida's pass rush was better last season than it had been the previous two (the Gators recorded 30 sacks in 2012, the most since it had 40 in 2009), there's plenty of room to improve. The Gators appear to have the personnel to be better, especially with the return of redshirt junior buck
Ronald Powell
, and adding the rabbits package will certainly help.
It's easy to identify UF's top four pass rushers: Powell, sophomore
Dante Fowler Jr.
, sophomore
Jonathan Bullard
and senior
Dominique Easley
. Powell and Fowler are hybrid defensive ends/strongside linebackers. Bullard is an end and Easley can play both end and tackle. The group, which has a combined 16.5 career sacks, are all starters but also will likely comprise the rabbits package, with Easley moving over to nose tackle.
Bullard and Fowler played key roles as freshmen last season, helping pick up the slack in the rush that was created when Powell (seven career sacks) suffered a torn ACL in the spring game and missed the entire season. Bullard led the team with seven quarterback hurries, while Fowler had 2.5 sacks.
Muschamp said Powell has looked very good in camp and offensive coordinator Brent Pease said the pass rush has given the offense trouble.
"They're very athletic," Pease said. "When you have Easley and Bullard and then you throw in Dante. Now Dante, depending how they use him, he's such a weapon because he's a down guy, pass rusher, pass coverage guy, very physical, he's so heavy-handed. He's a tough kid to block.
"And then when you throw Ronald in there ..."
Muschamp isn't sure how much he's going to use the rabbits package. He said the Gators did a solid job with the pass rush last season and the addition of Powell and the maturation and improvement of Fowler and Bullard should automatically make them better.
Plus, Florida plays mostly man coverage and offenses counter that with six- and seven-man protections to give quarterbacks extra time to throw the ball.
"I think we gave up less explosive plays in the passing game than anybody in the country [last season]," Muschamp said. "I think we gave up less touchdowns than [all but four] teams in the country. So I think we were very efficient in the passing game. And that's not just from a coverage standpoint, that's from a rush standpoint."
But it's nice to have the package available, especially if it allows the Gators to begin to develop younger players like redshirt freshmen
Bryan Cox Jr.
and
Alex McCalister
.
May, 17, 2013
5/17/13
3:00
PM ET
GatorNation's Rankings Week concludes with a list of the Gators' top needs in recruiting for the class of 2014, as well as a list of the top players the Gators are pursuing at those positions.
Ranking UF's needs for 2014
1. Offensive line