SEC:

Allstate Sugar Bowl 2009 bowls
January, 1, 2010
1/01/10
8:00
AM ET
By
ESPN.com staff
| ESPN.com
Here's a look at three keys if Florida is going to beat Cincinnati on Friday night in the Allstate Sugar Bowl:
1. Play with purpose:
We ought to know pretty early how interested Florida is about playing in this game. It's all new territory for the Gators, playing in a game that doesn't have national championship ramifications. The surest way for the Gators to lose this game is to think they're going to just roll out in the Superdome and beat the Bearcats simply because they're the "mighty" Gators. If Florida is dialed in and focused, this is a game that could be over by halftime. But if the Gators' heads are elsewhere to start the game, they may find themselves in a similar boat as Alabama a year ago in this bowl.
2. Pressure Pike:
Cincinnati's
Tony Pike
isn't the easiest quarterback to pressure because he gets rid of the football quickly and knows where he wants to go with the ball. The Bearcats only allowed 11 sacks all season. The Gators will want to disrupt Pike's timing and not allow him to get into any kind of rhythm. That's where Carlos Dunlap and Jermaine Cunningham come in on the outside, and the Gators will also rush linebacker Brandon Spikes from a number of different spots. The Gators are good enough in the secondary that they will be able to take their chances going after Pike.
3. Scoring in the red zone:
Unlike their national championship season in 2008, the Gators haven't been very good this season when it comes to scoring touchdowns in the red zone. Florida is tied for 96
th
nationally in red zone conversions (73.8 percent). The Gators have scored touchdowns only 45.9 percent of the time when they've moved inside the 20. Finishing drives will be critical against the Bearcats. That way, you don't allow them to hang around and think they have a chance in the second half.
December, 31, 2009
12/31/09
1:22
PM ET
One team lost its coach to Notre Dame. The other is losing its coach -- at least temporarily -- to health concerns following this game. Has there ever been a BCS bowl game where there has been less talk about the game itself than Friday night's Allstate Sugar Bowl between Cincinnati and Florida? Big East blogger Brian Bennett and SEC blogger Chris Low take a closer look at the matchup and everything surrounding it.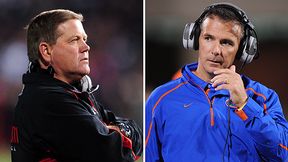 US PresswireThe recent career moves made by Brian Kelly and Urban Meyer have overshadowed the Sugar Bowl.
Brian Bennett
: Well, Chris, clearly Urban Meyer and Brian Kelly don't think the Sugar Bowl is that important, since Meyer tried to upstage it with his non-retirement retirement and Kelly couldn't be bothered to stick around to coach this game. You've been around the Gators. What's your sense in how they're approaching this game and how much motivation they'll have to play it after losing to Alabama?
Chris Low
: Brian, an excellent question. The only thing missing now is for a bunch of players on both sides to take a leave and decide not to play in the game. That said, Florida has about seven juniors who are looking strongly at turning pro. That's never a good thing, because you never know for sure what their commitment level is for that last game -- assuming it is their last game. The best thing the Gators have going for them is
Tim Tebow
. He desperately wants to go out a winner and has had a pretty good hold on this team for the last couple of years. Typically, the Gators have followed his lead. But with no national championship to play for and so many unknowns concerning Meyer's future, this has an uneasy feel to it if you're of the orange and blue persuasion.
BB
: Of course, Cincinnati has its own distractions, with Kelly's departure and interim coach Jeff Quinn taking the Buffalo job. But I get the sense that the Bearcats are focused and motivated for this game. Unlike Florida, they really have something to prove. They can show that they can win without Kelly, that they can beat a big SEC power and they can finish 13-0 with at least a claim to being the best team in the country. Motivation only goes so far, though. Cincinnati is going to have to play a nearly perfect game, I think, to win. I actually believe that outside of Tim Tebow, Florida doesn't have nearly as many offensive weapons as the Bearcats do. Am I crazy on that point, Chris? And did the Gators' defense show some fatal flaws in Atlanta?
[+] Enlarge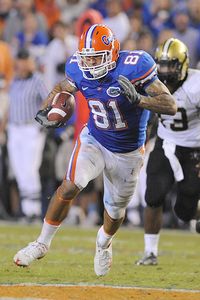 Al Messerschmidt/Getty ImagesAaron Hernandez has been one of Florida's most dangerous weapons.
CL
: Sticking with the motivation theme for a moment, this will be the first game Florida has played since the end of the 2007 season where the Gators didn't have a national championship in their sights. Talk about reshuffling the deck. But, no, I don't think you're off at all about the lack of offensive weapons for the Gators. They have plenty of talent and plenty of guys who can run fast. What they don't have is an abundance of guys who consistently made plays down the field in games this season. Tight end
Aaron Hernandez
is a tough matchup for anybody, and the Gators will involve him in several different ways. Receiver
Riley Cooper
was Tebow's favorite target on the perimeter and made some big plays for the Gators. But all in all, it was much more of a grind-it-out offense this season, and as we saw in the SEC championship game, the Gators aren't real comfortable when they have to play from behind. To me, the key is whether the Bearcats can keep Tebow in a bunch of third-and-long situations. Do they have that kind of defensive muscle, Brian, to stuff the Gators on first down?
BB
: In short, no. At least not if that defense plays the way it did down the stretch this season, when it gave up more than 36 points per game. The Bearcats are small up front and highly susceptible to being pushed around by bigger offensive lines, which the Gators have. Tebow could give them nightmares with a power option. Cincinnati is really built defensively to stop spread attacks with its speed, though its athletes probably can't match Florida's. Defensive coordinator Bob Diaco would love to see the Gators play like they did against Alabama, when they pretty much abandoned the running game. But Cincinnati will likely have to score quickly and build a lead for that to happen. Arkansas gave Florida some trouble with its spread. How do you think the Gators' defense will stand up to the Bearcats' no-huddle, pass-happy system which is unlike most SEC offenses? Can they pressure
Tony Pike
, who gets rid of the ball so quickly from the shotgun?
[+] Enlarge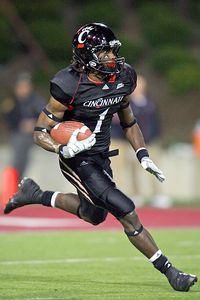 Andy Lyons/Getty ImagesCincinnati has gotten big plays from Mardy Gilyard all season.
CL
: It's hard for anybody to get that last impression of the Florida defense out of their mind. The Gators didn't do much of anything well defensively against Alabama in the SEC championship game. But in fairness, that was the exception this season. Charlie Strong's guys set the tone for the Gators as they sprinted out to a 12-0 regular season. When they needed a play on defense, they got it. I do believe Florida is well equipped to handle Cincinnati's up-tempo style. For one, the Gators get their best pass-rusher, junior defensive end Carlos Dunlap, back for this game after he was suspended for the SEC championship game. He's a force coming off the edge, but Jermaine Cunningham is just as good on the other side. And even if the Bearcats are able to get rid of the ball quickly and neutralize the Florida pass rush, the Gators have plenty of answers in the secondary. Strong won't be afraid to play man coverage with cornerbacks Joe Haden and Janoris Jenkins, both of whom will be playing in the NFL at some point. There's a reason Florida tied for the SEC lead with 20 interceptions. The Gators had 13 of those during the final six weeks of the regular season. Heck, even middle linebacker Brandon Spikes has four interception returns for touchdowns over the last two seasons. In short, this is a Florida defense that gravitates to the football.
BB
: It's a formidable defense, Chris, and as much as I've been impressed with Cincinnati all year, I'm not sure the Bearcats can match athlete vs. athlete, especially without the game-day wizardry of Kelly. They are going to have to get some special-teams magic from
Mardy Gilyard
, get their offense to put Florida on its heels early and hope that the Gators really don't care much about this game. I see the Bearcats hanging tough early but losing by about two scores in this one. How do you see this playing out?
CL
: The Tebow factor is just too much for me to pick against the Gators. He will make sure they're ready to play even if a few of his teammates happen to be thinking more about NFL dollars than the Bearcats. I look for the Gators to get out of the gate quickly on offense and then break the game open with a big play in special teams. There are so many ways they're capable of doing that, too, with a blocked kick, punt return for a touchdown or simply setting up short drives for themselves with their superior punt game. Cincinnati will score some points in this game, but I have Florida winning going away ... by at least 17 points.
December, 31, 2009
12/31/09
10:00
AM ET
By
ESPN.com staff
| ESPN.com
Breaking down the Allstate Sugar Bowl on Friday (FOX, 8:30 p.m. ET) between Cincinnati (12-0) and Florida (12-1):


WHO TO WATCH:
Wow, where do you start? Florida coach Urban Meyer will step aside on his leave after this game, and it could also be the final game for several of the Florida juniors who are considering declaring early for the NFL draft. But the heart and soul of the Gators' program for the past three years has been quarterback
Tim Tebow
, and he bids farewell to college football once and for all. Tebow is 34-6 as a starter and will go down as one of the greatest college football players of this era. Still, the image of him crying on the sideline in the final minutes of the SEC championship game loss to Alabama is one the Gators' rivals like to remember. If it's up to Tebow, he'll give them one final image to remember.
WHAT TO WATCH:
Prior to the SEC championship game, Florida had as much right as anybody to claim that it had the best defense in the country. But the Gators were carved apart by the Crimson Tide in their worst defensive performance in a long time. How do they bounce back? We're going to find out against a Cincinnati club that ranks fifth nationally in scoring offense and sixth nationally in total offense. Quarterback
Tony Pike
is adept at getting rid of the ball quickly, and receiver
Mardy Gilyard
is equally adept at coming up with big plays. The Gators get their best pass-rusher back for this game, junior defensive end Carlos Dunlap, who was suspended for the SEC championship game. The Gators also have one of the best cover cornerbacks in the country in Joe Haden, who will lock down on Gilyard and attempt to take him out of the game.
WHY TO WATCH:
With all of the different storylines going on, the game itself has almost become secondary. Is it the last time we see Meyer running the show at Florida for a couple of months? An entire year? Possibly ever? Are the Gators distracted, or are they motivated? Can the Bearcats overcome Brian Kelly's abandonment of them for the Notre Dame job and shock the college football world much the same way Utah did last season against Alabama? Does Tebow have one more storybook game in him before he takes his shot at the NFL? And can the Gators win 13 games for the third time in the past four years?
PREDICTION:
As ordinary as Florida looked in the SEC championship game loss to Alabama nearly a month ago, this is still the same team that won 22 straight games. The Gators have better players, better depth and more speed than the Bearcats. They also have Tebow, who will see to it that the Gators are at the top of their game one final time before they all disband.
Florida 38, Cincinnati 21
.
December, 29, 2009
12/29/09
11:24
AM ET
By
ESPN.com staff
| ESPN.com
Amid all the uncertainty surrounding Florida's football program right now, one of the biggest questions remains who's going to be the Gators' defensive coordinator next season.

Better yet, who's going to make that decision?

Assuming Urban Meyer is indeed coming back after his leave, you know it's going to be his call at the end of the day.

Most signs point to Chuck Heater simply being promoted from assistant defensive coordinator and safeties coach. He's worked with the Florida secondary in some or fashion since coming to Gainesville with Meyer in 2005, and the Gators' improvement in the secondary over the last few seasons has been obvious.

Another possibility on staff, assistant head coach and defensive line coach Dan McCarney, said this week that he wasn't interested in pursuing the Gators' defensive coordinator job.

If it is indeed Heater that's promoted to defensive coordinator, the Gators would then need to make another hire on defense. Charlie Strong coached the linebackers in addition to his defensive coordinator duties.

Once again, how involved will Meyer be in making that hire if he's on leave?

Steve Addazio has been named the interim head coach while Meyer is away. Does he take the lead role in filling these positions?

These next few months will interesting in Gainesville, to say the least.
December, 29, 2009
12/29/09
9:21
AM ET
By
ESPN.com staff
| ESPN.com
He's been the face of college football for most of the past three seasons.
He owns two national championships, two SEC championships, a Heisman Trophy and a glossy 34-6 record as a starter.
[+] Enlarge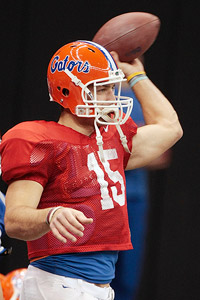 AP Photo/Dave MartinTim Tebow will conclude his Florida career in Friday's Allstate Sugar Bowl.
He also has one more game remaining at Florida, and then he'll be gone.
That relieved applause you hear in the distance is from everybody that's had to face
Tim Tebow
since he first arrived on the scene as a third-down/short-yardage specialist in 2006 and quickly blossomed into one of the greatest college football players of this era.
The thought of facing Florida without Tebow is like running a mile … on roller skates.
It's like participating in a spelling bee … with a dictionary.
It's like throwing down a few dunks … on an 8-foot goal.
At least, that's the perception around the SEC. The reality is that Florida isn't going to go quietly into the night.
Still, I've heard more than a few folks in and around the conference utter something along the lines of "The playing field's going to level for everybody else when Tebow is gone."
After Friday's Allstate Sugar Bowl and stretching into the 2010 season, we're going to find out just exactly how much it will level.
Given the events of the past week and the uncertainty surrounding Urban Meyer and when he might return as coach, the picture of what the Gators might look like without Tebow is even more hazy.
We know
John Brantley
can throw the football. We know he can throw it well enough that Meyer said before the season that he was going to try to get Brantley into games in the first half this season -- even though that never materialized.
We also know that Florida has recruited extremely well and isn't lacking when it comes to athletes.
It's what we don't know that's probably most unnerving for the Gator Nation.
Tebow
was
the Florida running game for much of his career. Take away his 859 yards and 13 touchdowns this season and see how ordinary the Gators' running game looks.
Brantley's not exactly a statue, but he's not a guy you're going to run the option with, either.
He's also not a guy who's going to be taking on linebackers and safeties at the goal line.
[+] Enlarge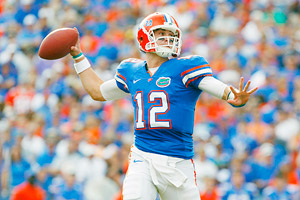 Kim Klement/US PresswireJohn Brantley threw for 410 yards and seven touchdowns in limited action this season.
Obviously, the Gators will adjust what they do offensively to cater to Brantley's strengths, which makes spring practice vital.
Will Meyer be back in time for the spring? That's yet another unknown when it comes to dealing with life after Tebow.
And what about all of the intangibles Tebow brought to the table -- his leadership, his ability to will the team to close victories, his presence in the locker room?
His cape was a large one; one that several different players may have to take turns wearing the next couple of years.
Ultimately, what Florida looks like without Tebow probably has as much to do with what goes on around Brantley as it does Brantley himself.
Does touted freshman receiver
Andre Debose
come back 100 percent from the hamstring surgery that caused him to miss this season?
Do the Pouncey twins return on the offensive line, or do they opt for the NFL draft?
With tight end
Aaron Hernandez
strongly considering a jump to the NFL and
Riley Cooper
leaving to pursue baseball full time, who emerges as Brantley's go-to guys?
Can offensive coordinator Steve Addazio find a way to help the Gators generate more explosive plays down the field in 2010?
And lastly (and perhaps most importantly), can the Gators find a way to run the ball successfully without their 240-pound quarterback as the centerpiece of that running game?
Answers to all these questions will start filtering in next fall.
Already, you're hearing rumblings that the Eastern Division might be as wide open as it's been since pre-Tebow. The Gators played in the SEC championship game three of his four seasons in Gainesville.
Without question, he is a one-of-a-kind player.
The question that looms: How much does the field start to tilt away from the Florida sideline now that No. 15 is gone?
In the meantime, Florida fans will bid him a sad adieu on Friday night in the Superdome. All of those other fans who watched him beat up on their teams for the past four seasons will bid him a merry farewell.
It's the ultimate compliment to the ultimate college football player.