May, 27, 2014
May 27
10:30
AM ET
It's going to be a slow week.
The final Saturday in September won't be a banner day for SEC football. With all due respect to matchups like Arkansas-Texas A&M, Louisiana Tech-Auburn and Vanderbilt-Kentucky, nothing there rises up to the level of true excitement. The games could very well be sellouts and the venues will likely be packed with tailgaters, but it's not going to draw anyone's national attention.
We're going to make do, though. SEC diehards will always find a way. There are only 14 weeks of regular-season football, so you have to make every one count.
If you're just now jumping on board, we at the SEC blog have been getting ready for the coming season by plotting out
our top destinations every week
. So far we've been to LSU, Alabama, South Carolina, Houston, Vanderbilt and Oklahoma. We've got four weeks down and 10 more to go.
Let's take a look at the best options for Week 5:
Sept. 27
Arkansas vs. Texas A&M (in Arlington, Texas)
Louisiana Tech at Auburn
Tennessee at Georgia
Vanderbilt at Kentucky
New Mexico State at LSU
Memphis at Ole Miss
Missouri at South Carolina
Alex Scarborough's pick:
Missouri
at
South Carolina


I might as well get a second office set up in Columbia. In playing our little road trip game here on the SEC blog, I chose stops at South Carolina in Week 1
and
Week 2 of the season. And looking over the schedule for Sept. 27, I couldn't in good conscience go anywhere else.
This game should be a good one, if for nothing other than the rematch angle after last season's
epic double-overtime bash
. There was no better game to exemplify quarterback
Connor Shaw
's illustrious career than when injured, he came off the bench in the fourth quarter to help score 17 unanswered points to tie the score. His 15-yard touchdown pass to
Bruce Ellington
on fourth-and-goal in the first overtime was a thing of beauty. His guts were on full display then, as was South Carolina's defense, whose effort was somewhat lost in the comeback.
The names and faces will be very different this time, but the stakes at play could be much the same. The SEC East is wide open, and both Missouri and South Carolina have reasons to believe they could make it to Atlanta. This could turn out to be a swing game in determining who wins the division.
The Tigers will be a bit of a mystery entering Columbia with so few starters returning on both sides of the ball. But you have to like what you saw from
Maty Mauk
at quarterback last fall, and
Markus Golden
has the chance to be a star at defensive end. With games against South Dakota State, Toledo, UCF and Indiana to start the season, Missouri will have a chance to find itself without running the risk of losing a game.
Meanwhile, I have high expectations for South Carolina. Steve Spurrier should have a strong offensive line, a plethora of weapons at receiver and running back, and a veteran under center, even though
Dylan Thompson
has never been a full-time starter. The Gamecocks will have the edge against Missouri with the game at home, but this should be a hard-fought contest.
Greg Ostendorf's pick:
Tennessee
at
Georgia


Missouri-South Carolina is a good pick, and as tempting as it would be to check out AT&T Stadium for the Arkansas-Texas A&M game, I'm going to stay in the East and head down to Athens for Georgia-Tennessee.
Talk about a good game from 2013 -- these two teams played an
instant classic
last fall. Tennessee scored twice in the fourth quarter to take a 31-24 lead, only to see
Aaron Murray
throw a touchdown pass with five seconds left to force overtime. In the extra session, Tennessee's
Alton "Pig" Howard
fumbled as he tried to stretch the ball over the end-zone pylon on the Vols' first possession, which set up Georgia's
Marshall Morgan
for a game-winning 42-yard field goal.
Though Georgia escaped Rocky Top with a victory, it didn't leave in one piece. The game was remembered more for the amount of devastating knee injuries suffered by the Bulldogs than the final outcome -- and nobody wants to see that again.
Instead, I want to see the combination of a healthy
Todd Gurley
and a healthy
Keith Marshall
tearing through SEC defenses. I want to see
Justin Scott-Wesley
and
Malcolm Mitchell
back and making plays in the passing game. If the Bulldogs are at 100 percent, they make a strong case for the best team in the SEC East and maybe the whole conference.
With that said, I think this Tennessee team will be better than advertised. There will be plenty of question marks, including two glaring ones at quarterback and offensive line, but they're a young, talented group with loads of potential. I want to see how this heralded recruiting class responds to its first SEC game. I want to see
Marquez North
because it doesn't matter who's throwing him the ball -- he can go get it. The Vols are looking for their first winning season since 2009 and would love nothing more than to steal one on the road.
And honestly, does it get any better than a traditional SEC rivalry between the hedges? It's our first stop there this fall and likely won't be our last.
March, 5, 2014
Mar 5
10:00
AM ET
Tennessee will enter spring practice on Friday without one of its top offensive weapons, as wide receiver
Alton "Pig" Howard
is
taking a leave of absence from the team
.
[+] Enlarge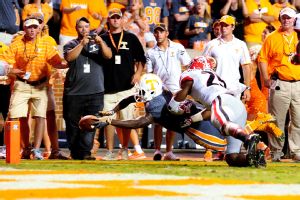 Scott Cunningham/Getty ImagesTennessee will miss Pig Howard if he does not return to the team.
Coach Butch Jones said that while Howard won't be with the team, he is still enrolled in school. Jones added that Howard is "dealing with some personal circumstances."
The question is whether Howard will return to the team any time soon, if ever. We all know there are no guarantees when something like this happens, and the Vols can't afford to lose Howard.
Howard was one of the more unheralded offensive players in the SEC last season. He led Tennessee with 44 receptions and three touchdown catches and was also second on the team with 388 receiving yards. Nothing mind blowing, but on a team that lacked any sort of offensive consistency, Howard was very valuable.
If Howard can't return, more will be put on rising sophomore
Marquez North
, who led the team with 496 receiving yards last year, and true freshman
Josh Malone
, who enrolled early this spring. North could be a special player for the Vols. He really came on late last season and will be going through his first spring practice this year. That's more reps and more time.
As for Malone, getting him on campus early is big for Tennessee, even before Howard's situation. He'll get an early jump on the playbook but has to realize he's going to have even more pressure put on him to get things done early. He was an
ESPN 300
prospect for a reason, and the Vols might have to see it right away.
October, 18, 2013
10/18/13
7:00
AM ET
ATHENS, Ga. -- Jarvis Jones and Bacarri Rambo became All-Americans in part because of their abilities to steal the ball from opponents -- Jones with his persistent motor and pass-rush skills and Rambo with his ability to get into position to make drive-killing interceptions.
They led a Georgia defense that generated 62 turnovers over the last two seasons, a total that ranked eighth nationally and second in the SEC behind only LSU's 63. Jones and Rambo are now in the NFL, however, while 10 other contributors from last season's defense are also no longer on the roster.
Defensive coordinator Todd Grantham went from having one of the league's most experienced defenses to one of the greenest. It's no secret the results have been ugly, with Georgia ranking last in the SEC in scoring defense (33.7 ppg), second to last in third-down defense (43.7 percent) and last in turnovers generated (five).
The last figure is striking considering that three of those turnovers -- muffed punts by Clemson and LSU and a lost fumble for a touchback by Tennessee's
Alton "Pig" Howard
as he dove for the pylon in overtime -- came either on special teams or by a fluke accident.
[+] Enlarge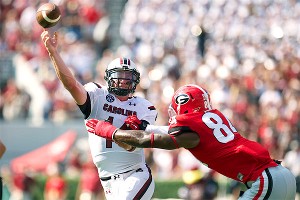 Dale Zanine/USA TODAY SportsGeorgia freshman linebacker Leonard Floyd is second on the team in sacks with four.
As with most of Georgia's defensive shortcomings, the turnover drought is largely a product of youth. But there are ways that the Bulldogs can create more turnovers, and they discussed four key factors in generating more takeaways this week:
Mature before our eyes:
Georgia's inexperience is the factor that will require the most patience.
Bulldogs coach Mark Richt explained that a young defender's first obligation is typically to make the basic play before attempting the explosive play, but the Bulldogs have struggled with both to this point.
"They're still just trying to get lined up right and play the right fundamental and get a guy on the ground or just bat a ball down rather than go for the pick and that type of thing," Richt said. "So they're learning and as they go. They'll get more comfortable and they'll be able to make more plays."
Grantham insists turnovers have always been an area of emphasis, but the Bulldogs say they're working on it even more lately.
"We really haven't worked on it as much as we should in practice, so now we're emphasizing it a lot more and working on getting the ball out," safety
Josh Harvey-Clemons
said.
Drills only get a player so far, however. For most, increased effectiveness is a byproduct of experience.
"We can work drills till we're blue in the face, but you've got to do it in the heat of the battle," Richt said. "You've got to keep coaching it, teaching it, show the situation where, 'Hey, in this situation here, you might could have raked the ball out. Instead of just wrapping up the QB, you might could've stripped it out of there.' "
Strip the quarterback:
One of the reasons Jones was dangerous was his ability to not only sack opposing quarterbacks, but to strip the ball from their hands.
He led the nation in sacks (14.5) and forced fumbles (seven) and frequently capitalized on what Grantham said is the easiest route to a turnover.
"The quarterback fumbles more than anybody else on the team because he's looking down the field, not at a [rusher]," he said. "A runner is looking to know that, 'Hey, they're going to hit me. I'm going to protect the ball.' A quarterback's looking to throw the ball down the field. So from that standpoint, there's a better chance to get the ball out."
Georgia's defensive linemen and outside linebackers, many of whom are underclassmen and first-time starters, haven't developed such savvy yet.
"Coach is probably going to have us doing drills [this week] trying to get a sack with the ball out, so we're probably going to work on that all this week trying to prepare us for [Vanderbilt]," said freshman outside linebacker
Leonard Floyd
, who is tied for fifth in the SEC with four sacks.
Dislodge the ball:
Maybe the most overlooked play in the Bulldogs' 42-10 win against Georgia Tech last fall was when Rambo halted the Yellow Jackets' first drive by ripping the ball out of
Robert Godhigh
's hands at the goal line and returning the fumble 49 yards to midfield.
Georgia scored another touchdown shortly thereafter and it was quickly 14-0 Bulldogs. Tech never threatened Georgia's lead again that day, although it could have been a different ballgame if not for Rambo's early takeaway.
"I remember Rambo dislodging a couple guys from the ball, kind of learning how to dislodge the ball. There's a technique to it, there's an art to it," Grantham said.
Swarming to the ball also helps. Once Rambo had help on the Godhigh tackle, he had the confidence to try to rip the ball from the Tech runner's hands.
"We've just got to be around the ball," said linebacker
Amarlo Herrera
, who has Georgia's only forced fumble. "If more people are around the ball to make a tackle, then one person can pull it out."
Better breaks on passes:
Another product of youth is that Georgia's defensive backs have broken up a handful of passes that could have been interceptions had they gotten just a split second better break on the ball.
Several members of Georgia's secondary discussed the need to improve their "eye control" -- reading the depth of a quarterback's drop and quickly deciphering how the play might develop based on what they see.
That means not biting on a play-action fake or getting out of their assigned zone -- and again, becoming sound in that area typically comes with experience.
"When you're a pattern match team and you're matching routes, you're reading the eyes of the quarterback and that gives you a chance to break on the ball based upon the distribution of the routes," Grantham said. "The quicker you can do that, the better break you can get on the ball, which allows you to get the pick."
October, 15, 2013
10/15/13
5:30
AM ET
There have been more downs than ups for Tennessee over the last month, but the Volunteers came ever so close to the program-establishing win that first-year coach Butch Jones covets the last time they took the field.

The Vols (3-3, 0-2 SEC) came oh so close to upsetting then-No. 6 Georgia in overtime, but
Alton Howard
fumbled into the end zone for a touchback just before reaching the pylon on what might have been the game-winning score. Instead, the Vols had to dwell on the bitter 34-31 defeat over an open week, with most of a daunting October schedule still ahead.
Following the Georgia game, Tennessee next faces South Carolina, Alabama, Missouri and Auburn -- all of which are ranked in this week's Associated Press Top 25. With three losses in his team's last four games, Jones might have to do the coaching job of his career simply to get his first Vols team to a bowl.
The resurgent second half against Georgia was a bright spot -- and maybe a sign of exciting things to come with Jones at the helm -- but this Tennessee team has already exhibited too many holes to expect a strong second half with the toughest part of the schedule still ahead.
Offensive MVP: Rajion Neal.
There haven't been many bright spots on offense at Tennessee, but its rushing attack has been better than average, particularly since quarterback problems has rendered the passing game almost nonexistent at points. Senior running back Neal (108 carries, 616 yards, seven touchdowns) has been the focal point in the run game, ranking fourth in the SEC with an average of 102.7 yards per game. Neal has delivered back-to-back strong outings, rushing 25 times for 169 yards in the Vols' win against South Alabama and 28 times for 148 yards and two scores against Georgia.
Defensive MVP: Dontavis Sapp.
A converted safety, Sapp has been an invaluable leader in his first stint as an every-down player on defense. And when we say "every down," we mean that almost literally. Because of his well-rounded skill set, Sapp almost never leaves the field at linebacker -- and he still contributes on special teams as well. He has coverage skills -- he's tied for third on the team with three pass breakups -- and also helps defend the run, ranking third on the team with 33 tackles. Sapp is also tied for second with 3.5 tackles for a loss, has three quarterback hurries and has both forced and recovered a fumble.
October, 5, 2013
10/05/13
8:22
PM ET
With injuries hitting many of its most important offensive players and Tennessee rallying to take a late lead, No. 6 Georgia barely forced overtime with a game-tying touchdown pass from
Aaron Murray
to
Rantavious Wooten
with 5 seconds remaining. After Tennessee's
Alton Howard
fumbled at the pylon for a touchback to halt the Volunteers' overtime possession, Georgia's
Marshall Morgan
blasted a 42-yard field goal to help
Georgia slip away with a 34-31 victory
.


Let's take a quick look at how the Bulldogs earned the win.
It was over when:
It was truly anybody's game until Morgan drilled the winning field goal. Tennessee had converted a number of fourth-down attempts, capitalized on big special-teams plays and found a rhythm against the Bulldogs' porous defense. But Howard's fumble gave the Bulldogs the break they had not enjoyed all game and Morgan's kick helped them survive the upset bid.
Gameball goes to: Murray.
He started the game without injured All-SEC tailback
Todd Gurley
after losing top wideout
Malcolm Mitchell
in the opener. Then
Keith Marshall
went down early with a knee injury. Then receivers
Michael Bennett
and
Justin Scott-Wesley
both left with injuries of their own. But somehow Georgia's quarterback drove his team for the tying score -- on a 2-yard pass to Wooten -- and did enough with his skeleton-crew offense to win.
Stat of the game:
Georgia was 1-for-9 on third down before its final drive of regulation, but the Bulldogs converted three first downs on the final drive, including Murray's pass to Wooten for the tying score. Georgia finished 4-for-13.
Unsung heroes of the game:
Freshman tailback
J.J. Green
took over when Marshall suffered a knee injury in the first quarter and propelled Georgia's running game with 17 carries for 129 yards in his first extensive playing time of his young career. His fellow freshman tailback
Brendan Douglas
deserves a nod for his key 32-yard catch that set up Wooten's game-tying touchdown.
What it means:
Tennessee came within an eyelash of ending an 18-game losing streak against ranked opponents, but Georgia survived. The Bulldogs' status as the SEC East's overwhelming favorite is now in great doubt, however, after potentially serious injuries to Marshall, Bennett and Scott-Wesley on Saturday.
August, 1, 2013
8/01/13
4:30
PM ET
Schedule:
The Vols begin practice at 4:30 p.m. ET on Friday. Tennessee will hold an open practice on Aug. 17 at 7 p.m. ET at Neyland Stadium. The plan is for it to simulate a preseason game. Players will be in pads for the first time on Tuesday, Aug. 6.

On the mend:
Linebacker
Curt Maggitt
(knee, shoulder) and safety Jaylen Reeves-Maybin (shoulder) both missed the spring. Keep an eye on Maggitt. He hopes to be 100 percent once the season starts. Safety
Brian Randolph
is returning to the field after tearing his ACL early last season.
Key battle:
The Vols left spring without the quarterback spot being settled.
Justin Worley
and
Nathan Peterman
were about as even as they could have been this spring, but there's a sense that Worley, who has the only college experience, has the edge heading into fall camp. Still, first-year coach Butch Jones won't say who leads and is hoping that one took over as more of a leader during the offseason. Finding a quarterback is the top priority for the Vols heading into the season.
Of note:
With the loss of the team's top four pass-catchers from 2012, the Vols will have to replace the 2,914 receiving yards and 26 touchdowns they combined for last year. That won't be easy, as receiver
Alton "Pig" Howard
is the only pass-catcher who returns with double-digit catches (10) from a year ago and
Vincent Dallas
returns the most receiving yards (149) from a year ago.
Predicted order of finish:
Picked to finish fifth in the SEC East at SEC media days.
They said it:
"We always talk about inches make the champion and everyone is searching for the inches. I'm a firm believer in team chemistry and I think we all know this, it's not a secret. Are we going to be the most talented team this year? No we're not. We all understand that, but talent doesn't win championships. Teams win championships." -- Jones
May, 6, 2013
5/06/13
6:00
AM ET
2012 record:
5-7
2012 conference record:
1-7, (sixth, Eastern Division)
Returning starters:
Offense: 5; Defense: 8; kicker/punter: 2

Top returners
RB
Rajion Neal
, RB
Marlin Lane
, OT
Antonio Richardson
, OT Ja'Wuan James, LB
A.J. Johnson
, LB Curt Maggit, S
Brian Randolph
, S
Byron Moore
Key losses
QB Tyler Bray, WR Cordarrelle Patterson, WR Justin Hunter, OG Dallas Thomas, TE Mychal Rivera, DE
Darrington Sentimore
, LB
Herman Lathers
, CB Prentiss Waggner
2012 statistical leaders (*returners)
Rushing:
Rajion Neal* (708 yards)
Passing:
Tyler Bray (3,612 yards)
Receiving:
Justin Hunter (1,083 yards)
Tackles:
A.J. Johnson* (138)
Sacks:
Darrington Sentimore (4)
Interceptions:
Byron Moore* (5)
Spring answers
1. Buying into the new staff:
There are always those awkward first moments with a new coaching staff, but the Vols seemed to go through spring pretty smoothly with new coach Butch Jones and his staff. This team didn't have time to question Jones and his guys because the program has been trending downward for sometime now. Thanks to Jones, you could tell there was a lot more excitement in Knoxville this spring.
2. Defensive comfort:
It looks like Tennessee's defense adjusted back to a 4-3 defense will this spring. After struggling all year with the SEC's worst defense in a 3-4 scheme under Sal Sunseri, Vols defenders really took to defensive coordinator John Jancek's 4-3. With good experience coming back in the front seven, which proved to be a much more aggressive front this spring. If those guys continue to improve, it will help mask some of the issues in the secondary.
3. Sapp's emergence:
With Herman Lathers gone, the Vols were in search of a valuable replacement, and it looks like they found it in senior
Dontavis Sapp
. He entered the spring with just two career starts and was Lathers' backup at the Will spot last year, but was Tennessee's most consistent defender this spring. His development this spring was very important with Curt Maggitt out for the spring while he recovered from the ACL injury he suffered last fall.
Fall questions
1. Quarterback competition:
Jones left the spring saying that both
Justin Worley
and
Nathan Peterman
were about even for the starting quarterback spot. Worley was a little more consistent this spring and has game experience, but Jones is now putting the team in their hands, as they head into the summer. This competition won't officially be decided until fall camp, so neither can afford to slip now.
2. Wide receiver issues:
The Vols lost 2,914 yards and 26 touchdowns from their top four pass-catchers in 2012. Tennessee is in desperate need of finding quality replacements to help its inexperienced quarterbacks this fall. Pig Howard is expected to make an impact this fall, but struggled this spring. Sophomore
Cody Blanc
showed good strides, and the staff needs more out of redshirt freshmen
Drae Bowles
and
Jason Croom
.
3. Thin secondary:
Tennessee still has some work to do in its secondary. Brian Randolph's return will be nice, but the numbers are still thin throughout the defensive backfield, especially at cornerback.
Justin Coleman
emerged as the Vols' top option at corner, but the spot opposite him still hasn't been determined. Having
Eric Gordon
away from the team for disciplinary reasons doesn't help, either. There were signs of improvement from the secondary, but it's still very much a work in progress.
April, 15, 2013
4/15/13
12:00
PM ET
Some SEC links to get your week going.
February, 25, 2013
2/25/13
10:17
AM ET
We're taking a look at key storylines for all seven teams in the SEC Eastern Division.
Chris will take a look at the main issues in the Western Division on Tuesday.

FLORIDA GATORS
Spring start:
March 13
Spring game:
April 6
What to watch:
1. Rebuilding at linebacker: The Gators have to start figuring out the linebacker situation. Do they go with redshirt junior Michael Taylor in the middle, who's a run-stuffer but has to come off the field in passing downs? Or do they try sophomore Antonio Morrison, who played outside at 218 pounds as a freshman and has hopefully bulked up a bit? The most likely scenario is Morrison, which means UF has to find a weakside linebacker. That could be freshmen early enrollee Daniel McMillian or Alex Anzalone. The strongside starter should be, at least entering the spring, redshirt junior Neiron Ball.

2. Robinson's growth: One of the most scrutinized players this spring will be receiver Demarcus Robinson. He was the only one of UF's five receiver signees to enroll early and he'll be given every chance to win a starting spot. UF's receivers have been below average for the past three seasons and the Gators desperately need someone to become a consistent playmaker. The 6-foot-2, 195-pound Robinson, who caught 53 passes for more than 1,000 yards and scored 15 touchdowns as a senior at Fort Valley (Ga.) Peach County, is going to be under a lot of pressure to produce.

3. Driskel's confidence: Quarterback Jeff Driskel returns for his second season as a starter, and it'll be interesting to see how much he improves on his decision-making, release and accuracy. He's sure to benefit from not splitting reps 50-50 any longer. But just as important as Driskel's development is what happens behind him with redshirt junior Tyler Murphy and redshirt freshman Skyler Mornhinweg. Neither has thrown a pass in a college game. Why is that important? Because Driskel has not been able to stay healthy in his first two seasons in Gainesville. He missed starts as a freshman and sophomore because of ankle injuries. UF was lucky in 2012 to have Jacoby Brissett, who had played significantly as John Brantley's backup in 2011. With Brissett transferring to NC State, the Gators no longer have that luxury.

-- Mike DiRocco, GatorNation
GEORGIA BULLDOGS

Spring start:
March 2
Spring game:
April 6
What to watch:
1. Rebuilding the defense: Georgia begins its transition to a completely new collection of defensive talent this spring. No longer are Jarvis Jones, Alec Ogletree, Shawn Williams, Bacarri Rambo and John Jenkins on the roster. In fact, the Bulldogs must replace a total of 12 defensive players who were either full-time starters or key contributors, and at some positions, the possible replacements have little to no college experience. That makes this a pivotal time for defensive coordinator Todd Grantham to begin identifying which players will fill those roles, as the Bulldogs will have little margin for error when they open the season against Clemson's explosive offense Aug. 31. Some names to watch this spring: Josh Harvey-Clemons, Sheldon Dawson and Jonathan Taylor.

2. Developing the youngsters: The good news for Grantham and the other defensive coaches is that they brought in a number of January enrollees who should be able to help immediately. Junior college transfer Chris Mayes and John Atkins hope to fill the void left by Jenkins and Kwame Geathers at noseguard. Ryne Rankin and Reggie Carter will immediately enter the mix at linebacker. And cornerback Reggie Wilkerson and safeties Tray Matthews and Quincy Mauger can help address Georgia's depth shortage in a secondary that lost four key players. Georgia's 13 early enrollees -- more than twice as many January enrollees as Georgia coach Mark Richt has ever brought in before -- will help fill needs on both sides of the ball, but the defense is where the newcomers were most necessary.

3. Offensive line reps: For the most part, Georgia used the same starting lineup along its offensive line throughout the 2012 season and each of those starters should return this fall. But two of those starters -- right guard Chris Burnette and right tackle John Theus -- underwent surgeries during the offseason and will miss all or part of spring practice. There was a good chance that offensive line coach Will Friend was going to deploy more players in his line rotation this fall anyway, but the valuable practice reps that will be available with Burnette and Theus sidelined might make a deeper rotation even more likely. Someone still has to take advantage of the opportunity, however.

-- David Ching, DawgNation
KENTUCKY WILDCATS

Spring start:
March 18
Spring game:
April 13
What to watch:
1. Getting used to new coaches: New coaches are roaming Kentucky's football facility this spring. Mark Stoops brings a more defense-minded philosophy to Lexington, but his coaches will have to get things going on offense if the Wildcats are going to improve in 2013. There are always awkward moments when transitioning to a new staff, but now's the time to create valuable trust on both sides.

2. Finding offensive playmakers: Stoops might have a strong defensive background, but the Wildcats have to find answers on offense. Injuries were an issue last year, but for two straight years the Wildcats had real problems finding consistent playmakers on offense. Quarterback Maxwell Smith returns, but he needs more than just wide receiver La'Rod King to help him. Getting running back Josh Clemons back would be big, but expect the coaches to turn to a young group of receivers and running backs.

3. Tougher team: One thing Stoops wants from his players is a tougher identity. Stoops wants to build a stronger team from the ground up. He's taking a page from Texas A&M coach Kevin Sumlin when it comes to preparing his new team. This spring, we'll see just how much of an emphasis the coaches put on the weight room and conditioning before hitting the football side of things.
MISSOURI TIGERS

Spring start:
March 12
Spring game:
April 20
What to watch:
1. Josey's rehab: The Tigers will be keeping tabs on running back Henry Josey, who missed all of 2012 after suffering a devastating knee injury midway through the 2011 season. He was the Big 12's best running back before his injury and Mizzou needs him back. The staff has had to be patient, but this could be a crucial time in his rehab, as he looks to get his football legs back.

2. Rebuilding the front seven: Mizzou must replace a lot in its front seven. Star defensive tackle Sheldon Richardson's absence leaves a gaping hole up front, while linebackers Will Ebner and Zaviar Gooden must be replaced. Lucas Vincent will be first in line to take Richardson's spot, while Darvin Ruise, Donovan Bonner and Michael Scherer are three players to watch at linebacker.

3. Toughening up: Injuries ravaged Mizzou's offense last year, but it's clear that Mizzou wasn't in the playing shape that it would have liked to be in during its first year in the SEC. Injuries are part of the game, but gaining that toughness factor this spring will go a long way for the Tigers in 2013. The SEC is more than just a grind, and the Tigers found out the hard way that conditioning in this league is a little different than in the Big 12.
SOUTH CAROLINA GAMECOCKS

Spring start:
March 5
Spring game:
April 13
What to watch:
1. New backfield options: Marcus Lattimore and Kenny Miles are gone, so the Gamecocks will have to turn to their younger backs. Brandon Wilds missed the 2012 season with an ankle injury but should return this spring. Rising sophomore Mike Davis has all the tools to be a big-time player for the Gamecocks and could be the top option in the Gamecocks' backfield. Shifty Shon Carson also returns from a knee injury, so South Carolina will have a solid group to work with this spring.

2. QB controversy: Quarterback Connor Shaw might be tabbed as the starter, but with him out for the spring, Dylan Thompson will take the first-team reps. Thompson proved to be very valuable last year, and both will play this fall. Thompson has become one of the most vocal players on the team and is a strong leader. A good spring could bring some real controversy to the position.

3. Holes at linebacker: South Carolina will be without its two-deep at linebacker and "Spur" DeVonte Holloman is gone. That means there's a lot of work to be done when it comes to finding viable replacements. Sharrod Golightly will get the early crack at the Spur, and keep an eye on Kaiwan Lews, who was a true freshman last year and has a lot of potential to work with.
TENNESSEE VOLUNTEERS

Spring start:
March 9
Spring game:
April 20
What to watch:
1. New coaches on the block: With Butch Jones in town, the Vols have to get used to their third head coach in five springs. Jones and his staff have helped bring some much-needed energy to the program since arriving, but now it's time to develop vital on-field chemistry between the coaches and players.

2. Receiving help: The Vols' offense took at major hit at receiver. Juniors Justin Hunter and Cordarrelle Patterson made the leap to the NFL, while deep threat Zach Rogers and tight end Mychal Rivera graduated. Tennessee will now turn to a host of inexperienced receiving targets, including rising sophomore Alton Howard and early enrollee Paul Harris.

3. Quarterback battle: With Tyler Bray leaving for the NFL, Tennessee will work with rising junior Justin Worley and redshirt freshman Nathan Peterman. Worley has the edge when it comes to game experience, but with a new staff, this battle will be wide-open. They will also need to make strides before freshmen Joshua Dobbs and Riley Ferguson get on campus this summer.
VANDERBILT COMMODORES

Spring start:
March 15
Spring game:
April 13
What to watch:
1. Replacing Rodgers: Quarterback Jordan Rodgers is gone. The good news is Austyn Carta-Samuels has good experience after starting two years at Wyoming before transferring to Vandy. Redshirt freshman Patton Robinette is someone the coaches also are excited about, especially with his dual-threat ability, and should really push Carta-Samuels the whole spring.

2. Running back battles: The Commodores lost star running back Zac Stacy, so veteran Wesley Tate, who has bounced around positions, and rising sophomore Brian Kimbrow, who has the do-everything look to him at running back, will share reps. Warren Norman and Jerron Seymour also return, making for quite the talented backfield.

3. Keeping the edge: Now that another very successful season under James Franklin is over, the Dores have to continue to keep the edge that got them to where they are. It might sound like a broken record, but Vanderbilt still has to prove that it isn't the Vandy of old. People are certainly taking the Dores more seriously, but keeping that edge is important for more growth.