October, 29, 2014
Oct 29
12:00
PM ET
It's easy to look at
Amari Cooper
and be dismissive of his chances to win the Heisman Trophy.
First of all, he's a receiver, meaning he's reliant on someone else to get him the football, unlike, say, a quarterback or running back.
Secondly, he's a receiver, meaning there hasn't been a player at the position to win the award in more than two decades.
[+] Enlarge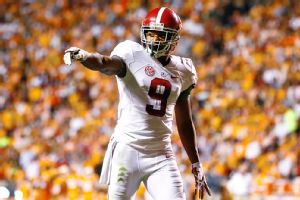 Kevin C. Cox/Getty ImagesAmari Cooper might not get as many touches as a QB or RB, but what he does with the touches he does get is unmatched.
Lastly, he's a receiver and nothing more, meaning the only two receivers to ever hoist the trophy, Desmond Howard and Tim Brown, both doubled as return men.
See where we're going with this? The odds are stacked against Cooper.
So we should just throw in the towel and pin the SEC's hopes of claiming the Heisman on Mississippi State QB
Dak Prescott
, right?
Of course not.
Cooper doesn't have a single first- or second-place vote in the most recent
ESPN Experts' Poll
, and that's surprising. If the Heisman Trophy is meant to recognize "the outstanding college football player whose performance best exhibits the pursuit of excellence with integrity," then Alabama's junior receiver certainly applies. He's never been in trouble with the law, plays through pain, and is one of the most dominant players in college football, regardless of position.
Yes, as a receiver he's reliant on the quarterback to get him the football, but if you watch him play on a consistent basis then you know how many of his yards are picked up after the catch. His 1,146 yards from scrimmage ranks 11th nationally. There are 10 running backs ahead of him, and his yards per play (15.28) dwarfs all of them. Think of it this way: He has 75 total touches, compared to Melvin Gordon's 162 or Ameer Abdullah's 193. Even with so few opportunities, no one in college football has more plays of 20-plus yards than Cooper's 19.
If they'd let him, Cooper would return kicks and punts and add to his overall numbers. While coach Nick Saban said that Cooper would be "
the first guy
" to volunteer to do so, he doesn't want to risk injury to his best player. Additionally, Saban wants to spread around opportunities to guys such as
Cyrus Jones
and
Christion Jones
, who are capable of making plays on special teams.
While it's hard to argue that anyone effects the outcome of the game as much as a quarterback, Cooper's impact goes beyond the typical receiver. He's been targeted 96 times this season, which accounts for nearly 40 percent of all of Alabama's pass attempts. He's caught 19 passes on third down, which is more than every other Alabama receiver combined.
In short, Cooper
is
Alabama's offense. It's hard to imagine where
Blake Sims
would be without him.
Balance? Who needs balance when you have No. 9 to throw the ball to?
"You know that's kind of like saying you get 26 outs in the game throwing fastballs, so you should throw a changeup and then the guy hits it out of the park. I mean, should you play to your strengths or not?" Saban told reporters after Alabama beat Tennessee, 34-20, on Saturday. "Now, we have other good players ... but as long as No. 9 is getting open and as long as we're throwing him the ball, I don't think we should tell the quarterback, don't throw it to him."
Said Butch Jones, who watched his defense allow Cooper an Alabama-record 224 yards: "They do different things with him, but he runs after the catch, makes every catch. He's an elite player -- very deserving to be spoken about in the Heisman Trophy race. I have a lot of respect for him as a competitor."
But does respect equal a trip to New York City for the Heisman Trophy ceremony? Only time will tell.
But so long as Cooper keeps posting eye-popping numbers, his name should be in the conversation. Even if he's a receiver.