August, 15, 2012
8/15/12
3:30
PM ET
The dismissal of Tyrann Mathieu has created quite the debate about whether or not LSU should still be considered a legit contender for the national championship.
Yes, Mathieu was a big play waiting to happen whenever he was on the field last year, but was he so special that LSU's chances at competing for and winning a national championship should be considerably hindered? I think not. There's just too much talent on both sides of the ball in Baton Rouge.
Mathieu's playmaking ability and knack for creating turnovers will be deeply missed on defense, as will his ability to generate a huge play in the punt return game, but there are enough pieces to fill in and keep the Tigers in the hunt for multiple championships this season.
By that logic, Mathieue doesn't qualify as one of the SEC's most indispensable players. The Tigers might be better with him, but they certainly aren't slouches without him.
So who are the players teams can't survive without? Who are the most indispensable players for each team in the SEC?
Let's take a look:

ALABAMA
AJ McCarron, QB: The Crimson Tide certainly has a wealth of talent on offense, but take McCarron out of the equation and Alabama would be sunk. Last year's backup, Phillip Sims, transferred to Virginia, and there isn't any experience behind McCarron. Alabama might have to put its offense in the hands of a freshman if McCarron went down.

ARKANSAS
Tyler Wilson, QB: Like Alabama, Arkansas' offense would suffer without Wilson, who enters the fall as the league's top quarterback. Wilson not only has elite skill but he's an exceptional game manager. Backup Brandon Mitchell has game reps under his belt, but he's still unproven and has spent fall camp working at receiver. Redshirt freshman Brandon Allen could be the future of the position, but is he ready to guide Arkansas through the SEC West?

AUBURN
Emory Blake, WR: Blake is one of the league's best receivers and without him, Auburn lacks a true game-changing receiving threat. The Tigers have depth at wide receiver, but no one has made close to the impact Blake has in the Tigers' offense. Without him, Auburn's quarterback might have trouble finding a consistent target outside of tight end Philip Lutzenkirchen.

FLORIDA
Mike Gillislee, RB: While he's had an up-and-down career as a backup thus far, Gillislee has a ton of support from his coaches, who think he's Florida's most important offensive player. Florida has two young QBs working this fall and they'll need all they can get from the running game to help ease the pressure. Gillislee is the best option at running back and without him the Gators would be in trouble.

GEORGIA
Kenarious Gates, OT: Aaron Murray might be the face of the program, but the coaches like the potential backup Hutson Mason has. The offensive line, on the other hand, has little room for error and Gates is Georgia's most talented and versatile lineman. If he were to go down, the Dawgs would have to reorganize an already fragile line and would lose its linchpin up front, causing the offense to regress.

KENTUCKY
Larry Warford, OG: Like Georgia, Kentucky can't afford to lose anyone up front, especially not Warford. He's the Wildcats' best lineman and has the ability to move around if needed. This offense already has its issues and there are too many young, inexperienced bodies up front. Losing a talented vet like Warford could cost Kentucky's offense a lot.

LSU
Eric Reid, S: The loss of the Honey Badger will sting, but to lose Reid as well means LSU would be without two All-American talents in its secondary. Reid takes the deep ball away and can make plays all over the field. Take him out of the lineup, and the Tigers would have to turn to sophomore Ronald Martin, who filled in when Reid was hurt last year, and redshirt frosh Micah Eugene.

MISSISSIPPI STATE
Gabe Jackson, OG: The Bulldogs' left guard is the most talented lineman on the team, and if last season proved anything, this line can't afford to lose a key piece. Injuries rocked this line and Mississippi State's offense last season. Losing Jackson, who has started 26 games, might be even worse for the Bulldogs and might cause the offense to take another dip in production.

MISSOURI
James Franklin, QB: He enjoyed a breakout season last year and enters his first season in the SEC as the Tigers' most experienced quarterbacks. He's probably the SEC's best dual-threat QB as well. Offensive coordinator David Yost said Franklin is so important to Mizzou's offensive scheme because he's such a good runner and passer and understands the offense better than anyone. Losing him would put a dent in the Tigers' first SEC season.

OLE MISS
Randall Mackey, WR: The former quarterback has quickly become very popular with Ole Miss' coaches. They think he's the Rebels' most versatile offensive player and could be a nightmare for defenses to defend this fall. He'll lineup all over, and the Rebels just don't have anyone else who fits in the offense like Mackey.

SOUTH CAROLINA
Connor Shaw, QB: He's turning more and more into the quarterback Steve Spurrier wants for his offense. Losing him now would be devastating, especially with the unproven players at wide receiver. The Gamecocks have depth at quarterback, but neither Andrew Clifford nor Dylan Thompson have much game experience at all.

TENNESSEE
Tyler Bray, QB: The Vols found out the hard way what life would be like without Bray in the lineup last year. Matt Sims and Justin Worley struggled mightily in relief, as the Vols went 1-4 without Bray. During that span, Tennessee scored more than seven points just once. Worley has grown and has solid weapons to work with, but not having Bray could cost Tennessee yet another bowl appearance.

TEXAS A&M
Luke Joeckel, OT: He's one of the league's top left tackles and is a future first-round draft pick. For a team working with young, inexperienced quarterbacks, losing Joeckel would be devastating. And experience is lacking behind him, as redshirt freshman Nathan Gutekunst is listed the No. 2 left tackle on the depth chart. You might see some rearranging in order to make up for the loss of Joeckel.

VANDERBILT
Wesley Johnson, OT: The left tackle is easily Vanderbilt's top lineman. He can move around if needed and is more than solid at the most important position up front. The Commodores are already struggling with depth along the line, so having to replace Johnson would definitely halt its development and would set Vandy's offense back in 2012.
August, 13, 2012
8/13/12
11:35
AM ET
A handful of SEC teams took to the practice field to conduct scrimmages over the weekend. Here are some notes from some of the scrimmages:

ALABAMA
ARKANSAS
LSU
MISSOURI
OLE MISS
SOUTH CAROLINA
TENNESSEE
TEXAS A&M
VANDERBILT

July, 9, 2012
7/09/12
10:45
AM ET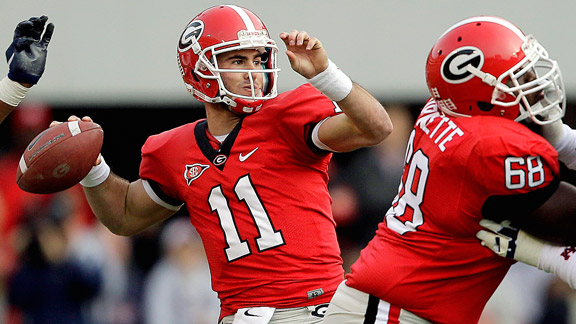 AP Photo/David GoldmanAaron Murray and the Georgia quarterbacks rank as the top position group in the SEC.
As we get closer and closer to the 2012 college football season, it's time for one of the blog's most popular items -- position rankings.
This is never easy. We go back and forth dozens of times before finding any sort of confidence in our lists. After checking with colleagues and people around the league, we come up with lists ranking each position and in the end someone gets upset. Someone has to be last and someone is always underrated or overrated.
Such is life.
The important factors for every position were great players, true game-changers, depth and experience. We also considered past performances, but we also had to think about possible projections for the upcoming season.
We'll start with the quarterback position:
1. Georgia:
Aaron Murray
has thrown 59 touchdowns in his first two seasons and is on his way to breaking several school records. He has great toughness and mechanics, but needs to cut down on his 14 interceptions from a year ago. The staff is looking to redshirt
Hutson Mason
, but he might be the league's best quarterback insurance policy. He could be used if Murray suffers a serious injury. Freshmen Faton Bauta and
Christian LeMay
are both talented, but inexperienced.
2. Arkansas:
Tyler Wilson
is arguably the SEC's best quarterback and probably would have been a first-rounder had he come out this past season. Junior
Brandon Mitchell
complements Wilson well with his running ability, but he'll be in an intense battle with redshirt freshman
Brandon Allen
, who is a stronger drop-back quarterback.
3. Tennessee:
If
Tyler Bray
can stay healthy, he's potentially a 3,000-yard, 30-touchdown guy.
Justin Worley
was thrown into the fire last season and gained some valuable experience, and the Vols also have high hopes for true freshman Nathan Peterman, who showed promise in the spring before dislocating his finger.
4. Alabama:
If
AJ McCarron
picks up from 2011, he could contend to be the league's top quarterback. He has all the tools, but needs to keep making strides with his decision-making. Behind McCarron, Alabama doesn't have much experience with
Phillip Sims
transferring to Virginia. Next in line would probably be redshirt freshman
Phillip Ely
, but true freshman Alec Morris has turned heads in summer workouts.
5. Vanderbilt:
Jordan Rodgers
put a charge into the Commodores' offense when he took over midway through last season. He's a big-play quarterback, but needs to cut down on his turnovers. The other thing Vanderbilt has going for it is Austyn Carta-Samuels, who started for two seasons at Wyoming and rolled up nearly 2,100 yards in total offense in 2010. Plus, the staff is excited about early enrollee Patton Robinette, who is one of the top quarterback prospects to sign with Vandy in a while.
[+] Enlarge
Spruce Derden/US PresswireNow that Missouri is in the SEC, James Franklin enters as one of the most versatile quarterbacks.
6. Missouri:
James Franklin
enjoyed a breakout season in 2011 and enters his first year in the SEC as the league's best dual-threat quarterback. However, will he be all the way back after undergoing shoulder surgery in the spring? With Franklin out, redshirt freshman
Corbin Berkstresser
worked with the Tigers' first team this spring and performed well. Junior
Ashton Glaser
is in his fourth season, but has barely played.
7. South Carolina:
Connor Shaw
is hardly the biggest quarterback in the SEC and runs a lot, so that's never an ideal situation. However, he improved greatly toward the end of last season and made strides this spring to use his arm more than his legs. The Gamecocks have barely any experience behind Shaw, as
Dylan Thompson
and
Andrew Clifford
battle for the No. 2 spot.
8. LSU:
It's
Zach Mettenberger
time in Baton Rouge, as he takes over a unit that has struggled with consistency. He was a very talented high school player a few years ago and helped make LSU's offense much more pass-friendly this spring. While he's an obvious upgrade for the Tigers, he's still pretty unproven at this level. Behind him, there's no experience, as
Jerrard Randall
and
Stephen Rivers
both redshirted in 2011.
9. Auburn:
The Tigers should have quite the quarterback battle on their hands.
Clint Moseley
returns with more experience under center, but he lost ground to
Kiehl Frazier
this spring because of shoulder soreness. Frazier was a run-first QB last year, but looked much more confident with his arm this spring with help from new offensive coordinator Scot Loeffler. Zeke Pike was a top QB prospect coming out of high school, but off-field issues sent him home for the summer.
10. Florida:
Will Muschamp said following spring practice that he felt like he had two quarterbacks he could win with. Nonetheless, he wasn't ready to name either
Jacoby Brissett
or
Jeff Driskel
the starter. Both struggled for the most part last year, but both were very talented high school prospects and each could excel with more experience. The reality is that both will end up playing this season.
11. Mississippi State:
Dan Mullen said this spring that he was very pleased with how
Tyler Russell
performed this spring, but Russell has had consistency issues in the past. The hope is that now that Russell knows he's the starter, he'll be more comfortable on the field. However, Mississippi State only has one other scholarship quarterback on its roster: redshirt freshman
Dak Prescott
. Quarterbacks
Dylan Favre
and Nick Schuessler both transferred.
12. Kentucky:
Maxwell Smith
was far from perfect last year, but he took advantage of his time on the field. After replacing the injured
Morgan Newton
late in 2011, Smith was named to the SEC's All-Freshmen team. He also seemed to improve this spring with Newton watching and rehabbing. Newton's time as a starter could be over, but both will be pushed by incoming freshman Patrick Towles, who might be more physically gifted than the two ahead of him.
13. Texas A&M:
Kevin Sumlin is working with a ton of inexperience at quarterback. Sophomore
Jameill Showers
has the edge, but he's thrown all of five career passes. Things got even foggier for the Aggies when backup
Johnny Manziel
was arrested in late June and charged with disorderly conduct by fighting, failure to identify and having a fake driver's license. That leaves sophomore
Matt Joeckel
and true freshman Matt Davis with the chance to catch Showers.
14. Ole Miss:
It looked like Bo Wallace would come in and snatch the starting job, but as spring went on
Barry Brunetti
played himself into a tie with Wallace. But Brunetti was the starter coming out of last spring and played in just five games last fall.
Randall Mackey
moved from quarterback to wide receiver, while
Zack Stoudt
left the team in June, so there is very little experience at the quarterback position in Oxford.
October, 12, 2011
10/12/11
1:54
PM ET
South Carolina coach Steve Spurrier said the Gamecocks are ready to roll with sophomore quarterback
Connor Shaw
and it's important that the team rally around Shaw.
"I guess the new word is, 'We've got your back ... Hang in there. We're going to block for you and give you a chance to be successful,'" Spurrier said Wednesday, just a day after
Stephen Garcia
's dismissal from the team was announced.
There's no turning back now for the No. 15-ranked Gamecocks. The enigmatic and oft-suspended Garcia is finally gone. It's Shaw's show the rest of the way, and the Head Ball Coach is the first to admit that they don't have anybody behind the 6-foot-1, 200-pound sophomore who's remotely ready to play against an SEC defense.
[+] Enlarge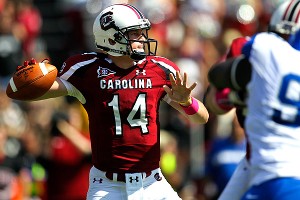 Daniel Shirey/US PresswireWith Stephen Garcia out of the picture, the South Carolina quarterback job is Connor Shaw's.
"We need to keep him healthy," Spurrier said. "But as a coach, you take the players you've got and get ready to go play, and that's all you can do. We don't want Connor to run a whole lot. He's a good runner, so he'll run a little bit here and there. But we need to think about his safety all the time out there."
The good thing for the Gamecocks is that Shaw at least has some SEC experience. He's coming off a four-touchdown performance last week at home in a 54-3 rout of Kentucky after being named the starter earlier in the week. He also opened this season as the starter against East Carolina, but was pulled after the first quarter. Last season, he went into the game late against Auburn (the regular-season contest) and moved the team into Auburn territory on two different occasions, but was intercepted both times.
He gets another shot at an SEC defense on the road this Saturday when South Carolina travels to Mississippi State. It's one of three SEC road games the Gamecocks have remaining as they try to get back to the SEC championship game for the second year in a row.
Whatever happens, Spurrier doesn't think any of it will be too big for Shaw, who by all accounts outplayed Garcia during preseason camp.
"Connor is from a football family," Spurrier said. "Connor was an all-state quarterback in Georgia a couple years ago. His brother is the starting quarterback at Georgia Southern. I think they're undefeated. His dad is a head high school coach, so he's grown up with football. I guess he's what they call a football junkie. He needs to improve, and he knows that. He's a pretty level-headed young man, and he's our quarterback.
"We need to let him play and see what happens. He's not going to be perfect, but he's certainly capable of making the plays when they're there."
Spurrier said he was still unsure who would go in at quarterback if something were to happen to Shaw. Sophomore
Andrew Clifford
and redshirt freshman
Dylan Thompson
are the two possibilities, although the Gamecocks would also run a lot of their Wildcat package with
Bruce Ellington
, Stephon Gilmore and
Marcus Lattimore
all factoring into the equation.
"Dylan and Andrew are pretty even," Spurrier said. "It may be who has the best warm-up in pregame practice, to tell you the truth. That's what happened last Saturday. Dylan ran with the second team in pregame warm-ups and didn't look very good. Clifford was a little better. That's how close they are."
October, 11, 2011
10/11/11
3:45
PM ET
Stephen Garcia
's time as South Carolina's quarterback is officially over.
The senior quarterback was
dismissed Tuesday
after athletic director Eric Hyman said Garcia failed to meet the guidelines put in place after Garcia's fifth suspension this past spring.
A source with direct knowledge of the situation told ESPN.com's Chris Low that Garcia's dismissal resulted from his testing positive for marijuana and alcohol. The source also said Garcia's agreement in returning stipulated he would not drink alcohol.
"Being a student-athlete at the University of South Carolina is a privilege, not a right," Hyman said in a statement, "and we remind all of our student-athletes that there are consequences for their actions. For Stephen to return to and remain with the football squad this fall, we agreed on several established guidelines. Unfortunately, he has not been able to abide by those guidelines and has therefore forfeited his position on the roster. We wish him the best of luck as he moves forward in life."
Head coach Steve Spurrier also released a statement on Garcia's dismissal:
"We are all saddened that this has occurred. We all feel like we've given Stephen numerous opportunities to be a student-athlete here at South Carolina. Obviously, he has chosen not to follow the guidelines of his reinstatement contract. We wish him the best."
Garcia's departure now officially makes this
Connor Shaw
's team. He performed very well against Kentucky and now he won't have to look over his shoulder when he makes mistakes to see if Garcia will come in and relieve him of his duties again.
It also means South Carolina's quarterback crew is now extremely inexperienced. Behind Shaw, redshirt freshman
Dylan Thompson
has completed two passes for 17 yards and has carried the ball four times for 12 yards, and redshirt sophomore
Andrew Clifford
has completed two passes for 23 yards and a touchdown and has carried the ball one time for 6 yards this year. Last season, Clifford threw an interception in his first pass attempt and completed a 10-yard pass against Arkansas.
Redshirt junior
Seth Strickland
served as the team's holder for all placekicks last year and appeared in all 14 games. At quarterback, he completed both of his pass attempts, one of which went for a touchdown.
But if Shaw goes down, the Gamecocks really don't have an experienced player to take the reigns. Now is the time for South Carolina's playmakers like
Marcus Lattimore
and
Alshon Jeffery
to step up even more to help Shaw.
We'll have much more on this later on the blog.
August, 25, 2011
8/25/11
11:00
AM ET
The season is exactly a week away (thank you Mississippi State and Kentucky) and teams are still looking to work some more of the kinks out before game week officially starts.
A few teams scrimmaged Wednesday and here are some notes from how things went:
FLORIDA

New coach Will Muschamp has been pretty complimentary of the Gators during preseason camp. But that love fest was put on hold Wednesday.
After a sloppy scrimmage, Muschamp was reportedly fuming when he met with the media.
"Very immature football team at this point," Muschamp said. "Just disappointed overall with the mental effort tonight. Some procedure issues we should not be having at this point. Some mental mistakes we should not be having at this point. Overall, pretty displeased."
Muschamp said there was "no sense of urgency" from some players Wednesday and that "there ain't no doubt" players could lose their starting jobs because of Wednesday's effort -- or lack there of.
Muschamp also said that quarterback
John Brantley
was limited because of back soreness and wide receiver
Omarius Hines
is listed as questionable for the opener against Florida Atlantic with a hamstring injury.
You can check out video of Muschamp's not-so-happy news conference on Florida's
official website
. You can also read more news and notes
here
and
here
.
GEORGIA

The Bulldogs held their third scrimmage of the preseason Wednesday at Sanford Stadium.
Coach Mark Richt made things pretty interesting by putting the scout team ahead 31-0 to start the second half. The Bulldogs made up the ground and came out with a 38-34 victory.
Richt also announced the captains for the season opener in senior center Ben Jones, senior cornerback Brandon Boykin, senior defensive end DeAngelo Tyson and senior punter Drew Butler. They served as captains in Wednesday's scrimmage as well.
The highlight of the day came when receiver
Tavarres King
caught a 4-yard touchdown pass from
Hutson Mason
with 11 seconds remaining for the win. Mason finished 7-for-9 passing for 98 yards and King had three receptions for 21 yards.
Aaron Murray
started and was 5-of-9 for 79 yards. Tight end
Orson Charles
had three catches for 31 yards.
The good news was that freshman running back
Isaiah Crowell
returned after a sore groin kept him out of a few practices. He rushed for 54 yards and a touchdown on six carries.
Defensively, Boykin potentially would have had two long touchdowns on an interception (75 yards) and a fumble recovery (80), but Richt blew the whistle to stop the play.
"I thought we had a really good scrimmage on both sides of the ball," said Murray. "Coach Richt moved the ball around, and we had to drive the field a few times and the defense created some turnovers. I thought we executed plays all around."
Here are more notes from Georgia's scrimmage on the Bulldogs'
official website
. There are more notes
here
and
here
.
SOUTH CAROLINA

The Gamecocks scrimmaged for about an hour inside Williams-Brice Stadium on Wednesday and the quarterbacks seemed to come to play.
South Carolina's three quarterbacks combined to complete 19-of-25 passes for 310 yards with two touchdowns.
Stephen Garcia
completed 9-of-13 attempts for 136 yards and a score.
Connor Shaw
finished 8-for-9 for 100 yards with a touchdown.
Andrew Clifford
connected on two of his three pass attempts for 74 yards in limited action.
Receivers
Lamar Scruggs
and
Damiere Byrd
both had a touchdown reception. Scruggs' was a 37-yarder from Shaw, and Byrd's was a 38-yarder from Garcia.
You can read more about the scrimmage and check out some nifty stats on the Gamecocks'
official website
. There are more notes
here
.
SEC SCOREBOARD
Saturday, 12/20
Monday, 12/22
Tuesday, 12/23
Wednesday, 12/24
Friday, 12/26
Saturday, 12/27
Monday, 12/29
Tuesday, 12/30
Wednesday, 12/31
Thursday, 1/1
Friday, 1/2
Saturday, 1/3
Sunday, 1/4
Monday, 1/12
Tweets from https://twitter.com/ESPNCFB/lists/sec