May, 2, 2014
May 2
9:00
AM ET
BATON ROUGE, La. -- Michigan. USC. Stanford. LSU?
[+] Enlarge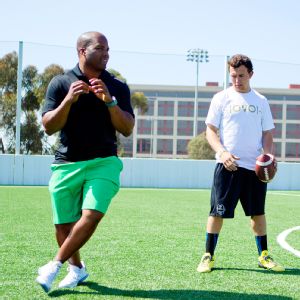 AP Photo/Nick LuceroGeorge Whitfield Jr. has become known as a tutor to such quarterbacks as Johnny Manziel.
Three of those football powers are known for their abilities to attract the nation's top quarterback prospects. The fourth could join their ranks, said quarterback guru George Whitfield Jr., largely because of his mentor, Cam Cameron.
"When your guy that you spend all day with -- meetings, practice, this and that -- has built and grown
Drew Brees
,
[Philip] Rivers
,
[Joe] Flacco
, who two of the three have won Super Bowls and the other one I think is one of the top six, seven, eight quarterbacks in the league, and now you get a chance to partake in this? That's what I'm telling you. This is one of the top destination spots now," Whitfield said during a visit to LSU.
"If I'm a big-time high school quarterback with aspirations to play in the NFL and I want to win in college, this is one of those places on one hand now that you're going to find. And they will be for some time. The recruiting's going to shift now."
Whitfield's respect for Cameron -- now entering his second season as LSU's offensive coordinator and quarterbacks coach after a decade in the NFL as a coordinator and head coach -- traces back more than 20 years. He first worked with Cameron as a pupil, picked his brain as a graduate assistant at Iowa and later interned under Cameron with the San Diego Chargers, where he learned about the importance of attention to detail.
"I would watch how pre-practice he would film quarterback-center exchange for 45 minutes," recalled Whitfield, who interned with the Chargers in 2007, Rivers' rookie season. "I admit there were times I was like, 'Come on, there's nothing to see here folks,' but … he put a guy on the ground with a camera shooting up through the center, from the center's head, and he put a guy on the ground shooting through Philip's legs so they could see the snap.
"That's how meticulous he was. And that's when I thought to myself, 'Oh I get it. I get it. It ain't about rah-rah and a good little soundbite. There's some diligence here.' That's why they never lost a snap, the Chargers, in I think like four or five years."
Today, Whitfield has implemented Cameron's lessons in his own professional life. He is a noted quarterback guru who runs a youth training academy in San Diego and annually works with some of the NFL draft's top quarterback prospects.
Among Whitfield's pre-draft clients were top overall selections
Cam Newton
and
Andrew Luck
, plus
Johnny Manziel
, one of this year's top quarterbacks.
[+] Enlarge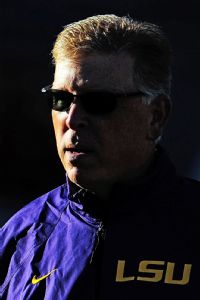 Stacy Revere/Getty ImagesCam Cameron has a long history of working with quarterbacks, a skill he's brought to LSU.
"He's passionate about quarterback play, cares about people and he's become a pro," Cameron said. "He's not just some guy trying to make a buck teaching quarterback play, he's a pro. Pros are passionate about what they do and experts at what they do, and I look at George that way."
In a strange twist, Cameron was actually serving as a guest lecturer at Whitfield's quarterback academy when an old coaching acquaintance, LSU coach Les Miles, called to gauge his interest in returning to college.
"I was out there and he called and obviously I was looking for a job at the time," Cameron said. "That's kind of where that thing kind of got going."
Whitfield remembers well how intrigued his mentor seemed with the opportunity.
"He was so excited. And I was surprised by that," Whitfield said. "This is a longtime NFL coach, now. He'd been a head coach, he hadn't been in college since Indiana [in 2001] and the lowest position he's held since he's been in the NFL is coordinator.
"I said, 'You're about to go to college?' And he goes, 'Yeah, but this isn't any college. This is LSU.' And he goes, 'It's really like a young NFL team. We can teach, coach.' He said, 'I can get back down here. It's not about contracts, 'Can we keep this guy? He's got a bonus.' It's back to teaching.' And I thought, 'Holy cow.' "
In his first year on the job, Cameron helped
Zach Mettenberger
emerge as one of the most improved quarterbacks in the country. And now one of his star pupils, freshman
Brandon Harris
, is one of Whitfield's protégées.
Not that it should come as much of a surprise. Whitfield's reputation has grown to the point that he mentors elite quarterback prospects each year -- a point of pride for an old teacher who has enjoyed Whitfield's rise.
"George and I would sit down at Denny's and eat breakfast, and the biggest difference is I used to buy George breakfast and now he's buying me breakfast," Cameron chuckled. "So yeah, you do [enjoy his success]. I think any parent or any coach who sees a young man grow and flourish in what he's passionate about, it's something that you feel good about."
Whitfield was 13 when he first convinced his parents to let him participate in a high school quarterback camp that Cameron led at Michigan, where he was then coaching receivers and quarterbacks. Their relationship recently came full circle, with Whitfield mentoring Cameron's son Danny and taking him on a prospect tour to visit college campuses.
"It just meant the world that he'd say, 'All right, I want you to work with my son,' " Whitfield said. "I started working with Danny a couple, three, four years ago and now I'm the same age I was when I was working with his dad. "I thought, 'Man, I'm working with your son, but you taught me the majority of what I know, or the foundation, and I'm going to pass it on to your son.' "
Perhaps this mutual admiration society of coaches will someday span three generations.
If
Danny
-- a 2015 quarterback prospect -- one day enters the profession and similarly reflects on the influence that Whitfield had on his development, it would only be fitting. So many of those lessons came from a familiar source.
April, 9, 2014
Apr 9
1:00
PM ET
BATON ROUGE, La. -- The race to become the first quarterback selected in next month's NFL draft is apparently down to three players: Central Florida's
Blake Bortles
, Louisville's
Teddy Bridgewater
and Texas A&M's
Johnny Manziel
.
[+] Enlarge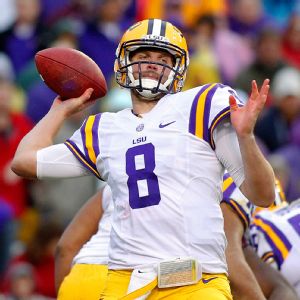 AP Photo, Cal Sport MediaZach Mettenberger will get a chance to show he's 100 percent healthy at LSU's pro day on Wednesday.
But according to quarterback guru George Whitfield, who recently visited LSU to speak at a coaches clinic, there easily could have been another contender had Tigers quarterback
Zach Mettenberger
avoided the late-season injury that prevented him from showing off in postseason all-star games and at the pre-draft combine.
"If he was healthy, I think he's right in this," said Whitfield, who tutored Manziel and Virginia Tech's
Logan Thomas
this year, after working with such prospects as Cam Newton and Andrew Luck in previous draft cycles. "I don't think it's a conversation of three, it could be a conversation of four if Zach was healthy coming down the back stretch. But I don't think it's going to be a shock at all if you see him go in the top couple rounds. Not at all. I think somebody's going to get a great return on investment."
At LSU's pro day on Wednesday, Mettenberger gets his first major opportunity to prove that the knee he injured in the regular-season finale against Arkansas is stable. He already has proven that his arm is NFL caliber, which is why some draft projections have Mettenberger going as high as the second round after a standout senior season.
Mettenberger (3,082 passing yards, 22 touchdowns, eight interceptions) was sixth among FBS quarterbacks with an 85.1 Total Quarterback Rating last season. According to ESPN Stats and Information, he made the biggest jump of any qualified FBS quarterback after ranking 80th out of 122 qualified quarterbacks with a 47.1 Total QBR in 2012.
"I think he's one of the best quarterbacks in this draft," Whitfield said. "I thought the year he had and the growth he had this year, especially with [LSU offensive coordinator] Cam Cameron, just getting a chance to get out there and operate in that system -- [and to] have more responsibility. He was better in the pocket. It was just a shame he did take that injury toward the end of the season, but he just looked more confident, and he wasn't just a big guy [who] was pitching anymore."
Mettenberger is just one member of a large group of LSU prospects who will work out in front of NFL scouts, coaches and player personnel executives on Wednesday. Among those expected to participate are running backs
Jeremy Hill
,
J.C. Copeland
and
Alfred Blue
, receivers
Odell Beckham
,
Jarvis Landry
and
Kadron Boone
, defensive linemen
Anthony Johnson
and
Ego Ferguson
, linebacker
Lamin Barrow
, safety
Craig Loston
and offensive lineman
Trai Turner
.
ESPN Scouts Inc.
rates seven of them among the draft's top 150 prospects: Beckham (No. 21), Landry (47), Hill (69), Turner (109), Loston (110), Ferguson (120) and Johnson (139).
Let's take a closer look at three of them -- Mettenberger, Beckham and Hill -- with a statistical assist from ESPN Stats and Info.
ZACH METTENBERGER
In his first season working with Cameron, Mettenberger greatly improved as a downfield passer. He raised his completion percentage on throws of 15 yards or longer 14 points, to 53.4 percent, in 2013. Among ESPN's top-10 quarterback prospects in this draft, only Clemson's
Tajh Boyd
(53.7 percent) completed a higher percentage of long balls. Of the 10, Mettenberger had by far the highest percentage of total completions (67.7) travel at least 10 yards. Bridgewater was next at 57.1.
He was also outstanding against the blitz and on third down -- assets that should help convince a team looking for a pro-style pocket passer to keep him in mind. Mettenberger (57-for-85, 883 yards, eight touchdowns, two interceptions against blitzing defenses) had the second-highest completion percentage (67.1) against the blitz of any of the top-10 quarterbacks. And on third down, his 53.7 conversion percentage was the best of the bunch. Mettenberger went 58-for-89 with nine touchdowns and one interception on third down, and his 65.2 completion percentage in those situations was third among the top-10 quarterbacks.
JEREMY HILL
Because of the declining value attached to running backs in the NFL, it seems entirely likely that no running backs will go in the first round of this draft. Last year, the first running back went at No. 37 -- the latest the first running back was picked in the common draft era.
Ohio State's
Carlos Hyde
is generally considered the top running back prospect in this draft, although Hill's physical ability makes him an enticing target.
Hill faced eight or more defenders in a stacked box on nearly half of his carries last season (96 of 203), and yet, he still averaged an AQ-best 8 yards per rush in those situations and scored 15 touchdowns.
He was also a phenomenal between-the-tackles runner, picking up 7.9 yards per carry on runs up the middle, with about one in every five (24 of 118) going for at least 10 yards. On runs outside the tackles, Hill had 16 of 85 attempts go for at least 10 yards.
ODELL BECKHAM
Beckham is one of the draft's most explosive playmakers, which is why ESPN's Mel Kiper Jr. had him going 18th overall to the New York Jets in his most recent mock draft. He and Landry are both among the 15 wideouts who rank among Scouts Inc.'s Top 100 players -- the most receivers in the top 100 since 2005.
Beckham (59 catches, 1,152 yards, eight touchdowns, 178.1 all-purpose ypg last season) had an AQ-high 26 receptions on passes thrown at least 15 yards last season. He had at least two catches that covered such a distance in seven of 13 games in 2013, which certainly speaks to the big-play ability that has him so high on Kiper's mock draft board.
May, 2, 2013
5/02/13
2:30
PM ET
By
Sharon Katz, ESPN Stats & Information
| ESPN.com
Stacy Revere/Getty ImagesWhat parts of Johnny Manziel's game need to improve for him to play in the NFL?
The NFL began to look more like the college game last season with mobile quarterbacks, zone-read options and spread passing attacks. With some work, Texas A&M's Johnny Manziel has the tools to continue the evolution.
Robert Griffin III
,
Russell Wilson
and
Colin Kaepernick
transformed the game with their speed and versatility, forcing defenses to adapt to a new style of play.
All three of those quarterbacks were also proficient passers. They each possess four qualities necessary to be a successful quarterback in the NFL: overall accuracy, ability to handle the blitz, downfield precision and composure under duress.
Manziel is skilled in all four categories, but he could improve in each next season to boost his draft stock if he decides to declare for the draft.
Overall accuracy
In 2012, Manziel completed 68 percent of his passes, which ranked ninth among FBS teams. He was at his best on short and intermediate passes, completing more than 76 percent of his throws within 10 yards of the line of scrimmage.
One of his greatest strengths was putting the ball in spots that enabled his receivers to run after the catch. Texas A&M ranked sixth among colleges in AQ conferences in yards after the catch, averaging 6.5 yards after the catch per reception.
Ability to handle the blitz
Opponents blitzed Manziel on fewer than 30 percent of his dropbacks last season.
Although Manziel's completion percentage was significantly lower against the blitz, he exploited blitzing defenses with big plays.
Manziel averaged a play of 20 yards or more once every 6.4 dropbacks when opponents blitzed, compared with once every 8.5 dropbacks when they sent standard pressure.
His biggest plays came when scrambling, with him rushing for 389 yards and seven touchdowns on 32 scrambles against the blitz.
Downfield precision
This is probably the one area Manziel could improve the most. Last season, he completed 38.7 percent of his passes of 20 yards or longer with eight touchdowns and four interceptions.
To put that into perspective, Griffin III, Wilson and
Andrew Luck
all completed a higher percentage of their passes on throws of this distance in their final year of college.
Manziel can learn from those quarterbacks, who all increased their completion percentages on throws of at least 20 yards downfield in their final college seasons.
Composure under duress
Last season, Manziel completed 51.4 percent of his passes when under duress, about 11 percentage points higher than the FBS average.
He was at his best when forced to improvise. Manziel ran for 857 yards and 10 touchdowns on 86 scramble attempts in 2012. He also threw for 581 yards and eight touchdowns when forced to throw from outside the pocket.
Many question whether this aspect of Manziel's game will translate to the NFL, given his size and the speed of NFL defenses. At 6-foot-1 and 200 pounds, Manziel is small for an NFL quarterback. Of the 49 NFL quarterbacks who attempted at least 30 passes last season, only three were 6-1 or shorter, and only one weighed 200 pounds or less.
In terms of the speed of NFL defenses, Texas A&M faced its share of NFL talent last season; 26 opposing defensive players were taken in the 2013 NFL draft.
Last season against Alabama, the top defense in the nation, Manziel ran for 92 yards. It was the most rushing yards the Crimson Tide had allowed to an opposing quarterback since Nick Saban became Alabama's coach in 2007.
February, 16, 2012
2/16/12
10:00
AM ET
It's never too early to start looking at the early college football favorites. We've already seen "way too early" rankings and potential breakout players, so why not check out some current odds when it comes to winning the national championship and Heisman Trophy?
Alabama was an early favorite to win it all last year and that worked out quite well, while
Andrew Luck
's Heisman run didn't exactly pan out.
Well, ESPN's Will Harris took the odds of a top British sports book and dissected the
favorites, contenders and long shots
for next season's national championship.
The SEC has three teams in the "favorites" category in LSU, Alabama and Georgia. LSU is No. 1 on the list with 4.5 to 1 odds, Alabama is second at 5 to 1, while Georgia is seventh at 12 to 1 odds.
Here's what Harris said about LSU and Alabama:

LSU
"LSU is the team most likely to disappoint here. The Tigers had a really special mojo last year despite having to overcome quite a bit in the offseason, but that chemistry finally wore out in the title game. At best, it will be very difficult to replicate those elite intangibles next season. At worst, the championship loss is the program's Gettysburg, and in five years LSU fans will look upon the Alabama rematch the way Fresno State fans regard the 2005 USC heartbreaker or Penn State fans think about the 1999 Minnesota debacle."

Alabama
"Alabama could repeat, but the team possesses few of the advantages it enjoyed last year, when it was priced at 6 to 1. Last season featured the confluence of a once-in-a-generation defense, a favorable schedule, a special hunger born of community tragedy and a BCS system that produced a second chance to beat LSU. This is a less experienced team with a couple of tough early-season matchups away from home."
As for the "contenders," Arkansas came in first with 16 to 1 odds to win next year's BCS title game:
"At a little better price the Razorbacks would have our attention. Arkansas is a strong program with a top-10 coach. Bobby Petrino's regime will overtake LSU this year, and the man who went 41-9 at Louisville will eventually bring at least one SEC title to Fayetteville. This could certainly be the year, as the schedule is favorable, but a trio of new coordinators and a rebuilt receiving corps are reasons for caution."
Finally, Harris has his "long shots" and Florida tops his list at 33 to 1 odds. South Carolina wasn't listed, but Harris points out that the Gamecocks also sit at 33 to 1 odds to win it all in 2012:
"The trials of rookie Florida boss Will Muschamp were painful to watch at times last year. This program is not healing on his watch, and the current gap between Georgia/South Carolina and the rest of next year's SEC East is significant. The fact the Gators and Gamecocks are both opening at 33 to 1 could mean that Florida is overvalued again this season."
Then there's the matter of the Heisman Trophy. Odds maker Danny Sheridan
took a stab at it
and has four SEC players on his list. Topping the list of SEC players is Georgia quarterback
Aaron Murray
, who Sheridan gave 12 to 1 odds of winning college football's most coveted trophy.
The other three are:
His list makes sense, but I bet he'd have Lattimore higher if he hadn't have been injured last season. Who knows how Lattimore's season would have ended if he hadn't gotten hurt? Maybe, he tops the odds list ...
Wilson isn't a player to be overlooked, either. He might not have those three veteran receivers at his disposal anymore, but Arkansas' passing game shouldn't take much of a dip. First, the talent pool at wide receiver didn't exactly drain after the 2011 season and having
Knile Davis
back should help open up the passing game. Wilson led the SEC in passing last year, but it wouldn't come as much of a shock if he strolled past his 2011 numbers, especially in the touchdown department.
December, 8, 2011
12/08/11
1:59
PM ET
By
ESPN.com staff
| ESPN.com
On Thursday, we'll be chatting up some college football award finalists in advance of The Home Depot College Football Awards show, which airs Thursday night (ESPN, 9 p.m. ET).
We'll be setting up shop, mingling with the finalists.
So, check in to see who stops by to chat
. We'll be grabbing some of the best players from the 2011 college football season, like Stanford quarterback Andrew Luck, Oklahoma State's Justin Blackmon, USC's Robert Woods and Boise State's Kellen Moore.
December, 5, 2011
12/05/11
9:10
PM ET
My Heisman Trophy ballot has changed every week for the last couple of months.
I'm not surprised there are more than three players going to the trophy presentation.
Five players were invited to New York for Saturday night's Heisman Trophy presentation -- quarterbacks
Andrew Luck
of Stanford and
Robert Griffin III
of Baylor, tailbacks
Montee Ball
of Wisconsin and
Trent Richardson
of Alabama and cornerback Tyrann Mathieu of LSU.
It's a shame the Heisman Trust didn't have room for three more quarterbacks because Houston's
Case Keenum
, USC's
Matt Barkley
and Boise State's
Kellen Moore
were just as deserving.
With five finalists going to New York, it figures to be one of the closer votes in recent Heisman Trophy history.
The closest vote in Heisman Trophy history came just two years ago, when Alabama tailback Mark Ingram edged Stanford's Toby Gerhart by only 28 points. Ingram received 227 first-place votes, Gerhart got 222 and Texas quarterback Colt McCoy, the second runner-up, received 203.
Given the number of finalists and their geographical regions, we could have another really close finish on Saturday night.
Luck, the runner-up to Auburn's Cam Newton last season, entered the 2011 season as the Heisman Trophy favorite. His performance didn't slip much this season, as he completed 70 percent of his passes for 3,170 yards with 35 touchdowns and nine interceptions.
I still feel Luck might be the most valuable player on any team in the country. Without him, there's no way the Cardinal is ranked No. 4 in the country and playing No. 3 Oklahoma State in the Tostitos Fiesta Bowl. Luck has done more with less, as Stanford lacks the game-changing playmakers that other teams have.
But Luck might still be the second-best quarterback in New York. Griffin, who is widely known as RG3, completed 72.4 percent of his passes for 3,998 yards with 36 touchdowns and six interceptions. He also ran for 644 yards with nine touchdowns.
Without him, the Bears wouldn't have beaten TCU, Oklahoma and Texas. Griffin's one drawback: He had a late interception that sealed the Bears' fate in a 36-35 loss at Kansas State on Oct. 1 and threw two picks in a 59-24 loss at Oklahoma State on Oct. 29. But with everything else RG3 has done this season, it's easy to give him a mulligan for the miscues.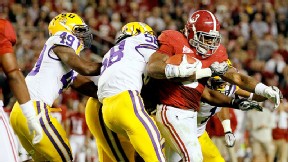 Kevin C. Cox/Getty ImagesRunning back Trent Richardson has been at his best in Alabama's biggest games.
I still believe Richardson is the best player in the country. He looked like the best player on the field in No. 2 Alabama's 9-6 loss in overtime to No. 1 LSU on Nov. 5. He had 89 rushing yards and 80 receiving yards in a game where every yard mattered. He finished the season with 1,583 yards with 20 touchdown runs and three touchdown catches. He's also Mr. Dependable, not losing a fumble in his past 520 touches and only once in 614 career touches.
Ball has been a scoring machine for the No. 10 Badgers this season, running for 1,759 yards with 32 touchdown runs and six touchdown receptions. His 38 total touchdowns are one shy of matching former Oklahoma State running back Barry Sanders' NCAA single-season record of 39 set in 11 games in 1988. Ball's production helped lead the Badgers to a Jan. 2 date against Oregon in the Rose Bowl Game presented by VIZIO.
Mathieu fell off my ballot after he was suspended from playing in the Tigers' 45-10 victory over Auburn on Oct. 22 for smoking synthetic marijuana. But his big plays helped the Tigers overcome deficits in each of their last two victories, over Arkansas and Georgia in the SEC championship game.
Mathieu -- aka the "Honey Badger" -- is the best player on the top-ranked team. He leads the Tigers with 70 tackles and has forced six fumbles and recovered five. He also is the most dynamic punt returner I've seen since Florida State's Deion Sanders. Mathieu has scored four touchdowns -- two on fumble returns and two on punt returns.
To penalize Mathieu for one foolish mistake wouldn't have been right. After all, Newton was briefly ruled ineligible at Auburn last season and 2010 Heisman Trophy finalist
LaMichael James
of Oregon was suspended from playing in last season's opener.
December, 5, 2011
12/05/11
7:53
PM ET
By
ESPN Stats & Information
| ESPN.com
On Monday the five finalists invited to New York for the Heisman Trophy ceremony were revealed. This year has featured one of the most interesting races for the Heisman as no one player has stood from the rest.
Here's a look at what a Heisman Trophy win -- or loss -- would mean to these players and their respective schools.

Trent Richardson, Alabama
Two seasons ago Trent Richardson was a part of a National Championship team with a Heisman Trophy winner, when running back Mark Ingram became Alabama's first winner. Richardson has nearly identical numbers to Ingram this season, and has already totaled 23 touchdowns compared to Ingram's 20 TD's.
If Richardson were to win the award it would put him and Ingram in some rare company. In the history of the Heisman Trophy only three times have two different players playing the same position at the same school won the award in a span of three seasons. It last happened when USC QB Matt Leinart won it in 2004 after Carson Palmer had taken home the award in 2002.

Andrew Luck, Stanford
Luck is listed second here as he finished second for the Heisman last season and Stanford has actually had the Heisman runner-up in each of the past two seasons (Toby Gerhart, 2009).
If Luck wins he would be the second player in Stanford history to win the award (Jim Plunkett, 1970) and join 1981 Herschel Walker as the only Heisman runner-ups to win the award the next season.
If Luck finishes second, Stanford would set a record. No school has ever had a Heisman runner-up in three consecutive seasons.

Montee Ball, Wisconsin
Montee Ball earned his invite thanks to his impressive numbers. Ball needs one touchdown in the Rose Bowl to tie Barry Sanders' FBS record for touchdowns in a season (39). Sanders won the Heimsan trophy during that 1988 season.
Ball's 38 touchdowns are the most by a Big Ten player since Eddie George had 25 in his Heisman Trophy winning 1995 season.

Robert Griffin III, Baylor
RGIII finished off a great regular season in which he threw 36 touchdowns compared to only six interceptions, while also leading Baylor to nine wins, its most since the 1986 season.
Griffin's invite is an accomplishment in its own considering he plays for Baylor. The Bears have only had one player finish in the top five of the Heisman vote in school history. In 1963 Don Trull finished fourth.
If Baylor's Robert Griffin III wins the Heisman Trophy this year, he will be just the third player since the BCS was established in 1998 to win the Heisman without his team playing in a BCS bowl game.

Tyrann Mathieu, LSU
The Honey Badger will take the trip to New York looking to join Charles Woodson as the only defensive backs to win the Heisman trophy.
Despite being a defensive player, recent history is on Mathieu's side to take home the award. Since 2003, seven of the past eight Heisman Trophy winners have come from the team at number one in the BCS standings entering the National Championship Game.
November, 15, 2011
11/15/11
3:19
PM ET
I'll be the first to admit that the Heisman Trophy race is as much of a toss-up at this point in the season as I can remember in a long time.
[+] Enlarge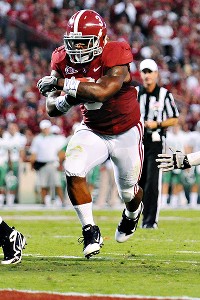 Kelly Lambert/US PresswireAlabama RB Trent Richardson has fared very well against some of the nation's top-ranked defenses.
It's difficult to pinpoint a front-runner, although according to the ESPN Experts' poll this week, the top three are Stanford quarterback
Andrew Luck
, Alabama running back
Trent Richardson
and Oklahoma State quarterback
Brandon Weeden
, in that order.
Only seven points separate the three.
All three have excellent numbers, and all three play on teams that are or have been in the national championship race all season.
How a player fares in big games has always been one of the main components I take into account when filling out my ballot.
The other is how a player fares against top competition, and in the case of these three players since they're all offensive players, how they've fared against the toughest defenses.
Richardson blows the other two away in that category.
The Alabama junior running back has faced five teams ranked in the top-25 nationally in total defense. Weeden has faced one and Luck none.
In those five games, Richardson is averaging 105 rushing yards and has scored six touchdowns.
If you count the top 50 teams nationally in total defense, Richardson has faced seven, while Weeden and Luck have each faced one.
Everybody has his or her own method of voting for the Heisman Trophy, but the caliber of defense a player is going against on a weekly basis shouldn't be left out of the equation.
Here's something else that Richardson has going for him: He gets a lot of his yards on his own.
Sure, his offensive line is outstanding, but Richardson has gained 595 of his 1,205 yards after contact this season. He had 127 yards last week against Mississippi State, and 40 of those yards came after contact. It was the sixth straight game that Richardson had gained at least 40 yards after contact, and all six were SEC games.
October, 16, 2011
10/16/11
10:22
AM ET
It's that time of year when the answers are starting to outnumber the questions.
Here's a look at what we learned in the SEC in Week 7:
[+] Enlarge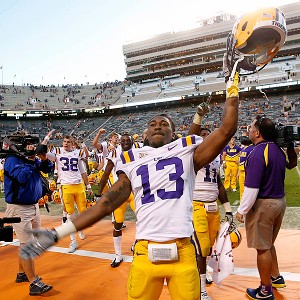 AP Photo/Wade Payne Ron Brooks and LSU have shown they can win big even when they don't play their best football.
1. The gap is getting wider:
We already knew that Alabama and LSU had separated themselves from the rest of the SEC, but the truth is that they're in their own league, maybe even on their own planet. LSU pummeled Tennessee 38-7 on the road Saturday, and LSU coach Les Miles conceded afterward that the Tigers didn't play their best game and were especially suspect to open the game. Alabama squashed Ole Miss 52-7 on the road after also getting off to a so-so start. Even when these two teams give up a rare play on defense, they adjust and finish the game with a vengeance. LSU has given up a total of 25 points in its past three games. Alabama has given up just 17 points in its past three outings. And on offense, they both have the kind of running games that pound teams into submission in the second half. Who's ready for Nov. 5 to go ahead and get here?
2. Richardson for Heisman:
It's starting to have that same feel as 2009 when Mark Ingram made his move. Alabama junior running back
Trent Richardson
is now front and center in the Heisman Trophy race and should be. If there's a better player in college football (and, yes, that includes Stanford quarterback
Andrew Luck
), let's see him. Richardson has been sensational in his past six games, rushing for 100 yards in all six and putting on a show in the rout of Ole Miss with 183 rushing yards and four touchdowns. Go back and watch his 76-yard touchdown run. Finding a better one this season in college football will be a chore. Richardson now has 912 rushing yards and 16 touchdowns and is ahead of Ingram's pace in 2009. If Richardson has a big game against LSU on Nov. 5 and the Crimson Tide win, the Heisman will (and should) be his to lose.
3. Two-team race in the East:
It's Georgia and South Carolina in the Eastern Division, and neither would be classified as a great football team right now. The Bulldogs just barely survived at Vanderbilt in a 33-28 win despite a glut of personal foul penalties, not being able to finish drives on offense and a total meltdown on special teams. The Gamecocks held on to win 14-12 at Mississippi State, and while their defense is playing its best football, there are real issues on offense. Star running back
Marcus Lattimore
suffered a sprained knee in the game, and the Gamecocks will know more about the severity of his injury on Monday. If he's out for a few weeks, this is a very beatable football team. Both teams have their warts, but they're also two games ahead of everybody else in the East. Kentucky, Florida, Tennessee and Vanderbilt all have three SEC losses.
4. Plain resourcefulness on the Plains:
Nobody expected this Auburn football team to be a championship-caliber football team again this season with all the Tigers lost a year ago. But this is definitely an Auburn football team that still knows how to win. It's also an Auburn football team that's on its way back when you look at all the youth on the roster. It's not a secret that the Tigers are struggling at the quarterback position right now, but they're finding ways around those issues and winning games. They've made vast improvement on defense. Their punter, Steven Clark, has been clutch, and they've committed to running the football. Their 17-6 victory against Florida on Saturday was a clinic in resourceful football, and that's a credit to the Tigers' coaches and their players. They've won five games now, and eight wins or more aren't out of the question this season. The Florida game was a huge swing game for both teams. While Auburn is far from a dominant team, it's a team that has mastered the art of winning.
5. Batting .500:
At this rate, we might have as many as six teams in the SEC that finish no better than .500 overall in the regular season. Kentucky (2-4, 0-3) and Ole Miss (2-4, 0-3) are both headed for losing seasons. It's going to be a struggle for Tennessee (3-3, 0-3) to finish above .500, especially with trips to Alabama and Arkansas looming. The Vols also get South Carolina at home on Oct. 29. Vanderbilt (3-3, 1-3) certainly hasn't been a pushover this season, but six overall wins in James Franklin's first season would be considered a huge success. Mississippi State (3-4, 0-4) needs to get busy if it's going to have a winning season. The Bulldogs are winless in SEC play and will have to upset either Alabama or Arkansas to finish above .500 in the regular season. Even Florida isn't a lock to have a winning record in the regular season. The Gators (4-3, 2-3) have lost three in a row and still have to face Georgia in Jacksonville in two weeks while also having to travel to South Carolina on Nov. 12 and wrapping up the regular season with a home game against Florida State.
November, 10, 2010
11/10/10
3:00
PM ET
It's time for a blogger debate! And it doesn't get much better than when we match the SEC and Pac-10.
Our topic: No. 1 Oregon and No. 2 Auburn. Who's better and why?
Both are unbeaten, and if the season ended today, they'd play for the national title.
We've got lots of football left, and probably many more plot twists in the hunt for the national title, but there's no reason we can't engage in a hypothetical, is there?
So the Pac-10 blog -- Ted Miller -- and the SEC blog -- Chris Low -- have decided to meet for some civilized debate on Auburn versus Oregon.
Ted Miller
: Chris, since things are so quiet in the sleepy SEC, I think we should spice things up with a Pac-10-SEC blogger debate! It seems like a long time since we last had a debate between our two conferences. How'd that one go? Let's see I championed Taylor Mays and you celebrated Eric Berry. Wait.
Why did I bring that up
?
Anyway, our topic is Oregon and Auburn: Who's better and why.
[+] Enlarge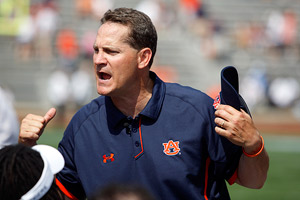 John Reed/US PresswireGene Chizik has silenced those critical of his hiring last year but getting Auburn off to a 10-0 start this season.
This is a potential national title game between the No. 1 Ducks and No. 2 Tigers, who are both unbeaten and feature Heisman Trophy candidates leading high-powered offenses.
You get first blood. Tell me about Auburn. It seems like it wasn't too long ago that Jay Jacobs was getting hounded for hiring Gene Chizik. Guessing that's died down a wee-bit.
Chris Low
: No doubt, Ted. I wonder where that obnoxious guy is now, the one yelling at Jacobs as he was leaving the airport after finalizing the deal with Chizik? Maybe Jacobs knew what he was doing after all. The guy with the 5-19 record at Iowa State has done all right by himself on the Plains. He has a Heisman Trophy-caliber quarterback and the SEC's leading rusher in Cam Newton, a 6-foot-6, 250-pound freak of nature who runs like Bo Jackson and also has an NFL arm. Keep your eyes, too, on freshman running back Mike Dyer, who they haven't had to lean on much this season, but is oozing with talent and has fresh legs for this stretch run. The Tigers' defensive numbers are nothing to write home about, but they do have the kind of dominant interior defensive lineman, Nick Fairley, who can take over games. Georgia coach Mark Richt said Fairley's the closest thing he's seen to Warren Sapp. Auburn's calling card defensively has been making plays at key times in the fourth quarter. The Tigers have been a serviceable defense through three quarters this season, but they've been a championship-caliber defense in the fourth quarter -- which is why they're 10-0.
So tell me about Oregon?
[+] Enlarge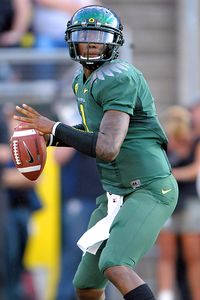 Kirby Lee/Image of Sport/US PresswireSophomore Darron Thomas was thrust into the starting quarterback job and has performed admirably.
Ted Miller
: Speaking of coaches: How about Oregon's Chip Kelly? How could he possibly expect to top winning the Pac-10 and playing in the Rose Bowl his first season? How about contending for a national title in his second? The Ducks, however, expected to be here when the 2009 season ended because just about everybody was coming back from the Pac-10 champions. That is until a guy you are now familiar with -- quarterback
Jeremiah Masoli
-- got caught up in some off-field issues and eventual got himself booted from the team. That seemingly left a void behind center, but sophomore
Darron Thomas
has not only filled Masoli's shoes, he's gone up a few sizes: He's 15th in the nation in passing efficiency and 21st in the nation in total yardage. Meanwhile, speedy running back
LaMichael James
is the top Heisman alternative to your guy, Newton. As for the defense, it's like the offense: Extremely fast. It ranks 13th in the nation in scoring defense and it has forced 28 turnovers, second-most in the nation. Folks often underestimate the Ducks' defense because it gives up some yards -- it ranks 29th in the nation in total defense -- but that's because the offense scores so quickly: The nation's No. 1 offense ranks 115th in the nation in time of possession. But the Ducks only give up 4.45 yards per play. Our factoid of the day is that number would rank No. 1 in ... wait for it ... the SEC!
Obviously, we're talking about two very good teams that have done impressive things on their way to remaining unbeaten. I know we both have Oregon ahead of Auburn in our power rankings, but give me the case for Auburn.
Chris Low
: Ted, I think what separates Auburn is Newton. Nobody has been able to stop him. If you commit to taking away the run, he's proved he can beat people throwing the ball. And if you come after him and/or don't have enough people in the box, he's been magic running the ball. Keep in mind, too, that we're not talking about a 220-pound guy running the ball. We're talking about a 250-pound guy who's physical, tough and doesn't run out of bounds. In the red zone, he's the great equalizer, because he gains 3 yards when he falls forward and has the size and the strength to push the pile. On top of it all, he's always a threat to throw the ball. Similar to Oregon, Auburn doesn't flinch if somebody puts 30-plus points on the board, because the Tigers' mentality is that they're going to score 50. Their offensive coordinator, Gus Malzahn, will make you defend everything -- reverses, throwback passes, passes to the backs, even passes to Newton. He caught a touchdown pass two weeks ago against Ole Miss. The Tigers also play at a tempo on offense that has opposing defenses gasping for air in the fourth quarter. But when they have to, they can put teams away and finish games by running the ball. They're fourth nationally (one spot ahead of Oregon) this week in rushing offense with an average of 307.2 yards per game. Auburn's top four rushers -- Newton, Dyer,
Onterio McCalebb
and
Mario Fannin
-- are all averaging at least 6.4 yards per carry. Do the Ducks have any answers for that running game?
[+] Enlarge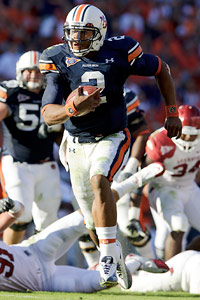 Paul Abell/US PresswireAuburn's Cam Newton is just as dangerous with his arm as he is on his feet.
Ted Miller
: That's what's so interesting about this as a potential national title game match -- there's an odd familiarity that both teams will have with each other despite never crossing paths. My guess is Malzahn and Kelly already have studied each other, just in terms of mutual admiration. And both defenses will be familiar with up-tempo, no-huddle, spread-option offenses that can power you and finesse you and throw downfield. Further, the Ducks have played against a number of big, fast, capable quarterbacks with NFL futures: Washington's
Jake Locker
, Ohio State's
Terrelle Pryor
and Stanford's
Andrew Luck
. The results have been mixed. Last year, Luck and Pryor got them. Luck beat the Ducks with uncanny downfield accuracy, which is why he'll go No. 1 in this spring's NFL draft. Pryor shocked them with the best passing game of his career in the Rose Bowl. Locker missed this year's game, but he's never had much luck against Oregon. In general, Oregon has a good run defense: Opponents are averaging 3.38 yards per rush. But the Ducks are undersized. A physical Stanford team had some success, rushing for 177 yards. But one thing about Oregon on both sides of the ball: It is masterful with halftime adjustments. They shutout Stanford, owners of the nation's No. 5 scoring offense, in the second half, and have given up just 48 points in the second half this year -- just seven in the fourth quarter!
Obviously, two very good teams that have done impressive things on their way to remaining unbeaten. I know we both have Oregon ahead of Auburn in our power rankings, but give me the case for Auburn if it played Oregon in the national title game. How do you see it going?
Chris Low
: Well, if that happens, the first thing we all better make sure we have is a calculator. That and make sure there's no danger of a power surge to the scoreboard. You're right about Oregon. Nobody in the country has been better in the second half. The Ducks' ability to score points in bunches is amazing, but the Tigers are equally adept at going on head-spinning scoring sprees. Just ask Arkansas, which saw Auburn roll up 28 points in the fourth quarter in Xbox-like fashion. I have no doubt that an Auburn-Oregon matchup would be played in the 40s. I think the difference, though, would be Auburn's ability to put the breaks on the track meet and run the football in the fourth quarter, especially with Newton being so good at converting on third down. So I'm going Auburn 45, Oregon 41 in a game that rates up there with the Texas-USC classic to decide the 2005 national title.
Ted Miller
: That's clearly something we can all agree on: This likely would be a highly entertaining, offensively driven national title game if these two teams manage to get themselves there. Further, I think, after never getting a USC-SEC title game, folks on both coasts would enjoy an SEC-Pac-10 matchup. No trash-talking there, right? And I do see a clear advantage for Auburn: It has been tested. It's played five games decided by eight points or fewer, and three decided by a field goal. The Ducks closest game? An 11-point win at Arizona State. But that's also why I'd pick Oregon in this one. Oregon beat the No. 6 team in the nation, Stanford, by 21 points. It shut Andrew Luck out in the second half. And I look at all of Auburn's close games: Mississippi State, Clemson, South Carolina, Kentucky and LSU, and think: None of them would be within 10 points of the Ducks. Maybe LSU, because any game Les Miles touches is surprising. And I think Vegas would agree with me. So if we ended up with an Oregon-Auburn national title game, my guess is the Tigers would go TD for TD with the Ducks in the first half, then the Ducks would pour it on late for a 50-35 win. But I reserve the right to change my mind, particularly because I think the Tigers' toughest test -- Alabama -- is ahead.
Moreover, both teams should be advised: You probably should get to the Jan. 10 date in Glendale before you start trash-talking each other. At least before you use your best stuff.
August, 11, 2010
8/11/10
5:46
PM ET
By
ESPN.com staff
| ESPN.com
Chuck in Atlanta makes a great point concerning South Carolina quarterback
Stephen Garcia
.
If Steve Spurrier hadn't spent the offseason publicly questioning Garcia's commitment level -- and if Garcia played in the Pac-10 -- he might be getting some serious props nationally right now.
The Pac-10 is being hailed as the Conference of Quarterbacks heading into the 2010 season. The collection of talent at that position is impressive, to say the least.
That said, let's do a little exercise.
Listed below are the statistics from the past season of six quarterbacks -- the five guys generally considered to be the five best quarterbacks in the Pac-10 (Washington's
Jake Locker
, Stanford's
Andrew Luck
, Southern California's
Matt Barkley
, California's
Kevin Riley
and Arizona's
Nick Foles
) as well as Garcia.
Can you pick out which statistics belong to Garcia?
A. 2,862 passing yards, 17 TD passes, 10 interceptions, 55.3 completion percentage.

B. 2,850 passing yards, 18 TD passes, eight interceptions, 54.7 completion percentage.

C. 2,800 passing yards, 21 TD passes, 11 interceptions, 58.2 completion percentage.

D. 2,735 passing yards, 15 TD passes, 14 interceptions, 59.9 completion percentage.

E. 2,575 passing yards, 13 TD passes, four interceptions, 56.2 completion percentage.

F. 2,486 passing yards, 19 TD passes, nine interceptions, 63.6 completion percentage.
Would you believe me if I told you Garcia's stats were A. and that he passed for more yards than any of the five Pac-10 quarterbacks listed? For the record, B. was Riley, C. was Locker, D. was Barkley, E. was Luck and F. was Foles.
All of their touchdown and interception numbers were pretty close, although Garcia was a little behind in completion percentage.
I'm not suggesting that Garcia is pushing to be a Top 10 pick in the next NFL draft like Locker and Luck, but what I am suggesting (and what Chuck in Atlanta is suggesting) is that maybe Garcia deserves a little bit more love than he's received.
It's also a reminder that numbers from the previous season aren't everything when you're evaluating quarterbacks.