September, 22, 2013
9/22/13
10:25
PM ET
Phillip Fulmer said he kept his program NCAA compliant through all of his 17 years at Tennessee. The former Vols head coach
released a statement to the Associated Press
on Sunday that claimed he wasn't aware of Arian Foster, now with the Houston Texans, ever receiving money during his college career in Knoxville.
"If we knew of a violation, big or small, we reported it," the statement read.
The news release from Fulmer comes on the heels of Foster's claims in an upcoming documentary that he received money during his senior year at Tennessee in 2008, the final season of Fulmer's tenure as Vols head coach.
Foster further explained his comments last week, saying that he money he received never came from a coach.
"Side people always offer you money all the time, just random people usually. `Can I take care of you?' " Foster said Friday. "It happens all the time. When you're at college and your family doesn't make a lot of money, it's hard to make ends meet. … Toward the end of the month, you run out every month. It's a problem all across America. It's just when you play top-tier Division I football, there's people that are willing to help you out. I got helped out."
Tennessee athletic director Dave Hart issued a statement on Friday that the school "can't speak to something that allegedly happened a long time ago."
April, 19, 2013
4/19/13
11:15
AM ET
KNOXVILLE, Tenn. -- A Tennessee helmet signed by Peyton Manning sits prominently displayed in Butch Jones' office at the Vols' plush new digs, a reminder of where this program once operated among college football's upper crust.
Manning's signature includes a short note that reads simply: "Coach Jones, I'm in your corner."
The truth is that they're lining up in Big Orange Country to be in Jones' corner. He hasn't won a game, hasn't even coached in a game. But he's made a lot of right moves to this point, starting with fully embracing Tennessee's traditions and reaching out to the former players.
[+] Enlarge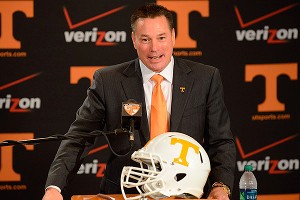 Wade Rackley/Getty Images"We're going to get back to being Tennessee," vows new Vols coach Butch Jones.
"It's the pride of who we are," Jones said. "Those individuals have laid the foundation for this program. They're the ones who've put in the sweat equity. They are who we are, and it's important that our players understand the great players who came before them."
It's one of the reasons Jones is bringing back a captain from every era to address the team. Manning was on campus last week. Al Wilson, who captained the 1998 national championship team, is also scheduled to come in at some point.
On Friday, Jones tweeted out a picture of he and Arian Foster together in Tennessee's new $45 million football complex. Foster, the Houston Texas' All-Pro running back, had not been back to campus since 2009. He spoke to the team on the eve of Saturday's Orange & White spring game.
"There's only one Tennessee, and we're going to get back to being Tennessee," vowed Jones, who's made it a point to get out and see fans, engage fans on social media, and speak just about anywhere he's asked to speak.
"I think our fans and former players see our body of work, and feel the passion and energy and zeal me and my coaching staff have to be here at Tennessee. We're one of them and as impatient as anyone, but we're going to do it right and build it brick by brick and make sure that foundation is set in stone."
As passionate as Jones is, he's equally realistic. There aren't going to be any quick fixes, not with a killer schedule in 2013 that includes trips to Alabama, Florida and Oregon.
The good news is that the Vols return an offensive line that should be one of the best in the SEC. But just about everywhere else, there are major question marks.
Simply getting to a bowl game next season would be a huge accomplishment for the Vols, who have suffered through three straight losing seasons.
"We've got a ways to go, but I'm hopeful we'll be able to overcome some of the challenges we have starting out with our effort, our fundamentals, and our chemistry," said Jones, who won four conference championships in his six seasons as head coach at Cincinnati and Central Michigan.
"The big thing for us is continuing to get better in our program day by day, hour by hour, and the winning will take care of itself."
Amazingly, Jones is the fourth different head coach at Tennessee in the past six seasons. It's hard to find genuine stability anywhere these days in the realm of SEC football. But for more than 30 years, the Vols were coached by two men -- John Majors and Phillip Fulmer.
Jones is hellbent on bringing back that stability, and his players insist the difference from the old regime under Derek Dooley has been night and day.
"There's no locker room drama, people talking bad in the locker room," said junior safety
Brian Randolph
, who is healthy again after missing most of last season with a torn ACL. "We used to have those people. That went away once coach Jones got here. The locker room atmosphere is much better, people hyped every day for practice. The team camaraderie is a lot better."
Junior quarterback
Justin Worley
said Jones has followed through on giving everybody a fresh start, which has made for some fierce competition on the practice field this spring and eliminated any sense of entitlement that might have existed previously.
"Everybody's had an opportunity to prove what they can do on the field and off the field, whether it's in the classroom or the weight room," said Worley, who exits the spring as the Vols' likely starter at quarterback.
"That's been a huge change. He hasn't focused on just a small group of guys. We've had some walk-ons even step up and take some reps. We've never had that here. It really has been a clean slate, and we needed that."
Something else Jones has done is get off to a blazing start on the 2014 recruiting class, which has been his most important move. The Vols were No. 7 nationally in ESPN's early class rankings. They have already landed a pair of commitments from ESPN 150 prospects
Jalen Hurd
and
Todd Kelly Jr.
A third ESPN 150 prospect, linebacker
Dillon Bates
, could be soon to follow.
If the Vols are indeed going to return to elite status under Jones, they have to get back to beating teams on the recruiting trail that they have to beat on the field. When they had it rolling under Fulmer in the 1990s, that was the formula.
Jones' message to recruits hasn't wavered since he took the job, and the early returns suggest that they're listening.
"We have it all right here at Tennessee, and then to be on the ground floor to build it back to its rightful place makes it even more special," Jones said. "That's a legacy, and something that will live with you for the rest of your life.
"It's easy for players to go somewhere that's established and they can just sort of fit in. Go some place you can make a difference."
They're believers on Rocky Top that Jones will make a difference. It's just going to take some time.
July, 6, 2011
7/06/11
2:33
PM ET
By
ESPN.com staff
| ESPN.com
The NFL players have spoken, casting their votes for the top 100 players in the NFL game today.
Manning
You can view their
list on NFL.com
. Before you go there, want to venture a guess on which conference had the most players?
It wasn't the SEC, nor was it the Big Ten.
It was the Big East with 16.
Now, there's a bit of a catch. We counted those Miami players who played for the Hurricanes when they were competing in the Big East as representing the Big East ... and not the ACC. The same goes for
Michael Vick
at Virginia Tech.
We also counted those Nebraska and Colorado players making the list as being from the Big 12, even though the Huskers are moving to the Big Ten and the Buffs to the Pac-12 this coming season.
The SEC and Big Ten tied for second behind the Big East, each with 13 players making the top 100. The ACC had 12, and the Pac-12 had 11. The Big 12 had just seven. Notre Dame had one, and the remaining 27 players were from non-BCS schools and/or smaller schools.
Miami led all teams nationally with 10 players. Tennessee was second on the list with six.
There are two ways to look at it from the Vols' perspective. One, they've done a good job of producing premium NFL talent. And two, they haven't done a whole lot with that talent, as it's been 13 years since they last won an SEC championship.
Would you believe that Alabama and Florida didn't have a single player on the list and that LSU has just one? Those three teams have combined for five of the past eight BCS national championships.
Here's a rundown of the SEC players:
TENNESSEE
No. 2 - QB
Peyton Manning
(1994-97)
No. 25 - RB
Arian Foster
(2005-08)
No. 36 - TE
Jason Witten
(2000-02)
No. 62 - LB
Jerod Mayo
(2005-07)
No. 93 - S
Eric Berry
(2007-09)
No. 99 - OT
Chad Clifton
(1996-99)
GEORGIA
No. 48 - CB
Champ Bailey
(1996-98)
No. 66 - DE
Richard Seymour
(1997-2000)
ARKANSAS
No. 98 - RB
Darren McFadden
(2005-07)
AUBURN
No. 75 - DE
Jay Ratliff
(2001-04)
LSU
No. 45 - WR
Dwayne Bowe
(2003-06)
OLE MISS
No. 23 - LB
Patrick Willis
(2003-06)
SOUTH CAROLINA
No. 69 - DE
John Abraham
(1996-99)
April, 7, 2011
4/07/11
3:11
PM ET
By
ESPN.com staff
| ESPN.com
Going back to my post on potential 1,000-yard rushers next season in the SEC, I thought it would be interesting to see who has produced the most 1,000-yard rushers in the league over the past five seasons.

That would be Arkansas with six, including four different players. Darren McFadden did it twice, and so did Felix Jones. In fact, they both rushed for 1,000 yards in the 2006 and 2007 seasons.
Florida and Vanderbilt have not had a 1,000-yard rusher over the past five seasons.
The Gators' last 1,000-yard rusher was Ciatrick Fason in 2004 with 1,267 yards. The last time the Commodores produced a 1,000-yard rusher was Jermaine Johnson in 1995 with 1,072 yards.
Last season,
Marcus Lattimore
became the first South Carolina player to rush for 1,000 yards since Derek Watson had 1,066 yards in 2000.
Here's a rundown:
Arkansas: 6
(Darren McFadden 1,830 yards in 2007, Darren McFadden 1,647 yards in 2006,
Knile Davis
1,322 yards in 2010, Felix Jones 1,168 yards in 2006, Felix Jones 1,113 yards in 2007, Michael Smith 1,072 yards in 2008)
Auburn: 3
(
Cam Newton
1,473 yards in 2010, Ben Tate 1,362 yards in 2009, Mike Dyer 1,093 yards in 2010)
LSU: 3
(Charles Scott 1,174 yards in 2008,
Stevan Ridley
1,147 yards in 2010, Jacob Hester 1,103 yards in 2007)
Ole Miss: 3
(Dexter McCluster 1,169 yards in 2009, BenJarvus Green-Ellis 1,137 yards in 2007, BenJarvus Green-Ellis 1,000 yards in 2006)
Tennessee: 3
(Montario Hardesty 1,345 yards in 2009, Arian Foster 1,193 yards in 2007,
Tauren Poole
1,034 yards in 2010)
Alabama: 2
(
Mark Ingram
1,658 yards in 2009, Glen Coffee 1,383 yards in 2008)
Georgia: 2
(Knowshon Moreno 1,400 yards in 2008, Knowshon Moreno 1,334 yards in 2007)
Mississippi State: 2
(Anthony Dixon 1,391 yards in 2009, Anthony Dixon 1,066 yards in 2007)
Kentucky: 1
(Rafael Little 1,013 yards in 2007)
South Carolina: 1
(Marcus Lattimore 1,197 yards in 2010)
January, 19, 2011
1/19/11
10:28
AM ET
By
ESPN.com staff
| ESPN.com
Turns out the SEC isn't No. 1 in everything when it comes to football.
OK, just kidding around, so no reason to flood me with e-mails, Big Ten and Pac-10 fans. I realize quality football is played in other parts of the country over and above the SEC. It's just that the trophy cases are a little dusty and barren in those other parts of the country.
With that said, would you believe that the ACC leads the way this season in producing
Pro Bowl players
? Actually, it's the third straight year that the ACC has sent the most players to the NFL's all-star event. The ACC has 19 former players in the game this season. The SEC is second with 13 and the Pac-10 third with 12.
Tennessee was the SEC team with the most players selected (five). LSU was the only other team in the league to have more than one selected. The Tigers had two. Alabama, Kentucky, Mississippi State and Vanderbilt were the only four SEC teams that didn't have a Pro Bowl player this year.
Here's a list of the SEC players in the 2011 Pro Bowl:
* Out of the game due to injury
April, 27, 2009
4/27/09
12:17
PM ET
By
ESPN.com staff
| ESPN.com
Posted by ESPN.com's Chris Low
The big winner last weekend was LSU defensive end Tyson Jackson, who was the third overall selection in the NFL draft by the Kansas City Chiefs.
| | |
| --- | --- |
| | |
| | Tim Larson/Icon SMI |
| | Tyson Jackson's stock skyrocketed in the weeks leading up to the draft. |
Jackson played on an LSU defensive line that underachieved in a big way last season, but it obviously didn't hurt his stock. He was one of the few up front who played well last season. He also had great workouts and is big enough and quick enough to play in a lot of different schemes.
Everybody thought Alabama offensive tackle Andre Smith was going to be the big loser after his agent-related suspension at the Sugar Bowl, his nightmarish NFL combine experience and some of the boneheaded decisions he made.
But I said at the time and was confident in saying so that there was no way he would slip out of the top 10, and he went sixth overall to the Cincinnati Bengals. Smith will play a long time in the NFL, and it could be that the lessons learned these last few months will end up making him a better pro.
There were a few eyebrows raised when Alabama running back Glen Coffee decided to come out early. But he was coming off an outstanding season, and he saw it as an opportunity to strike while the iron was hot. He was right. He went in the third round to the San Francisco 49ers and was the sixth running back selected.
As is the case every year, there were a handful of players who should have stayed in school.
Vanderbilt cornerback D.J. Moore was a terrific college player and made an impact wherever he lined up last season. But slow 40-yard dash times pushed him down to the fourth round. I still think he'll end up being a really good pro. He has great instincts, great leaping ability and plays his best against the best competition. But to give up a final season of eligibility and go in the fourth round is a downer.
South Carolina safety Emanuel Cook came out early and went undrafted. His former teammate, South Carolina cornerback Captain Munnerlyn, gave up his final season and went in the seventh round to the Carolina Panthers.
Talk about getting bad advice and/or putting yourself in a position academically where you have no choice but to turn pro.
And what about the case of LSU defensive lineman Ricky Jean-Francois? He looked to be one of the most dominant defensive linemen in the SEC entering last season after playing lights out in the BCS National Championship Game.
But he slumbered through a disappointing junior season last year, decided to come out anyway and was taken in the seventh round by the San Francisco 49ers.
At the other end of the spectrum is Tennessee running back Arian Foster. He received a second-round grade from the NFL draft advisory committee last year, but elected to stay in school. He suffered through a disappointing senior season, injured his hamstring in the Senior Bowl and went undrafted.
April, 22, 2009
4/22/09
9:00
AM ET
By
ESPN.com staff
| ESPN.com
Posted by ESPN.com's Chris Low
The NFL is about proving yourself all over again.
For former Tennessee All-SEC tailback Arian Foster, it will also be about building back his reputation.
Foster is the exception to the rule that says going back to college for your senior season is usually the wisest choice. He received a second-round grade from the NFL draft advisory committee last year, but elected to return to school for his final season.
| | |
| --- | --- |
| | |
| | Jim Brown/US Presswire |
| | After a disappointing senior season, Arian Foster is still hoping for a shot in the NFL. |
"I saw the talent we had returning, and I honestly thought we could win an SEC championship," Foster explained. "That's what was missing in my college career, and that's what brought me back. We were so close the year before. I wanted another shot at it."
What he got was a shot to his draft stock and a sobering reminder of how quickly things can turn in the SEC.
The Vols suffered through a dismal 5-7 season, which led to Phillip Fulmer's firing. Foster, who was just 685 yards away from becoming Tennessee's all-time rushing leader heading into the season, never meshed with new offensive coordinator Dave Clawson, and Foster finished with 570 rushing yards and one touchdown on 131 carries.
That's after rushing for 1,193 yards and scoring 14 touchdowns the year before while carrying the ball 245 times.
It was a bitter pill for Foster to swallow.
His coaches lost their jobs. He lost a chance to write his name into the Tennessee record books, and worse, endured a second losing season in Knoxville.
But as this weekend's NFL draft has neared, Foster also realized that he gained something that's been even more difficult to shake: The label of being a bad character guy and somebody who can divide a locker room.
It's a question that has come up with countless general managers, personnel directors and coaches he's met with -- and he can't understand it.
Neither can some of the men who coached him at Tennessee.
November, 25, 2008
11/25/08
11:59
AM ET
By
ESPN.com staff
| ESPN.com
Posted by ESPN.com's Chris Low
We take our daily stroll to see what others are saying and writing about SEC football:
October, 31, 2008
10/31/08
5:28
PM ET
By
ESPN.com staff
| ESPN.com
Posted by ESPN.com's Chris Low
In working on the story on Arkansas' amazing Michael Smith earlier this week, it dawned on me how many good dual-purpose running backs the SEC has produced.
Smith, the Hogs' mighty mite, has a chance to become the first player in SEC history to rush for 1,200 yards and catch 40 or more passes in the same season.
A long list of SEC running backs, though, have rushed for 1,000 yards and also caught 30 or more passes in the same season.
Florida has cranked out a bunch of those guys. Errict Rhett, Ciatrick Fason, John L. Williams, Neal Anderson, Fred Taylor and Robert Gillespie were all great run-and-catch guys. Rhett had 55 catches in 1992 and also rushed for 903 yards that season. Williams had 44 catches in 1985.
More recently, Kentucky's Rafael Little had seasons in 2007 and 2006 where he rushed for 1,000 yards and also caught 40 or more passes. The Wildcats' Artose Pinner had 1,414 yards rushing and 37 catches in 2002.
At Alabama, Johnny Musso, Siran Stacy and Dennis Riddle were all members of the 1,000-yard/30-catch club during a season. In 1970, Musso ran for 1,137 yards and caught 30 passes, which was rare in those days.
Who could forget Dalton Hilliard, Kevin Faulk and Gary James at LSU? And what about Arian Foster's season a year ago at Tennessee. He just missed having a 1,200-yard/40-catch season when he finished with 1,193 yards rushing and 39 catches. Stanley Morgan played wingback at Tennessee in the 1970s and is the only Vol to have 1,000 yards rushing and 1,000 yards receiving for his career.
One of the best ever was Arkansas' Gary Anderson, but he never played in the SEC. The Hogs were in the old Southwest Conference when he was doing his thing from 1979-82.
Let me know who all I've forgotten.
October, 8, 2008
10/08/08
12:12
PM ET
By
ESPN.com staff
| ESPN.com
Posted by ESPN.com's Chris Low
Florida's Tim Tebow says he can't say for sure whether or not he'll be back next season. His interview with The Sporting News' Dave Curtis tops our lunchtime links:
September, 28, 2008
9/28/08
10:25
PM ET
By
ESPN.com staff
| ESPN.com
Posted by ESPN.com's Chris Low
Off to a 1-3 start and getting nothing out of his passing game, Tennessee coach Phillip Fulmer is shaking up his quarterback situation.
Fulmer said Sunday night that Jonathan Crompton and Nick Stephens would compete this week for the starting job. The Tennessee staff will chart all of the practices, and Fulmer said whoever comes out on top would start Saturday against Northern Illinois.
Crompton has started the first four games, but Tennessee's offense has struggled to generate any consistency. He was 8-of-23 for 67 yards last week in the 14-12 loss to Auburn, and the Vols were just 4-of-16 on third down.
The book on Stephens, a third-year sophomore, is that he has an extremely strong arm, but just hasn't played any meaningful snaps. Fulmer said the Vols considered playing Stephens some in each of the last two games.
One other change the Vols plan to make on offense is giving Montario Hardesty increased carries at running back and reducing Arian Foster's role. They also want to get sophomore Lennon Creer more involved in the running game.
Foster, who needs 422 yards to become Tennessee's all-time career rushing leader, was involved in a fumble at the goal line against Auburn where he didn't get the handoff cleanly from Crompton. The Tigers recovered for one of their two touchdowns.
Foster spent the second half of the Auburn game as the third-down back, and Hardesty was used as more of the feature back. Foster has been plagued by several costly fumbles during his career at Tennessee.
September, 2, 2008
9/02/08
4:24
PM ET
By
ESPN.com staff
| ESPN.com
Posted by ESPN.com's Chris Low
Here's a look at our first installment of "Hot and Not" in the SEC. We'll do this every week throughout the season after all of the games are played. We'll top it with that week's "En Fuego" award and end it with the dubious "Ice, Ice Baby" award:
EN FUEGO
Alabama's offensive line: Even without star left tackle Andre Smith for much of the second half, the Crimson Tide offensive line controlled the game and reminded us all what being physical is all about. Clemson's fannies are probably still smarting.
HOT
Vanderbilt quarterback Chris Nickson: He brings a dimension with his ability to run the ball (166 yards in the opener) that's critical to the Vanderbilt offense.
NOT
The Auburn passing game: The Tigers had just 28 yards passing at the end of the third quarter last Saturday in their 34-0 rout of Louisiana-Monroe.
HOT
Ole Miss running back/receiver Dexter McCluster: He's the Rebels' version of "Slash" and he had 125 total yards last weekend. Gotta love the Wild Rebel formation.
NOT
Mississippi State's offense: The Bulldogs' five turnovers were bad enough. But the real clincher: They didn't have a first down in the fourth quarter.
HOT
LSU's composure: The game was moved up to a 10 a.m. start and a deadly hurricane was bearing down on the Gulf Coast, but LSU never blinked and went out and took care of business.
NOT
Tommy Beecher's debut: In his first start as South Carolina's quarterback, Beecher threw four interceptions and got knocked around. He'll give way to Chris Smelley against Vanderbilt.
HOT
Kentucky's defense: We knew the Wildcats would be stout up front defensively, but they're as talented and deep across the board on defense as they've ever been under Rich Brooks.
NOT
Georgia's luck: The Bulldogs have already lost two of their best linemen for the season (Trinton Sturdivant and Jeff Owens) and have yet to play a game that counts.
HOT
Alabama quarterback John Parker Wilson: He played exactly the way the Tide needs him to in the opener. He managed the offense, didn't force things and made plays when they were there.

NOT
Tennessee tailback Arian Foster: Crippling fumbles will tarnish an otherwise stellar career. He had another one against UCLA that totally changed the complexion of that game.
ICE, ICE BABY
Tennessee's coaching staff: Not the best start for Phillip Fulmer & Co. New offensive coordinator Dave Clawson had first-year starter Jonathan Crompton throw the ball 41 times. The defense played soft in coverage and never adjusted to UCLA's short passing game in the second half. How many touchdowns do the Vols need to give up on special teams before they hire a full-time coordinator?
July, 14, 2008
7/14/08
5:03
PM ET
By
ESPN.com staff
| ESPN.com
Chris Livingston/Icon SMI
Ronald Martinez/Getty Images
Florida quarterback Tim Tebow and Georgia running back Knowshon Moreno top a list of talented SEC offensive players.
Posted by ESPN.com's Chris Low
I'll be taking the rest of this week off to gear up for the unofficial start of the SEC season next week. The SEC Media Days are scheduled for July 23-25 in Birmingham, and I'll be there with wall-to-wall coverage all three days.
But to get us through the rest of this week, I've put together a package on the "Best of the SEC," which I'm sure won't create any debate, second-guessing or lively conversation.
We'll start today by ranking the 10 best offensive players in the SEC. Check back on Tuesday for the 10 best defensive players. We'll rank the 10 most underrated players on Wednesday, the 10 most likely breakout players on Thursday and the 10 best impact newcomers on Friday.
Let me hear who we've left off, who's ranked too high or too low and who's ranked about where they should be.
In a conference as talented as the SEC, it's almost impossible to pick just 10 players for each of these lists. But here goes:
OFFENSIVE PLAYERS
1. Tim Tebow, QB, Florida: The first sophomore in history to win the Heisman Trophy and the only player in NCAA history to rush for and pass for 20 touchdowns in the same season. And, no, he doesn't wear a cape.
2. Knowshon Moreno, RB, Georgia: Joined exclusive company last season with 1,334 rushing yards. The only SEC freshmen to rush for more were Herschel Walker, Emmitt Smith and Jamal Lewis.
3. Percy Harvin: WR, Florida: Keep an eye on him, because he might line up anywhere. The SEC's most versatile weapon, Harvin has averaged nearly 10 yards per carry and 15 yards per reception.
4. Andre Smith, OT, Alabama: A starter from the day he stepped foot on campus, Smith is the prototypical left tackle and the most devastating blocker in a league ripe with great blockers.
5. Michael Oher, OT, Ole Miss: Took a long look at turning pro following his junior season. The 6-foot-5, 320-pound Oher has gained upper-body strength and will be even better in 2008.
6. Jonathan Luigs, C, Arkansas: One of the most complete offensive linemen in the country, Luigs won the Remington Trophy last season as the most outstanding center in college football.
7. Matthew Stafford, QB, Georgia: He doesn't wow you over with eye-popping statistics, but the big Texan can make all of the throws and has the kind of physical tools you can't teach.
8. Kenny McKinley, WR, South Carolina: If Harvin's the SEC's best receiver, McKinley's not too far behind. He led the league in receptions (77) and receiving yards per game (80.7) last season.
9. Arian Foster, RB, Tennessee: His total of 1,650 all-purpose yards last season was the second best mark in school history. Has the size, vision and pass-catching skills to hurt teams a variety of different ways.
10. Cornelius Ingram, TE, Florida: Came to Florida as a quarterback. Ingram caught seven touchdown passes a year ago. If this physical specimen takes his blocking to another level, look out.
In closing: I could have easily picked a few more offensive linemen for this list. The SEC is stacked with NFL-caliber offensive linemen for 2008. And if Harvin is 100 percent healthy after coming back from heel surgery, he gets my nod as the best playmaker in the league.
SEC SCOREBOARD
Saturday, 12/20
Monday, 12/22
Tuesday, 12/23
Wednesday, 12/24
Friday, 12/26
Saturday, 12/27
Monday, 12/29
Tuesday, 12/30
Wednesday, 12/31
Thursday, 1/1
Friday, 1/2
Saturday, 1/3
Sunday, 1/4
Monday, 1/12
Tweets from https://twitter.com/ESPNCFB/lists/sec