May, 17, 2013
5/17/13
2:00
PM ET
ESPN draft guru Mel Kiper Jr. is rolling out his early top five rankings at each position this week.
Here are the positions he's looked at so far:
Now we're looking at the
top tight ends

and linebackers to keep an eye on during the 2013 season. First, we'll check out the tight ends and then look at linebackers a little later.
No SEC players made Kiper's top five, but Georgia's
Arthur Lynch
is in his "Next up" list. Lynch was third in the SEC among tight ends in receiving yards last year, hauling in 24 catches for 431 yards and three touchdowns. Georgia has a handful of receiving targets to use this year, and Lynch will continue to be one for quarterback
Aaron Murray
.
Other draft-eligible tight ends I'll be keeping an eye on this fall:
Rory Anderson, South Carolina: The coaches are really excited about what sophomore Jerell Adams could do this fall, but Anderson is a reliable target, especially in the red zone. Five of his 14 catches went for touchdowns.
Malcolm Johnson, Mississippi State: He missed five games last year, but will enter the fall as one of Tyler Russell's top receiving targets. He has the talent and athleticism to be one of the best at his position.
Austin Tate, Arkansas: He did well filling in for Chris Gragg at times last year. He isn't the mismatch problem that Gragg was, but he's a big body who can make players here and there and should be targeted a lot by the Hogs' young quarterback.
C.J. Uzomah, Auburn: He will enter the fall as Auburn's top returning pass-catcher and has the ability to extend the field with his speed. Uzomah is someone a young quarterback could really use as a reliable safety net.
April, 3, 2013
4/03/13
2:00
PM ET
We continue
my chat
with Arkansas senior fullback
Kiero Small
.
What did he think about Bret Bielema's joking jab at Nick Saban and Alabama? Does he like Arkansas being a huge underdog this year?
Let's find out:
You've been around this program for a couple of years now and have seen some big highs and bad lows, so what's the feeling like for you and some of your teammates this spring with everything being so new?
Kiero Small:
For me, right now, it's a good feeling. It's steady and I know what's coming next. I know the coaching staff is going to be here. You know, this time last year, we were all in an uproar and we didn't really know what was going to happen. It feels good to know what's coming and to know that Coach "B" (Bret Bielema) and all of the rest of the coaching staff have our backs and they are going to put us in the best situations to be good.
I know your coach caused a little bit of a stir this week when he was joking about Nick Saban, but do you guys like that? Do you like the confidence that he's brought and the fact that he isn't afraid to say stuff like that?
[+] Enlarge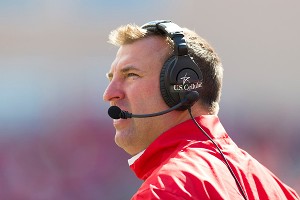 Jeff Hanisch/US PresswireIn Bret Bielema, Arkansas players know they have a coach who isn't lacking confidence.
KS:
I've seen it here and there, but I didn't really see what context it was in and I didn't really get to read it. Coach B is a guy that believes in himself and he believes in us. That helps us know that when we go out on the football field it's going to be us against whoever we play and it's going to be our set of guys against their set of guys and our coaches against theirs. It's a good feeling to know that your coach has confidence.
Does it feel like you guys are flying under the radar right now, and do you like that feeling?
KS:
I like it a lot. Right now, no one is talking about us. Everybody is making their (preseason) picks and everything of that sort and should they (pick Arkansas)? We didn't have a good year last year and lost a lot of guys, but this team has taken on more of a working mentality. We have to go and make our own name. It's a new regime and it's time for us to go pick a name for ourselves, but, you know, last year we were picked to beat everybody. We were picked to win a lot of games and picked to be great and it didn't turn out that way. At the end of the day, those picks really don't mean anything. You have to go out and play football.
You guys have a lot of young parts coming back on offense, but what have you seen so far this spring that excites you about that side of the ball?
KS:
A lot of guys have a working mentality and at every position group you have maybe one or two guys who have been here a long time. On the (offensive) line we got [
Travis] Swanson
, you got me in the running backs room, you've got
Javontee [Herndon
] in the receivers room and you have [
Austin] Tate
in the tight ends room, so you have one guy or two guys who have been here for a long time and the young guys are really preparing themselves behind them. That's a sight to see when you have young guys who are willing to learn and willing to go and attack practice every day.
What have you seen from the quarterbacks so far this spring?
KS:
It's been pretty good. We have some competition there. You like to see competition, especially at that position. Every day they are racking their brains to try and be good and make the plays. It's been a steady competition and good to see. You have two guys (
Brandon Allen
and
Brandon Mitchell
) who can get the job done. Right now they are battling to see who is going to make it happen for this year. There are no set positions. Everybody is having to look over their shoulder and have to be able to go and attack practice.
What do you guys really want to get out of spring practice this year?
KS:
Right now, we're just trying to learn these new systems and new schemes. We're playing fast, but the coaches are doing a good job of simplifying things so we can learn it, which allows us to play faster. I really like that. They're not trying to complicate things because at the end of the day we don't have games on Saturdays. We have the spring game and we have scrimmages, but now we get to learn and that's going to push us through the summer so in (fall) camp we have a basis for what is going on.
September, 26, 2012
9/26/12
2:30
PM ET
Arkansas coach John L. Smith isn't sure if he'll have tight end
Chris Gragg
for Saturday's game at Texas A&M.
Gragg has been day-to-day after suffering a bone bruise in his leg, and Smith said he would know more about the senior's status for Saturday following Wednesday's practice.
Without Gragg in the lineup, the Razorbacks lose a valuable receiving target. On the season, Gragg is second on the team with 19 catches for 234 yards and two touchdowns. He also provides a matchup problem for defenders because of his size and speed. He and receiver
Cobi Hamilton
are the only players with double-digit catches for the Razorbacks this season.
Even if Gragg does return Saturday, Smith said he doesn't anticipate getting a lot of action out of him against the Aggies.
"We have to kind of plan that Chris will be limited at best," Smith said Wednesday.
Junior
Austin Tate
will most likely fill in for Gragg if he can't go. Tate has four catches for 30 yards this season, but doesn't possess the same explosiveness that Gragg does. Smith added that if Tate does start, he won't receive the same amount of attention in the offense as Gragg.
"We just have to pick up the slack," Smith said. "Whoever's in there has to believe that they're going to pick up the slack and they're going to get the job done."