August, 25, 2014
Aug 25
10:00
AM ET
BATON ROUGE, La. --
John Diarse
chuckled when he described himself as a veteran. He realizes how silly that sounds since he has yet to play in a college game, but it's the truth.
The funny thing is, having participated in two sets of spring and preseason practices, Diarse is actually one of the longest-tenured wide receivers on No. 13 LSU's roster.
"Seeing that I am a redshirt freshman, in some ways it does [feel absurd]," admitted Diarse, whose team opens the season against No. 14 Wisconsin on Saturday. "But I think I'm a vet in my mind, mentally, because I've been through the program and I know what it takes and the hard work that has to be done on and off the field. So in my mind I'm a vet, but as far as stats-wise and playing time, not really."
[+] Enlarge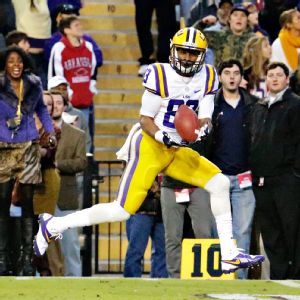 AP Photo/Bill HaberLSU's most experienced receiver is Travin Dural, who has all of seven career catches.
Take a gander at LSU's wideout depth chart.
Travin Dural
is the most experienced player, by far. He's a redshirt sophomore with all of seven catches for 145 yards to his credit. There is only one scholarship senior -- junior college transfer
Quantavius Leslie
-- on the roster. There are no scholarship juniors.
Once 2013 star juniors Odell Beckham and Jarvis Landry decided to enter the NFL draft, the Tigers' wideout depth chart now features that couple of inexperienced veterans and a host of guys like Diarse, who either redshirted last season or who will be enrolled in college for the first time this fall.
"We always joke about that in the receiving room about me being the oldest, but I take pride in being an older guy," said Leslie, who finished with one catch for 11 yards last season. "I just tell them what's right. I've been through this, so this is not my first year going through it."
But Leslie is unique in that regard at LSU. Many Tigers, like arguably the nation's top group of 2014 wideout signees, have only been on campus for a few months and still have plenty to learn.
Leslie and some of the older players like Diarse have learned all three wideout positions by now, but they only played one in their first seasons at LSU. That's a common trajectory for a newcomer, so a true freshman like
Trey Quinn
,
Malachi Dupre
or
D.J. Chark
-- all of whom are in the Tigers' plans for 2014 according to coach Les Miles -- would be well ahead of the curve if he becomes functional at more than one spot this fall.
"We've got a lot of smart guys," Diarse said. "Once these younger guys kind of catch the feel for it, they'll be able to do both inside and out."
Although he missed a portion of preseason practice, one skill that Dupre -- RecruitingNation's No. 1 wideout prospect for 2014 -- believes will help him contribute this season is his blocking ability. He played in a run-first offense at John Curtis in New Orleans, so clearing a path for running backs will be nothing new, even if the Tigers figure to put the ball in the air more frequently than what he's accustomed to seeing.
"I think that made me better coming into a situation like I am now where the ball will be in the air more," Dupre said. "But still remembering where I came from and thinking I had to make the best out of any opportunity I got in high school because I might not get another opportunity will definitely help now because I'll get more opportunities."
The greatest factor in the newcomers' development, though, will be time. They've had the summer and preseason practices to get a taste against all-conference-caliber defenders like
Tre'Davious White
,
Rashard Robinson
and
Jalen Collins
. Producing in games will be a different achievement.
That said, the freshmen have their veteran teammates excited about what they can accomplish in the future.
"All of them make plays. I was surprised at all of them," Leslie said. "They're not playing or practicing like no freshmen. They're practicing like they've been here."
And don't forget about Diarse's fellow redshirt freshmen
Avery Peterson
and
Kevin Spears
. Between those three and the Tigers' four true freshman wideouts, LSU has a huge group of pass-catchers preparing for their first college games on Saturday.
With that in mind -- plus the still-unannounced starting quarterback adding further uncertainty to the Tigers' passing game -- it would not be a surprise if offensive coordinator Cam Cameron plays it close to the vest on Saturday. But LSU's wideouts believe their summer practice time against a solid group of defensive backs has prepared them for this first test, even against a Wisconsin secondary that largely remains intact from a season ago.
"Everyone says that we're a young group and we have a young quarterback, whoever it's going to be, so it's like everyone says we're not going to be able to pass the ball," Dural said. "Being able to pass it in camp against our defense is exciting to us. We're moving the ball."
August, 18, 2014
Aug 18
9:00
AM ET
BATON ROUGE, La. --
Rashard Robinson
was in the middle of complimenting freshman receiver
D.J. Chark
when a reporter informed him that LSU coach Les Miles proclaimed Chark as possibly the fastest player on the team.
That's when Robinson's expression turned into a dismissive smirk.
"He's not the fastest," the sophomore cornerback said, shaking his head.
So who is?
[+] Enlarge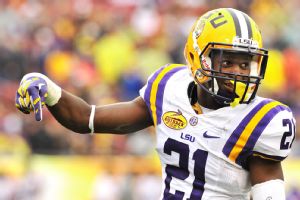 Al Messerschmidt/Getty ImagesRashard Robinson is one of at least four players who can claim to be LSU's fastest.
"I'm faster," Robinson chuckled. "[Or]
Avery Peterson
. But D.J., he's up there. He really is up there."
Since Miles made his initial statement about Chark's speed prior to preseason camp, he has revised his list of fastest Tigers a time or two. First it expanded to Chark and freshman tailback
Leonard Fournette
. Most recently, Miles said it could be any of at least four players.
After redshirt freshman receiver Peterson -- the younger brother of former LSU and current NFL speedster Patrick -- caught a touchdown pass in last Wednesday's scrimmage, Miles added Peterson to his list of candidates.
"It comes to mind that there are three fastest guys on our team right now and I just don't know which one really is the fastest guy on our team," Miles said. "So I think Leonard's pretty fast, I think Chark is pretty fast, I think Avery's pretty fast. I think I missed one. So maybe there's four fastest guys on the team."
Maybe it was Robinson that Miles was forgetting. Maybe it was freshman safety
Jamal Adams
, whom Chark included among the contenders. And it might have been someone like
Travin Dural
, who was a state-champion sprinter in high school.
On a roster that features as much athleticism as LSU's, it is no surprise that there is a contentious debate over which player is actually the fastest. For his part, Chark thinks Miles' initial assessment might actually be correct, but even he is willing to concede that the competition is close enough that the title could change hands frequently.
"Of course I feel like I'm going to win, but in reality it's all who gets the best takeoff at the start," Chark said, listing Robinson, Fournette and Adams as his top competition. "We have some pretty fast players here and I learned that from every day at workouts and sprints. We really have a fast team, so I think the fastest player is really who's having the best day that day."
Even Fournette, who outweighs the other contenders by at least 25 pounds, if not more?
"Yeah," Chark said, "Leonard can move."
August, 13, 2014
Aug 13
3:00
PM ET
BATON ROUGE, La. -- Les Miles didn't offer many specifics about LSU's first preseason scrimmage on Wednesday -- particularly about which quarterbacks completed the two touchdown passes -- but the Tigers' coach described the 26-play scrimmage as "pretty productive."
Miles confirmed that freshmen
Leonard Fournette
and
Malachi Dupre
are both dealing with injuries, adding that tailback Fournette ran a handful of times in "thud" drills (not full contact) and that he should participate in a greater role in Saturday's full scrimmage.
"He really could have been involved today, but [with] a little bruise, we decided not to," Miles said.
[+] Enlarge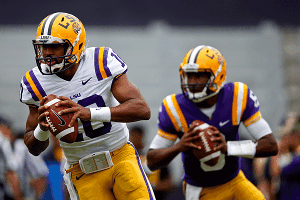 Derick E. Hingle/USA TODAY SportsCoach Les Miles said that QBs Anthony Jennings, left, and Brandon Harris are both grasping LSU's offense.
He made similar comments about wide receiver Dupre, who already missed a couple of practice days with an undisclosed injury.
"He's really nicked and on the heal and they don't think it's anything major in any way, but we've just got to continue to treat and get him going," Miles said.
He didn't say which quarterbacks threw the passes, but Miles did reveal that
Avery Peterson
and
Travin Dural
caught touchdowns in the scrimmage.
Speaking generally, he said that quarterback contenders
Anthony Jennings
and
Brandon Harris
are in command of the offense most of the time. The rest remains a work in progress.
"They're young, they're both engaged in leadership and want to have command of the offense -- and they do for the most part," Miles said. "They don't know what command is. They don't necessarily understand exactly what has to be communicated to make this thing go easy. They're learning.
"I'd say 70 percent of today was just very, very well done and 30 percent's probably not enough for anybody that sits in the stands to even notice. And yet that 30 percent we expect from our quarterbacks."
Miles said defensive tackle
Quentin Thomas
-- initially thought to be lost for the season with a torn bicep -- worked in individual drills on Wednesday and might still play this season.
"Today he went through individual and moved and used his hands. It's one of those things when you have a big old arm and you get it nicked, you can't quite tell what it is and what it isn't initially. Frankly he's as fortunate as he could be."
Miles added that the Tigers' occupational therapist, "looked at it and he says there's absolutely no reason to do anything else than rehabilitate and let him play."
Thomas' versatility:
One of the primary benefits of LSU's "Mustang" defense is that it's difficult to tell which rushers will attack the line of scrimmage on any given play. So perhaps it fits that one of the Tigers' key players in that package is
Dwayne Thomas
, since you never know where he might play.
Thomas said he has learned the duties of every position in the secondary, joining
Jalen Mills
as the only Tiger defensive backs who can do that.
"Corner, safety, nickel and dime -- I pretty much know the entire defense," Thomas said. "Wherever Coach [Corey] Raymond needs me, I just go fill in. It's a great opportunity to do that. Being able to be in the mix of any position is good for the next level."
Thomas said he added safety to his repertoire since the end of last season, having worked at the position throughout spring practice.
"Once I got safety down pat, that was like the last position I had to learn for the entire defense," Thomas said. "I had already been doing nickel and dime and corner. After the spring passed, getting all the safety reps down pat was just fantastic."
But it's that Mustang role where Thomas might make the biggest impact. Because of his speed off the edge -- aided by his ability to jump the snap count, work with assistant coach Brick Haley on the finer points of pass rushing and film study of former Mustang standouts Tyrann Mathieu and Ron Brooks -- Thomas could be even more valuable in that role this season.
"Dwayne really gives us what we're looking for at that position. He does a great job there," defensive coordinator John Chavis said when asked about who will play the rushing positions in the Mustang. "Jalen Mills has played a lot at that position. I'm not ready to say anything other than we expect Thomas to be one of those guys."
Kick returners:
Dural said one factor will probably determine who eventually wins LSU's kickoff and punt return jobs.
"We're battling every day to see who's going to drop the ball first," Dural chuckled.
Dural listed a half-dozen candidates who are contending for the return jobs when they catch balls before and after practice each day.
"It's just me,
Tre White
, Leonard, Jamal [Adams], Malachi,
Trey Quinn
. We're all back there battling for a spot," Dural said. "Everybody wants to be that dynamic player. Everybody wants to be the kickoff guy or [punt]."
LSU had one of the nation's best return men last year in Odell Beckham, who entered the NFL draft after winning the Paul Hornung Award as college football's most versatile player. Dural said it won't be easy to replace the explosive Beckham, but he believes the Tigers have plenty of promising candidates.
"It's hard to replace someone like that, but we have a lot of guys who have the ability to make those plays," Dural said. "Tre White, he's a guy that can return punts and return kickoffs as well as Leonard. Leonard's back there returning both of them. So as the season goes on, whoever that guy may be, you'll start to see him make those types of plays that Odell did."
April, 22, 2014
Apr 22
9:00
AM ET
LSU's spring practice ended two weeks ago, leaving a full 15 weeks before the Tigers return to the practice field.
The position battles that started in the spring will continue through summer workouts before resuming in front of coaches in August. Let's take a look at what happened in a few of those spring battles and what we'll be watching between now and Aug. 30, when the Tigers open the season against Wisconsin.
Defensive tackle:
The spring was as much a feeling-out process as anything for defensive line coach Brick Haley. He mostly rode two departed veterans last fall while using youngsters
Christian LaCouture
and
Quentin Thomas
in spot duty. LaCouture and Thomas jumped into leading roles during the spring, and Haley also tested
Maquedius Bain
,
Greg Gilmore
and
Frank Herron
(at times) in the middle. Haley has probably established a mental pecking order with the group, but August and the early-season games will certainly play important roles in cementing the coach's opinions. It will also be worth watching how signees such as
Travonte Valentine
perform once they arrive on campus, as they might allow Haley to utilize a true rotation in the middle.
[+] Enlarge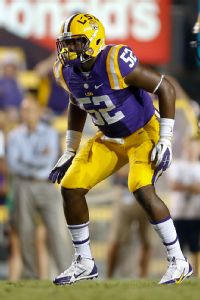 Derick E. Hingle/USA TODAY SportsSophomore linebacker Kendell Beckwith moved inside and was impressive this spring.
Linebacker:
This should be a fun bunch to watch in the fall. While
Kwon Alexander
,
Lamar Louis
and
D.J. Welter
seemed to rank among John Chavis' first options during the spring, it's apparent that the Tigers' defensive coordinator has no shortage of talented options. One of the intriguing spring storylines was
Kendell Beckwith
's transition to middle linebacker behind Welter. The linebackers as a group had an excellent spring game, with
Ronnie Feist
leading all tacklers with 14 stops and both Alexander and
Deion Jones
picking off
Anthony Jennings
passes and returning the interceptions for touchdowns.
Clifton Garrett
is one of the Tigers' highest-rated 2014 signees, and he could add even more intrigue to the competition for playing time once practice resumes.
Quarterback:
Surely you've heard by now that the battle between Jennings and freshman
Brandon Harris
appears to be wide open entering the summer months. Jennings has a slight experience advantage, but Harris was the more effective performer in the spring game. Both players made plenty of mistakes, however. Their offseason preparation in the next few months will be enormously important once August arrives.
Right guard:
This is another battle that the coaches said was wide open once the spring concluded.
Evan Washington
shifted from tackle to guard and seemed to take the leading role in the competition. Fellow senior
Fehoko Fanaika
and sophomore
Ethan Pocic
are lurking, however. It wouldn't be much of a surprise to see all of them play some scrimmage downs against Wisconsin -- or in Weeks 2 and 3 against Sam Houston State and Louisiana-Monroe -- as new offensive line coach Jeff Grimes weighs his options. Coach Les Miles complimented all three players after the spring game, so it seems that the coaches would be comfortable playing any of the candidates.
Safety:
Injuries caused this position to remain as a bit of a mystery during the spring.
Jalen Mills
remained in a starting role, and
Ronald Martin
seemed to be faring well in a return from a fractured right foot. He was injured again by the end of the spring, however, joining
Corey Thompson
(knee surgery) on the sideline by the time the spring game rolled around. Mills and
Rickey Jefferson
were the top options in the spring game, but the Tigers could use any number of combinations when the season arrives -- especially once highly-rated safety prospect
Jamal Adams
and the other signees make it to Baton Rouge this summer. Once the Tigers are back to full strength in August, this should make for one of the most intriguing position battles.
Tight end:
This will be a fun position to track in the fall. They had plenty of playing time last season, but barely made a blip as receivers. They seem to be confident that they will make a more well-rounded contribution in 2014. Sophomore
DeSean Smith
and signee
Jacory Washington
possess intriguing receiver skills, and
Dillon Gordon
,
Travis Dickson
and
Logan Stokes
worked this spring to prove that they are well-rounded players at the position. It's a big group, but all of them should have roles to fill during the season.
Wide receiver:
They were the walking wounded for much of the spring, with
Avery Peterson
,
Kevin Spears
,
John Diarse
and
Quantavius Leslie
all spending time in non-contact jerseys. That was a tough blow for a group that has a lot to prove after
Odell Beckham
,
Jarvis Landry
,
Kadron Boone
and
James Wright
all left the roster after last season.
Travin Dural
-- who had an outstanding spring game with five catches for 130 yards and two touchdowns -- seemed to solidify his spot as the No. 1 receiving option for now. But this will become one of the Tigers' most interesting position battles in August once a star-studded signing class, led by
Malachi Dupre
and
Trey Quinn
, arrives to challenge the returning wideouts.
March, 24, 2014
Mar 24
11:00
AM ET
BATON ROUGE, La. -- We're past the midway point of
LSU
's spring practice with the Tigers' spring game on April 5 less than two weeks away.
Before the Tigers return to the practice field on Tuesday, let's recap some of the developments thus far this spring.
[+] Enlarge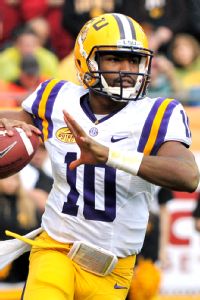 Al Messerschmidt/Getty ImagesSophomore Anthony Jennings has experience on his side in the Tigers' quarterback competition.
The QB race is on:
On national signing day, it looked like LSU might have five quarterbacks vying for playing time in the fall. With the announcements that
Stephen Rivers
will
transfer
and
Rob Bolden
will play receiver, the race was down to three before practice even started.
Anthony Jennings
and
Brandon Harris
appear to lead
Hayden Rettig
in one of the nation's most-watched spring quarterback battles. With 2013 playing time under his belt -- including a start in the Outback Bowl win over Iowa -- Jennings appears to be the more composed, polished contender on the practice field. But Harris possesses special passing talent. It should continue to be an interesting race throughout the summer and into the season.
The young quarterbacks endured many sloppy moments early in camp, to offensive coordinator and quarterbacks coach Cam Cameron's displeasure, but Tigers coach Les Miles said both players threw the ball well in Saturday's scrimmage. Perhaps they are starting to turn a corner toward being ready to face SEC competition.
Receivers are a mess:
Between frequent dropped passes and a spate of injuries, it has not been a banner spring for LSU's receivers. Early in the spring, they seemed to struggle to get on the same page with the quarterbacks. And by the end of last week, they only had a couple of healthy scholarship players available.
Redshirt freshmen
Kevin Spears
,
Avery Peterson
and
John Diarse
have all dealt with injuries, with those setbacks coming at a particularly inopportune time since the youngsters need to establish themselves before a talented group of signees arrives this summer. At last Thursday's practice periods that were open to the media, the only scholarship wideouts catching passes from the quarterbacks were
Travin Dural
and
Quantavius Leslie
.
Miles said last week that he likes what Dural and Diarse have accomplished thus far this spring, and Dural caught a long touchdown pass in Saturday's scrimmage. But the others still have a lot to prove, which might be why Miles predicted that all four receiver signees will have the opportunity to win playing time in the fall.
Defensive line coming together:
Miles seems pleased with the progress that several young defensive linemen have made this spring. In the last week, he has singled out redshirt freshmen
Frank Herron
,
Maquedius Bain
and
Greg Gilmore
for getting stronger and improving their games since they arrived at LSU last year.
He also complimented sophomores
Christian LaCouture
and
Tashawn Bower
after Saturday's scrimmage. LaCouture and Bain both had sacks in the scrimmage, and Bower had two quarterback pressures.
The defensive line competition won't generate a fraction of the national interest that the quarterback battle will, but that group's development might be just as important in gauging LSU's chances to contend in the SEC West this fall. With
Anthony Johnson
and
Ego Ferguson
both bolting for the NFL, the Tigers desperately needed some players to fill their void -- and Miles makes it sound as if they are developing some good options.
OL battle rages:
It's no surprise that LSU's coaching staff continues to weigh its options on the offensive line -- particularly at the right guard position.
Seniors
Evan Washington
and
Fehoko Fanaika
have worked there, as has sophomore
Ethan Pocic
. It's clear that the staff likes what Pocic can do, because he has practiced at guard, center and tackle this spring. Fanaika has been strictly at guard and Washington has worked at both guard and tackle.
With a new offensive line coach, Jeff Grimes, coming on board this spring, it's obvious that he's experimenting with different player combinations to see what he likes best. That experimentation will probably continue beyond the spring game.
Linebacker shuffle:
As with the offensive line, LSU's linebackers are also trying some new combinations this spring.
Kwon Alexander
shifted from strongside linebacker to weakside linebacker,
Lamar Louis
went from middle linebacker to the strong side and
Kendell Beckwith
is now backing up
D.J. Welter
in the middle after playing mostly at defensive end last fall.
LSU's linebackers were somewhat mediocre for portions of 2013, so defensive coordinator John Chavis shook things up a bit this spring. Miles said Saturday that Beckwith's move to the middle appears to be a good one and that Welter has improved his play this spring with the talented sophomore now battling him for playing time.
The linebackers themselves seem excited about the speed and athleticism that their group possesses. It will be interesting to see whether the lineup shuffling affects the Tigers' overall defensive performance.
March, 17, 2014
Mar 17
4:00
PM ET
BATON ROUGE, La. – Early enrollment is frequently beneficial in that it helps a newcomer address a team's immediate need, but its value goes well beyond the short term. Imagine what LSU's spring position battles might look like if eight signees hadn't joined the Tigers in January 2013.
"There's no question, if they had not been here in January and moved and advanced in their knowledge of what we're doing, then they'd have a very difficult time competing," LSU coach Les Miles said.
If not for the valuable experience he gained last spring,
Anthony Jennings
-- one of two quarterbacks who early enrolled last year, along with
Hayden Rettig
-- almost certainly wouldn't have catapulted up the depth chart the way he did, much less completed a game-winning comeback against Arkansas in place of injured senior
Zach Mettenberger
. And Jennings and Rettig wouldn't be as far along as they are now in learning the nuances of Cam Cameron's offense if not for that low-pressure springtime learning environment, since the Tigers already had an established starter in Mettenberger.
[+] Enlarge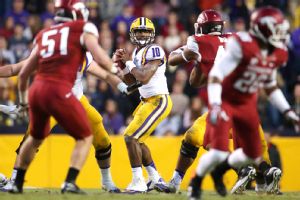 Crystal LoGiudice/USA TODAY SportsIf Anthony Jennings didn't enroll early, it's doubtful he would have been ready to step in for the injured Zach Mettenberger and lead LSU to a comeback win over Arkansas.
"I'm definitely more confident because I've known all the guys for a year now," Jennings said. "I'm confident in everybody on my team rallying around me to become a better leader and a better quarterback."
Quarterback being the high-profile position that it is, perhaps it's the most noticeable place where the Tigers benefited from last year's big group of early enrollees. But LSU is actually better off at several positions because of those eight players who early enrolled last January -- a group that also includes defensive tackle
Christian LaCouture
, tight end
Logan Stokes
, offensive linemen
Fehoko Fanaika
and
Ethan Pocic
and receivers
John Diarse
and
Avery Peterson
.
Nearly all of those players are in the thick of the competition to grab a starting spot this spring.
"Think about Ethan Pocic. He was our second-team center last year. He shows up here in January or he doesn't finish at center. He's not there," Miles said of Pocic, who played offensive tackle throughout high school, but backed up
Elliott Porter
at center last season and could contribute at a number of different positions this fall.
"It's a tremendous advantage for these guys that show up early. There's no question," Miles continued. "And it's a tremendous advantage for us. We get to see what they look like, how they think and is there somebody that we should count on other than them, short term, or do we say, 'No, move him in because he's got it.'"
Take Diarse for example. The redshirt freshman probably would have played last season but for an ankle injury he suffered during preseason camp. But he wouldn't have been in position to back up
Odell Beckham
and
Jarvis Landry
in 2013 -- much less occupy the starting position he currently enjoys -- if not for his experience last spring.
Louisiana's 2012 Mr. Football, Diarse was a star dual-threat quarterback at Neville High School in Monroe. He admits that he had a lot to learn about playing his current position, receiver, when he arrived last January.
"It blew my mind the first couple of months into it -- it blew my mind how much detail and technique that it takes to be a receiver," Diarse said. "Just coming in last spring kind of put me ahead of the 8-ball and now I'm just picking up tidbits here and there to better myself every day."
Three of the five 2013 early enrollees who played last season -- Stokes, Jennings and Pocic -- all started at least one game. LaCouture played in all 13 games as one of the top reserves on the defensive line, while Fanaika played behind
Trai Turner
at right guard in several games and worked on the Tigers' field-goal unit in 12 contests.
All five players are either the leading candidate to start at their position this fall or to play in some sort of a rotation, thanks in no small part to the head start they got this time a year ago.
"You've got to learn quick," LaCouture said. "Spring ball is something that really helped me out -- coming in and knowing the pace of the game, knowing the plays right off the bat. That way when we hit fall ball, it was quick and we were rolling and we were getting ready for that."
Now he's in position to help guide less experienced teammates at a position where LSU desperately needs leadership. NFL draft early entrants
Anthony Johnson
and
Ego Ferguson
played the vast majority of the key snaps at defensive tackle last season, thrusting 2013 signees LaCouture,
Greg Gilmore
and
Maquedius Bain
into position where they might play much bigger roles this fall.
LaCouture is the only member of the trio who played last season, so if LSU's line performs anywhere near a championship-caliber level -- which might be one key in whether LSU becomes more than an also-ran in the SEC title chase -- the knowledge and experience he gained last year could become even more valuable.
"It was an awesome experience," LaCouture said. "It was something for me that I've always grown up wanting to do. I wanted to come in here [and] it was so great for me having spring ball and preparing myself to do that with the help of Coach Brick [Haley, LSU's defensive line coach] and the older guys, [defensive coordinator John] Chavis also and Coach Miles.
"Having Ego, Freak [Johnson] and all the guys that left for the draft helped me build my way up for now where I can lead the team this year, just do as much as I can to produce a national championship."
March, 13, 2014
Mar 13
9:00
AM ET
BATON ROUGE, La. -- Of the six receivers listed on the depth chart for LSU's Outback Bowl win over Iowa, only two of them are still on the Tigers' roster this spring.
The returning duo --
Travin Dural
and
Quantavius Leslie
were in their first season of SEC competition. They combined for eight catches and 156 yards all season, nearly all of which came from Dural. Believe it or not, now they are by far the most experienced receivers on the team.
[+] Enlarge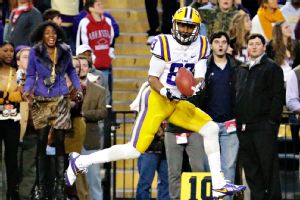 AP Photo/Bill HaberTravin Dural had seven catches for 145 yards and two touchdowns last season.
That's how dramatic the turnover has been since star juniors
Odell Beckham
and
Jarvis Landry
decided to enter the NFL draft and seniors
Kadron Boone
and
James Wright
completed their college careers.
"It's kind of like the transformation I made in high school. Out of nowhere, I was the older guy," said Dural, a rising sophomore who is LSU's top returning receiver with seven catches for 145 yards and two touchdowns last season. "That's kind of how it is here. It's a little weird, but I've been waiting on this forever, so I'm kind of taking advantage of it and trying to run away with it."
It is indeed weird. It's rare that a player who has yet to appear in a game is able to become a leader for his position group, but that's one of redshirt freshman
John Diarse's
goals. An early enrollee last season, Diarse was in position to play last fall before a preseason ankle injury kept him off the field.
Nonetheless, Diarse is actually among the more experienced LSU receivers since he's nearly a week into his second spring practice with the Tigers -- and as of now, he and Dural have separated themselves as the top players at their position.
"We would look forward to them playing a lot," LSU coach Les Miles said. "We expected John to play more except he got injured just before we went into the season and it really cost him."
LSU's depth at the position this spring is not ideal, particularly after redshirt freshmen
Kevin Spears
and
Avery Peterson
both hobbled off the practice field earlier this week with hamstring injuries. At the very beginning of spring practice, Miles emphasized that now is the time for players such as Spears, Peterson, Leslie and converted quarterback
Rob Bolden
to seize some playing time because the competition will get much steeper during preseason camp.
LSU signed arguably the nation's top collection of receivers last month when it added ESPN's No. 1 and 3 wideouts,
Malachi Dupre
and
Trey Quinn
, plus ESPN 300 picks
D.J. Chark
and
Tony Upchurch
. After that group arrives this summer, inconsistent performers could easily find themselves watching from the sidelines.
"There's definitely more competition on the way. It's going to be that way until I graduate," Diarse said. "It's just something you've got to take as motivation to stay in your spot and don't let anybody take it from you. That's what I've been taught from Day 1 -- there's always somebody that's going to try to come take your job, and you've just got to do your best to keep it every day."
Leslie and Dural are the only members of the group with on-field experience, and even junior college transfer Leslie's experience is fairly limited. The rising senior appeared in four games last fall -- against UAB, Kent State, Mississippi State and Furman -- and caught just one pass for 11 yards.
That puts some leadership responsibility on Dural, simply because the Tigers don't have a better option.
"I see sometimes when they don't really know what's going on because they haven't been in certain situations. I kind of step in and let them know," Dural said. "But mainly they're kind of getting it. They've been in the system. All of them have been in the system for a year, so they pretty much know what's going on.
"But in certain instances, I step in and let them know how if you do this wrong, it would be different in a game because I've seen it in a game so I can critique them on what I've seen and what I know."
Dural characterized the receivers' first few spring practices as "shaky," noting that they needed a while to get their timing down after not facing live competition for a few months. They're also still working to build continuity with three young quarterbacks in sophomore
Anthony Jennings
, redshirt freshman
Hayden Rettig
and early enrollee
Brandon Harris
.
Dural's description certainly seemed accurate in the portions of practice that have been open to the media, as some wideouts frequently dropped passes and the group generally struggled to get on the same page as their quarterbacks in some drills.
It can be a rocky transition, going from being an off-the-radar freshman to a player who expects to contribute, but the young wideouts are fortunate that they don't have to play a game for nearly six months. They will get in hundreds of valuable practice repetitions this spring without the pressure of a game approaching each Saturday -- so that they'll be ready when the Tigers finally take the field on Aug. 30 against Wisconsin.
"I knew this time was coming. I knew I was going to have the opportunity to show the world what I can do, and now that it's here, it's kind of time for me to just let it all out. I've been holding it in for too long," Diarse said. "I was talking to my mom the other day -- it seems like it's been forever since I've played, but like I said, I'm here now and I'm letting my opportunity just take over."
March, 10, 2014
Mar 10
9:00
AM ET
BATON ROUGE, La. -- In the weeks leading up to Saturday's first spring practice, we offered our best guesses -- some on the mark and some off -- on how
LSU
's lineup might look when the Tigers took the field.
Nothing is settled yet, but at least we now have an idea of what the coaches are thinking.
Coach Les Miles addressed some of the Tigers' biggest position battles and lineup alterations after Saturday's initial team workout -- starting with the quarterback battle that will likely be the talk of this camp. Here is where things stand at the positions that are in flux as the Tigers enter today's second practice:
[+] Enlarge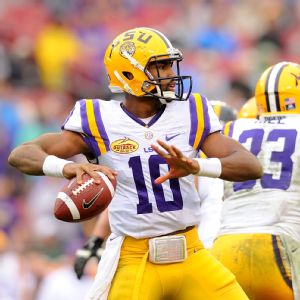 Steve Mitchell/USA TODAY SportsAnthony Jennings is the early favorite to start for the Tigers in 2014, but two freshmen remain in the competition.
Quarterback:
Miles said Saturday that "I think I have a good idea, anyway" about who the Tigers' starting quarterback will be, but the competition for the job still figures to be fierce. By all accounts, the early leader is rising sophomore
Anthony Jennings
, but redshirt freshman
Hayden Rettig
and immensely talented early enrollee
Brandon Harris
could challenge Jennings for the job.
This competition is only beginning, however. Miles said the coaching staff is in no rush to settle on a starter now, preferring to allow the competition to progress over the next few months before making any decisions.
"The idea that you make the decision early is foolish," Miles said. "I think there's always going to be that point in time where a young guy gains speed late or an injury makes the decision or the old guy, the more veteran [player], just shows that he's worthwhile."
Wide receiver:
We learned Saturday that there is one less contender in the quarterback battle since
Rob Bolden
has shifted to wideout. Bolden actually "made a couple nice catches today" after making what "appears to be a pretty good move," Miles said.
Bolden's position change made for an interesting side note, but he isn't the headliner at receiver. Who among the returning players is the headliner? That's still to be determined.
It apparently starts with
Travin Dural
and redshirt freshman
John Diarse
. Candidates such as
Quantavius Leslie
,
Kevin Spears
and
Avery Peterson
need to use this spring to solidify their spots in the rotation before a star-studded freshman class led by
Malachi Dupre
-- who attended Saturday's practice -- and
Trey Quinn
arrives this summer.
"Travin Dural and John Diarse are both guys that really look good. We're going to have the ability to put those guys on the field and go," Miles said. "Q. Leslie and Kevin Spears and those guys that are really behind that group need to come on. This is the time for that. This is an opportunity for those guys. But those first two guys, we would look forward to them playing a lot."
Right guard:
Miles emphasized that for new offensive line coach Jeff Grimes, "playing the best player is obviously the key."
Four offensive line jobs have clear leaders, with returning players who started nearly every game a season ago. But the right guard position is wide open, and
Evan Washington
is shifting from tackle to try to grab the job.
Fehoko Fanaika
and
Ethan Pocic
-- who can also play center -- are among the other candidates at right guard, Miles said, but "we're going to have to see how that all goes."
Linebacker:
It looks like the Tigers will do some juggling at these spots.
Kendell Beckwith
, a utility player last season, worked at middle linebacker on Saturday.
Kwon Alexander
shifted from strongside linebacker to the weak side.
Lamar Louis
practiced on the strong side after playing in the middle in 2013.
"We're really taking the time to multi-train these linebackers so we can put the best three guys on the field," Miles said. "Kwon has moved from his starting spot to the other side, so we think this spring will allow them to be put in either side."
The quarterback battle will attract most of the headlines, but this might wind up becoming the Tigers' most interesting competition this spring. Lots of moving pieces here.
Safety:
We know this much:
Jalen Mills
is a safety and early enrollee
Edward Paris Jr.
-- who is working at cornerback -- is not. Beyond that, we'll see where this battle goes.
Mills and
Ronald Martin
might be the top options here for now, but this is a competition that will begin in earnest when signees
Jamal Adams
,
Devin Voorhies
and
John Battle IV
arrive on campus this summer.
"We'll have guys back, but I think we'll be looking at some of these young guys that are coming in," Miles said. "Ed Paris is lined up at corner right now and getting some corner work and then some of these young guys coming in will get opportunities to fit in there."
Junior safety
Corey Thompson
(knee) might participate at some point this spring, but Miles said did not sound particularly optimistic on that front. Incidentally, he shared a similar spring-time prognosis for defensive end
Jermauria Rasco
(shoulder).
March, 7, 2014
Mar 7
9:00
AM ET
Schedule:
The
Tigers
open spring practice on Saturday. They will conclude with the spring game on April 5 at Tiger Stadium.
What's new:
Former Auburn and Virginia Tech assistant Jeff Grimes joined the staff in January, replacing Greg Studrawa as offensive line coach. An old face will also return to Les Miles' staff, as Bradley Dale Peveto -- a Miles assistant from 2005-08 and participant in a failed experiment as co-defensive coordinator in 2008 -- was recently hired as special teams coordinator. He replaces Thomas McGaughey, who accepted the same position with the New York Jets of the NFL.
[+] Enlarge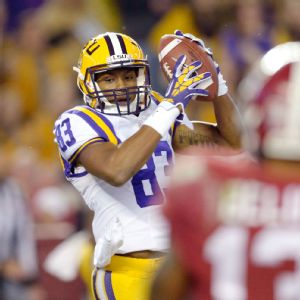 John David Mercer/USA TODAY SportsWideout Travin Dural will need to step up for the Tigers in 2014.
Attrition:
The Tigers once again suffered a big hit from early NFL entry. LSU receivers
Odell Beckham
and
Jarvis Landry
, tailbacks
Jeremy Hill
and
Alfred Blue
, defensive tackles
Anthony Johnson
and
Ego Ferguson
and right guard
Trai Turner
all entered the draft despite having eligibility remaining.
On the move:
If comments he made last month are any indication, Miles and the coaching staff intend to leave
Jalen Mills
at safety on at least a part-time basis. He started at the position in the Tigers' Outback Bowl win against Iowa. Don't be surprised if players who have played other positions -- tackle
Evan Washington
and center
Ethan Pocic
are reportedly among them -- figure into the competition to replace Turner at right guard. Also, keep an idea on how the Tigers deploy
Kendell Beckwith
this spring. He has the ability to contribute at defensive end or linebacker, and he might play both positions at points.
New faces:
The Tigers have two early enrollees participating in spring practice in quarterback
Brandon Harris
and defensive back
Edward Paris Jr
. We'll discuss Harris, who was ESPN's No. 2 dual-threat quarterback and No. 37 overall prospect for the 2014 class, more below. ESPN ranked Paris as its No. 4 safety and No. 50 overall prospect, but LSU listed him as a cornerback when it added the freshmen to the roster.
Key battle:
There will be several position battles worth watching -- right guard, defensive tackle and quarterback are among them -- but let's talk about the wide receivers. With Landry and Beckham jumping to the NFL, LSU lost nearly all of its production at wideout. Speedster
Travin Dural
(seven catches for 145 yards and two touchdowns in 2013) is the only receiver who has done much of anything, and even his production was limited last fall. With arguably the nation's top collection of receiver signees -- led by ESPN's No. 1 wideout
Malachi Dupre
and No. 3
Trey Quinn
-- set to arrive in the summer, now is the time for the players on campus to show they deserve some snaps. Senior
Quantavius Leslie
(1-11) was disappointingly quiet last season as a junior college transfer. Freshmen
John Diarse
,
Avery Peterson
and
Kevin Spears
all redshirted. Conventional wisdom has Dural and Diarse as the most likely contributors in 2014. Will at least one or two of the others join that group?
Breaking out:
Let's see whether cornerbacks
Rashard Robinson
and
Tre'Davious White
continue the ascent that started late last season. They started alongside one another in two of LSU's last three games -- wins against Texas A&M and Iowa -- and the secondary made strong showings in both games. Aggies quarterback
Johnny Manziel
had one of the worst outings of his college career (16-for-41 for 224 yards, one touchdown and two interceptions), with Robinson intercepting the former Heisman Trophy winner once. LSU held Iowa to 13-for-30 passing and 157 yards with a touchdown and two interceptions -- one of which came when White picked off a
Jake Rudock
pass at the LSU 7-yard line in the second quarter. LSU has a longstanding tradition of excellence at cornerback, although the Tigers' entire defense needed to perform more consistently last fall. Perhaps they've found something in sophomores Robinson and White.
Don't forget about:
Most of us have already penciled in No. 1 overall prospect
Leonard Fournette
as the Tigers' starter-in-waiting at tailback. And he very well may be. But he won't arrive on campus until the summer. For now, rising seniors
Terrence Magee
and
Kenny Hilliard
will handle the carries, and both players have proved themselves capable of producing. Magee was Hill's primary backup last season, rushing for 626 yards (and 7.3 yards per carry!) and also flashing good receiving skills (six catches for 49 yards). Hilliard has never been the No. 1 tailback, but he has acquitted himself in a short-yardage role, rushing for at least six touchdowns in all three seasons. Fournette has stardom written all over him, but he won't push the veterans completely out of the way. Count on Magee and Hilliard to keep getting their touches.
All eyes on:
Anthony Jennings
started LSU's bowl game against Iowa after replacing an injured
Zach Mettenberger
-- and leading the game-winning comeback -- against Arkansas. He was shaky to say the least (7-for-19 for 82 yards and an interception) in that first career start, however. With Harris, an excellent passer and explosive runner, already on campus, Jennings needs to show he can handle the starting job. Offensive coordinator Cam Cameron hand-picked Harris and is no doubt excited about what he can bring to the offense, but he needs to learn the offense first before he can truly threaten Jennings for a starting spot. Throughout the summer, LSU fans will dissect the two quarterbacks' performances in the spring game. Jennings seems like the safe bet to open the season as the Tigers' starter, but whether he holds onto that spot is up to him -- and perhaps up to his new freshman competitor, whose ability to execute the offense will be under heavy scrutiny over the next month.
March, 4, 2014
Mar 4
9:05
AM ET
Setting up the spring in the SEC West:

ALABAMA
Spring start:
March 15
Spring game:
April 19
What to watch:
Succeeding McCarron: The Crimson Tide must find the person who will step into AJ McCarron's shoes. There are several quarterbacks on campus: Blake Sims, Alec Morris, Parker McLeod and Cooper Bateman. The person most have pegged as the favorite, however, won't be on campus until the summer: Jacob Coker. A transfer from Florida State, Coker is finishing his degree before enrolling at Alabama. But new offensive coordinator Lane Kiffin will get a chance for a long look at the others this spring.
What's next for Henry?: Running back Derrick Henry has the fans excited after his Allstate Sugar Bowl performance (eight carries, 100 yards), and he brings great size to the position (6-foot-3, 238 pounds). T.J. Yeldon is a returning starter who is more experienced and battle-tested, and there are still other talented backs on the roster, such as Kenyan Drake. But plenty of eyes will be on the sophomore-to-be Henry.
Replacing Mosley: Linebacker C.J. Mosley was a decorated star and leader, so his presence will be missed. Alabama has plenty of talent in the pipeline; it's just not tremendously experienced. Watch for Reuben Foster and Reggie Ragland.

ARKANSAS
Spring start:
March 16
Spring game:
April 26
What to watch:
Keeping it positive: It's been rough around Fayetteville, Ark. The Razorbacks closed their season with nine losses in a row; coach Bret Bielema is a focal point in the unpopular NCAA proposal designed to slow down hurry-up offenses; and leading running back Alex Collins served a weeklong suspension last month for unspecified reasons. The Hogs could use some positivity.
A new DC: The Razorbacks will be working in a new defensive coordinator, Robb Smith. He came over from the NFL's Tampa Bay Buccaneers, where he was the linebackers coach. Smith made a significant impact at his last college stop, Rutgers, where he led the Scarlet Knights' defense to a No. 10 ranking in total defense in 2012.
Year 2 progress: Making a drastic change in scheme isn't easy to do, which is what the Razorbacks tried to accomplish in Bielema's debut season. In the second spring in Fayetteville for Bielema, things should come a little more easily as the Razorbacks continue to institute Bielema's brand of power football.

AUBURN
Spring start:
March 18
Spring game:
April 19
What to watch:
Picking up where they left off: The Tigers put together a memorable, magical 2013, and with eight starters returning on offense, keeping that momentum going is key. Replacing running back Tre Mason and O-lineman Greg Robinson won't be easy, but there is still plenty of talent on offense to aid quarterback Nick Marshall.
Marshall's progress: Marshall's ascent last year was impressive, but can he continue it? He's great with his feet and made some big-time throws last year. As he continues to progress as a passer, it should add another facet to the Tigers' explosive, up-tempo, multifaceted attack.
Improving the defense: The Tigers lost five starters from a group that was suspect at times last season. But defensive coordinator Ellis Johnson has a history of improving defenses from Year 1 to Year 2, and it should be interesting to see if he can do that at Auburn.

LSU
Spring start:
March 7
Spring game:
April 5
What to watch:
Jennings next at QB?: Anthony Jennings engineered a memorable, game-winning drive in the regular-season finale against Arkansas, leading the Tigers 99 yards downfield, capped by a 49-yard touchdown pass. His performance in the Outback Bowl was far from impressive, though, as he went 7-for-19 passing for 82 yards and an interception in the Tigers' win over Iowa. Still, he is considered the favorite to replace Zach Mettenberger. Competing with Jennings is Penn State transfer Rob Bolden and freshmen Hayden Rettig and Brandon Harris.
Starting over at WR: LSU loses two 1,000-yard receivers in Jarvis Landry and Odell Beckham, plus a senior (Kadron Boone). That's a lot of production to replace. Travin Dural, who made the game-winning catch against Arkansas, is back, as is Quantavius Leslie and Armand Williams. The Tigers have a host of redshirt freshmen joining the mix (John Diarse, Avery Peterson and Kevin Spears) and bring in several freshmen (Malachi Dupre, Trey Quinn, D.J. Chark) to compete for playing time. But replacing 72 percent of the 2013 receiving yardage will be challenging.
Finding safeties: Craig Loston has moved on, and the Tigers don't have a returning starter at safety. But they do have Jalen Mills, who slid from his cornerback spot to safety to start in the Outback Bowl. Corey Thompson, Ronald Martin and Rickey Jefferson all return, and ESPN 300 recruit Edward Paris Jr. is already on campus and will participate in spring practice.

MISSISSIPPI STATE
Spring start:
March 18
Spring game:
April 12
What to watch:
All eyes on Prescott: With some strong performances to close out the season in the Egg Bowl and in the AutoZone Liberty Bowl, quarterback Dak Prescott certainly played the part of an elite SEC quarterback. He'll enter the season with more national attention after putting together some gutsy performances while pushing through some personal adversity last season after the death of his mother.
Malone stepping in: Justin Malone was on pace to start at right guard last season, but was lost for the year with a Lisfranc injury in his foot in the season opener against Oklahoma State. With Gabe Jackson gone, the Bulldogs need another solid interior lineman to step up, and a healthy 6-foot-7, 320-pound Malone could be that guy.
Offensive staff shuffle: The Bulldogs added some new blood on the offensive coaching staff, bringing in young quarterbacks coach Brian Johnson, a former Utah quarterback. Billy Gonzales and John Hevesy were promoted to co-offensive coordinators, though head coach Dan Mullen will continue as the playcaller in games.

OLE MISS
Spring start:
March 5
Spring game:
April 5
What to watch:
Wallace's development: Coach Hugh Freeze believes quarterback Bo Wallace will be helped by having more practice this time around; last year, January shoulder surgery had Wallace rehabilitating most of the offseason, and Freeze believes it affected Wallace's arm strength later in the season. A fresh Wallace going into the spring can only help, and as he's heading into his senior season, the coaching staff will look for more consistency.
Status of Nkemdiche and Bryant: Linebackers Denzel Nkemdiche and Serderius Bryant were arrested last month and suspended. Ole Miss is investigating the situation, but their status remains undecided.
A healthy Aaron Morris: During the season opener against Vanderbilt, Morris tore his ACL and missed the rest of the season. The offensive guard was recently granted a medical hardship waiver to restore that season of eligibility. Getting Morris back healthy for 2014 is important for the Rebels as he is a key piece to their offensive line.

TEXAS A&M
Spring start:
Feb. 28
Spring game:
None (final practice is April 5)
What to watch:
Life after Johnny Manziel: Texas A&M says goodbye to one of the best quarterbacks in college football history and must find his successor. Spring (and fall) practice will be the stage for a three-way battle between senior Matt Joeckel, sophomore Kenny Hill and freshman Kyle Allen. Only one of those three has started a college game (Joeckel), and he played in just one half last August. Whoever wins the competition will be green, but all three have the ability to run the Aggies' offense.
Retooling the defense: The Aggies were pretty awful on defense last season, ranking among the bottom 25 nationally in most defensive statistical categories. They have to get much better on that side of the football if they want to be a real factor in the SEC West race, and that starts in the spring by developing the young front seven and trying to find some answers in the secondary, particularly at the safety positions.
New left tackle: This spring, the Aggies will have their third different left tackle in as many seasons. Luke Joeckel rode a stellar 2012 season to the No. 2 overall pick in the NFL draft. Senior Jake Matthews made himself a projected top-10 pick for this year's draft while protecting Manziel last season. This season, Cedric Ogbuehi gets his turn. Ogbuehi has excelled throughout his Texas A&M career on the right side of the offensive line (first at right guard, then at right tackle last season) and is looking to follow in the footsteps of Joeckel and Matthews.
March, 14, 2013
3/14/13
9:00
AM ET
Schedule:
The Tigers open spring practice Thursday and will conclude the spring April 20 with their annual National L Club spring game at 3 p.m. ET in Tiger Stadium.
What's new:
Cam Cameron steps in as LSU's offensive coordinator after spending part of last season in that role with the Baltimore Ravens. Cameron replaces Greg Studrawa as LSU's play-caller on offense and will also coach the quarterbacks. Studrawa remains on staff and will coach the offensive line. Steve Kragthorpe will move into an administrative role after coaching the LSU quarterbacks the previous two seasons.
On the mend:
Reserve quarterback
Rob Bolden
(knee) and defensive end
Justin Maclin
will both miss the spring while recovering from injuries.
On the move:
Junior
La'el Collins
will get first shot at left tackle this spring after starting all last season at left guard. Senior
Josh Williford
will shift from right guard to left guard. Junior
Terrence Magee
is moving back to running back after playing receiver last season and catching just one pass.
Question marks:
The Tigers are replacing five of their top seven defensive linemen. Junior tackles
Anthony Johnson
and
Ego Ferguson
and junior end
Jermauria Rasco
need to take that next step and become every-down forces up front. Head coach Les Miles said sophomore tackle
Mickey Johnson
has lost weight and had a promising offseason. Playing with more consistency at receiver will also be important. The Tigers had too many dropped passes last season and didn't make a lot happen down the field.
Odell Beckham
and
Jarvis Landry
will be counted on to make big moves as juniors. LSU also has to find a new place-kicker and punter. Sophomore
Jamie Keehn
heads into the spring as the punter, while junior
James Hairston
will have to hold off redshirt freshman walk-on
Colby Delahoussaye
for the starting place-kicking job.
New faces:
Junior-college newcomer
Logan Stokes
will battle for a starting job at tight end, while junior-college newcomer
Fehoko Fanaika
could factor in at offensive guard. At receiver, redshirt freshman
Travin Dural
will be one to watch after injuring his knee last season along with a pair of early enrollees -- Avery Peterson (Patrick Peterson's younger brother) and
John Diarse
. Two more true freshmen,
Anthony Jennings
and
Hayden Rettig
, will be among a handful of players vying for the backup quarterback job. The Tigers have a total of six true freshmen on campus who will be going through spring practice as early enrollees. Redshirt freshman
Dwayne Thomas
is a prime candidate to be the Tigers' third cornerback on passing downs.
Breaking out:
In reality, senior linebacker
Lamin Barrow
has already broken out. He had 104 total tackles last season, but was overshadowed by
Kevin Minter
. With Minter leaving early for the NFL draft, Barrow will move this spring from weakside linebacker to Minter's middle-linebacker spot. The 6-foot-2, 232-pound Barrow has everything it takes to become an All-SEC performer. If he sticks in the middle, it just makes the Tigers that much deeper at linebacker. Talented sophomores
Kwon Alexander
,
Deion Jones
and
Lamar Louis
can all play on the outside along with senior
Tahj Jones
, who returns after missing all but one game last season for academic reasons.
Don't forget about:
Senior running back
Alfred Blue
returns to give the Tigers one of the deepest backfields in the league. He injured his knee in the third game last season and was No. 2 in the SEC in rushing at the time. The 6-2, 220-pound Blue has excellent speed and also catches the ball well out of the backfield. He'll team with sophomore
Jeremy Hill
to give LSU a dynamite one-two punch. The 6-2, 235-pound Hill had four 100-yard games as a true freshman and led the Tigers in rushing. Following a splendid freshman season,
Kenny Hilliard
was the forgotten man last season. He'll be looking to regain his form this spring, while Magee will add some speed to the Tigers' backfield.
All eyes on:
Now that senior quarterback
Zach Mettenberger
has a season as a starter in the SEC under his belt, can he capitalize on the improvement he showed toward the end of last season? In particular, Miles wants to see Mettenberger get better at throwing the deep ball and understand all of the throws better. Mettenberger struggled early last season, but he didn't get a lot of help from his receivers. The best news for Mettenberger was the hiring of a veteran offensive coordinator like Cameron, who's tutored a ton of quality quarterbacks. There's no question that LSU has to be more consistent on offense if it's going to return to the SEC championship picture. How much Mettenberger improves from his junior to senior season will go a long way toward determining whether the Tigers will be a part of that equation.