March, 23, 2015
Mar 23
9:00
AM ET
This much we know after Vanderbilt's spring football game on Saturday: Patton Robinette leads Johnny McCrary and others in the race to become the Commodores' starting quarterback. But Vandy still has miles to go at the position if it is to become more competitive this fall. Vandy's quarterbacks combined for five interceptions and were sacked seven times in the scrimmage, which the defense won 38-24 through a modified scoring system. That's not a particularly good sign for the Commodores after a season where their quarterback carousel seemed to spin on a weekly basis. New offensive coordinator Andy Ludwig's bunch clearly has a long way to go, and it has to start with getting more consistent play at quarterback. Robinette and McCrary are apparently the top two contenders, but this competition might continue for a while.
It seems everyone, including the President, has an opinion these days on whether college athletes should be compensated. President Obama weighed in on the subject in an interview with the Huffington Post, saying that compensating athletes would lead to bidding wars and "ruin the sense of college sports." However, Obama suggested that universities have a responsibility to take better care of their athletes than they currently do in many cases. He agrees with the concept of guaranteed athletic scholarships as long as the athlete remains in good academic standing and also raised the issue of fairness when athletes' eligibility can be called into question for receiving something like a free tattoo while their coaches and administrators often make millions of dollars per year. This debate won't end anytime soon, although we could gain a measure of clarity later this year when a federal labor board rules on the attempt to unionize made by a group of Northwestern football players.
Around the SEC
Tweet of the day
Tom Izzo in March = Les Miles on fourth down in the fourth quarter.

— Wes Rucker (@wesrucker247) March 22, 2015
March, 10, 2010
3/10/10
3:42
PM ET
By
ESPN.com staff
| ESPN.com
ESPN.com's Ivan Maisel spent the day in Washington, D.C., with Alabama's football team on Monday and has an
inside look at the Crimson Tide's visit
with President Barack Obama and their tour of all the sights.
Maisel also caught up with quarterback
Greg McElroy
and former cornerback Javier Arenas to get their thoughts on the whole experience.
Alabama fans will love this anecdote from Maisel's piece: As Karen McElwain, the wife of offensive coordinator Jim McElwain, walked out of the White House, she turned to the policeman sitting behind the desk and said, "See you next year?"
Sounds like Mrs. McElwain is predicting a repeat. Wonder what her husband's boss thinks about that?
March, 8, 2010
3/08/10
3:57
PM ET
By
ESPN.com staff
| ESPN.com
President Obama welcomed Alabama's 2009 national championship football team to the White House on Monday in a
ceremony honoring the Crimson Tide
.
Obama was presented an Alabama jersey by team captain Mike Johnson. The president had obviously been briefed well on how to best endear himself to the Alabama faithful.
In praising the Crimson Tide, Obama quoted former Alabama coach Bear Bryant. He even referred to him as "Coach Bryant."
And if you don't think the Alabama-Auburn rivalry is alive and well and has no boundaries, get a load of this: Obama's press secretary, Robert Gibbs (an Auburn man), sent out a tweet moments after the Alabama team met with Obama that read: "As President welcomes Tide to the White House, I prefer to remember the other 58 mins of Iron Bowl WDE!"
During the ceremony, Obama joked that Gibbs was "hiding in his office."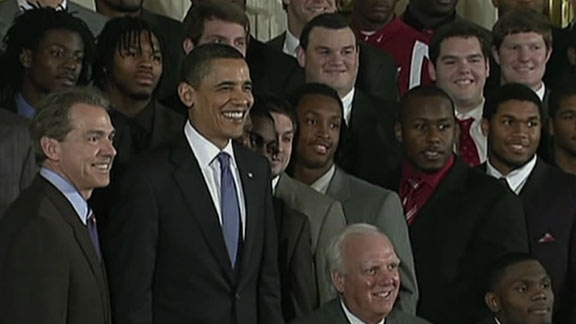 August, 17, 2009
8/17/09
9:45
AM ET
By
ESPN.com staff
| ESPN.com
Posted by ESPN.com's Chris Low
We've examined the villains through the eyes of each team in the SEC. How about the Top 5 villains in all of college football right now? Again, it's important to remember that sometimes the best way to attain villain status is to be exceptionally good at what you do. Here's my list:
1. Notre Dame -- The self-proclaimed greatest and most storied college football program of all-time is pretty mediocre right now (and has been for a while) for a crowd with such a high opinion of itself.
2. Barack Obama -- Granted, the BCS is a flawed system to determine college football's national champion, but the President might be better served to stick to more important matters like, say ... national security.
3. Tim Tebow -- They love him in Florida. And why not? He's the perfect player and a perfect role model. But everywhere else, they're sick of hearing about him and even sicker about him beating up on their teams.
4. Lane Kiffin -- Has there ever been a coach in any sport to stir it up more, say more controversial things or generate more ill will among his future opponents before he even coached in his first game?
5. Jimmy Sexton -- All the coaches he represents -- Nick Saban, Butch Davis, Steve Spurrier, Houston Nutt and Frank Beamer -- swear by him. But Sexton is a hard-nosed negotiator, and he's gotten the best of a few athletic directors over the years.
April, 24, 2009
4/24/09
1:52
PM ET
By
ESPN.com staff
| ESPN.com
Posted by ESPN.com's Chris Low
A sampling of what all's out there in the world of SEC football:
April, 1, 2009
4/01/09
11:00
AM ET
By
ESPN.com staff
| ESPN.com
Posted by ESPN.com's Chris Low
Is the BCS system in trouble?
Opponents of the way major college football determines its national champion are lining up, and they include President Barack Obama.
Now the BCS faces an antitrust lawsuit from the attorney general of Utah.
Stay tuned, because this could get interesting.
November, 19, 2008
11/19/08
4:17
PM ET
By
ESPN.com staff
| ESPN.com
Posted by ESPN.com's Chris Low
President-elect Barack Obama's proposed plan for an eight-team playoff in college football was welcomed by many coaches around the country.
But not everybody is on board with Obama's plan.
"I think he ought to call us so the head coaches can figure out how to get the price of gas down," said Arkansas coach Bobby Petrino, adding that he was kidding.
Petrino is serious, though, about not wanting to see a college playoff.
"I think it's a good system now," Petrino said. "We play a lot of games and miss a lot of school and do a lot of extra things to make sure we keep our players eligible. It's not something I believe in."
South Carolina's Steve Spurrier couldn't disagree more. He's all for a playoff and thinks Obama's influence could make a difference.
"We have playoffs in every sport in the world, I think, except for college football," Spurrier said. "I used to say: How can we be right and everybody else wrong? I just think with the president pushing it, that something certainly could happen."