January, 7, 2014
Jan 7
12:26
AM ET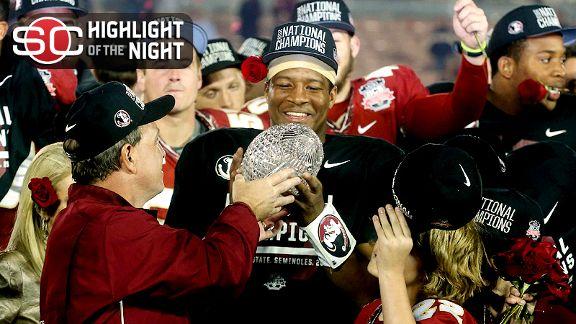 Love it or hate it, the BCS delivered a dramatic and fitting ending on Monday night, as No. 1 FSU rallied from from a late four-point deficit in the final two minutes to defeat No. 2 Auburn
34-31
in the final VIZIO BCS National Championship at the Rose Bowl in Pasadena, Calif. The Seminoles won their third national championship and ended the SEC's reign of seven consecutive BCS national championships.


Play of the game:
Trailing 31-27 with about one minute to go, Heisman Trophy winner
Jameis Winston
threw a 49-yard pass to
Rashad Greene
to move to Auburn's 23-yard line with 56 seconds to play. Six players later, after Auburn was penalized for pass interference in the end zone, Winston threw a 2-yard touchdown pass to
Kelvin Benjamin
to go ahead for good with 13 seconds to play. FSU's extra point gave it a 34-31 lead.
Turning point:
After Auburn took a 24-20 lead with about 4:42 to go, FSU's
Levonte Whitfield
returned the ensuing kickoff 100 yards for a touchdown, giving the Seminoles a 27-24 lead with 4:31 left. Whitfield, a 5-foot-7 freshman known as "Kermit," returned a kickoff for a touchdown for the second time this season.
Early turning point:
With Auburn holding a 7-3 lead early in the second quarter, Tigers quarterback
Nick Marshall
lofted a 50-yard touchdown pass to
Melvin Ray
to stake the Tigers to a 14-3 lead with 13:48 to go in the first half. Ray, a sophomore from Tallahassee, Fla., had four catches for 58 yards this season before hauling in the long touchdown catch against the hometown Seminoles. FSU, which hadn't trailed since falling behind Boston College on Sept. 28 and had led for more than 571 minutes of football before falling behind the Tigers, suddenly trailed by two scores. The Seminoles played catch-up the rest of the night but finally caught the Tigers in the end.
Player of the game:
Winston, a redshirt freshman from Bessemer, Ala., got off to a slow start against Auburn's defense, getting sacked four times and fumbling once in the first half. But in the end, Winston broke the Heisman Trophy jinx, throwing the winning touchdown with 13 seconds to play. He completed 20 of 35 passes for 237 yards with two touchdowns.
What it means:
The controversial BCS era ends with the SEC being denied its eighth consecutive national championship, which should sit well with college football fans outside of the SEC. In a game in which the SEC seemed most vulnerable during its championship streak, the Tigers jumped out to a 21-3 lead but couldn't hold on for a victory. The Tigers were denied their second BCS national championship since the 2010 season, when they defeated Oregon 22-19 in the BCS National Championship behind quarterback
Cam Newton
. Auburn coach Gus Malzahn missed becoming only the second coach -- Miami's Larry Coker was the first -- to lead his team to the national title in his first season since the BCS began in 1998.
Stat that matters:
2-for-12: Florida State won despite going 2-for-12 on third down.
What's next:
Florida State will probably be a popular choice to be the No. 1 team in preseason polls heading into the 2014 season. FSU will have to replace several key pieces on defense, including linebackers
Christian Jones
and
Telvin Smith
and cornerback
Lamarcus Joyner
. But the Seminoles will bring back Winston, the reigning Heisman Trophy winner, along with several of their most important players on offense. Auburn, which reached the BCS national championship in Malzahn's first season, will be among the SEC West favorites in 2014, along with Alabama and LSU. The Tigers will bring back Marshall, but they'll have to wait to see if junior tailback
Tre Mason
returns to school or enters next spring's NFL draft. Auburn's very young defense will be a lot wiser in coordinator Ellis Johnson's second season, too.
October, 1, 2013
10/01/13
9:15
AM ET
If a one-loss team is going to play in the VIZIO BCS National Championship Game this season, Georgia might be as good a bet as any.
But hear this Dawgs fans: You need some help.
[+] Enlarge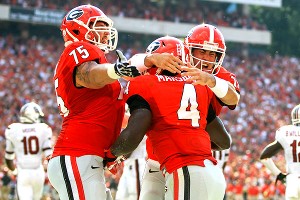 Daniel Shirey/USA TODAY SportsTo reach the BCS title game, Georgia will likely need more than just the scoring prowess of Aaron Murray and the Bulldogs' offense.
The good news for Georgia is that it moved up to No. 6 in the USA Today Poll, one of three components used in the BCS standings.
If the Bulldogs keep winning, they've got a great chance to move up even more, especially with a pair of wins over top 10 opponents.
Remember, too, that only twice during the SEC's streak of seven straight national championships has the team winning it all finished unbeaten.
The Bulldogs are explosive enough offensively to beat anybody in the country. Obviously, they're going to need a healthy
Todd Gurley
the rest of the way. He's day-to-day for this weekend's game at Tennessee with a sprained left ankle.
To the Bulldogs' credit, they played without him for the final three quarters last Saturday and still managed to outlast LSU 44-41. But it's difficult to see them winning out (and winning the SEC championship) if Gurley's not close to 100 percent.
Keith Marshall
is a heck of a talent at running back, but Gurley gives that offense a different dimension when he's on the field.
Georgia also must continue to grow up on defense if the Bulldogs are going to have a chance to navigate their way to Pasadena. They've played 10 true freshmen on defense this season, and three are starters. Of the 22 players listed on their defensive two-deep, 16 are freshmen and sophomores.
So it's not exactly a surprise that they've given up an average of 32.5 points per game, which ranks last in the SEC in scoring defense. To be fair, they've also played three top-10 foes.
The key will be how much that defense improves over the next month because the offense, as good as it's been, can't be expected to score 35-plus points every game.
But what else needs to happen for the Bulldogs to get to where they came within a tipped pass of potentially getting to last season and playing for the national title?
Here's a quick checklist:
They need to win out, and they probably need to do so impressively, particularly over the teams they're expected to beat. Otherwise, some of the unbeaten teams behind them in the polls (Florida State, Louisville and Oklahoma) could easily pass them.

Clemson has to lose somewhere along the way. There's no way Georgia gets into the BCS National Championship Game over an unbeaten Clemson team, which opened the season with a 38-35 win over Georgia. The best chances for Clemson to go down (and no, Dabo, I didn't say pull a Clemson) are Oct. 19 against Florida State at home, Oct. 26 at Maryland and Nov. 30 at South Carolina. The Gamecocks have won four straight over the Tigers.

If Florida State were to beat Clemson, then Georgia would likely need the Seminoles to lose at some point. Florida State faces Maryland at home this weekend. Miami visits Tallahassee on Nov. 2, and Florida State closes the regular season on Nov. 30 with a trip to Florida.

Oregon and Stanford play each other on Nov. 7, so one of those teams is going to have a loss. Both are currently ranked ahead of Georgia. An unbeaten Pac-12 champion would be a lock to fill one of the spots in the BCS National Championship Game.
Having Ohio State stumble would also be helpful to the Bulldogs. The Buckeyes play at No. 16 Northwestern this weekend. If they get out of Evanston unscathed, it's hard to see a loss on their schedule, although they do have to play at Michigan this season.

The ideal scenario for Georgia would be for Alabama to win out and be No. 1 in the country heading into the SEC championship game. That way, Georgia would have a chance to score massive points with the voters in the two human polls (and with the computers) by taking down the Crimson Tide on that last weekend before the final BCS standings are released. It's supposed to be your entire body of work that voters consider when casting their ballots, but last impressions always seem to carry a little extra weight with those final ballots.
In sum, there's so much football remaining before we get to that first weekend in December that it's impossible to predict who will still be standing in the national championship race. But if Georgia is indeed going to make a run as a one-loss team, UGA fans probably need to root against Clemson, against Ohio State and for Alabama … at least until the SEC championship game.
March, 21, 2012
3/21/12
4:45
PM ET
One of the most frequent sources of debate and disdain when it comes to college football's Bowl Championship Series is the disparity between payouts to automatic-BCS-qualifying conferences and non-automatic qualifiers.

It turns out that gulf is just as big when it comes to NCAA distributions from March Madness.

Last year, the Big East brought home more men's basketball tournament money -- $24.9 million -- than any other conference. The most a non-automatic-qualifier conference brought home was Conference USA, at $6.95 million.

Not much is likely to change this year, as 14 of the Sweet Sixteen teams hail from automatic-qualifying football conferences. Nine are from the Big East and Big Ten conferences.

Since automatic-qualifying conferences were formed in 1998, no school outside of those has won an NCAA men's basketball national title, and every champion since 1967 would fit into today's FBS conference lineup. Just three national championship games since 1998 have featured a team from outside such conferences.

Although March Madness produces revenue of $771.4 million a year, as compared to $162.5 million generated by the BCS's television contracts, the majority of conferences receive more revenue from the BCS than from the NCAA's Basketball Fund, as the table shows.

Schools from the six automatic-qualifier football conferences brought home 47.5 percent of all money distributed by the NCAA based on performance in the tournament, while the five non-automatic-qualifier conferences banked 10.5 percent. The rest went to teams whose conferences play football at a lower level. In football, the disparity is even starker: automatic-qualifier conferences took home 85 percent of all BCS money distributed last year.

March Madness is the primary revenue generator for the NCAA, so not all money is distributed based on performance in the tournament. For 2010-11, the NCAA distributed $452 million of the approximately $771.4 million produced by its television contract.

Just $180.5 million was distributed based on performance in the NCAA tournament through what's called the "Basketball Fund." An almost identical amount was distributed based on how many sports each school sponsors and how many grants-in-aid each supports. The remainder is distributed for academic programs and financial assistance for student-athletes.

The Basketball Fund portion of the NCAA's distribution each year is based on how many units each team in the tournament earns. Each team in each game except the championship game receives a unit for playing. This year each unit is worth $242,000.

Money is distributed based on a six-year rolling period by adding up all of the units earned by each school during the preceding six years. Checks are cut to the conference, not the individual school which participated in the tournament, unless the school is independent. Each conference then chooses whether to divide the money equally or based on tournament performance.

The SEC has historically divided the money it receives into 13 equal shares, with the conference keeping one share, after reimbursing participating teams for travel and rewarding them for performance. In addition, schools receive $50,000 for participating in each round up to the Final Four and $100,000 for appearing in the Final Four.

The Big 12 distributed by an entirely different method in 2010-11. Each member institution was awarded an amount equal to the units the school earned in the current fiscal year. Revenue from units earned by members during the previous five years was divided equally among all members. The conference did not supplement travel or other expenses.
January, 8, 2012
1/08/12
10:10
AM ET
The retail market for licensed collegiate apparel is, quite simply, a behemoth of a business that brings in about $4.3 billion annually.
Seemingly everyone wants a piece of it, which is why so many people at so many major events hawk items of all shapes, types and sizes -- whether the items are legitimately made and licensed or counterfeit.
[+] Enlarge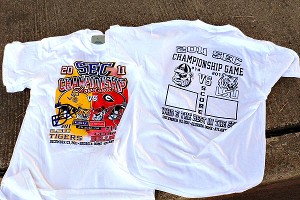 Kristi Dosh/ESPN.comSome counterfeit shirts look more authentic than others.
Vendors selling counterfeit goods mixed right in with legitimate vendors at the SEC Championship game in December in Atlanta. They did it at the Rose Bowl, too. And they'll do it again Monday night at the 2012 Allstate BCS National Championship Game.
Last year, more than 60,000 pieces of counterfeit merchandise valued at more than $1 million overall were seized by Collegiate Licensing Company. While CLC represents nearly 200 colleges, universities, bowl games, athletic conferences, the Heisman Trophy and the NCAA, it's not the only licensing agency around; Learfield Sports, Licensing Resource Group, and Silver Star Merchandising represent collegiate properties in their licensing efforts as well.
At the 2011 SEC championship Game, CLC took possession of 1,012 pieces of unlicensed product with an estimated retail value of more than $15,000. That's up from 2010, when 541 pieces of unlicensed produced were seized or voluntarily surrendered by vendors. More than twice that many products were seized last January at the Rose Bowl by CLC.
CLC officials said that on average, nearly 5,000 counterfeit items, from T-shirts to hats to bracelets, are seized outside the host stadium of the BCS title game each year.
Some of the items are obvious: In December in Atlanta, a roaming vendor on Mangum Street south of the Georgia Dome peddled T-shirts, gold letters emblazoned on purple reading: "BATON [expletive] ROUGE." The back of the shirt warned: "IF YOU DON'T BLEED PURPLE AND GOLD TAKE YOUR [double expletive] HOME!"
Most people wouldn't consider such a shirt an officially licensed product of Louisiana State University because of the vulgar language. But another vendor sold shirts proclaiming a "2011 SEC Championship Showdown" and featured the trademarked logos for LSU and Georgia. Few buyers would be able to determine the shirts were counterfeit.
CLC investigators team with local police at major events and seize such material, give citations to the vendors or arrest them. Companies like CLC conduct such enforcement activities because federal law requires trademark owners to "police" their mark. Trademark law is largely enforced through private lawsuits, although there are also criminal penalties for counterfeiting goods. Failure to police a mark by attempting to prevent infringing uses can result in a loss of protection for a trademark.
[+] Enlarge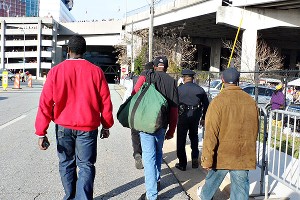 Kristi Dosh/ESPN.comAtlanta police and investigators from Collegiate Licensing Company walk a man accused of selling counterfeit apparel away from the SEC championship game in December.
The most clear-cut violations by vendors are those involving the use of trademarks that are registered at the state or federal level. Trademarks include more than just the university, conference or BCS logo. For example, University of Georgia lists the following trademarks: "Georgia," "University of Georgia," "Georgia Bulldogs," "Bulldogs," "Dawgs," "UGA," "University of Georgia Athletic Association," "Between The Hedges," "How Bout Them Dogs," "Go You Silver Britches," "Hairy Dawg," the oval "G" mark and many others.
In addition to registered trademarks at the state or federal level, universities can also claim common law rights to marks or wording typically associated with the university.
In 2008, the Fifth Circuit Court of Appeals upheld a decision by a Louisiana federal district court against Smack Apparel for intentional trademark infringement based on its use of school colors in combination with other designs and words that made it apparent the references were designed to associate with a particular school. For example, one shirt featured the following: "Got Seven?" "We do! 7 Time National Champs." The shirt included a depiction of the state of Ohio and a marker noting Columbus, Ohio, on the back. The court decided the shirt referred to the seven college football national titles claimed by Ohio State University.
The court ruled that the schools involved in the suit owned trademark rights in their color schemes and that combined with other indicia on the various shirts, such as the reference to Ohio State's location in Columbus and national titles in the example above, trademark infringement had occurred, even without use of the school name or logo.
So, who are these vendors?
One of them cited in Atlanta was the man selling the shirts with the expletives. He said he planned to keep $8 of the $20 shirt cost, with $12 going to his boss. He expected to make $1,500 to $2,000 that day before he was stopped by CLC investigators and Atlanta police for vending without a permit.
The man said he was based out of Cleveland but traveled nearly every weekend for major sporting events. He said he worked for a company named Street Talk Tees, which is registered as a business in Ohio for "novelty tees and apparel." The vendor said his company employs about 30 people who travel to events -- two others also worked the SEC game.
Requests for comment from Street Talk were not answered.
[+] Enlarge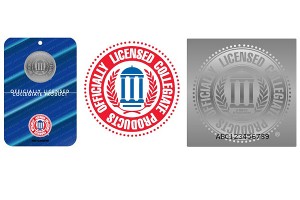 CLCThese tags and holograms can be found on licensed collegiate apparel and items.
CLC says buyers have a few ways to determine the authenticity of their purchases:
• Look for an "Officially Licensed Collegiate Products" hologram on the product or hangtag.
• Consider taste of the product, as distasteful designs are not approved by trademark holders.
• A torn or missing tag usually is evidence of a second-hand garment.
• The name of the manufacturer will be on the product somewhere, either in the form of a hangtag, a neck label, or screen-printed directly.
• All merchandise should have appropriate trademark designations next to a specific name or design.
Why be so conscientious when you buy collegiate merchandise? Each year, universities depend on millions of dollars in royalties to fund athletic programs and other university initiatives. For example, the University of Florida showed more than $6 million in licensing revenue on its audited financial statement for 2010-11, with just $40,000 of that going to CLC in marketing fees.
Ohio State budgeted for $3.5 million in licensing revenue for 2011-12 and projects $1.58 million of that will move from the athletic department to the university, to be used for academic programming and scholarships.
January, 5, 2012
1/05/12
4:01
PM ET
Has something seemed odd to you about the BCS bowls this year? Does it seem like ... oh wait, West Virginia just scored again.
Does it seem like ... wait, there goes
De'Anthony Thomas
. Don't think he'll get caught from behind.
Does it seem like ... wait, would somebody please tackle
Justin Blackmon
?
Does it seem like there have been a lot of points this bowl season?
It's not just you. There have been a lot of points. More points than ever before. And by huge quantities.
So far, BCS bowl teams have averaged a total of 77 points in the Rose, Fiesta, Orange and Sugar bowls. That, folks, is nearly 26 points more than last year (51.6). And it's nearly 11 points better than the previous high of 66.3 from 2001-02.
Perhaps pairing two SEC teams in the title game has created a black hole sucking all defensive stinginess into the LSU-Alabama rematch, which you might recall went 9-6 with no touchdowns in their first meeting. West Virginia scored 10 touchdowns -- 10! -- against Clemson. Alabama gave up 12 TDs all season.
Speaking of Clemson: ACC. Well, well, well.
After the Tigers ingloriously fell 70-33 to the Mountaineers, we got our second story from the BCS bowl season: The ACC's insistence on throwing up on itself in BCS bowl games.
The conference that was once expected to challenge the SEC is now 2-13 in BCS bowl games. That's hard to do. You'd think in 15 BCS bowls the conference could get lucky at least five or six times. But no, it insists on making ACC blogger Heather Dinich, a genuinely nice person, into some sort of Grim Reaper
every bowl season
.
Heck, the Big East has won seven BCS bowls -- second fewest among AQ conferences -- but it's 7-7.
Of course, this all ties together, and we're here to bring out a bow, but first a warning: If you don't want to read about how good the SEC is for the 56,314th time this year, then stop reading. I'd recommend an episode of "South Park" or perhaps a John le Carré thriller as an alternative for passing the time.
We can all agree the SEC plays great defense right? Alabama and LSU will play for the title Monday with the nation's top-two defenses. Do you think perhaps that it's not a coincidence that the conference that is 16-7 in BCS bowl games plays great defense?
The only other AQ conference with a winning record in BCS bowl games is the Pac-12, which is 11-7. The Pac-12 isn't known for defense, either, but USC was when it won the conference's last national title in 2004.
The only team to win a BCS national title without an elite defense was Auburn in 2010, but the Tigers' defense seemed to find itself late in the season. Since 1999, eight national champions had a top-10 defense. Other than Auburn, the lowest-rated defense to win a BCS national title was Ohio State in 2002. It ranked 23rd in the nation in total defense.
Three of the four BCS bowl games have been thrillers. Two went to overtime. We've seen big plays all over the field in the passing game and running game. Yet, if things go according to script in the title game, we'll see none of that. We might not see more than a couple of plays that go for more than 20 yards. We might not see any.
Some might call that boring. It might seem that both offenses are so paranoid of making a mistake that they are stuck in mud, both in game plan and execution.
But, snoozefest or not, when the clock strikes zero a team from the SEC will hoist the crystal football for a sixth consecutive time.
That might say something about playing better defense.
November, 10, 2010
11/10/10
3:00
PM ET
It's time for a blogger debate! And it doesn't get much better than when we match the SEC and Pac-10.
Our topic: No. 1 Oregon and No. 2 Auburn. Who's better and why?
Both are unbeaten, and if the season ended today, they'd play for the national title.
We've got lots of football left, and probably many more plot twists in the hunt for the national title, but there's no reason we can't engage in a hypothetical, is there?
So the Pac-10 blog -- Ted Miller -- and the SEC blog -- Chris Low -- have decided to meet for some civilized debate on Auburn versus Oregon.
Ted Miller
: Chris, since things are so quiet in the sleepy SEC, I think we should spice things up with a Pac-10-SEC blogger debate! It seems like a long time since we last had a debate between our two conferences. How'd that one go? Let's see I championed Taylor Mays and you celebrated Eric Berry. Wait.
Why did I bring that up
?
Anyway, our topic is Oregon and Auburn: Who's better and why.
[+] Enlarge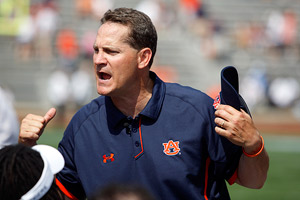 John Reed/US PresswireGene Chizik has silenced those critical of his hiring last year but getting Auburn off to a 10-0 start this season.
This is a potential national title game between the No. 1 Ducks and No. 2 Tigers, who are both unbeaten and feature Heisman Trophy candidates leading high-powered offenses.
You get first blood. Tell me about Auburn. It seems like it wasn't too long ago that Jay Jacobs was getting hounded for hiring Gene Chizik. Guessing that's died down a wee-bit.
Chris Low
: No doubt, Ted. I wonder where that obnoxious guy is now, the one yelling at Jacobs as he was leaving the airport after finalizing the deal with Chizik? Maybe Jacobs knew what he was doing after all. The guy with the 5-19 record at Iowa State has done all right by himself on the Plains. He has a Heisman Trophy-caliber quarterback and the SEC's leading rusher in Cam Newton, a 6-foot-6, 250-pound freak of nature who runs like Bo Jackson and also has an NFL arm. Keep your eyes, too, on freshman running back Mike Dyer, who they haven't had to lean on much this season, but is oozing with talent and has fresh legs for this stretch run. The Tigers' defensive numbers are nothing to write home about, but they do have the kind of dominant interior defensive lineman, Nick Fairley, who can take over games. Georgia coach Mark Richt said Fairley's the closest thing he's seen to Warren Sapp. Auburn's calling card defensively has been making plays at key times in the fourth quarter. The Tigers have been a serviceable defense through three quarters this season, but they've been a championship-caliber defense in the fourth quarter -- which is why they're 10-0.
So tell me about Oregon?
[+] Enlarge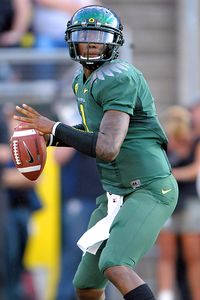 Kirby Lee/Image of Sport/US PresswireSophomore Darron Thomas was thrust into the starting quarterback job and has performed admirably.
Ted Miller
: Speaking of coaches: How about Oregon's Chip Kelly? How could he possibly expect to top winning the Pac-10 and playing in the Rose Bowl his first season? How about contending for a national title in his second? The Ducks, however, expected to be here when the 2009 season ended because just about everybody was coming back from the Pac-10 champions. That is until a guy you are now familiar with -- quarterback
Jeremiah Masoli
-- got caught up in some off-field issues and eventual got himself booted from the team. That seemingly left a void behind center, but sophomore
Darron Thomas
has not only filled Masoli's shoes, he's gone up a few sizes: He's 15th in the nation in passing efficiency and 21st in the nation in total yardage. Meanwhile, speedy running back
LaMichael James
is the top Heisman alternative to your guy, Newton. As for the defense, it's like the offense: Extremely fast. It ranks 13th in the nation in scoring defense and it has forced 28 turnovers, second-most in the nation. Folks often underestimate the Ducks' defense because it gives up some yards -- it ranks 29th in the nation in total defense -- but that's because the offense scores so quickly: The nation's No. 1 offense ranks 115th in the nation in time of possession. But the Ducks only give up 4.45 yards per play. Our factoid of the day is that number would rank No. 1 in ... wait for it ... the SEC!
Obviously, we're talking about two very good teams that have done impressive things on their way to remaining unbeaten. I know we both have Oregon ahead of Auburn in our power rankings, but give me the case for Auburn.
Chris Low
: Ted, I think what separates Auburn is Newton. Nobody has been able to stop him. If you commit to taking away the run, he's proved he can beat people throwing the ball. And if you come after him and/or don't have enough people in the box, he's been magic running the ball. Keep in mind, too, that we're not talking about a 220-pound guy running the ball. We're talking about a 250-pound guy who's physical, tough and doesn't run out of bounds. In the red zone, he's the great equalizer, because he gains 3 yards when he falls forward and has the size and the strength to push the pile. On top of it all, he's always a threat to throw the ball. Similar to Oregon, Auburn doesn't flinch if somebody puts 30-plus points on the board, because the Tigers' mentality is that they're going to score 50. Their offensive coordinator, Gus Malzahn, will make you defend everything -- reverses, throwback passes, passes to the backs, even passes to Newton. He caught a touchdown pass two weeks ago against Ole Miss. The Tigers also play at a tempo on offense that has opposing defenses gasping for air in the fourth quarter. But when they have to, they can put teams away and finish games by running the ball. They're fourth nationally (one spot ahead of Oregon) this week in rushing offense with an average of 307.2 yards per game. Auburn's top four rushers -- Newton, Dyer,
Onterio McCalebb
and
Mario Fannin
-- are all averaging at least 6.4 yards per carry. Do the Ducks have any answers for that running game?
[+] Enlarge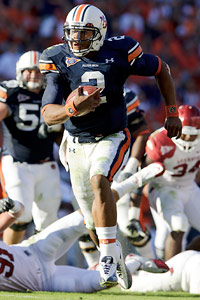 Paul Abell/US PresswireAuburn's Cam Newton is just as dangerous with his arm as he is on his feet.
Ted Miller
: That's what's so interesting about this as a potential national title game match -- there's an odd familiarity that both teams will have with each other despite never crossing paths. My guess is Malzahn and Kelly already have studied each other, just in terms of mutual admiration. And both defenses will be familiar with up-tempo, no-huddle, spread-option offenses that can power you and finesse you and throw downfield. Further, the Ducks have played against a number of big, fast, capable quarterbacks with NFL futures: Washington's
Jake Locker
, Ohio State's
Terrelle Pryor
and Stanford's
Andrew Luck
. The results have been mixed. Last year, Luck and Pryor got them. Luck beat the Ducks with uncanny downfield accuracy, which is why he'll go No. 1 in this spring's NFL draft. Pryor shocked them with the best passing game of his career in the Rose Bowl. Locker missed this year's game, but he's never had much luck against Oregon. In general, Oregon has a good run defense: Opponents are averaging 3.38 yards per rush. But the Ducks are undersized. A physical Stanford team had some success, rushing for 177 yards. But one thing about Oregon on both sides of the ball: It is masterful with halftime adjustments. They shutout Stanford, owners of the nation's No. 5 scoring offense, in the second half, and have given up just 48 points in the second half this year -- just seven in the fourth quarter!
Obviously, two very good teams that have done impressive things on their way to remaining unbeaten. I know we both have Oregon ahead of Auburn in our power rankings, but give me the case for Auburn if it played Oregon in the national title game. How do you see it going?
Chris Low
: Well, if that happens, the first thing we all better make sure we have is a calculator. That and make sure there's no danger of a power surge to the scoreboard. You're right about Oregon. Nobody in the country has been better in the second half. The Ducks' ability to score points in bunches is amazing, but the Tigers are equally adept at going on head-spinning scoring sprees. Just ask Arkansas, which saw Auburn roll up 28 points in the fourth quarter in Xbox-like fashion. I have no doubt that an Auburn-Oregon matchup would be played in the 40s. I think the difference, though, would be Auburn's ability to put the breaks on the track meet and run the football in the fourth quarter, especially with Newton being so good at converting on third down. So I'm going Auburn 45, Oregon 41 in a game that rates up there with the Texas-USC classic to decide the 2005 national title.
Ted Miller
: That's clearly something we can all agree on: This likely would be a highly entertaining, offensively driven national title game if these two teams manage to get themselves there. Further, I think, after never getting a USC-SEC title game, folks on both coasts would enjoy an SEC-Pac-10 matchup. No trash-talking there, right? And I do see a clear advantage for Auburn: It has been tested. It's played five games decided by eight points or fewer, and three decided by a field goal. The Ducks closest game? An 11-point win at Arizona State. But that's also why I'd pick Oregon in this one. Oregon beat the No. 6 team in the nation, Stanford, by 21 points. It shut Andrew Luck out in the second half. And I look at all of Auburn's close games: Mississippi State, Clemson, South Carolina, Kentucky and LSU, and think: None of them would be within 10 points of the Ducks. Maybe LSU, because any game Les Miles touches is surprising. And I think Vegas would agree with me. So if we ended up with an Oregon-Auburn national title game, my guess is the Tigers would go TD for TD with the Ducks in the first half, then the Ducks would pour it on late for a 50-35 win. But I reserve the right to change my mind, particularly because I think the Tigers' toughest test -- Alabama -- is ahead.
Moreover, both teams should be advised: You probably should get to the Jan. 10 date in Glendale before you start trash-talking each other. At least before you use your best stuff.
May, 7, 2009
5/07/09
4:30
PM ET
By
ESPN.com staff
| ESPN.com
Posted by ESPN.com's Chris Low
The American Football Coaches Association (AFCA) is considering making changes to the coaches' poll, which is one of the three components used in the BCS standings.
One possible change is no longer releasing each coach's ballot in the final Top-25 poll, which would be a huge mistake in my opinion. As long as the ballots are public, there's less chance that a coach would vote a team up or down based on some personal bias.
And when your name is attached to something and out there for all to see, you're always going to take more pride in getting it right.
It would also be a farce to make the coaches voting on the panel anonymous.
You've simply got to have full disclosure on these things, especially when a few spots here or there in a poll can be the difference in playing for a national championship and not playing for one.
You think Tommy Tuberville would like to see all the votes from the coaches' final regular-season poll in 2004?
The AFCA has been releasing the final regular-season ballots since 2005.
The one change I would like to see is that the first poll doesn't even come out until two or three weeks into the season.
April, 22, 2009
4/22/09
11:29
AM ET
By
ESPN.com staff
| ESPN.com
Posted by ESPN.com's Chris Low
The BCS system has been pretty good to SEC teams. Five of the 11 BCS national championships have been won by SEC teams.
Now, Auburn fans may beg to disagree after what happened to the Tigers in 2004, but it's worked out pretty well for the SEC so far.
It doesn't sound like there are any changes to the current system on the horizon, either. My colleague at ESPN.com, Ivan Maisel, has a story suggesting as much. Craig Thompson, the MWC commissioner, has pitched an eight-team playoff to the BCS commissioners. They promised to consider his proposal, but it doesn't sound like there's much chance of it flying.
The BCS has agreed to continue its current format through 2013.
April, 1, 2009
4/01/09
11:00
AM ET
By
ESPN.com staff
| ESPN.com
Posted by ESPN.com's Chris Low
Is the BCS system in trouble?
Opponents of the way major college football determines its national champion are lining up, and they include President Barack Obama.
Now the BCS faces an antitrust lawsuit from the attorney general of Utah.
Stay tuned, because this could get interesting.
SEC SCOREBOARD
Saturday, 12/27
Saturday, 12/20
Monday, 12/22
Tuesday, 12/23
Wednesday, 12/24
Friday, 12/26
Monday, 12/29
Tuesday, 12/30
Wednesday, 12/31
Thursday, 1/1
Friday, 1/2
Saturday, 1/3
Sunday, 1/4
Monday, 1/12
Tweets from https://twitter.com/ESPNCFB/lists/sec