SEC:

BCS National Championship
January, 5, 2013
1/05/13
5:33
PM ET
By
Jon T. Stewart, ESPN Stats & Info
| ESPN.com
When the No. 1
Notre Dame Fighting Irish
take on the No. 2
Alabama Crimson Tide
in the Discover BCS National Championship Game on Monday, one of the biggest difference-makers on the field could be
Tyler Eifert
.
Eifert, this season's
John Mackey
Award winner, given annually to the nation's top tight end, is the latest and possibly the best in a long line of great players Notre Dame has produced at that position.
Notre Dame's last three starting tight ends –- Anthony Fasano (2003-05), John Carlson (2004-07) and Kyle Rudolph (2008-10) –- are all playing in the NFL, yet no tight end has caught more passes for more yards in Irish history than Eifert.
A major reason Eifert could be the player who gives the Crimson Tide defense more fits than anyone else is that Alabama has had issues when its linebackers are forced into pass coverage.
When opposing offenses have lined up in four-or-five-receiver sets against the Tide, they've been more effective than in sets with three or fewer receivers.
The numbers are even more telling when you take a look at the five games in which Alabama faced ranked opponents (Michigan, Mississippi State, LSU, Texas A&M and Georgia).
No team was more successful than the Aggies, a natural spread-offense team with a mobile, redshirt freshman quarterback; eventual Heisman Trophy winner
Johnny Manziel
completed 19 of 23 passes for 184 yards and 2 TD when A&M operated out of a four-or-five-receiver set in a 29-24 upset in Tuscaloosa, the Tide's only loss of the season.
In comes Notre Dame, also a natural spread-offense team with a mobile, redshirt freshman quarterback. As a unit, the Irish passing attack is better when operating out of a four-or-five-receiver set.
However, when it comes to Eifert, the senior has been more effective when working out of a set with three or fewer receivers (including him), a formation that usually dictates opposing defenses cover him with a linebacker.
When the Irish had three or fewer receivers on the field and Eifert was the targeted receiver, they completed 25 of 42 passes for 363 yards and four touchdowns.
He was most lethal when Notre Dame operated out of what's known as "11" personnel (one running back, one tight end, three receivers) and he was the targeted receiver.
In those situations, the Irish were 15-of-23 for 208 yards and a touchdown. But when operating out of a four-or-five-receiver set and Eifert was targeted, Notre Dame was 19-of-33 for 261 yards and no touchdowns.
In other words, Eifert's presence opened things up for the other receivers.
Therein lies the conundrum for Alabama. What should the Tide do with Eifert?
No one's had success covering him with a linebacker when the Irish are operating out of "21" (two backs, one tight end) or "11" personnel and rolling the coverage over toward him when they've operated from four-or-empty (five-receiver) sets only opened things up for Notre Dame's other capable pass catchers like
TJ Jones
,
Robby Toma
and
Theo Riddick
when they move him from running back spot and into the slot-receiver position.
It's a sure bet that Nick Saban is glad to have had the extra time to prepare for this problem.
November, 14, 2012
11/14/12
1:09
PM ET
By
TideNation staff
| ESPN.com
Alex Scarborough writes:
It took a couple of months, but the loss of several key defenders to the NFL has finally cost Alabama, as the Crimson Tide have suffered from a lack of big plays.
Scarborough:
Big 3 –
Alabama's Nick Saban believes SEC team could make BCS title game.
January, 10, 2012
1/10/12
6:19
PM ET
With New Orleans hospitals, schools and basic infrastructure in dire need of rebuilding following Hurricane Katrina, many taxpayers wondered aloud why the Federal Emergency Management Agency would allocate $156 million for a renovation of the Superdome.
Sure, the stadium was eligible for FEMA funding because it was state-owned, open to the public, and it sustained damage during Katrina. Yet questions came, anyway.
But for Louisiana, it marked a "If You Build It, They Will Come" idea. Fast-forward six years, and note that the Mercedes-Benz Superdome -- on the heels of $336 million, multiphase renovation -- is in the midst of playing host to a string of the country's major sporting events.
[+] Enlarge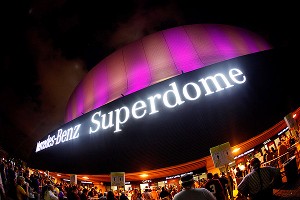 Chris Graythen/Getty ImagesThe Mercedes-Benz Superdome before the All-State BCS National Championship Game.
In addition to the annual Sugar and New Orleans bowls, the city that hosted the Allstate BCS National Championship Game on Monday night also has Saints playoffs games this winter, the SEC men's basketball tournament and men's Final Four this spring, the Super Bowl in February 2013, and the women's Final Four a few months later.
Landing such events was part of the post-Katrina recovery plan, says Mark Romig, chief executive officer of the New Orleans Tourism Marketing Corp., and a member of committees for the Super Bowl and Sugar Bowl. "We knew for us to come back and to lift ourselves up, we had to go through this process."
Romig says New Orleans annually ranks at or near the top of the list in hospitality jobs nationally, with between 70,000 and 80,000 positions. He says that number is "very close" to pre-Katrina levels and that there are more restaurants in New Orleans than before the hurricane, and hotel numbers are comparable.
John Williams, interim dean for University of New Orleans' College of Business Administration, attributes much of the city's jump from $4.3 billion in tourism spending in 2009 to $5.5 billion in 2010 to sports. Business travelers are staying an average of 2.2 days longer than their business plans, he says, often to attend sporting events.
Williams says studies also show fans visiting for sporting events are more likely to patronize local restaurants than other tourist segments, like day visitors or business travelers. It's why he thinks the city has seen a jump in restaurants from 805 pre-Katrina to 1,230 today. "Sports are really key to that," he says.
Williams says the city saw a 6.6 percent growth in tourism-related jobs in the first quarter of 2011 alone. While numbers have not yet been vetted for the remainder of 2011, he says the city has been experiencing a snowball effect since hosting Saints playoff games in 2009.
Romig says hosting events like the BCS game Monday essentially provide the city with immeasurable free advertising to help boost tourism unrelated to sporting events. ESPN logged more than 36 hours of programming on sets around New Orleans in the week leading up to the game, not counting the game itself, pre- or post-game shows or halftime shows.
Asked to estimate the value of the advertising New Orleans received around the BCS National Championship game, Malcolm Turner of Wasserman Media Group says, "There's no question we're talking in the tens of millions of dollars."
The projected economic impact from the recent Sugar Bowl and BCS National Championship games was $400 million. The R&L Carriers New Orleans Bowl played on Dec. 18 and the Saints playoff game last Saturday were expected to contribute another $45 million. But the Super Bowl is the big revenue generator, with estimates at about $900 million.