October, 13, 2014
Oct 13
9:19
AM ET
By
Sharon Katz, ESPN Stats & Information
| ESPN.com
Tom Pennington/Getty ImagesBryce Petty and kicker Chris Callahan survived TCU. The teams are part of the top-heavy Big 12.
The "hot" debate entering the season was whether the
Pac-12
could surpass the
SEC
as the top conference in the nation. The
Big 12
was rarely mentioned as a top conference, however, despite returning the majority of its starting quarterbacks and having two of the top five defenses in ESPN's preseason defensive efficiency rankings.
Five of the Big 12's 10 teams are in the top 15 of
The Associated Press poll
, tied with the SEC (which has 14 teams) for the most top-15 teams in the nation.
Baylor
,
TCU
,
Oklahoma
,
Kansas State
and
Oklahoma State
all have one or fewer losses and a legitimate shot at the
College Football Playoff
.
All of those teams will not finish the season with one loss, but it's worth noting that two of their losses came in close games against the teams that played for the 2014 BCS National Championship (
Auburn defeated Kansas State
and
Florida State defeated Oklahoma Stat
e).
The bottom of the Big 12, however, is not as strong as that of the Pac-12 or SEC. The Big 12's average FPI ranking, which is designed to measure a conference's depth, ranks below that of those two conferences.
The SEC remains at the top of the conference power rankings. It has the top team in the AP poll (
Mississippi State
) and in the
FPI
(
Auburn
), the two components of these power rankings. The
SEC West remains unbeaten
against any team not in the SEC West as the Magnolia State has catapulted to the forefront of the college football world.
The Pac-12 will rise in the conference rankings if its top teams can continue to win.
Last week
, we discussed how the Pac-12 is missing an elite team.
Oregon
looked strong against
UCLA
, and the defenses of
Stanford
and
Washington
defenses looked solid against explosive offenses in Week 7. The issue is that the Pac-12 does not have a team in the top eight of the AP poll.
In other conference action, next week is a big one for the
ACC
as
Notre Dame
heads to
Florida State
. The Seminoles are the best team in the ACC, but if they lose to Notre Dame at home, the conference could take a big hit in perceived strength and in the College Football Playoff race.
September, 26, 2014
Sep 26
2:00
PM ET
Two of college football's proudest programs are scraping close to rock bottom this year. Combined, Michigan and Florida have lost 15 of their last 20 games. Which program is in a worse spot at the moment? Edward Aschoff and Dan Murphy debate:
Edward Aschoff:
In the what-have-you-done-for-me-lately realm that college football resides in, Florida and Michigan haven't exactly done a lot for their respective fan bases in the last couple of years.
But which team is in the most troubling situation? Well, here's why Florida has to get things back on track faster than Michigan: Look at how strong the SEC is right now compared to the Big Ten? The talent gap in the SEC between the top of the conference and the middle of the pack is tightening, while the bottom is getting better ... even if Vanderbilt has fallen off since James Franklin left.
Florida's 42-21 loss at Alabama this past weekend did coach Will Muschamp no favors with Florida's fan base. The defense, which is Muschamp's specialty, surrendered 645 yards, the most allowed in school history. And the offense looked as anemic as it did last season, even when Alabama's defense gave it plenty of early opportunities to make some big plays.
And while things got a little more discouraging for fans in Gainesville, things are looking good for other teams around the league. Georgia and South Carolina haven't exactly looked like world-beaters this year, but would anyone pick the Gators to beat either right now? What about Missouri? Kentucky took Florida to three overtimes, and you have to think that Tennessee will be favored next week at home against the Gators.
Arkansas already looks much better than it did last year, and both of the Mississippi schools are ranked inside the top 15. Do I need to say anything about Alabama, Auburn, LSU and Texas A&M when it comes to the national spotlight?
The fact of the matter is that we still don't know what kind of team Florida is. The offense went from looking good to regressing. The defense is younger and needs a lot of work. Against arguably the best team on its schedule, Florida was blown away and was barely competitive. Remember, Florida fans were looking for a moral victory heading into this game. No way that's the new standard, right?
Recruits are on the fence about the Gators, and we just don't know in which direction this program is going inside a league that's more competitive from top to bottom than we've seen in a long time.
Things could turn around after that bad Alabama loss, but if they don't, Florida's program could be playing a really dangerous game of catch up in the nation's toughest conference.
Dan Murphy:
The same things creating a sense of urgency for the Gators -- recruiting and the power of the SEC that Edward mentioned -- are what ultimately put them in a better position than Michigan to pull out of their current rough spot. The road to recovery for the Wolverines looks longer and more painful than for their counterparts at Florida.
[+] Enlarge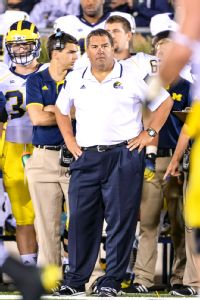 Robin Alam/Icon SportswireBrady Hoke and the Wolverines are at recruiting disadvantage with SEC schools like Florida.
Even the most institutional college football powers go through their ebbs and flows. It wasn't that long ago that people questioned if Alabama could ever return to its Bear Bryant-era glory days. The two proven ways to pull out of that cycle are to catch lightning in a bottle with a special player (Look at what
Johnny Manziel
has done to bring Texas A&M back to the upper echelon) or to scrap everything and start fresh, like the Crimson Tide did by hiring Nick Saban in 2007.
In either case, Florida has an innate advantage to get back on track faster.
The recruiting grounds around Gainesville are far more fertile than in the Midwest. The SEC's reputation as "big boy football" has top players from outside that corner of the country clamoring for a chance to play against the best. Florida has finished higher than Michigan in recruiting ranks every year since 2010, when it had the No. 1 class in the nation. Lightning is unpredictable, but the odds of a special, program-changing athlete choosing the Gators are higher.
Michigan can't compete with those natural resources. Other resources (facilities and bank account) at Michigan are on par with just about any athletic department in the country. The available talent and regional passion, though, make the SEC a more popular choice among rising coaching stars just like for the prospects. Both programs have the means to make a big-splash hire if they decide to part ways with their current coaching staffs, but the Gators are probably picking from a bigger pool of candidates.
Finally, the questions and complaints around Michigan's program don't stop with head coach Brady Hoke. Everyone from the backup quarterback (whoever that might be this week) to Hoke to athletic director Dave Brandon has come under fire during a lackluster 2-2 start to the season.
Brandon's future in Ann Arbor is as much in doubt as Hoke's. Jeremy Foley has been Florida's athletic director for more than 20 years and worked in the department since 1981. He at least provides a solid foundation for a smoother changing of the guard if that time should come.
January, 1, 2014
Jan 1
3:40
PM ET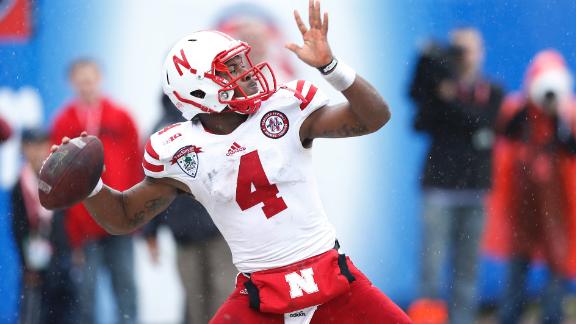 JACKSONVILLE, Fla. -- Nebraska extended its streak of nine-win seasons to six under coach Bo Pelini with a
24-19 upset victory
over No. 22 Georgia in the TaxSlayer.com Gator Bowl. Here's a quick recap:
It was over when:
The Bulldogs (8-5) turned it over on downs with 25 seconds to play as tight end
Arthur Lynch
dropped a fourth-and-3 pass from quarterback
Hutson Mason
inside the Huskers' 10-yard line. Nebraska linebacker
David Santos
received credit for a breakup, but it appeared to bounce straight off the hands of Lynch, who was the top receiving target all afternoon for Mason.
Game ball goes to:
Tommy Armstrong
. The Huskers' redshirt freshman quarterback was cool under pressure in his return after missing most of the season's final two games with an ankle injury. Armstrong threw a pair of touchdown passes and had another dropped. He made smart decisions in the run game and largely avoided mistakes.
Stat of the game:
Twelve. That's the touchdown catch total for Nebraska senior
Quincy Enunwa
after his two scores on Wednesday, including a 99-yard reception from Armstrong in the third quarter. Enunwa's total breaks a Nebraska record set in 1971 by Johnny Rodgers, one year before he won the Heisman Trophy. A physical force in the run and pass game, Enunwa, by the way, didn't make it on the Big Ten's all-conference list, even at honorable mention. With the likes of Wisconsin's
Jared Abbrederis
and Penn State's
Allen Robinson
, it was an exceptional season for receivers in the league. But Enunwa deserves some recognition.
Unsung heroes:
Thad Randle
and
Jason Ankrah
, the seniors up front on the Nebraska defense. Randle has never been healthy in college, and Ankrah was without help on Wednesday from
Avery Moss
, who didn't travel to Florida. They formed an important part of the front seven, which was as usual led by
Randy Gregory
at defensive end. They slowed
Todd Gurley
and pressured Mason on Wednesday. In the red zone, the Huskers were especially strong.
What Nebraska learned:
It's got a gamer in Armstrong, the quarterback who started eight games this year and will enter spring practice as the leader to start in 2014. He'll get pushed by
Johnny Stanton
and possibly incoming freshman Zack Darlington, but Armstrong might be tough to unseat after the poise he showed Wednesday. If I-back
Ameer Abdullah
and Gregory return, the building blocks exist for Nebraska (9-4) to break through in 2014. It would help mightily to use Wednesday as a springboard to play fundamental football in the new year and capitalize on opponents' errors.
What Georgia learned:
Transition from the
Aaron Murray
era won't be easy. When a program has played with one quarterback for four seasons, the offensive system morphs to reflect his strengths. Under Mason, the Bulldogs must find the right balance. It wasn't going to happen in this bowl season. The problems in the secondary on Wednesday can't be explained away by injuries. While Georgia has the talent to field an elite defense, it never came together over the past four months.
To watch the trophy presentation of the TaxSlayer.com Gator Bowl,
click here
.
December, 26, 2013
12/26/13
9:00
AM ET
Aaron Murray
and
Taylor Martinez
, the shelved senior quarterbacks at Georgia and Nebraska, started 95 college games.
They won 67.4 percent.
Bet you thought that rate was higher.
Seems we've watched these two operate forever. In the past four years, Murray and Martinez meant something important to college football. They tormented defensive coordinators and served as the poster boys for a pair of proud programs, trying -- desperately close at times -- to break through.
It's not going to happen in their time.
Despite 64 victories between them (35 for Murray, 29 for Martinez), neither won a conference title. At Georgia and Nebraska, a conference title, at minimum, is the standard of success.
Yet as Murray and Martinez depart the college game in sadly anticlimactic fashion as the Bulldogs (8-4) and Huskers (8-4) meet for a New Year's Day rematch in the TaxSlayer.com Gator Bowl, they leave a record of greatness.
[+] Enlarge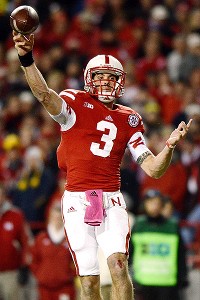 Josh Wolfe/Icon SMITaylor Martinez's final season didn't go as planned, but he'll be remembered in Lincoln.
Murray's senior season was nearly doomed from the start. Injuries to running backs
Keith Marshall
and
Todd Gurley
, several top receivers and playmakers on defense contributed heavily to four Georgia losses.
The QB persevered until Nov. 23, when he suffered an ACL tear in a 59-17 victory over Kentucky. Murray played through the injury for one series but couldn't fight the pain any further.
In similar fashion, Martinez battled for two weeks through a foot injury, suffered in the Huskers' season opener.
He led the Huskers to a 21-3 edge over UCLA in the second quarter on Sept 14, but any thoughts of a storybook ending to his career crashed to a halt in the second half. The Bruins scored 38 consecutive points. Martinez clearly wasn't himself, unable use his usually dangerous feet to stem momentum.
A one-game comeback fell flat at Minnesota in October. Martinez was finished. He lost his final two starts and an opportunity to join Colin Kaepernick as the only players in FBS history to pass for 9,000 yards and rush for 3,000. He finished with 7,258 passing yards and 2,975 rushing yards.
He lost his chance to win a conference title, a hope so promising back in 2010, when Martinez led Nebraska to a 17-point lead over Oklahoma in the Big 12 championship game as a freshman.
Martinez never broke through.
"It's been hard," Nebraska coach Bo Pelini said. "This whole season's been hard on him. It's not the way you want to see him go out."
Georgia coach Mark Richt said the same thing about Murray. Richt visited a hospitalized Murray after he underwent surgery on the damaged knee. Richt said he wanted to feel sorry for his quarterback, but Murray wouldn't let him.
His positivity is relentless. And that's part of Murray's legacy, alongside the 13,166 passing yards and 121 touchdown passes.
No Southeastern Conference quarterback before Murray threw for 3,000 yards in three seasons. Murray did it four times. He broke Danny Wuerffel's SEC record for touchdown passes and Tim Tebow's record for total yardage.
But, like Martinez, his teams never broke through.
Murray's best chance fell 5 yards short last year against Alabama in the SEC championship game. He targeted
Malcolm Mitchell
in the end zone, a shot within reach to win an SEC title as the clock ticked away. Tide linebacker
C.J. Mosley
deflected the pass to Georgia receiver
Chris Conley
. Conley slid to the turf, surrounded by defenders. Time expired on Murray's best opportunity.
[+] Enlarge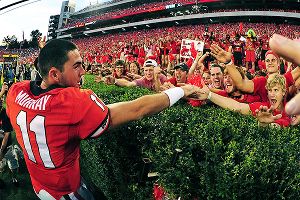 Scott Cunningham/Getty ImagesAaron Murray's place in Georgia and SEC football history is secure.
Instead of a shot to play for the national title, Georgia beat Nebraska in the Capital One Bowl as Murray threw for 427 yards and five touchdowns, both career-best marks.
It all felt anticlimactic for Murray, though nothing like this year.
"Obviously I had a vision of how I wanted to go out," Murray said recently.
This wasn't it.
"It's almost like I didn't say goodbye," he said, "which, I guess, is a good thing. I guess it's like, 'to be continued.' I'm not leaving. I'm always a Bulldog. I'll always be a Bulldog, and I guess if I would have been there to wave and really cherish the end of it, that would have been like, 'Book closed, it's over,' and I feel like it's not over for me."
Murray is eloquent and charismatic. Martinez is quite the opposite.
Uncomfortable in the spotlight, the Nebraska quarterback hasn't spoken to the media since the Minnesota game.
But Martinez appears to be at peace. He has remained at the side of teammates through conditioning drills and practices this month. Those close to him, though, say he's devastated by the injury.
A generation from now, Murray and Martinez will be remembered not for this anticlimactic ending or their inability to break through and win a championship.
Time will heal their wounds. History will reflect well on their legacies. College football will remember them.
June, 25, 2012
6/25/12
4:01
PM ET
Current non-automatic qualifying conferences might receive better access on the playing field under college football's new playoff system, but it doesn't sound as if they will have better access to the cash. Although there is expected to be more money to go around -- projected at anywhere from two to four times the current television revenue of $155 million per year -- how revenue would be distributed proportionately under the new system might not be all that different.

Under the current system, non-AQ conferences split approximately 18 percent of BCS revenue if one of their teams is selected for a BCS bowl game, and 9 percent if not. The AQs take home the rest.

"I think it'll be adjusted modestly, but the five conferences are still going to get the lion's share, it's just how big of a lion are we talking about," said Gary Ransdell, president of Western Kentucky University and a member of the Presidential Oversight Committee, which meets this week to finalize playoff plans.


January, 5, 2012
1/05/12
4:01
PM ET
Has something seemed odd to you about the BCS bowls this year? Does it seem like ... oh wait, West Virginia just scored again.
Does it seem like ... wait, there goes
De'Anthony Thomas
. Don't think he'll get caught from behind.
Does it seem like ... wait, would somebody please tackle
Justin Blackmon
?
Does it seem like there have been a lot of points this bowl season?
It's not just you. There have been a lot of points. More points than ever before. And by huge quantities.
So far, BCS bowl teams have averaged a total of 77 points in the Rose, Fiesta, Orange and Sugar bowls. That, folks, is nearly 26 points more than last year (51.6). And it's nearly 11 points better than the previous high of 66.3 from 2001-02.
Perhaps pairing two SEC teams in the title game has created a black hole sucking all defensive stinginess into the LSU-Alabama rematch, which you might recall went 9-6 with no touchdowns in their first meeting. West Virginia scored 10 touchdowns -- 10! -- against Clemson. Alabama gave up 12 TDs all season.
Speaking of Clemson: ACC. Well, well, well.
After the Tigers ingloriously fell 70-33 to the Mountaineers, we got our second story from the BCS bowl season: The ACC's insistence on throwing up on itself in BCS bowl games.
The conference that was once expected to challenge the SEC is now 2-13 in BCS bowl games. That's hard to do. You'd think in 15 BCS bowls the conference could get lucky at least five or six times. But no, it insists on making ACC blogger Heather Dinich, a genuinely nice person, into some sort of Grim Reaper
every bowl season
.
Heck, the Big East has won seven BCS bowls -- second fewest among AQ conferences -- but it's 7-7.
Of course, this all ties together, and we're here to bring out a bow, but first a warning: If you don't want to read about how good the SEC is for the 56,314th time this year, then stop reading. I'd recommend an episode of "South Park" or perhaps a John le Carré thriller as an alternative for passing the time.
We can all agree the SEC plays great defense right? Alabama and LSU will play for the title Monday with the nation's top-two defenses. Do you think perhaps that it's not a coincidence that the conference that is 16-7 in BCS bowl games plays great defense?
The only other AQ conference with a winning record in BCS bowl games is the Pac-12, which is 11-7. The Pac-12 isn't known for defense, either, but USC was when it won the conference's last national title in 2004.
The only team to win a BCS national title without an elite defense was Auburn in 2010, but the Tigers' defense seemed to find itself late in the season. Since 1999, eight national champions had a top-10 defense. Other than Auburn, the lowest-rated defense to win a BCS national title was Ohio State in 2002. It ranked 23rd in the nation in total defense.
Three of the four BCS bowl games have been thrillers. Two went to overtime. We've seen big plays all over the field in the passing game and running game. Yet, if things go according to script in the title game, we'll see none of that. We might not see more than a couple of plays that go for more than 20 yards. We might not see any.
Some might call that boring. It might seem that both offenses are so paranoid of making a mistake that they are stuck in mud, both in game plan and execution.
But, snoozefest or not, when the clock strikes zero a team from the SEC will hoist the crystal football for a sixth consecutive time.
That might say something about playing better defense.
September, 14, 2009
9/14/09
1:02
PM ET
By
ESPN.com staff
| ESPN.com



Pat Forde recaps a busy weekend in college football, including Matt Barkley's performance, Terrelle Pryor's struggles and Tate Forcier leading Michigan to a win over Notre Dame.