November, 18, 2010
11/18/10
9:03
AM ET
»
Predictions
:
ACC
|
Big 12
|
Big East
|
Big Ten
|
Pac-10
|
SEC
|
Non-AQ
Of all the games I could have missed last week, I'm still kicking myself for whiffing on the Head Ball Coach going back to the Swamp and taking down the Gators.
I should have seen that one coming from a mile away. Yes, South Carolina has a history of losing those games. But this was Steve Spurrier with a championship on the line.
And it was the Swamp. I mean, that's his own personal playground.
It was the lock of the year, and I blew it.
At least it was my only miss. I was 6-1 for the week and now 66-16 (.804) for the season.
I am indeed "playing my best football" when it matters most.
Here's how I see it playing out in Week 12:
THURSDAY
Alabama 45, Georgia State 7:
The Crimson Tide get an early warm-up game before Auburn comes to town next week. This game was moved to Thursday to give Alabama some extra time to prepare for the Iron Bowl, especially with Auburn having the week off. Bill Curry, coaching Georgia State in its inaugural season, makes his return to Bryant-Denny Stadium. The good news for his team is that the Tide will take every opportunity to rest as many players as possible in the second half.
SATURDAY
Arkansas 37, Mississippi State 24:
This will be a closer game than the final score indicates. The Bulldogs fell behind early last week at Alabama and had to play catch-up. That's not their forte. The Hogs are clicking on all cylinders right now offensively, but they're also playing solid defense. A couple of
Ryan Mallett
touchdown passes will break this game open in the second half.
LSU 34, Ole Miss 14:
It's payback time for the Tigers. They've lost the past two games to the Rebels, and both losses were memorable for the wrong reasons. Last season was the clock debacle at the end of the game, and two seasons ago Ole Miss routed LSU 31-13 in Tiger Stadium. These are two teams going in opposite directions, and LSU is playing its best football right now and eyeing a trip to a BCS bowl.
Tennessee 30, Vanderbilt 21:
After going 0-for-October, the Vols are now riding a two-game winning streak. Never mind that they beat up on a pair of reeling teams (Ole Miss and Memphis). They're playing with more confidence and more precision and can recover from a 2-6 start by getting to a bowl game if they win these last two. The Commodores, decimated by injuries, simply haven't been able to hold up for four quarters, which will again be the difference in this game.
South Carolina 38, Troy 17:
Has the party ended yet in Columbia? The South Carolina football team might want to make sure it's put away the party hats and balloons. There's still some work to do before the Dec. 4 SEC championship game. The Gamecocks probably won't be sharp this week, but they'll be good enough to pull away for a comfortable win.
Florida 31, Appalachian State 10:
The season highlight DVD from this season doesn't figure to be a top-seller at Florida. It's been a turbulent season for the Gators all the way around, and their offensive struggles just keep getting worse. They get a chance Saturday to take out some frustration on an FCS team that's had a history of playing giant-killer. Urban Meyer had better hope his team is more pumped for this game than the Florida fans.
November, 17, 2010
11/17/10
10:00
AM ET
By
ESPN.com staff
| ESPN.com
He was part of a long processional of coaches who tried to follow Bear Bryant at Alabama.
It was a thankless, impossible task.
Come on, following the Bear?
The only thing harder might have been playing the same concert hall as Elvis a few hours later.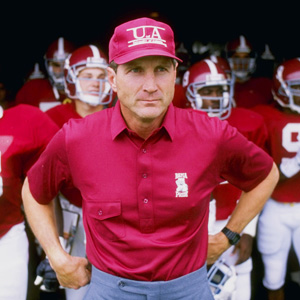 Getty Images Bill Curry complied a 26-10 record at Alabama from 1987-89.
For three seasons, Bill Curry guided the Alabama football team. In his final season, he won a share of the SEC championship.
His sins were that he wasn't an Alabama guy, he never beat Auburn and he was one coach removed from the Bear.
Curry left Alabama following the 1989 season to take the Kentucky job after it became painfully obvious that he was never going to have full support at the Capstone. He returns to Bryant-Denny Stadium on Thursday night, more than two decades after he coached his final game with the Crimson Tide.
And he does so with a fledgling Georgia State program in its first season of football.
It's a neat story, the 68-year-old Curry returning to the sideline and building a program from the ground up. Georgia State is 6-4 and will end its season against Alabama.
Curry, a longtime college football analyst for ESPN, knows what an undertaking this is for his team. But he also knows it's an experience -- no matter how badly they're beaten -- they will never forget.
Jeff Schultz of The Atlanta Journal-Constitution wrote an
excellent piece on Curry
earlier this week, detailing how his life has changed since those days of trying to follow a legend.
Let's face it. There's a reason Nick Saban is the eighth head football coach Alabama has hired since Bryant retired in 1982. The guy with the houndstooth hat cast a pretty ominous shadow.
Curry, who was 26-10 at Alabama, can joke now about the infamous brick-throwing incident.
During his second season at Alabama, a brick was thrown through his office window following a 22-12 homecoming loss to Ole Miss. The Crimson Tide didn't complete a single pass in the game. When Curry returned to his office the next day, he found the brick and broken glass.
"My first thought was, if the quarterback had been as accurate as the guy who threw the brick, we wouldn't be discussing this," Curry told The Atlanta Journal-Constitution.
Curry also joked that nobody ever came forward to claim their handy work.
All these years later, he's still not expecting a confession.
But, please, no more bricks.
July, 1, 2010
7/01/10
2:22
PM ET
By
ESPN.com staff
| ESPN.com
Alabama received some of the
schedule relief it had been seeking
for the upcoming season when Georgia State agreed to move the Nov. 20 nonconference game up a few days and play it on Thursday night (Nov. 18) at Bryant-Denny Stadium.
By moving the Georgia State game to Thursday, that means Alabama won't have to face arch-rival Auburn on the heels of a short week of preparation. The Auburn game for the second year in a row will be played on a Friday, Nov. 26.
Alabama has to face six SEC opponents this coming season that are coming off bye weeks. One of those is Auburn, which has to play 11 straight weeks before getting its bye.
With Auburn already having a bye and the extra time to get ready for the Iron Bowl, Alabama coach Nick Saban wanted to try and avoid facing the Tigers when the Crimson Tide would have a short week to prepare.
Georgia State, which will be playing its inaugural season of football, had to agree to move the game. One of the ironies in all this is that Georgia State is coached by former Alabama coach Bill Curry.
Yes, the same Bill Curry who reportedly had a brick thrown through his office window following a homecoming loss to Ole Miss in 1988.
June, 16, 2010
6/16/10
12:07
PM ET
By
ESPN.com staff
| ESPN.com
Checking on what's making news around the SEC:
May, 10, 2010
5/10/10
1:09
PM ET
By
ESPN.com staff
| ESPN.com
Making the rounds in the SEC: