October, 28, 2014
Oct 28
8:30
AM ET
Welcome to terrific Tuesday. Or terrible Tuesday. All depends on your perspective.
The College Football Playoff selection committee began deliberations on Monday in Grapevine, Texas. Tonight at 7:30 p.m. ET, Arkansas Athletic Director Jeff Long will unveil to a most curious audience the first-ever CFP rankings.
It's a historic time -- and surely chaotic.
Marc Tracy of the New York Times, in
assessing the moment
, writes that "historians will most likely date the end of the era of good feelings to 7:31."
With that in mind, some advice for fans from the Big Ten to the SEC:
September, 18, 2014
Sep 18
10:00
AM ET
By
ESPN.com staff
| ESPN.com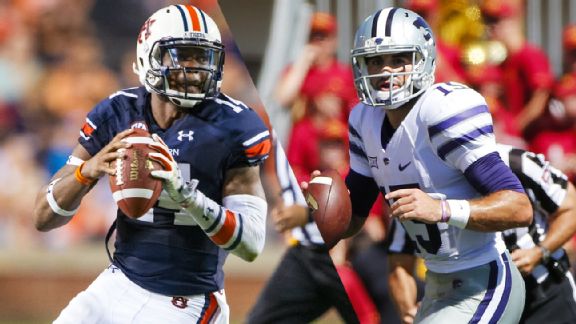 Getty ImagesAuburn QB Nick Marshal and Kansas State QB Jake Waters square off on Thursday.
On a rare Thursday night game for both schools, Auburn travels to Kansas State where the Wildcats are expecting the largest crowd in program history. Gus Malzahn's squad is looking to gain national respect after reaching the national title game last year, while Bill Snyder would love to make another run of his own at a national championship.
The fifth-ranked Tigers are the highest-ranked nonconference opponent to play in the "Little Apple" since No. 2 Penn State visited in 1969.
Jake Trotter and Greg Ostendorf break down the Big 12-SEC showdown below:
How Auburn can control this game:
It starts up front. Auburn has rushed for at least 200 yards in each of its last 13 games, the longest active streak in the FBS, and has gained more than 300 rushing yards in eight of its past 11 contests. No Tre Mason? No problem.
Cameron Artis-Payne
has 289 yards rushing and four touchdowns in the first two games. The strength of this Tigers' rushing attack is the offensive line, but the orchestrator is quarterback
Nick Marshall
. When he's running the show, it's nearly impossible to stop. Look for Auburn to impose its will early and wear down the Kansas State defense by the time the fourth quarter rolls around.
– Ostendorf
How Kansas State can pull of upset:
So far, Kansas State has been one of the nation's best teams at limiting opponents' yardage
before
contact. According to ESPN Stats & Info, only Alabama (20.3 yards) has allowed fewer yards before contact this season than the Wildcats (22.5). Snyder will have K-State in position to make tackles against Auburn's ferocious zone-read offense. But the only way the Wildcats will win this game is if they also make those tackles at the point of attack.
– Trotter
Auburn's X factor:
There have been a lot people who have doubted Marshall and questioned his ability as a passer, and after a game and a half, the Auburn quarterback hasn't done anything to prove them wrong. But he gets his favorite wide receiver
Sammie Coates
back Thursday, and the importance of that cannot be understated. Coates led the team last year with 42 catches for 902 yards and seven touchdowns. He and Marshall seemed to be in sync from the beginning. All the talk was on junior college transfer
D'haquille Williams
after Week 1, but don't be surprised if Marshall hooks up with his old pal for at least one big play against Kansas State.
– Ostendorf
Kansas State's X factor:
The Wildcats quietly have one of the better kickers in college football in junior
Jack Cantele
, who only missed two field goals last season. If this game goes down to the wire, it could come down to a kick. West Virginia and Iowa State showed last weekend that having a reliable kicker can be the difference in winning and losing. The Wildcats should feel good about their chances if it comes down to Cantele, who has the experience of booting a 41-yard game-winner to beat TCU last year.
– Trotter
What a win would mean for the SEC:
Despite Oklahoma's win over Tennessee last week, there aren't many folks who believe the Big 12 is better than the SEC. Taking that one step further, there aren't a lot of people picking Kansas State to win Thursday. So while an Auburn loss could hurt the SEC and its perception nationally, I don't think a win does much for the conference. However, it could mean a lot more for Auburn. Nobody's really talking about the Tigers right now as a legitimate national title contender, in part because they haven't had that signature win yet, but a win at Kansas State could change that.
– Ostendorf
What a win would mean for the Big 12:
It's been a solid, but hardly spectacular nonconference season so far for the Big 12. West Virginia and Oklahoma State played Alabama and Florida State tough on opening weekend. But neither Big 12 team actually won. Iowa State (Iowa), TCU (Minnesota), Oklahoma (Tennessee) and West Virginia (Maryland) landed the league four solid victories last weekend. But none of those opponents were ranked. K-State is the Big 12's final chance of securing the league marquee nonconference win. A Big 12 victory over the defending SEC champs would turn the heads of the playoff selection committee.
– Trotter
October, 9, 2013
10/09/13
8:25
AM ET
GARDEN CITY, Kan. -- In February, 167 junior college football players signed with schools that are part of the five power conferences, a 37 percent spike from 2008. Even traditional powers that have eschewed juco players in the past, like Penn State, Texas and Alabama, got in on the action.
The increase is part of a recruiting revolution that has seen the value of junior college players grow like never before. "We had Georgia, Alabama, USC, Washington, and about every top-40 school in the country coming through our place in the spring," Garden City (Kan.) Community College coach Matt Miller said. "That speaks volumes that everybody is trying to get some special players out of the junior college ranks. The stigma of the junior college player is a lot more positive now than it once was viewed as by colleges."
Players are at places like Georgia Military College, East Mississippi Community College or Tyler (Texas) Junior College for a reason. They failed to reach NCAA qualifying standards out of high school, ran into trouble off the field, transferred from another school in hopes of landing more playing time down the road or were lightly recruited out of high school but believe they have Division I talent.
Regardless of the reason, even as recently as five years ago many juco players were viewed as toxic by recruiters at the top programs in the country. One FBS assistant who didn't want to be named said his head coach used to tell him that juco recruits are "nothing but thugs, criminals or dummies," but that same coach was sent out on the road to visit every Kansas junior college this past spring. So what has changed? Recruiters and juco coaches across the country point to two people: Bill Snyder and Cam Newton.
Kansas State is located in the backyard of the Kansas Jayhawk Community College Football Conference, home to many of the nation's premier juco programs. When Snyder arrived in 1989, he immediately turned to the likes of Butler Community College, Hutchinson Community College and Garden City to supplement a lackluster in-state high school recruiting base. The plan worked. Snyder's Wildcats came within a game of playing for the national championship in 1998, won a Big 12 championship in 2003 and were ranked No. 1 in the BCS poll late into the 2012 season. Under Snyder, there were a number of individual success stories as well, none more so than quarterback Michael Bishop. After a perfect 24-0 record at Blinn (Texas) Junior College and two national championships, Bishop transferred to K-State, where he shattered school records and finished second in the 1998 Heisman Trophy voting.
Miller has seen firsthand "The Snyder Plan" in action. Before taking over at Garden City in January, he was a K-State assistant for 10 years. Since arriving at Garden City, he's talked to many of the college coaches on recruiting tours. "They truly have told me they're going to use Bill Snyder's Kansas State model to turn their program around," Miller said. "They've told me 'We want to get five, 10 good junior college prospects in this recruiting class,' and I'm talking about schools from the Big Ten, Pac-12, SEC, ACC. They're all coming in and all wanting to try to follow that blueprint that Bill Snyder built at Kansas State.
To continue reading,
click here
.
January, 7, 2012
1/07/12
2:16
AM ET
ARLINGTON, Texas -- Arkansas punt returner
Joe Adams
made one quick cut between a wall of Kansas State defenders, and sprinted toward the sideline before turning upfield.
Around 40 or so yards later, Adams crossed the goal line and emphatically slammed the ball into the Cowboys Stadium turf.
The Hogs were rolling. They led by double digits. The red half of the 80,956 in attendance was going hog wild.
All that, and Arkansas' offense hadn't even recorded a first down yet on the way to its
29-16 victory
over the Wildcats in Friday night's AT&T Cotton Bowl Classic.
So much for Snyderball.
[+] Enlarge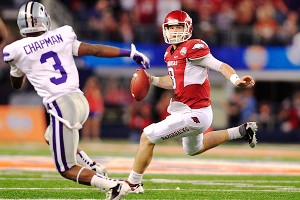 Tim Heitman/US PresswireQB Tyler Wilson helped Arkansas win 11 games for the first time in 34 seasons.
Arkansas showed up to the Cotton Bowl and K-Stated K-State.
"That's why it's a team game," Arkansas coach Bobby Petrino said. "Our defense gave us three points right off the bat. Special teams scored seven."
All season long, Kansas State's physical running offense plodded along to a ninth-place finish in total offense in the pass-happy Big 12 while an opportunistic defense and special teams waited for opponents to make mistakes.
Earlier this season, the Wildcats won four consecutive games as an underdog while also being outgained.
This time, against Arkansas, Kansas State made the mistakes it had collected from opponents all year long.
"We got off to an awfully bad start and really couldn't overcome the damage that we did," said K-State's 72-year-old coaching savant, Bill Snyder, "and most of it was pretty obvious."
Yeah, it was.
On the game's second possession, Arkansas defensive end Jake Bequette slipped into the backfield and stripped Wildcats quarterback
Collin Klein
from behind, but Arkansas' offense couldn't capitalize on the great field position and settled for a 26-yard field goal.
The Wildcats fielded an Arkansas' punt on the next possession at the 3-yard line, getting stuffed at the 4 and tightening up an offense that was bothered by dropped passes for much of the first half.
A predictable three-and-out followed to set up Adams' key return.
"It obviously made a major difference. How did I like it? I didn't like it a bit," Snyder said. "But, you know, we knew he's a talented player. We knew that he could make you miss him. We knew they were probably tired of me talking about being able to contain Joe Adams and not let him bounce the ball outside. Sure enough, he bounced it outside.
"But he's a very, very talented player. That's not the first time he's done that."
In fact, it was the fifth time — and fourth this season, an SEC single-season record. That was highlighted by a work of art against Tennessee in which Adams made approximately 52 tacklers miss on the way to an impossible return that might be the greatest highlight of the 2011 season.
"It was another one of those where you just go, 'Wow!" Petrino said. "You could see when he made the catch he had in mind what he was going to do. ... Joe showed great acceleration, made another spectacular play for us."
Kansas State's special-teams wizardry was muted. Ralph Guidry blocked his fifth kick of the year. Nigel Malone scooped up the extra point and ran it back for two points, but it wasn't enough. The Wildcats' answer for Adams, kick returner
Tyler Lockett
, dressed but didn't play after suffering a lacerated kidney this season. He ran back two kicks for scores and emerged as the Big 12's most dangerous special-teams player. He could only watch as Adams did to his team what he'd done to so many others in 2011.
"The difference in the game was how well we played on defense and the field position we were able to give our offense," Petrino said.
Kansas State's running game was mostly unproductive foot-shuffling that got it nowhere. The Wildcats carried the ball 40 times for just 86 yards and gave up six sacks.
Like so many other games this season, the Wildcats were outgained. This time, it was 345-260. Unlike so many other games this season, Kansas State couldn't find a way to win. Early mistakes made sure it hardly had a chance. It climbed back to 19-16 before Arkansas' offense, the best in the SEC, started to click.
"This game was about we need to stop this run, stop this quarterback. We tightened them up," Petrino said. "Once it became third down, (our defensive ends) widened out and teed off, made huge plays for us, the turnover early and the sacks."
The mistakes were too much. On an off-night for Kansas State's offense, it had far from enough.
Kansas State and Arkansas left Dallas with a pair of memorable double-digit-victory seasons, but Arkansas, as the three SEC teams in this game before it, will look back fondly on the finale.
"We really wanted to get them 11 wins," said Petrino, who has won 21 games in the past two seasons, giving Arkansas its first 11-win season since 1977 and third in program history. "Make sure that everybody remembered this football team."
Arkansans will. And so will Kansas State.
January, 6, 2012
1/06/12
10:30
AM ET
Here are three keys for Arkansas in its AT&T Cotton Bowl showdown with Kansas State:

Contain Collin Klein:
The Razorbacks weren't great at stopping the run this season and Klein knows how to frustrate defenses with his legs. Kansas State's quarterback threw for just 1,745 yards, but he rushed for 1,099 yards and led the Big 12 with 26 rushing touchdowns. Arkansas finished the regular season ranking ninth in the SEC in rushing, allowing 174.3 yards per game. Making sure Klein doesn't extend plays with his legs will be crucial for Arkansas' defense.
Get the running game going:
While the Razorbacks' defense will need to contain Kansas State's best runner, Arkansas must also get its running game going. The Hogs' running game was inconsistent for the first part of the year, but seemed to come together in the second half of the season. In order for Arkansas' offense to truly produce, it has to be balanced with the rush and the pass. Pounding the ball with
Dennis Johnson
will be key, as it should help to wear down that pretty solid Kansas State rushing defense and will definitely open up Arkansas' passing game with stud quarterback
Tyler Wilson
.
Avoid a slow start:
The Razorbacks seemed to get too comfortable during the midpoint of the season and had a knack for falling behind early. That can't happen today. Kansas State has had a wonderful year under coach Bill Snyder and chances are that the Wildcats aren't going to relinquish much of any lead the Hogs give them as they try to end the year on a special note. Arkansas needs to come out fast and put its foot on the Wildcats' throat early if it can.
December, 4, 2011
12/04/11
11:41
PM ET
Kansas State Wildcats (10-2) vs. Arkansas Razorbacks (10-2)
Jan. 6, 8 p.m. (FOX)

Kansas State take from Big 12 blogger David Ubben:
Kansas State does it ugly. All the time, every time. But it does it. The Cats are college football's biggest overachievers, and they do it on the back of
Collin Klein
, who has dragged defenders on his 6-foot-5, 225-pound frame for 1,099 rushing yards and 26 touchdowns. By the way, he's the quarterback. Never mind his wonky delivery. He's gotten better and more accurate as the season has gone on, and somehow has stayed healthy. He just might be the toughest player in college football, and if you're watching K-State's offense, he's probably the guy with the ball in his hand.
Bill Snyder deserves the national coach of the year nod, and the Wildcats have had a defensive renaissance under coordinator Chris Cosh in 2011. This is the same team that gave up more than 3,000 rushing yards last year. Well, sort of. It's not quite the same team. Linebacker Arthur Brown doesn't miss very many tackles and he's one of the Big 12's speediest linebackers. Cornerback Nigel Malone picked off seven passes this year for an All-Big 12 caliber season.
---

Arkansas take from SEC blogger Edward Aschoff:
Before the season, it looked as if coach Bobby Petrino was equipped with his best, most complete team since his arrival in Fayetteville. The defense was easily the best he had, and while quarterback Ryan Mallett was gone,
Tyler Wilson
appeared to be just as talented, and with their wealth at wide receiver, it didn't look like the Razorbacks would miss a beat in the passing game. Not to mention Arkansas had one of the SEC's best in running back
Knile Davis
.
But days before the season began, the Hogs were dealt a crushing blow when Davis went down with a season-ending ankle injury. With Davis sidelined, the Arkansas offense became more one-dimensional as it searched for a consistent running back. Injuries then took hold of the defense and the Hogs found themselves outmanned in a huge game with Alabama, losing 38-14. The Razorbacks then struggled to get going in the first half of games after that. The slow starts nearly cost them at Ole Miss and Vanderbilt, but things changed during their homecoming game with South Carolina.
The Hogs jumped out quickly against the Gamecocks and never looked back. Starting with that 44-28 win, the Razorbacks won their first three games in November by a combined score of 137-52. Arkansas had an opportunity to shake up the BCS and sneak into the national championship, but fell 41-17 to No. 1 LSU in its season finale. Still, Arkansas had another fine year under Petrino, getting to 10 wins and finishing first in the SEC in total offense (445.8 yards per game).
SEC SCOREBOARD
Friday, 12/26
Saturday, 12/20
Monday, 12/22
Tuesday, 12/23
Wednesday, 12/24
Saturday, 12/27
Monday, 12/29
Tuesday, 12/30
Wednesday, 12/31
Thursday, 1/1
Friday, 1/2
Saturday, 1/3
Sunday, 1/4
Monday, 1/12
Tweets from https://twitter.com/ESPNCFB/lists/sec