May, 20, 2014
May 20
9:00
AM ET
Orlando used to be a player in neutral-site college football games, until its stadium turned into a dilapidated mess.
[+] Enlarge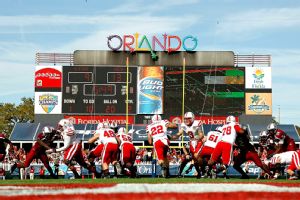 Mike Ehrmann/Getty ImagesThe Citrus Bowl, shown in 2012 game, is in the middle of a $210-million reconstruction.
But now that extensive renovations
have gotten underway
, Orlando could be the next "en vogue" town in the neutral-site business. Not only has Florida State said it is in talks
to play in Orlando
, Miami athletic director Blake James also hinted at getting Florida back on the schedule in
a neutral-site game
in Orlando.
James told The Miami Herald that Florida athletic director Jeremy Foley was receptive about a neutral-site game. "I would have to think Orlando," he told the newspaper. Nothing is imminent, and no substantive talks have been held between Miami, Florida and Florida Citrus Sports on the topic. But Florida Citrus Sports CEO Steve Hogan has not made it a secret that he wants to get back into the neutral-site business beginning in 2015 or 2016.
Florida State, Miami and Florida would be among the most attractive options, for obvious reasons.
The Citrus Bowl is in the middle of a
$210-million reconstruction
that should make it more attractive as not only a bowl and neutral-site spot but potentially a College Football Playoff venue. Florida State, Notre Dame and Florida all have played neutral-site games at the stadium in the past, but that was years ago. The last marquee regular-season game to be played there was in 2000, when Notre Dame faced Navy.
Miami would love to play Florida more frequently. The two used to be yearly rivals, but the series has been sporadic in recent years because the Gators already play Florida State annually. Miami beat Florida last season in their last scheduled game. In the past, Foley has not had much interest in
scheduling the Hurricanes
. But neutral-site games are a good draw. Florida, not known for taking nonconference scheduling risks outside Florida State, has a neutral-site game on the docket against Michigan in 2017 in Arlington, Texas.
Plus, Florida State, Miami and Florida all have drawn well when playing bowl games in Orlando, posting some of the highest attendance figures in both Russell Athletic Bowl and Capital One Bowl history. And neutral-site games are lucrative for programs these days, dishing out million-dollar payouts. Just last week at the ACC spring meetings in Amelia Island, Fla., James talked about the general possibility of playing a regular-season game outside South Florida.
"They make sense in certain situations," James said. "You have to look at where is your team at and what does your schedule look like and how do you incorporate those games into years that make sense for your program. That's the challenge you have. It's picking the right years to be a part of those games because those games are big games that are going to obviously have an impact on your program for a variety of reasons. There's big paydays associated with them, there's wear and tear on your team associated with them, there is travel associated with it and it's looking at all those factors and picking the ones that are best for your institution and best for your program at that time."
May, 15, 2013
5/15/13
10:30
AM ET
AMELIA ISLAND, Fla. -- Miami and Florida once played an annual rivalry game, one that has only appeared intermittently over the past few years.
The meeting between the two schools set for Sept. 7 could be the last one for a good, long while. Miami athletic director Blake James said during the ACC spring meetings that he has not had any discussions with Florida athletic director Jeremy Foley about extending the series.


"This is a game that's been on the schedule and we're thrilled to be hosting them in South Florida," James said. "With that said, I haven't spoken with Jeremy or the University of Florida about future games and I don't know how it would fit into their schedule or fit into ours right now. There hasn't been any conversation and there isn't anything on the schedule for the future."
That really is too bad, although not unexpected. The two schools previously met annually between 1938-87 but have played only five times since then. Two were in bowl games. Their meeting this season will complete just their second home-and-home series since 1987. Essentially, Florida's nonconference scheduling logistics have hurt this rivalry game.
The Gators already have Florida State as an annual nonconference game, and Foley prefers to fill the other open nonconference slots with home games. Florida rarely plays a nonconference game away from home, much less out of state. Indeed, of the future Florida opponents already announced, the only nonconference road game is in Tallahassee.
Miami, meanwhile, already has future nonconference home-and-home games set with Nebraska, Rutgers and Michigan State and also plays at Notre Dame as part of the three-year league rotation in 2016.
Looking into the future, there also remains the possibility that the SEC will move to a nine-game league schedule. If that happens, well the chances of Miami and Florida playing again in the regular season are reduced even further. Especially with Florida-Florida State a mainstay. Florida State coach Jimbo Fisher remained confident nothing would happen to the Florida-Florida State game if the SEC adds another conference contest.
"I doubt that game will ever be affected because I think one of the criteria for getting in the final four is strength of schedule, which is why we're changing our schedule," Fisher said. "Whether they have nine or we have eight only enhances that ability and it makes the results of that game even greater."
SEC SCOREBOARD
Friday, 12/26
Saturday, 12/20
Monday, 12/22
Tuesday, 12/23
Wednesday, 12/24
Saturday, 12/27
Monday, 12/29
Tuesday, 12/30
Wednesday, 12/31
Thursday, 1/1
Friday, 1/2
Saturday, 1/3
Sunday, 1/4
Monday, 1/12
Tweets from https://twitter.com/ESPNCFB/lists/sec