October, 9, 2013
10/09/13
7:00
AM ET
ATHENS, Ga. -- One of the prevailing images from last Saturday's win against Tennessee was Georgia's players dogpiling on top of
Marshall Morgan
to celebrate his game-winning 42-yard field goal in overtime.
It capped a day where the sophomore claimed the SEC's special teams player of the week award for the second straight week after booting the longest field goal in Neyland Stadium history, a 56-yarder in the first quarter, and the game-winner in OT. But it wasn't much fun to be in Morgan's position at the time.
[+] Enlarge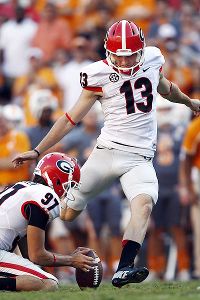 AP Photo/Wade PayneGeorgia kicker Marshall Morgan kicked a 56-yard field goal against Tennessee, the longest on the road in school history.
"I was trying to get them off me," said Morgan, whose Bulldogs (4-1, 3-0 SEC) host Missouri (5-0, 1-0) on Saturday. "That's a lot of weight. I've got asthma."
Otherwise, the Bulldogs' special-teams effort was memorable for the wrong reasons, continuing what has been a season-long trend.
Collin Barber
had a punt blocked for a touchdown -- the second time that has happened this season -- and
Blake Sailors
received a five-yard penalty for defensive delay of game after Georgia forced a third-quarter punt, giving Tennessee a fourth-and-1 that prompted the Volunteers to instead go for a first down.
Vols running back
Rajion Neal
then broke a 43-yard run that set up his game-tying touchdown run when Georgia's defense could have been off the field if not for the rarely-seen penalty.
"If you make a movement that it looks like you're trying to get somebody to jump offsides, if they jump offsides, it's on the defense. It's on us in that case," Georgia coach Mark Richt said. "I've never really seen that happen before and it was pretty crucial, obviously. We had a great stop and they were in a position to punt. I think it was a fourth-and-1 or less and they get the long run. A lot of bad plays happened after that point, and we learned a lesson. Can't do it."
Quayvon Hicks
-- one of three protectors in Georgia's punt shield lineup along with
Arthur Lynch
and
Josh Dawson
-- said there was a miscommunication on the play and accepted blame for the Tennessee block.
"I put that all on me," Hicks said. "I would say it was a miscommunication, but it was something that could have been prevented. It will be something that we're really working on, especially me as a player, to make sure that it doesn't happen in the future."
Hicks could have saved the day if he had blocked
Jalen Reeves-Maybin
before he darted through to deflect Barber's punt, but front-line blocker
Leonard Floyd
also barely got a hand on Reeves-Maybin.
Their collective whiff allowed the Tennessee rusher to break through, and Lynch said the decibel level in Neyland Stadium played a direct role in the miscommunication.
"It's so much easier going out and practicing and doing it, even if it's full-speed practice because you kind of have that communication barrier and it really was a lot louder than I think a lot of people thought," Lynch said. "
Lucas Redd
looked at me and was like, 'I had to read your lips.' That was one of the things that you just can't have those types of setbacks. I think we've cleaned it up."
A skeptic might point out that Georgia has vowed to clean up its special-teams errors several times recently, only to see another mistake lead to an opponent touchdown. Asked what he thinks the team needs to do to remedy those miscues, Hicks was direct in his response.
"It's really not what we think, it's what we're going to do," Hicks said. "Thinking, that's a part of football that really doesn't matter. I think Coach can only do so much. I know we're a very close team, so we're going to do what we have to do this week to make sure that not only in the Missouri game, but here on out, that that doesn't happen anymore. It's just something that could have been prevented. It could have cost us the game."
That seems to be the message that Richt is imparting to his club, as well. Georgia's errors in the kicking game are simply a quality-control issue, where a lack of attention to detail has allowed opponents to steal easy points.
A shaky snap might have cost Georgia the game in its lone loss. The Bulldogs are fortunate that their ensuing mistakes weren't so costly, but they know their luck will likely run out if they don't fix the problems -- and keep them fixed.
"Us as coaches, we've got to do a better job of simulating what's going to happen in the game and coaching and teaching properly where these guys can be more dependable," Richt said. "So it's a two-way street. Coaches gotta coach better, for sure, and the players have got to take on their responsibilities and take care of business.
"That's the way it is in life, so we're learning the hard way, and just by the grace of God the two times we had blocked punts, we still won the game. But the margin for error is just getting slimmer and slimmer."
September, 7, 2013
9/07/13
8:10
PM ET
ATHENS, Ga. -- Three years of frustration against South Carolina came to an end on Saturday when
No. 11 Georgia outlasted the No. 6 Gamecocks, 41-30
, at Sanford Stadium.


Let's take a look at how the Bulldogs (1-1, 1-0 SEC) jumped into the driver's seat in the SEC East ahead of South Carolina (1-1, 0-1):
It was over when:
Up 41-30, Georgia mounted a clock-eating final drive in the fourth quarter, feeding the ball to freshman
Brendan Douglas
-- taking his first career carries -- repeatedly.
Todd Gurley
salted away the win with a fourth-down run to keep the ball in the Bulldogs' hands.
Gameball goes to:
Aaron Murray
. Georgia's quarterback has faced his share of criticism regarding his play in big games, but he was nearly flawless Saturday, completing 17 of 23 passes for 309 yards and four touchdowns.
Stat of the game:
15-plus. In last season's 35-7 loss to South Carolina, Georgia totaled just four plays that covered at least 15 yards. The Bulldogs had six in the first half alone against the Gamecocks on Saturday, en route to 24 first-half points.
Best call:
Shortly after scoring its first touchdown of the game, Georgia successfully attempted an onside kick, which
Blake Sailors
recovered at Georgia's 46. The Bulldogs got a field goal out of the drive to take an early 10-3 lead.
What it means:
Georgia overcame its first-week issues to claim an enormous win in the SEC East race. South Carolina has a more manageable conference schedule, but the Gamecocks now need some help from their SEC counterparts in order to jump the Bulldogs in the standings.
October, 14, 2012
10/14/12
3:10
PM ET
By
DawgNation staff
| ESPN.com
David Ching writes

: Expectations for Georgia's secondary this season -- coming off a terrific 2011 -- were rather enormous, and surprisingly the defensive backs have done anything but live up to the hype.
Ching

: We've said it before: Following a spotty-at-best special-teams effort in 2011, Georgia's unit has delivered a mixed bag so far this season. New kicker Marshall Morgan has been spectacular at times and wobbly at others, and for the whole group there's still a ways to go.
Ching

: Wrapping up Georgia's bye week, DawgNation takes a look at three strengths and three weaknesses among the Bulldogs' upcoming opponents.
August, 26, 2012
8/26/12
3:56
PM ET
By
Jenny Zimmerman
| ESPN.com
David Ching writes:
Georgia's walk-ons know that they won't find much glory in their roles, but they persevere knowing that their scout team play is crucial to the success of the team and that they get to keep putting on the pads for the Bulldogs.
Ching

: Georgia quarterback Christian LeMay says he is a classic nap-taker, and he would enjoy the occasional snooze before kickoff on game days this fall – especially if he is going to gear up to see the field for the first time since high school.
Ching
Around the Hedges in 80 Days.

Outside linebacker Chase Vasser is likely to see plenty of playing time, but he needs to make full use of his opportunity now, while the freshmen are still learning, if he wants to remain in the starting lineup.
August, 22, 2012
8/22/12
4:58
PM ET
By
DawgNation staff
| ESPN.com
David Ching and Radi Nabulsi:
Making the Play – Malcolm Mitchell
DawgNation opens its latest series, which takes an in-depth look at the Georgia Bulldogs' most memorable plays of 2011, starting with a breakdown by Malcolm Mitchell of a 71-yard bomb from Aaron Murray against Tennessee that could've and should've gone all the way.
David Ching writes:
With the stigma that sometimes comes with recruiting too many juco transfers, the Bulldogs are cautious in how many they bring in each year. Sometimes those players don't make the grade, while others reap the benefits of taking such a step.
Ching Q&A

: Georgia nose guard John Jenkins was a juco transfer, and the move from a two-year school in Connecticut to the blazing heat of a Georgia summer wasn't easy for the standout D-lineman.
Ching

: Practice notes. In Mark Richt's quest to improve Georgia's struggling special teams, the emphasis this preseason has been on quality -- improved quality of the work in practice and higher quality personnel on those coverage units.
Adams

: DawgNation looks at the top 10 targets available for the Georgia Bulldogs -- already loaded with 28 commitments for the Class of 2013 -- as football season begins.
DawgNation Roundtable

: It has been a while since the Bulldogs were ranked as high as No. 6 the polls -- preseason or otherwise. Mark Richt has said he wishes the polls would come out later, and he discussed how he votes in the coaches' poll. This week's Roundtable discussion is twofold, centering on Georgia being worthy of a high ranking as well as views on head coaches having a say in the polls.
Ching

:
Around the hedges in 80 Days.
Brand new freshman O-lineman John Theus, with a heaping helping of expectations on his shoulders, has held up well thus far in camp and seems on track for an outstanding college career.
March, 27, 2012
3/27/12
12:00
PM ET
Taking a spin around the SEC with some links.