March, 4, 2013
3/04/13
12:34
PM ET
Linking our way around the SEC on a Monday:
November, 21, 2012
11/21/12
11:30
AM ET
You really have to dig deep to find the last time Florida-Florida State really meant something in the grand scheme of college football.
People were using MSN Messenger and thought Fred Durst was actually cool. TRL and trucker hats were all the craze.
It was the year 2000 and college football fans were probably carrying around a Ja Rule CD in their cars. (It's OK. We all have our faults.)
It was also the last time Florida and Florida State met as top-10 BCS opponents.
[+] Enlarge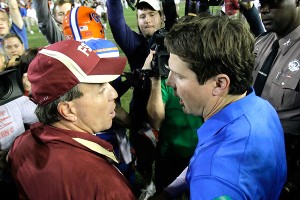 AP Photo/John RaouxIf Jimbo Fisher's or Will Muschamp's team loses on Saturday, it will be eliminated from consideration for the BCS title game.
This was one of college football's true gems. Thanks to Steve Spurrier and Bobby Bowden, from 1990 to 2000 these two teams met 13 times when both were ranked in the top 10, including the 1996 Sugar Bowl for the national championship. These two programs were mammoths and are Nos. 1 and 2 nationally when it comes to consecutive bowl streaks. Florida State is No. 1 (30) and Florida is second (21).
The rivalry took a bit of a nosedive when Bowden and his Noles teams fell off during the 2000s and Urban Meyer arrived at Florida. Under Meyer, the Gators won five straight, as they stayed nationally relevant, while FSU flirted with mediocrity until Jimbo Fisher took over in 2010.
But this rivalry is back, as No. 4 Florida (10-1, 7-1 SEC) heads to Tallahassee to face No. 10 Florida State (10-1) in a game that has major BCS implications on the line.
If Florida wins, the Gators are likely BCS-bound. With some help from USC, they could back their way into the national championship game. Florida State is very much on the outside when it comes to the BCS title game, but a win and a ton of help could move the Noles closer to Miami.
The magnitude of Saturday's matchup hit the Gators well before they returned to the locker room after beating Jacksonville State.
"As soon as that clock hit zero, you couldn't help but think about Florida State," fifth-year senior defensive tackle
Omar Hunter
said. "If you're a Gator, you grow up not liking Florida State. I'm sure it's the same way with them. That's just what you're taught. When you go to Florida State, you're anti-Gators. That's just what it is."
Outside of the BCS implications, major pride is on the line for both teams. There's real bad blood here. Players on both sides know each other, but they refuse to talk during the regular season and usually hurl barbs at each other when they do speak during the offseason.
The hatred is still there, even if the success isn't.
The Gators are also hurting after back-to-back losses to the Noles. After winning six straight over FSU, Florida dropped the last two, getting outscored 52-14. Florida enters this weekend with an offense going backward, and quarterback
Jeff Driskel
is hobbled. He sprained his ankle two weeks ago.
That's not good when you consider how good the Noles have been on defense, even without star defensive end
Brandon Jenkins
for basically the entire season. FSU ranks first nationally in total defense (236.3 yards per game) and rushing defense (70.6). The Noles are allowing 2.3 yards per rush and 3.7 yards per play.
In the past five games -- two of them against Louisiana-Lafayette and Jacksonville State -- Florida has averaged just 278.4 yards. The Gators are near the bottom of the SEC in total offense (332.9) and are last in passing (143.4).
That doesn't bode well for Florida, but as coach Will Muschamp continues to point out, it's all about wins, and somehow the Gators have 10 of those.
"Like I said Saturday, understand who you are and where you are, and it may not be where you want to be at times and it's frustrating at times, but at the end of the day, you've got to do what it takes to win football games and that's what we're judged on at the end of that," Muschamp said.
While the offense has sputtered, the defense has been terrific, ranking near the top with the Noles. It can be irritating to see the offense fail, but Florida's defenders love putting the game in their hands.
"That's how you go into every day if you're a great defense," Hunter said. "You want to put everything on your shoulders. You don't want to go into the game relying on the offense to score. You want to score on the defense. That's what we're taught here at Florida and that's what we try to win by -- defense and special teams."
Offensive issues aside, a lot is riding on Saturday. The BCS might be at the forefront of the conversation, but as far as the Gators are concerned, the only letters they're focused on are F-S-U.
"It's Florida-Florida State. It's more than what's just going on in the BCS," Hunter said. "It's bragging rights for the state of Florida. It's going to be a very big game and it's one of my favorite games to play in."
March, 6, 2012
3/06/12
12:15
PM ET
Did you see over the weekend where Bobby Bowden said he thinks the SEC might be too strong for Alabama to sustain its current level of success long term?
Bowden made his comments during the ceremonies to honor Alabama coach Nick Saban with the Bobby Bowden National Collegiate Coach of the Year Award, the second time Saban has won the award in the past three years.
[+] Enlarge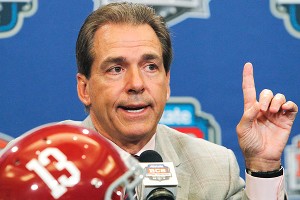 AP Photo/Dave MartinHistory shows that Alabama and coach Nick Saban will have a tough time maintaining the program's current level of success.
"You've got too many good teams," Bowden said. "I don't know how you keep winning in that league. It only takes one slip-up and you're out."
Alabama has won two of the past three national championships, and has also won 10 or more games each of the past four seasons. That's the longest active streak in the SEC.
In fact, nobody else in the league has an active streak longer than two consecutive years when it comes to winning 10 or more games.
Arkansas and LSU have both won 10 or more games each of the past two seasons, and that's it.
So I'd say Bowden is on to something. Anybody who's been around this league long enough knows how quickly it can change, and that's not to say that Alabama is about to hit a down cycle.
But even for some of the best teams over the past 20 years, stringing together 10 wins every year has been rare.
Under Steve Spurrier, Florida won 10 or more games for six straight seasons from 1993-98. That's the longest such streak since the league expanded in 1992 and split into divisions.
Georgia did it for four straight seasons from 2002-05, and Tennessee also won 10 or more games from 1995-98.
Even LSU, with all of its success the past decade or so, has never had more than three straight seasons of 10 wins or more since the 1992 expansion. During Saban's five seasons at LSU, the Tigers never won 10 or more games in back-to-back seasons. They won 11 or more in 2005, 2006 and 2007 under Les Miles and remain the only SEC team to win 11 or more games for three straight seasons since the 1992 expansion.
Florida won 48 games in four seasons under Urban Meyer from 2006-09, but the Gators never went more than two straight seasons under Meyer with 10-plus wins.
The moral of the story is that racking up double-digit wins in this league and doing it year after year is the exception and not the rule.
The Crimson Tide might well continue on their torrid pace, but the odds (and history) are against them.
November, 23, 2011
11/23/11
11:50
AM ET
The mess that the BCS could be if Arkansas beats LSU this weekend hasn't escaped South Carolina coach Steve Spurrier.

He's kept his eye on the possible scenarios and if there were a three-way tie involving Alabama, Arkansas and LSU, Spurrier said it'd be "very difficult" to decide which team would get his vote as the No. 1 team in the country.

"That would be an interesting scenario if Arkansas beats them," Spurrier said Wednesday.

"To me, they'd all be about the same."

The reality is that even if Arkansas beats LSU, the Hogs might be left out of the BCS all together if Alabama beats Auburn. LSU could still stay ahead of Arkansas if the Tide wins the SEC championship.

Spurrier said he didn't think that was fair, but knows there isn't much to do about it considering the BCS formula.

"If Arkansas were to win, I don't know how you could tell them they can't play in the SEC [championship], they can't play for anything," he said. "From what I hear, that's what they're saying. I agree it doesn't make a lot of sense, but that's the way we do it."

No sharing of a beach house for Spurrier

With all of the talk about Florida coach Will Muschamp and Florida State's Jimbo Fisher sharing a beach house, Spurrier was asked Wednesday if he and former Florida State coach Bobby Bowden would have ever shared a beach house when Spurrier was coaching at Florida during the 1990s.

Yeah, not so much, according to Spurrier.

"I don't think that would have happened," he said. "We didn't get along with them as well as they do now, that's for sure."

March, 7, 2011
3/07/11
12:39
PM ET
By
ESPN.com staff
| ESPN.com
A look at what's making headlines in the SEC:
June, 23, 2010
6/23/10
10:00
AM ET
By
ESPN.com staff
| ESPN.com
Strength and conditioning coaches in college football are around the players more than the head coaches and more than the position coaches.
No wonder the first piece of advice Florida's Urban Meyer gives to a first-time head coach is to go out and get the best strength coach he can find.
Here's a rundown of the head strength coaches in the SEC:
Alabama: Scott Cochran
One of the most energetic and vocal coaches on Alabama's staff, Cochran came to Alabama in 2007 along with Nick Saban. Prior to taking on the Crimson Tide's head strength and conditioning duties, he spent three years with the NBA's New Orleans Hornets as assistant strength coach. Cochran's ties to Saban go back to LSU when Cochran was an assistant strength coach on LSU's 2003 national championship team. An LSU graduate, Cochran has been credited by many of the Alabama players for being a big part of the Tide's turnaround under Saban. "He makes you want to show up and work every day and push yourself even harder than the day before," said former Alabama All-America center Antoine Caldwell.
Arkansas: Jason Veltkamp
Veltkamp is beginning his third season as the Hogs' head strength and conditioning coach after joining the Arkansas staff in January 2008. He was with Bobby Petrino at Louisville for three seasons and helped coordinate the development of 21 future NFL draft selections. Veltkamp was also the head strength and conditioning coach at Utah and was there with Florida coach Urban Meyer for a season in 2003. Veltkamp played for Bobby Petrino's father, Bob Petrino, Sr., at Carroll College in Helena, Mont., and was a captain on the 1994 team. Among the professional athletes Veltkamp has worked with include Carolina Panthers receiver Steve Smith and NBA basketball player Andrew Bogut.
Auburn: Kevin Yoxall
Yoxall has been at Auburn since 1999 when he came over from UCLA and supervises all strength and conditioning programs for men's and women's athletics. Yoxall was a power lifter in college at East Texas State and earned All-America honors in 1983. He came to Auburn with Tommy Tuberville and was retained when Gene Chizik took over last season. Yoxall also previously served as Minnesota's strength coach and started his career at TCU. Named a Master Strength and Conditioning Coach in 2002, Yoxall was also selected as the Collegiate Strength and Conditioning Coach of the Year in 2005 by the Professional Football Strength and Conditioning Coaches Society.
Florida: Mickey Marotti
Meyer has called Marotti the best strength coach in America on numerous occasions and was able to pry him away from Notre Dame in 2005 when he took the Gators' head job. Marotti, who played fullback at West Liberty State, was Notre Dame's director of strength and conditioning from 1998-2005. Meyer was instrumental in bringing Marotti to Notre Dame when Meyer was an assistant coach with the Irish. Marotti was in charge of Cincinnati's strength program from 1990-98 prior to that. He and Meyer first met when they were graduate assistants at Ohio State. Marotti holds a Master of Strength and Conditioning certification.
Georgia: Dave Van Halanger
Van Halanger has worked with 29 consecutive bowl teams spanning his tenures at Georgia, Florida State and West Virginia. He was with Bobby Bowden at both West Virginia and Florida State as head strength coach, but came with Mark Richt to Georgia in 2001 as director of strength and conditioning. Van Halanger was an offensive lineman under Bowden at West Virginia and co-captained the Mountaineers' 1975 team. He's credited with starting West Virginia's first organized weight training program. In 2001, Van Halanger was awarded the title of Master Strength and Conditioning Coach and was inducted into the Strength and Conditioning Hall of Fame in 2003.
Kentucky: Ray "Rock" Oliver
A former strength coach at Kentucky under basketball coach Rick Pitino, Oliver returned to Kentucky this past January to head up the football team's strength and conditioning program under first-year coach Joker Phillips. A renowned motivator, Oliver has worked with football and basketball teams on both the collegiate and professional level. Prior to returning to Kentucky, he spent the last six years as the associate strength and conditioning coach with the Cincinnati Bengals. He's worked with the Tampa Bay Buccaneers and New Jersey Nets. Oliver has also worked extensively in the past with Kentucky basketball coach John Calipari. A defensive back in college, Oliver started his career at Ohio State before transferring to Cincinnati.
LSU: Tommy Moffitt
Moffitt is entering his 11th season at LSU after coming over from Miami. He's been part of two national championship football teams at LSU, one at Tennessee and one at Miami. Moffitt has incorporated yoga and karate into the Tigers' offseason program to increase a player's flexibility, while forcing the team to stay focused for a lengthy period of time. He was named the 2003 College Strength and Conditioning Coach of the Year by America Football Monthly. While at Miami, Moffitt worked under Butch Davis and was instrumental in helping to rebuild the Hurricanes' program. He's a graduate of Tennessee Tech and was named the National High School Strength Coach of the Year in 1992 while coaching at John Curtis High School in River Ridge, La.
Mississippi State: Matt Balis
One of the first things Dan Mullen did upon landing the Mississippi State head job was hire Balis away from Virginia. They were together at both Florida and Utah, and Mullen has often referred to Balis as the most important part of his program. Balis was the head strength coach at Virginia from 2007-08 and was an assistant director of strength and conditioning at Florida from 2005-06. Balis was also the head strength coach at Utah in 2004 when the Utes went unbeaten and won the Fiesta Bowl. When Balis arrived on Mississippi State's campus two Decembers ago, former running back Anthony Dixon said Balis was the driving force in helping to change the culture of the football team and called Balis' offseason workouts "the kind of hell we needed."
Ole Miss: Don Decker
Decker is entering his 13th season with Houston Nutt after serving as Nutt's strength coach for all 10 seasons at Arkansas. A small college All-America quarterback at Evangel University in the early 1980s, Decker was at Arkansas for 15 years. He was the Hogs' assistant strength and conditioning coach before being promoted and oversaw strength and conditioning for all men's sports. He was in charge of the basketball strength program for eight years, including the 1994 national championship season. In 2004, Decker earned the designation of Master Level Strength Coach by the Collegiate Strength and Conditioning Coaches Association.
South Carolina: Craig Fitzgerald
Fitzgerald is beginning his second season as the Gamecocks' strength and conditioning coach after serving as Director of Strength and Training at Harvard since April 2005. While at Harvard, Fitzgerald trained the football, men's and women's basketball, wrestling, men's and women's tennis and men's and women's crew teams. The Harvard football team won back-to-back Ivy League championships over his final two years there. Fitzgerald played football at Maryland and later served as an assistant director of strength and conditioning for the Terrapins.
Tennessee: Bennie Wylie
Wylie is in his first season as Tennessee's head strength coach after overseeing Texas Tech's strength and conditioning program for the last five years. Wylie was a big part of the Red Raiders' success the last few seasons and had a strong rapport with all of the players. At times, he was known to have players running while holding cinder blocks over their heads. Former Texas Tech coach Mike Leach used to call him the "executioner" for his grueling offseason workouts. The Red Raiders were 46-18 during Wylie's five seasons in Lubbock, including the memorable 11-2 season in 2008. Wylie also worked with the Dallas Cowboys as an assistant strength and conditioning coach for four years before joining the Texas Tech staff.
Vanderbilt: John Sisk
An 18-year coaching veteran, Sisk enters his ninth year as Vanderbilt's director of speed, strength and conditioning. Sisk and Vanderbilt coach Bobby Johnson go back to their Furman days together. Sisk was a Furman strength assistant in Johnson's first year as coach. Sisk also worked on the strength staff at Clemson before coming to Vanderbilt and has worked with a handful of first-round picks in baseball. He also helped transform former Vanderbilt offensive lineman Chris Williams from an undersized 245-pound prospect into the 14th overall pick in the 2008 NFL draft. Chicago Bears quarterback Jay Cutler also credits Sisk for helping him take his game to another level physically when he was at Vanderbilt. Sisk played his college football at Western Carolina.
March, 5, 2010
3/05/10
1:54
PM ET
By
ESPN.com staff
| ESPN.com
ATHENS, Ga. -- One of the criticisms you're starting to hear more frequently about Georgia coach Mark Richt is that he's just too nice a guy.

I've heard it from some staunch Georgia fans and don't buy it. Richt's heard it, too.

Needless to say, he's not buying it either.

"But you know what? If you're going to be accused of something, that's not a bad thing to be accused of," Richt joked.

He also points out, and correctly so, that his demeanor wasn't being scrutinized when he was winning SEC championships.

"People look at my demeanor, I guess, and decide I'm too nice a guy," Richt said. "But I'm the same guy I was when I got here. In 2001, when we beat Tennessee and then won the SEC in 2002, they're thinking, 'Boy, that's the best way to be.' My demeanor was being applauded, and I don't really care, but I know that's what people say.

"Back then, everybody thought it was such a great thing. Now, they want to say it's not a great thing."

What's important to Richt is that his players and coaches know where he's coming from and that he's not going to change whether the Bulldogs are winning 13 games or eight games.

"The bottom line is that you have to be who you are, and your players have to trust that you're genuine with them," Richt said. "They want you to be real with them and truthful with them, and they want to know who they're dealing with.

"If you're a fraud, they're going to know it, and your coaches know it, too. And your family knows it, and you know it. There are different styles of leadership and different styles of coaching. I think Tony Dungy was a pretty nice guy. I think coach (Tom) Landry was a pretty good guy. Most people felt coach (Bobby) Bowden was a pretty good guy, and Don Shula was a pretty good guy.

"I just think you have to be who you are."

Richt's even keel is one of his strengths, according to his players.

"That doesn't mean he won't get on you, because he will," junior cornerback Brandon Boykin said. "But you always know where you stand with coach Richt. He's always the same guy, and it doesn't matter what's going on around you."