January, 10, 2012
1/10/12
8:20
PM ET
Alabama and Florida both wanted Brent Pease, but the Gators ended up getting him.
The former Boise State offensive coordinator will be named in that same position at Florida on Wednesday, according to a
report by ESPN.com's Edward Aschoff
.
Pease replaces Charlie Weis, who left to take the Kansas head coaching job. Alabama coach Nick Saban was also interested in talking to Pease about the Crimson Tide's offensive coordinator job. Jim McElwain is leaving to take the head coaching job at Colorado State.
It's a good get for Florida coach Will Muschamp, who needs some stability in that Florida offense in the worst way. The Gators should be very good on defense in 2012, but they've been a disaster on offense each of the past two seasons.
Under Pease's direction, Boise State tied for ninth nationally in total offense this season, averaging 481.3 yards per game.
Now that Pease is out of the picture, names to watch at Alabama include former Jacksonville Jaguars offensive coordinator Dirk Koetter and New York Jets offensive coordinator Brian Schottenheimer.
January, 6, 2012
1/06/12
2:24
PM ET
Florida and Alabama have both targeted Boise State's Brent Pease as their top target to fill vacant offensive coordinator positions, sources close to the situation told ESPN.com on Friday.

Pease has worked the last six seasons on Chris Petersen's staff at Boise State, including his first as the Broncos' offensive coordinator this past season. Under Pease's direction, the No. 7 Broncos finished sixth among FBS schools in scoring (44.2 points per game), tied for ninth in total offense (481.3 yards) and 11th in passing (309.3 yards).

Prior to becoming the Broncos' offensive coordinator after Bryan Harsin left for Texas, Pease coached Boise State's receivers, helping Austin Pettis and Titus Young become two of the school's most prolific pass catchers.

Pease and his wife, Paula, were scheduled to visit Florida as early as Friday, sources told ESPN.com. Gators coach Will Muschamp is searching for a replacement for former offensive coordinator Charlie Weis, who left Florida last month to become Kansas' new coach. Former Florida quarterback Kerwin Bell, now the coach at Jacksonville (Fla.) University, also has interviewed for the UF position.

The No. 2 Crimson Tide also are interested in hiring Pease to replace offensive coordinator Jim McElwain, who will coach his final game for Alabama against No. 1 LSU in Monday night's Allstate BCS National Championship Game at the Mercedes-Benz Superdome. McElwain, who has worked on Nick Saban's staff since 2008, was named Colorado State's new coach last month.

January, 5, 2012
1/05/12
4:01
PM ET
Has something seemed odd to you about the BCS bowls this year? Does it seem like ... oh wait, West Virginia just scored again.
Does it seem like ... wait, there goes
De'Anthony Thomas
. Don't think he'll get caught from behind.
Does it seem like ... wait, would somebody please tackle
Justin Blackmon
?
Does it seem like there have been a lot of points this bowl season?
It's not just you. There have been a lot of points. More points than ever before. And by huge quantities.
So far, BCS bowl teams have averaged a total of 77 points in the Rose, Fiesta, Orange and Sugar bowls. That, folks, is nearly 26 points more than last year (51.6). And it's nearly 11 points better than the previous high of 66.3 from 2001-02.
Perhaps pairing two SEC teams in the title game has created a black hole sucking all defensive stinginess into the LSU-Alabama rematch, which you might recall went 9-6 with no touchdowns in their first meeting. West Virginia scored 10 touchdowns -- 10! -- against Clemson. Alabama gave up 12 TDs all season.
Speaking of Clemson: ACC. Well, well, well.
After the Tigers ingloriously fell 70-33 to the Mountaineers, we got our second story from the BCS bowl season: The ACC's insistence on throwing up on itself in BCS bowl games.
The conference that was once expected to challenge the SEC is now 2-13 in BCS bowl games. That's hard to do. You'd think in 15 BCS bowls the conference could get lucky at least five or six times. But no, it insists on making ACC blogger Heather Dinich, a genuinely nice person, into some sort of Grim Reaper
every bowl season
.
Heck, the Big East has won seven BCS bowls -- second fewest among AQ conferences -- but it's 7-7.
Of course, this all ties together, and we're here to bring out a bow, but first a warning: If you don't want to read about how good the SEC is for the 56,314th time this year, then stop reading. I'd recommend an episode of "South Park" or perhaps a John le Carré thriller as an alternative for passing the time.
We can all agree the SEC plays great defense right? Alabama and LSU will play for the title Monday with the nation's top-two defenses. Do you think perhaps that it's not a coincidence that the conference that is 16-7 in BCS bowl games plays great defense?
The only other AQ conference with a winning record in BCS bowl games is the Pac-12, which is 11-7. The Pac-12 isn't known for defense, either, but USC was when it won the conference's last national title in 2004.
The only team to win a BCS national title without an elite defense was Auburn in 2010, but the Tigers' defense seemed to find itself late in the season. Since 1999, eight national champions had a top-10 defense. Other than Auburn, the lowest-rated defense to win a BCS national title was Ohio State in 2002. It ranked 23rd in the nation in total defense.
Three of the four BCS bowl games have been thrillers. Two went to overtime. We've seen big plays all over the field in the passing game and running game. Yet, if things go according to script in the title game, we'll see none of that. We might not see more than a couple of plays that go for more than 20 yards. We might not see any.
Some might call that boring. It might seem that both offenses are so paranoid of making a mistake that they are stuck in mud, both in game plan and execution.
But, snoozefest or not, when the clock strikes zero a team from the SEC will hoist the crystal football for a sixth consecutive time.
That might say something about playing better defense.
December, 5, 2011
12/05/11
9:10
PM ET
My Heisman Trophy ballot has changed every week for the last couple of months.
I'm not surprised there are more than three players going to the trophy presentation.
Five players were invited to New York for Saturday night's Heisman Trophy presentation -- quarterbacks
Andrew Luck
of Stanford and
Robert Griffin III
of Baylor, tailbacks
Montee Ball
of Wisconsin and
Trent Richardson
of Alabama and cornerback Tyrann Mathieu of LSU.
It's a shame the Heisman Trust didn't have room for three more quarterbacks because Houston's
Case Keenum
, USC's
Matt Barkley
and Boise State's
Kellen Moore
were just as deserving.
With five finalists going to New York, it figures to be one of the closer votes in recent Heisman Trophy history.
The closest vote in Heisman Trophy history came just two years ago, when Alabama tailback Mark Ingram edged Stanford's Toby Gerhart by only 28 points. Ingram received 227 first-place votes, Gerhart got 222 and Texas quarterback Colt McCoy, the second runner-up, received 203.
Given the number of finalists and their geographical regions, we could have another really close finish on Saturday night.
Luck, the runner-up to Auburn's Cam Newton last season, entered the 2011 season as the Heisman Trophy favorite. His performance didn't slip much this season, as he completed 70 percent of his passes for 3,170 yards with 35 touchdowns and nine interceptions.
I still feel Luck might be the most valuable player on any team in the country. Without him, there's no way the Cardinal is ranked No. 4 in the country and playing No. 3 Oklahoma State in the Tostitos Fiesta Bowl. Luck has done more with less, as Stanford lacks the game-changing playmakers that other teams have.
But Luck might still be the second-best quarterback in New York. Griffin, who is widely known as RG3, completed 72.4 percent of his passes for 3,998 yards with 36 touchdowns and six interceptions. He also ran for 644 yards with nine touchdowns.
Without him, the Bears wouldn't have beaten TCU, Oklahoma and Texas. Griffin's one drawback: He had a late interception that sealed the Bears' fate in a 36-35 loss at Kansas State on Oct. 1 and threw two picks in a 59-24 loss at Oklahoma State on Oct. 29. But with everything else RG3 has done this season, it's easy to give him a mulligan for the miscues.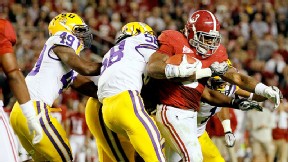 Kevin C. Cox/Getty ImagesRunning back Trent Richardson has been at his best in Alabama's biggest games.
I still believe Richardson is the best player in the country. He looked like the best player on the field in No. 2 Alabama's 9-6 loss in overtime to No. 1 LSU on Nov. 5. He had 89 rushing yards and 80 receiving yards in a game where every yard mattered. He finished the season with 1,583 yards with 20 touchdown runs and three touchdown catches. He's also Mr. Dependable, not losing a fumble in his past 520 touches and only once in 614 career touches.
Ball has been a scoring machine for the No. 10 Badgers this season, running for 1,759 yards with 32 touchdown runs and six touchdown receptions. His 38 total touchdowns are one shy of matching former Oklahoma State running back Barry Sanders' NCAA single-season record of 39 set in 11 games in 1988. Ball's production helped lead the Badgers to a Jan. 2 date against Oregon in the Rose Bowl Game presented by VIZIO.
Mathieu fell off my ballot after he was suspended from playing in the Tigers' 45-10 victory over Auburn on Oct. 22 for smoking synthetic marijuana. But his big plays helped the Tigers overcome deficits in each of their last two victories, over Arkansas and Georgia in the SEC championship game.
Mathieu -- aka the "Honey Badger" -- is the best player on the top-ranked team. He leads the Tigers with 70 tackles and has forced six fumbles and recovered five. He also is the most dynamic punt returner I've seen since Florida State's Deion Sanders. Mathieu has scored four touchdowns -- two on fumble returns and two on punt returns.
To penalize Mathieu for one foolish mistake wouldn't have been right. After all, Newton was briefly ruled ineligible at Auburn last season and 2010 Heisman Trophy finalist
LaMichael James
of Oregon was suspended from playing in last season's opener.
September, 1, 2011
9/01/11
3:30
PM ET
Well, Chris, we meet again. The SEC and Pac-12 can't seem to quit each other, eh?
You actually were a good sport about not gloating too hard over your correct prediction that Auburn would outlast Oregon and win the SEC's fifth consecutive national championship. My prediction? I can't recall, but I'll admit a vague recollection of wrongness.


But here we go again: No. 3 Oregon versus No. 4 LSU in Cowboys Stadium. As good a season-opening matchup as we've had in decades. Kudos to both programs for having the courage to give college football fans something to look forward to during this dreary, controversy-laden offseason, from which these teams are not exempt by any means. Lots of intrigue in this one -- on and off the field.
But let's start with the football part of football. Tell me about LSU: What are the Tigers' strengths and what are their question marks?
Chris Low
: Honestly, Ted, the SEC has won so many national championships in a row now that it's not as much fun to talk smack. I guess we're sort of used to it here in SEC land. We do rings and NCAA investigations in these parts.
As for the game Saturday night in Arlington, Texas, I can't wait to see the collection of talent and speed on that field. This LSU defense should be the fastest John Chavis has had, and he's always put a premium on speed dating back to his days as Tennessee's defensive coordinator. Not only are the Tigers fast on defense, but they're deep. They have defensive ends, Barkevious Mingo and Sam Montgomery, who run like safeties, and Chavis loves to use multiple defensive backs. Just about everybody in LSU's secondary is a former cornerback. The best of the bunch is Morris Claiborne, who can fly. The Tigers are going to play Tyrann Mathieu at nickel and let him roam, which is what he does best. They'll bring him on the blitz one play and drop him into coverage on the next. He had 8.5 tackles for loss as a freshman and forced five turnovers.
[+] Enlarge
Tim Heitman/US PresswireThe Tigers are expected to lean heavily on Spencer Ware and the running game.
While defense will clearly be LSU's strength, the Tigers still have their share of guys on offense capable of making big plays even with quarterback
Jordan Jefferson
and receiver
Russell Shepard
sitting this one out. Sophomore running back
Spencer Ware
is poised to be one of the SEC's top breakout players this season. A former quarterback in high school, he weighs 225 pounds, has great moves and accelerates with the best of them. Senior guard Josh Dworaczyk will miss this game with a knee injury, and that's a blow. He's one of LSU's top offensive linemen. The one thing you don't know about this team is how equipped it would be to have to play from behind.
Jarrett Lee
is a senior and threw the ball well when he was called upon last season, but it's his show now with Jefferson sidelined. Lee's going to have to be more than just a situational player. I think you'll also see junior college newcomer
Zach Mettenberger
in this game. He has one of the strongest arms in the SEC, but he hasn't played at this level in a game. The Tigers will certainly have to throw it some to win this game. What I don't think they want to happen is to be in a position where they're having to throw it.
Ted Miller
: Everyone is pretty focused on the matchup of the LSU defense and the Oregon offense, which makes sense. Most everyone knows the SEC plays defense at a different level than the rest of the country, though some snarky sorts out West wonder if that's because those defenses play against SEC offenses. We'll get to that. I'm just as curious about the Ducks' defense against the LSU offense, even more so with Jefferson out. The Ducks' defense was underrated last year. While it ranked only 34th in the nation in total defense, it gave up just 4.67 yards per play and ranked 20th in third-down defense. For comparison, LSU yielded 4.86 yards per play and ranked 16th in third-down defense.
But that is last year. Oregon is replacing five starters from its front seven. While the defense has been stout during preseason camp -- the feeling is it's less experienced but bigger and more physically talented than last year -- we really don't know what it will do against Ware and a run-first attack. As for defending the pass, the Ducks felt like they'd have one of the best secondaries in the country -- not unlike LSU -- heading into the season, but that included All-America cornerback Cliff Harris. Harris, you might have heard, is suspended because he was in a 118 mph hurry to get back to Eugene one offseason night.
But back to that Ducks offense versus LSU's defense matchup. The Ducks' up-tempo, spread-option has been stymied in big games of late when opposing defenses had extra time to prepare and loads of NFL talent in their front seven.
What have you heard about the Tigers' preparation and how does their front-seven personnel compare to Auburn's in 2010?
Chris Low
: The best news for the Ducks is that Nick Fairley won't be suiting up for LSU on Saturday. He was the difference out in Glendale, Ariz., back in January, and my contention is that interior line play defensively has been what's set the SEC apart from everybody else the past several years. LSU is extremely talented up front with terrific athletes at the end positions and some promising young talent at tackle. They call true freshman tackle Anthony Johnson "Freak" for a reason. He's big, bad and usually bearing down on whoever has the ball. LSU doesn't have a proven difference-maker up front the caliber of Fairley, but LSU is deeper in the defensive line than Auburn was last season. At linebacker, Ryan Brown is an All-SEC caliber player on the weak side, but the Tigers will sorely miss Kelvin Sheppard in the middle. It looks like converted safety Karnell Hatcher is going to play a bunch in the middle.
Not to take anything away from Auburn's performance last season in the BCS National Championship Game, but LSU is a more talented defense across the board, particularly in the secondary, than the Auburn defense Oregon faced last season.
This also isn't John Chavis' first rodeo. His defenses were the backbone of some of Tennessee's best teams in the late 1990s, and with this being his third season in Baton Rouge, look for the Tigers to play even faster and more instinctively in that system this season. They've been working overtime to make sure they're getting the calls in quick enough, but I'd say you're going to see at least five defensive backs on the field for much of the game.
[+] Enlarge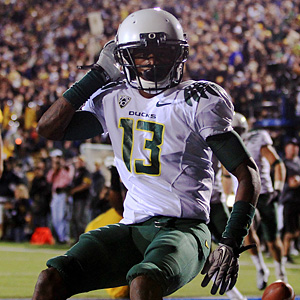 Ezra Shaw/Getty ImagesThe Ducks will be without standout corner/returner Cliff Harris, who's suspended from the team indefinitely.
Ted Miller
: All right, so we've talked about who will be there. The elephant in the room is who won't be. The Ducks have two suspended players in cornerback Cliff Harris and middle linebacker Kiko Alonso. (We're guessing with Alonso; Chip Kelly won't say for sure.) More than a few folks saw the suspension of Shepard making the loss of Harris a push -- two all-conference types who also are special-teams stars. Alonso is the Ducks' most physical linebacker, so his loss is significant. Dewitt Stuckey has seen action, but his backup is a walk-on. The Ducks seem fairly healthy heading into the game, though there are questions about receiver
Josh Huff
, who had been walking around in a boot until recently.
Still, all of this seems less important than the loss of Jordan Jefferson. First, what does losing Jefferson mean to LSU, both as a player and leader? Second, tell us a bit about Lee.
Chris Low
: The Tigers will miss Jefferson's ability to scramble and extend the play. He didn't throw it very well last season, but he made several big plays with his legs. In Lee, you get a pure pocket passer who's not going to move around much and look to run.
Lee's story is a good one. He had a brutal redshirt freshman season in which he threw 16 interceptions, including seven that were returned for touchdowns. But he persevered and hung around, and here he is with a chance to lead LSU to a special season as a senior. Lee came off the bench several times last season to save the Tigers, and I don't think there's any question that there's a renewed sense of confidence in him among his teammates.
Shepard is another playmaker you take out of the equation for LSU and a guy who can turn missed tackles into touchdowns, and the other key piece on offense the Tigers will be missing is senior guard Josh Dworaczyk, who's out with an injured knee. He was one of the anchors of that offensive line, so that's three key players missing on offense.
If the Tigers are going to win this one, they have to keep the Ducks from dialing up a bunch of big plays.
Enough talking, though. Let's play. How do you see this one shaking out, Ted?
Ted Miller
: Chris, after watching Oregon lose games like this to Boise State, Ohio State and Auburn, I've got to admit I see a pattern. Further, I think LSU's front seven is at least as good as Auburn's was
and
the LSU secondary is much better. I think the Ducks' defense will hold down the LSU offense fairly well, but I also think it will feel like a road game for Oregon because of a two-to-one Tigers advantage in the stands. I see a good game, but one in which the Tigers prevail 24-21.
Chris Low
: I'm picking the Tigers, too. Imagine that. I tried to convince you to pick Auburn out in Arizona back in January, but you were blinded by those Oregon uniforms. The Ducks play fast, but so does the LSU defense. I also think the Tigers will be able to run the ball well enough to keep that Oregon offense off the field. Get ready for Spencer Ware to formally introduce himself to the college football world in a 28-24 LSU win that soothes a few wounds on the Bayou.
October, 27, 2010
10/27/10
1:18
PM ET
Tennessee coach Derek Dooley might be in as good a position as anybody to weigh in on how Boise State would fare in the SEC.

He coached at Louisiana Tech the last three seasons, and faced Boise State all three years in the WAC.

But good luck getting him to compare.

Dooley made it clear Wednesday he wasn't going down that road.

"I have a lot of respect for (Boise State coach) Chris Petersen," Dooley said. "He's a good person and a phenomenal football coach. I have a tremendous amount of respect for their program. I'm not one to compare.

"I don't know how another team will fare against another team. The only way you know is when they get in there and do it. It's hard to argue with what they've done.

"I'm not a wizard, so I don't know how they'd fare in the SEC."

And for the record, he also wasn't offering any more historical accounts of D-Day.
June, 25, 2010
6/25/10
4:46
PM ET
This is annoying: The SEC and Pac-10 only play one game in 2010 and, on paper, it doesn't look like much of a game.
Oregon, which figures to be ranked in or near the preseason top 10, visits a Tennessee team on Sept. 11 that is on its third coach in three years and is clearly rebuilding.
(Volunteers fans: Release your Lane Kiffin curses ... now!)
And yet.
While Ducks fans over on the
Pac-10 blog
seem to believe this is going to be a butt kicking, I'm not so sure. Maybe it's because I was covering Auburn during the Phillip Fulmer glory days and can't imagine the Vols ever being anyone's patsy (in fact, I was covering preps and recruiting for the Mobile Register when a guy from Williamson High School by the name of Tamaurice Martin -- some called him "Tee" -- picked the Volunteers over Auburn).
Or maybe it's because the last time a highly ranked Pac-10 team thought it was going to deliver a whipping in Neyland Stadium, California face planted in 2006.
My hunch is this will be a competitive game. So, with that said, here are three keys for Tennessee to score the upset over the Ducks.
Tauren Poole & Luke Stocker: The Volunteers are completely -- completely as in all five 2009 starters are gone -- rebuilding their offensive line. Oh, and their QB, whoever that ends up being between junior college transfer Matt Simms and true freshman Tyler Bray, will be seeing his first college action the previous weekend vs. UT-Martin. That's not good. But Poole at running back and Stocker at tight end are good. Perhaps even very good. The Ducks' defense is a veteran unit and extremely fast. They also run a lot of stunts, which can confuse a young O-line. But they aren't very big. So keep it simple on offense and get the ball to your money guys. Word on the street is Poole can make plays even when the blocking isn't perfect. And when the Ducks start obsessing about Poole, that would be the perfect time to dump it to the 6-foot-6, 253-pound Stocker and see what he can do in the secondary. A big target like Stocker could help a young QB gain some confidence, at which point he can start looking for his wideouts.
Boise State & Ohio State: QB Jeremiah Masoli running coach Chip Kelly's spread-option offense was often a thing of beauty. But, you may have heard, Masoli won't be a problem in Knoxville. Further, it seems like defenses that have more than just one week to prepare have more success against the Ducks' spread-option -- see a pair of early-season losses to Boise State and the Rose Bowl defeat to Ohio State. The Vols will have the entire summer to familiarize themselves with Oregon's misdirection, as well as to get accustomed to the Ducks' extraordinary pace (their no-huddle is as fast-paced an offense as you will see). Ohio State often won one-on-one matchups up front. The Vols have some solid talent, experience and depth with their front seven, though it won't match the Buckeyes. Boise State often out-flanked the Ducks with an outstanding game plan. Wait a second! Where did that new, hotshot defensive coordinator Justin Wilcox come from? Boise State! Wilcox has faced the Ducks each of the past two seasons. He knows their scheme and their personnel. That's a huge advantage.
Atmosphere: Before Cal's 2006 visit, the Bears downplayed the experience of playing in front of 100,000-plus fans. Southern humidity? Who cares! And then the Bears wilted, mentally and physically. One Cal player told me later that Neyland was such a "freak show" -- his term -- that it was a significant distraction. My guess is Vols fans thought their trip to Berkeley, where student protesters were living in trees, was a bit of a "freak show," too. But the Ducks won't be used to the atmosphere -- both the stadium size as well as the weather (summers in Eugene often demand a sweater at night). Aggravating matters, they will be sending out a mostly green QB to handle the pressure on the road. Senior Nate Costa has started only one game: at UCLA in 2009. Sophomore Darron Thomas came off the bench as a true freshman vs. Boise State in 2008 and led a stunning comeback, but he redshirted last year. In other words, instead of a two-year starter leading the Ducks' complicated offense in a hostile environment, they will be relying on an unproven guy. A couple of early mistakes, and that atmosphere could prove a significant factor.