January, 8, 2012
1/08/12
10:10
AM ET
The retail market for licensed collegiate apparel is, quite simply, a behemoth of a business that brings in about $4.3 billion annually.
Seemingly everyone wants a piece of it, which is why so many people at so many major events hawk items of all shapes, types and sizes -- whether the items are legitimately made and licensed or counterfeit.
[+] Enlarge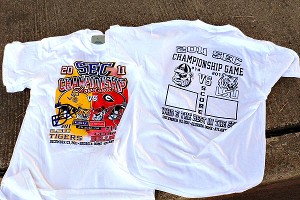 Kristi Dosh/ESPN.comSome counterfeit shirts look more authentic than others.
Vendors selling counterfeit goods mixed right in with legitimate vendors at the SEC Championship game in December in Atlanta. They did it at the Rose Bowl, too. And they'll do it again Monday night at the 2012 Allstate BCS National Championship Game.
Last year, more than 60,000 pieces of counterfeit merchandise valued at more than $1 million overall were seized by Collegiate Licensing Company. While CLC represents nearly 200 colleges, universities, bowl games, athletic conferences, the Heisman Trophy and the NCAA, it's not the only licensing agency around; Learfield Sports, Licensing Resource Group, and Silver Star Merchandising represent collegiate properties in their licensing efforts as well.
At the 2011 SEC championship Game, CLC took possession of 1,012 pieces of unlicensed product with an estimated retail value of more than $15,000. That's up from 2010, when 541 pieces of unlicensed produced were seized or voluntarily surrendered by vendors. More than twice that many products were seized last January at the Rose Bowl by CLC.
CLC officials said that on average, nearly 5,000 counterfeit items, from T-shirts to hats to bracelets, are seized outside the host stadium of the BCS title game each year.
Some of the items are obvious: In December in Atlanta, a roaming vendor on Mangum Street south of the Georgia Dome peddled T-shirts, gold letters emblazoned on purple reading: "BATON [expletive] ROUGE." The back of the shirt warned: "IF YOU DON'T BLEED PURPLE AND GOLD TAKE YOUR [double expletive] HOME!"
Most people wouldn't consider such a shirt an officially licensed product of Louisiana State University because of the vulgar language. But another vendor sold shirts proclaiming a "2011 SEC Championship Showdown" and featured the trademarked logos for LSU and Georgia. Few buyers would be able to determine the shirts were counterfeit.
CLC investigators team with local police at major events and seize such material, give citations to the vendors or arrest them. Companies like CLC conduct such enforcement activities because federal law requires trademark owners to "police" their mark. Trademark law is largely enforced through private lawsuits, although there are also criminal penalties for counterfeiting goods. Failure to police a mark by attempting to prevent infringing uses can result in a loss of protection for a trademark.
[+] Enlarge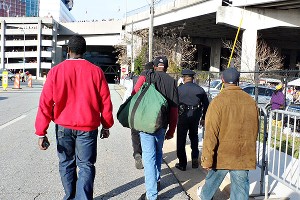 Kristi Dosh/ESPN.comAtlanta police and investigators from Collegiate Licensing Company walk a man accused of selling counterfeit apparel away from the SEC championship game in December.
The most clear-cut violations by vendors are those involving the use of trademarks that are registered at the state or federal level. Trademarks include more than just the university, conference or BCS logo. For example, University of Georgia lists the following trademarks: "Georgia," "University of Georgia," "Georgia Bulldogs," "Bulldogs," "Dawgs," "UGA," "University of Georgia Athletic Association," "Between The Hedges," "How Bout Them Dogs," "Go You Silver Britches," "Hairy Dawg," the oval "G" mark and many others.
In addition to registered trademarks at the state or federal level, universities can also claim common law rights to marks or wording typically associated with the university.
In 2008, the Fifth Circuit Court of Appeals upheld a decision by a Louisiana federal district court against Smack Apparel for intentional trademark infringement based on its use of school colors in combination with other designs and words that made it apparent the references were designed to associate with a particular school. For example, one shirt featured the following: "Got Seven?" "We do! 7 Time National Champs." The shirt included a depiction of the state of Ohio and a marker noting Columbus, Ohio, on the back. The court decided the shirt referred to the seven college football national titles claimed by Ohio State University.
The court ruled that the schools involved in the suit owned trademark rights in their color schemes and that combined with other indicia on the various shirts, such as the reference to Ohio State's location in Columbus and national titles in the example above, trademark infringement had occurred, even without use of the school name or logo.
So, who are these vendors?
One of them cited in Atlanta was the man selling the shirts with the expletives. He said he planned to keep $8 of the $20 shirt cost, with $12 going to his boss. He expected to make $1,500 to $2,000 that day before he was stopped by CLC investigators and Atlanta police for vending without a permit.
The man said he was based out of Cleveland but traveled nearly every weekend for major sporting events. He said he worked for a company named Street Talk Tees, which is registered as a business in Ohio for "novelty tees and apparel." The vendor said his company employs about 30 people who travel to events -- two others also worked the SEC game.
Requests for comment from Street Talk were not answered.
[+] Enlarge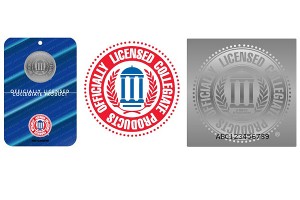 CLCThese tags and holograms can be found on licensed collegiate apparel and items.
CLC says buyers have a few ways to determine the authenticity of their purchases:
• Look for an "Officially Licensed Collegiate Products" hologram on the product or hangtag.
• Consider taste of the product, as distasteful designs are not approved by trademark holders.
• A torn or missing tag usually is evidence of a second-hand garment.
• The name of the manufacturer will be on the product somewhere, either in the form of a hangtag, a neck label, or screen-printed directly.
• All merchandise should have appropriate trademark designations next to a specific name or design.
Why be so conscientious when you buy collegiate merchandise? Each year, universities depend on millions of dollars in royalties to fund athletic programs and other university initiatives. For example, the University of Florida showed more than $6 million in licensing revenue on its audited financial statement for 2010-11, with just $40,000 of that going to CLC in marketing fees.
Ohio State budgeted for $3.5 million in licensing revenue for 2011-12 and projects $1.58 million of that will move from the athletic department to the university, to be used for academic programming and scholarships.
December, 17, 2009
12/17/09
1:00
PM ET
By
ESPN.com staff
| ESPN.com
They always remember what you did in your last game.

That said, let's examine the bowl records of the 10 SEC teams playing in the postseason this year.

We'll break it down into four categories -- all-time bowl record, bowl record this decade, bowl record since SEC expansion in 1992 and record in BCS bowls.

ALABAMA

All-time: 31-22-3

This decade: 3-4

Since expansion: 7-5

BCS bowls: 0-2

ARKANSAS

All-time: 11-22-3

This decade: 2-5

Since expansion: 2-7

BCS bowls: 0-0

AUBURN

All-time: 19-13-2

This decade: 5-3

Since expansion: 7-4

BCS bowls: 1-0

FLORIDA

All-time: 17-19

This decade: 4-6

Since expansion: 9-8

BCS bowls: 4-1

GEORGIA

All-time: 25-16-3

This decade: 8-2

Since expansion: 11-3

BCS bowls: 2-1

KENTUCKY

All-time: 8-5

This decade: 3-0

Since expansion: 3-3

BCS bowls: 0-0

LSU

All-time: 21-18-1

This decade: 7-2

Since expansion: 10-2

BCS bowls: 4-0

OLE MISS

All-time: 20-12

This decade: 3-1

Since expansion: 7-1

BCS bowls: 0-0

SOUTH CAROLINA

All-time: 4-10

This decade: 3-2

Since expansion: 4-2

BCS bowls: 0-0

TENNESSEE

All-time: 25-22

This decade: 3-5

Since expansion: 8-7

BCS bowls: 1-1
December, 8, 2009
12/08/09
2:29
PM ET
By
ESPN.com staff
| ESPN.com
My colleague at ESPN.com, Mark Schlabach, has taken on the task of
ranking every bowl game from best to worst
.
No big surprise, but first on his list was the Citi BCS National Championship Game matchup between Alabama and Texas.
After that, it gets interesting. Here's how he ranked the other nine bowl games that have SEC teams playing in them. There are 34 bowl games in all:
4. Allstate Sugar Bowl:
Florida vs. Cincinnati
5. Capital One Bowl:
LSU vs. Penn State
9. Chick-fil-A Bowl:
Tennessee vs. Virginia Tech
10. AT&T Cotton Bowl:
Ole Miss vs. Oklahoma State
20. Outback Bowl:
Auburn vs. Northwestern
21. AutoZone Liberty Bowl:
Arkansas vs. East Carolina
22. Gaylord Hotels Music City Bowl:
Kentucky vs. Clemson
23. Papajohns.com Bowl:
South Carolina vs. Connecticut
26. Advocare V100 Independence Bowl:
Georgia vs. Texas A&M