August, 9, 2013
8/09/13
10:00
AM ET
GAINESVILLE, Fla. -- Defensive line coach Brad Lawing couldn't bring
Jadeveon Clowney
with him when Florida coach Will Muschamp hired him away from South Carolina in January.
But Lawing did bring one of the things that helped Clowney become one of the country's most feared pass rushers.
[+] Enlarge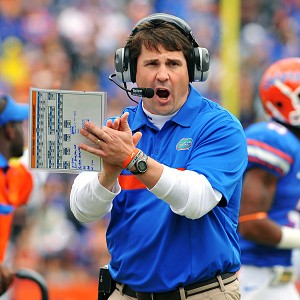 Al Messerschmidt/Getty ImagesWill Muschamp and his defensive staff are tinkering with the rabbits package, in hopes of improving the Gators' D-line pressure.
It's called the rabbits package, so named because it was designed to get as many speed rushers on the field as possible. Lawing and South Carolina defensive coordinator Lorenzo Ward developed it during spring 2012 and the Gamecocks used it successfully, racking up 40 sacks during the regular season.
Now Lawing, Muschamp and defensive coordinator D.J. Durkin are tinkering with it as the Gators continue their preseason practices.
"Who will that package be?" Muschamp said. "We're searching for the right guys. We think we have a pretty good handle on who they may be, but you never know. We've got to continue to search through those guys and find your best four rushers, and then who's five, who's six, who's seven?"
Even though Florida's pass rush was better last season than it had been the previous two (the Gators recorded 30 sacks in 2012, the most since it had 40 in 2009), there's plenty of room to improve. The Gators appear to have the personnel to be better, especially with the return of redshirt junior buck
Ronald Powell
, and adding the rabbits package will certainly help.
It's easy to identify UF's top four pass rushers: Powell, sophomore
Dante Fowler Jr.
, sophomore
Jonathan Bullard
and senior
Dominique Easley
. Powell and Fowler are hybrid defensive ends/strongside linebackers. Bullard is an end and Easley can play both end and tackle. The group, which has a combined 16.5 career sacks, are all starters but also will likely comprise the rabbits package, with Easley moving over to nose tackle.
Bullard and Fowler played key roles as freshmen last season, helping pick up the slack in the rush that was created when Powell (seven career sacks) suffered a torn ACL in the spring game and missed the entire season. Bullard led the team with seven quarterback hurries, while Fowler had 2.5 sacks.
Muschamp said Powell has looked very good in camp and offensive coordinator Brent Pease said the pass rush has given the offense trouble.
"They're very athletic," Pease said. "When you have Easley and Bullard and then you throw in Dante. Now Dante, depending how they use him, he's such a weapon because he's a down guy, pass rusher, pass coverage guy, very physical, he's so heavy-handed. He's a tough kid to block.
"And then when you throw Ronald in there ..."
Muschamp isn't sure how much he's going to use the rabbits package. He said the Gators did a solid job with the pass rush last season and the addition of Powell and the maturation and improvement of Fowler and Bullard should automatically make them better.
Plus, Florida plays mostly man coverage and offenses counter that with six- and seven-man protections to give quarterbacks extra time to throw the ball.
"I think we gave up less explosive plays in the passing game than anybody in the country [last season]," Muschamp said. "I think we gave up less touchdowns than [all but four] teams in the country. So I think we were very efficient in the passing game. And that's not just from a coverage standpoint, that's from a rush standpoint."
But it's nice to have the package available, especially if it allows the Gators to begin to develop younger players like redshirt freshmen
Bryan Cox Jr.
and
Alex McCalister
.
April, 17, 2013
4/17/13
11:00
AM ET
Florida coach Will Muschamp added to his coaching staff on Wednesday by announcing the hire of new special-teams coordinator/outside linebackers coach Jeff Choate.

Choate, a 21-year coaching veteran, served as Washington State's linebackers coach in 2012 before being named UTEP's defensive coordinator this spring.
"I'm excited about the opportunity to join the Gator staff and have the chance to compete at the highest level," Choate said in a release through UF. "I've gotten to know Coach Muschamp over the past couple of years and have a tremendous amount of respect for him as a coach and a person. I'm looking forward to continuing the great special-teams tradition that has been established here and can't wait to get to work.
"I would also like to thank everyone at UTEP, and most importantly Coach Kugler, for the support and opportunity they gave me. I wish him and the program nothing but the best of luck."
With assistant defensive line coach Bryant Young's
sudden resignation last week
, Muschamp had room to hire another assistant. Since Brad Lawing was hired to coach the Gators' defensive line in January, finding a replacement for D.J. Durkin's old position as linebackers/special-teams coach appeared to be more of a priority.
(Durkin was promoted to defensive coordinator after Dan Quinn left to become the Seattle Seahawks' defensive coordinator in January.)
Choate brings 10 years of experience coaching either linebackers or special teams.
"We are excited to have Jeff Choate join our staff," Muschamp said in a statement through UF. "He is a high-energy coach, an outstanding recruiter and evaluator, and has a reputation as one of the top special-teams coaches in the nation. He has coached on both sides of the ball and was most recently a defensive coordinator. He sees the big picture and will be a great addition to our staff.
"I got to know Jeff several years ago when I as at Texas and he was at Boise State. He visited Austin and we spent a lot of time talking defensive and special teams schemes. He also visited us in Gainesville last spring and we are very much on the same page philosophically."
April, 10, 2013
4/10/13
5:15
PM ET
After spending two seasons with Florida's football team, defensive line coach Bryant Young
abruptly resigned Wednesday
due to personal reasons, the school announced.
Here's what Young said in a statement released through the school Wednesday:
"After heavy consideration and giving over two decades to the game of football, I have made a personal decision to resign from my position at the University of Florida in order to pursue more time with my family," said Young. "I am humbled by and grateful for the opportunity I have had to positively influence the hardworking student-athletes and young men whom I will surely miss.

"However, I have come to the realization that it is time to invest more in my family during this fleeting season in life. I have truly loved my time being a Gator, enjoyed a great working relationship with Coach Muschamp and will also miss the dedicated staff at this University. I am extremely thankful for the opportunity and support I have received from Coach Muschamp, Jeremy Foley and the entire athletic department."
The four-time Pro Bowler played 14 seasons with the San Francisco 49ers and spent most of his time coaching up the Gators' defensive tackles. Former South Carolina defensive line coach Brad Lawing was hired to help coach Florida's defensive line in January after defensive coordinator Dan Quinn left to become the defensive coordinator for the Seattle Seahawks. Quinn also coached up Florida's defensive ends.
The question now becomes whether Will Muschamp hires another coach to coach the interior linemen or if he'll leave Lawing to take over duties across the entire line. He'll also have to figure out a way to replace Young's recruiting skills.
Here's what Muschamp had to say about Bryant's departure:
"We are very thankful for Coach Young's contributions to the program and I respect his decision. This is strictly a personal decision and has nothing to do with NCAA compliance, but just an opportunity to evaluate his future path. "I always have and will continue to be very supportive of Coach Young and his family. Our entire staff will be there for him to provide any assistance and guidance in the future. We wish he and his family nothing but the best."
March, 13, 2013
3/13/13
11:35
AM ET
Schedule:
The Gators open spring practice today at 4:30 p.m. ET and will conclude the spring with their annual Orange & Blue Debut on April 6 at 1 p.m. ET inside Ben Hill Griffin Stadium.
What's new:
Defensive coordinator Dan Quinn left to become the defensive coordinator for the Seattle Seahawks. Will Muschamp then promoted D.J. Durkin from linebackers/special teams coach to defensive coordinator. Brad Lawing was hired away from South Carolina to help coach Florida's defensive line and was given the title of assistant head coach. Interim wide receivers coach Bush Hamdan was replaced by former Kentucky head coach Joker Phillips.
On the mend:
Redshirt junior offensive lineman
Chaz Green
will miss all of spring after undergoing ankle surgery following Florida's bowl game. Redshirt junior defensive end/linebacker
Ronald Powell
will also miss the spring while he continues to rehab his ACL injury that he suffered last spring. Redshirt junior offensive lineman
Ian Silberman
is out for the spring, as he recovers from shoulder surgery that he had before the bowl game. Freshman linebacker Matt Rolin is also out, recovering from ACL surgery. Senior offensive lineman
Jon Halapio
(knee scope), senior wide receiver
Solomon Patton
(broken arm), redshirt junior linebacker
Neiron Ball
(ankle) and punter
Kyle Christy
(shoulder) will all be limited this spring.
On the move:
Junior cornerback
Loucheiz Purifoy
will start the first seven practices at the "Z" receiver spot. Redshirt freshman Quinteze Williams moved from defensive tackle to offensive tackle. Sophomore
Antonio Morrison
moved from Will to Mike linebacker, while redshirt junior linebacker
Michael Taylor
has moved from Mike to Will. Redshirt freshman
Rhaheim Ledbetter
moved from safety to fullback. Redshirt junior
Gideon Ajagbe
also moved from linebacker to fullback. Redshirt junior
Cody Riggs
has moved from cornerback to safety, where he's listed as a starter.
Question marks:
Heading into the spring, the biggest questions remain on offense, where the Gators were incredibly inconsistent last year. Workhorse running back
Mike Gillislee
is gone, and while the Gators should feature a stable of running backs this fall, throwing the ball has to improve or this offense will go in reverse. Quarterback
Jeff Driskel
says he's more confident and offensive coordinator Brent Pease expects to open things up more in the passing game, but the Gators also have to get better protection up front and develop some more reliable receivers and replace top target, tight end
Jordan Reed
. Florida's defense has a lot of experienced youngsters, but it won't be easy to replace the production that guys like
Sharrif Floyd
,
Matt Elam
and Jon Bostic had last year. Florida is also looking for someone to replace kicker
Caleb Sturgis
. Redshirt freshman
Austin Hardin
and senior
Brad Phillips
will compete for that spot.
New faces:
Rolin, running back Kelvin Taylor, linebackers Alex Anzalone and Daniel McMillian, defensive lineman Joey Ivie, and wide receiver Demarcus Robinson all enrolled early as true freshmen. Florida also welcomed Nebraska offensive lineman transfer
Tyler Moore
(sophomore) and junior college transfer Darius Cummings (DT). Offensive lineman Max Garica also transferred from Maryland and sat out last season.
Key battle:
Florida has to find a reliable receiving target at either tight end or receiver. The athletic
Kent Taylor
figures to be the favorite at tight end, but he'll have to compete with
Colin Thompson
,
Clay Burton
and
Tevin Westbrook
. At receiver, it's a free-for-all, and there isn't a ton of experience. Purifoy will certainly get his shot, but vets
Quinton Dunbar
and
Andre Debose
have to make significant strides. So does rising sophomore
Latroy Pittman
, who fell off last year after a successful spring. Sophomore
Raphael Andrades
will be back and forth between football and baseball, while Patton will be limited. Keep an eye on Robinson, who was the top receiver in the Gators' 2013 class and is a downfield threat and someone who can be elusive through the middle of the field.
Breaking out:
Florida needs to replace Gillislee, and sophomore
Matt Jones
has already had a solid offseason, according to coaches. He progressed as last season went on and has both speed and strength to work with. The plan is for him to be a 20-plus-carry player this fall. Morrison's role now expands, and after having a very solid freshman year, even more is expected from him now that he's at the Mike. If he improves his coverage ability, he could be a big-time player for the Gators. Also, keep an eye on junior safety
Jabari Gorman
. He covers a lot of ground and isn't afraid to play in the box.
Don't forget about:
Ball and Riggs have dealt with injuries in the past, but as they get healthy, Florida's coaches are excited about what they could do in 2013. Ball will play some Buck and provides Florida with another solid third-down pass-rusher and should help the Gators put more pressure on opposing backfields this fall. Riggs played in just two games last year before fracturing his foot, but he's a very physical defensive back. With his speed, moving to safety should provide him a chance to make more plays in Florida's secondary. He was also the starter at safety when Elam went to nickel last year.
January, 23, 2013
1/23/13
11:30
AM ET
After seeing
Marcus Lattimore
squirm and claw in pain last October, it left many people wondering if he'd ever be back on a football field again.
This wasn't your normal knee injury. His right knee was dislocated and several ligaments were torn. For an instant, it didn't even look like Lattimore's knee was attached to the rest of his leg.
But what looked like a career-threatening injury could be just another bump in Lattimore's football career, as he told members of the media at Senior Bowl practice on Tuesday that he is more optimistic about the
chance of playing football in 2013
. After it seemed like it would take well over a year for Lattimore to come back, he's thinking about trotting out onto the football field as early as the 2013 season. Lattimore opted to leave South Carolina early and make the jump to the NFL.
Lattimore told reporters that Dr. James Andrews told him that his progress is "nothing short of a miracle" and that he's "way ahead of schedule" as far as his rehab goes.
"When Dr. Andrews came in to see me, he said, 'You're doing remarkable; you're doing everything you can,'" Lattimore said. "His words were, 'You're going to shock the world.' That's what Dr. Andrews said."
It doesn't matter what school you root for or what color scheme you wear each Saturday, you're cheering for Lattimore to have a speedy recovery. It was as if the college football world stopped when he went down with that devastating knee injury against Tennessee on Oct. 27. Players huddled around him and fans from all over delivered their support. He's not only an excellent player but he's an excellent person.
He might have run over people during his time in Columbia, but he never ran his mouth about it and commanded the utmost respect from his counterparts. Lattimore has the talent to be an every-down back in the NFL and could be very fun to watch if he gets back to 100 percent. Remember, he entered the 2012 season with first-round status before his injury.
No one knows if Lattimore will ever be the same player he was before he suffered his first knee injury halfway through the 2011 season, but you know he's going to work as hard as he can to get back to where he once was.
"I feel like 80 percent of it is mental," Lattimore said. "If you don't do your rehab, if you keep asking yourself, 'Why me?' your knee reacts to that. You have to stay positive, or you're not going to come back."
Here's hoping his knee responds the same way he has.
Deke Adams added to staff
Steve Spurrier didn't waste any time filling the vacancy he had on his coaching staff after defensive line coach Brad Lawing left for Florida. On Tuesday, Spurrier announced the hiring of new defensive line coach Deke Adams, who coach North Carolina's defensive line in 2012.
"We are thrilled to have Deke Adams come in as our defensive line coach," Spurrier said in a statement. "Several of our coaches are very familiar with Deke, having coached with him previously. He has an excellent track record both as a player and as an assistant coach. He has a lot of experience coaching the defensive line, and in recruiting the state of North Carolina and other parts of the South. He and his family will be an excellent addition to our coaching staff."
Before coaching at North Carolina, Adams served as Southern Miss' defensive line coach the three previous seasons.
"I'm excited about getting to Columbia and the opportunity to coach with Coach Spurrier and Coach (Lorenzo) Ward," Adams said in a statement. "I've known about South Carolina for a long time and it's a great opportunity for me and my family."
January, 22, 2013
1/22/13
12:40
PM ET
Checking on what's making news around the SEC:
January, 22, 2013
1/22/13
12:15
PM ET
Will Muschamp didn't waste much time filling the lone hole on his coaching staff.
With defensive coordinator Dan Quinn taking his talents to the NFL, Muschamp
added South Carolina defensive line coach Brad Lawing
, who will be the Gators' assistant head coach and coach the defensive line along with Bryant Young. D.J. Durkin was promoted to defensive coordinator after Quinn left to be the Seattle Seahawks' defensive coordinator.
The plan is for Lawing to coach Florida's defensive ends, like Quinn did, while Young will continue to coach the defensive tackles. Lawing brings 33 years of coaching experience, including 29 on the defensive line, to Gainesville. He also brings a solid list of players he's coached, including all-world end
Jadeveon Clowney
and Melvin Ingram.
Lawing coached the Gamecocks' defensive from 2006, and during his last two years in Columbia, Gamecocks ends have terrorized opposing backfields. Ingram turned into a first-round draft pick after a very impressive 2011 campaign, while Clowney made a huge leap from Year 1 to Year 2.
The Gators are hoping Lawing can have the same sort of impact on their ends, especially
Ronald Powell
, who is coming off of a major knee injury. Powell was the nation's No. 1 recruit back in 2010, but has yet to have the impact most expected him to have on Florida's defense. He might not be Clowney, but he has a tremendous amount of skill and made great strides last spring before his ACL injury. He won't go through contact during the spring, but should get some very good teaching from Lawing in the meantime.
December, 12, 2012
12/12/12
3:00
PM ET
The head coaches are the ones who make the big money in the SEC.
But without a quality staff, a head coach isn't going to survive very long in this league.

So as we look back on the 2012 regular season, let's pay tribute to 12 assistant coaches who separated themselves from the rest. Each of these guys made a huge difference in their development of players and units.
We'll call it our "Dandy Dozen" of SEC assistant coaches, and they're listed in alphabetical order:
Mike Bobo, Georgia, offensive coordinator/quarterbacks:
A finalist for the Broyles Award, Bobo has the Bulldogs ranked in the top four in the SEC in both rushing and passing offense. They scored 28 or more points in 11 of their 13 games, and did it with an offensive line that was both young and unproven when the season began.
Burton Burns, Alabama, associate head coach/running backs:
Despite injuries to
Dee Hart
and
Jalston Fowler
, Alabama didn't miss a beat in its running game. In fact,
Eddie Lacy
and
T.J. Yeldon
became the first two players in school history to each rush for 1,000 yards in the same season.
John Chavis, LSU, defensive coordinator/linebackers:
Like clockwork, Chavis just keeps on churning out rock-solid defenses at LSU. The Tigers are No. 8 nationally in total defense and No. 11 in scoring defense, and that's despite losing their top playmaker on defense (Tyrann Mathieu) in the preseason.
D.J. Durkin, Florida, special teams coordinator/linebackers:
When you play as many close games as the Gators did this season, you better be good on special teams. They weren't just good. They were excellent in all facets, which is a credit to Durkin and the job he did in coordinating the entire kicking game.
Herb Hand, Vanderbilt, offensive line:
For the second year in a row,
Zac Stacy
rushed for 1,000 yards, and for the second year in a row, the Commodores more than held their own up front offensively. One of the best decisions James Franklin made when he took the job was holding onto Hand from the previous staff.
Kliff Kingsbury, Texas A&M, offensive coordinator/quarterbacks:
Just his work with Heisman Trophy winner
Johnny Manziel
alone was enough to get Kingsbury some serious props. But Texas A&M's offense also put up crazy numbers in its first season in the SEC. Kingsbury, a finalist for the Broyles Award, has suddenly become a hot commodity in the head coaching ranks.
Brad Lawing, South Carolina, defensive line:
One of the more underrated coaches in the SEC, Lawing has been doing it for a long time at a very high level. His defensive lines at South Carolina have been excellent the past few years and are one of the big reasons the Gamecocks have made their move into the SEC's upper tier.
Matt Luke, Ole Miss, co-offensive coordinator/offensive line:
Just about everybody agreed in the preseason that the offensive line was Ole Miss' weakest link, but Luke was able to get everything and then some out of that group after a lackluster showing by the Rebels in the trenches in 2011. What's more, Ole Miss was one of only three teams in the league (Texas A&M and Georgia) to average more than 250 yards passing and 165 yards rushing this season.
Sam Pittman, Tennessee, offensive line:
Few units in the league improved as much from 2011 to 2012 as Tennessee's offensive line. The Vols gave up just eight sacks in 12 games, which was tied for fourth nationally, and padded their rushing average by more than 70 yards per game. Pittman's approach was exactly what the Vols needed up front, and they blossomed into one of the top offensive lines in the SEC.
Dan Quinn, Florida, defensive coordinator/defensive line:
The Gators won 11 games in the regular season, and they held the opposition to 17 or fewer points nine times. Quinn, a Broyles Award finalist, put a defense on the field during his first season at Florida that was very good. But the one this season played at a championship level. The Gators head to the Allstate Sugar Bowl ranked No. 3 nationally in scoring defense and No. 5 in total defense.
Bob Shoop, Vanderbilt, defensive coordinator/safeties:
For the second straight season, the Commodores rank among the top 20 teams nationally in total defense. They're also No. 15 in scoring defense. They're not real big up front and lost three key players from last season (Chris Marve, Casey Hayward and Tim Fugger), but Shoop keeps finding ways to stop people.
Kirby Smart, Alabama, defensive coordinator/linebackers:
Alabama fans were holding their breath when it looked like Smart might be going to Auburn as head coach. The Crimson Tide had six players drafted off of their 2011 national championship defense, but here they are again going back to the national title game and ranked No. 1 nationally in total defense and No. 2 in scoring defense.
August, 31, 2011
8/31/11
10:08
AM ET
He might be the most hyped player to come into the SEC in a long time, and that's saying something when you think about how anointed most of these five-star prospects are before they ever play a snap of college football.
[+] Enlarge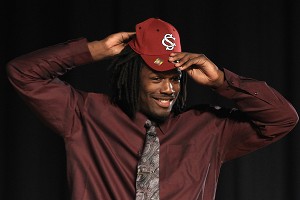 Photo by Streeter Lecka/Getty ImagesJadeveon Clowney has made a great early impression on the South Carolina coaching staff.
South Carolina's
Jadeveon Clowney
makes his much anticipated debut on Saturday night in Charlotte, N.C., just a short drive north of where he carved out a legendary high school career in Rock Hill, S.C.
It wouldn't matter whom the Gamecocks were playing in the opener. Much of the focus still would be on No. 7.
Clowney is a 6-foot-6, 254-pound freak of an athlet who by all accounts will be one of the SEC's next great pass-rushers.
But he's only a freshman, and even the most talented freshmen endure their share of growing pains in this league.
Who knows?
Maybe Clowney will skip that part.
Either way, South Carolina is good enough on its defensive line that Clowney won't need to be be the savior right away. He has talented players around him, and while South Carolina coach Steve Spurrier is as eager as anyone to see what Clowney can do, the Head Ball Coach is also realistic.
"I think he's done about what we all expected," Spurrier said. "What surprised us is he's a little bit of a power rusher also. He can knock those guys backward when he needs to. He's not just a fast guy coming around the edge.
"Jadeveon has had an excellent attitude. Coach [Brad] Lawing is working him in with all the other guys. He's done well. He'll be in early and often, and we'll let him earn his way as he goes through the season."
In a lot of ways, Clowney has already earned his scholarship before playing his first game Saturday against East Carolina.
Spurrier said there's no way to measure the value of getting the No. 1 player in the country, especially when that player is from your state.
"We appreciate Jadeveon coming here," Spurrier said. "A kid who could have gone anywhere in the nation picked a school with a really not great football tradition, but he believes we can win big. Signing guys like him gives us hope that something good can happen for us. He was a huge sign for us, that the No. 1 guy thinks South Carolina can win big."
Lawing, the Gamecocks' defensive line coach, said Clowney has been unbelievably coachable and that his rock-star status during the recruiting process didn't go to his head.
"It's very impressive to me that he wants to learn," Lawing said.
It's almost as impressive as Clowney's burst and the way he explodes off the line of scrimmage.
"When he mentally sees what he needs to see, he can really accelerate to the football," Lawing said. "I haven't taught him that. That is God-given. He has tremendous acceleration, and he will play physical, too."