September, 27, 2013
9/27/13
10:00
AM ET
TUSCALOOSA, Ala. -- Like countless rookies before him, Alabama tight end
O.J. Howard
's start to the season was shaky. He dropped the first pass ever thrown to him and never saw the ball come his way again in the season opener against Virginia Tech. The very next game, on the road at No. 6 Texas A&M, he was whistled for a false start on the opening drive, sending his offense in reverse. Predictably, the Crimson Tide went three-and-out, punted and the Aggies got the ball back and promptly scored to go ahead by two touchdowns.
The groans could be heard all the way from Alabama's campus in Tuscaloosa. Howard, however talented he might be, was showing the telltale signs of youth in an environment that dictated nothing less than perfection.
[+] Enlarge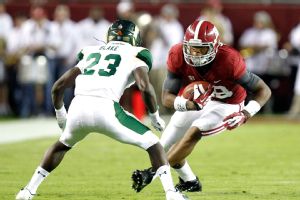 AP Photo/Butch DillTrue freshman O.J. Howard ranks in the top five nationally among tight ends in yards per catch.
Brian Vogler
had been there before and he knew just what to say when the offense got to the sidelines that day at Kyle Field.
"It's a crazy environment down there," Alabama's veteran tight end said. "I told him, 'Hey, man, in my first start against Michigan, I got a false start, too, so don't worry about it.' "
Howard responded. He went back out and caught three passes for 68 yards, helping top-ranked Alabama remain undefeated in an offensive shootout against Texas A&M.
"He grew up a bunch in the Texas A&M game -- and he had to," Tide quarterback
AJ McCarron
said. "Third down and 12 or 15 or whatever it was and we completed the pass to him late in the game, kind of sealed the deal. He's done an excellent job for us. Just got to keep progressing, can't take any steps back.
"He does an excellent job of doing what we ask him to do. Hopefully, we can keep getting him more touches."
McCarron seemed happy to have a tight end who could create mismatches with his height, speed and athleticism. And he should be. He has never had anyone quite like Howard to whom to throw the ball.
Nick Saban has never utilized a tight end with Howard's skill set since taking over at Alabama in 2007. While the rest of the country has moved toward pass-catching tight ends who could be split out wide, Saban kept his tight ends on the line of scrimmage, hand on the ground, pounding away at defensive linemen and linebackers. Big plays have been few and far between. Their job was to block for Heisman hopeful tailbacks and field a handful of passes in the red zone each year.
The numbers bear out that fact. No tight end has ever caught more than 35 balls or broken the 400-yard receiving mark at Alabama under Saban. Meanwhile, college football has seen 83 instances of a tight ends finishing the season with more than 35 receptions and 400 yards. All-American Tyler Eifert had 113 catches and 1,485 yards over his final two seasons at Notre Dame.
Alabama's lackluster numbers were the biggest reason why Howard entered his rookie season viewed as something of a savior at the position. Not since Hall of Famer Ozzie Newsome in the 1970s had UA featured a tight end who could move like Howard, whose long legs bound effortlessly like a deer when he runs upfield. He's big yet graceful, jumping and pivoting like a power forward in shoulder pads.
"O.J. Howard is a different kind of player, young player, very athletic, pretty good pass receiver," Saban said. "[He] has to get a little bigger and stronger, maybe work on his blocking a little bit, but he is tough and he will try and get after you. His athleticism is a real asset to the passing game. He gives us another threat out there. We're really pleased with his development."
The tight end position as a whole has grown leaps and bounds this season. Howard's 13 catches for 148 yards has something to do with that. He is, after all, tied for fourth nationally in yards per reception among tight ends. But Vogler and utility back
Jalston Fowler
have picked up the pace as well.
All told, Alabama's tight ends are on pace to finish the season -- should it go 13 games -- with 57 catches and 642 yards. That number would surpass the previous high in production when Brad Smelley and Co. ended the 2011 season with 52 receptions and 558 yards. And that's if things stay on course. As Howard keeps developing and growing more comfortable in the offense, he stands to do even more in the passing game.
Howard still shows some signs of youth, and the growth of the tight end position as a whole is still in its embryonic stages. After a rough start to the year, things are coming along. After dealing with early season frustrations, there's reason to believe Howard and his fellow tight ends are ready to take the next step.
May, 10, 2012
5/10/12
3:30
PM ET
Our look at the SEC's most productive returning players in 2012 continues with tight ends.
Past producers:
The SEC returns six of the top 10 statistical tight ends this season. Orson Charles led all tight ends in yardage with 574 yards and had five touchdowns on 45 catches. The No. 2 tight end returns this fall, and this race might be the most wide open of all the top returners by position.
Here's the conference's top returning producer at tight end:

Chris Gragg, Arkansas:
He was second among tight ends in catches (41) and receiving yards (518) last season, and had two touchdowns. Gragg also averaged 12.6 yards per catch last season. In an offense obsessed with throwing the ball, there was no way Gragg wouldn't get a good amount of passes thrown his way. But it's not like Gragg didn't deserve all the attention. The 6-foot-3, 236-pounder is an ideal target for any quarterback, and while he's a big body, he has good speed and is quite agile for his position. With all the receiving talent leaving Fayetteville, Gragg should get even more looks from quarterback
Tyler Wilson
, and there probably aren't too many people around that program upset by the thought of that.
The SEC returns five more of the top 10 statistical tight ends from a year ago:
Mychal Rivera, Tennessee:
He caught 29 passes for 344 yards and one touchdown, and averaged 11.9 yards per catch.
Jordan Reed, Florida:
He caught 28 passes for 307 yards and two touchdowns, and averaged 11 yards per catch.
Philip Lutzenkirchen, Auburn:
He caught 24 passes for 238 yards, and led all tight ends with seven touchdowns. He averaged 9.9 yards per catch.
Malcolm Johnson, Mississippi State:
He caught 11 passes for 207 yards and three touchdowns, and averaged 18.7 yards per catch.
Michael Williams, Alabama:
He caught 16 passes for 191 yards and two touchdowns, and averaged 11.9 yards per catch.
This race really is wide open. While Gragg is probably the most physically gifted of the returning tight ends, it's not a foregone conclusion that he'll take home prize of top SEC tight end. Reed, who is a freak athlete, is someone who the coaches at Florida think will be a major factor in the Gators' offense this fall because young quarterbacks tend to shorten throws, and Reed is a solid underneath target. Williams will get more attention with Brad Smelley gone, and Johnson, who won't share time with
Marcus Green
this year, drew comparisons to past Mackey Award winner Aaron Hernandez in spring camp.
Keep an eye on South Carolina rising senior
Justice Cunningham
. He played alongside fellow tight end
Rory Anderson
, who had more yards and touchdowns, but Cunningham doubled Anderson's catch count last season, and gained 142 yards and one score. With Alshon Jeffery gone, expect Cunningham to get more looks this fall.
If Missouri's
Eric Waters
comes back 100 percent from his MCL injury this spring, he could have a pretty productive season in that offense. Waters is replacing one of the best in Michael Egnew, but one reason Egnew was so successful was because Mizzou
loves
using its tight ends.
Texas A&M uses its tight ends a lot as well.
Nehemiah Hicks
is probably the most gifted tight end for the Aggies and started seven games, but is recovering from shoulder surgery.
Michael Lamothe
and
Hutson Prioleau
combined to catch 28 passes for 244 and four touchdowns last season.
January, 13, 2012
1/13/12
11:00
AM ET
We're taking one last look at the SEC's postseason by putting together our All-SEC bowl team:
OFFENSE
QB:
Connor Shaw
, South Carolina: Shaw didn't seem to feel the pressure of a bowl game, completing 11 of 17 passes for 230 yards and two touchdowns and rushing for 42 yards and another score in the Gamecocks' win against Nebraska in the Capital One Bowl. He even gave South Carolina the momentum going into the second half with a touchdown on a Hail Mary to end the first half.
[+] Enlarge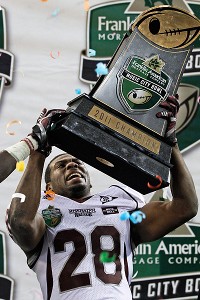 AP Photo/Mark HumphreyMississippi State's Vick Ballard rushed for 180 yards against Wake Forest in the Music City Bowl.
RB:
Vick Ballard
, Mississippi State: Ballard ended his career with the Bulldogs with one of his best performances, as he rushed for 180 yards and two touchdowns on just 14 carries in Mississippi State's win against Wake Forest in the Music City Bowl. His touchdowns went for 72 and 60 yards.
RB:
Onterio McCalebb
, Auburn:
As the Tigers' lead back in the Chick-fil-A Bowl, McCalebb had a game-high 109 rushing yards, including a long of 60. He also recorded a three-yard touchdown run and caught two passes for 53 yards, including a 25-yard touchdown in Auburn's win against Virginia.
WR:
Alshon Jeffery
, South Carolina:
Jeffery's day would have been even better if he hadn't been ejected. However, he still caught four passes for a game-high 148 yards and snagged Shaw's Hail Mary touchdown pass at the end of the first half. He also had a 78-yard reception.
WR:
Tavarres King
, Georgia:
King tried his best to get Georgia a victory in the Outback Bowl against Michigan State. He was
Aaron Murray
's best friend, catching six passes for a career-high 205 yards, including an 80-yard touchdown pass that at one point stood as the longest play in Outback Bowl history.
TE:
Brad Smelley
, Alabama: The Crimson Tide got its passing game going with Smelley in Monday's Allstate BCS National Championship win against LSU. He was
AJ McCarron
's safety net when plays broke down, and the young quarterback also used Smelley on rollouts. Smelley finished the game with seven catches for 39 yards.
OL:
Barrett Jones
, Alabama: Behind one of the most versatile linemen in the entire country, Alabama's line held back LSU's defensive front for most of Monday night's game. Alabama ran for 150 yards against LSU's vaunted defense. He also kept McCarron safe, as the youngster was sacked only twice while throwing for 234 yards.
OL:
Alvin Bailey
, Arkansas:
He just keeps looking better and better for the Razorbacks. In Arkansas' AT&T Cotton Bowl victory against Kansas State, he helped Arkansas churn out 129 rushing yards on 4.3 yards per carry and helped give quarterback
Tyler Wilson
enough time to pass for 216 yards and two touchdowns.
OL:
Kyle Nunn
, South Carolina:
The Gamecocks' offensive line gave up four sacks to Nebraska, but Shaw was still able to throw for 230 yards and two touchdowns. With Nunn's help, the Gamecocks also rushed for 121 yards against the Cornhuskers.
OL:
Gabe Jackson
, Mississippi State:
Ballard's outstanding performance for the Bulldogs wouldn't have been possible if not for some solid line play. Jackson had one of his best outings, as he helped Mississippi State rush for 253 yards and pass for another 129. Mississippi State gave up just one sack to Wake Forest.
C:
William Vlachos
, Alabama:
Vlachos had his hands full with the interior of LSU's defensive line, but he more than held his own. He battled all night with LSU's
Michael Brockers
and allowed him to assist on just one tackle for loss. He provided a ton of protection in the passing game and helped Alabama rush for 150 yards on LSU's defense.
DEFENSE
DE:
Jake Bequette
, Arkansas:
Bequette said before Arkansas' bowl game that the Hogs' defense needed to make a statement. Bequette certainly made a few in his final game with the Razorbacks, registering two sacks, forcing a fumble and totaling three tackles.
DE:
Jadeveon Clowney
, South Carolina:
The freshman put a nice bow on his first season with the Gamecocks. He put a ton of pressure on Nebraska's backfield with two sacks for a loss of 13 yards and finished the game with four tackles.
DT:
Fletcher Cox
, Mississippi State:
Cox wanted to make a lasting impression in his final game with the Bulldogs, and he certainly did by disrupting Wake Forest's offensive line in the Music City Bowl. He finished the game with seven tackles, including two for loss and a sack, and blocked his fifth career kick, which is a Mississippi State record.
DT:
Michael Brockers
, LSU:
Brockers had a tough time with Vlachos in the middle, but that didn't stop him from making plays. He did a tremendous job of clogging holes in the middle for the Tigers and finished the game with seven tackles, assisting on one for loss, and blocked a field goal attempt.
LB:
Courtney Upshaw
, Alabama:
It came as no surprise that Upshaw was named the Defensive Most Valuable Player in the Allstate BCS National Championship Game. He was nearly unblockable for LSU on Monday night. He put immense pressure on LSU's backfield and finished the game with six tackles, including a sack.
LB:
Archibald Barnes
, Vanderbilt:
Barnes was a true rover for Vanderbilt against Cincinnati in the Liberty Bowl. He had a game-high 10 tackles, assisting on one for a loss, and blocked a field goal attempt in the fourth quarter that gave Vandy some life late.
LB:
Alec Ogletree
, Georgia:
Georgia might not have come up with the win in the Outback Bowl, but it wasn't because of how Ogletree played. He was all over the field for the Bulldogs, grabbing a game-high 13 tackles, including two for loss, breaking up two passes and getting a sack.
CB:
Casey Hayward
, Vanderbilt: Yet again, Hayward was tremendous in coverage for the Commodores. He grabbed two interceptions and broke up another pass. He was also second on the team with eight tackles, including one for loss. Cincinnati threw for just 80 yards against the Commodores.
CB:
Stephon Gilmore
, South Carolina: Gilmore ended his South Carolina career on a high note. He recorded five tackles, including one for loss, and an interception. He also returned a blocked extra point for South Carolina's first points of the game. Nebraska threw for just 116 yards on the Gamecocks' secondary.
S:
Mark Barron
, Alabama:
Barron recorded just two tackles, including a sack, but he was outstanding in coverage. He roamed the back part of the field for the Crimson Tide and didn't allow LSU quarterback
Jordan Jefferson
to stretch the field at all because of his positioning. Jefferson threw for just 53 yards on Alabama.
S:
Matt Elam
, Florida:
Elam was Florida's most consistent player during the regular season, and he was all over the field for the Gators in the Taxslayer.com Gator Bowl against Ohio State. He finished the game with six tackles, two for loss and a sack.
SPECIAL TEAMS
PK:
Jeremy Shelley
, Alabama:
Talk about redeeming the position that spoiled Alabama's first game against LSU. Shelley hit five of his seven field goal attempts against the Tigers and even rebounded to hit four of his final five after having his second attempt blocked in the second quarter.
P:
Dylan Breeding
, Arkansas:
He punted four times for an average of 46.8 yards per kick. He had a long of 63 yards and dropped two inside the 20-yard line against Kansas State.
RS:
Joe Adams
, Arkansas:
Surprise, surprise, Adams made another special teams unit look silly. Against Kansas State in the AT&T Cotton Bowl, Adams got things started for the Hogs with a nifty 51-yard punt return for a touchdown. His return sparked a 16-point second quarter for the Hogs.
AP:
Brandon Boykin
, Georgia:
Boykin found a way to put points on the board three different ways in the Outback Bowl. He forced a safety when he stuffed Michigan State's
Keshawn Martin
on the Spartans' first offensive play, returned a punt 92 yards for a touchdown and caught a 13-yard touchdown late. His punt return was the longest play in Outback Bowl history.
November, 26, 2011
11/26/11
6:56
PM ET
AUBURN, Ala. -- Alabama cruised past Auburn in the Iron Bowl with
a 42-14 victory
and seemed primed to return to the national championship.


Here's the instant analysis:
How the game was won:
Alabama's offense did just enough in the first half to put this one away early, as the defense totally overwhelmed Auburn. The Tigers didn't score an offensive touchdown and were limited to just 140 total yards. Dee Milliner's 35-yard touchdown return on a
Clint Moseley
interception officially sealed the game to open the fourth quarter.
Stat of the game:
Auburn had just five of its 10 drives go into Alabama territory on the night. It's longest amount of time on Alabama's side translated in 39 net yards and a turnover on downs.
Player of the game:
Alabama running back
Trent Richardson
was looking to make a Heisman impression on national television and after a slow first half, he came out fresh and ready in the second. He racked up just 61 yards in the first half, but finished with 203 rushing yards, including a long of 57. His previous long against Auburn was just 7 yards. He also recorded a receiving touchdown.
Unsung hero of the game:
The passing game was nearly perfect in the first half for the Crimson Tide and a big reason for it was the play of tight end
Brad Smelley
. In the first half, he caught six passes, five went for first downs and the other was a 35-yard touchdown. He didn't catch a pass in the second half, but led the game with 86 receiving yards.
What it means:
With this win, we are all but assured a rematch between Alabama and LSU in the national championship. Alabama doesn't have to worry about playing in the SEC title game and risking a loss. The Tide is almost guaranteed a slot in the national championship and odds are that no matter what happens in Atlanta, LSU will follow.
November, 26, 2011
11/26/11
5:13
PM ET
AUBURN, Ala. -- It's halftime at the Iron Bowl, with Alabama leading Auburn 24-7.


Best player of the half:
A lot has been made of
AJ McCarron
's decision-making during games, but he was nearly flawless in the first half against Auburn. The Crimson Tide came out running on the first drive and when that didn't work, McCarron was given the ball. He did exactly what the coaches asked of him, as he threw three touchdown passes to four incompletions and had 164 yards.
Stat of the half:
Five of Alabama tight end
Brad Smelley
's six catches have gone for first downs. His other catch went for a 35-yard touchdown to make it 14-0 Alabama. He leads all players with 86 receiving yards at the half.
Best call:
Nine plays into Alabama's second drive the Tide changed things up by calling a flea-flicker with Auburn hunkering down to stop
Trent Richardson
and the run game. Auburn went right after Richardson when he grabbed the ball on the hand off, but when he tossed it back to McCarron,
Kenny Bell
was well behind the coverage and McCarron hit him in stride for the 41-yard touchdown to get Alabama on the board first.
October, 30, 2008
10/30/08
10:43
AM ET
By
ESPN.com staff
| ESPN.com
Posted by ESPN.com's Chris Low
It's no revelation that Alabama's offensive line has been the biggest reason the Crimson Tide rank first in the SEC and 18th nationally in rushing offense and have been able to control games this season.
The Tide (8-0, 5-0 SEC) head into their nonconference game with Arkansas State this weekend having trailed for just 1 minute, 15 seconds all season.
The unsung heroes in their dominance up front?
Senior tight ends Travis McCall and Nick Walker.
They've been in the game together probably 75 percent of the time and have been a huge part of Alabama's plan offensively.
The 260-pound McCall is like having a third tackle out there, but he can catch the ball well enough. The 248-pound Walker is second on the team with 23 catches for 232 yards and two touchdowns.
"They've played outstanding, and I think they complement each other very well," Alabama coach Nick Saban said. "Travis is a really, really good blocker, but he's got good hands so you can't not worry about him as a receiver. Nick Walker is a good athlete and a good pass receiver, but a very adequate blocker."
The thing Saban likes most about his two tight ends is their versatility and being able to use them both at the same time.
"Travis has a lot of diversity as a player in terms of moving around and being a fullback," Saban said. "He's a bright, smart guy who can do a lot of things. Those two guys have contributed immensely to our offensive line.
"You can't run the ball like we do if you don't have tight ends who can block."
Alabama also just recently added a third tight end to the mix when true freshman Brad Smelley played for the first time against Ole Miss two games ago. Smelley, the younger brother of South Carolina quarterback Chris Smelley, is more of a receiving tight end and is also playing special teams.
There's also another tight end coming next season. Colin Peek, a transfer from Georgia Tech, was not cleared by the NCAA this season. But he's shown big-time pass-catching skills in practice, and the 247-pound junior should be a major factor in the Tide's offense next season.