September, 18, 2013
9/18/13
12:00
PM ET
TUSCALOOSA, Ala. -- There were no defensive statements or explanations necessary when Alabama coach Nick Saban and his players met with the media on Monday. This time, unlike the two weeks prior, everyone could avoid the touchy subject of the offensive line.
You'll recall
AJ McCarron
being
ticked off by all of the talk
of his line performing poorly Week 1 against Virginia Tech. It was a sore spot for the senior quarterback, and understandably so. These were the guys charged with protecting him that were being thrown under the bus. So McCarron stepped up, told everyone that would listen that the offensive line wasn't as bad as it was being made out to be and that it would play better against Texas A&M when the time came.
[+] Enlarge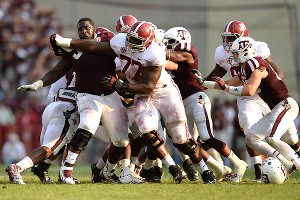 Thomas Campbell/USA TODAY SportsCyrus Kouandjio and his linemates controlled matters up front against Texas A&M.
Well, the time came Saturday and the offensive line stepped up in a big way. In fact, the result on the football field was night and day.
Cyrus Kouandjio
, who looked like a turnstile at left tackle against the Hokies, was the ultimate protector of McCarron's blind side, and the rest of the line followed suit, allowing just five rushes for zero or negative yards, compared to the 16 such plays Week 1 in Atlanta. McCarron wasn't sacked once, telling ESPN's Tom Rinaldi after the game, "I don't think I touched the grass all day."
"They did a great job of communicating," McCarron told reporters on Monday. "That's what we needed. Kept me clean most of the game, I was proud of those big guys. Did a really good job. I felt like communication was going to be the biggest thing for us in this last game, especially with that crowd they have there, so I felt like everybody did a great job of communicating and helped our offense a ton."
Saban, for his part, applauded the line's improvement at the point of attack. Their ability to control the tempo opened up the offense as a whole. The Tide, two weeks after going three-and-out seven times and failing to score on a drive that began inside its own territory, had seven drives of 60 or more yards and went three-and-out just three times. Alabama racked up 49 points and 568 total yards -- 334 yards passing, 234 yards on the ground.
"Obviously [we] played a lot better offensively, communicated better, controlled the line of scrimmage, didn't have a lot of negative plays," Saban said. "Had a lot of balance running the ball as well as being able to throw it effectively and not have a lot of pressure in the pocket and really control the time of possession in the game, which is really, really important. Especially when you're playing against an offense like they have."
Kouandjio said the communication that failed them in the season opener was 10 times better, and he noted that their ability to run the ball helped wear down Texas A&M's defense. Mostly, though, he was pleased to hear how much the tone had changed after the game.
"Yeah, it felt really good," he said of quieting the critics. "People misunderstood the first game. We came out there and did what we were supposed to do."
Alabama's line didn't miss a beat, even when starting right guard
Anthony Steen
had to leave the field with an injury.
Kellen Williams
came in and the offense went right down the field yet again.
"K-dub deserves a lot of credit," McCarron said. "I mean for a guy to sit there the whole game and have to stay into the game mentally and then be called on for the last drive to help lead us down the field, unbelievable job. It really says a lot about him as a player, as a teammate, but as a person too. Excellent job by him, and he really did make some good blocks on that drive to help him put points on the board."
Said Saban: "We think Kellen is kind of a jack-of-all trades for us. He can play left tackle, left guard, right guard, can probably play right tackle. He was the most experienced guy to put in the game at that time. Did a really good job and we didn't really miss a beat with him in there. He's a fifth-year senior and he's played a lot, has a lot of experience. We really look at him as a starter on our team."
Brian Vogler
, Alabama's starting tight end, said Williams gives "a lot of peoples' morale in the huddle" with his energy.
But Vogler had to credit himself and his fellow tight ends for some of the Alabama's success both in the running and the passing game.
Brandon Greene
essentially served as a third offensive tackle and true freshman
O.J. Howard
made plenty of plays in the passing game.
For the first time in a while, the tight end position felt relevant for the Crimson Tide.
"Any way we can contribute is great," Vogler said. "Sometimes you get disappointed when they call Big Play, but they call it to the other tight end. But I know O.J.'s abilities. There were a couple of times where if they called my number anc it was a deep ball, I just wanted to be like, 'Put O.J. in now,' because I know like I'm kind of tired right now and I want to see what he can do out there. Having him gain more confidence really helps. A game like this can really help with his confidence and hopefully he can improve in some areas."
Vogler said Greene, who began his career on the offensive line, has made "unbelievable progress" at tight end. He might be known as a blocker in short-yardage and goal-line situations now, but Vogler thinks it's only a matter of time before he expands his role on offense.
"He's working on his route technique every single day," Vogler said. "As an offensive lineman, he knows how to block. He's making improvement every day. We're trying to throw him in there on more routes in practice so he'll feel a little more comfortable out there. For a guy his size [6-5, 307], he moves well. I can't wait for the opportunity for him running a route out there and you guys being shocked at how he can move."
March, 21, 2013
3/21/13
11:30
AM ET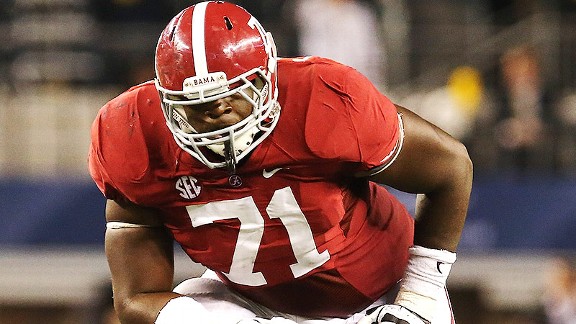 Kevin Jairaj/USA TODAY SportsCyrus Kouandjio might have a secure spot on the O-line, but not many others do.
TUSCALOOSA, Ala. -- At a certain point, there's too much work to be done on the football field. So much so that the idea of competition goes out the window. With three vacant starting positions on the Alabama offensive line this spring, the idea of actually battling for playing time is unthinkable, at least to left tackle
Cyrus Kouandjio
.
The depth chart, he noted, is still open.
"Everybody is just working," Kouandjio said following Wednesday's practice. He and guard
Anthony Steen
are the only two returning starters on the line. "At this time, we're not even thinking about competition."
They might be the only ones, though.
If Alabama is going to have anywhere near the success it had last season, the offensive line must come together, and in a hurry. Kouandjio might have the luxury of feeling good about his position on the depth chart, but he's the exception to the rule, as Alabama must replace three NFL-caliber offensive linemen in
Barrett Jones
,
Chance Warmack
and
D.J. Fluker
. That's not to mention the other seven former starters now plying their trade elsewhere.
At least Kouandjio would admit that practice felt different without his former teammates around.
"It feels weird," he said. "I've been with those guys for a long time."
But he's been with his brother,
Arie
, longer. And with Warmack gone, Arie has a chance to start alongside his twin at left guard. He'll have to fend off
Kellen Williams
for the spot, but so far he's the favorite to win the starting nod.
Chemistry, the glue of any good offensive line, is already set on the left side. After playing together in high school, the Koundajios don't have to say a word to communicate to one another.
"It's my brother" Cyrus said, "of course we already have camaraderie. We already understand each other.
"I love playing with my brother. He's always pushing me, and I'm always pushing him."
The camaraderie of the line as a whole won't come from either Kouandjio, though.
Ryan Kelly
, the man charged with replacing Jones at center, is looking to make his stamp as the leader of the unit now. And as Cyrus put it, he brings a lot to the table, rivaling Jones in at least one respect.
"He's the most professional person I know," Cyrus said of Kelly. "He's really serious, and that's the perfect center right there. Most centers have to be really tough, and I trust him 100 percent. I trust him as much as I trusted Barrett Jones last year.
"I think things are looking good for him."
Cyrus also singled out rising sophomore
Brandon Greene
for his improvement this offseason. He, Williams,
Isaac Luatua
,
Alphonse Taylor
and newcomers
Leon Brown
and
Brandon Hill
have added depth to the offensive line.
"He's doing so much better from last year," Cyrus said of Greene. "He got so much better over the break. His hands are where they're supposed to be, his footwork is good, he is where he's supposed to be right now."
Head coach Nick Saban, for his part, downplayed the transition taking place on the offensive line. He said new position coach Mario Cristobal is doing a "really good job" at coaching and connecting with the players.
"He's done a good job teaching them," he said. "He's got good energy and enthusiasm. He brings some new ideas. That's always welcome when you have new coaches join the staff. So everything about this so far from a transition standpoint has been positive."
And like everything with the offensive line, Saban's remarks came with a caveat.
"But that's a work in progress, too," he said.