October, 22, 2013
10/22/13
7:00
AM ET
ATHENS, Ga. -- Even when his unit lost player after player to injury, Mike Bobo insisted Georgia would keep running its offense as it always had.
There was one problem: over time, that became an impossible proposition.
[+] Enlarge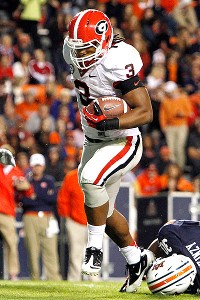 AP Photo/Butch DillGeorgia tailback Todd Gurley is expected to return from injury against Florida on Nov. 2.
Here were the Georgia offensive coordinator's top personnel options when the season started:
Tailback:
Todd Gurley
(1,385 rushing yards, 17 TDs in 2012),
Keith Marshall
(759-8).
Receiver:
Malcolm Mitchell
(40 catches for 572 yards last season),
Michael Bennett
(24-345 in five games last fall),
Chris Conley
(20-342),
Justin Scott-Wesley
(made win-clinching touchdown catches against South Carolina and LSU early this season).
After season-ending injuries to Mitchell, Marshall and Scott-Wesley and ailments that kept Gurley and Bennett out for three and two games, respectively, here's the travel roster Bobo was working with on Saturday against Vanderbilt, when he called an ultra-conservative game in hopes of slipping out of Nashville with a win:
Tailback:
Freshmen
J.J. Green
(313 rushing yards, 6.7 yards per carry this season) and
Brendan Douglas
(218, 4.2), walk-ons
Brandon Harton
and
Kyle Karempelis
(no carries between them), Gurley (who is still injured and watched from the sideline).
Receiver:
Conley (team-high 30-418 this season),
Rantavious Wooten
(14-174), true freshman
Reggie Davis
(7-189),
Rhett McGowan
(7-70),
Jonathon Rumph
(who just returned from a hamstring injury that has sidelined him for nearly the entire season, but did not play against Vandy), walk-ons Kenneth Towns (no catches) and
Michael Erdman
(1-6).
That's everybody.
With a full complement of skill players, Bobo has certainly never been afraid to call for the deep ball, and quarterback
Aaron Murray
hasn't been afraid to throw it. Georgia was actually one of the nation's most successful teams at generating big plays last season when Gurley and Marshall were breaking long runs and the Bulldogs' assortment of wideouts was getting behind the secondary for long completions.
According to ESPN Stats & Info, Georgia led the nation last season with 31 touchdowns that covered 20 yards or more and ranked fifth with 63 completions of at least 20-plus yards. And this season initially looked to be more of the same, with 37 plays of 20-plus, six touchdowns of 20-plus and 27 completions of 20-plus through the first five games.
It has been a completely different story over the last two weeks, however. The explosive play did not exist in the 31-27 loss to Vandy -- Georgia's longest play of the game was a 17-yard completion to Green -- and the offense mustered only a paltry 221 yards against a Commodores defense that gave up 51 points to Missouri its last time out.
Murray completed 16 passes for 114 yards, just five more completions than his career low, and attempted only two throws that covered at least 15 yards. Both were incompletions.
The previous week's loss against Missouri was not as underwhelming. The Bulldogs finished with 454 total yards and Murray was 25-for-45 for 290 yards, but nearly half of his completions (11) came on dump-off passes to Green and Douglas, as Bobo and his quarterback elected to dink and dunk to their checkdown receiving options against Missouri's zone defense.
Green broke a 57-yard run and Wooten made a 48-yard reception, but explosive play and aggression was largely lacking in that loss, as well.
The long ball was a key element in the offense in the first five games, with Murray going 21 for 37 on throws of 15 yards or more, averaging 17.8 yards per attempt and connecting for five touchdowns versus no interceptions. He was 4-for-11 on such throws against Vandy (0-2) and Missouri (4-9), but averaged just 8.7 yards per attempt with no touchdowns and two picks.
Georgia still has only six touchdowns that covered 20 yards or more, leaving the Bulldogs in a tie for 74
th
nationally after leading in that category last fall.
The good news for Georgia is that Gurley and Bennett are expected back for the Bulldogs' next game, Nov. 2 against Florida. Perhaps more than any other player on the roster, even Murray, Gurley is the linchpin in Georgia's offensive explosiveness -- and his presence allows Bobo to call a completely different game than what we just witnessed in Nashville.
The sophomore back's ability to run physically between the tackles forces opponents to funnel defenders into the box to slow him down. And his formidable speed makes Gurley a threat to break a run for a big gain at any time.
The sophomore already has seven touchdowns of 20 yards or more in 18 career games.
Aside from their occasional case of fumble-itis, Green and Douglas have done a fine job in Gurley and Marshall's absence, but they can't replace what Gurley brings to the lineup. If another running back anywhere in the country is capable of that, he's on a mighty short list.
Now will Gurley make a big enough difference against Florida? We shall see. He has been on the shelf since Sept. 28 and hasn't been able to practice for three weeks. But if he returns with fresh legs and his injured ankle has healed to the point that the Gurley of old takes the field in Jacksonville, Georgia's chances of victory -- and its chances of generating big plays on offense -- will increase exponentially.
October, 8, 2013
10/08/13
7:00
AM ET
ATHENS, Ga. -- Mark Richt delivered the bad news on Sunday when he confirmed that tailback
Keith Marshall
and receiver
Justin Scott-Wesley
would join wideout
Malcolm Mitchell
on the season-ending injury list.
With receiver
Michael Bennett
(knee) out and All-SEC tailback
Todd Gurley
(ankle) questionable for Saturday's game against No. 25 Missouri (5-0, 1-0 SEC), No. 7 Georgia (4-1, 3-0) has little time to identify the personnel who must play larger roles in order to hang with a Tigers offense that ranks among the nation's most productive units.
Here are four groups/trends to watch as the Bulldogs move forward:
Freshman tailbacks:
With Georgia's two star backs both possibly out Saturday, it's certainly possible we will see another heavy dose of true freshmen
J.J. Green
-- who rushed for 129 yards last Saturday against Tennessee -- and
Brendan Douglas
at tailback.
[+] Enlarge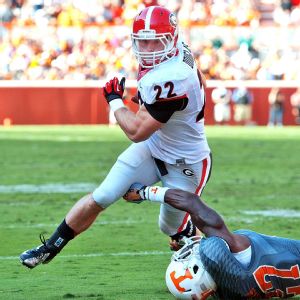 Jim Brown/USA TODAY SportsBrendan Douglas and fellow freshman J.J. Green likely will be asked to shoulder more of the load.
That isn't necessarily a scary proposition for the Bulldogs, who have seen the young duo perform well in practice and in spot duty up until last Saturday's overtime win.
"We see those guys in practice, and they do a great job of breaking tackles or shaking guys or breaking loose for touchdowns against a great defense," offensive guard
Chris Burnette
said. "Seeing them do that in practice, we know they're capable of doing that in a game."
The larger question is what happens if Gurley is unable to play Saturday. If one of the top running backs in the nation remains unable to go as the week progresses -- and he once again did not practice on Monday -- Georgia's coaches might have to take a longer look this week at freshman
A.J. Turman
.
He seemed like a certain redshirt candidate a week ago, but Richt's staff must determine whether the two freshmen who already have played and walk-ons
Kyle Karempelis
and
Brandon Harton
would be enough to carry the load without Gurley and Marshall.
"A lot may depend on how Gurley's doing," Richt said. "If Gurley comes back and you've got the other two, you don't normally have to go three backs. But if Gurley can't go, then we've got to try to figure out what we're going to do. We've got Harton and Karempelis that have played for us before, so those are possibilities. We've just got to kind of try to figure that out.
Wild cards:
Speaking of Turman, he's not the only newcomer who has not played yet and still might or might not make an impact this fall.
Receivers
Tramel Terry
and
Jonathon Rumph
-- Georgia's second- and sixth-highest-rated 2013 signees in ESPN's player rankings -- have not played to date but still could factor into offensive coordinator Mike Bobo's plans ... eventually.
Richt said "it's very doubtful that [Rumph would] be ready" for the Missouri game while still dealing with a left hamstring strain, but "after that, we're going to definitely try to get him ready."
Meanwhile, Terry struggled during preseason practice while still recovering from offseason ACL surgery and seemed set to redshirt this season. But because of the receiver attrition, the freshman might be someone the coaches eventually consider.
"I just think the longer he practices coming back from his injury, the better he'll be," Richt said. "Is he really ready for this type of competition? I don't know.
"And the fact that he hasn't had a lot of reps with our offensive unit, he's been working mainly scout team reps, and he's a freshman, so it's hard to really be ready in all the ways that you have to be ready -- not only physically, but knowing the game plan and just having experience running the routes and playing in games like that. So I'm not counting him out, but I really don't know the answer right now."
More tight ends:
Considering the level of in-game attrition that occurred at Tennessee, perhaps the most surprising statistic from that game was that neither
Arthur Lynch
nor
Jay Rome
made a reception.
Expect that to rank as a statistical anomaly moving forward.
When Georgia's receivers encountered a number of injury issues last season, Lynch and Rome were two of the top pass-catching beneficiaries. The two tight ends combined for 25 catches for 367 yards -- 251 by Lynch and 116 by Rome – over the final six games last season. In the first eight games of 2012, they combined for 10 catches and 216 yards.
Lynch and Rome have 212 yards -- 169 by Lynch and 43 by Rome -- this season.
[+] Enlarge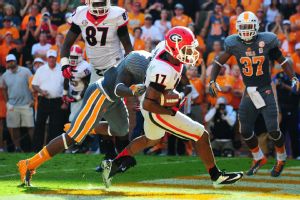 Scott Cunningham/Getty ImagesWith injuries mounting, senior Rantavious Wooten might be counted on to play a much larger role.
Replacement receivers:
Junior
Chris Conley
-- who led Georgia with 64 receiving yards and made a tremendous one-handed touchdown catch against Tennessee -- is nearly the only known quantity in the Bulldogs' receiving corps for the time being.
Yes, they have fifth-year seniors
Rhett McGowan
and
Rantavious Wooten
available, but both players have been role players throughout their careers. Beyond that, Georgia might need reserves like
Reggie Davis
,
Blake Tibbs
,
Michael Erdman
,
Kenny Townes
to pick up their production.
"We're deep in the receiver room," McGowan said. "A lot of people don't know that, because they haven't played, but they're at Georgia for a reason."
Bennett will undergo arthroscopic surgery today to determine the extent of his knee injury. Even if he receives positive news, the junior will certainly miss the Missouri game and possibly more time after that.
Since they have dealt with regular injuries over the last two seasons, the receivers believe they are well-prepared for their current situation and now must take advantage of this opportunity.
"[Receivers coach Tony] Ball always tells me, 'Prepare like you are the starter, and you never know, because you're one play away from [being] a starter,' " said Wooten, who caught two touchdowns against Tennessee. "So all the guys know that in the room, and I know that myself, and I always had that in the back of my head. Any guy could be the next man up. The coaches have the final decision on that, but at the end of the day, that's what we do, we practice, and we get ready for those types of situations."
August, 26, 2012
8/26/12
3:56
PM ET
By
Jenny Zimmerman
| ESPN.com
David Ching writes:
Georgia's walk-ons know that they won't find much glory in their roles, but they persevere knowing that their scout team play is crucial to the success of the team and that they get to keep putting on the pads for the Bulldogs.
Ching

: Georgia quarterback Christian LeMay says he is a classic nap-taker, and he would enjoy the occasional snooze before kickoff on game days this fall – especially if he is going to gear up to see the field for the first time since high school.
Ching
Around the Hedges in 80 Days.

Outside linebacker Chase Vasser is likely to see plenty of playing time, but he needs to make full use of his opportunity now, while the freshmen are still learning, if he wants to remain in the starting lineup.
December, 3, 2011
12/03/11
7:12
PM ET
ATLANTA -- We just received word in the press box that Georgia running back
Carlton Thomas
injured a knee and his return is uncertain.
Thomas, who started over
Isaiah Crowell
, had carried the ball seven times for a team-high 28 yards, including a long of 16.
Now, Crowell, who has limped on and off of the field a few times Saturday night, must step up more for the Bulldogs. He has carried the ball nine times for just 14 yards, including a long of 11.
Maybe this team will even turn to freshman
Brandon Harton
instead.
November, 19, 2011
11/19/11
8:57
PM ET
By
ESPN.com staff
| ESPN.com
DawgNation's coverage of Georgia's
19-10
victory over Kentucky:
Defense saves the day
: It wasn't long into the game against Kentucky that Georgia's defense knew it was all on them. After a lackluster first quarter, they buckled down and saved the day.
Notebook
: With
Carlton Thomas
suspended for the third time in 2011 and
Isaiah Crowell
's first-quarter injury, Georgia ran into a host of running-back woes Saturday. But then little
Brandon Harton
busted out his first 100-yard game.
November, 19, 2011
11/19/11
4:26
PM ET
There was nothing conventional about Georgia's path to the Eastern Division championship.
The Bulldogs lost their first two games of the season, and the talk around the program wasn't about making it to Atlanta, but rather, whether veteran coach Mark Richt was going to make it to next season.


Well, on Saturday, Georgia won its ninth straight game, trailing at one point in the second half, but clawing back on the strength of its defense
to win 19-10
over Kentucky at Sanford Stadium to clinch its first trip to the SEC championship game since 2005.
The Bulldogs (9-2, 7-1) did it without freshman running back
Isaiah Crowell
, who injured his ankle on the first possession of the game and never returned. His status for the Georgia Tech game next week is questionable.
After being non-existent in the first half, the running game came to life in the second half behind former walk-on
Brandon Harton
, who finished with 101 yards on 23 carries.
Kentucky didn't lie down and play sacrificial lamb, but really played valiantly on defense. Georgia led 12-10 at the half, and
Aaron Murray
's 7-yard touchdown pass to
Marlon Brown
in the opening seconds of the fourth quarter was the play that finally gave the Bulldogs some breathing room.
Once again, Georgia's defense was terrific and held Kentucky to 165 total yards. The Wildcats didn't get a first down in the second half until there were about three minutes to play.
In seven of its last eight games, Georgia's first-team defense has given up 13 or fewer points.
November, 19, 2011
11/19/11
2:14
PM ET
Turning point:
With
Carlton Thomas
missing the game for undisclosed personal reasons and
Isaiah Crowell
sidelined for most of the first half with an ankle injury, reserve Georgia running back
Ken Malcome
fumbled his first carry of the game. Kentucky's Kent Taiedo Smith recovered at Georgia's 27-yard line and the Wildcats drove the rest of the way, scoring on a 2-yard touchdown pass from
Max Smith
to
Tyler Robinson
to take a 10-6 lead in the second quarter.


Stat of the half: 4-for-4.
After struggling for much of the season, Blair Walsh seems to have regained the Bulldogs' place-kicker job. Walsh went 4-for-4 on field goals in the first half -- including a 40-yard kick with 48 seconds left -- to account for all 12 of the Bulldogs' points.
What Georgia needs to do; what Kentucky needs to do:
Georgia needs to settle down. The Bulldogs played tight on offense for most of the first half, and the offensive line struggled to clear space for backs
Brandon Harton
and Malcome. They have 18 carries for only 50 yards and 114 yards of total offense at halftime. Kentucky needs to keep playing hard. The Wildcats have played with a lot of fire on defense and forced the sluggish Bulldogs to kick field goals.
September, 1, 2011
9/01/11
1:30
PM ET
Georgia running backs coach Bryan McClendon has an exact number for the amount of running backs he'd like to use against No. 5 Boise State on Saturday.
"I would like to suit up every stinking one of them," McClendon said without a hint of sarcasm in his voice.
That would be five --
Richard Samuel
,
Isaiah Crowell
,
Ken Malcome
,
Brandon Harton
and
Kyle Karempelis
. Suspended
Carlton Thomas
would have made it six.
[+] Enlarge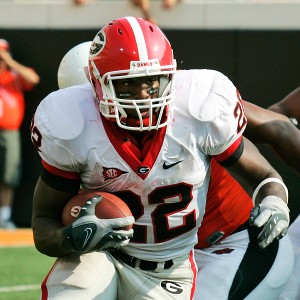 AP Photo/Sue OgrockiRichard Samuel, with his six career starts, is the veteran of Georgia's running back corps.
On one hand, it's nice to have five bodies in the backfield. On the other, those five have a combined six starts in 22 games; all coming courtesy of Samuel, who moved back to running back after a short stint at linebacker. The other four have no game experience.
This isn't an ideal situation for a team with SEC championship aspirations that must face a Broncos defense that ranked seventh nationally against the run (103.77 yards per game) last year.
The Bulldogs were supposed to return the shifty but troubled
Washaun Ealey
and senior Caleb King. Ealey left the team in May and King was ruled academically ineligible.
But all is not lost.
Samuel, who will be the Bulldogs' bruiser at 6-foot-3 and 243 pounds, has become a teacher for Georgia's young runners, and the indications from Athens are that Crowell, the No. 1 running back coming out of high school last year, is legit.
Samuel said his time at linebacker can help him as a running back because of his ability to read defenses faster and know where holes will form. He's bestowed that knowledge on Crowell and has seen him pick things up faster than he imagined.
"I feel like I can point out things that people who haven't played in this league or haven't gotten any snaps against an opponent and tell them what to look for," Samuel said.
What he can't teach is dealing with hype, something Crowell says he's ignored, but there's still some diva in him.
Tuesday, Crowell blew the media off, myself included, for close to three hours before Georgia's sports communication personnel tracked him down at a tutoring appointment and brought him back for interviews just after 10 p.m.
Crowell admitted his time management is an issue, but feels his nerves won't be Saturday. He's ready for his first game to be over "as soon as possible" so he can get into the rhythm of the season.
"That's what I came here for, really, just to play and play early and do whatever I can do to help my team win," Crowell said.
Numerous fans greet him more than the media, putting more pressure on his plate. He tries to shut it out, and his coaches feel he's done a good job of focusing on football.
"He has a very, very good understanding of that," McClendon said. "We have to make sure we keep preaching that to him."
While five running backs are available, Samuel and Crowell will get the brunt of the carries.
With their different running styles, Samuel expects that he and Crowell will be dynamic together. He envisions his power and Crowell's speed and elusiveness complementing each other well, forcing Boise State to adjust more on defense, throwing its rhythm off.
For McClendon, it isn't so much about using two different types of runners, it's about finding players who can operate the offense best.
"Styles aside, you want two guys who are going to be productive," McClendon said. "You want the production that those guys give you, it doesn't matter what style it is, whether it's small or big. You want guys who are going to be productive and running your every-down offense."
Saturday is almost here and McClendon's group is getting restless. It's out to prove its doubters wrong, but McClendon has stressed to his players to focus on helping the team before helping their reputations.
The image of the running game won't matter if the Bulldogs get the victory, McClendon said.
"I'm very excited, but the biggest thing is that we have to get there," he said. "Everyone around is getting a little itchy and ready to play, but you have to make sure you're doing all the things in the process right in order to get the result that you want on Saturday."
August, 18, 2011
8/18/11
11:05
AM ET
Georgia and South Carolina held scrimmages Wednesday and the Gamecocks certainly excited their fans with some big plays on offense and defense.
With several thousand fans watching inside Williams-Brice Stadium, the Gamecocks reeled off a seven-touchdown performance. And things got off to a great start for the offense and quarterback
Connor Shaw
when he hit senior
Jason Barnes
on the first play of the game for a 70-yard score. Shaw later connected with freshman
Damiere Byrd
for an 80-yard touchdown. Shaw finished the scrimmage 6-for-11 passing for 192 yards and the two touchdowns before leaving the game with a right thumb injury.

Coach Steve Spurrier said he thinks Shaw's thumb might have hit someone's helmet during a play and should be fine.
"His thumb sort of popped out of joint briefly, but they got it back in," Spurrier said. "He says that's happened before and it shouldn't bother him. So hopefully he'll be OK in two or three days, but we'll just have to wait and see. But other than that, he threw some good long balls."
Stephen Garcia
completed 8 of 13 passes for 128 yards, including a 23-yard touchdown pass to receiver
Ace Sanders
. Sanders also threw an 18-yard touchdown pass to
DeAngelo Smith
.
"Stephen threw some good balls there at the end," Spurrier said, "so we had some encouraging plays and we had some sorry plays also."
South Carolina's defense recorded four turnovers Wednesday, including when Jadeveon Clowney picked up a Garcia fumble and returned it 22 yards for a touchdown.
Here is more information on the Gamecocks' scrimmage on South Carolina's
official website
. And here are some
more notes
.
GEORGIA

Even with running backs
Isaiah Crowell
and
Richard Samuel
out with injuries, the Bulldogs were able to hold their second preseason scrimmage Wednesday.
Former walk-on
Brandon Harton
led all rushers with 51 yards on 12 carries, and
Ken Malcome
registered 10 yards on five carries, while working with the first team.
In the passing game,
Aaron Murray
completed 11 of 16 passes for 108 yards, with a touchdown and an interception, while
Hutson Mason
hit 13 of 27 passes for 125 yards.
"I thought it was a pretty good scrimmage," Murray said. "The offense made a lot of plays here and there. There were some lulls, but that's going to happen. I'm very proud of both sides of the ball and how they played today."
As the Bulldogs search for another receiving threat outside of receiver
Tavarres King
and tight end
Orson Charles
, they got some solid play out of receiver
Rantavious Wooten
, who caught five passes for 61 yards, including a 20-yard touchdown.
Israel Troupe
also had five receptions for 50 yards.
Defensively, linebacker Alec Ogletree led the team in tackles for the second consecutive scrimmage, notching eight, including a sack and tackle for loss.
"'Tree' is playing good," coach Mark Richt said. "He's playing fast and physical. He likes football and has had a very good camp. I don't have any doubt it was the best move for him and for Georgia."
Safety Shawn Williams recorded seven tackles, and cornerback Bacarri Rambo registered six tackles and an interception.
You can read more about Georgia's scrimmage on the team's
official website
.
May, 24, 2011
5/24/11
10:15
AM ET
Georgia has released a
post-spring depth chart
and there were few surprises on it.
One interesting move is that redshirt freshman
Ken Malcome
is listed as the fourth-string tailback. Senior
Caleb King
is the starter, followed by
Carlton Thomas
and
Brandon Harton
. Malcome had a decent spring game, and though he dealt with injuries this spring, it seemed as though he was making strides. He was not the best option at the position, but his fall is a bit of a surprise.
Malcome could fall even farther down the pecking order after incoming freshman Isaiah Crowell gets on campus.
Where you can really see where the Bulldogs will have trouble is on the offensive line. Senior tackle Trinton Sturdivant went down this spring with his this third ACL-related injury, while junior A.J. Harmon transferred for personal reasons, leaving some holes to fill.
Senior Cordy Glenn took the spot at left tackle and will be backed up by redshirt freshman Hugh Williams. Sophomore Kenarious Gates is the starter at left guard, Ben Jones is at center, Chris Burnette is at right guard and Justin Anderson is at right tackle.
Redshirt freshman Brent Benedict has moved from tackle and is behind Burnette. Kolton Houston and Dallas Lee are both behind Gates and Austin Long is behind Anderson.
Staying healthy on the offensive line will be critical for the Bulldogs.
At wide receiver, junior
Marlon Brown
will start opposite flanker
Tavarres King
. Brown showed signs this spring that he's ready to be a major contributor to the offense and will need to take some pressure off of King, who should be quarterback
Aaron Murray
's primary target. Junior
Rantavious Wooten
is listed behind King.
The defense looks steady, especially up front.
Abry Jones, Kwame Geathers and DeAngelo Tyson are the three down linemen. Once junior college transfer John Jenkins arrives, the battle between him and Geathers for the noseguard spot should be exciting to follow.
Jarvis Jones is the starting Sam linebacker, Cornelius Washington is at Will, Christian Robinson is the Mike and Alec Ogletree is inside at the Mo. This is sure to be one of the fastest linebacker groups in the SEC.