August, 7, 2014
Aug 7
7:05
PM ET
TUSCALOOSA, Ala. -- University of Alabama defensive lineman
A'Shawn Robinson
sprained his knee on Sunday and is "day to day," according to coach Nick Saban.
"It's not surgical," Saban said. "It's probably going to take a few days before we get him back out there, maybe a week or so."
Robinson played in every game and started two contests as a true freshman last season, racking up 38 tackles, eight tackles for loss and 5 1/2 sacks. The 6-foot-4, 320-pound former four-star prospect was a first-team All-SEC selection by the media in July.
"We're going to be pretty cautious with this kind of thing, especially with his position because it's not easy to function as an inside player if you have a sprained knee," Saban said.
On Thursday, Alabama welcomed defensive tackles
Brandon Ivory
and
Jarran Reed
back into the fold. The two were suspended at the start of camp for violation of team rules. Ivory, a senior who started every game last season, was seen practicing without pads on Thursday.
The good news for Alabama is that if there is any position where it can absorb personnel loss, it's the defensive line.
Jonathan Allen
,
Korren Kirven
,
Darren Lake
and
Dee Liner
all saw the field last season, with Allen playing in all 13 games as a true freshman.
Dalvin Tomlinson
, who would have been Alabama's third defensive end last season had he not had surgery on his knee, is back. Then there's the 2014 class that includes five-star
Da'Shawn Hand
, former Freshman All-SEC selection
D.J. Pettway
and 330-pound rookie
Joshua Frazier
.
"We thought that the defensive line was an area where we had pretty good depth coming in with the guys we recruited," Saban said. "But it's provided an opportunity to create more reps for some of the younger players. Dalvin Tomlinson, Jonathan Allen, D.J. Pettway; those guys have gotten a ton of reps. It's allowed
Josh Frazier
to get a ton of reps, who is just a freshman, as an inside player. Darren Lake, Korren Kirven, a lot of guys.
"We obviously need to get some of these bigger guys back so we can be a little more solid inside. But I think it's always good that young players get a lot of reps."
August, 1, 2014
Aug 1
6:00
PM ET
TUSCALOOSA, Ala. -- Alabama wasn't missing just three players to start fall camp on Friday.
In addition to announcing the
suspensions of Brandon Ivory, Jarran Reed and Tim Williams
, coach Nick Saban updated the status of two highly coveted signees who have not made it to campus.
"Two freshmen that are not here," Saban said. "
Bo Scarbrough
, we have an appeal in place because he is very close to qualifying. That will take some time. We will have a plan here at his high school to try to do the things that he needs to do to finish and be able to qualify. And our goal is to get him here in January.
"
Montel McBride
did not qualify and will be placed in junior college."
McBride was one of six offensive linemen in the 2014 class. Multiple reports have the three-star prospect heading to Iowa Western Community College.
Scarbrough, on the other hand, was a much more highly regarded recruit. The 6-foot-2, 215-pound native of Northport, Alabama, was a five-star prospect and the No. 2 ranked athlete in his class, according to ESPN. He was the first to commit to the Crimson Tide from the 2014 class, which ranked No. 1 in the country.
Scarbrough, even if he had qualified, would have faced quite an uphill battle for playing time at running back, where
T.J. Yeldon
and his 2,343 career rushing yards are firmly atop the depth chart. Talented sophomore
Derrick Henry
, who scored two touchdowns and accounted for 161 total yards against Oklahoma in the Sugar Bowl, is not far behind, and he's trailed by junior
Kenyan Drake
, who had 694 yards on the ground and averaged 7.5 yards per carry last season. There's also
Jalston Fowler
,
Altee Tenpenny
and
Tyren Jones
in the mix.
Without Ivory and Reed, Alabama is in a bigger pickle. Ivory was one of only five returning starters on the defense after starting all 13 games at nose guard last season. And Reed, a junior college transfer, was expected to push for reps at the same position. Now the incumbent is
Darren Lake
, who played in all 13 games last season and mustered only 15 tackles, none of which resulted in a loss.
To balance the good with the bad, Alabama welcomed back corner
Eddie Jackson
to the practice field only a few months after tearing his ACL during spring practice.
The sophomore, who started four games last season, wore a brace to protect his surgically repaired knee.
Jackson is on a "pitch count," according to Saban, but he prefaced his comments by saying that Jackson had a successful rehab this summer and is is doing "really, really well."
"With these guys, it's always about how much can they do before they start to get sore or before they start to break down relative to where they are," he said. "We'd like to just not push the envelope too far that we get to that point. We're going to kind of keep him on a pitch count that will gradually increase and see when he gets back to 100 percent.
"Eddie took all the tests and passed them, so straight-line running is not the issue. It's cutting, changing direction, doing those kinds of things and see what issues those things create. But we're very encouraged with where he's at."
June, 13, 2014
Jun 13
12:30
PM ET
The
World Cup
is here. Really helps the summer go by before football season starts.
April, 16, 2014
Apr 16
1:00
PM ET
TUSCALOOSA, Ala. -- At first, Nick Saban scoffed at the idea of his defensive line having good depth. After a
lecture on the merits of perception
, he said he wasn't at all happy with the group.
Alabama
might appear loaded, but the veteran head coach wasn't interested in how his defensive line appeared.
"I'm not satisfied with the way any of them are playing, if you want to know the truth about it," he told reporters on March 31.
[+] Enlarge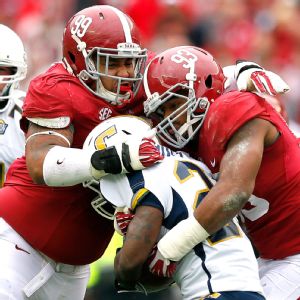 Kevin C. Cox/Getty ImagesWith a new coach, Brandon Ivory (left), Jonathan Allen and the rest of Alabama's defensive line are focused on improving their pass-rushing abilities.
And then people actually listened.
"I've been getting asked that everywhere I go, like we've got a bad defensive line," he said a week and a half later. "We don't have a bad defensive line. They're doing fine."
So which is it? The truth probably lies somewhere in between.
"They're improving," Saban said following Saturday's scrimmage. "But we're still not striking up front, playing as physical, converting pass rush, getting the kind of execution that we need, doing the little things right, especially when we're doing stunts and pressures.
"So I like the way they're working and they made improvement, but I think there's certainly a lot more that we can look for."
While Saban's feelings toward the defensive line have wavered throughout the spring, the players themselves appear largely pleased with their progress. They have a new coach (Bo Davis), new teammates (
D.J. Pettway
,
Jarran Reed
) and a new mandate (rush the passer).
Losing former defensive line coach Chris Rumph to Texas hurt initially, said sophomore defensive end
Dalvin Tomlinson
. "It was a shock to hear," he said. But then he got to experience the energy and enthusiasm Davis brings.
"He's a pretty fired-up guy on the field," Tomlinson said, describing Davis as being more hands on as well. "He makes us be aggressive out there."
Veteran nose guard
Brandon Ivory
agreed: "Davis is pushing us to the limit. ... He brings a lot of energy. He's always fired up, hyped. I say that's a good thing to have."
The hope for Davis is that a renewed sense of energy translates into production. Last season Alabama ranked a paltry 81st nationally in sacks (22) and tied for 94th in tackles for loss per game (5.3). This season Davis is asking his players to read less and react more. In other words, he wants them to play fast.
"Last year we didn't get enough sacks across the defensive line, we didn't feel like," Tomlinson said. "So this year our main focus is getting to the quarterback. So we're trying to be more aggressive off the ball and more explosive."
Ivory isn't the pass-rushing prototype at 300-plus pounds, but he's seen the linemen around him change into a group that's better equipped to chase down the quarterback.
"We've got guys that are pretty good at rushing the passer like D.J. Pettway,
Jonathan Allen
, more smaller guys and quicker who can get after the quarterback more," Ivory explained.
Maybe more so than in years past, Alabama has the "quick-twitch" defensive linemen Saban covets. Pettway and Allen certainly fit that mold. So do Tomlinson,
Dee Liner
and incoming freshman
Da'Shawn Hand
, a five-star prospect from Virginia. Even 320-pounder
A'Shawn Robinson
will be an asset in the pass-rushing department. He finished first on the team in sacks (5.5) as a true freshman last season.
But don't run down the roster with Saban. Don't tell him what the defensive line looks like on paper.
Maybe listen to the players themselves, however.
"We've been having our ups and downs," Tomlinson said, "but throughout the spring I think we're going to come together as a defensive line and be a great defensive line all the way across the front."
October, 30, 2013
10/30/13
11:00
AM ET
TUSCALOOSA, Ala. --
Ed Stinson
's mammoth shoulders shrink, relaxing from the form that only half an hour earlier flexed to crash and beat up on 300-pound blockers for a full 60 minutes. Alabama's senior defensive end looked tired in the eyes after his team beat rival Tennessee 45-10 on Saturday, his dark brown pupils soft and eager for rest. After three straight SEC contests and seven consecutive game weeks, he and his teammates were eager for some time off.
"I've been waiting for it," he said, flashing a slight grin. An ear-to-ear smile would have required too much energy. "I'm one of the guys [who] needs to be healed."
[+] Enlarge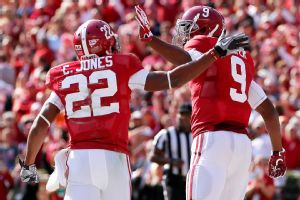 Kevin C. Cox/Getty ImagesAfter playing for seven straight weeks, No. 1 Alabama gets the weekend off to recover and heal.
The nature of his injuries are unknown, a buildup of bumps and bruises on his 6-foot-4, 292-pound frame. Nose guard
Brandon Ivory
, no lightweight at more than 300 pounds, is out in what coach Nick Saban describes as a "medical issue." H-back/running back
Jalston Fowler
can't make contact in practice because of a concussion. Cornerback
Deion Belue
is dealing with a nagging toe injury and the starter opposite him,
Bradley Sylve
, isn't yet 100 percent either.
And that's just the injuries we know of.
The bye week comes at the perfect time for top-ranked Alabama. The scoring margin the past six weeks, 246-26, has made it look easy. But the games have demanded their own pound of flesh, the toll evidenced in every wince and limp.
"In the SEC you bang hard every week, so you need time to rest up," Belue explained to reporters on Saturday night. "Then we have LSU, and they're going to come in and bang some more."
Ah, the matter of LSU. The 13th-ranked Tigers represent the biggest challenge to Alabama's undefeated season. Les Miles' squad always gives Alabama a hard time, and the last time his team came to Tuscaloosa (2011), it won. With a much improved offense thanks to new coordinator Cam Cameron, get ready for calls of an upset.
Zach Mettenberger
has progressed quickly into an NFL quarterback and with two of the best receivers in the SEC --
Jarvis Landry
and
Odell Beckham Jr.
-- to throw the ball to, they''ll be licking their chops to get at Alabama's secondary, which doesn't have much quality depth.
But in Alabama's camp, that's not the focus yet. At least not externally.
"I'm not thinking about that right now," quarterback
AJ McCarron
said Saturday in his usual no-nonsense manner, mimicking his head coach. "We've got a 24-hour rule and then a week off so I'm not really thinking about who we got next."
Said Saban: "We've got some big challenges and some stiff competition against some teams coming up here. This bye week comes at a pretty good time for us. We have a lot of guys banged up. We could use the rest, and we can use the time to try to help some of our players improve. So that's going to be our focus this week."
Notice the utter avoidance of LSU? The game was on the lips of every fan around Bryant-Denny Stadium on Saturday night, but it was nowhere to be found in Saban's postgame comments. When he spoke to the media again on Tuesday, he got three-quarters of the way through before LSU entered his consciousness, and even then it was to relive the 2011 game, not to focus on the game ahead of him.
"Just because we don't have a game doesn't mean you change anything about how you think and what we need to do to get better as a team," Saban said.
You're not going to catch this Alabama team looking ahead to LSU. Not even when LSU is the next team on the schedule. In their mind, this week is about recovery and a return to the basics. Saban said they'll spend an extra day on LSU preparation, but he doesn't want to throw the team off its usual schedule or burn them out too quickly, showing them the same plays and schemes too many times over the next two weeks.
Trey DePriest
, Alabama's starting inside linebacker, said he didn't think they'd spend any time on LSU this week. Maybe it was a bit of gamesmanship, but he reiterated it, saying they'd go back to "camp rules." Stinson backed him up, adding that there would be "no talk at all" of LSU.
"It's a positive, and it's definitely going to help us out," said veteran defensive end
Jeoffrey Pagan
, opening up where his teammates hadn't. "LSU's a tough team, and that kind of gives us an advantage to study the opponents more."
Just don't expect to hear much beyond that. Mettenberger and the LSU offense haven't been brought up. Neither has LSU's defense. Right now it's a matter of staying focused on the task at hand, even if that task doesn't involve another football team.
Really, it's Saban's way. When asked how he'd celebrate his birthday this week, he responded bluntly, "Whatever Miss Terry has planned is what I'll be doing."
If he could, he'd blow out his candles in the film room watching practice tape.
His is the kind of singular focus, and that makes Alabama unique. The build up to big games is the same as smaller ones. In fact, you often see a more fired up coaching staff for cupcakes like Georgia State than for "Game of the Century" type contests with LSU. They have to light a fire under their players for some games, but that won't be the case for next Saturday's home game against LSU. The battle lines were drawn well before the start of the season.
So why emphasize the matchups and specifics of the game now? With so many players hurt, why not take the week to rest? Inside the walls of Alabama's football offices, it might be different, but outwardly players aren't anxious for what's next.
"Our bodies need time to get ready for another physical game," said veteran wideout
Kevin Norwood
. "That's what we're going to do."
July, 8, 2013
7/08/13
10:30
AM ET
The SEC prides itself on having all that talent in the trenches, and the defensive lines in this league just continue set this conference apart from everyone else. Here's how all 14 lines rank in the SEC heading into the 2013 season:
[+] Enlarge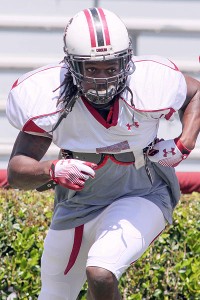 Jeremy Brevard/USA TODAY SportsThe whole nation may be familiar with Jadeveon Clowney, but there's even more power on the South Carolina defensive line.
1. South Carolina:
There's more to South Carolina's defensive front than man-beast
Jadeveon Clowney
. While his 21 career sacks and 35.5 tackles for loss are great, he gets good help from a solid helping of depth, beginning with starters
Kelcy Quarles
(defensive tackle) and
Chaz Sutton
(end). Quarles might be one of the most underrated linemen around and should improve on his 3.5 sacks and 4.5 tackles for loss from last year. Sutton was a backup last year, but still registered five sacks and seven tackles for loss. Tackle
J.T. Surratt
saw action in just 10 games last year, but moves into a starting role this year.
Gerald Dixon
and
Gerald Dixon Jr
. provide good depth at tackle and end.
2. Florida:
Sure, the Gators lost All-American Sharrif Floyd and Omar Hunter, but Florida rotated enough guys in last year to have good experience coming back across the board. Star lineman Dominique Easley will play at his more natural position at tackle this year, but will move outside at times. He led Florida with four sacks last year and was consistently disruptive all year. Florida is loaded at end with sophomores
Dante Fowler Jr
. and
Jonathan Bullard
returning.
Ronald Powell
, who is coming off of two ACL injuries will rotate with Fowler at the hybrid linebacker/end "Buck" position, while
Damien Jacobs
and Darious Cummings will help out at tackle.
3. Arkansas:
While Arkansas featured one of the league's worst defenses last year, the Razorbacks were solid up front. Arkansas returns one of the best defensive end combos in senior
Chris Smith
and junior
Trey Flowers
. They combined for 15.5 sacks and 26 tackles for loss last year. Inside, you have seniors
Byran Jones
and
Robert Thomas
. Jones has started 29 games in his career and had 52 tackles last year. Thomas steps into a starting role this fall after recording five tackles for loss and 2.5 sacks last year. The Hogs have young reserves, the staff is excited about guys like
JaMichael Winston
,
Brandon Lewis
,
Darius Philon
,
DeMarcus Hodge
and
Deatrich Wise Jr
.
4. LSU:
The Tigers lost a lot up front, but this team is used to reloading along the defensive line. Tackle
Anthony Johnson
has the meat and ability to be one of the best at his position, and excels as both a run-stopper and pass-rusher. He'll be helped by junior
Ego Ferguson
, who has all the talent to be successful but is still looking to reach his full potential. The staff is expecting big things from end
Jermauria Rasco
, who might be a better pure pass-rusher than Barkevious Mingo and Sam Montgomery before him.
Danielle Hunter
and
Jordan Allen
should do more at end, while incoming freshman
Tashawn Bower
could see immediate playing time. Also, keep an eye on freshman
Christian LaCouture
, who played his way into the two-deep this spring at tackle.
5. Ole Miss:
There are depth issues at defensive tackle, but the Rebels are stacked on the outside.
C.J. Johnson
should be back from the broken leg he suffered this spring, and has All-SEC talent at end. Fellow end
Cameron Whigham
only had 1.5 sacks last year, but started 11 games.
Channing Ward
got a lot of action this spring with Johnson out and has the chance to have a true breakout season. All eyes will be on freshman Robert Nkemdiche, who was the No. 1 recruit in the 2013 recruiting class and is physically ready to play right now. Tackle
Issac Gross
should be healed from his spring grown injury and will get good help from junior college transfer
Lavon Hooks
.
6. Alabama:
Right now, Alabama is still searching for the elite players it's used to having up front. This unit wasn't as consistent as Nick Saban would have wanted this spring, but there is a lot of potential in the trenches, starting with the versatile
Ed Stinson
, who can line up inside or out and recorded 8.5 tackles for loss and three sacks last year.
Jeoffrey Pagan
could be fun to watch at the other end spot. He was a big-time recruit a few years ago and will get a lot more time to shine this fall.
Brandon Ivory
has to replace
Jesse Williams
at nose guard, but showed good flashes this spring. LaMichael Fanning will also help at end. Alabama is young here, but will continuously rotate again in order to keep guys fresh.
7. Vanderbilt:
End
Walker May
is the star of this very talented group. He isn't the biggest at his position, but he's a relentless worker and is exception at getting to the quarterback on passing plays. Junior
Kyle Woestmann
came on very strong during the second half of the 2012 season, registering six sacks in the final five games. Then there's sophomore Caleb Azibuke, who grabbedd 4.5 sacks last year, had a great spring and is extremely athletic. With two starters departing, depth is an issue inside, but tackle Jared Morese, who started six games last year is back after being kicked off this team this spring for violating team rules. Juniors
Barron Dixon
and
Vince Taylor
both played in 13 games last year. The Commodores also had to move offensive lineman
Adam Butler
to defensive tackle this spring.
8. Kentucky:
There is a lot of experience, starting with seniors
Donte Rumph
,
Mister Cobble
and
Tristian Johnson
at defensive tackle. Rumph, who is coming off of a spring shoulder injury, is the best of the bunch and recorded six tackles for loss and four sacks last year. Cobble is finally starting to reach his potential, and should improve on his three tackles for loss and two sacks from last year. Johnson started nine straight games to end last season. Alvin "Bud" Dupree has nine sacks in the last two years and is moving from linebacker to end this year. Helping him will be junior college transfer
Za'Darius Smith
, who had an exceptional spring. Incoming freshman end Jason Hatcher will also get a chance to play immediately.
9. Georgia:
The first order of business is finding a suitable nose guard to replace the massive John Jenkins. Right now, it looks like that will happen by committee. Junior Mike Thornton left spring as the starter there, but has just one career tackle. Redshirt sophomore Chris Mayes is next in line, but hasn't recorded any stats during his career. Freshman
John Atkins
enrolled early this spring and junior college transfer Toby Johnson, who could be the best of them, is recovering from an ACL injury. Defensive coordinator Todd Grantham cross-trained all his linemen and was very pleased with
Sterling Bailey
's improvement, along with senior
Garrison Smith
, who started eight games last year. Junior
Ray Drew
is also getting more comfortable up front.
10. Mississippi State:
It's not like Mississippi State doesn't have the talent or potential up front, but his group really struggled to get to the quarterback last year. Senior end
Denico Autry
struggled through the first part of last season, but played strong down the stretch, which is really encouraging to the staff. End
Preston Smith
was a backup last year, but still led the Bulldogs with 4.5 sacks. The staff seems pretty excited about tackle
P.J. Jones
, who made some big plays late for this team last year. Of course, having vet
Kaleb Eulls
back helps and it looks like he's permanently moving inside. End
Ryan Brown
didn't blow up the stat chart last year, but had a good spring and should see plenty of playing time this fall.
11. Missouri:
This unit was probably the Tigers' strongest last year, but it lost its best player in tackle Sheldon Richardson. Mizzou has to replace him by committee, and Gary Pinkel seemed pleased with his tackles this spring.
Matt Hoch
had a very good spring and while he isn't the same player as Richardson, he figures out ways to get to the ball and started 12 games last year.
Lucas Vincent
will line up at nose guard, but injuries limited him to just three tackles last year. Redshirt freshman
Harold Brantley
has a lot of potential at tackle and should see good time this fall. The Tigers are pretty solid outside, with
Kony Ealy
and
Michael Sam
returning. Ealy is just waiting to break out, while Sam led the team with 4.5 sacks last fall.
Shane Ray
provides good depth at end, while tackle
Marvin Foster
played in 10 games last year.
12. Tennessee:
The Vols have to figure out how to move around all those pieces up front with the defense moving back to a traditional 4-3 look. Big-bodied
Daniel McCullers
is the top player along the line, but he has to be more disruptive up front. He has to be more than just a space eater. Senior
Jacques Smith
should move down to end from linebacker, while fellow seniors
Marlon Walls
and
Daniel Hood
should push for starting time at end and tackle. Senior
Maurice Couch
is another player with a ton of talent, but has to be more consistent inside. Junior
Jordan Williams
should also move down after playing a hybrid end/linebacker position last year.
13. Auburn:
The Tigers just weren't good enough up front last year, ranking 11th in the SEC in sacks (22) and 12th in tackles for loss (66). Now the best player -- end Corey Lemonier -- is gone. A handful of vets return, but this group has to be tougher and more consistent. Senior ends
Dee Ford
and
Nosa Eguae
lead things up front, but only accounted for 8.5 tackles for loss and seven sacks last year. Eguae will have his hands full trying to fend off
Kenneth Carter
, who moved from tackle to end this spring.
Jeffrey Whitaker
,
Angelo Blackson
and
Gabe Wright
lead the inside game, but only Blackson had more than five tackles for lass last year (a team-high seven).
14. Texas A&M:
The Aggies lost quality starters like Damontre Moore and Spencer Nealy and the injury bug devastated this unit during the spring. No one will replace Moore's 21 tackles for loss and 12.5 sacks, but A&M needs multiple guys to step up.
Julien Obioha
started 12 games as a true freshman last year, but has to stay healthy this fall, as he's the key to the entire line. He also has to generate a better pass rush. Tackle Kirby Ennis started 11 games last year, but ran into legal trouble before spring practice and was suspended, but is expected to return. Youngsters
Alonzo Williams
, Tyrone Taylor and Tyrell Taylor will be thrown into the mix this fall, but expect plenty of growing pains.
Gavin Stansbury
and Alonzo Williams have showed flashes here and there, but will have to much more consistent this fall.
June, 13, 2013
6/13/13
2:30
PM ET
Everyone who knows anything about college football knows that one major thing that separates the SEC from all the other conferences is the play -- and talent -- along the defensive lines.
Ask any coach out there to describe the biggest difference and "defensive line" is bound to be one of the first things that slip out of his mouth. It truly is all about the trenches in the SEC, both defensively and offensively. The offensive lines deserve some love for just putting up with their burly counterparts, but the defensive lines really do get all the attention.
So it should come as no surprise that when Phil Steele
ranked his top 15 defensive lines
in college football that the SEC was represented by five teams -- the most of any conference.
[+] Enlarge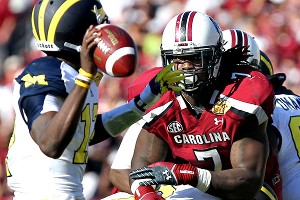 Kim Klement/USA TODAY SportsJadeveon Clowney headlines a deep crop of SEC defensive linemen.
While none ranked first or second -- that was reserved for Notre Dame (No. 1) and USC (No. 2) -- South Carolina topped the SEC lines at No. 3 on Steele's list. Florida ranked sixth, Ole Miss was 12th, Alabama was 13th and LSU was 14th.
That's pretty good when you consider that Florida lost first-rounder Sharrif Floyd and Mr. Solid Omar Hunter in the middle, while LSU pretty much lost its entire starting defensive line from a year ago.
The SEC truly does just reload up front.
South Carolina's ranking isn't surprising because there's more than just
Jadeveon Clowney
to work with. Sure, Clowney might be the best player in the country, but he has help from
Kelcy Quarles
and
J.T. Surratt
inside and
Chaz Sutton
on the other side of him. Quarles was pretty consistent for the Gamecocks last year, while Sutton grabbed five sacks as a backup. The departure of starters Devin Taylor and Byron Jerideau shouldn't shake this lineup too much.
Getting
Ronald Powell
back should help the Gators with Lerentee McCray gone on the outside. Powell will play that hybrid linebacker/defensive end "Buck" position, where he'll get help from freshman All-SEC player
Dante Fowler Jr
.
Dominique Easley
is moving back to defensive tackle, where he was very disruptive during his first two years on campus. He can still move outside if needed. End
Jonathan Bullard
is coming off of a solid freshman season, while more is expected out of tackle
Damien Jacobs
, who came from the junior college ranks last year.
Ole Miss still has depth issues at defensive tackle, but has plenty to work with at end.
C.J. Johnson
should be healed from the leg injury he suffered this spring, while
Cameron Whigham
is coming off of a season in which he started 11 games. Rising sophomore
Channing Ward
should be fun to watch, and top recruit Robert Nkemdiche is expected to see the field very early. Tackle
Issac Gross
should be back from his groin injury this fall and he'll get help from juco transfer Lavon Hooks, who had a very good spring.
Alabama might not have the elite players it's had in the past up front, but defensive ends
Jeoffrey Pagan
and
Ed Stinson
could have big years. Pagan has a lot of potential, while Stinson recorded 30 tackles last season, including 8.5 for loss and three sacks. Stinson is versatile enough to play both inside and out. Then there's
Brandon Ivory
at noseguard, who has to replace the talented Jesse Williams. Alabama still needs players to step up more as starters and reserves because the line as a whole has a ways to go before the season starts.
You can tell how well Les Miles has recruited along the defensive line when the Tigers can lose so much but still have a line that's considered one of the nation's best. Tackle
Anthony Johnson
has so much potential and it sounds like he's ready to unleash his talents on the rest of the league. Miles raved about end
Jermauria Rasco
this spring and doesn't think the Tigers will miss much of a beat with him outside. True freshman Christian LeCouture played his way into the two-deep at defensive tackle this spring, while Miles expects to get more from tackle
Ego Ferguson
and ends
Danielle Hunter
and
Jordan Allen
.
October, 16, 2012
10/16/12
12:40
PM ET
By
TideNation staff
| ESPN.com
Alex Scarborough writes
: Alabama has been able to avoid big tests of its passing defense in its 6-0 start. It won't be able to this week, as the Crimson Tide face Tyler Bray and the high-flying Tennessee offense.
Scarborough
: Nick Saban said Monday afternoon that D-lineman LaMichael Fanning's hit on Missouri RB Russell Hansbrough was excessive, and he had the player write the player and Missouri coach Gary Pinkel a letter of apology.
Greg Ostendorf writes

: Alabama versus Tennessee recruiting battles.
Scarborough
: Alabama awards tracker.
January, 28, 2010
1/28/10
5:28
PM ET
By
ESPN.com staff
| ESPN.com
Alabama and Tennessee were both able to pry lesser known prospects away from other schools in recent days.

The Crimson Tide stole defensive lineman Brandon Ivory away from Memphis. The 6-foot-3, 330-pound Ivory, who's from Memphis, could be a potential replacement for Terrence Cody at nose guard in Alabama's 3-4 defense. Ivory is a three-star prospect, according to ESPN's Scouts Inc. His other offers were from Southern Miss and Arkansas State.

But the thing about Nick Saban and his staff at Alabama is that they trust their evaluations on players and don't get caught up in stars and rankings.

Tennessee was able to get quarterback Nash Nance of Calhoun, Ga., away from Vanderbilt. Nance had been committed to the Commodores, but told Vanderbilt coach Bobby Johnson on Wednesday that he was decommitting. Nance is a two-star prospect and not ranked among the top 75 players in the state of Georgia by Scouts Inc.

However, he has a teammate, receiver Da'Rick Rogers, who's rated the No. 6 receiver prospect nationally by Scouts Inc. The Vols are trying to lure him away from Georgia at the last minute. The 6-foot-2, 205-pound Rogers is rated as the No. 30 player nationally.

Sounds like a package deal could be in the works.