March, 28, 2012
3/28/12
2:30
PM ET
Mississippi State's linebacker unit should be pretty strong this fall, but filling the middle is one of the goals for the spring.
Cameron Lawrence, Deontae Skinner and Chris Hughes return on the outside, but the Bulldogs are looking to fill the hole left by Brandon Wilson and fellow senior classmate Brandon Maye.
The Bulldogs are rotating a lot at the linebacker positions, but especially in the middle, where Ferlando Bohanna and Benardrick McKinney are getting a lot of reps. Bohanna entered spring No. 1 on Mississippi State's two-deep, but McKinney has really impressed thus far.
Word out of Mississippi State's camp is that McKinney has taken full advantage of his time this spring, showcasing great field instincts and speed in the middle. If he's a player who can cover a lot of ground on defense, that will be a major plus for Mississippi State's defense, as the Bulldogs look to replace some key parts in the secondary and up front. McKinney redshirted last season, while Bohanna played in 10 games, registering nine tackles, including one for loss.
Middle linebacker is wide open in Starkville this spring, but the chatter coming out of practice is that McKinney is making a strong push to get some playing time this fall and is making the battle for that spot in the middle pretty interesting for the coaches. Having younger players compete can be worrisome when it comes to experience, but it's a positive in the sense that younger players tend to absorb more, take to coaching much better, and try to soak up as much knowledge as they can get.
That process needs to continue for both players as spring continues.
February, 8, 2012
2/08/12
1:05
PM ET
We move to linebackers today in our postseason position rankings.
Defensive lines are very important in this league, but there are other guys in the box who have to be pretty reliable as well in this league. This league has done a pretty solid job of producing some top talent at this position as well.
You can see what are preseason linebacker rankings looked like
here
.
And here are our postseason rankings:
[+] Enlarge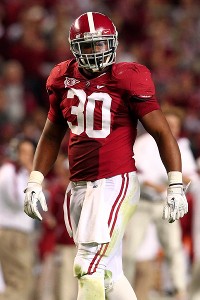 Marvin Gentry/US PresswireDont'a Hightower had career highs in tackles (79), sacks (3.0) and interceptions (1) this season.
1. Alabama:
This unit was at the top of our preseason rankings and didn't budge throughout the season. When you have two All-Americans in Courtney Upshaw, who was the defensive MVP in the Allstate BCS National Championship Game, and Dont'a Hightower it's pretty understandable to see why. Those two combined for 136 tackles, including 29 for loss. Nico Johnson was fourth on the team in tackles, while C.J. Mosley added 37 of his own. Alabama's defense was first nationally in total defense and first in rushing defense, allowing 74.2 yards per game.
2. Georgia:
Linebackers are essential to any 3-4 defense, and the Bulldogs' group did quite well in 2011. Georgia ended up with one of the nation's best linebackers in Jarvis Jones, who led the SEC with 19 tackles for loss and 13.5 sacks. He also had 49 quarterback hurries. Michael Gilliard was third on the team behind Jones with 65 tackles. While Alec Ogletree missed part of the first half of the season, the speedster still finished with 52 tackles, including 7.5 for loss. Cornelius Washington, Amarlo Herrera Christian Robinson combined to add 101 more tackles, as Georgia's defense ranked fifth nationally.
3. Arkansas:
Arkansas' defense had a lot of bend in it last season, but the linebackers found ways to make plays. Newcomer Alonzo Highsmith was third on the team with 80 tackles, led with 12.5 tackles for loss and had 4.5 sacks. The star continued to be Jerry Franklin, who led the team in tackles (101) for the fourth straight year. Then there was Jerico Nelson, who was all over the field as that hybrid linebacker/safety. He came away with 70 tackles, two sacks and two interceptions. Ross Rasner, who played outside with Nelson, added 53 more tackles and two sacks.
4. Florida:
The Gators' defense ranked eighth nationally in part because of the aggressive play of its front seven. Jon Bostic commanded the middle, leading the team with 94 tackles, including 10 for loss. Jelani Jenkins seemed to come more into his own outside, finishing third on the team in tackles. The big surprise was Lerentee McCray, who played both Sam linebacker and the hybrid Buck. He was one of Florida's most active linebackers and grabbed 7.5 tackles for loss. Ronald Powell started at the Buck, but saw most of his production from defensive end.
5. Vanderbilt:
The Commodores entered the season needing to replace three starting linebackers and ended the year with a very impressive linebacking corps. It was led by vet Chris Marve, who was 10th in the league in tackles. Archibald Barnes had a solid year at the Will, ranking fourth on the team in tackles and grabbing two interceptions. Chase Garnham and Al Owens manned the Sam position and combined for 72 tackles and 7.5 tackles for loss. Against conference foes, Vandy's rush defense ranked fourth in the league.
6. LSU:
The Tigers were in search of that dominant middle linebacker all season and might have found a budding star in Kevin Minter, really grew into the position by the end of the season and was fifth on the team in tackles. He started 11 games, but shared time with Karnell Hatcher, who finished with 24 tackles. Ryan Baker was LSU's best linebacker, was an outstanding leader and was fourth on the team with 64 tackles. Stefoin Francois was the starter at Sam, but he accumulated just 11 tackles, while backup Tahj Jones registered 27. Still, LSU owned the No. 2 national defense.
7. South Carolina:
The Gamecocks saw improvement from this group as the season went on. While the defensive line got a ton of credit, the linebackers did their part in securing the defense's No. 3 national ranking. Antonio Allen spent some time in the box at the Spur position and led South Carolina with 88 tackles and had 9.5 for loss. Rodney Paulk and Shaq Wilson, who returned from injury, rotated at the Mike and combined for 109 tackles. Will linebacker Reginald Bowens added 44 tackles.
8. Kentucky:
The Wildcats owned the SEC's top tackler in Danny Trevathan (143), who should have received more national attention. Trevathan was one of the most active defenders around at the Will. Winston Guy played the hybrid linebacker/safety and was third in the SEC with 120 tackles. Ronnie Sneed added 71 more tackles. Kentucky's defense was much more aggressive under new defensive coordinator Rick Minter and got more exotic looks from its linebackers.
9. Mississippi State:
Cameron Lawrence was a beast for the Bulldogs in 2011. He was second in the SEC with 123 tackles, and had 49 solo. Senior Brandon Wilson added 94 more tackles. Brandon Maye, who transferred from Clemson, was expected to make a bigger impact for the Bulldogs, but played behind Wilson and was 11th on the team in tackles. Sophomore Deontae Skinner added 69 tackles and Mississippi State ranked in the bottom half of the SEC in total defense.
10. Tennessee:
The Vols' top three tacklers were linebackers. The leader was senior Austin Johnson, who finished the season with 81 tackles, including 41 solo. Next were two true freshmen on the outside in A.J. Johnson (80) and Curt Maggitt (56). Both freshmen experienced up-and-down seasons, but were SEC All-Freshman selections. Herman Lathers, who was a projected started, missed 2011 with a fractured ankle, and after the big three, the Vols didn't get a ton out of their linebackers, as Dontavis Sapp was their next most productive linebacker with 20 tackles.
11. Auburn:
The Tigers' defense really struggled in 2011 and gave up more than 200 rushing yards a contest. Auburn had to basically start over at linebacker, but lone returning starter Daren Bates had a heck of a year, ranking fourth in the league with 104 tackles. He really tried to make sure he played all over the field last fall. After that, the play was up-and-down. Senior Eltoro Freeman took over in the middle halfway into the year and finished with 58 tackles, while Jake Holland and Jonathan Evans combined for 83 tackles.
12. Ole Miss:
The Rebels' defense had all sorts of problems defensively, including allowing 256.5 yards per game and 21 rushing touchdowns. The linebackers took a major hit with the absence of D.T. Shackelford, who missed the season with a knee injury. Mike Marry stepped up at the Mike and led Ole Miss with 81 tackles and five for loss. Freshman Serderius Bryant and junior Joel Kight combined for 122 tackles. Damien Jackson played the Spur and added 64 tackles, but Ole Miss' defense ranked dead last in the SEC.
August, 30, 2011
8/30/11
9:30
AM ET
You have to admire Brandon Wilson's patience.
Ever since Mississippi State said goodbye to three starting linebackers -- Emmanuel Gatling, Chris White and K.J. Wright -- from 2010, he, his teammates and coaches have had to field questions about replacing the trio.
It was old the second time he was asked, and it was even older when he lost count of the linebacker queries.
But even when the question was raised again just a week before the Bulldogs' season-opener Thursday against Memphis, Wilson was cool and collected. There was no anger or annoyance in his voice. He expected the questions and was quick to say he and his teammates can't worry about the past because they are the present.
[+] Enlarge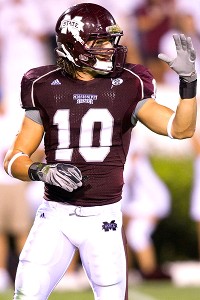 Shelby Daniel/Icon SMICameron Lawrence is one player Mississippi State is counting on to fill the void at linebacker.
"Now is our time to shine and I definitely think we'll do that," Wilson said.
According to the Bulldogs' opening depth chart, Wilson, a senior, will man the middle, while junior Cameron Lawrence and redshirt freshman Matthew Wells will hold down the outside spots.
While the talk has centered around what Mississippi State lost, this group isn't completely new to things. Lawrence, who Wilson said has the potential to be one of the fastest, most athletic linebackers in the conference, played in 10 games last season before suffering an injury. He registered 31 tackles, while Wilson played in all 13 games last season, recording 17 tackles.
This group hasn't put up eye-popping numbers, like the 253 combined tackles and nine sacks last year's starters produced, but Wilson assures this group has the talent to pull its weight. Though he's tired of hearing about who isn't around, he understands that this year's linebacker unit has a lot to live up to and a lot of responsibility.
Wilson claims the Bulldogs have "the best defensive backfield in the SEC, hands down," and a disruptive interior line combo in Fletcher Cox and Josh Boyd, but it's the linebackers who have to do most of the communicating. It's the linebackers who run the defense. And it's the linebackers who have to make sure they've got their jobs covered.
"If you go hard, everything will be all right," Wilson said.
The Bulldogs got a veteran dose of help this offseason when former Clemson linebacker Brandon Maye transferred in. The fifth-year senior is battling Wilson in the middle, but has brought needed competition and leadership to the group.
Maye said his transition to Starkville was easy for the most part, but learning the playbook was the toughest obstacle. He has most of it down, but admits he's still learning.
What didn't take him time to realize was the determination he saw out of his new teammates. He knew about the inexperience coming in, but Maye said guys have been flying around nonstop since he arrived.
"You see a young group. You see a young group that's hungry and eager to prove people wrong," Maye said. "We've been working and training all summer for this opportunity to go out and prove all these doubters wrong.
"These guys are very hungry. They're young, but talent overrides experience sometimes."
There will be growing pains, for sure. Wilson sees those issues in practice when the linebackers aren't on the same page or are confused. He knows this group has to read offenses better and know the defense like they know their last names.
But Wilson isn't worried about being perfect just yet. It's going to take some time for this group to really mesh. Experience will help, but Wilson said this group needs to concentrate on playing its way, and its way only.
"As long as I know we get in that film room, we workout hard, we practice hard and we're going to hit hard, everything else will fall into place," he said. "We have to go out and play our game. We can't play like Chris White and K.J. played last year. We're going to play our young, fast, more athletic style of play."
August, 4, 2011
8/04/11
1:15
PM ET
The ESPN/USA Today coaches' preseason poll has debuted, and the SEC led all conferences with eight teams making the Top 25.
The Big 12 and Big Ten both tied for second with five teams each.
What should have come as no surprise to most was that Alabama came in at No. 2, behind Oklahoma. Feel free to congratulate our Big 12 brothers on their temporary win over the SEC,
here
.
Alabama received 13 of 59 first-place votes, second, of course, to Oklahoma's 42. LSU, who came in at No. 4, received two first-place votes, along with the Tigers' week one opponent, No. 3 Oregon.
Here is a complete look at the
poll
, and here is where each SEC team was ranked:
2. Alabama (13)
4. LSU (2)
12. South Carolina
14. Arkansas
19. Auburn
20. Mississippi State
22. Georgia
23. Florida
The only other team to receive any votes for the Top 25 was Tennessee (7).
Here are the six SEC coaches who made up part of the 59 voters:
Nick Saban, Alabama
Gene Chizik, Auburn
Mark Richt, Georgia
Les Miles, LSU
Steve Spurrier, South Carolina
James Franklin, Vanderbilt
My thoughts:
Arkansas is a few spots lower than I expected the Hogs to be, and I wouldn't have put them lower than South Carolina, either. The Razorbacks do have to replace three starters on the offensive line, but return most of the parts to the SEC's most high-powered offense, including three of the top receivers in the league. Plus, the defense is expected to be much improved. I would have had them in the top 10.
Auburn's placement in the Top 25 isn't a surprise, but putting the Tigers as high as 19 is. I understand and respect the code of always ranking the defending national champion, but even some Auburn fans have to agree that 19 is a bit high, right? Well, maybe not, but putting the Tigers between 20-25 makes more sense with all that youth and the plethora of holes to fill.
Georgia probably would have been much higher on this list if not for all that offensive movement during the offseason. Georgia still has a talented bunch and will lean on its youngsters, but issues at offensive line and running back are the main concerns.
Finally, watch out for Mississippi State. There is a lot of hype in Starkville, and the Bulldogs probably won't sneak up on anyone this season, but that offense should be fun to watch. Three linebackers have to be replaced, but the secondary is strong and Brandon Maye should have an instant impact in the middle.
June, 21, 2011
6/21/11
10:20
AM ET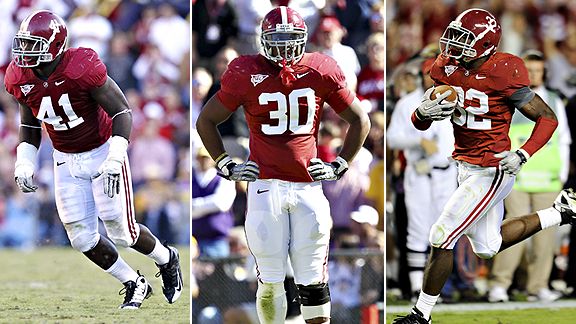 US PresswireCourtney Upshaw, Dont'a Hightower and C.J. Mosley are part of what could be the best linebacker corps in the conference.
Today we take a look at the SEC linebackers. The front sevens in this league are always good and 2011 shouldn't be any different.
Here's how the teams stacked up:
1. Alabama:
There are a lot of strengths on this Alabama team, but the linebackers should be very fun to watch this fall. Courtney Upshaw and Dont'a Hightower are back to full speed and are considered top players at their positions. With them back, the Tide should have a much more aggressive pass rush. Nico Johnson and C.J. Mosley improved even more this spring and will get time in the middle when Hightower is outside at the "Jack" position. Mosely blossomed as a freshman and could be a star in the making. Jarrell Harris seems to finally be coming around and Chris Jordan gives them another body in the front seven.
2. Florida:
This group struggled to stay consistent at times last fall, but the new coaching staff was pleased with the progress it made this spring. There is a lot talent out there and now there are two distinct leaders in Jelani Jenkins and Jon Bostic, who should occupy the middle when the Gators go to the 3-4. Both are tremendous athletes and should be a solid duo this fall. Florida also has former No. 1 high school prospect Ronald Powell playing that linebacker/defensive end hybrid spot called the Buck. He'll stand up a lot this season and should elevate himself near the top of the SEC pass-rushing list. Cal transfer Chris Martin earned a ton of praise last year on the practice squad and will be a hybrid as well. Converted safety Dee Finley will play outside and there is some good, but young, depth in the wings.
3. Arkansas:
This area of the team improved a lot during the season and this spring. It's headlined by Jerry Franklin, who has led the Razorbacks in tackles the last three seasons. He has 271, including 21.5 for loss in his career. Strongside hybrid Jerico Nelson was second on the team in tackles and has the speed to get all over the field. Nelson will occasional drop back and play safety as well. This linebacker tandem will be one of the best out there this fall. The major plus for the Razorbacks is that there is finally some really good depth at the position. Bret Harris, Jarrett Lake and Terrell Williams came on strong on the outside this spring, while Ross Rasner was making strides until he was arrested and suspended indefinitely this spring.
4. Georgia:
There is no shortage of athleticism in Georgia's linebacker corps. Alec Ogletree moved down from safety and while he's bulked up, he's still got tremendous closing speed and will make a ton of plays at middle linebacker. Next to him is defensive leader Christian Robinson, who left spring as one of Georgia's most consistent linebackers. On the outside, USC transfer Jarvis Jones will occupy the weak side and the coaches feel he might be more of a complete player than Justin Houston. On the other end, Cornelius Washington might not be getting a ton of publicity, but he's no slouch and can run with the best of them.
5. LSU:
Like most of the Tigers' positions, this one might not have a ton of in-game experience, but the athleticism is too good not to praise. LSU lost leading tackler and monster in the middle Kelvin Sheppard, but there should be enough able bodies to make this unit one of the tops in the league this fall. Ryan Baker is now the leader out there and can keep up with some of the best offensive weapons out there. He'll play on the weak side, while converted safety Karnell Hatcher moved down from safety and took reps at middle linebacker, but could find his home outside. Sophomore Kevin Minter spent his spring trying to fill Sheppard's void and has made vast improvements. Senior Stefoin Francois provides veteran depth for the Tigers on the outside, while there are a few young, able bodies ready to contribute as well.
[+] Enlarge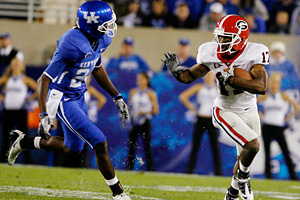 Mark Zerof/US PresswireKentucky's Danny Trevathan, left, led the league with 144 total tackles.
6. Kentucky:
Things start with one of the nation's best in Danny Trevathan. He led the SEC with 144 tackles a year ago and the word out of Lexington is that he's looking to be even better this fall and wants to move around the field a lot more. Ronnie Sneed returns as the starter in the middle, after grabbing 61 tackles a year ago. He made some nice improvements this spring. Ridge Wilson will be another hybrid on the outside, and will occasionally lineup as a rush end for the Wildcats. The talented Winston Guy, who has played just about everywhere on Kentucky's defense has finally settled into his home at linebacker and should play closer to the line of scrimmage and be a nickel linebacker.
7. South Carolina:
The Gamecocks got an immediate upgrade to this position with the return of Shaq Wilson, after he missed last year with a hamstring injury. Wilson is known as the quarterback of the defense and led South Carolina in tackles in 2009. The player that could really make noise in this unit is DeVonte Holloman, who is moving from safety to the hybrid Spur position. He'll drop back into coverage and rush from the outside to give the Gamecocks another weapon in the pass rush. Upperclassmen Reggie Bowens and Rodney Paulk will get some reps in the middle this fall, while Damario Jeffery and Quinn Smith will compete for time outside.
8. Tennessee:
The Volunteers are still trying to find out what this group is made of. Junior Herman Lathers will be back after he heals from an ankle injury this spring and he's the most experienced player at the position. He had 75 tackles last season and will man the weak side for the Vols when he returns. Senior Daryl Vereen should get time at strong side, but he still has some developing to do. Senior Austin Johnson, a converted fullback, will get time in the middle with All-SEC freshman pick John Propst. The jury is still out on this unit and youngsters like A.J. Johnson, Curt Maggitt and Christian Harris will have to develop quickly.
9. Auburn:
The Tigers are almost back to the drawing board at linebacker. Both Josh Bynes and Craig Stevens are gone, leaving Daren Bates as the lone returning starter. Bates is a converted safety, but settled nicely into the linebacker position well last fall. Inexperience looms after that as sophomore Jake Holland is a projected starter in the middle and junior Jonathan Evans will get time at weakside. Former junior college standout Eltoro Freeman, has the potential to be a menace, but has yet to truly step up for the Tigers. They'll need that light bulb to go on this year.
10. Mississippi State:
First thing's first -- the Bulldogs must replace three starting linebackers this season. That won't be easy or fun in Starkville. But help could be on the way in Clemson transfer Brandon Maye, who was a three-year starter with the Tigers. Coach Dan Mullen said he's a player they expect to come in and take one of those openings at linebacker. Mississippi State still has senior leader Brandon Wilson, who players fed off of this spring. Chris Hughes and Cam Lawrence also made strides, but expect a lot of rotation from new defensive coordinator Chris Wilson.
11. Vanderbilt:
Chris Marve is one of the top linebackers in the nation. He's got great field instincts and matches his skill with the best of them. Just having him on the field makes this group better. But after him, the Commodores have a lot of questions. Vanderbilt must replace outside linebackers John Stokes and Nate Campbell, and though there are six candidates, they have just start among them. Coming out of spring, juniors Tristan Strong and Archibald Barnes and sophomore Chase Garnham are the leading candidates to see valuable playing time.
12. Ole Miss:
Losing D.T. Shackelford was an enormous blow to the Rebels. Not only was he Ole Miss' best defensive player but he was the emotional leader of the team. He was going to carry this team as far as he could go. Now, the Rebels have a wealth of inexperience to deal with. Things got even worse when sophomore linebacker Clarence Jackson was dismissed following his arrest for public drunkenness. The pressure is now on incoming freshman C.J. Johnson, who was the top prospect coming out of the state of Mississippi. He could jump right into Shackelford's spot. Mike Marry and Ralph Williams worked in Shackelford's spot this spring and Joel Knight returns as a starter outside.
June, 7, 2011
6/07/11
1:45
PM ET
Heading into spring, Mississippi State had a dilemma on its hands. While there were few questions about an offense returning most of a unit that averaged 401.3 yards per game in 2010, the defense had to replace three starting linebackers – and in the SEC, that's a troublesome situation to be in.

Those linebackers – Chris White, K.J. Wright and Emmanuel Gatling -- accounted for 253 tackles, including 24.5 for loss last fall. The Bulldogs had the bodies to throw out onto the field, but they all lacked ideal experience.

Enter Clemson transfer Brandon Maye.

Maye, who was a three-year starter at for the Tigers and compiled 233 total tackles, graduated with his bachelors' degree in May and abruptly transferred to Mississippi State because of a personal issue -- that he did not disclose -- at home in Mobile, Ala. The three-time Academic All-ACC selection said the short distance between Starkville, Miss., and Mobile motivated his transfer.

Now, the Bulldogs have a true weapon to plug in at middle linebacker, where Maye could end up starting for the Mississippi State's season opener at Memphis.

Maye, who arrived on campus last week, brings valuable experience and playmaking skills to a position of need for the Bulldogs. He proved in 2009 that he's got a nose for the ball and packs some extra punch out there when he set the Clemson single-season record by forcing five fumbles.

Maye didn't have a great final year at Clemson; starting just eight of the nine games he played in and recorded 43 tackles. His starting spot also wasn't guaranteed this spring with all the young talent Clemson acquired. Now that he's in a new place and possibly a better situation, expect that figurative chip to be on one of his shoulders this fall.

Though he didn't go through practice with the Bulldogs this spring and will have to get used to defensive coordinator Chris Wilson's philosophy, it will be tough for any of the Bulldogs' current linebackers to keep Maye off the field.

People at Mississippi State feel like could come right in and immediately be the guy in the middle for the Bulldogs. He's talented enough and has enough field knowledge that he should be able to pick everything up pretty quickly.

For the Bulldogs to ease some of the pain from losing three starters from a year ago, they need to find someone to man this linebacker ship. Maye seems to be that person.

He might be the newcomer, but he could be the most talented of the bunch, and he certainly is the most experienced to see a majority of the playing time at linebacker.
May, 16, 2011
5/16/11
12:30
PM ET
Some of what's happening in and around the SEC:
March, 24, 2011
3/24/11
1:59
PM ET
Some SEC linkage for your viewing pleasure: