August, 27, 2014
Aug 27
12:00
PM ET
For more than a decade, no FBS programs have experienced more success in out-of-conference games during the regular season than LSU and Wisconsin -- programs that open the season against one another on Saturday in Houston.
LSU has not lost a nonconference game in the regular season since falling to Virginia Tech on Sept. 7, 2002. Since then it has won 45 straight, while Wisconsin's record in that same time period is 43-3, the nation's second-best winning percentage (.935).
Obviously one of them is going to lose on Saturday, though, so let's take a look at some of the key factors in the LSU-Wisconsin game and what a win might mean for their respective conferences.
Key to victory for Wisconsin:
Dominate the line of scrimmage. That's always the motto for the Badgers, who showed they could fare just fine against an SEC defense when they ran for 293 yards against South Carolina (and
Jadeveon Clowney
) in the Jan. 1 Capital One Bowl. Controlling the game on the ground with
Melvin Gordon
,
Corey Clement
and a talented offensive line becomes an even higher priority given Wisconsin's inexperience at receiver and quarterback, where
Tanner McEvoy
makes his first FBS start. And the Badgers' 3-4 defense has to win battles up front and make LSU beat it through the air.
[+] Enlarge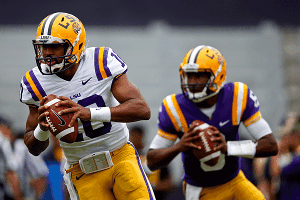 Derick E. Hingle/USA TODAY SportsLSU may need Anthony Jennings (10) and Brandon Harris (6) to have success against Wisconsin.
Key to victory for LSU:
With a talented backfield and experienced offensive line, the Tigers figure to run the ball effectively against a retooled Wisconsin defensive front. But it will be up to LSU quarterbacks
Anthony Jennings
and
Brandon Harris
to do just enough with the pass to prevent the Badgers from crowding the box to defend the run. Regardless of which quarterback is on the field, he will have either little or no college experience. If the Tigers throw the ball as ineffectively as Jennings did in his lone start -- LSU's 21-14 Outback Bowl win over Iowa, where he was 7-for-19 for 82 yards, no touchdowns and one interception -- it might become difficult to move the ball even against an inexperienced Wisconsin defense.
Keep an eye on:
Wisconsin linebacker Vince Biegel.
The 6-foot-4, 230-pound sophomore could give the Badgers the pass-rushing and playmaking presence they desperately need from their completely revamped defensive front seven. Biegel will be critical in both helping against the run and creating havoc in the LSU backfield from his outside linebacker spot. Like many players at his position for Wisconsin, he has been nicked up in fall practice. But after a breakout spring, Biegel could be a guy who announces himself as an up-and-coming star on this national stage.
Keep an eye on: LSU linebacker Kwon Alexander.
One of the Tigers' top playmakers at linebacker last season, Alexander has shifted from strongside linebacker to Lamin Barrow's old spot on the weak side, which should allow him to be even more active on defense. His sideline-to-sideline speed and tackling ability should make him a great fit for the new role. Alexander and the LSU defense will have their hands full with a powerful Wisconsin running game that features Heisman Trophy contender Gordon. But if Alexander lives up to the reputation he's already started building at his new position, he's in line for a huge season, starting Saturday.
What win will mean for Big Ten:
Marquee nonconference wins have been in short supply for the Big Ten in recent years, and there would be no better way to build instant credibility than by gaining a win over an established SEC power. Wisconsin would become an immediate playoff contender, as the rest of its schedule is extremely favorable. Other league teams would also get a boost in terms of conference perception. The doom-and-gloom outlook for the Big Ten since Ohio State quarterback
Braxton Miller
's season-ending shoulder injury would fade away quickly with a Badgers victory in Houston.
What win will mean for SEC:
LSU has been the SEC's standard bearer in the past decade when it comes to these marquee nonconference openers. LSU's aforementioned 45 straight nonconference wins in the regular season is the nation's longest streak. That includes wins in 11 straight openers, against such opponents as TCU, Oregon, North Carolina, Washington, Oregon State and Arizona State. LSU beating Wisconsin would be another feather in the SEC's cap, solidifying its status as the nation's best conference.
August, 22, 2014
Aug 22
10:55
AM ET
AUBURN, Ala. -- Who will the SEC's next star be? It was the underlying theme at SEC media days as the coaches stole the spotlight, rather than the players, and there's no doubt the conference lost some serious star power after last year, including one "Johnny Football." But to find the league's next star, you must first ask yourself: What does it take to be a star?
Is it simply putting up big numbers in a conference loaded with talent? Do wins and losses matter? And how much does a player's personality and charisma factor into his appeal?
If recent history is any indication, the latter plays a major role.
What do Johnny Manziel, Cam Newton and Tim Tebow have in common? They all won the Heisman Trophy, and they all had plenty of personality. Even Florida State quarterback
Jameis Winston
, last year's Heisman Trophy winner, had a certain aura about him, a presence that captivated audiences nationwide.
[+] Enlarge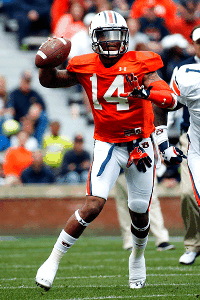 AP Photo/John BazemoreNick Marshall said winning games -- not the Heisman Trophy -- is his focus at Auburn.
The SEC's next star doesn't have that trait. He doesn't have a money celebration or a Superman pose after he scores a touchdown. He's not about to launch his Heisman campaign. He doesn't even want to be in front of the camera. The only thing Auburn QB
Nick Marshall
wants to do is play football and win games.
"He's not big on the spotlight," Auburn offensive coordinator Rhett Lashlee said. "He doesn't have to have the attention. He doesn't crave it, not that that's a bad thing, but he just likes to lay low, go about his business and do his thing. When it's game time, he likes to let it loose, let it rip and compete."
It's always been that way for Marshall. He didn't grow up in the state of Texas or in a metropolis like Atlanta. As his high school coach, Mark Ledford, put it, "He grew up in a town [Pineview, Georgia] that's got one caution light, and I'm not sure, really, it needs it."
In high school, Marshall had a game where he threw six touchdowns to six different wide receivers, and he was happier for them than he was with what he did.
"That's Nick," Ledford said. "He's never been one to reap all the glory."
When Marshall arrived at Auburn last summer, he was a junior college quarterback with high expectations, but nobody knew anything about him other than his checkered past (in February 2012,
he was dismissed by Georgia for violating team rules
). In 2014, the expectations are even higher, yet Marshall himself is still a mystery.
"He's not going to take the podium with a microphone stuck in his face and go try to be something that he's not," Ledford said. "What you've been getting with Nick, that's about what you're going to get."
Auburn had planned to bring Marshall to media days, an opportunity to put their quarterback in the spotlight, but that fell through when he was pulled over just days before and given a citation for possession of marijuana.
An opportunity wasted. Instead of peeling layers back this offseason, more layers were added.
Now, as the 2014 season approaches, the usual suspects have already been mentioned for the Heisman Trophy -- names like Winston,
Marcus Mariota
and
Bryce Petty
. Some pundits have included Marshall's name, but his odds are higher. He's more of a dark horse candidate than a front-runner.
"It's a matter of opinion," Auburn assistant coach Dameyune Craig said. "You can look at what Jameis did last year as a [redshirt] freshman; he won a national championship. You can look at Nick Marshall and say this kid was a first-year starting quarterback that played defensive back and he took us to the national championship game in the toughest conference in the nation.
"So I don't see why he wouldn't be in that category, based on what he did and his production. He put up over 3,000 yards of total offense, accounted for a lot of touchdowns."
Added Auburn coach Gus Malzahn: "You look at the people in the Heisman race, and they're on winning teams. Nick just needs to lead us and keep winning. If he can do that, he'll be in the mix."
Marshall is not Newton, Tebow or Manziel. Marshall doesn't embrace the spotlight as so many others before him, but that doesn't mean he won't be the next star in the SEC. He might even be the next Heisman Trophy winner, but don't ask him about it. That's not his style.
"I'm not too worried about the Heisman," Marshall told reporters earlier this month. "I'm trying to gain the trust of my teammates and my coaches, and then I'm just trying to go out there and win games."
September, 10, 2013
9/10/13
10:00
AM ET
ATHENS, Ga. -- As he does each Sunday, Mark Richt sat down and rewatched his Georgia team's game from the previous day -- this time a 41-30 win against then-No. 6 South Carolina.
Asked Sunday evening what he took away from that second viewing, Richt's first comments concerned his starting tailback,
Todd Gurley
.
[+] Enlarge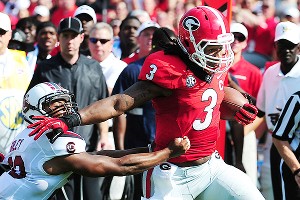 Scott Cunningham/Getty ImagesTodd Gurley is seventh in the nation with 286 rushing yards and tied for fourth with four TDs.
"Just watching Gurley run was fun," Richt said. "He's just such a powerful back. He's got such great balance, speed."
Fans -- and Heisman Trophy voters -- have had the opportunity to make similar observations over the last two weeks as Richt's Bulldogs played two top-10 opponents. And all Gurley has done is dominate in both games, despite missing a portion of the opener at Clemson with a quad injury and despite facing one of the nation's better run defenses from last season in South Carolina.
Gurley on Monday received two rounds of treatment on the thigh injury that kept him from practicing much last week, but it didn't prevent him from dominating on the ground Saturday and fulfilling one of his few stated offseason goals of contributing more in the passing game. He hauled in his first career touchdown catch in the third quarter of the Bulldogs' win.
"I really didn't sit down this offseason and say, 'I'm trying to do this, I'm trying to do that,' " Gurley said. "One of my main things was just to get more plays in the passing game and just work on playing without the ball. That was about all."
After his 30-carry, 132-yard effort, which included one rushing and one receiving touchdown, Gurley is seventh nationally with 286 rushing yards and tied for fourth with four touchdowns.
"He probably is at the top of the group of running backs who are going for the Heisman right now," said Chris Huston, whose Heisman Pundit website tracks the race closely throughout the season. "I'd say he has pushed himself to the top of that group."
Obviously it's early, but Gurley has already continued his upward trajectory from a breakout freshman season where he rushed for 1,385 yards and scored 18 touchdowns.
There was his 75-yard touchdown run against Clemson where he exploded through a hole and outran everyone to the end zone. And then there were runs Saturday like the one where he somehow stayed on his feet when South Carolina defensive lineman
Kelcy Quarles
ripped off his helmet by the facemask, and very well might have scored a helmetless touchdown if not for the rule that requires such a play to be blown dead. Or when he burst down the sideline during a second-quarter touchdown drive and easily tossed Gamecocks cornerback
Jimmy Legree
aside with a vicious stiff-arm.
"Watching film on him, he's by far in my opinion -- anyone who watched him would probably agree with me -- the best player in the country. I don't think there's anyone like Todd," Georgia quarterback
Aaron Murray
said Monday.
He might not enjoy the spotlight, but Gurley possesses the total package that a Heisman-contending running back needs in order to generate national attention. Now he needs his teammates to help him remain in the conversation.
Spread-offense quarterbacks have the odds in their favor in this day and age, although that position held the advantage even before dual-threat passers like Cam Newton, Robert Griffin III and
Johnny Manziel
claimed each of the last three Heismans. Quarterbacks have won 11 of the last 13 years, so Gurley not only needs to separate himself from other running backs with impressive yardage totals and highlight-reel runs, he needs Georgia to remain in the BCS conversation in order to remain a viable alternative to quarterbacks like Manziel, Clemson's
Tajh Boyd
, Oregon's
Marcus Mariota
and Ohio State's
Braxton Miller
.
"It's hard for a running back to win, but if he does win, he has to have as little competition from other running backs in the race as possible," Huston said. "Gurley's first task is to sort of establish himself as the running back alternative to whatever quarterbacks there are."
Then again, he must also separate himself from his own teammate to become a true Heisman frontrunner.
Murray reignited his Heisman hopes with a nearly flawless 309-yard, four-touchdown performance against South Carolina. Interestingly enough, however, Huston said the perception that two contending teammates might siphon votes away from one another isn't necessarily accurate.
As an example, he used the 2004 race where USC quarterback Matt Leinart won and running back teammate Reggie Bush finished fifth. Oklahoma's Adrian Peterson and Jason White finished second and third that year. In other words, members of the two teams that played for the BCS championship took up four of the top five spots in the voting -- and their respective abilities likely helped their teammates from a performance and publicity standpoint.
"You could argue that Jason White's support cost Peterson the Heisman, but you could also say that Bush's support cost Leinart more votes in that situation," Huston said. "Would Peterson have gotten more votes if White wasn't as good? So it's kind of a symbiotic relationship between the two. If Aaron Murray wasn't as good, Gurley probably wouldn't be as successful because teams would be able to key on him more."
November, 27, 2012
11/27/12
1:30
PM ET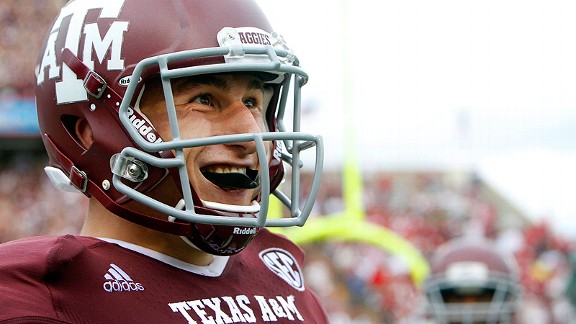 Brett Davis/US PresswireWhen it comes to Heisman candidacy, Texas A&M's Johnny Manziel has compiled a strong platform.
There's one last weekend for Heisman voters to scout any remaining candidates for college football's most prestigious award.
But after 13 weeks of action, the winner is clear, and voters don't need any more time to think about it.
It was
Johnny Manziel
a week ago. It's Johnny Manziel today. And it should be Johnny Manziel when the Heisman Trophy is presented on Dec. 8.
In 12 straight weeks (Texas A&M didn't have a bye week) the slippery Manziel racked up 3,419 passing yards with 24 touchdowns to eight interceptions and rushed for 1,181 yards and 19 more scores. He's second in the SEC in passing yards and first in rushing. He also guided Texas A&M to a 10-win season in its first year in the SEC and was undefeated on the road.
His 4,600 yards of total offense (and counting) topped Cam Newton's mark of 4,327 yards, which used to be an SEC record. He already has more passing and rushing yards than Tim Tebow did during his Heisman season in 2007 and has thrown for 565 more yards than Newton did during his 2010 Heisman season. He won't touch Robert Griffin III's 4,293 passing yards from his 2011 Heisman year, but he crushed him in the rushing department by 482 yards.
Manziel has had three games in which he had at least 300 passing yards and 100 rushing yards, the most for any player in a single season since 2000. The rest of the nation has had eight such games the entire season, according to ESPN Stats & Information. Manziel has also gained 784 rushing yards on scrambles. That's 43 more yards scrambling than
Collin Klein
,
Braxton Miller
and
Marcus Mariota
combined. He has also scrambled for 35 first downs this season, including 20 first downs on third down, according to ESPN Stats & Information.
Not voting Manziel No. 1 at this point is almost comical when you look at the way the fabulous freshman phenom has done all of this in his first year on the field with a brand-new offense and coaching staff in the SEC.
"His numbers speak for themselves against anybody who has played not only this year but who has [ever] played the game," said Texas A&M coach Kevin Sumlin, who has been very actively captaining the Johnny Football Heisman ship. "As we've gone through this process, he's been a catalyst for this football team in the first season in the SEC."
While his 43 total touchdowns are lower than his three predecessors, Manziel has way more total touchdowns than the other two dual-threat quarterbacks still alive in this race.
Klein, who has had a superb season, has 34 total touchdowns and Miller has 28 total.
People will knock his two losses (something neither Klein nor Miller have) to Florida and LSU at home. Both are currently ranked within the top seven of the BCS standings and both own top-10 defenses. In those games, Manziel threw for 449 combined yards with zero touchdowns and three interceptions. He also rushed for 87 yards and one touchdown, averaging 2.6 yards per carry.
Not Heisman-worthy at all, but you have to dig deeper than just his two poor performances against top-notch defenses. Look at the growth from Manziel after his losses. Since the LSU game, he has averaged 382.2 yards of offense with 19 touchdowns.
One of those opponents was Alabama ... on the road. Talk about growth.
He had his true coming-out party in front of the entire nation when he torched Alabama's top-ranked defense for 345 yards of offense and two touchdowns. He never wavered and sliced up the Tide with his arm and legs. Some of the Playstation moves he pulled didn't seem possible.
He then showed out in his final outing with a bevy of twists and turns that amounted to 439 yards and five touchdowns against Missouri with a brace on his knee. Willis Reed and Paul Pierce had nothing on Johnny Football.
Manziel has made Texas A&M one of the nation's hottest team. The Aggies aren't close to where they are without Manziel. People talk about how much
Manti Te'o
, Manziel's only real remaining Heisman competition, has meant to Notre Dame. He's been fantastic, but take Manziel off A&M's squad, and the Aggies aren't nearly the same.
Being a freshman should only help his defense because it makes what he's done that much more impressive. His two losses shouldn't hold much weight because Tebow and Griffin both had three losses before winning.
What matters is his body of work, and no one else equals him. No one else equals his excitement or importance.
The Heisman Trophy should be as good as his.
"It's something you dream about as a kid, when you're sitting there playing all these NCAA [video] games when you're a kid and you create a player and you win the Heisman as a freshman because you just put up crazy numbers," Manziel said. "It's something that you can only sit back and dream about. It's the biggest, most prestigious award in college football, so it would definitely be a dream come true."
Manziel is living the video game life, and there's no reason his dream shouldn't become a reality.
January, 1, 2012
1/01/12
10:30
AM ET
Here are three keys for Florida heading into the Taxslayer.com Gator Bowl against Ohio State Monday:


Let loose on offense:
Florida's offense struggled yet again this season, so it's time to open things up. Charlie Weis has left for Kansas, so running backs coach Brian White should use his audition for the offensive coordinator job to throw the conservative play calling out. Florida's offense really has nothing to lose. The offense needs some confidence and Florida needs to start by stretching the field.
Contain Braxton Miller:
Miller has run for at least 100 yards in three of his past five games, and is averaging 13.3 yards per rush on draw plays. The Buckeyes' offense hasn't been very explosive all season, but Miller can extend plays and can be that much more deadly because of his ability to run. Florida's rush defense had some bend to it this year and a scrambler like Miller could keep the Buckeyes on the field longer.
Protect Brantley:
The Gator's thin offensive line must keep
John Brantley
upright and out of trouble if Florida intends to move the ball against the Buckeyes. Florida only gave up 23 sacks on the season, but Brantley isn't much of a runner, so when he has to try and escape pressure, plays usually breakdown. With his lack of mobility, Brantley needs much more time in the pocket.
December, 29, 2011
12/29/11
9:00
AM ET
We continue our look at some "Next Level" bowl stats, courtesy of the good folks at ESPN Stats & Information.
Today, we're looking at the Taxslayer.com Gator Bowl between Florida and Ohio State, and the AT&T Cotton Bowl between No. 6 Arkansas and No. 8 Kansas State:
Taxslayer.com Gator Bowl –- Ohio State vs. Florida
Ohio State quarterback Braxton Miller has run for 100 yards in three of his past five games with the majority coming on designed running plays. During that time period, Miller has averaged 85 yards per game on designed runs, after averaging 21.3 in his first six career games.
Miller averages 13.3 yards per rush on draw plays. He's run 17 draws this season with 12 coming in the past five games. Miller averages 7.9 yards per scramble. Miller has taken off to run 41 times, resulting in 16 first downs with eight coming on third down.
Florida has allowed 19 rushing first downs on third down this season, tied with Alabama for fewest in the SEC and 14th fewest in FBS.
Miller is at his best when he can get outside the pocket, where he has not thrown an interception in 25 attempts. Miller has made these limited opportunities count, averaging 11.4 yards per attempt. Florida has held its five ranked opponents this season to a 51.1 completion percentage when passing inside the pocket with only LSU and South Carolina completing more than 50 percent.
Miller completes just 39.5 percent of his passes when he takes a snap from under center. The good news for Ohio State is when Miller does complete a pass in this formation it tends to gain a lot of yards with seven of his 17 completions going for at least 20 yards, including three touchdowns.
OSU's Dan Herron has rushed for 593 yards this season in six games since returning from suspension, 321 of which have come after contact. Herron has gained at least 34 yards after contact in every game this season. Yet, he might not even be the toughest running back to bring down in the game. Chris Rainey has gained 446 of his 790 rushing yards this season after contact, which is a slightly higher percentage than Herron's.
Jeff Demps has gained 447 of his 539 yards running to the right or left side of the offensive line. Demps has 65 rushes to the left/right with 13 gaining 10 yards or more and seven gaining at least 20.
John Brantley completed 37.9 percent of his passes thrown 20 yards or longer this season, which is up 15.2 percent from last season. Florida's two other quarterbacks (Jeff Driskel and Jacoby Brissett) this season have completed just one of their 15 passes thrown 20 yards or longer.
Andre Debose leads Florida with four receptions on passes thrown 20 yards or longer this season with all four going for touchdowns. Debose's four catches on these throws all gained at least 64 yards (64, 65, 65, 80), which is the most 60-plus yard touchdown receptions by any player in the SEC and tied for second most in the FBS.
AT&T Cotton Bowl –- No. 8 Kansas State vs No. 6 Arkansas
Tyler Wilson is completing 64.2 percent of his passes when opponents send five or more pass-rushers on a play this season with a plus-eight touchdown-to-interception ratio. Wilson has been outstanding against the blitz when not facing the top three pass efficiency defenses (Alabama, South Carolina and LSU), completing 66.7 percent with no interceptions in 102 attempts. Kansas State enters the Cotton Bowl ranked 73rd in pass efficiency defense.
Jarius Wright has been Wilson's primary deep threat in 2011. Wright has more yards and touchdowns on throws of 20-plus yards than all other Razorbacks combined. His best game came against Texas A&M, when he caught five passes for 183 yards and a touchdown on passes thrown at least 20 yards in the air.
Wilson has thrown a touchdown from inside of the pocket in every game but one this season. Wilson has protected the football when throwing from the pocket with eight fewer interceptions than Ryan Mallett's 12 last season. Out of the pocket, Wilson has thrown 14.0 percent of his passes and has not found the same success.
Arkansas leads the SEC and is tied for 22nd in the FBS with 41 plays that gained 25 yards or more. The Razorbacks had at least two such plays in every game this season, except for in their only two losses when they had one each against Alabama and LSU.
Kansas State has allowed 33 plays of 25-plus yards this season, fourth fewest in the Big 12. The Wildcats allowed 11 of these plays in its only two losses of the season to Oklahoma and Oklahoma State.
Kansas State has scored a touchdown on 29 of 33 (87.9 pct) goal-to-go situations this season, the 13th-highest percentage in the nation. The Wildcat's knack for the end zone is built upon quarterback Collin Klein's legs as he has scored more close touchdowns than any other player in the nation.
December, 19, 2011
12/19/11
10:00
AM ET
Anytime the SEC and the Big Ten square off, conference pride is at stake. Most of those matchups usually occur in bowl season, and this year is no different. The two leagues will face each other in three Jan. 2 bowls, with South Carolina playing Nebraska in the Capital One Bowl, Michigan State taking on Georgia in the Outback Bowl and Florida and Ohio State staging a 2007 national title game rematch in the TaxSlayer.com Gator Bowl.
So which league will come out on top this year? SEC blogger Chris Low and Big Ten blogger Brian Bennett debate that topic:
Brian Bennett:
Well, Chris, it's bowl season again, which means some more SEC vs. Big Ten showdowns. I think I read somewhere that the SEC has had a little bit of success in the postseason, especially against the Big Ten. So I suppose you want to brag a little bit about your league. Let's go ahead and get that out of the way first, shall we?
Chris Low:
Brag? Coming from SEC Country? We don't need to brag. We just flash our jewelry in these parts, and that usually suffices. Sure, it's been another banner year in the SEC with Alabama and LSU set to play for the BCS national championship and three other SEC teams ranked among the top 16 in the final BCS standings. But you've got to prove it every year, and South Carolina, Georgia and Florida all have tough matchups with Big Ten teams in the bowls. Speaking of the three bowl showdowns matching the SEC and Big Ten, which one do you think is the worst matchup for the Big Ten?
[+] Enlarge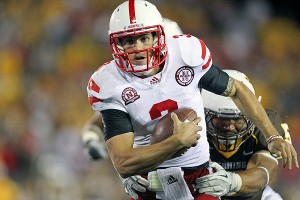 Zuma Press/Icon SMIWill Nebraska QB Taylor Martinez be able to run the ball effectively against South Carolina's speedy defense in the Capital One Bowl?
BB:
Very restrained of you not to bring up last New Year's Day, Chris. I actually think all three Big Ten/SEC showdowns this year are good matchups that could go either way. If I had to pick the toughest one for the Big Ten, I'd probably go with the Capital One Bowl. While Nebraska had a nice season at 9-3, it has a challenging assignment in trying to solve South Carolina's defense. Especially up front, the Gamecocks can cause serious problems for the Huskers' run game, and I don't think the option is going to work well against all that speed.
Taylor Martinez
will have to have one of his best games, and when Nebraska has to rely on the pass, it doesn't always look pretty. Then again, South Carolina isn't exactly a juggernaut of an offensive club, either.
What's your take on that one?
CL:
Couldn't agree more about South Carolina's defensive line. Those guys have played lights-out all season, and you're going to see three or four of them playing in the NFL at some point. They've made life miserable for opposing quarterbacks this season, and other than the Arkansas game, didn't give up much of anything the last nine games of the season. They're not the kind of dynamic pocket passing team you're used to seeing under Steve Spurrier, but sophomore quarterback
Connor Shaw
is tough as nails and isn't afraid to take off and run. They'll also run the zone read play with him. Honestly, the big concern with the Gamecocks is that they've been so wretched in bowl games. They've lost their past three and haven't played well in any of them. I want to see them break that drought before I get too high about their chances in the postseason.
Speaking of poor bowl performances, can Michigan State rebound from last year's debacle?
BB:
I think so. The Spartans ran into an Alabama buzz saw last year, and I don't see Georgia being nearly as talented or as angry as the Crimson Tide were a year ago. This Michigan State team was playing extremely well down the stretch and came within a play or two of going to the Rose Bowl. The Spartans can dominate defensively, especially up front with All-America tackle Jerel Worthy, and they can knock a quarterback off his rhythm with their blitz schemes. But I think the biggest difference between this year's Michigan State and the one that got manhandled last year is a more productive, diverse offense.
Kirk Cousins
was very sharp in the second half of the season, and the offensive line continued to improve. Both teams have top-five defenses, but Georgia may have a harder time scoring.
Motivation will be a key for both teams, though, as they each lost in their conference title game. How good are these Dawgs, really?
[+] Enlarge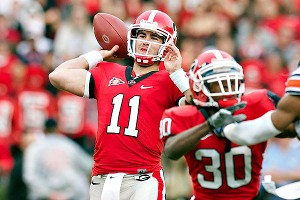 Dale Zanine/US PresswireGeorgia's Aaron Murray should get a stiff test from Michigan State's defense in the Outback Bowl.
CL:
Motivation shouldn't be a problem for Georgia. At least, it better not be. The Bulldogs have a chance to win 11 games and really set themselves up nicely going into next season. Georgia has a chance to be a top-10 team in 2012 and build the kind of momentum this program hasn't had in the offseason since its Sugar Bowl victory over Hawaii to cap the 2007 season. How good are these Dawgs? They're a good team, not a great team. Defensively, they should be the best test the Spartans have faced all season. Jarvis Jones and Alec Ogletree are an exceptional linebacker tandem. Jones was the SEC's best big-play defender this season, and the Bulldogs didn't give up much in the secondary, either. I wouldn't underestimate Georgia quarterback
Aaron Murray
. He spreads the ball around and threw 33 touchdown passes this season.
What's your take on the Urban Meyer Bowl?
BB:
The Meyer angle adds intrigue, but I'd be more interested to see these teams play next season. As is, we have a pair of 6-6 teams who had all kinds of offensive issues this year. Ohio State lost its final three games after looking like it might have turned things around. But at least the Buckeyes will be motivated to audition for Meyer, and they're a young team that should benefit from the extra bowl practices. Plus, the Buckeyes have a blossoming star at quarterback in freshman
Braxton Miller
. Maybe a new offensive coordinator can jump-start the Gators' attack, but we could be looking at a low-scoring game in Jacksonville. A 6-6 tie in regulation seems appropriate.
Can Florida finally put it all together?
CL:
Florida could use anything remotely resembling a quality win this season. Of course, I don't know that you could call Ohio State a quality win. One of these days, the Buckeyes are going to beat an SEC team in a bowl game and have that win stick. The win over Arkansas last season was vacated thanks to tattoo-gate, so technically Ohio State is still 0-9 against the SEC. The Gators were hard to watch on offense this season, and there's no reason to think they will be significantly better in the bowl game. I agree that a 6-6 tie sounds about right with somebody winning in overtime on a field goal. The Gators are good enough on defense to get it done, so I'm predicting an SEC sweep.
That's right, South Carolina, Georgia and Florida will all come out victorious. And not only that, but something tells me the SEC stands a pretty good chance of winning the Allstate BCS National Championship Game, too. Call it a hunch.
BB:
OK, so Ohio State's win over Arkansas may not count, but I was there and I know it did happen. So the Big Ten can actually beat the big boys from the SEC. I may be naive, but I think the Big Ten gets a little revenge this bowl season. All three games are winnable, and I predict the league I cover takes two out of three from your southern friends. And maybe someday soon the Big Ten will be back in the national championship debate.