September, 17, 2012
9/17/12
4:30
PM ET
Tennessee will be without arguably its best defensive player for the rest of the season, after sophomore safety
Brian Randolph
tore his ACL in his right knee
in the Vols' 37-20 loss to Florida Saturday.

Randolph hurt his knee while trying to tackle Florida wide receiver
Frankie Hammond
Jr. during Hammond's 75-yard touchdown catch-and-run in the fourth quarter. Randolph caught up to Hammond during his run, but stepped awkwardly after Hammond made a strong cut back to the middle of the field at around the 25-yard line before cruising into the end zone.
Losing Randolph is a big deal for the Vols. He has tremendous field instinct and is an exceptional playmaker. He finished the season as the team's leading tackler, with 22 stops, including 17 solo. Randolph really made a splash with the Vols as a freshman last year, playing in all 12 games and starting eight. He collected 55 tackles and was a Freshman All-SEC selection by the league's coaches.
Randolph's absense leaves a big hole in not just Tennessee's secondary, but the entire defense. Junior safeties
Byron Moore
, who started the first three games at strong safety, and
Brent Brewer
will man the starting safety spots. Brewer started eight games last year before suffering a season-ending ACL injury against South Carolina.
There's experience in the defensive backfield, but there's no question that Randolph's replacement has very big shoes to fill.
"It's real big," sophomore linebacker
Curt Maggitt
said. "It's real key. He's a real vocal guy, real smart, understands his position and understands others' positions. [He] can help out a lot and he's a great playmaker, and he's a good person. You can trust him behind you."
August, 28, 2012
8/28/12
1:35
PM ET
Depth charts for all 14 SEC teams are out, so let's take a look at them.
I'll handle the Eastern Division, while Chris takes a look at the West later today.
I've added some notes of my own for each team:

FLORIDA
Depth chart
The first thing you notice is that "Or" comes up a few times. The quarterback spot is still up for grabs, as sophomores Jacoby Brissett and Jeff Driskel will play by quarters against Bowling Green Saturday. The "X" receiver spot has three names by it with Frankie Hammond, Latroy Pittman and Andre Debose competing for that spot. Everyone is still waiting for Debose to be more of a complete player.
Both corner spots might appear to be up for grabs, but it would be a shocker if sophomores Marcus Roberson and Loucheiz Purifoy didn't start. Roberson has the talent to be an All-SEC player at some point, while the staff thinks Purifoy is an extremely athletic player. Also, seeing Antonio Morrison behind Jelani Jenkins is impressive. He's been solid since arriving this spring.
You don't see De'Ante Saunders on there at free safety. Will Muschamp said he's battling a hamstring injury and will be out two weeks. Corner Jeremy Brown is also battling a wrist injury and isn't on the two-deep, either.

GEORGIA
Depth chart
(Page 2)
It's hard to say how much we can really make of Georgia's depth chart. Bacarri Rambo and Alec Ogletree are both listed as starters. Rambo and Ogletree could still sit out a couple of games due to their reported failed drug tests this spring and Mark Richt hasn't said if either will play Saturday.
Malcolm Mitchell is listed as a starter at cornerback, opposite Branden Smith, and is a third-team receiver. That sounds about right, as Mitchell has primarily played corners since the spring. He has taken some reps on offense, so you might see him on both sides of the ball Saturday.
Two guys to keep an eye on are center David Andrews and outside linebacker Ramik Wilson. Andrews might be the key to the offensive line. He has done very well at center and there was some worry that he might not be cut out of the position. If he had to move this line might have been in disarray. Wilson received a lot of praise from his teammates this spring and he continued to show out this fall. He won't outshine Jarvis Jones this fall, but he'll cause a stir on defense.

KENTUCKY
Depth chart
You can tell that the Wildcats aren't afraid to throw out some younger players this fall. Kentucky has 24 sophomores, redshirt freshmen or true freshmen listed on its two-deep for Saturday. That's a lot, especially for a team that is looking to revamp both sides of the ball. There could be a lot of growing pains for this team early.
Sophomore receiver Demarco Robinson and redshirt freshman receiver Daryl Collins might be currently listed as backups for the Cats, but don't let that fool you. Both have been very impressive since the spring and both will get plenty of chances to see the field Saturday. Having three senior starters at wide receiver will help bring those two along, but I expect them to breakthrough eventually.
You won't see sophomore Josh Clemons listed on the two-deep at running back, as he's out after his knee was cleaned up. CoShik Williams and Raymond Sanders are listed as co-starters. I'm also curious to see what happens at linebacker. Four new starters are in and there were questions surrounding the weakside position. Former quarterback Tyler Brause moved ahead of Malcolm McDuffen, who exited spring as a starter. Joker Phillips has said this will be a day-to-day competition.

MISSOURI
Depth chart

SOUTH CAROLINA
Depth chart
The first thing that stands out to me is that top signee Shaq Roland is listed as a third-team wide receiver behind Ace Sanders and DeAngelo Smith. It might say more about how the others have done, but Roland is someone this staff has been very excited about and hopes he can make an instant impact on offense. He isn't taking Sanders' spot, but he'll get on the field.
That secondary looks pretty green without Akeem Auguste in it. He's out after tearing a muscle in his right thigh, meaning junior Jimmy Legree, who moved from safety this spring will get the start against Vanderbilt Thursday. Legree began last season as a starter, but lost his spot after struggling during the first two games. First-time starter Victor Hampton is at the other corner spot. He's unproven, but the staff is excited about his talent and athleticism.
Freshman tight end Jerell Adams might be listed as a second-teamer, but the coaches have been very impressed by him this fall and he'll have every chance to get some solid playing time early.

TENNESSEE
Depth chart
Junior Rajion Neal did a good job of staying ahead in the running back race. After an impressive spring, he will enter Friday's opener against NC State as the Vols' starter. He edged out Devrin Young and Marlin Lane, who both made good strides this spring. He has a lot of pressure to deal with, as Tennessee was awful running that ball in 2011.
Tennessee is hoping to get much more out of its defensive line this fall and junior college transfers Daniel McCullers and Darrington Sentimore could be the answers. Both came in with a ton of hype and snatched starting spots at nose guard and end, respectively. McCullers' arrival moved Maurice Couch from tackle to end. Derek Dooley has said the line is still a work in progress, but a lot is expected from Sentimore and McCullers.
Byron Moore and Brent Brewer are listed as co-starters right now, but Moore let it slip last week that he was named the starter. This could be another position that won't be settled right away. The secondary will get a nice test against the Wolfpack, so that could make things clearer for Week 2.

VANDERBILT
Depth chart
Redshirt junior Warren Norman is back, but he might have to wait his turn for reps. He's listed on Vandy's second team, but Zac Stacy and Jerron Seymour are on the first team. If the Commodores line up with two backs Seymour could be out there before Norman, who is coming back from a knee injury that sidelined him for all of 2011.
The defensive side has a few guys who were banged up listed as starters. Inside linebacker Chase Garnham was limited during fall camp, but he's set to start Thursday against South Carolina. So are defensive tackles Rob Lohr and Colt Nichter.
Looking at that offensive line, you'll see nothing but underclassmen on the second team. While that's a good sign for the future, it could be worrisome for this staff if a starter goes down this fall. Staying healthy up front is critical for this team.
August, 6, 2012
8/06/12
12:00
PM ET
Some SEC coach should see if Usain Bolt has some eligibility for the fall. He's a baaaaaad man!
March, 26, 2012
3/26/12
10:45
AM ET
Schedule:
Tennessee begins spring practice Monday and concludes with the Orange and White Game on April 21.
What's new:
There was a lot of movement on coach Derek Dooley's staff this offseason. Seven new coaches are in Knoxville this spring. Sal Sunseri arrives as the Vols' new defensive coordinator after serving as Alabama's linebackers coach the previous three seasons. After being a defensive assistant at Alabama from 2010-11 and the defensive backs coach at Central Florida for a couple months, Derrick Ansley joined Tennessee's staff to coach the Vols' cornerbacks. Charlie Coiner is Tennessee's new special teams/tight ends coach. Josh Conklin left The Citadel to coach Tennessee's safeties, and Jay Graham left South Carolina to return to his alma mater to coach running backs. John Palermo and Sam Pittman round out Tennessee's new hires. Palermo will coach the Vols' defensive line, and Pittman will coach the offensive line. Tennessee also welcomed seven early enrollees -- Cody Blanc (wide receiver), Alden Hill (running back), Justin Meredith (tight end), Nathan Peterman (quarterback), Darrington Sentimore and Trent Taylor (defensive line), and Tino Thomas (defensive back).

On the mend:
Wide receiver Justin Hunter and defensive back/linebacker
Brent Brewer
are both coming off of ACL injuries from last fall and will be limited during the spring. Linebacker
Curt Maggitt
, nose guard
Daniel Hood
and defensive back
Prentiss Waggner
all had offseason shoulder surgery and will be non-contact this spring. Offensive lineman
Zach Fulton
will be limited this spring as he tries to recover from a stress fracture suffered a couple of weeks ago during offseason workouts. Offensive lineman
JerQuari Schofield
and defensive lineman
Corey Miller
will not be practicing for academic reasons.
On the move:
Dooley plans to move a few players around this spring. With Tennessee moving to a 3-4 defense, the team is adding to its linebacker depth. Brewer (defensive back),
Channing Fugate
(fullback),
Jacques Smith
(defensive lineman), and
Willie Bohannon
(defensive lineman) are all working at linebacker this spring. Smith and Bohannon will compete at the Jack linebacker spot. Maggitt is also moving to inside linebacker.
Rajion Neal
is moving exclusively to running back after playing both wide receiver and running back last season. Waggner is moving back to cornerback after playing safety last season.
James Stone
, a center last season, will play some guard and tackle this spring.
Questions:
The Vols return a lot of bodies on defense, but with a new coordinator, new scheme, and several position changes, there will be starting jobs available. With the 3-4 coming in, Tennessee will be in search of a reliable nose guard.
Maurice Couch
played there more as last season progressed, but Tennessee's staff thinks very highly of incoming junior college noseguard Daniel McCullers, who will be on campus this summer. Having Hood limited also means depth is an issue there this spring. There is still a little uncertainty in Tennessee's secondary. Waggner moving to cornerback will help with boundary play, but it takes a solid player out of the safety spot. Redshirt senior
Rod Wilks
takes over at free safey, but has no career starts. The running back position also enters the spring with questions surrounding it. The Vols were last in the SEC in rushing last season, and lose starter
Tauren Poole
. Only three lettermen return, and none are proven. Neal and
Marlin Lane
will start spring getting the majority of reps, but they combined for just 414 rushing yards on 102 carries last season.
Key battle:
Injuries to Hunter and quarterback
Tyler Bray
certainly hurt Tennessee's offense last season, but being unable to run the ball effectively really kept the Vols from overcoming their struggles in the passing game. There is no question that Tennessee's run game, which ranked 116th nationally (90.1) last season, needs a major upgrade. Lane and Neal will get the first shots at earning the job this spring, but having Hill on campus early will definitely add some depth, and he should push both this spring. Sophomore
Devrin Young
, who rushed for 25 yards last season, will also compete for time this spring. Tennessee can't go another season without having much of a running game to speak of if it wants to take a step forward and compete for an SEC East title.
Don't forget about:
Tennessee will get back a familiar face on defense this spring when linebacker
Herman Lathers
returns. After fracturing his ankle last June, Lathers missed all of the 2011 season, but will be full go this spring. Tennessee needs more linebackers, and adding a veteran like Lathers will help. Tennessee's staff is also excited about what Sentimore can bring to the defensive end spot. He played one season at Alabama before going the JUCO route in 2011. He's on campus now, and is listed on the Vols' two-deep at one of the end spots. Sentimore has a good shot at earning a starting spot this spring.
Breaking out:
The staff has high expectations for offensive lineman
Antonio Richardson
. The sophomore spent 2011 playing on special teams, but after being such a highly regarded recruit coming out of high school, the coaches are expecting him to compete for playing time even though the Vols return all five starters. With Fulton limited this spring, Richardson will get his chance to impress. Also, Lane is a player who has the physical tools to make a big jump this spring. He was a top high school prospect, and now has a chance to claim the running back spot for himself. He's a big body with pretty good speed, but Lane needs to work on his consistency.
All eyes on:
Bray has yet to play a full season at Tennessee. A thumb injury kept him out for half of the 2011 season, but he appears to be back to full health. He wasn't great when he returned at the end of last season, but rust will do that to a quarterback. Now is a chance for Bray to get back into the swing of things and get more comfortable after his injury. It's also time for him to improve his leadership skills. Those have been called into question during his two years in Knoxville, but now that he's officially a veteran, it's time for him to take hold of this team. He has weapons around him to help his passing numbers, but Bray should look to improve this team as a whole by leading by both example and with his words.
November, 1, 2011
11/01/11
9:00
AM ET
By
ESPN.com staff
| ESPN.com
Tennessee, mired in a four-game losing streak, continues to be plagued by injuries.
Starting strong safety Brent Brewer tore his ACL in the Saturday's 14-3 loss to South Carolina and will miss the remainder of the season. The Vols are extremely thin at safety, meaning Prentiss Waggner will have to move back to free safety from cornerback. Waggner had provided some stability at cornerback, which is his natural position, but Tennessee doesn't have a lot of options at safety with Brewer out. Freshman Brian Randolph will shift to strong safety from free safety.
With Waggner needed at safety, that means the Vols will have to turn to either junior Marsalis Teague or freshman Justin Coleman at one of the cornerback spots. Both players have struggled this season in coverage, which is the reason they were no longer starting.
Waggner had an interception last week against South Carolina and nearly returned it for a touchdown. It was the first interception by a Tennessee defensive back since the season opener against Montana.
The Vols were already without quarterback
Tyler Bray
and receiver
Justin Hunter
. There's a chance they may get Bray back for one or both of the final two regular-season games against Vanderbilt and Kentucky. He's still recovering from a broken thumb.
Freshman linebacker Curt Maggitt is expected to return this weekend against Middle Tennessee after missing the South Carolina game with a calf injury.
August, 22, 2011
8/22/11
12:05
PM ET
By
ESPN.com staff
| ESPN.com
We kick it off in the SEC in 10 days. For now, we'll settle for a little linkage:
June, 22, 2011
6/22/11
9:30
AM ET
We head into high-flyer mode as we discuss defensive backs today. They are athletic as ever this season, and some teams return a bevy of secondary talent in 2011.
Here's how the teams look:
[+] Enlarge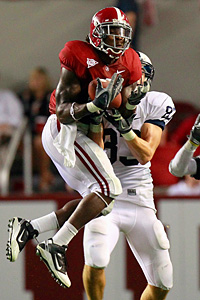 Kevin C. Cox/Getty ImagesMark Barron decided to return to Alabama instead of making himself eligible for the NFL draft.
1. Alabama:
This was an area of the team that was a problem and it wasn't so much the yardage given up but the lack of consistency, especially in big games (see the Auburn game). This year, the Tide should have one of the best defensive backfields in the country. Safety Mark Barron could have entered the NFL draft, but stayed. And while he was in a non-contact jersey this spring, he'll be one of the top safeties around this fall. Robert Lester is another solid safety who is also making everyone's short list of top safeties for next year's draft. At corner, everyone knows Dre Kirkpatrick, but DeQuan Menzie could be Alabama's best weapon in the secondary. Dee Milliner is still in the mix at corner and there is a lot of good young talent as well.
2. LSU:
No Patrick Peterson? No problem. The Tigers are once again loaded in their secondary with corners Morris Claiborne and Tyrann Mathieu. Both are All-SEC material and Claiborne led the Tigers with five interceptions last season. Mathieu found a way to get to the ball often last season and both should make it tough for any quarterback to throw on LSU this fall. Sophomore Tharold Simon made strong improvements at corner this spring as well. Safety Brandon Taylor is another top player at his position and he should be fine after suffering a foot injury at the end of last season. Youngsters Eric Reid and Craig Loston look like stars in the making at safety.
3. Mississippi State:
The Bulldogs return five players who started at some point in 2010. Johnthan Banks, Corey Broomfield and Nickoe Whitley each recorded three interceptions and had 50-plus tackles last year. Broomfield should be the Bulldogs' top option at corner, while Banks can play both corner and safety. Charles Mitchell returns at safety and was third on the team with 93 tackles last season. All of Mississippi State's defensive backs not only have a knack for making big plays down field but they can each play efficiently in the box.
4. Arkansas:
This group is a little inexperienced, but there is a lot of talent to go around. Things start with safety Tramain Thomas. Thomas was fourth on the team in tackles last season and grabbed four interceptions. Thomas looked even better this spring, making play after play. Fellow senior Elton Ford should get time at safety, and converted corner Eric Bennett should get reps as well. Hybrid linebacker Jerico Nelson enhances the group when he drops back with the safeties and Isaac Madison returns at one of the corner spots and should team up with Darius Winston. The two have 27 career starts under their belts.
5. South Carolina:
The Gamecocks' secondary has to improve after underachieving a year ago, and South Carolina has the weapons to do it. Corner Stephon Gilmore wasn't at his best last year, but has tremendous cover ability and speed to be tops at his position. Akeem Auguste moved from safety back to his more natural position at corner and should give the Gamecocks one of the top corner tandems in the SEC. DeVonte Holloman moved to the Spur linebacker spot, so there are still questions at safety, but D.J. Swearinger really impressed this spring and some think he's the most gifted defensive back in Columbia. Replacing Holloman's spot is going to be tough, and the coaches have yet to find someone to solidify that position.
6. Vanderbilt:
This is the strongest part of Vanderbilt's team. The Commodores return a heap of talent, starting with senior corner Casey Hayward, who was a second-team All-SEC pick a year ago. Hayward led the SEC with 11 pass breakups and had six interceptions. Safety Sean Richardson led the team with 98 tackles and would start on a lot of teams in the SEC. The other safety spot is occupied by Kenny Ladler, who was one of the top safeties in the league last season, even as a freshman. Junior Trey Wilson had a great spring and could move past last year's starter Eddie Foster on the depth chart.
7. Georgia:
Like most positions at Georgia, there's no shortage of talent. However, there are still questions. Senior Brandon Boykin is solid at one of the corner spots with his natural corner instincts, great speed and is the defensive leader. Sanders Commings is talented and has the best size, but he'll have to battle Branden Smith at the other corner spot. Smith is a total athlete, but he has to improve his coverage skills. Bacarri Rambo is solid at safety, but he needs to return to the form he had as a freshman. Finding someone to line up next to him is important. With Alec Ogletree moving to linebacker, there is a hole at safety and one of Georgia's newcomers might have to step in this fall.
8. Florida:
The Gators would have been higher on this list had it not been for the dismissal of All-SEC corner Janoris Jenkins. There's a gaping hole at corner, and the hope is that junior Jeremy Brown can help fill it. He finally played after a severe back injury kept him out for two years, and while he struggled at times, Florida's coaches were very impressed with his play this spring. Sophomore Cody Riggs was a pleasant surprise at corner last season and is battling unproven senior Moses Jenkins. There is nothing but youth and inexperience behind them. At safety, Matt Elam had a good spring at strong safety, while free safety wasn't totally locked down by Josh Evans. The good news is that Florida signed six defensive backs this year.
9. Tennessee:
This group could be decent, but there are so many questions. We aren't sure if star Janzen Jackson will return after leaving school this spring. Prentiss Waggner moved from safety to corner last season, where he was an All-SEC performer, and then back to safety when Jackson left. But he might be back at corner this fall. If Waggner is a corner and there's no Jackson, there's an enormous hole at safety. If he stays at safety, then there's one at corner. Fortunately, Brent Brewer, a former minor league baseball player, is a solid safety, and corner Marsalis Teague returns after converting from receiver last season. Incoming junior college transfer Byron Moore should compete immediately for time at corner.
10. Kentucky:
There is a lot of experience with four senior starters returning, but the unit has to show that it can be consistent in big games. Safety/linebacker hybrid Winston Guy leads the group with his speed, strength and athleticism, and will move down into the box as the nickel linebacker. Seniors Randall Burden and Anthony Mosley are back at corner after combing for 11 pass breakups and two interceptions. Junior Martavius Neloms began the spring as the starter at corner, but could see more time at safety this fall. Mychal Bailey will line up at safety and was second behind Guy with two interceptions last season. Inexperience behind this group is still a problem.
11. Auburn:
Things started off poorly when senior safety Michael McNeil was one of the four players arrested for robbery and later dismissed this spring. McNeil, who started seven games last season, was supposed to be one of the stars of the Tigers' defense this fall. Now he's gone and former corner Neiko Thorpe is moving over to safety. The move actually benefits the hit-first defensive back. T'Sharvan Bell is at corner and has the speed and tight cover skills to be one of the best at his position. After that, it's a free-for-all. Incoming freshman Erique Florence should get an opportunity to come in and play immediately at safety.
12. Ole Miss:
This group had to hear about how it was the goat of last season's 4-8 campaign after allowing 246 passing yards a game. It was a motivational tool this spring, but there's a lot of work to do. New defensive backs coach Keith Burns was pleased with the spring progress and really liked how JUCO transfer Wesley Pendleton played at corner. He's competing to take one of those spots from either Marcus Temple, who missed spring with injury, or Charles Sawyer, who had to be pushed at times this spring. The reliable Damien Jackson is back at safety and could line up next to Brishen Mathews, who got good playing time last season, but is still unproven. JUCO transfer Ivan Nicholas and freshman Cliff Coleman will compete for time at safety and corner, respectively.
April, 15, 2011
4/15/11
11:27
AM ET
By
ESPN.com staff
| ESPN.com
Spring game:
2 p.m. ET on Saturday

Questions answered:
Even though
Tauren Poole
topped 1,000 yards rushing last season, the Vols' running game lacked consistency. Coach Derek Dooley felt like they left too many yards on the field. This spring, they added another piece to that running game in sophomore
Rajion Neal
, who had some big scrimmages. Dooley feels like you have to have two No. 1 running backs to make it in the SEC, and both of the incoming freshmen (Marlin Lane and Tom Smith) will get their shot when they arrive this summer. The Vols' continued development in the offensive line was also one of the highlights of the spring, and they're building depth up front. Right tackle Ja'Wuan James, right guard Zach Fulton and center James Stone are all returning starters who played last season as true freshmen. Sophomore Alex Bullard, who transferred from Notre Dame, has worked at left tackle and is somebody who will definitely be in the rotation if he gets a hardship waiver from the NCAA. Marcus Jackson, a highly rated true freshman who enrolled early, has been a starter all spring at left guard.
Questions unanswered:
Sophomore quarterback
Tyler Bray
added a few pounds, got a lot stronger and gained a deeper understanding of the Vols' playbook. But it remains to be seen if he's the kind of leader who can help take this team to the upper echelon of the SEC. Bray said he made a conscientious effort to be more vocal this spring. What's not up for debate is his ability to throw the football. He has a big-time arm and is fearless in the pocket. The entire front seven on defense also remains a huge question mark. Tennessee lost five of its seven starters from a year ago, including key leaders such as Nick Reveiz and Chris Walker. The Vols were still shuffling guys around on the defensive line this spring to find the right combination, and the jury's still out on whether they have enough SEC-quality linebackers. Staying on defense, the Vols will probably be counting on a pair of junior college players (Byron Moore and Izauea Lanier) to come in and play right away in the secondary, especially with no guarantees that safety Janzen Jackson will be back.
Spring stars:
Sophomore Da'Rick Rogers has All-SEC receiver written all over him. He's a 6-foot-3, 215-pound specimen who can go get the football with the best of them. He made huge strides this spring in the finer points of playing receiver and made as many big plays as anybody on the team. He and fellow sophomore
Justin Hunter
as a combo should be something to see. Sophomore defensive end Jacques Smith was one of the Vols' top defenders this spring and has a chance to be a dominant pass-rusher. He suffered an injury to his foot (believed to be a broken bone) this week in practice that will likely sideline him until June. Sophomore Brent Brewer, who made a big impact a year ago in his debut, has been lighting people up at safety and made even more improvement this spring.
Of note:
James has missed the past two and a half weeks of practice with mono. … The Vols would like to get sophomore fullback
Channing Fugate
more involved in the offense. The 251-pound Fugate rushed for 3,000 yards as a junior in high school. … Tennessee appears set at the kicking positions with sophomore Michael Palardy handling the place-kicking duties and redshirt freshman Matt Darr doing the punting. … Junior safety Prentiss Waggner broke one of his fingers and has played the last two weeks with one of those clubs over his cast. … True freshman Vincent Dallas has made a strong push this spring to be a part of the receiver rotation next season, and Bray said sophomore
Matt Milton
is also coming on. Milton, who's 6-foot-5, would fit in nicely with the 6-4 Hunter and 6-3 Rogers. The Vols also have heralded freshman receiver DeAnthony Arnett arriving this summer.
March, 21, 2011
3/21/11
2:12
PM ET
By
ESPN.com staff
| ESPN.com
Tennessee coach Derek Dooley said at his pre-spring practice news conference Monday that sophomore safety Brent Brewer has been reinstated to the team.

Brewer, who was arrested last month on domestic assault charges after a woman accused him of putting his hands around her throat and trying to strangle her, had those charges reduced to offensive touching and was placed on judicial diversion, according to his attorney.

Dooley said Brewer still faces some internal discipline, including being suspended from a session of summer school. But getting Brewer back is good news for Tennessee defensive coordinator Justin Wilcox, who was already without junior safety Janzen Jackson this spring. Jackson withdrew from school to deal with personal issues, although the Vols remain hopeful that he will be able to return for the fall.

Brewer, a former minor league baseball player, started the last six games at strong safety last season and was one of the team's more improved players. If Jackson is indeed able to rejoin the team in August, a Brewer-Jackson combo would be a formidable one at safety.

Dooley said even though Jackson won't be practicing with the Vols this spring that he does seem to be managing his life well.
February, 15, 2011
2/15/11
12:48
PM ET
By
ESPN.com staff
| ESPN.com
Some SEC linkage for you on a Tuesday:
February, 14, 2011
2/14/11
12:05
PM ET
By
ESPN.com staff
| ESPN.com
Some of what's making headlines around the SEC: