July, 3, 2013
7/03/13
5:10
PM ET
Good luck in getting anybody at Florida to believe him, but Urban Meyer says he did not turn Florida in for recruiting violations.
Clay Travis of FOXSports.com reported Wednesday morning that Meyer and Ohio State turned in Florida assistant coach Brian White for an
alleged improper "bump" violation
related to the recruitment of Curtis Samuel, a running back/defensive back from Erasmus Hall High School in Brooklyn, N.Y.
Obviously, Meyer coached at Florida and led the Gators to two national championships before stepping down (for a second time) following the 2010 season. He took a year off and "unretired" to Ohio State. He's also the one who hired White at Florida. White was retained by current Florida coach Will Muschamp.
Here's where it gets really good: Meyer insisted to The Gainesville Sun later Wednesday that he had no part in any accusations against Florida and that it was merely the Ohio State compliance department doing its due diligence after seeing an article.
"It is absolutely not true that I turned in the University of Florida," Meyer said in a text message to Pat Dooley of The Gainesville Sun. "Weeks after, I learned our compliance guy (without any coach involvement) forwarded an article to the conference office. This is standard procedure. Once again, zero coach involvement."
An Ohio State spokesman told ESPN's Brett McMurphy that
Meyer was not initially aware
that the Buckeyes turned in Florida for a possible secondary NCAA violation, although a source with knowledge of the situation told ESPN that "Urban was aware of it and he endorsed it."
A second source at Florida told ESPN.com later Wednesday that Ohio State under Meyer's tutelage has twice turned in Florida to the NCAA and the Gators were cleared both times. That same source wasn't buying Meyer's assertion that he wasn't involved in any way in this latest episode.
It's worth noting that when Meyer left Florida following the 2010 season that the university paid him $1 million more than three months after he quit, making good on a retention bonus.
Now, before Florida fans decide to disown Meyer completely, let's not forget that there are two crystal footballs in Florida's trophy case that he's responsible for.
But the more we hear about some of the things that went on off the field during his tenure (and reportedly what was allowed to go on), the more Florida fans might want to distance themselves from Meyer.
I guess we all can hope for a Florida-Ohio State matchup sometime real soon in the postseason.
May, 16, 2013
5/16/13
11:05
AM ET
GAINESVILLE, Fla. -- Early in the 2012 season, Florida coaches discovered something puzzling about running back
Matt Jones
.
The 6-foot-2, 225-pound freshman, who was built more like a linebacker, wasn't playing to his size. Instead of barreling through the middle of the field, Jones tried to either dance or run around his opponents.
It was ineffective and frustrating. Jones had throw out his old high school tactics and learn to put his foot in the ground and go north and south. So head coach Will Muschamp and running backs coach Brian White sat Jones down midway through the season for a meeting about change.
[+] Enlarge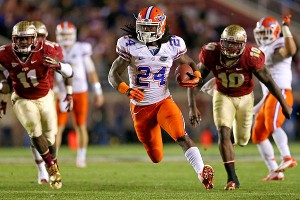 Mike Ehrmann/Getty ImagesRunning back Matt Jones expects to be a workhorse for the Gators in the fall.
He had to pay more attention to his coaches, be more alert in meetings, and most of all he had to play to his strength: being a power runner.
"You don't make your fastball pitcher throw changeups," Muschamp said. "Let's throw the fastball, and let's make them tackle the fastball."
Jones, who played backup to Mike Gillislee, didn't have spectacular stats last season, but there was a definite change to how he prepared in the second half of the season. To him, his meeting with the coaches changed his entire perspective on his play, and things really started to click during the Jacksonville State game.
Jones ran for 65 yards on eight carries that game, staying in the middle of the field as much as possible. He then turned around with 81 yards and a touchdown on eight carries in the Gators' 37-26 win at Florida State.
For Jones, his mentality and work ethic transformed. While he understood his role as Gillislee's backup, he aimed to prove that he wanted carries. He wanted his coaches to think twice about taking him off the field.
"I was so hungry that I was going to show the coaches that I really wanted to play," Jones said. "I knew I wasn't going to start, but it was expected that if [Gillislee] went down I was going to be ready at any time."
Jones' hunger comes from very humble beginnings. The youngest of three football-playing brothers, Jones grew up in a small, pink, single-family home in Tampa, Fla., never knowing his father. His mother, Barbara Singleton, was diagnosed with thyroid cancer when Jones was 16. She's now cancer-free.
Jones was so embarrassed by his small, crowded house that he would only do in-home visits with coaches at his girlfriend's house. Florida coaches went by for a traditional Sunday meal -- complete with chicken, pork chops and rice -- before Jones enrolled, but he never showed them his real home.
Leaving that home behind stands as a major motivator for Jones.
"Coming from that, man, it just made me hungry," Jones said. "I just wanted to get my mom out [of] that situation, and it definitely makes me humble.
"[His mom] wants one of her boys to make it (to the NFL)."
First, Jones had to get through spring practice as the Gators' new starting running back. With the 1,000-yard shoes of Gillislee to fill, there was a bit of pressure on Jones, who rushed for just 275 yards and three touchdowns last season.
But he entered spring with the mentality of, well, running away with the starting spot. After spending his high school days running a similar offense, Jones said he felt very comfortable with Brent Pease's playbook. He absorbed it quickly last fall, then locked himself in the film room this spring, studying everything from his movements to defensive sets, safety rotation, blitzes and defensive line tendencies.
He even helped fellow backs
Mack Brown
and
Kelvin Taylor
with their film work and wanted to make sure Muschamp wasn't uncomfortable with the makeup of the running back position.
"He has attacked the offseason, and I use the word 'attacked' in bold letters," Muschamp said. "He's has gone after the offseason, and he had an outstanding spring. He'll carry it a bunch this fall."
Ask quarterback
Jeff Driskel
about Jones and he interrupts with one word: freak.
"He's tough, and that's what you need at running back," Driskel said. "He's not scared to pick up the extra few yards and put his head down, rather than try to bounce it outside."
Jones is using his fastball, and he's ready to put this team on his shoulders. He understands that this offense revolves heavily around the running game, and that he's now the face of the position.
Jones embraces that and oozes confidence, as he wants 1,500 yards and more than 12 touchdowns.
That attitude has Jones' teammates thrilled about working with him.
"You definitely get excited as an O-Lineman when you have a running back that's running the ball like that with so much heart and passion," guard
Max Garcia
said. "He's going to be a problem (for defenses) this fall."
May, 10, 2013
5/10/13
2:00
PM ET
GAINESVILLE, Fla. – It started innocently enough with a hashtag and an illustration tweeted by Florida wide receivers coach Joker Phillips. There was the Joker, the Batman villain portrayed by Heath Ledger, wearing a blue Gators blazer including the hashtag #ComePlayWRFortheJoker.
Others followed. An astronaut planting a Gators flag and a newspaper featuring the hashtag and
Jeff Driskel
watching the Kentucky Derby among them.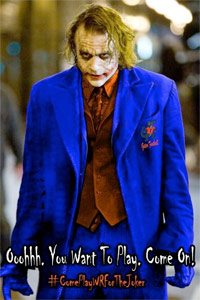 TwitterHaving a little fun with Twitter is helping Florida impress recruits.
Not to be outdone, offensive coordinator Brent Pease posted his own masterpiece of Harry Potter flying over The Swamp with his three quarterbacks, Driskel,
Tyler Murphy
and
Skyler Mornhinweg
looking up at Potter on a broom stick. It was captioned with Chasing #TheStandard.
Assistants Brian White, Derek Lewis and Tim Davis have all joined in on the social media onslaught with photos of their own.
While funny, the campaign is also helping Florida go on the offensive in social media. Instead of just private messages to recruits, the Gators are proactively using Twitter as well as Facebook and Instagram as a new outlet for reaching prospects.
Head coach Will Muschamp has refrained from posting comical photos but has used Twitter to promote the success of his program, including several Tweets about the eight Florida players that were selected in the 2013 NFL draft.
Muschamp hasn't said much about his assistants' forays into memes, but he has made it clear that he will do what is necessary to help Florida recruit the top players in the country -- even if that includes getting creative with the recruiting process.
"I'm not very good at that stuff," Muschamp said at a recent Gator Club gathering. "We have some coaches that have good imaginations."
But does this unique recruiting pitch have any effect on high school players and coaches?
Jacksonville (Fla.) Providence head coach Bobby Raulerson, who's star left tackle,
David Sharpe
, is the No. 12-ranked player in the country, said this tactic is certainly helping the Gators get noticed.
"We all know college football is one of the most competitive businesses on the planet," Raulerson said. "And, with everyone relying on social media to aid in the recruiting process, success or failure boils down to one question. How do you distinguish yourself from the competition? While I don't think it will affect any recruits decision to attend UF, it does create the all important 'buzz' that coaches are always searching for. Without a doubt, I think it is a creative way for the Gators to stay in the news during the heart of spring recruiting."
Offensive tackle
Denzel Ward
(Bradenton, Fla./IMG Academy), one of Florida's top offensive line targets, agrees with Raulerson's assessment.
"I think it's funny," Ward said. "It's very catchy. It caught my eye and it gets you to look at Florida in a different light because they are being creative which a lot of other schools aren't. I know a lot of coaches use social media to message kids and talk to them and things like that, but Florida is using it to promote their program in a positive way and for their own benefit. It's eye-catching and just draws more attention to the program even more."
Tallahassee (Fla.) Lincoln head coach Yusuf Shakir, who coached Florida wide receiver
Raphael Andrades
at Lincoln, sees it bridging the age gap.
"To be honest with you, that's how kids interact now," Shakir said. "They are always on Twitter. Facebook is kind of out of the picture now, but they are on Twitter and Instagram. It's really how they do their whole interaction with everybody. I think it's a phenomenal idea. There's a saying that if you want to get in touch with people then you have to know how to communicate. The more you interact with the kids on their level then the more they are comfortable with you as a coach."
Whether or not recruits think the posts are cheesy is irrelevant, Shakir said. It allows players to see a more personal side of a coach -- a side with a sense of humor to which high school students better relate.
"It opens dialogue. It opens communication and it's intriguing," the Lincoln coach said. "When you start a conversation with someone it's an icebreaker. That's where it helps -- especially with kids.
"Anytime you can get someone to laugh at something, not only that, but then the kid always enjoy when adults can laugh at themselves so it doesn't appear that the adults are uptight. I think coaches at big-time schools, especially at like the University of Florida, can be intimidating to the kids when they come in, but if that coach has a way to break the ice, then maybe that kid will open up a little bit more and connect with the coach and feel a little bit closer with the coach."
Ward, the three-star tackle with offers from Pac-12, Big 12, SEC and Big Ten programs, admits social media efforts won't persuade his decision, but he added he is learning more about the history of the program because of the recent photos and tweets.
"It just keeps Florida fresh in my mind," Ward said. "They are thinking outside of the box and being creative. It just catches my eye. I follow both pages on Instagram, Coach Joker and Coach Davis. They put up some funny pictures but they also put up some good photos about the history of the program and where the program is headed. It's good to know."
Opinions might differ on this new and innovative recruiting philosophy, but one thing is certain, recruits will never look at the Batman and Harry Potter movies the same.
April, 7, 2012
4/07/12
7:35
PM ET
GAINESVILLE, Fla. -- The adventure as
a guest coach
at Florida's spring game continues ...
12:00 p.m.:
A host of former players get together for a flag football game dubbed the "Battle of the Decades," with players from the 1980s, '90s and 2000s participating. Thankfully, none of the old guys is hurt from all that running.
12:10:
The quarterbacks come out and SI.com's Andy Staples and I try to meticulously dissect every single part of
Jeff Driskel
's and
Jacoby Brissett
's games to figure out which one is better. Like everyone around Florida's program, we're unable to.
12:20:
I walk over to punt-return drills, nearly getting clocked by a ball the wind carried over toward me.
Marcus Roberson
,
Trey Burton
,
Loucheiz Purifoy
and
De'Ante "Pop" Saunders
are taking reps.
12:29:
One-on-ones between receivers and defensive backs begin. It's light, but it's something to look at and we still can't figure out which quarterback is better, but tight end
Jordan Reed
impresses with a one-handed catch and true freshman receiver Latroy Pittman out-muscles his opponents for a few tough catches.
12:35:
The offensive line goes through drills which incorporate a lot of spinning, slapping, pulling and pushing. It's humorous, until you realize how much bigger they are than you. Then you just think it's dangerous. Offensive line coach Tim Davis screams "Spin, spin, spin," until he's blue in the face and his voice is hoarser than before.
[+] Enlarge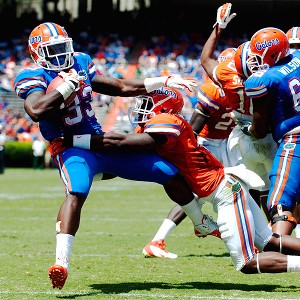 AP Photo/Phil SandlinRunning back Mack Brown (33) stumbles in for a touchdown during Florida's spring game Saturday.
12:49:
After watching the offensive line go at the defensive line, headlined by a rough battle between
Sharrif Floyd
and
Xavier Nixon
, the team jogs to the middle of the field for one last huddle before hitting the locker room.
12:51:
We're in the locker room and the fun begins. After the team splits up by position, the coaches start going over last-minute game plans and emphasizing technique. "Stay under control!" running backs coach Brian White yells. "Let's get this crowd jacked up! Have people leave this (game) knowing we're going to flat-out dominate up front!" Defensive coordinator Dan Quinn preaches mental toughness in loud, quick bursts. He doesn't want to see any walking around or hands on hips. He wants energy and aggression on the field. "Ball Out U!" he screams. "Put out great (expletive) tape! When we turn on the tape I want to make sure I can't wait to watch you."
12:57:
The excitement is growing inside the locker room. An animal is waiting to be unleashed. Players are hyped, as White walks around with a smile on his face saying, "Lotta nervous faces in here today," over and over. He's followed by verbose defensive backs coach Travaris Robinson, who constantly taunts the receivers and pretty much every offensive player. "Let's get to those quarterbacks today and get in their faces!"
12:59:
Floyd sits and stares at the floor, like he's ready to destroy it. The person giving bear hugs and high-fives at the Gator Walk is ready to rip someone apart like a bear. He sits in silence as a coach tosses him smelling salt. He sniffs and doesn't flinch. He's ready.
1:04:
Defensive end/Buck
Ronald Powell
shoots up out of his chair and starts dancing around, yelling inaudible words of encouragement to his teammates. He's pushing guys and slapping their pads. "Play
yo
game, baby! It's just practice! Everything you do, you've done before!"
1:05:
Floyd stands and walks to the center of the locker room. His teammates huddle around him. Players go silent when he speaks. "Do
your
job, not the man next to you!" His voice is deep, loud and haunting. He keeps shouting "aggressive" over and over, which fuels his teammates even more and incites a frenzy before head coach Will Muschamp arrives.
1:07:
Following the Lord's Prayer, Muschamp delivers a short pregame speech. "Fast and physical. Offense, run the ball down their throats!" The place explodes as players exit the locker room, tapping the orange "GRIND" sign above the locker room door on the way out.
1:10:
Kickoff.
We didn't get to actually coach or call plays, but here are some observations from the sideline:
Davis was very hands-on with linemen when they made mistakes. He made them verbally repeat their mistakes and asked them what they had to do to correct them. He was extremely thorough with players and took time to teach between plays.

Offensive coordinator Brent Pease was really concerned with clock management. He was constantly telling the quarterbacks not on the field to make sure that the one in the game knew about the clock and knew when it was running out, even though there was no delay-of-game penalty. That communication failed early in the scrimmage.

Even though Pittman had a pretty impressive day, receivers coach Aubrey Hill and receiver Andre Debose were coaching him on his routes, helping him get out of his breaks faster on the sideline.

Driskel and Brissett looked like old fishing buddies out there. They were joking with each other after plays and helping each other when they made mistakes. Competition didn't stop them from cooperating.

Tyler Murphy appears out of the quarterback race, but he showed some excellent coaching skills. He was spouting terminology and trying to help as much as he could. He was by Pease's side almost the whole time and was able to find a lot of the little things the other QBs missed. He might know the offense the best, but isn't as skilled as the others.
Quick quotes:
Running back Mack Brown after getting popped during his touchdown run: "He picked me good. He Goldberged me."

Receiver Solomon Patton after Chris Johnson's 15-yard run in the fourth quarter: "Man, we got some backs."

Debose to walk-on Michael McNeely after his 52-yard catch: "I bet you thought that ball was in the air forever, huh?"
2:53:
Blue defeats Orange 21-20 and I debut with a victory. As Muschamp jogs to meet Florida's band director, he stops to congratulate me on my win and I announce my retirement from the coaching profession.
April, 7, 2012
4/07/12
7:04
PM ET
GAINESVILLE, Fla. -- Four members of the media were chosen to be guest coaches and allowed to go behind the scenes of Florida's Orange and Blue Debut on Saturday. Brady Ackerman of Sun Sports, Pat Dooley of the Gainesville Sun, Andy Staples of SI.com and yours truly were granted access to join the Gators as they prepared for their spring game. We experienced the sights and sounds of the closest thing to a game day for a major college football program; this is what I saw ...
8:00 a.m.:
I arrive at Ben Hill Griffin Stadium with a Starbucks Doubleshot and a Snickers Marathon energy bar to start the day. The sun is up and there's a breeze in the air. It's almost the perfect setting to start a long day of running around Florida's football facility.
8:30:
We meet with coach Will Muschamp in his spacious office inside the stadium for a casual 15 minutes to talk shop. There are some laughs and some talk about the team, and he warns us that a poor performance by one of the two teams -- Orange or Blue -- will be followed by having the blame placed on the two media members coaching that side. Ackerman and I are placed on the Blue Team, while Dooley and Staples are assigned to the Orange Team.
9:05:
A true breakfast of champions. We walk over to one of the dinning halls across from the stadium. The first thing you notice is that the dining area couldn't be big enough to house all these football players, but somehow, it is. The Gators pile in and begin the feast. The basics are there: pancakes, bacon, eggs and grits. And at the end of the buffet line, steaks and grilled chicken breasts sat there ready to be devoured ... and they were. After sipping on some fine, freshly squeezed orange juice, we media members tried to blend in and snag some grub before the carnivores went back for seconds. Linebacker
Jelani Jenkins
stacked steaks on chicken, while fullback
Hunter Joyer
went with pretty much everything he could lay eyes on and added some pasta. The fruit was barely touched. I tried to mimic the players, throwing protein and starch together for a yummy, relatively healthy cornucopia of deliciousness. Grilled chicken and pancakes really do work.
[+] Enlarge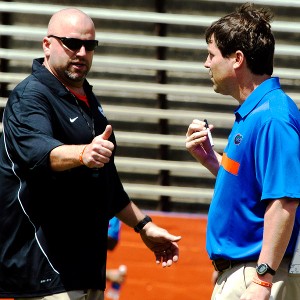 AP Photo/Phil SandlinStrength coach Jeff Dillman gives head coach Will Muschamp, right, a thumbs-up during Florida's spring game in April.
9:35:
After stuffing our faces, we head back over to the stadium and toward the locker room. We stand around as players, coaches, recruits and staff members wandered the halls. TV screens that surround a massive gator head in the middle of the room show highlights from the 2011 season, mixed with music videos featuring LMFAO, Will.i.am and Drake. Every player touches the gator before he runs out onto the field before games.
9:37:
Running backs coach Brian White, defensive coordinator Dan Quinn and offensive line coach Tim Davis gig us about coaching. We're asked what our game plan is, and we basically say not getting in the way. Dooley tells Quinn to blitz every down and I tell Davis that he should be glad I'm on his team because my PlayStation skills are unmatched. He laughs, realizing I'd be in over my head if this were real.
10:05:
After walking back and forth for a good 10 minutes, rising senior defensive tackle
Omar Hunter
embraces Quinn and yells "Last time, baby," signaling that his Gators career is coming to an end.
10:20:
We leave the locker room to go on the Gator Walk. Last year, the team bussed. This year, it walked, so we walked. The team is dressed in orange shirts and blue shorts -- nothing too flashy. Wide receiver
Quinton Dunbar
awkwardly raps the words to some song, while the freshmen converse about doing this for the first time.
10:26:
I finally hit the official start of the Gator Walk. It's spring break for Alachua County school districts, so the crowd is a little thin, but it's lively. Still, with the smaller crowd there to greet the Gators, kicker
Caleb Sturgis
utters this gem: "This is what happens when you go 7-6." Defensive lineman
Sharrif Floyd
looks at me and says that the Gator Walk never gets old, then counts the number of hugs he gave with the exact number of "a lot."
10:40:
As the team piles into the locker room, the offense stays on the field for a mini walk-through. Offensive coordinator Brent Pease goes over Xs and Os and formations ... lots of formations. He's pulling, pushing and quizzing guys along the way and even puts on player on the spot with a heap of questions about a certain play and formation. Luckily for the player, he passed Pease's test.
10:49:
The offense huddles up, with rising sophomore quarterback
Jeff Driskel
pushing to the middle, before breaking and heading to the locker room.
11:55:
After a lot of waiting and people watching, we finally head into the locker room with the players an hour before kickoff. Led by new strength coach Jeff Dillman, the players are going through dynamic stretching, with Dillman leading like a drill instructor with short, loud commands. Players isolate their cores, thoroughly stretch their legs and their backs; Dillman is very technical and very loud. "We're gonna have a great day today!" he yells. "Build that rage! One minute till we prime that engine!"
January, 1, 2012
1/01/12
10:30
AM ET
Here are three keys for Florida heading into the Taxslayer.com Gator Bowl against Ohio State Monday:


Let loose on offense:
Florida's offense struggled yet again this season, so it's time to open things up. Charlie Weis has left for Kansas, so running backs coach Brian White should use his audition for the offensive coordinator job to throw the conservative play calling out. Florida's offense really has nothing to lose. The offense needs some confidence and Florida needs to start by stretching the field.
Contain Braxton Miller:
Miller has run for at least 100 yards in three of his past five games, and is averaging 13.3 yards per rush on draw plays. The Buckeyes' offense hasn't been very explosive all season, but Miller can extend plays and can be that much more deadly because of his ability to run. Florida's rush defense had some bend to it this year and a scrambler like Miller could keep the Buckeyes on the field longer.
Protect Brantley:
The Gator's thin offensive line must keep
John Brantley
upright and out of trouble if Florida intends to move the ball against the Buckeyes. Florida only gave up 23 sacks on the season, but Brantley isn't much of a runner, so when he has to try and escape pressure, plays usually breakdown. With his lack of mobility, Brantley needs much more time in the pocket.
December, 30, 2011
12/30/11
5:05
PM ET
Gene Chizik couldn't wait to leave Atlanta.
Shortly after speaking with the media at the Chick-fil-A Bowl news conference inside the fast food chain's headquarters, Chizik went straight into overdrive getting back to Auburn for meetings and practice.
[+] Enlarge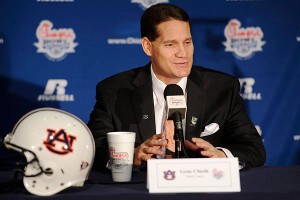 Paul Abell/US PresswireAuburn head coach Gene Chizik answers questions about his plan to also run the Tigers' defense.
He wasn't necessarily having a bad time being surrounded by the aroma of chicken sandwiches and milkshakes, but he was on a schedule that was shorter than usual with his new job as both head coach and defensive coordinator for the Tigers.
Days before, Ted Roof left to take a similar job at Central Florida, so Chizik, who has 11 years of defensive coordinating experience, took over the position through bowl season.
"I did that for so many years," Chizik said of coaching Auburn's defense. "You just kind of jump back on the horse and get back at it."
Still, with time management and time constraints being just two things changing for Chizik, you could imagine there's a little more stress in the Chizik household these days.
Bowl anxiety is truly setting in and his double duty act will really be put to the test Saturday night against Virginia.
While Chizik might be stressing more than usual, his players aren't. Sophomore defensive end Nosa Eguae said things are relatively the same for players. To him, the defense hasn't changed much when it comes to preparation, and Chizik's defensive knowledge has made the short transition easy.
"He has a great football mind," Eguae said. "Anytime we're in a meeting, everybody gets it and understands it.
"I love it. There are people who can balance the two of being head coach and defensive coordinator and he's great at what he does."
The only real difference, outside of not seeing Roof overlooking the defense, is Chizik's demeanor. Eguae said Chizik's defensive passion is glowing, and it can get a little intimidating.
"When he's focusing more on the defense you can see that intensity in his eyes and hear it in his voice," Eguae said. "I love it."
Auburn isn't the only team dealing with change. Arkansas has welcomed in a new offensive and defensive coordinator in Paul Petrino and Paul Haynes. Florida lost offensive coordinator Charlie Weis, who is now the head coach at Kansas, and temporarily promoted running backs coach Brian White.
No one was probably more caught off guard by change than Florida's players. Weis said weeks before taking the Kansas job that he expected to be in Gainesville for the long haul. But his abrupt exit left players shocked.
While Florida struggled tremendously on offense this season, White said he wants to keep some order by maintaining the same offensive philosophy. There will be some tweaks, but plays and formations should be relatively the same.
"It's pretty much status quo. This is what our players know," White said. "This is what we've coached all year. We can't all of the sudden go and do something out of the box in a couple weeks. That would be foolish."
Unlike Auburn and Florida, Arkansas' coordinators are locked into next season.
Petrino is very familiar with the Hogs. Not only is his big brother the head coach, but he was also on staff in 2008 and 2009. Even with Garrick McGee now UAB's head coach, Arkansas' offense shouldn't change much under Petrino, but he does have some big shoes to fill.
Haynes, who takes over for Willy Robinson, left Ohio State to work in a conference where defense truly is king. Arkansas' defense took an unexpected step back in 2011, ranking no higher than eighth in the SEC in major defensive categories.
In order to keep things easier for defenders, Robinson isn't changing much, either, and plans to show a multiple defense attack.
While it isn't always easy to say goodbye to a coach, these replacements appear to be making life better. Limiting the thought process seems to be the recipe for smooth transitions.
"There's not going to be a lot of thinking come Saturday," Eguae said.
December, 26, 2011
12/26/11
10:02
AM ET
Later this week, the bowl season kicks off for the SEC with three games.
On Friday, Mississippi State faces Wake Forest in the Franklin American Mortgage Music City Bowl. And on Saturday, Vanderbilt takes on Cincinnati in the AutoZone Liberty Bowl, while Auburn meets Virginia in the Chick-fil-A Bowl.
Who in the SEC has the most to prove this season in the bowl games? And we're talking head coaches, assistant coaches, players, teams and particular units on teams.
[+] Enlarge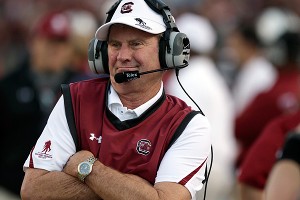 AP Photo/Brett FlashnickCan coach Steve Spurrier get the Gamecocks their fifth overall bowl win in school history?
Here's a look:
South Carolina:
Don't bother looking up South Carolina's bowl record. It's ugly. Try 4-12 all-time, and the Gamecocks have lost four of their last five, including three straight. They've played some real stinkers in the postseason, too. Steve Spurrier has knocked down a lot of barriers at South Carolina. Here's a chance to knock down another one against Nebraska in the Capital One Bowl. He and his ball team need to prove they can get it done in the postseason.
Alabama:
Second chances are rare in college football. The Crimson Tide are getting one in the Allstate BCS National Championship Game against LSU. There was a lot of chatter coming out of Tuscaloosa the first time about Alabama being the better football team despite what the scoreboard said. Well, this time, there's a lot of chatter nationally about the Crimson Tide not belonging in the national title game. There's only one way to quell that.
Mississippi State:
It wasn't a bad season in Starkville. Unfulfilling is probably a better way to put it. The Bulldogs had high expectations, but wound up 6-6. It's true they were a few plays away from being 8-4, but they didn't make those plays. Making them against Wake Forest in the Franklin American Mortgage Music City Bowl and completing a second straight winning season would make everybody in Bulldog Land feel a lot better.
Bobby Petrino:
It's not so much that Petrino has a lot to prove. After all, he's turned Arkansas into one of the SEC's elite programs in four seasons. But here's a chance to get to 11 wins and do it against a top-10 team — Kansas State in the AT&T Cotton Bowl. The Hogs have lost five of their last seven games to top-10 opponents. If they're going to take that proverbial next step, this is the kind of game they need to win, and a victory would generate a ton of momentum heading into next season.
James Franklin:
The coach has already done what nobody (outside the guys in that Vanderbilt locker room) expected -- he's guided the Commodores to a bowl game. But if they don't win it against Cincinnati in the AutoZone Liberty Bowl, it's just going to go down as another losing season, which would be the 28
th
at Vanderbilt in the last 29 seasons. The difference between winning and losing this game for Franklin and the Commodores is huge.
Alabama's place-kickers:
Not much needs to be said here. If the Crimson Tide had made a couple of field goals back on Nov. 5, they would be unbeaten right now. Cade Foster is the one who's struggled the most, but he handles the longer attempts. In Jeremy Shelley's defense, he ended the regular season by making his last four attempts. Alabama fans hope they're saving up all their big kicks for the Big Easy.
Jordan Jefferson:
There are a lot of folks who don't think the LSU quarterback can beat Alabama standing in the pocket and throwing the ball. Obviously, a big part of Jefferson's game is running the ball. But something says Alabama will be a bit more prepared for the option this time. If LSU is going to win its second national championship in five years, Jefferson will have to make a few big plays in the passing game.
Isaiah Crowell:
For a true freshman who flirted with 1,000 yards in the regular season, Crowell sure has been a lightning rod. He still has a lot of growing up to do, but the talent is there to be a great one in a long line of great Georgia tailbacks. Maybe he'll put it all together for four quarters in the Outback Bowl versus Michigan State.
Auburn's defense:
Not that head coach Gene Chizik is prone to point the finger, but if he's looking for somebody to blame about the way Auburn plays on defense after the Chick-fil-A Bowl, he'll have to point it at himself. Chizik is in charge of the Tigers' defense for the bowl game, and this is their last chance to get that sour taste out of their mouths from the regular season. Auburn was one of two SEC teams to give up an average of 400 yards per game and allowed 34 or more points in seven of 12 games.
Florida's offense:
Charlie Weis has taken off for Kansas, meaning Brian White moves in as the Gators' interim offensive coordinator. He could be auditioning for the full-time job. The thing he has going for him is that it can't get much worse than the regular season. Not counting the Furman game, the Gators scored more than one offensive touchdown in a game only once in their last seven contests. The other bit of good news is that
Jeff Demps
and
Chris Rainey
should both be as healthy as they've been.
December, 21, 2011
12/21/11
12:30
PM ET
Checking out the SEC with some links.
December, 20, 2011
12/20/11
7:44
PM ET
By
ESPN.com staff
| ESPN.com
Florida's interim offensive coordinator focused on bowl, not job opening
: Brian White says he is focused on the Gator Bowl and not worrying about his four-week, on-the-job interview to be the team's offensive coordinator.
Rosario doubtful for FSU game
: Florida coach Billy Donovan said Tuesday that redshirt junior guard Mike Rosario is still doubtful for Thursday's game against Florida State with a lower back strain.
Breaking down the class
:

Derek Tyson analyzes the Class of 2012's offense.