August, 13, 2014
Aug 13
3:00
PM ET
BATON ROUGE, La. -- Les Miles didn't offer many specifics about LSU's first preseason scrimmage on Wednesday -- particularly about which quarterbacks completed the two touchdown passes -- but the Tigers' coach described the 26-play scrimmage as "pretty productive."
Miles confirmed that freshmen
Leonard Fournette
and
Malachi Dupre
are both dealing with injuries, adding that tailback Fournette ran a handful of times in "thud" drills (not full contact) and that he should participate in a greater role in Saturday's full scrimmage.
"He really could have been involved today, but [with] a little bruise, we decided not to," Miles said.
[+] Enlarge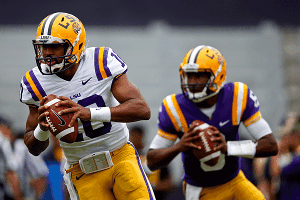 Derick E. Hingle/USA TODAY SportsCoach Les Miles said that QBs Anthony Jennings, left, and Brandon Harris are both grasping LSU's offense.
He made similar comments about wide receiver Dupre, who already missed a couple of practice days with an undisclosed injury.
"He's really nicked and on the heal and they don't think it's anything major in any way, but we've just got to continue to treat and get him going," Miles said.
He didn't say which quarterbacks threw the passes, but Miles did reveal that
Avery Peterson
and
Travin Dural
caught touchdowns in the scrimmage.
Speaking generally, he said that quarterback contenders
Anthony Jennings
and
Brandon Harris
are in command of the offense most of the time. The rest remains a work in progress.
"They're young, they're both engaged in leadership and want to have command of the offense -- and they do for the most part," Miles said. "They don't know what command is. They don't necessarily understand exactly what has to be communicated to make this thing go easy. They're learning.
"I'd say 70 percent of today was just very, very well done and 30 percent's probably not enough for anybody that sits in the stands to even notice. And yet that 30 percent we expect from our quarterbacks."
Miles said defensive tackle
Quentin Thomas
-- initially thought to be lost for the season with a torn bicep -- worked in individual drills on Wednesday and might still play this season.
"Today he went through individual and moved and used his hands. It's one of those things when you have a big old arm and you get it nicked, you can't quite tell what it is and what it isn't initially. Frankly he's as fortunate as he could be."
Miles added that the Tigers' occupational therapist, "looked at it and he says there's absolutely no reason to do anything else than rehabilitate and let him play."
Thomas' versatility:
One of the primary benefits of LSU's "Mustang" defense is that it's difficult to tell which rushers will attack the line of scrimmage on any given play. So perhaps it fits that one of the Tigers' key players in that package is
Dwayne Thomas
, since you never know where he might play.
Thomas said he has learned the duties of every position in the secondary, joining
Jalen Mills
as the only Tiger defensive backs who can do that.
"Corner, safety, nickel and dime -- I pretty much know the entire defense," Thomas said. "Wherever Coach [Corey] Raymond needs me, I just go fill in. It's a great opportunity to do that. Being able to be in the mix of any position is good for the next level."
Thomas said he added safety to his repertoire since the end of last season, having worked at the position throughout spring practice.
"Once I got safety down pat, that was like the last position I had to learn for the entire defense," Thomas said. "I had already been doing nickel and dime and corner. After the spring passed, getting all the safety reps down pat was just fantastic."
But it's that Mustang role where Thomas might make the biggest impact. Because of his speed off the edge -- aided by his ability to jump the snap count, work with assistant coach Brick Haley on the finer points of pass rushing and film study of former Mustang standouts Tyrann Mathieu and Ron Brooks -- Thomas could be even more valuable in that role this season.
"Dwayne really gives us what we're looking for at that position. He does a great job there," defensive coordinator John Chavis said when asked about who will play the rushing positions in the Mustang. "Jalen Mills has played a lot at that position. I'm not ready to say anything other than we expect Thomas to be one of those guys."
Kick returners:
Dural said one factor will probably determine who eventually wins LSU's kickoff and punt return jobs.
"We're battling every day to see who's going to drop the ball first," Dural chuckled.
Dural listed a half-dozen candidates who are contending for the return jobs when they catch balls before and after practice each day.
"It's just me,
Tre White
, Leonard, Jamal [Adams], Malachi,
Trey Quinn
. We're all back there battling for a spot," Dural said. "Everybody wants to be that dynamic player. Everybody wants to be the kickoff guy or [punt]."
LSU had one of the nation's best return men last year in Odell Beckham, who entered the NFL draft after winning the Paul Hornung Award as college football's most versatile player. Dural said it won't be easy to replace the explosive Beckham, but he believes the Tigers have plenty of promising candidates.
"It's hard to replace someone like that, but we have a lot of guys who have the ability to make those plays," Dural said. "Tre White, he's a guy that can return punts and return kickoffs as well as Leonard. Leonard's back there returning both of them. So as the season goes on, whoever that guy may be, you'll start to see him make those types of plays that Odell did."
April, 22, 2014
Apr 22
9:00
AM ET
LSU's spring practice ended two weeks ago, leaving a full 15 weeks before the Tigers return to the practice field.
The position battles that started in the spring will continue through summer workouts before resuming in front of coaches in August. Let's take a look at what happened in a few of those spring battles and what we'll be watching between now and Aug. 30, when the Tigers open the season against Wisconsin.
Defensive tackle:
The spring was as much a feeling-out process as anything for defensive line coach Brick Haley. He mostly rode two departed veterans last fall while using youngsters
Christian LaCouture
and
Quentin Thomas
in spot duty. LaCouture and Thomas jumped into leading roles during the spring, and Haley also tested
Maquedius Bain
,
Greg Gilmore
and
Frank Herron
(at times) in the middle. Haley has probably established a mental pecking order with the group, but August and the early-season games will certainly play important roles in cementing the coach's opinions. It will also be worth watching how signees such as
Travonte Valentine
perform once they arrive on campus, as they might allow Haley to utilize a true rotation in the middle.
[+] Enlarge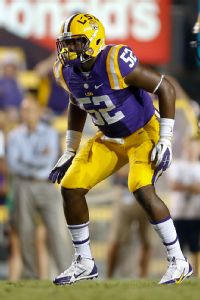 Derick E. Hingle/USA TODAY SportsSophomore linebacker Kendell Beckwith moved inside and was impressive this spring.
Linebacker:
This should be a fun bunch to watch in the fall. While
Kwon Alexander
,
Lamar Louis
and
D.J. Welter
seemed to rank among John Chavis' first options during the spring, it's apparent that the Tigers' defensive coordinator has no shortage of talented options. One of the intriguing spring storylines was
Kendell Beckwith
's transition to middle linebacker behind Welter. The linebackers as a group had an excellent spring game, with
Ronnie Feist
leading all tacklers with 14 stops and both Alexander and
Deion Jones
picking off
Anthony Jennings
passes and returning the interceptions for touchdowns.
Clifton Garrett
is one of the Tigers' highest-rated 2014 signees, and he could add even more intrigue to the competition for playing time once practice resumes.
Quarterback:
Surely you've heard by now that the battle between Jennings and freshman
Brandon Harris
appears to be wide open entering the summer months. Jennings has a slight experience advantage, but Harris was the more effective performer in the spring game. Both players made plenty of mistakes, however. Their offseason preparation in the next few months will be enormously important once August arrives.
Right guard:
This is another battle that the coaches said was wide open once the spring concluded.
Evan Washington
shifted from tackle to guard and seemed to take the leading role in the competition. Fellow senior
Fehoko Fanaika
and sophomore
Ethan Pocic
are lurking, however. It wouldn't be much of a surprise to see all of them play some scrimmage downs against Wisconsin -- or in Weeks 2 and 3 against Sam Houston State and Louisiana-Monroe -- as new offensive line coach Jeff Grimes weighs his options. Coach Les Miles complimented all three players after the spring game, so it seems that the coaches would be comfortable playing any of the candidates.
Safety:
Injuries caused this position to remain as a bit of a mystery during the spring.
Jalen Mills
remained in a starting role, and
Ronald Martin
seemed to be faring well in a return from a fractured right foot. He was injured again by the end of the spring, however, joining
Corey Thompson
(knee surgery) on the sideline by the time the spring game rolled around. Mills and
Rickey Jefferson
were the top options in the spring game, but the Tigers could use any number of combinations when the season arrives -- especially once highly-rated safety prospect
Jamal Adams
and the other signees make it to Baton Rouge this summer. Once the Tigers are back to full strength in August, this should make for one of the most intriguing position battles.
Tight end:
This will be a fun position to track in the fall. They had plenty of playing time last season, but barely made a blip as receivers. They seem to be confident that they will make a more well-rounded contribution in 2014. Sophomore
DeSean Smith
and signee
Jacory Washington
possess intriguing receiver skills, and
Dillon Gordon
,
Travis Dickson
and
Logan Stokes
worked this spring to prove that they are well-rounded players at the position. It's a big group, but all of them should have roles to fill during the season.
Wide receiver:
They were the walking wounded for much of the spring, with
Avery Peterson
,
Kevin Spears
,
John Diarse
and
Quantavius Leslie
all spending time in non-contact jerseys. That was a tough blow for a group that has a lot to prove after
Odell Beckham
,
Jarvis Landry
,
Kadron Boone
and
James Wright
all left the roster after last season.
Travin Dural
-- who had an outstanding spring game with five catches for 130 yards and two touchdowns -- seemed to solidify his spot as the No. 1 receiving option for now. But this will become one of the Tigers' most interesting position battles in August once a star-studded signing class, led by
Malachi Dupre
and
Trey Quinn
, arrives to challenge the returning wideouts.
March, 26, 2014
Mar 26
1:00
PM ET
BATON ROUGE, La. -- Brick Haley faces the blessing and the curse of coaching LSU's defensive line each year around this time.
The blessing is that the Tigers' coaching staff has attracted loads of NFL-caliber talent to Baton Rouge. Just check the stats. Eight LSU defensive linemen have been drafted since Haley joined the staff in 2009, a number that would grow to 10 if defensive tackles
Anthony Johnson
and
Ego Ferguson
are selected this year.
The curse is that continuity is nearly impossible to maintain, particularly at defensive tackle. This is Haley's sixth spring practice at LSU and the third where both of his starting defensive tackles -- whoever they might be in 2014 -- will be new to starting roles.
"That's LSU," said
Christian LaCouture
, who is attempting to take over one of the starting jobs after Johnson and Ferguson both bolted for the NFL after finishing their junior seasons. "That's something where guys, we want to win a national championship, we want to win an SEC championship and a lot of the guys go to the league. You've got to prepare. It's the next man in here and you've got to produce."
LaCouture is perhaps LSU's most experienced interior lineman, having appeared in all 13 games last season as a true freshman. But he faces plenty of competition for a starting job from junior
Quentin Thomas
and redshirt freshmen
Maquedius Bain
and
Greg Gilmore
. Redshirt freshman
Frank Herron
also took some practice reps at defensive tackle earlier this spring, but he appears to be playing end for now.
While LSU coach Les Miles said after Saturday's scrimmage that there's a chance that the defensive tackles "could be as successful as any group that we've had," the dynamics in play this fall could be significantly different from a season ago. Ferguson and Johnson played the vast majority of scrimmage downs in 2013, but the workload might be spread more evenly between players this season.
"They definitely were the impact players of our defensive tackles. They definitely were, and it's all good," Gilmore said. "I think that was a good year for us to sit back, learn the plays, learn the techniques. So I think this year now we have everybody that's equal, trying not to have a drop-off in the twos and try to rotate in."
By redshirting Bain and Gilmore -- both of whom ranked among ESPN's top 130 overall recruits in 2013 -- Haley put a particularly heavy burden on his two starters, and Bain said the effect of that workload was noticeable.
"Last year they were kind of tired between Ego and Freak [Johnson]," Bain said. "They were kind of tired and we told Coach Brick, 'You wore them guys a little bit more. You can trust us.' So now that he trusts us, he's putting us out there in the spring and now he sees that we can do what Freak and Ego did."
Of course, the candidates must prove to Haley that they deserve to share some of those snaps -- which is the same responsibility that signees such as
Travonte Valentine
,
Trey Lealaimatafao
and
Davon Godchaux
will face when they arrive in the summer.
Valentine, according to fellow Floridian Bain, could be a candidate for early playing time if he competes well in August.
"Hopefully when Tra Valentine gets in here, he'll be the fifth man," Bain said of the freshman signee fitting in with himself, LaCouture, Thomas and Gilmore. "But right now, it's just a four-man rotation and that's what we're going with."
Last season, Haley made the best of the hand he'd been dealt. Starting tackle
Bennie Logan
had eligibility remaining when he entered the 2013 NFL draft. Johnson and Ferguson were the returning linemen with whom Haley was the most comfortable, and he decided that the Tigers would be better off riding them as far as possible without relying on the raw freshmen.
Now nobody is particularly proven, and the resulting competition reduces any possibility of complacency within the group. That's what their counterparts on the offensive line have noticed, anyway.
"They know they have less experience than the guys that left, so of course they're out there trying to get better each and every day and they're giving us their all," senior offensive tackle
La'el Collins
said. "Last year we had a lot of veteran guys and those guys were just out there going through whatever they needed to go through. But these guys are giving a little bit more effort because they understand that it's their time to play, so they're really trying to focus on getting better."
Center
Elliott Porter
added that "it's a grind every day to block them," which has created worthwhile practice competition for both LSU lines this spring. Although LSU's offensive line carries a serious experience advantage over its defensive opponents, Miles indicated Saturday that the competition between the two groups has been close -- with two weeks of spring practice left to declare a victor.
"I think that these [defensive tackles] can be dominant players. I think improvement needs to take place," Miles said. "Again, I think the offensive line and defensive line, they're measured in the spring. It's going to be interesting to see that competition as it plays out the next two weeks."
March, 17, 2014
Mar 17
4:00
PM ET
BATON ROUGE, La. – Early enrollment is frequently beneficial in that it helps a newcomer address a team's immediate need, but its value goes well beyond the short term. Imagine what LSU's spring position battles might look like if eight signees hadn't joined the Tigers in January 2013.
"There's no question, if they had not been here in January and moved and advanced in their knowledge of what we're doing, then they'd have a very difficult time competing," LSU coach Les Miles said.
If not for the valuable experience he gained last spring,
Anthony Jennings
-- one of two quarterbacks who early enrolled last year, along with
Hayden Rettig
-- almost certainly wouldn't have catapulted up the depth chart the way he did, much less completed a game-winning comeback against Arkansas in place of injured senior
Zach Mettenberger
. And Jennings and Rettig wouldn't be as far along as they are now in learning the nuances of Cam Cameron's offense if not for that low-pressure springtime learning environment, since the Tigers already had an established starter in Mettenberger.
[+] Enlarge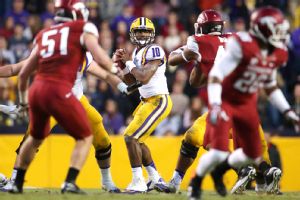 Crystal LoGiudice/USA TODAY SportsIf Anthony Jennings didn't enroll early, it's doubtful he would have been ready to step in for the injured Zach Mettenberger and lead LSU to a comeback win over Arkansas.
"I'm definitely more confident because I've known all the guys for a year now," Jennings said. "I'm confident in everybody on my team rallying around me to become a better leader and a better quarterback."
Quarterback being the high-profile position that it is, perhaps it's the most noticeable place where the Tigers benefited from last year's big group of early enrollees. But LSU is actually better off at several positions because of those eight players who early enrolled last January -- a group that also includes defensive tackle
Christian LaCouture
, tight end
Logan Stokes
, offensive linemen
Fehoko Fanaika
and
Ethan Pocic
and receivers
John Diarse
and
Avery Peterson
.
Nearly all of those players are in the thick of the competition to grab a starting spot this spring.
"Think about Ethan Pocic. He was our second-team center last year. He shows up here in January or he doesn't finish at center. He's not there," Miles said of Pocic, who played offensive tackle throughout high school, but backed up
Elliott Porter
at center last season and could contribute at a number of different positions this fall.
"It's a tremendous advantage for these guys that show up early. There's no question," Miles continued. "And it's a tremendous advantage for us. We get to see what they look like, how they think and is there somebody that we should count on other than them, short term, or do we say, 'No, move him in because he's got it.'"
Take Diarse for example. The redshirt freshman probably would have played last season but for an ankle injury he suffered during preseason camp. But he wouldn't have been in position to back up
Odell Beckham
and
Jarvis Landry
in 2013 -- much less occupy the starting position he currently enjoys -- if not for his experience last spring.
Louisiana's 2012 Mr. Football, Diarse was a star dual-threat quarterback at Neville High School in Monroe. He admits that he had a lot to learn about playing his current position, receiver, when he arrived last January.
"It blew my mind the first couple of months into it -- it blew my mind how much detail and technique that it takes to be a receiver," Diarse said. "Just coming in last spring kind of put me ahead of the 8-ball and now I'm just picking up tidbits here and there to better myself every day."
Three of the five 2013 early enrollees who played last season -- Stokes, Jennings and Pocic -- all started at least one game. LaCouture played in all 13 games as one of the top reserves on the defensive line, while Fanaika played behind
Trai Turner
at right guard in several games and worked on the Tigers' field-goal unit in 12 contests.
All five players are either the leading candidate to start at their position this fall or to play in some sort of a rotation, thanks in no small part to the head start they got this time a year ago.
"You've got to learn quick," LaCouture said. "Spring ball is something that really helped me out -- coming in and knowing the pace of the game, knowing the plays right off the bat. That way when we hit fall ball, it was quick and we were rolling and we were getting ready for that."
Now he's in position to help guide less experienced teammates at a position where LSU desperately needs leadership. NFL draft early entrants
Anthony Johnson
and
Ego Ferguson
played the vast majority of the key snaps at defensive tackle last season, thrusting 2013 signees LaCouture,
Greg Gilmore
and
Maquedius Bain
into position where they might play much bigger roles this fall.
LaCouture is the only member of the trio who played last season, so if LSU's line performs anywhere near a championship-caliber level -- which might be one key in whether LSU becomes more than an also-ran in the SEC title chase -- the knowledge and experience he gained last year could become even more valuable.
"It was an awesome experience," LaCouture said. "It was something for me that I've always grown up wanting to do. I wanted to come in here [and] it was so great for me having spring ball and preparing myself to do that with the help of Coach Brick [Haley, LSU's defensive line coach] and the older guys, [defensive coordinator John] Chavis also and Coach Miles.
"Having Ego, Freak [Johnson] and all the guys that left for the draft helped me build my way up for now where I can lead the team this year, just do as much as I can to produce a national championship."
January, 21, 2014
Jan 21
8:30
AM ET
BATON ROUGE, La. -- The damage wasn't as significant as a year ago, but early entries into the NFL draft will again hit LSU hard this season.
The Tigers lost seven players who had eligibility remaining -- five of whom came from the offense, a year after seven of LSU's 11 early entries were defensive players. That puts the onus on offensive coordinator Cam Cameron to quickly determine his top options after losing the only foursome in SEC history that featured a 3,000-yard passer (senior
Zach Mettenberger
), two 1,000-yard receivers (juniors
Odell Beckham
and
Jarvis Landry
) and a 1,000-yard rusher (sophomore
Jeremy Hill
).
Let's take a position-by-position look at some of the possible replacements for the Tigers who opted to enter the draft:
[+] Enlarge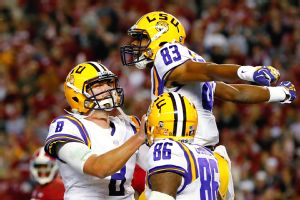 Kevin C. Cox/Getty ImagesTravin Dural (83) has big shoes to fill with the departures of Jarvis Landry and Odell Beckham.
Wide receiver
Departing:
Juniors Landry (77 catches, 1,193 yards, 10 TDs in 2013) and Beckham (59-1,152, 8 TDs). LSU passed for 3,263 yards in 2013. Landry and Beckham combined to accumulate 2,345 of those yards (plus departing tailback Hill and senior
Kadron Boone
were third and fifth on the team with 181 and 129 yards, respectively). In other words, LSU has a ton of receiving production to replace and no proven options.
Contenders:
As the only returning receiver with more than 100 yards in 2013,
Travin Dural
(7-145, 2 TDs) is the most obvious choice here. He made a game-winning, 49-yard touchdown catch in the closing minutes against Arkansas, so perhaps he will be one of the Tigers' next receiving playmakers.
Otherwise, who knows? LSU would love to get more out of former junior college transfer
Quantavius Leslie
(1-11), but he didn't do much in 2013. And then you have
Avery Peterson
(brother of former LSU cornerback Patrick) and
John Diarse
, both of whom were big-time prospects before redshirting last season.
Additionally, the Tigers already have verbal commitments from
Trey Quinn
-- ESPN's No. 3 receiver and No. 29 overall prospect -- fellow ESPN 300 picks
D.J. Chark
and
Tony Upchurch
, and are still pursuing No. 1 wideout
Malachi Dupre
. If Les Miles' staff lands some of these top-tier prospects, it wouldn't be a surprise to see them crack the depth chart as freshmen.
Tailback
Departing:
Sophomore Hill (203 carries, 1,401 yards, 16 TDs) and senior
Alfred Blue
(71-343, 1 TD). Hill posted the second-best rushing totals in school history in 2013 and was an absolute force when he stayed out of trouble. Blue missed his chance to be the No. 1 tailback when he suffered a season-ending injury early in the 2012 campaign. Hill had two years of eligibility remaining, while Blue was granted a fifth season by the NCAA but elected not to use it.
Contenders:
Perhaps it's unfair to 2014 seniors
Terrence Magee
(86-626, 8 TDs) and
Kenny Hilliard
(68-310, 7 TDs) to discount their roles -- and they will certainly play roles next season -- but Leonard Fournette is the guy who will attract the most attention between signing day and the Aug. 30 opener against Wisconsin. ESPN rates Fournette as the nation's No. 1 prospect and he is often compared to Adrian Peterson thanks to a rare combination of size (he's listed at 6-foot-1 and 226 pounds), slippery moves and breakaway speed. Magee and Hilliard will both contribute, but LSU's running game can be great if Fournette quickly establishes himself alongside the veterans.
Defensive tackle
Departing:
Juniors
Anthony Johnson
(35 tackles, 9 tackles for a loss, 3 sacks) and
Ego Ferguson
(58 tackles, 3.5 tackles for a loss, 1 sack). Johnson and Ferguson anchored the middle of the Tigers' line, but their early departures create a big hole for position coach Brick Haley to fill.
Contenders:
Christian LaCouture
(11 tackles, 1.5 tackles for a loss, 1 sack) is the first name to mention. An early enrollee last year, LaCouture jumped into the rotation as a freshman and served as a decent third option behind the veterans. Meanwhile,
Quentin Thomas
(9 tackles, 0.5 tackles for a loss) entered the starting lineup against Iowa in the Outback Bowl when Ferguson didn't travel to the bowl site. Beyond those two, it's a bit of a mystery.
Greg Gilmore
and
Maquedius Bain
-- both of whom redshirted in 2013 -- were big gets for LSU on the recruiting trail at this time a year ago, so they could enter the mix as well.
Right guard
Departing:
Sophomore
Trai Turner
(Started all 13 games in 2013). Turner was a second-team All-SEC pick as a draft-eligible sophomore, prompting him to jump to the pros earlier than many would have expected. His departure creates an opening at right guard -- the lone spot to fill on what could be an outstanding offensive line.
Contenders:
On the day left tackle
La'El Collins
announced he would return for his senior season, he lobbied for
Fehoko Fanaika
to fill Turner's spot. At 6-foot-6 and 348 pounds, the junior college transfer -- who appeared in 12 games in 2013 -- certainly has the girth to handle the job. Other options include a pair of ESPN 300 selections from 2013,
Ethan Pocic
(also
Elliott Porter
's backup at center) and
Andy Dodd
, along with ESPN's No. 1 guard for 2014,
Garrett Brumfield
, who has already committed to the hometown Tigers.
October, 30, 2012
10/30/12
6:04
PM ET
While the cameras were rolling for player interviews in LSU's weight room Tuesday, assistant coaches John Chavis and Brick Haley were in the far corner of the room, sweating on elliptical walkers.
It was a sign that just because ESPN was in town for an all-access day, it didn't mean the work stopped.
Indeed, the mood around the LSU football building was very business-like Tuesday. The biggest game of the year against Alabama was just four days away and while things looked normal around the campus and nearby neighborhoods, one could sense the excitement brewing just below the surface.
There was also a sense of trepidation. One student told me he was a little subdued because the first time since he's been an LSU student, he's not expecting the Tigers to win.
LSU players hear that, too.
Bennie Logan
talked Monday about not listening to what outsiders say.
Zach Mettenberger
spoke of keeping it "on the perimeter."
"All we can do," he said, "is keep going to work."
And that's what they did. Even before the visiting TV cameras loaded up the tour bus and hit the road, the work was well under way. The Tigers know that with an opponent like Alabama, it can never stop.