April, 10, 2013
4/10/13
5:15
PM ET
After spending two seasons with Florida's football team, defensive line coach Bryant Young
abruptly resigned Wednesday
due to personal reasons, the school announced.
Here's what Young said in a statement released through the school Wednesday:
"After heavy consideration and giving over two decades to the game of football, I have made a personal decision to resign from my position at the University of Florida in order to pursue more time with my family," said Young. "I am humbled by and grateful for the opportunity I have had to positively influence the hardworking student-athletes and young men whom I will surely miss.

"However, I have come to the realization that it is time to invest more in my family during this fleeting season in life. I have truly loved my time being a Gator, enjoyed a great working relationship with Coach Muschamp and will also miss the dedicated staff at this University. I am extremely thankful for the opportunity and support I have received from Coach Muschamp, Jeremy Foley and the entire athletic department."
The four-time Pro Bowler played 14 seasons with the San Francisco 49ers and spent most of his time coaching up the Gators' defensive tackles. Former South Carolina defensive line coach Brad Lawing was hired to help coach Florida's defensive line in January after defensive coordinator Dan Quinn left to become the defensive coordinator for the Seattle Seahawks. Quinn also coached up Florida's defensive ends.
The question now becomes whether Will Muschamp hires another coach to coach the interior linemen or if he'll leave Lawing to take over duties across the entire line. He'll also have to figure out a way to replace Young's recruiting skills.
Here's what Muschamp had to say about Bryant's departure:
"We are very thankful for Coach Young's contributions to the program and I respect his decision. This is strictly a personal decision and has nothing to do with NCAA compliance, but just an opportunity to evaluate his future path. "I always have and will continue to be very supportive of Coach Young and his family. Our entire staff will be there for him to provide any assistance and guidance in the future. We wish he and his family nothing but the best."
January, 22, 2013
1/22/13
12:15
PM ET
Will Muschamp didn't waste much time filling the lone hole on his coaching staff.
With defensive coordinator Dan Quinn taking his talents to the NFL, Muschamp
added South Carolina defensive line coach Brad Lawing
, who will be the Gators' assistant head coach and coach the defensive line along with Bryant Young. D.J. Durkin was promoted to defensive coordinator after Quinn left to be the Seattle Seahawks' defensive coordinator.
The plan is for Lawing to coach Florida's defensive ends, like Quinn did, while Young will continue to coach the defensive tackles. Lawing brings 33 years of coaching experience, including 29 on the defensive line, to Gainesville. He also brings a solid list of players he's coached, including all-world end
Jadeveon Clowney
and Melvin Ingram.
Lawing coached the Gamecocks' defensive from 2006, and during his last two years in Columbia, Gamecocks ends have terrorized opposing backfields. Ingram turned into a first-round draft pick after a very impressive 2011 campaign, while Clowney made a huge leap from Year 1 to Year 2.
The Gators are hoping Lawing can have the same sort of impact on their ends, especially
Ronald Powell
, who is coming off of a major knee injury. Powell was the nation's No. 1 recruit back in 2010, but has yet to have the impact most expected him to have on Florida's defense. He might not be Clowney, but he has a tremendous amount of skill and made great strides last spring before his ACL injury. He won't go through contact during the spring, but should get some very good teaching from Lawing in the meantime.
November, 25, 2011
11/25/11
11:00
AM ET
Florida senior defensive tackle Jaye Howard wouldn't change much about his time in Gainesville.
While his final year hasn't been great, considering the Gators' 6-5 record heading into Saturday's game with Florida State, he says he's grown more as a person and a player in this one year than any of the years prior.
[+] Enlarge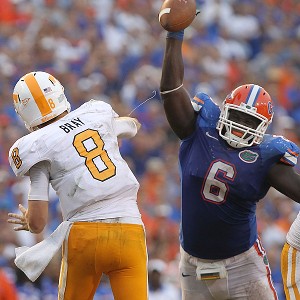 Kim Klement/US PresswireGators defensive tackle Jaye Howard, 6, is third on the team with 55 tackles, including 6.5 for loss and three sacks.
Howard has been one of Florida's most consistent defensive linemen and is third on the team with 55 tackles, including 6.5 for loss and three sacks. He was also considered to be a top defensive tackle draft prospect for next year's NFL draft before the season.
ESPN.com spoke to Howard to discuss his final year, the Gators' struggles and his career at Florida.
Edward Aschoff:
How many emotions will be running through you this weekend in the Swamp with this being your last game and it coming against a rival like Florida State?
Jaye Howard:
It's huge. At this point, I can say that I don't like them. But it really hasn't hit me. Honestly, it won't hit me until I hear my name called on senior day. It's going to be very emotional, man. I just want to get a win for this program and for my senior class.
How important has this game been for you every year since you've been at Florida?
Very important. It's always been a big one for me personally. Now, I have to go out there and play well in order to solidify myself for the next level.
Speaking of solidifying yourself for the next level, earlier in the season you said you were playing the best football of your career. Now that the season is almost over, where do you think you are?
This has been the best year of me being a Gator. The coaches have taught me a lot. Right now, I feel like when I'm out on the field I can play with anyone.
Stats are something that a lot of people harp on, but what do you think is the most impressive part of your game?
I still have a motor. I play hard every play that I'm out there. I play hard and I cause havoc. I haven't put up big numbers as far as having sacks, or TFLs, but I've been causing havoc for offenses.
You said you've learned so much this year. What specifically have you learned from your new coaches?
The technique, man. The technique has been awesome to learn. Both coach Dan Quinn (defensive coordinator) and Bryant Young (defensive line coach) have taught me exactly what it takes to be effective.
Considering what this season has been like, how tough has this year been for you as a senior?
It's been tough, but I try not to think about that. I try to go out there and win every week. Things haven't gone as planned, but I know it's a rebuilding year and these guys are going to be great for years to come.
Even with the struggles, do you still feel like this is one of the closest teams you've been on during your time at Florida?
Yeah, no question. When teams go through tough times, teams get divided, and we haven't been divided. We've stuck together and we've been through the fire. My teammates have the utmost respect from me. A lot of teams would have already broken down.
Going back to your last game in the Swamp, what were some of your favorite memories there?
My first memory was my freshman year, coming out of the tunnel; I got trampled coming out. I can't even remember who trampled me, it happened so fast, but I managed to get up before anyone saw me fall. My favorite memory is probably the 2009 Tennessee game. I made a bet with (former defensive end) Carlos Dunlap that if I made a big play I'd do the Daunte Culpepper (celebration), the "Roll on." I made a big play against Tennessee and "rolled" for about 15 yards and got a penalty and got pulled out of the game.
Was it worth it?
Yeah.
So how would you sum up your career at Florida? You started off as a defensive end, now you're a defensive tackle. You have some good times and down ones. It sounds like it's been a wild ride.
Yeah, it has been. I came in as a defensive end, undersized, and blossomed and turned into a defensive tackle. It's been good, man. I have no regrets about coming to the University of Florida and everything works out for the best.
May, 27, 2011
5/27/11
2:30
PM ET
Omar Hunter knows his time is running out.
Florida's redshirt junior defensive lineman fought early hype and nagging injuries during his first three years with the Gators and now sees that he's got to step up or sit and watch.
Hunter doesn't want to do the latter. He had all the right to that this spring when a nagging injury returned. While he was listed as limited on Florida's pre-spring depth chart, he pushed through the pain and competed as much as he could with a new coaching staff watching.
"It was tough, but they [the coaches] realized that I was injured and I was still trying to fight through some things," Hunter said. "They let me off a few times on some things that they could have easily gotten on me for, but they understood I had an injury and took it easy on me a little bit."
[+] Enlarge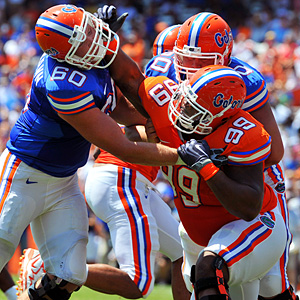 Al Messerschmidt/Getty ImagesJunior Omar Hunter (99) fought through injuries this spring and is looking forward to making an impact in the fall.
Hunter, who is down to 300 pounds after working at 307 this spring, decided that participating would help him learn defensive coordinator Dan Quinn's new system and get him more familiar with defensive line coach Bryant Young's new philosophy. If he was going to show the new staff he was ready to take his game to a new level, he had to do it -- hurt or not.
Hunter's ability to stay on the practice field this spring also helped him gain more respect from his teammates. With depth issues and a gang of youngsters pushing for time on Florida's line, Hunter wanted to not only show he wasn't going to just hand his spot over, he wanted to prove that he was going to be a leader for the line.
"The message I tried to send was that I was going to be there whether I was hurt or not," he said. "I'm always going to have their backs and I'm always going to push through injuries for them."
The young talent certainly motivated Hunter. Regardless of how he felt physically, Hunter knew he'd have to fight off some pups this spring.
Leading the underclassmen charge is sophomore Sharrif Floyd, who will compete with Hunter for time at nose tackle when the Gators go into the 3-4. Dominique Easley, who blossomed this spring, and Leon Orr are also pushing for time on the interior.
Hunter is looking over his shoulder at those players, but he's also helping them. While his goal is to be the disruptor in the middle, he wants what's best for the team, and development of the younger players will be key to keeping Florida's line fresh.
"I keep pushing them, they push me," Hunter said. "We're all getting better because of that.
"Last year, we were a close group, but we could have been closer. If we would have been closer, we would have been even better."
The unit could be special, really. There is talent oozing at each position. Senior Jaye Howard, who ESPN NFL draft analyst Mel Kiper ranked as the fourth-best draft-eligible returner at defensive tackle, missed all of the spring because of surgery on his ankle, but is expected to be full-go for two-a-days. Senior William Green will maintain one of the end spots, and while he hasn't truly broken out, he'll fit nicely into Florida's multiple defense.
Sophomore Ronald Powell will play the hybrid defensive end/linebacker position known as the Buck. He's got all the athleticism and speed to be a menace in the pass rush, but he's got to continue to mature. Cal transfer Chris Martin and junior Lerentee McCray will also get time at end.
Florida's line is young, but the ceiling appears high for the unit. Barring injuries, this could be the strength of Florida's defense in the fall.
SEC SCOREBOARD
Friday, 12/26
Saturday, 12/20
Monday, 12/22
Tuesday, 12/23
Wednesday, 12/24
Saturday, 12/27
Monday, 12/29
Tuesday, 12/30
Wednesday, 12/31
Thursday, 1/1
Friday, 1/2
Saturday, 1/3
Sunday, 1/4
Monday, 1/12
Tweets from https://twitter.com/ESPNCFB/lists/sec