SEC:

Bryson Allen-Williams
April, 4, 2014
Apr 4
11:00
AM ET
All eyes were on
Jadeveon Clowney
as he participated in
South Carolina
's pro day this week, but the impact of an event like that reaches far beyond Clowney's draft stock. It affects the fans, coaches, current players, and even the recruits who are interested in the Gamecocks.
Linebacker
Bryson Allen-Williams
, one of 10 ESPN 300 players to
sign with South Carolina
in 2014, was among those watching the pro day. We caught up with him to ask about Clowney's performance and where he should go in the draft.
[+] Enlarge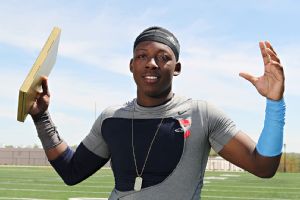 Miller Safrit/ESPNESPN 300 LB Bryson Allen-Williams enjoyed watched Jadeveon Clowney's pro day and can't wait to have an impact with the Gamecocks.
Q: What did you take away from Clowney's pro day this week?
Allen-Williams:
He should be the No. 1 overall pick. He's a freak of nature. Just by talking to him and having conversations with him, he's a humble guy, works hard, all that. So I think he should be the No. 1 pick, but it's really up to the Texans.
Q: So you've talked to Clowney in the past?
Allen-Williams:
Yeah, I've talked to him plenty of times. Every time I go up there, he makes sure he gets a chance to talk to me.
Q: Did he impact your decision, knowing that South Carolina can produce a top pick?
Allen-Williams:
Yeah, it definitely did help. Last year around this time, I wasn't really sold where I was going to school. By going up and talking to guys like Clowney, talking to guys like
Mike Davis
, guys that are potential first-rounders, that was a huge factor into why I ended up signing with South Carolina. They're going to produce somebody every year, produce a couple guys every year, and that's a huge thing.
Q: You looked around some late in the recruiting process. What made you want to stick with the Gamecocks?
Allen-Williams:
Just my relationship with Coach [Lorenzo] Ward. He has a lot of things in store for this class, and I was one of the original pieces to the class. I was the second commitment. I helped get a lot of other guys to be a part of the class, so for me to go anywhere else, I would feel like I was disrespecting them. South Carolina is a great place. I just had to remember why I was telling other guys to come there. Once I remembered that, I just felt like South Carolina was the best place to be, and I feel like there's a lot of big things we're going to do this year.
Q: Looking back at all your visits, what's the one thing that stood out?
Allen-Williams:
On my official visit to South Carolina, having people come up to me and recognize who I was, that was pretty crazy to me. It was so surreal having people say 'I can't wait until you get up here next year. I can't wait for you to do big things for the Gamecocks.' That was pretty special.
Q: I know you're big on Twitter. How'd you use that during the recruiting process?
Allen-Williams:
Twitter is very good when you use it for the right reasons. For me, I just wanted to get my personality out there and build a brand. We had this all-star game, the Rising Seniors, and basically they told us to make sure you build a brand. I felt like Twitter was the best way to do that. I was able to develop a mini-fanbase of South Carolina fans, and I haven't even stepped on campus. I was also able to connect with a lot of other guys that I wanted to help get to South Carolina next year. That was a huge thing because a lot of guys I wouldn't have been able to talk to without social media, I was able to talk to, reach out to and let them know some things about South Carolina. It really paid off, and it's one of the reasons why we've got another top-25 recruiting class.
Q: What's your plan between now and when you enroll at the end of May?
Allen-Williams:
Right now, I'm playing baseball. I'm doing a lot of conditioning, a lot of running, trying to trim some of the baby fat off before I go up to South Carolina this summer. It's more mental than anything because I've been playing football my whole life. The football side of things, it's going to take care of itself with the training and the hard work I'm going to put in. But I'm watching film on games last year, evaluating the way that the linebackers play, evaluating what type of schemes that we're running. I'm just really trying to be a student of the game, especially this first year. I'll probably get a couple of looks on third downs and stuff, but I'm really trying to become one of the top linebackers that ever came through South Carolina.
Q: Lastly, who you got winning it all in hoops this weekend?
Allen-Williams:
I'm going to say Kentucky. I really like Kentucky.
Julius Randle
, the Harrison twins, those are some good ball players. I'm going to pick Kentucky.
February, 4, 2014
Feb 4
10:30
AM ET

With less than 24 hours remaining until the craziness that is national signing day, most recruiting classes are already filled up. There are, however, some key questions that need to be answered. Here's a look at five bold predictions heading into national signing day.

1. Alabama will lose a commit

February, 3, 2014
Feb 3
8:00
AM ET
This was the final weekend before national signing day, and of course, there was a ton of news around the SEC. Vanderbilt added a slew of commitments, as did Alabama and Texas A&M. There were also some key visits and a decommitment from an SEC West school. Here's a closer look at the latest recruiting news around the SEC.
Biggest commitments:
After suffering 11 decommitments after coach James Franklin left for Penn State, Vanderbilt was in desperate need of a big recruiting weekend, and it finally got it.
To continue reading this article you must be an Insider
January, 27, 2014
Jan 27
8:00
AM ET
Less than two weeks remain until national signing day, and this was the second-to-last official visit weekend before Feb. 5. There were a couple of big decommitments, a few commitments and several key official visits. Here's a closer look at all the latest recruiting news around the SEC.
To continue reading this article you must be an Insider
January, 20, 2014
Jan 20
8:00
AM ET
The dead period is over, and this was the first of three official visit weekends remaining before national signing day on Feb. 5. Several top prospects visited SEC schools, there were some commits, and there will be a few announcements this week. Here's a closer look at the latest recruiting news from around the SEC:

Biggest commits:
Georgia is already feeling the effects of new defensive coordinator Jeremy Pruitt on the recruiting trail. The Bulldogs were able to land two ESPN Junior 300 commitments,
Rico McGraw
(Nashville, Tenn./The Ensworth School) and
Terry Godwin
(Hogansville, Ga./Callaway), over the weekend.
To continue reading this article you must be an Insider
October, 1, 2013
10/01/13
8:00
AM ET
From year-to-year the Southeastern Conference is full of recruiting battles. This year it appears that Alabama and LSU could have some of the best recruiting battles we've seen in a while. Here's a closer look at the five top recruiting rivalries in the SEC.
To continue reading this article you must be an Insider
August, 20, 2013
8/20/13
8:00
AM ET
Whether it's on-field production or friendships that recruits develop with other recruits, some prospects just have a desire to play with other top prospects. Here's a closer look at the most important committed player for each SEC school.
Alabama
ATH Bo Scarbrough (Bradenton, Fla./IMG Academy)
6-foot-2, 215 pounds
ESPN 300 rank: 20
The 20th-ranked player in the country has been committed to the Crimson Tide for nearly a year and is the highest-ranked Alabama commit. With his size and athleticism, Scarbrough could play either running back or linebacker. Alabama is targeting at least three players in the ESPN 300 top 10, including RB
Leonard Fournette
, OL
Cameron Robinson
and CB
Marlon Humphrey
, and Scarbrough is the type of star player with whom other big-name recruits want to play.
To continue reading this article you must be an Insider
March, 11, 2013
3/11/13
1:56
PM ET
By
ESPN.com staff
| ESPN.com
DawgNation
From David Ching
: After being a cause for concern, Georgia has built good depth on its offensive line and the unit has become a strength for the Bulldogs.
From Radi Nabulsi

: Pennsylvania RB
Shai McKenzie
got the Georgia offer he's been waiting for.
GatorNation
From Derek Tyson

: The Gators' 30-member, No. 2-ranked 2013 recruiting class stocked many of Florida's needs. However, a few positions are in need of attention and they are the focus of the 2014 cycle.
GeauxTigerNation
From Gary Laney
: Defensive coordinator John Chavis faces the daunting challenge of replacing seven starters from his 2012 unit.
GigEmNation
From Bob Przybylo

: Watch List safety
Steven Parker
picked up offers from Texas A&M, Texas and more last week.
TideNation
From Greg Ostendorf

: Watch List LB
Bryson Allen-Williams
had quite a weekend. First he took a visit to Alabama to find out where he stands with the Tide. Then he picked up linebacker MVP honors at the Atlanta VTO event.
More from Ostendorf
: Watch List wide receiver
Austin Roberts
, an Indiana prospect, was stunned by his recent offer from Alabama.
November, 27, 2012
11/27/12
11:31
AM ET
By
Recruiting Nation staff
| ESPN.com
David Ching writes
: Georgia is still looking to avenge its 2008 loss to Alabama -- when the team and fans wore black, but only eclipsed its own momentum while the Tide saw the light.
Ching

: This season's Bulldogs found a way to bounce back from what could have been a devastating loss to the Gamecocks.
Radi Nabulsi writes

: Georgia, with four signees at linebacker this year and two commits already for next year, will likely try to cherry-pick top talent for 2014 – and already has extended a handful of offers.
Note: Join the DawgNation staff at 2 p.m. ET/1 CT
for a chat in the DawgNation forum, The Pound

.
November, 6, 2012
11/06/12
12:10
PM ET
By
DawgNation staff
| ESPN.com
David Ching writes
: The Bulldogs will line up Saturday against former UGA coaches Brian VanGorder and Willie Martinez, now with Auburn, and coaches and players alike know that, despite continued friendships, they must focus on beating one another.
Ching

: Scouting report -- Auburn
Radi Nabulsi writes

: ESPN Watch List player Bryson Allen-Williams slid over to middle linebacker this past weekend, and immediately turned some heads.