June, 13, 2013
6/13/13
2:30
PM ET
Everyone who knows anything about college football knows that one major thing that separates the SEC from all the other conferences is the play -- and talent -- along the defensive lines.
Ask any coach out there to describe the biggest difference and "defensive line" is bound to be one of the first things that slip out of his mouth. It truly is all about the trenches in the SEC, both defensively and offensively. The offensive lines deserve some love for just putting up with their burly counterparts, but the defensive lines really do get all the attention.
So it should come as no surprise that when Phil Steele
ranked his top 15 defensive lines
in college football that the SEC was represented by five teams -- the most of any conference.
[+] Enlarge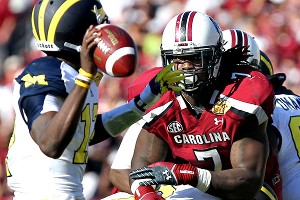 Kim Klement/USA TODAY SportsJadeveon Clowney headlines a deep crop of SEC defensive linemen.
While none ranked first or second -- that was reserved for Notre Dame (No. 1) and USC (No. 2) -- South Carolina topped the SEC lines at No. 3 on Steele's list. Florida ranked sixth, Ole Miss was 12th, Alabama was 13th and LSU was 14th.
That's pretty good when you consider that Florida lost first-rounder Sharrif Floyd and Mr. Solid Omar Hunter in the middle, while LSU pretty much lost its entire starting defensive line from a year ago.
The SEC truly does just reload up front.
South Carolina's ranking isn't surprising because there's more than just
Jadeveon Clowney
to work with. Sure, Clowney might be the best player in the country, but he has help from
Kelcy Quarles
and
J.T. Surratt
inside and
Chaz Sutton
on the other side of him. Quarles was pretty consistent for the Gamecocks last year, while Sutton grabbed five sacks as a backup. The departure of starters Devin Taylor and Byron Jerideau shouldn't shake this lineup too much.
Getting
Ronald Powell
back should help the Gators with Lerentee McCray gone on the outside. Powell will play that hybrid linebacker/defensive end "Buck" position, where he'll get help from freshman All-SEC player
Dante Fowler Jr
.
Dominique Easley
is moving back to defensive tackle, where he was very disruptive during his first two years on campus. He can still move outside if needed. End
Jonathan Bullard
is coming off of a solid freshman season, while more is expected out of tackle
Damien Jacobs
, who came from the junior college ranks last year.
Ole Miss still has depth issues at defensive tackle, but has plenty to work with at end.
C.J. Johnson
should be healed from the leg injury he suffered this spring, while
Cameron Whigham
is coming off of a season in which he started 11 games. Rising sophomore
Channing Ward
should be fun to watch, and top recruit Robert Nkemdiche is expected to see the field very early. Tackle
Issac Gross
should be back from his groin injury this fall and he'll get help from juco transfer Lavon Hooks, who had a very good spring.
Alabama might not have the elite players it's had in the past up front, but defensive ends
Jeoffrey Pagan
and
Ed Stinson
could have big years. Pagan has a lot of potential, while Stinson recorded 30 tackles last season, including 8.5 for loss and three sacks. Stinson is versatile enough to play both inside and out. Then there's
Brandon Ivory
at noseguard, who has to replace the talented Jesse Williams. Alabama still needs players to step up more as starters and reserves because the line as a whole has a ways to go before the season starts.
You can tell how well Les Miles has recruited along the defensive line when the Tigers can lose so much but still have a line that's considered one of the nation's best. Tackle
Anthony Johnson
has so much potential and it sounds like he's ready to unleash his talents on the rest of the league. Miles raved about end
Jermauria Rasco
this spring and doesn't think the Tigers will miss much of a beat with him outside. True freshman Christian LeCouture played his way into the two-deep at defensive tackle this spring, while Miles expects to get more from tackle
Ego Ferguson
and ends
Danielle Hunter
and
Jordan Allen
.
October, 7, 2012
10/07/12
2:00
AM ET
COLUMBIA, S.C. --
Connor Shaw
could see it in the Georgia players' eyes on South Carolina's first touchdown drive.
A few minutes later, it was even more obvious to
Marcus Lattimore
after the Gamecocks drove it right down the Bulldogs' throats for their second touchdown in as many possessions.
"They were shell-shocked. We hit them in the mouth, and they weren't ready for it," Lattimore said.
Nope, not even close.
But in Georgia's defense, it's debatable whether anybody in college football would have been ready for what the Gamecocks unleashed Saturday night on the No. 5 Bulldogs in a
35-7 bludgeoning
at Williams-Brice Stadium that sent a clear message about the shifting balance of power in the SEC.
"We definitely sent a message out to the whole country. This is not the old South Carolina. We can play with y'all. We can play with anybody," said Lattimore, who rushed for 109 yards, his third consecutive 100-yard rushing performance against Georgia.
A year ago, South Carolina scored three non-offensive touchdowns in a wild 45-42 victory over Georgia. Even South Carolina coach Steve Spurrier said after that one that the Gamecocks were fortunate to win.
But there was nothing fluky about Saturday's game.
The Gamecocks (6-0, 4-0) dominated the line of scrimmage on both sides, a telltale sign of how far this program has come under Spurrier.
Marquee skill players have come and gone through the years at South Carolina, but the Gamecocks haven't always been able to measure up in the trenches, particularly against the elite teams.
Those days are over.
Not only did South Carolina grind out 230 rushing yards, but the Gamecocks held Georgia to 224 total yards -- the Bulldogs' lowest output since a 2006 loss to Florida.
[+] Enlarge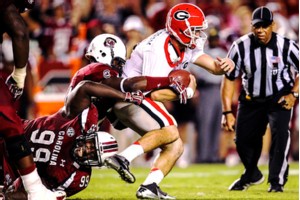 Daniel Shirey/US PresswireSouth Carolina's defensive line harrassed Georgia QB Aaron Murray into an 11-of-31, one-pick night.
"Like I told the guys, we took a whipping," Georgia coach Mark Richt said. "But the good news was that we all took it together."
In other words, the Bulldogs didn't have any answers on either side of the ball.
"Our offensive line was great," said Shaw, who threw touchdown passes of 20 and 14 yards on the Gamecocks' first two drives. "They just keep getting better. They came out and set the tone tonight."
While South Carolina's offensive line took its game to another level, Georgia's offensive line never knew what hit it. The Gamecocks came into the game thinking they could exploit the Bulldogs' offensive line.
They did more than exploit it. They rendered it helpless, and even when Georgia quarterback
Aaron Murray
wasn't being hounded by
Jadeveon Clowney
or
Devin Taylor
, he didn't have much success finding open receivers.
This is a Georgia offense that had scored 40 or more points in each of its first five games and was flirting with 500 yards per game in total offense.
On Saturday, much to the delight of a deafening and record crowd at Williams-Brice Stadium, it was 21-0 in favor of South Carolina, and Georgia had run all of six offensive plays.
"It wasn't only the front four, but our linebackers played really well … and the perimeter," said South Carolina defensive coordinator Lorenzo Ward, whose defense has yet to give up more than 17 points this season.
"We were in position to make some plays. It's a blessing to be able to rush four guys and drop seven when it's time to play football."
Indeed it is, especially when you have freakish athletes like Clowney coming off the edge and hurdling would-be blockers. He's not the only one, either.
South Carolina is equally stout on the interior with defensive tackles
Kelcy Quarles
and
Byron Jerideau
, while the third end in the rotation,
Chaz Sutton
, is starting to play some of his best football.
"You can't block our defensive line," Shaw said. "I know. We have to go against them every day."
After watching Georgia's freshman running back duo of
Todd Gurley
and
Keith Marshall
torch Tennessee for three touchdown runs of 51 yards or longer last week, Ward said the Gamecocks were determined not to let the Bulldogs get outside.
As it was, Gurley and Marshall couldn't find running room anywhere. They were held to 76 rushing yards on 25 carries, and their longest run was a 15-yarder by Gurley.
It only gets tougher from here for South Carolina, which will almost certainly move to No. 3 in the polls with both LSU and Florida State going down on Saturday.
The Gamecocks have to travel to LSU next week and then Florida on Oct. 20 in what could potentially be a huge Eastern Division showdown.
It's the kind of position this program simply hasn't been in over the years.
But, then, it's a program that has the kind of muscle, physicality and explosiveness in the line of scrimmage that it's never had.
And that's where you win championships in this league.
"We'll see where this leads us," Spurrier said.
June, 18, 2012
6/18/12
1:35
PM ET
When it comes to handicapping conference title outlooks, it's all about finding out which team is more likely to win than those around it; not the team most likely to win.
ESPN's Will Harris did just that on Monday when he
evaluated the conference title odds

for the SEC, Big Ten, Big 12, ACC and Pac-12.
[+] Enlarge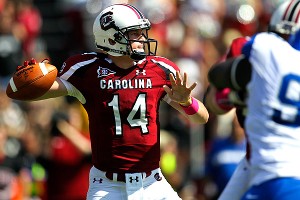 Daniel Shirey/US PresswireQuarterback Connor Shaw will be key player to the Gamecocks' success in 2012.
For the SEC, Harris gave Alabama the best odds to win the SEC (+220 to win the West and +145 to win the conference). LSU was second (+225 for the West and +145 for the conference).
But his best value pick came from the East, which has been overlooked by the West in the last few years. Harris made South Carolina the best play in the SEC (+1,100/+240).
Harris reiterated some of my same sentiments when it came to the Gamecocks' chances of winning the SEC in 2012. All the talk has been about running back
Marcus Lattimore
and his health, but one area that South Carolina's faithful has to be pleased with is the quarterback spot.
A position that was marred in inconsistency for the last few seasons saw vast improvement during the latter part of the 2011 season with
Connor Shaw
under center. While he went through some growing pains when he first took over for the drama-ridden
Stephen Garcia
, who was dismissed halfway through the season, he really came alive in the season finale against Clemson and carried that over to the bowl win against Nebraska.
Lattimore is very important and could decide whether this team returns to Atlanta, but Shaw's play will mean a lot for this team in the fall, especially if Lattimore isn't 100 percent healthy. Coach Steve Spurrier wanted him to become a more consistent passer and we saw that toward the end of last year and during the spring.
I also really like this defense.
Jadeveon Clowney
could be a real star in this league at defensive end and he'll get a lot of help from fellow linemen
Devin Taylor
,
Kelcy Quarles
and
Byron Jerideau
. The returning linebackers have a lot of experience and
D.J. Swearinger
is primed to have a big year at safety.
There are some concerns with the youth and inexperience in the secondary, but overall, South Carolina certainly has the talent all around to get through the SEC East for the second time in three years and could take the whole thing.
May, 23, 2012
5/23/12
4:00
PM ET
ESPN Insider's "20 teams that can win it all" series is previewing each of the top 20 teams in Brian Fremeau's five-year program metric (for a full explanation, and links to all of the previews as they are published, click here), with the help of ESPN's Stats & Information group.
On Wednesday, ESPN's Travis Haney
took a look at South Carolina

. Haney discussed three reasons why South Carolina can win it all and three reasons why the Gamecocks won't.
Here's a little of what Haney said about the Gamecocks' chances of winning it all this year:
"Spurrier has a quarterback at South Carolina. There are no question marks, with respects to performance -- or off-field behavior -- any longer. Connor Shaw became a long-awaited answer last season, taking over for the much-maligned Stephen Garcia.

The Gamecocks went 7-1 with Shaw at quarterback, losing only at then-No. 7 Arkansas. It's difficult to argue with those results."
[+] Enlarge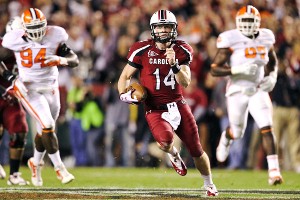 Daniel Shirey/US PresswireConnor Shaw brought stability to the QB position last season for South Carolina.
My thoughts:
Shaw's development is big for South Carolina's offense. There's no doubt that Shaw can make plays with his feet, but Spurrier wants a passer. He was a passer and his quarterbacks at Florida were passers. Shaw showed more of a pass-first mentality during the second half of the season and it sounds like it carried over into the spring. Now, he'll have to continue that this fall. Old habits do die hard, but what would really help him is if
Marcus Lattimore
is healthy.
Speaking of Lattimore, Haney threw out some pretty interesting facts about Lattimore's running habits when he was healthy. One that I was really impressed with was: "Lattimore was not touched until he was five yards past the line of scrimmage on 94 of his 412 rushes (22.8 percent) in his first two seasons (according to ESPN Stats & Info). Seventy-two of those runs were between the tackles." He also added that it continues to sound like Lattimore is ahead of schedule.
My thoughts:
A healthy Lattimore would certainly add some confidence to the thought of saying South Carolina is an SEC title contender and beyond. When he's on top of his game he's one of the best running backs in the country. But no one
really
knows how he'll respond this season and how healthy he'll actually be. We won't really know until he takes real contact in a real game. Until we know where Lattimore's health stands there will still be speculation surrounding this offense.
Haney also talks about the defensive line, which I think will be very good this fall. Ends
Jadeveon Clowney
and
Devin Taylor
should be pretty annoying to guard and tackles
Kelcy Quarles
and
Byron Jerideau
showed a lot of improvement this spring. This line will be pretty darn good this fall, which should help the entire defense.
As for three reasons why the Gamecocks falter, Haney talks the lack of proven receivers, the loss of defensive coordinator Ellis Johnson and having to play LSU and Arkansas.
My thoughts:
I agree with all three and I still feel most of the concern is in the secondary. Starting corners Stephon Gilmore and C.C. Whitlock are gone and
DeVonte Holloman
is moving back to the Spur, leaving an opening at strong safety. That leaves three spots that need to be filled. Two will be filled by rising sophomores, while veteran
Akeem Auguste
will take a corner spot. The problem is that he hasn't played since 2010 and hasn't played corner since 2009.
Fremeau's projection:
Most likely result: 8-4 (30 percent likelihood)
Projection window: 7-5 to 10-2 (86 percent likelihood)
April, 17, 2012
4/17/12
11:25
AM ET
By
ESPN.com staff
| ESPN.com
All but Texas A&M in the SEC will be finished with spring practice after this coming weekend.
Who are those players who've blossomed this spring?
We've pinpointed 10 players who weren't stars last season, and in some cases, didn't even start, but players who've shown that they're poised to have big seasons in 2012.
Here's what we came up with:
[+] Enlarge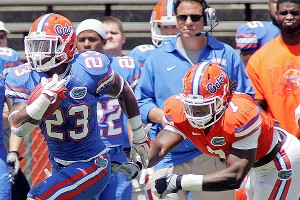 Phil Sears/US PresswireMike Gillislee (left) made a case during the spring to be Florida's top running back.
Mike Gillislee, RB, Florida:
Entering his senior season, Gillislee made a big push to be the Gators' starting running back in the fall. The coaches love how hard he worked and his willingness to become a more complete back. He improved his pass-blocking, which was one of the things keeping him off the field in the past.
Adrian Hubbard, LB, Alabama:
The Crimson Tide feel like they've found somebody to replace
Courtney Upshaw
as a finisher off the edge on passing downs. The 6-6 Hubbard is now pushing 250 pounds entering his sophomore season and is an excellent fit at Jack linebacker. He had three sacks in Alabama's spring game.
Byron Jerideau, DT, South Carolina:
The former junior college transfer ran into trouble off the field earlier this year, but bounced back with an impressive spring. The 6-3, 316-pound senior is the strongest player on the team and has squatted 670 pounds. He's just another reason this South Carolina defensive line should be something to see in 2012.
Malcolm Johnson, TE, Mississippi State:
As a freshman last season, Johnson caught 11 passes, but three of those were for touchdowns. Judging by way the he's played this spring, the 6-2, 230-pound sophomore has a chance to be one of the best pass-catching tight ends in the league in 2012.
Bennie Logan, DT, LSU:
Overshadowed by
Michael Brockers
in the middle of that LSU defensive line last season, Logan was one of the more underrated players in the SEC. In fact, LSU defensive coordinator John Chavis thinks the 6-3, 290-pound junior is right there in that same class as Brockers.
Marcus Lucas, WR, Missouri:
Fans in the Show Me State got just a little taste of how good Lucas can be last season. He started in three games, but caught five touchdown passes. Look for the 6-5, 215-pound junior to emerge in 2012 as one of the SEC's top big-play threats.
Antonio Richardson, OT, Tennessee:
After seeing spot duty as a freshman, Richardson has been good enough this spring that senior
Dallas Thomas
has moved inside to guard and Richardson has stepped in as the starter at left tackle. The Vols weren't physical enough up front last season, but the 6-6, 329-pound Richardson should help change that.
Marquel Wade, WR, Arkansas:
As a freshman last season, Wade took a kickoff return back for a touchdown. He's showcased that same explosiveness at receiver this spring and is one of the reasons the Hogs aren't panicking about the loss of
Jarius Wright
,
Joe Adams
and
Greg Childs
.
Jermaine Whitehead, CB, Auburn:
He came in and played as a true freshman a year ago and immediately demonstrated that he wasn't afraid to mix it up. This spring, Whitehead also demonstrated his versatility. He's somebody who could end up playing cornerback, safety or nickel in Brian VanGorder's system.
Trey Wilson, CB, Vanderbilt:
The Commodores just seem to breed outstanding defensive backs, and Wilson is the next in line. The 5-11, 192-pound senior will take over for
Casey Hayward
as Vanderbilt's shutdown corner and has the talent, smarts and experience to be an All-SEC player in 2012.
March, 23, 2012
3/23/12
12:40
PM ET
By
ESPN.com staff
| ESPN.com
A Friday stroll around the SEC:
March, 22, 2012
3/22/12
12:00
PM ET
The tournament is kicking back up today, but enjoy these links before you go ripping what's left of your bracket up.
March, 14, 2012
3/14/12
11:35
AM ET
Devin Taylor
is noticing all the attention surrounding South Carolina's program, and he likes it.
It means people are expecting big things from the Gamecocks, and some might even be a little fearful of them.
"It's almost like a target on our backs," South Carolina's senior defensive end said.
But that target didn't just appear in Columbia, S.C. It started to form after South Carolina's first trip to the SEC championship game in 2010, and Taylor said he could sense it every week last season. He could tell that the perception of South Carolina's team had changed around the league and more respect was thrown the Gamecocks' way.
"You could just feel it," he said.
[+] Enlarge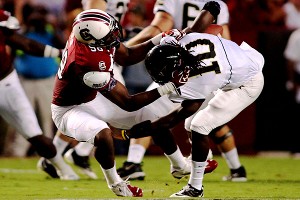 Jeremy Brevard/US PresswireDefensive end Devin Taylor says South Carolina's defense isn't rebuilding, it's reloading.
It's not hard to believe that the team that once struggled to make upward moves in the SEC's Eastern Division is now linked to divisional favorite talk. In coach Steve Spurrier's seven seasons at South Carolina, he has compiled 55 wins (leaving him nine away from tying Rex Enright's school record for career wins), took South Carolina to Atlanta, and led the Gamecocks to their first 11-win season in 2011.
The next step? An SEC championship.
It's a goal that Spurrier said he expects, and so do his players. Taylor said winning the East is no longer the No. 1 goal. They want to be showered with celebratory confetti inside the Georgia Dome in December.
And South Carolina has the parts in place to make such a run. The offense loses star receiver
Alshon Jeffery
and returns a cluster of unproven receivers, but the plus is that there is a ton of depth there. Also, much-ballyhooed incoming freshman WR Shaq Roland will be in town this summer, and a lot is expected of him.
On the offensive line,
Rokevious Watkins
and
Terrence Campbell
are gone (both were seniors in 2011). But South Carolina returns three starters, and the coaches expect redshirt freshman
Brandon Shell
to step right in at left tackle for Watkins. Get him going and South Carolina's line should be fine.
Quarterback
Connor Shaw
returns after really starting to come into his own as more of a passer at the end of last season. He'll always run the ball, but he showed he can be disciplined and lead with his arm.
Running back
Marcus Lattimore
(knee) won't practice in the spring, but he certainly hasn't been ruled out for the regular season. A healthy Lattimore, who has racked up 2,015 rushing yards and 27 touchdowns in 20 career games, is an obvious Heisman Trophy candidate.
Defensively, Taylor can't help but get excited. While South Carolina enters spring camp down in numbers in the secondary -- especially with injuries to
Akeem Auguste
and
D.J. Swearinger
-- Taylor said he's seen younger players (such as cornerback
Victor Hampton
) make improvements during offseason workouts. And Taylor has really been impressed with
DeVonte Holloman
, who is transitioning back to the spur position from safety.
When it comes to the front seven, Taylor knows the key names are
Jadeveon Clowney
-- who was seventh in the SEC in sacks (eight) and 11th in tackles for loss (12) -- along with
Kelcy Quarles
,
Shaq Wilson
and
Reginald Bowens
. But you can't sleep on defensive tackle
Byron Jerideau
or linebacker
Damario Jeffery
, who moves to middle linebacker from the spur.
Taylor said South Carolina isn't rebuilding on defense, it's reloading, which is a scary thought. South Carolina was third nationally in total defense in 2011, and Taylor thinks the Gamecocks are equipped with just as much talent to have a similar year in 2012.
Even with the skill that returns on both sides for South Carolina, Taylor still expects the Gamecocks to be overlooked at times -- maybe not by opposing teams, but by those on the periphery.
And he's fine with that.
"We can do the underdog thing and then come back and bite them in the butt," he said.
Taylor hopes that "underdog thing" will take South Carolina to the top of the SEC in 2012. From where this program has been to where it is now, a win in Atlanta in early December would show just how big a turnover the Gamecocks have made, Taylor said.
"That would mean a lot, and it would let this entire program shine [and show] how much it's grown and how much it's willing to grow for future players coming here," he said.
"I've worked hard over all these summers, and all this work actually paid off to do something great."
January, 23, 2012
1/23/12
9:30
AM ET
South Carolina is down a man in its secondary.
Coach Steve Spurrier announced over the weekend that freshman safety
Brison Williams
has been suspended indefinitely from the football team for "conduct detrimental to the South Carolina football team."
Williams played in eight games for the Gamecocks in 2011, recording 11 tackles. His lone start of the season came against Florida when he stepped in for DeVonte Holloman, who was out with a concussion.
Williams originally signed with South Carolina in 2010, but attended Fork Union (Va.) Military Academy in the fall. He returned to South Carolina last spring, but later broke his arm during preseason practice. He missed the first four games of the season and made his season debut against Auburn on Oct. 1.
Williams is the second South Carolina player to be suspended from the team this offseason. Defensive tackle Byron Jerideau was also suspended after being arrested earlier this month. The junior reserve was arrested and charged with public disorderly conduct and traffic/pedestrian on a controlled access highway (jaywalking). According to a police report, Jerideau was arrested after leaving a bar in Columbia, S.C., and using profane language at oncoming traffic while crossing the street without using a crosswalk. The report also said that Jerideau was nearly hit by a vehicle, and he almost caused an accident.
Per South Carolina policy, Williams' arrest means an automatic suspension from the team.
Jerideau played in all 13 games this season, backing up Travian Robertson inside. He finished the season with seven tackles and 1.5 sacks.