May, 23, 2012
5/23/12
4:00
PM ET
ESPN Insider's "20 teams that can win it all" series is previewing each of the top 20 teams in Brian Fremeau's five-year program metric (for a full explanation, and links to all of the previews as they are published, click here), with the help of ESPN's Stats & Information group.
On Wednesday, ESPN's Travis Haney
took a look at South Carolina

. Haney discussed three reasons why South Carolina can win it all and three reasons why the Gamecocks won't.
Here's a little of what Haney said about the Gamecocks' chances of winning it all this year:
"Spurrier has a quarterback at South Carolina. There are no question marks, with respects to performance -- or off-field behavior -- any longer. Connor Shaw became a long-awaited answer last season, taking over for the much-maligned Stephen Garcia.

The Gamecocks went 7-1 with Shaw at quarterback, losing only at then-No. 7 Arkansas. It's difficult to argue with those results."
[+] Enlarge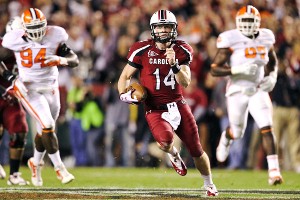 Daniel Shirey/US PresswireConnor Shaw brought stability to the QB position last season for South Carolina.
My thoughts:
Shaw's development is big for South Carolina's offense. There's no doubt that Shaw can make plays with his feet, but Spurrier wants a passer. He was a passer and his quarterbacks at Florida were passers. Shaw showed more of a pass-first mentality during the second half of the season and it sounds like it carried over into the spring. Now, he'll have to continue that this fall. Old habits do die hard, but what would really help him is if
Marcus Lattimore
is healthy.
Speaking of Lattimore, Haney threw out some pretty interesting facts about Lattimore's running habits when he was healthy. One that I was really impressed with was: "Lattimore was not touched until he was five yards past the line of scrimmage on 94 of his 412 rushes (22.8 percent) in his first two seasons (according to ESPN Stats & Info). Seventy-two of those runs were between the tackles." He also added that it continues to sound like Lattimore is ahead of schedule.
My thoughts:
A healthy Lattimore would certainly add some confidence to the thought of saying South Carolina is an SEC title contender and beyond. When he's on top of his game he's one of the best running backs in the country. But no one
really
knows how he'll respond this season and how healthy he'll actually be. We won't really know until he takes real contact in a real game. Until we know where Lattimore's health stands there will still be speculation surrounding this offense.
Haney also talks about the defensive line, which I think will be very good this fall. Ends
Jadeveon Clowney
and
Devin Taylor
should be pretty annoying to guard and tackles
Kelcy Quarles
and
Byron Jerideau
showed a lot of improvement this spring. This line will be pretty darn good this fall, which should help the entire defense.
As for three reasons why the Gamecocks falter, Haney talks the lack of proven receivers, the loss of defensive coordinator Ellis Johnson and having to play LSU and Arkansas.
My thoughts:
I agree with all three and I still feel most of the concern is in the secondary. Starting corners Stephon Gilmore and C.C. Whitlock are gone and
DeVonte Holloman
is moving back to the Spur, leaving an opening at strong safety. That leaves three spots that need to be filled. Two will be filled by rising sophomores, while veteran
Akeem Auguste
will take a corner spot. The problem is that he hasn't played since 2010 and hasn't played corner since 2009.
Fremeau's projection:
Most likely result: 8-4 (30 percent likelihood)
Projection window: 7-5 to 10-2 (86 percent likelihood)
December, 19, 2011
12/19/11
11:00
AM ET
South Carolina returned to practice Sunday, but did so without wide receiver
Alshon Jeffery
or safety D.J. Swearinger.
Jeffery is recovering from offseason surgery on his left hand, while Swearinger dealt with a foot injury. Jeffery told reporters Sunday that his hand is feeling better and he and his coaches expect him to play against Nebraska in the Capital One Bowl.
"Alshon's been out here spectating a little bit," coach Steve Spurrier said. "He's been running with the guys. He could catch one-handed, but should be ready for the bowl game. D.J. has that foot that they'd like him to stay off of. Terrence Campbell is not practicing this week. Hopefully when we get to Orlando they can get in shape a little bit."
Campbell broke his fibula against Clemson, but could return for the bowl game.
Cornerback C.C. Whitlock also missed practice with a knee injury, while defensive tackle Kelcy Quarles limped off the practice field with a lower leg injury. The extent of Quarles' injury wasn't known Sunday.
Wide receiver
Bruce Ellington
was not at practice, either, after playing basketball against Ohio State Saturday.
"I think Bruce is supposed to come around tomorrow, but we've got to wait and see," Spurrier said. "We've pretty much left it up to him. If he's going to play some, he needs to get out here and get the game plan down. I think he's supposed to be here most of the time."
Johnson update:
Spurrier could be yet another SEC coach who will be looking for a new coordinator, as defensive coordinator Ellis Johnson is still in the mix for the Southern Miss head-coaching job. Johnson interviewed for the job last week.
"You'll have to ask Ellis about that," Spurrier said. "From what I've heard, he's got a good shot at it. We'll wait and see how it plays out."
Regardless of whether Johnson gets the job or not, Spurrier said he expects him to coach South Carolina's defense against Nebraska.
Spurrier helping out running backs and tight ends:
With Jay Graham heading to coach running backs at Tennessee, his alma mater, Spurrier said he and graduate assistant Tommy Galt are coaching running backs and tight ends until Spurrier hires a replacement for Graham.
"They are doing well," Spurrier said. "We're not changing a lot of things we do so hopefully we can get those positions ready to go against Nebraska."
September, 6, 2011
9/06/11
1:15
PM ET
When the
South Carolina Gamecocks
take the field against the
Georgia Bulldogs
for their all-important conference opener, it should receive a boost to a secondary that was tortured against East Carolina last Saturday.
Junior
DeVonte Holloman
returns to the lineup after serving a one-game suspension for his June arrest on a DUI charge. Holloman is currently listed second on the depth chart at the Spur (a hybrid safety/linebacker position) behind Antonio Allen, who had a breakout game against ECU. Allen recorded 16 total tackles, forced two fumbles, recovered two fumbles and broke up two passes in the Gamecocks' win.
South Carolina coach Steve Spurrier said he'd like to keep Allen at the Spur because of the performance he turned in and has considered moving Holloman out of the Spur. Holloman practiced at the Spur Monday and defensive coordinator Lorenzo Ward said Holloman will stay there Saturday.
"He'll play Spur and the 'dime' linebacker spot in the dime package," Ward said . "If you play as many plays as we did this past Saturday we're going to need more than Antonio. DeVonte will have a chance to play."
Ward also said that cornerback Akeem Auguste didn't practice Monday, but is expected to practice Tuesday. Auguste didn't travel with the team for the opener because of a foot injury.
The Gamecocks certainly could have used a healthy Auguste Saturday. Senior C.C. Whitlock started in Auguste's place, but it was junior Stephon Gilmore who gave up a few big plays through the air, especially on a few jump balls. Gilmore struggled some last season, but vowed change this spring. He and his coaches saw noticeable improvements in his game this spring, prompting some to consider him
the top corner in the SEC
because of his skill and potential.
I'm sure they'll catch some grief for that after the opening game ...
But South Carolina hasn't lost any confidence in Gilmore. It was a rough first game, but Ward said he expects Gilmore to rebound quickly.
"It was not up to par as far as his standards," Ward said of Gilmore's play. "I fully expect Stephon to bounce back and have a great ball game this week. It came down to technique. He knows he made a mistake. He knows what he has to do. Stephon's got to be a positive for this team if we're going to be good."
In other Gamecocks news, South Carolina's depth chart was released for Week 2 and
Stephen Garcia
is listed as the No. 1 quarterback. Sophomore
Connor Shaw
started over Garcia against ECU, but struggled against the Pirates, completing 3 of 9 passes for 21 yards. Garcia replaced Shaw and finally got the offense rolling, as Garcia finished the game completing 7 of 15 passes for 110 yards and a touchdown. He also had 56 yards rushing, including touchdowns of 32 and 10 yards.
Maybe we can finally put the quarterback rotation in Columbia, S.C., to bed. Hopefully ...
August, 30, 2011
8/30/11
1:07
PM ET
South Carolina senior cornerback Akeem Auguste
won't start in Saturday's opener
against East Carolina after he re-injured his foot during Monday's practice.
Auguste has been bothered by an arch injury during preseason camp this season.
"He was doing well, then he twisted it and hurt his foot again," defensive coordinator/cornerbacks coach Ward said. "We'll see an evaluation in the morning. I don't know if he reinjured to the point it was at first, but he was doing well and then all of a sudden he made a cut on it and hurt it again."
Senior C.C. Whitlock will start opposite junior Stephon Gilmore Saturday. As a junior, Whitlock played in all 14 games, making five starts at cornerback, including each of the Gamecocks' last three games. He finished the season with 21 tackles and broke up four passes.
If Auguste has had to struggle through this injury for most of the preseason, it might be smart for the Gamecocks' staff to keep him out Saturday and let him rest. Auguste is a proven veteran and missing this opener shouldn't set him back much. They'll need a healthy Auguste for week No. 2 when South Carolina travels over to Athens to play Georgia in a game that could go a long way in deciding the SEC East.
This summer, Gilmore said Auguste was having his best offseason training he's had as a Gamecock and thinks Auguste has the potential to be a top defensive back in this league.
Auguste moved to free safety last season, after playing cornerback in 2009, and is now back at corner. He's South Carolina's most experienced player in the secondary, playing in 35 games with 19 starts, and has been praised for his natural field instincts and ball skills.
The Gamecocks shouldn't miss him too much this weekend, but I think the priority is to have him ready for the Bulldogs the following week.
October, 6, 2009
10/06/09
11:22
AM ET
By
ESPN.com staff
| ESPN.com

Posted by ESPN.com's Chris Low

The defensive coaches at South Carolina are earning their money this season.

Despite a glut of injuries and suspensions, the Gamecocks (4-1, 1-1) are third in the league in total defense and 14th nationally heading into Saturday's home game with Kentucky.

They will have to play these next two games without starting cornerback Akeem Auguste, who's been suspended for violating team and university policy.

Ironically, the guy replacing Auguste, sophomore C.C. Whitlock, is the same guy who couldn't stay out of trouble for most of this past offseason and was suspended at one point before being reinstated.

Auguste is the third different South Carolina starter on defense to miss a game this season because of a suspension. Whitlock started for him in last week's win over South Carolina State, and the guy behind Whitlock is true freshman D.J. Swearinger.

Remember that the Gamecocks are already starting a true freshman, Stephon Gilmore, at the other cornerback spot.

The loss of Auguste also hurts South Carolina at safety, because he was the backup to starting free safety Chris Culliver, and there's no depth to speak of now at that position.

The Gamecocks had already lost starting tackle Travian Robertson and starting middle linebacker Rodney Paulk to season-ending injuries, and tackle Nathan Pepper has missed time with ankle and knee problems.

Ellis Johnson, Lorenzo Ward, Brad Lawing and Shane Beamer have done a nice job holding it together to this point, but they'll also be holding their breath these next few weeks that nobody else gets hurt … or suspended.
July, 16, 2009
7/16/09
9:34
AM ET
By
ESPN.com staff
| ESPN.com
Posted by ESPN.com's Chris Low
Following his second suspension, C.C. Whitlock is back for now on the South Carolina football team.
Coach Steve Spurrier has reinstated him.
Whitlock still has to have a good semester in the classroom this second session to be eligible. Word is he buckled up and did very well the first session. So the coaches should know something for sure on Whitlock in the next three weeks or so.
The fact is that South Carolina needs him. He's a terrific talent and plays a position (cornerback) where the Gamecocks are frighteningly thin.
But to this point, he's been painfully immature and has lacked focus because of so many distractions off the field.
Maybe he's finally grown up. One way or the other, we're going to find out.
If he comes through, it could make a real difference for the Gamecocks on defense this season.
June, 17, 2009
6/17/09
12:10
PM ET
By
ESPN.com staff
| ESPN.com
Posted by ESPN.com's Chris Low
A quick check of the latest headlines in the SEC:
May, 26, 2009
5/26/09
10:12
AM ET
By
ESPN.com staff
| ESPN.com
Posted by ESPN.com's Chris Low
C.C. Whitlock came to South Carolina as an incredibly gifted talent.
It looks like he'll leave South Carolina as an incredibly frustrating pain in the you know what.
After being reinstated to the team last week by Steve Spurrier, Whitlock was arrested early Saturday morning near his hometown of Chester, S.C., and charged with trespassing.
The charge itself doesn't sound all that serious, but Whitlock's track record of finding trouble and being a guy who simply doesn't get it is very serious.
And if the Head Ball Coach is serious about establishing a different type of mindset on this team (a mindset that doesn't lead to embarrassing collapses at the end of the season), then he'll send Whitlock packing once and for all.

The truth is that Whitlock was already hanging by a thread. Even though he'd been reinstated to the team, he'd put himself in the kind of predicament academically that he was going to have to have the best semester in the classroom this summer that he'd ever had at South Carolina just to be eligible in the fall.
The Gamecocks need help in the secondary. That's a given. There's a distinct possibility that true freshmen Stephon Gilmore and DeVonte Holloman may be starting next season. There's no depth at cornerback, which probably gave Whitlock a few more chances than he deserved.
He's run out of chances now.
Too bad he didn't come in with the same kind of focus as Gilmore and Holloman.
Like Whitlock, they were from the same talent-rich area of South Carolina. And like Whitlock, they were highly recruited and immensely talented.
Having graduated from high school early, they didn't waste any time making their presence felt on the practice field this spring, as both Gilmore and Holloman put themselves in position to be starters. What's more, they both earned better than 3.0 GPA their first semester in the classroom.
Obviously, Gilmore and Holloman get it.
May, 22, 2009
5/22/09
12:05
PM ET
By
ESPN.com staff
| ESPN.com
Posted by ESPN.com's Chris Low
Making the rounds in the SEC:
March, 27, 2009
3/27/09
1:08
PM ET
By
ESPN.com staff
| ESPN.com
Posted by ESPN.com's Chris Low
A stroll around the league to see what else is out there:
February, 24, 2009
2/24/09
11:15
AM ET
By
ESPN.com staff
| ESPN.com
Posted by ESPN.com's Chris Low
Some of the fiercest battles for starting jobs are waged in the spring.
Granted, there's always that chance that a player could win a job back, or for that matter, lose a job once preseason practice begins in August. But spring practice is where it all starts.
Here's a look at five of the most compelling position battles around the SEC this spring:

1. LSU quarterback: When the season ended a year ago, true freshman Jordan Jefferson was in charge. He led LSU to a 38-3 rout of Georgia Tech in the Chick-fil-A Bowl, marking his second straight start. Jefferson was steady in both of his starts and was the Tigers' leading rusher in the 31-30 loss to Arkansas, so he can definitely make things happen with his feet. He also didn't turn the ball over in either start. He'll be pushed this spring, though, by another true freshman. Russell Shepard was one of the most dynamic high school athletes in the country a year ago out of Houston and enrolled early to be able to go through spring practice. He and Jefferson will duel for the job with sophomore Jarrett Lee not completely out of the equation. Lee suffered through a nightmarish redshirt freshman season by throwing seven interceptions for touchdowns before LSU coach Les Miles turned to Jefferson at the end of last season.

2. Alabama left offensive tackle: Andre Smith has been in the news a lot lately for all the wrong reasons, but there's no debating what he meant to Alabama's football team last season. He was a dominant left tackle, one of the best to come through the SEC in a long time, and those guys aren't easy to replace. There are several different ways the Crimson Tide could go at left tackle, although one of the candidates won't be on campus until this summer. Signee D.J. Fluker, rated by Scouts Inc. as the No. 1 tackle prospect in the country, could be a definite factor once he arrives. But this spring, newcomer James Carpenter of Coffeyville (Kan.) Community College will get a head start in the race, as he's already on campus. One of the last options could be moving senior Mike Johnson from guard to left tackle. Johnson started for Smith in the Allstate Sugar Bowl before getting hurt, and Alabama then slid Drew Davis from right tackle to left tackle and played true freshman John Michael Boswell at right tackle. The other guy to watch this spring will be Tyler Love, a big-time recruit who redshirted last season.

3. Tennessee quarterback: The debate is ongoing about the last time Tennessee struggled as much at the quarterback position as the Vols did last season. Was it 25 years ago? Was it more than 30 years ago? Now that Lane Kiffin and a new staff are aboard, the race will be as wide open as ever in the spring among the three guys who shared the job a year ago -- Jonathan Crompton, Nick Stephens and B.J. Coleman. None of the three had much success. Crompton has the most experience and would seem to have the physical tools, but never found any kind of rhythm last season. For what it's worth, Kiffin and the Vols' coaches told some of the receivers they were recruiting this winter that Crompton was more than capable and that it was the system that held him back a year ago. We're going to find out this spring.

4. Florida "Percy" position: How good was Percy Harvin? So good that they're calling the position he played the last couple of seasons by his name -- part running back, part receiver and all playmaker. The Gators won't find one just like him. He was big enough and strong enough to take the pounding as a runner and fast enough to get open and run away from everybody at receiver. There's a long list of speedy guys on Florida's roster, but identifying somebody this spring who can do everything Harvin did will be a stretch. One of the guys to watch is Deonte Thompson, who has blazing speed and unbelievable athletic ability. Brandon James may see his role grow on offense, too, although he won't be around in the spring because of foot surgery. David Nelson came on at the end of last season, but he's strictly a receiver. Florida fans can't wait to get touted signee Andre Debose on campus. Some have already tagged him as the next Harvin. The 6-foot, 180-pound Debose played quarterback, slot receiver and wideout in high school. Sound familiar?

5. South Carolina cornerback: The Gamecocks lost their three top cornerbacks from a year ago. Carlos Thomas and Stoney Woodson were seniors, and Captain Munnerlyn compounded the situation by leaving early for the NFL draft. It will be a free-for-all for playing time at that position, and it starts this spring. Akeem Auguste played safety as a true freshman last season and played well despite a hamstring injury. The Gamecocks, though, are moving him back to cornerback, which is his natural position. They're also keeping their fingers crossed that C.C. Whitlock will continue on the course he's kept for most of this offseason and make a run at one of the starting cornerback jobs in the spring. Whitlock is a game-breaking athlete who struggled with maturity issues last year as a true freshman. And speaking of true freshmen, the guy everybody wants to see this spring is Stephon Gilmore, who enrolled early as a highly rated signee out of Rock Hill, S.C., and will start out at cornerback.