December, 28, 2009
12/28/09
12:06
AM ET
By
ESPN.com staff
| ESPN.com
A quick look at Clemson's
21-13
victory over Kentucky on Sunday in the Gaylord Hotels Music City Bowl:
[+] Enlarge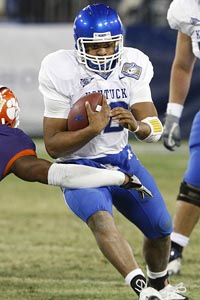 AP Photo/Mark HumphreyKentucky quarterback Morgan Newton threw for only 98 yards and one touchdown.
How the game was won:
Kentucky's offense went belly-up after driving for a touchdown on its opening possession and managed just two field goals the rest of the way. The Wildcats had their chances and moved into Clemson territory a couple of different times in the second half, but were pretty unimaginative on offense and couldn't get anything going in the passing game.
Turning point:
With Clemson leading 14-13, Kentucky receiver
Gene McCaskill
lost a fumble at the Wildcats' 19-yard line with 11:33 left in the fourth quarter. Three plays later, Clemson's
C.J. Spiller
scooted 8 yards for a touchdown to make it a 21-13 game.
Stat of the game:
The Wildcats drove 61 yards for a touchdown on their first possession of the game. On their next eight possessions, they managed a total of 216 yards and no touchdowns.
Stat of the game II:
Randall Cobb
, one of the most feared all-purpose players in the SEC this season, was held to 56 total yards on 10 rushing attempts and two receptions.
What it means:
Kentucky (7-6) failed in its attempt to win a fourth straight bowl game, which would have been a first for the Wildcats. They also had their 18-game non-conference winning streak snapped. The bigger picture is whether this was Rich Brooks' final game at Kentucky.
Best call:
Kentucky called for a fake punt with just under seven minutes remaining, and punter Ryan Tydlacka rambled 9 yards for the first down to the Clemson 34. But the Wildcats couldn't capitalize and failed on their next fourth-down attempt.
December, 24, 2009
12/24/09
9:00
AM ET
By
ESPN.com staff
| ESPN.com
Breaking down the Gaylord Hotels Music City Bowl on Sunday (ESPN, 8:30 p.m. ET) between Clemson (8-5) and Kentucky (7-5):


WHO TO WATCH:
Sophomore
Randall Cobb
was the SEC's most versatile player this season, and Kentucky would like to get him at least 20 touches. He'll get eight to 10 touches in the Wildcat formation and is also the go-to receiver. If that's not enough, he's the deep man on kickoffs and punts. Cobb was beaten up at the end of the regular season with a painful shoulder injury, but should be as healthy as he's been against Clemson. You'll be hard-pressed to find a player anywhere else in college football that impacts the game in as many different ways as Cobb. He's not exceptionally fast and isn't going to wow you over with power or size. He's just one terrific football player who can beat you a number of different ways.
WHAT TO WATCH:
Kentucky's defense was hit and miss this season. Much of that stemmed from losing star defensive end Jeremy Jarmon to an NCAA suspension back in May and All-SEC cornerback Trevard Lindley to a high ankle sprain for four games during the middle of the season. Senior defensive tackle Corey Peters had a big season in the middle, but this game hinges on whether or not the Wildcats can slow down Clemson's
C.J. Spiller
. If Spiller hits the Wildcats up with a bunch of big plays, they're in trouble. But if they make Clemson go the distance with longer drives and don't allow Spiller to get cranked up early, they should be able to dictate the flow of this game.
WHY TO WATCH:
The Wildcats are shooting for their fourth straight bowl victory, which has never happened at Kentucky. Ironically enough, their first bowl win in 22 years was against Clemson in this same bowl game following the 2006 season. And regardless of whether Kentucky wins or loses, all eyes will be on coach Rich Brooks afterward to see if he's ready to turn it over to Joker Phillips full time.
PREDICTION:
The Music City Bowl has been like a winter home for the Wildcats. They've already won twice in Nashville under Brooks, and even though the aura of going to a bowl game has probably worn off, the desire to finish off this season the right way is as strong as ever. Basically, that's what it gets down to. Clemson was a game away from playing in a BCS bowl, but lost to Georgia Tech in the ACC championship game. The week before that, the Tigers lost badly to arch-rival South Carolina. This is not where the Tigers wanted to be or expected to be in the postseason. The Wildcats, meanwhile, are chasing history. Kentucky 28, Clemson 24.
November, 24, 2009
11/24/09
3:00
PM ET
By
ESPN.com staff
| ESPN.com
I cooled off a bit last week, going 5-1 and missing Kentucky's upset of Georgia.
So that means I've hit 20 of my last 21. Notice the trace of disappointment in my voice? You see, we strive for perfection in the SEC.
One bad season, one bad week … and you're gone in this league.
For the year, I'm now 75-14 (.843). Big week coming up. But, then, they're all big.
Here are my picks for week 13:
FRIDAY
Alabama 27, Auburn 21:
Something says that Auburn is going to rise up and play one of its best games of the season. The Tigers have had a week off, and you know Gus Malzahn is going to have a few wrinkles for the Alabama defense. Look for another fourth-quarter game … and another Alabama win.
SATURDAY
Ole Miss 24, Mississippi State 17:
This has classic letup written all over it for the Rebels, who are coming off two huge wins at home. Meanwhile, this is the Bulldogs' last chance to salvage their season and keep from finishing 4-8 for the second year in a row. It won't be easy, but the Rebels will make enough plays on defense to survive this Egg Bowl test.
Georgia Tech 38, Georgia 28:
The Bulldogs haven't lost two in a row to the Yellow Jackets since dropping three straight in this series from 1998-2000. You just wonder where this Georgia team is emotionally right now. It's already been a long season for Mark Richt and Co., and it's about to get even longer.
Florida 37, Florida State 13:
It's sure to be a teary-eyed sendoff for the Florida seniors, who've compiled a 46-6 record during their stay in Gainesville. None of those guys have ever lost to the Seminoles, either, and they're not about to start now.
Tim Tebow
and his classmates will go out in style in the Swamp.
LSU 28, Arkansas 24:
While realizing that the Hogs haven't been the same team on the road this season, the real mystery in this one is how the Tigers will respond from the bitter Ole Miss loss and the avalanche of negativity this week surrounding Les Miles. Look for the Tigers to rally around their embattled coach and lock up a trip to the Cotton Bowl.
Tennessee 24, Kentucky 20:
A lot of signs point to the Wildcats breaking through and ending the drought once and for all. They're playing well. They're playing with confidence, and the Vols are beaten up on defense. But seeing is believing, and for whatever reason, Tennessee has always seemed to find a way to win this game and Kentucky has always found a way to lose it.
South Carolina 21, Clemson 20:
Talk about going against the grain. Clemson has won 10 of the last 12 meetings in this series and is streaking toward a date with Georgia Tech in the ACC championship game. South Carolina, on the other hand, is trying to avoid a late-season collapse for the third straight year. The Gamecocks have had a week off and are good enough on defense to keep
C.J. Spiller
in check. They're also due for a big win at home.