April, 29, 2014
4/29/14
2:30
PM ET
GAINESVILLE, Fla. -- Soaring temperatures and a lack of football tells you that spring is over in Florida. It's time for the long days of summer.
The Gators will work out in the weight room, delve deeper into playbooks and conduct drills with each other. Fifteen signees are expected to enroll in June, several of whom come with legitimate hopes for immediate playing time.
With more than three months before Florida practices again, there are still several questions that must be answered. Here are a few:
[+] Enlarge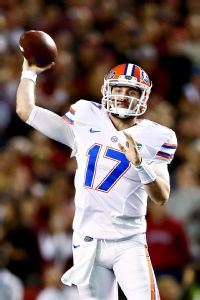 Streeter Lecka/Getty ImagesSkyler Mornhinweg will try to hold off a couple of true freshmen for the right to back up Jeff Driskel.
1. Who's the backup QB?
Jeff Driskel
is entrenched as the starter, but with his history of injuries, the Gators must prepare their backups like never before.
When Driskel was lost for the season last September, whole sections of the UF playbook went with him. That can't happen again, and it doesn't seem that it will, because Florida has more depth at quarterback than it has had in a long time.
True freshman
Will Grier
split reps throughout the spring with third-year sophomore
Skyler Mornhinweg
, and true freshman
Treon Harris
will enter the fray in August. The prevailing thought is that Grier is more talented and athletic than Mornhinweg and got a leg up on Harris by enrolling early.
But overlooking Mornhinweg, who started the last three games of 2013, would be a mistake. The coaches valued his experience and decision-making enough to cut into Grier's development this spring, and Mornhinweg rewarded them by showing improvement in the passing game.
He doesn't have Grier's arm or Harris' mobility, but Mornhinweg could easily be Driskel's primary backup.
2. What happens if the injury bug strikes again?
Injuries devastated Florida's 2013 season, but 2014 has yet to be a whole lot better.
Seven scholarship athletes missed all of spring recovering from injuries. Two others were limited to just a few days of practice in non-contact jerseys. Six more players got hurt during practice and missed time.
The good news? Every one of those players is expected to participate fully in fall camp. The bad news? Florida still hasn't developed enough depth to overcome losses at key positions such as quarterback, defensive tackle or cornerback.
One big injury could hurt in more ways than one, so other than simply having some better luck this fall, the Gators will need their young backups to prove they can handle larger roles.
3. Will UF finally have a dangerous receiver?
It's a stunning statistic, but Florida hasn't had a receiver record 600 or more yards in a season since 2009 when wideout Riley Cooper had 961 and tight end Aaron Hernandez had 850.
A lot will depend on the new scheme, Driskel's improvement in accuracy and decision-making, as well as the offensive line's ability to pass block. But if all of those things happen, the Gators believe they finally have the wide receivers to make hay.
Senior
Quinton Dunbar
, a solid possession receiver, is the leader on and off the field. A trio of sophomores --
Demarcus Robinson
,
Ahmad Fulwood
and
Chris Thompson
-- brings size, speed and much-needed athleticism.
Andre Debose
, back for a sixth year of eligibility after a torn ACL in 2013, is a talented wild card.
The numbers might not match those of Cooper or Hernandez, but Florida will be thrilled with even one pass-catching threat after four years of going without.
4. What can the Gators expect out of the backups on both lines?
If you listened to the coaching staff, the answer after spring was not much. A familiar refrain from head coach Will Muschamp and Co. was that there was "a huge drop-off" in effectiveness between the first and second units on the offensive and defensive lines.
That wasn't a motivational ploy. It's a real problem.
On the offensive line, the Gators have one backup -- junior
Trip Thurman
-- they appear comfortable with. Given the injury histories of the starters, a lack of depth here could be the biggest concern on the team. Florida will need reserves
Drew Sarvary
,
Cameron Dillard
and
Kavaris Harkless
to improve rapidly. Redshirt freshman
Roderick Johnson
and true freshman
Nolan Kelleher
must come back from the injuries that cost them the entire spring, or the O-line could see another revolving-door season.
On the defensive line, Florida needs more from redshirt freshmen DTs
Jay-nard Bostwick
and
Caleb Brantley
, who showed flashes of talent but little consistency. This could be an area where UF benefits from some heralded true freshmen who arrive in June.
Gerald Willis III
,
Thomas Holley
and
Khairi Clark
could all be in the mix on the D-line in fall camp.
5. Will there be enough carries for all of the running backs?
The players say yes, but that was during a spring that didn't include former starter
Matt Jones
and true freshman
Brandon Powell
, both out with injuries.
Sophomore
Kelvin Taylor
looks to be the starter, senior
Mack Brown
is a reliable backup, and redshirt freshman
Adam Lane
emerged as another weapon. But none of the three has breakaway speed. Although they run with similar styles, UF's backs believe they will all play. Duke's offense in 2013 supports that notion, as offensive coordinator Kurt Roper employed four tailbacks throughout the season.
"Our offense is definitely not stingy and we're going to pass the ball around and use each other in different situations," Lane said. "I wouldn't say it's really roles, but in some situations some fit better."
Still yet to be resolved is where Powell and Jones fit. Powell has speed and wiggle and could be a change-of-pace back. Jones will get a look at the B position (typically manned by tight ends and fullbacks), where he could do damage as a pass-catcher and get more playmakers on the field at the same time.
"But he's going to play the running back positon as well," Muschamp cautioned.
Ultimately, the Florida offense will still be predicated on running the ball, so it's possible five backs could share the load.
March, 31, 2014
3/31/14
11:00
AM ET
GAINESVILLE, Fla. -- The Gators have completed seven of their 14 practices, and the spring game is less than two weeks away.
Before Florida opens another practice to its fans today, let's go over a few developments.
Fast-moving offense:
It's all anyone wants to talk about. The Gators are installing a new offense, and so far the key word is speed. The players have learned and adapted quickly. The tempo is much faster than at any time in the last three years. Players look fast again.
Give much of the credit to new coordinator Kurt Roper, who simplified everything and really made the most of his meeting time before practice began.
"You spend the time you're allowed in the meeting room trying to create that understanding and showing it to them on tape," he said. "You're trying to put your install together that makes sense for them to understand it. The biggest thing for us is we try to create lining up simpler than most people. I think because of that, that's part of what you see. We're able to get lined up in a hurry."
[+] Enlarge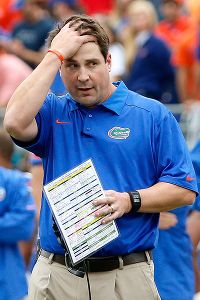 Sam Greenwood/Getty ImagesWill Muschamp's future probably rides on Florida's offensive improvement.
Head coach Will Muschamp, whose future probably rides on Florida's offensive improvement, has noticed the difference and says he's very pleased.
"[They're] really play fast, physical," he said. "We've really limited negative plays to this point. … Our guys have got a lot of confidence, playing real good tempo and having a lot of fun."
Driskel separates himself:
All three of Florida's top QBs -- junior
Jeff Driskel
, sophomore
Skyler Mornhinweg
and true freshman
Will Grier
-- have had their moments. They've shown a solid grasp of the offense in its early stages of installation, made solid decisions and delivered the ball to receivers in stride.
Muschamp has not yet named Driskel the starter but did say he has "distanced himself at this point" while the other two have split second-team reps.
Driskel, however, has a lot of work yet to do. While his arm strength has been on full display and he appears recovered from the broken leg that ended his 2013 season, Driskel is getting a crash course in quarterback fundamentals from Roper.
"Sometimes he's overstepping a little bit which causes him to sail the ball," Muschamp said. "That's been something that Kurt is really working on. Kurt is a really good fundamental quarterback coach."
D-line shuffle:
One of the players who has been singled out most often for praise is sophomore defensive end
Bryan Cox Jr
., son of the former Miami Dolphins Pro Bowl linebacker.
Muschamp said Cox has gotten stronger, put on a few pounds and has "made really remarkable improvement" in his technique. That has allowed the Gators to slide junior
Jonathan Bullard
inside to defensive tackle, where the coaching staff believes he can thrive as a pass rusher on obvious throwing downs.
Because senior defensive tackle
Leon Orr
is sidelined this spring with a broken wrist, it bears watching whether these plans stick in the fall.
Florida has a number of talented young linemen starting to make an impact. But it remains to be seen if redshirt freshmen
Caleb Brantley
,
Jay-nard Bostwick
,
Antonio Riles
and sophomore
Joey Ivie
are ready to do more than just provide quality backup minutes.
"I feel like the depth is there," Muschamp said. "We've got some good players."
Veteran line with one exception:
The makeup of Florida's first-team offensive line has been fairly consistent with junior
D.J. Humphries
at left tackle, junior
Trip Thurman
at left guard, senior
Max Garcia
at center, junior
Tyler Moore
at right guard, and senior
Chaz Green
at right tackle.
Thurman is the newcomer, the only player on that first unit who has never made a start.
"He hasn't played as much," Roper said, "but he's out there working hard to be a good player."
Starting would be quite a step forward for Thurman, who stands 6-foot-5 and 315 pounds. The fourth-year player has seen very limited playing time in just 15 career games as a reserve.
Overall, Muschamp and Roper have been pleased with the play of their O-line. There have been some issues with Garcia and backup center
Cameron Dillard
handling shotgun snaps, but the coaches expected some bumps in the road.
This is a unit that struggled mightily in pass protection last season but could benefit greatly from Roper's uptempo spread scheme.
Kickers still need work:
Before practice started, Muschamp identified the kicking game as one of his top two priorities of the spring. Florida's place-kickers were abysmal last season and likely cost the team a couple of wins, while starting punter
Kyle Christy
slumped badly enough to force the Gators to burn freshman
Johnny Townsend
's redshirt.
So far this spring, the two punters have been locked in a battle that has featured some colossal moonshots and no clear starter.
"We've got two guys that have Sunday legs," Muschamp said of their potential as pro prospects. "They both kick very well."
The Gators are still struggling with field goals, however, and it seems unlikely that sophomore
Austin Hardin
or senior walk-on
Francisco Velez
will do enough to win the job outright. Their competition could continue throughout the fall with other walk-ons getting chances as well.
"The kicking situation is still not what it needs to be," Muschamp said, "but Austin is hitting the ball more consistently the same way."
August, 16, 2013
8/16/13
9:30
AM ET
GAINESVILLE, Fla. -- Florida fans better get a good look at senior wide receiver
Solomon Patton
this season because guys like him are going to be hard to find around here from now on.
Small guys.
The 5-foot-9, 171-pound Patton doesn't really fit into coach Will Muschamp's philosophy that bigger is better. Not just on the line of scrimmage, either. Big receivers. Big defensive backs. Big linebackers.
[+] Enlarge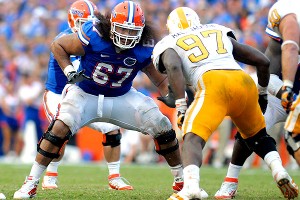 AP Photo/Phelan M. EbenhackGuard Jon Halapio, at 6 feet 3 and 321 pounds, meets Will Muschamp's size criteria to compete in the SEC.
Size does matter at Florida now. Muschamp believes it's the best way to have success in the Southeastern Conference.
"This is a big man's league," he said. "When you go pay to watch a boxing match, you don't go watch the featherweights fight. You go watch heavyweights fight. This is a heavyweight league.
"So we need have a big, physical team. You can still be really fast, but you better be big and physical if you want to win in this league right now."
Muschamp is in his third season and working on his fourth signing class, and he has certainly made the Gators a bigger, more physical team in that short period of time. To see the difference, look at UF's roster from 2009. The Gators had five starters or key contributors who were 5-9 or shorter: Jeff Demps, Chris Rainey, Ahmad Black, Markihe Anderson and Brandon James.
This year's team has only one starter that small: 5-9 safety
Cody Riggs
. Patton is a role player (he's the jet sweep guy) and the shortest player on scholarship is 5-7 freshman running back Adam Lane -- who weighs 222 pounds.
Muschamp's philosophy goes further than just the size of the players. He wants the bulk of his 85-man roster to be comprised of what he calls big-skill positions: offensive and defensive linemen, linebackers and tight ends. He wants 50. Right now he has 42 (see breakdown below).
Muschamp wants 15-17 offensive linemen, and the Gators are close to that number. They have five scholarship tight ends, too. The defensive line is where the problem is. The Gators are short on ends, especially speed rushers. There are eight scholarship defensive tackles, but only three have played in a game (
Dominique Easley
,
Leon Orr
and
Damien Jacobs
), and just two bucks (hybrid defensive end/linebacker).
It'll take at least a couple more signing classes for the Gators to be as stocked along the defensive line as Muschamp would like. Muschamp believes long-term success at Florida -- and therefore the SEC -- depends on beefing up those defensive numbers.
And not just to compete with Alabama and Nick Saban, either.
"When big guys run out of gas, they're done," Muschamp said. "We don't ever want our big guys up front to play more than six or eight snaps in a row and have the intensity you've got to play with to be successful in this league. So you can't ever have enough defensive linemen or pass rushers, especially the way the game's going.
"You look in our league at Missouri and Kentucky and Tennessee, a lot of schools are going to a little bit of a Big 12 model, like Texas A&M, where they're spreading the field, and you can't ever have enough guys that can play in space and rush the passer. The most exerting thing in football is rushing the passer. Those guys are battling against a 315-pound guy and trying to push the pocket, so you can't ever have enough of those guys."
Here's the breakdown of what Muschamp calls the big-skill players:
Offensive line
Ideal number:
15-17
Number on the roster:
14.
Tyler Moore
,
Quinteze Williams
, Rod Johnson, Octavius Jackson, Cameron Dillard,
Trip Thurman
,
Jon Halapio
,
D.J. Humphries
,
Jonotthan Harrison
,
Chaz Green
,
Max Garcia
,
Trenton Brown
,
Ian Silberman
,
Kyle Koehne
.
Comment:
The Gators will lose four players to graduation but have four offensive line commits for 2014, three of whom weigh more than 300 pounds. The line has gotten bigger, stronger and more physical since Muschamp called them soft at the end of his first season.
Defensive tackle
Ideal number:
8-10
Number on the roster:
8. Damien Jacobs,
Joey Ivie
, Leon Orr,
Darious Cummings
, Jay-nard Bostwick, Caleb Brantley, Antonio Riles, Dominique Easley.
Comment:
Not a lot of experience here, but the four freshmen (Ivie, Bostwick, Brantley and Riles) will gain valuable experience as part of the rotation this season.
Defensive ends
Ideal number:
6-8
Number on roster:
4.
Alex McCalister
,
Jonathan Bullard
, Jordan Sherit, Bryan Cox.
Comment:
Easley also can play end. This is perhaps the most flexible position, with several players having the ability to play inside on passing downs to get the best pass rushers on the field.
Bucks
Ideal number:
4-6
Number on roster:
2.
Dante Fowler
,
Ronald Powell
.
Comment:
This position also needs to be beefed up quickly, with Powell likely leaving after this year if he has a good season. Some flexibility here, too, because Cox and McCalister could spend time here.
Linebackers
Ideal number:
9-12
Number on roster:
9.
Michael Taylor
,
Matt Rolin
,
Jeremi Powell
, Jarrad Davis,
Neiron Ball
,
Darrin Kitchens
,
Daniel McMillian
,
Alex Anzalone
,
Antonio Morrison
.
Comment:
UF has one bona fide stud (Morrison) and a mix of veteran role players and freshmen. McMillian is a player to watch. He could become a starter by midseason. This is an important position group because it produces a lot of special teams players.
Tight ends
Ideal number:
3-5
Number on roster:
5.
Clay Burton
,
Tevin Westbrook
,
Kent Taylor
,
Colin Thompson
, Trevon Young.
Comment:
A lot of players, but little production so far. Burton, Westbrook and Thompson are mainly blockers, but there's optimism that Thompson can develop into someone who can work the middle of the field.
August, 15, 2012
8/15/12
11:00
AM ET
Editor's note: RecruitingNation is taking a look at the state of each team's brand.
GAINESVILLE, Fla. -- After a couple of sub-par seasons on the field, Florida's brand remains very strong among top high school prospects. Head coach Will Muschamp experienced a dip with his first recruiting class (ranked No. 12) in 2010, but quickly had UF back near the top with a top-five class in 2011. Now the Gators are contending for the nation's No. 1 recruiting class.
[+] Enlarge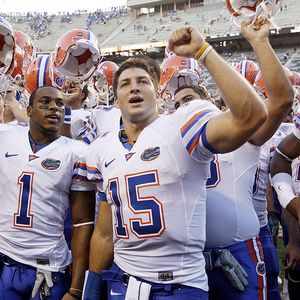 AP Photo/Mark HumphreyPercy Harvin, left, and Tim Tebow took Florida to the statosphere with two national championships.
Four-star offensive linemen
Cameron Dillard
(Canton, Mich./Canton) is one of six out-of-state commits for the Gators. The 6-foot-3, 290-pound center prospect thinks there are a few reasons why Muschamp has continued to keep Florida's brand strong amongst recruits.
"It's the coaching staff. They are a team that's always pushing forward, never getting in trouble and always doing the right thing. It's just a team you can look at to set an example," Dillard said. "They do a great job every year. Coach Muschamp's vision for the team is great. They always bring in the top athletes in the country and get the athletes to the next level."
Despite sliding with 15-11 record over the last two years, the Gators have three national championships on their resume and have sent numerous players to the NFL. In 2011 alone, Florida had 35 former players on NFL rosters.
Tim Tebow, who could be the most popular athlete to ever play at UF, and Percy Harvin are two of the more recognizable names to play for the Gators. Top 2014 wide receiver prospect
Johnnie Dixon
(Palm Beach, Fla./Dwyer) said it was players like Tebow and Harvin who made him grow up a fan of the Gators.
"I've always liked Florida," Dixon said. "It was my childhood favorite. They've just always been my team. Like Percy was an animal and Tebow, they were just a great team."