October, 5, 2012
10/05/12
12:05
PM ET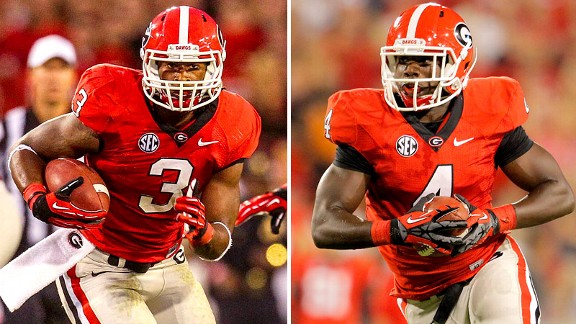 US Presswire, Icon SMITodd Gurley and Keith Marshall have already rushed for a combined 964 yards and 15 scores.
In the realm of Georgia football, it's the ultimate compliment.
Freshman running backs
Todd Gurley
and
Keith Marshall
have burst onto the scene in such explosive fashion that teammates and fans have taken to calling the duo "Gurshall."
That's right, a tribute to the great Herschel Walker, who ran his way into SEC lore more than 30 years ago, and to this day, remains the standard for running backs in this league.
Too early to make such comparisons?
Yep, way too early.
But there's no denying how good Gurley and Marshall have been to this point and the impact they've made on the No. 5 Bulldogs.
They've combined to rush for 964 yards and score 15 touchdowns … in just five games.
Marshall ripped off touchdown runs of 75 and 72 yards last week against Tennessee. Gurley has four scoring runs of 29 yards or longer, and he also returned a kickoff 100 yards for a touchdown in the season opener.
Their ability to strike so quickly and generate yardage in chunks is a big reason the Bulldogs have scored 40 or more points in all five of their games.
Consider this: Gurley has eight rushes of 20 yards or longer, which is tied for the most among FBS players. Marshall is close behind with five runs of 20 yards or longer. Last season, no Georgia player had more than six rushes of 20 yards or longer
As a team, the Bulldogs had three rushing touchdowns of 20 yards or longer last season. Gurley and Marshall have already combined for seven in five games this season.
[+] Enlarge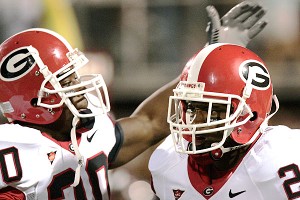 AP Photo/Rogelio SolisBefore Gurley and Marshall, Danny Ware and Thomas Brown carried the Bulldogs to a 10-2 record and an Outback Bowl victory in 2004.
The stakes get higher and the stage gets bigger this weekend for "Gurshall" when No. 5 Georgia travels to Columbia, S.C., to take on No. 6 South Carolina, which is allowing just 2.2 yards per carry and features one of the best defensive lines in the SEC.
But nothing has seemed to faze these guys, who're both from North Carolina and mapped it out in high school that they would attend the same college if possible.
"It's been a blessing, just to be able to come in and have all this success this early as a freshman and getting all this attention," said Gurley, who has 10 touchdowns. "We just keep trying to find things to get better on every day."
There's still a lot left of this season, but good luck in finding two true freshmen on the same team who've come into the SEC made the kind of splash "Gurshall" has.
Who are some of the other dynamic first-year duos that would compare?
Here's a look, and we'll start with the "old" guys first. Again, these are true freshmen:
RB Dalton Hilliard/RB Garry James, LSU, 1982:
They were known as the "Dalton-James Gang" and combined for 1,611 rushing yards and scored 25 touchdowns. The Tigers went 8-3-1 that season and lost 21-20 to No. 3 Nebraska in the Orange Bowl. Hilliard rushed for 901 yards and 11 touchdowns and James 710 yards and seven touchdowns. They also combined to catch 52 passes for seven more touchdowns.
RB Neal Anderson/RB John L. Williams, Florida, 1982:
The famed Florida duo combined for 853 rushing yards and 10 touchdowns in what was Charley Pell's next-to-last full season at Florida. The Gators went 8-4 and lost in the Bluebonnet Bowl. Anderson rushed for 197 yards in his first collegiate start against Kentucky and scored three touchdowns.
RB Keith Henderson/RB Tim Worley, Georgia, 1985:
Just a few years after Walker departed, Henderson and Worley arrived on the scene in Athens. They combined for 1,358 rushing yards and scored 12 touchdowns. Henderson averaged 6.8 yards per carry. The Bulldogs finished 7-3-2 and tied Arizona in the Sun Bowl.
RB James Stewart/RB Aaron Hayden, Tennessee, 1991:
The Vols turned to a pair of true freshmen to carry the rushing load in 1991, and Stewart and Hayden combined for 1,643 yards. Stewart just missed the 1,000-yard rushing mark with 939 yards and eight touchdowns. Hayden finished with 704 rushing yards and seven touchdowns. He also caught a key screen pass for a touchdown in Tennessee's memorable comeback win at Notre Dame. The Vols finished 9-3 and lost in the Fiesta Bowl to Penn State.
RB Fred Taylor/WR Reidel Anthony, Florida, 1994:
If you throw in receiver Ike Hilliard, the Gators had a trio of stellar true freshmen in 1994. Taylor led the Gators in rushing with 873 yards and eight touchdowns and also caught 29 passes. Anthony caught 30 passes and set Florida freshman records with 615 receiving yards and five touchdown catches. Anthony averaged 20.5 yards per catch. Hilliard also had 22 catches for 306 yards and four touchdowns in Florida's Fun 'n' Gun attack. The Gators finished 10-2 and won their second straight SEC championship.
DE Dennis Johnson/S David Johnson, Kentucky, 1998:
The "Johnson Boys" made big splashes for the Wildcats, who had their first winning season (7-5) in eight years and played in the Outback Bowl. Dennis Johnson was a second-team Freshman All-American by The Sporting New and finished with five tackles for loss, including a pair of sacks, two fumble recoveries and a blocked field goal. David Johnson earned first-team Freshman All-America honors. He finished with 53 total tackles, two interceptions, two forced fumbles and returned a fumble for a touchdown.
RB Carnell Williams/CB Carlos Rogers, Auburn, 2001:
The Tigers' "Cadillac" burst onto the scene with 614 rushing yards and six touchdowns and averaged 5.1 yards per carry. Williams' roommate, Rogers, earned Freshman All-America honors by The Sporting News on defense. He finished with 58 tackles (46 solo) and 12 pass deflections and would go on to win the Jim Thorpe Award as a senior. The Tigers finished 7-5 and lost in the Chick-fil-A Bowl.
RB Danny Ware/RB Thomas Brown, Georgia, 2004:
They're the duo "Gurshall" is chasing now in terms of Georgia freshman running back numbers. Ware and Brown combined for 1,567 rushing yards and 12 touchdowns in helping Georgia to its third straight season of 10 or more wins. The Bulldogs finished 10-2 and beat Wisconsin in the Outback Bowl. Brown led the team in rushing that season with 875 yards and eight touchdowns.
RB Darren McFadden/RB Felix Jones, Arkansas, 2005:
McFadden and Jones made a run at the 2,000-yard mark during their freshman seasons. They combined for 1,739 rushing yards and 14 touchdowns. McFadden, who was a two-time Doak Walker Award winner, led the way with 1,113 yards and 11 touchdowns. Jones had 626 yards and three touchdowns. The Hogs finished with a 4-7 record.
QB Tim Tebow/WR Percy Harvin, Florida, 2006:
Do the Gators win the 2006 national championship without Tebow and Harvin? They both came up big in clutch situations. Tebow, the Gators' short-yardage specialist, was second on the team with 469 rushing yards and led the team with eight rushing touchdowns. He also passed for five touchdowns. In the 41-14 win over Ohio State in the BCS National Championship Game, Tebow rushed for a touchdown and passed for a touchdown. Harvin scored five touchdowns and finished with 855 yards in total offense. He averaged 11.4 yards per touch to lead all freshmen nationally. Showing off his versatility, Harvin had a season-high nine catches in the national title game and rushed for a season-high 105 yards in picking up MVP honors in the SEC championship game win over Arkansas.
RB Mark Ingram/WR Julio Jones, Alabama, 2008:
Ingram shared carries with 1,383-yard rusher Glenn Coffee, but still managed to churn out 728 yards of his own to go along with 12 touchdowns. Jones was named the SEC Freshman of the Year by The Associated Press and was also a second-team All-SEC selection. He led the Crimson Tide with 58 catches for 924 yards and four touchdowns. He was fourth that season in the SEC in receiving yards per game. Alabama went 12-0 in the regular season, but lost in the SEC championship game to Florida and in the Sugar Bowl to Utah.
WR Alshon Jeffery/CB Stephon Gilmore, South Carolina, 2009:
The Gamecocks were able to keep two of the best from their state at home, and Jeffery and Gilmore both had big freshman seasons. Jeffery was named Freshman All-American by several outlets and led the Gamecocks with 46 catches for 763 yards. His six touchdown catches were second on the team. On defense, Gilmore started in all 13 games and also earned Freshman All-America honors. He was fifth on the team with 56 total tackles, including six for loss, and had eight pass breakups. The Gamecocks finished 7-6 and lost to Connecticut in the Papajohns.com Bowl.
June, 28, 2012
6/28/12
9:00
AM ET
As we get ready to say goodbye to the BCS, we can't without taking a look back at two moments that meant so much to the SEC.
One event showed the SEC's true dominance, while the other left the entire conference feeling jilted and unsatisfied. Though the SEC has benefited from eight BCS national titles during the BCS' 14 years of existence, one season still sticks out as a major loss for the league when one team went undefeated but was left out of the big game. To make matters worse, the champion that season was eventually stripped of its title.
Still, the SEC struck back with a fury, winning six of the next seven national championships, including six in a row.
We're heading down memory lane as we take a look at the best and worst moments for the SEC during the BCS era:
BEST

The SEC truly showed its muscle in 2011-12. After winning five straight BCS national titles, the SEC entered the Allstate BCS National Championship Game with the guarantee that the conference would come away with its sixth consecutive title. LSU and Alabama met inside the Mercedes-Benz Superdome in New Orleans a couple months after their epic 9-6 defensive stalemate on Nov. 5. LSU entered as the clear No. 1, after going 13-0 with eight wins coming against ranked opponents and seven of those being by double digits. Controversy surrounded Alabama's championship berth, as the Tide failed to reach the SEC championship game, let alone win the SEC West, but Alabama benefited from Oklahoma State losing to unranked Iowa State on Nov. 18. Alabama rose to No. 2 in the BCS standings and never looked back.
Alabama got its revenge in LSU's backyard by dismantling the Tigers 21-0, showing off a historic defense that finished first nationally in most major defensive categories. People outside the SEC complained about the all-SEC title game, but there was no denying that LSU and Alabama deserved to play for it all. Outside of their first loss to LSU, the Crimson Tide dominated their opponents, outscoring them by nearly 30 points a game and allowing double-digit scoring only five times.
The BCS got it right, and it greatly benefited the SEC.
The downside of having two SEC teams in the title game was that the SEC suffered its first BCS title game loss, but ensuring its sixth straight title only reiterated the dominance the SEC has had during the BCS era.
WORST
The worst moment for the SEC during the BCS era came in 2004, when undefeated Auburn was left out of the national championship. The Tigers became the fourth SEC team to go undefeated in the past two decades, but the first without a national title.
Even after running the table in the SEC, having one of the nation's best defenses and having just two teams come within single digits of the Tigers during the regular season, Auburn was left out of the Orange Bowl, only to watch USC completely dominate Oklahoma 55-19. Auburn beat Virginia Tech 16-13 in the Sugar Bowl on its way to beating five top-15 teams to get to 13-0.
What hurt Auburn even more was that USC's title was eventually stripped after running back Reggie Bush was ruled ineligible by the NCAA, meaning he shouldn't have been allowed to play for USC in 2004.
Outside of Auburn's romp through the SEC was the tremendous talent that team possessed. Auburn produced four first-round picks in the 2005 NFL draft, including three of the top nine selections. Eight of Auburn's defensive starters went on to play in the NFL.
On offense, the Tigers led the SEC in scoring offense (32.1) and were equipped with Carnell Williams and Ronnie Brown, who combined for 2,078 rushing yards and 20 touchdowns. Quarterback Jason Campbell passed for 2,700 yards and 20 touchdowns, and Auburn scored 30 points or more in nine games.
Auburn's slight stung the SEC, but the conference went on a roll after that, winning six of the next seven national titles, including Auburn's 2010-11 title.
June, 11, 2010
6/11/10
2:15
PM ET
By
ESPN.com staff
| ESPN.com
The Associated Press says there won't be a revote for the 2004 national championship.

That's a shame, too.

I thought at the time that Auburn at least deserved a shot at the championship, and in many ways, was the best team in the country.

After all, go back and check how many times over the past two decades that an SEC team has run the table with an unblemished record.

The answer: Four.

Alabama did it in 1992 and again last season. Both were national championship clubs. Tennessee did it in 1998 and also won the national championship.

The fourth was Auburn in 2004.

It stung then that the Tigers didn't get piece of college football's top prize, and it stings even more now that the NCAA says Reggie Bush was ineligible and should have never been allowed to play on that 2004 USC team.

BCS chairman Bill Hancock says if the BCS Presidential Oversight Committee rules that the Trojans should vacate their 2004 national championship, there would be no BCS champion for that particular season.

That's about as hollow as it gets if you're walking in Auburn's shoes, especially when you consider how talented, how balanced and how deserving that 2004 team truly was.

ESPN.com recently took a look back at the past decade in college football, and I ranked that 2004 Auburn team No. 3 in the SEC behind Alabama's national championship team last season and Florida's national championship team in 2008.

You want talent?

The Tigers produced four first-round selections in the 2005 NFL draft, including three of the top nine picks. Eight of the 11 starters on defense went on to play in the NFL.

Only two teams in 2004 came within single digits of the Tigers, who beat five top-15 teams nationally on their way to a 13-0 finish. As a comparison, Alabama and Florida each beat just four top-15 teams the past two years en route to their national titles.

One of the things that will always stick out to me about that Auburn team was the incredible speed the Tigers stockpiled on defense. There weren't marquee names all over the place, but everybody could run.

Maybe that's why Auburn finished No. 1 nationally that season in scoring defense, allowing just 147 points in 13 games. That's an average of 11.3 points per game. The second-place team that season (Virginia Tech) was pushing 13 points per game (12.8).

Moreover, Auburn surrendered just four rushing touchdowns all season and didn't give up any touchdowns on the ground in the first eight games.

The other thing about the 2004 Tigers was how balanced they were. As good as they were on defense –- coordinated by current Auburn coach Gene Chizik -- they were equally potent on offense.

Auburn finished 18th nationally in scoring offense, and Carnell Williams and Ronnie Brown combined for 2,078 rushing yards and 20 touchdowns. Quarterback Jason Campbell passed for 2,700 yards and 20 touchdowns.

The Tigers scored 30 points or more in nine of their 13 games.

The only knock against that team was its soft nonconference schedule. The Tigers beat up on Louisiana-Monroe, The Citadel and Louisiana Tech.

Nonetheless, it's a team to remember and a team that deserved better than it received.

It did then and does so even more now.
April, 7, 2010
4/07/10
11:30
AM ET
By
ESPN.com staff
| ESPN.com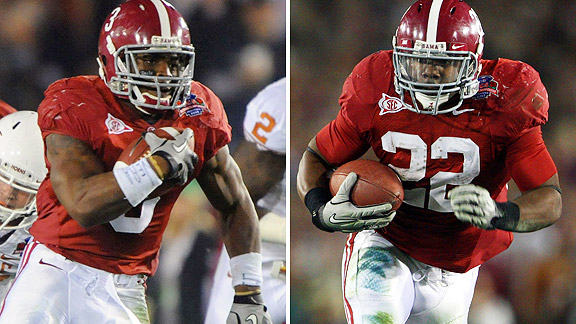 US PresswireMark Ingram, right, and Trent Richardson enter the 2010 season as the two best backs in the SEC.
TUSCALOOSA, Ala. --
Mark Ingram
readily admits that his life has been crazy the past four months.
As the first Heisman Trophy winner in Alabama history, he's been mobbed everywhere he goes. He's even had professors asking for autographs before class.
One thing that won't be crazy next fall, though, is how Alabama splits up the carries between Ingram and sophomore
Trent Richardson
. Ingram received the lion's share a year ago, but it will probably be closer to a 50-50 split in 2010.
And that's not a problem with Ingram.
"We're always going to be fresh," said Ingram, who rushed for 1,658 yards last season and carried the ball 271 times. "Whenever I'm tired, he's coming in fresh. Whenever he's tired, I'm coming back in fresh. That defense is going to have a fresh pair of legs coming at them all game, and all that's going to do is make both of us better."
Richardson rushed for 751 yards on 145 carries as a freshman and may be Alabama's most explosive back. But he can also pound, which is what makes the Ingram-Richardson tandem so hard on defenses.
"They wear down, especially when it gets in the fourth quarter," said Ingram, who had 1,075 yards after contact in 2009. "You can tell by their body language, and they don't want to tackle you anymore. That's how we play as a team. We want to wear teams down. The wide receivers play that way. The offensive line plays that way, and we play that way."
From a defensive player's perspective, linebacker Dont'a Hightower said it's a nightmare going up against a running back duo as well-rounded as Ingram and Richardson. Remember that Ingram also caught 32 passes last season.
"I don't know how you can game plan for two guys like Mark and Trent," Hightower said. "Most teams will have a big, power back and then another guy they bring in who's a speed back, so you can get your defensive personnel on the field depending on who's out there. But with Mark and Trent, you've got strength, power and speed with both of them.
"You can't adjust on defense. I don't see how you can stop them."
Ingram is a little more succinct.
"We shouldn't be anything but a headache for teams," he said.
The SEC has seen its share of talented running back combos in recent years. Arkansas' Darren McFadden and Felix Jones each surpassed 1,000 yards rushing in both the 2006 and 2007 seasons, and both were first-round draft choices.
Auburn's Ronnie Brown was drafted second overall in the 2005 NFL draft, and his backfield mate, Carnell Williams, went fifth overall in that same draft. Williams rushed for 1,165 yards during the 2004 season and Brown 913 yards in leading the Tigers to a 13-0 record.
Now it's Ingram and Richardson's turn to see what kind of numbers they can put up. They enter the 2010 season as the two best backs in the SEC, and they also have talented skill players around them at receiver.
So, it's not like defenses can load up just to stop them.
"Those two guys are the backbone," Alabama quarterback
Greg McElroy
said. "When we need a couple of yards, they're going to get it. If we have third-and-5, we're not going to be afraid to run it with those guys. I can't tell you how much better that makes you as an offense."
January, 20, 2010
1/20/10
9:35
AM ET
By
ESPN.com staff
| ESPN.com
Considering that five of the national championships last decade were won by SEC teams, picking the top teams of the decade within the conference shouldn't be too hard, right?
The hard part is holding it to 10, and even harder is ranking the 10.
Here's what we came up with based on the overall strength of the team, the overall talent on the team, what the team accomplished that particular season (quality wins, overall record, road wins) and how impressive the team was during the season:
1. Alabama 2009:
The Crimson Tide were the last BCS national champion of the decade, not to mention one of the most impressive. They beat four top-10 teams on their way to becoming the first 14-0 national champion in SEC history. They also produced six first-team All-Americans, including the Heisman Trophy winner and Butkus Award winner. They finished second nationally in total defense and scoring defense. Bottom line: It's hard to find many flaws with the 2009 Crimson Tide.
[+] Enlarge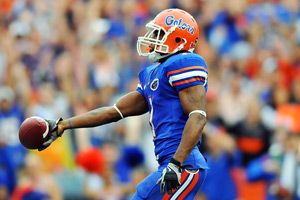 Steve Mitchell/US PresswirePercy Harvin was the ultimate playmaker for the Gators in 2008, scoring 17 touchdowns.
2. Florida 2008:
The Gators (13-1) weren't unblemished in their sprint to the 2008 national championship. But after losing to Ole Miss by a point in September, they were pretty close to perfect the rest of the way. They won their last 10 games by an average margin of 33.8 points, and the closest anybody came to them was 10 points. The combo of Tim Tebow and Percy Harvin on offense was virtually unstoppable, and Charlie Strong's defense shut down Oklahoma's record-setting offense in the BCS National Championship Game.
3. Auburn 2004:
Some might be surprised to see the Tigers ranked ahead of three of the SEC national champions from last decade. But that Auburn team was one of the most talented of the last two decades, producing four first-round NFL draft picks. The Carnell Williams-Ronnie Brown backfield tandem was as good as it gets, and the Tigers (13-0) wound up beating five top-15 teams. They were squeezed out of the BCS National Championship Game and had to settle for the Sugar Bowl instead, where they beat Virginia Tech to finish No. 2 in both polls.
4. LSU 2003:
It was Nick Saban's first national championship, and not surprisingly, it was an LSU team built on defense. Marcus Spears and Chad Lavalais were the anchors of a dominant defensive front. The Tigers (13-1) lost at home to Florida in October, but battled back to get themselves in position. The key win was beating No. 15 Ole Miss on the road, and they then took care of No. 5 Georgia and No. 3 Oklahoma in the SEC and BCS national championship games to earn the BCS national title. Southern California was voted the national champion in the Associated Press poll. Seven players from that LSU team were taken in the 2004 NFL draft.
5. Florida 2006:
In only his second season at Florida, Urban Meyer led the Gators (13-1) to their first of two national championships last decade. They were the picture of resiliency. Time and time again, they escaped with clutch plays or narrow victories and then played their best football when it counted -- blowing out Arkansas in the SEC championship game and then Ohio State in the BCS National Championship Game. Jarvis Moss' blocked field goal saved the Gators against South Carolina, and they also escaped at Tennessee by a point. Their only loss that season was on the road at Auburn.
6. LSU 2007:
There's no question that the 2007 LSU team had some good fortune fall its way and the right teams lost at the end of the season, enabling the Tigers (12-2) to get into the BCS National Championship Game. Nonetheless, they were an immensely talented team and fielded one of the fiercest defenses the league saw last decade, led by Outland Trophy winner and Lombardi Award winner Glenn Dorsey. LSU pummeled Ohio State 38-24 in the BCS National Championship game. Both of the Tigers' losses came in triple overtime, including a 50-48 loss to unranked Arkansas at home on the final weekend of the regular season.
7. Georgia 2002:
The Bulldogs (13-1) broke a 20-year drought with their first SEC championship since the Vince Dooley days. A 20-13 loss to Florida kept them out of the national championship race, but they rebounded to win their next five games, capped by a 26-13 victory over No. 16 Florida State in the Sugar Bowl. Two linemen on that team -- Johnathan Sullivan and George Foster -- were first-round draft picks in the 2003 draft. The Bulldogs finished third in the polls.
8. Tennessee 2001:
It was easily Tennessee's most talented team of the decade, and the Vols appeared to be on their way to playing for a second national championship in four years in the Rose Bowl. But they were upset by LSU in the SEC championship game. That's after taking down No. 2 Florida at the Swamp a week earlier to clinch the Eastern Division title. The Vols (11-2) went on to crush Michigan in the Florida Citrus Bowl after falling to LSU. The following April, three players from that team were taken in the first round of the NFL draft. Tennessee finished fourth in the polls.
9. Florida 2001:
Steve Spurrier has called it the best team he coached at Florida that didn't win an SEC championship. The Gators (10-2) lost two heart-breakers to Auburn and Tennessee. Florida was ranked No. 2 when it lost at home to the Vols and was in great shape to play in the BCS National Championship game. That Tennessee game was pushed back to the end of the season because of the 9/11 terrorist attacks. Eight players from that Florida team were drafted in April. The Gators' 56-23 blowout of No. 6 Maryland in the Orange Bowl was Spurrier's last game at Florida. He left for the NFL to coach the Washington Redskins.
10. LSU 2006:
You want talent? Go back and check out that 2006 LSU team. The Tigers (11-2) had four players selected in the first round of the 2007 NFL draft, including two of the top six picks. Their only losses that season were on the road at No. 3 Auburn and No. 5 Florida, but they rebounded to win their last seven games and took apart No. 11 Notre Dame 41-14 in the Sugar Bowl. The Tigers finished third in the polls and would end up winning the national title the next season.
January, 19, 2010
1/19/10
4:52
PM ET
By
ESPN.com staff
| ESPN.com
Now that we've unveiled our
players of the decade
and
moments of the decade
in the SEC, it's worth looking at those players that didn't make the list that probably should have.
After all, when you start listing great players over an entire decade in the SEC, the names start pouring through your mind. There just are so many of them.
The guy who was the hardest for me to leave off the Top 10 was Auburn running back Carnell "Cadillac" Williams. He rushed for 45 career touchdowns and teamed with Ronnie Brown on that unbeaten 2004 Auburn club to form one of the best running back combos in SEC history.
Right behind Williams was Georgia quarterback David Greene, who was the winningest quarterback in major college football history until
Colt McCoy
passed him this season. Greene remains the SEC career leader with 11,528 passing yards from 2001-04.
I also thought long and hard about Arkansas offensive tackle Shawn Andrews, Alabama offensive tackle Andre Smith and Auburn offensive tackle Marcus McNeil. They would have been my top three offensive linemen.
Tennessee defensive tackle John Henderson won the Outland Trophy in 2000 and was a finalist in 2001. Leaving him off was difficult. Alabama linebacker DeMeco Ryans was another outstanding defender that just missed the cut.
Another quarterback who deserves mention is Vanderbilt's Jay Cutler, especially when you look at the numbers he put up during the 2005 season and the way he helped elevate the program.
Georgia's Matthew Stafford was the No. 1 overall pick in the 2009 draft, and Kentucky's Andre Woodson threw 79 career touchdown passes, ranking him fifth all-time in the SEC.
Two of the best receivers of the decade were Vanderbilt's Earl Bennett and LSU's
Josh Reed
.
There are many more, too. But I just wanted to provide a glimpse of some of the other great players in this conference who were considered.